Overview
SmugMug is a cloud storage and website building service based in the USA. Despite its amusing name, it is a service that is about as professional as a cloud storage platform for photos, images, and videos could ever be.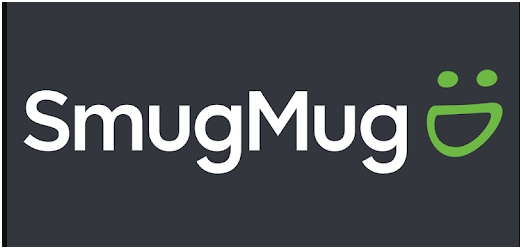 First launched 18 years ago in 2002, SmugMug has risen to be one of the most successful and popular online media storage platforms for artists, photographers, and videographers. The service has even bought out the popular platform Flickr – a sign of its success.
SmugMug is designed to give consumers a place to save their images and videos online, but it is much more than a place to ensure photos and videos aren't lost if a device is lost or stolen – or if a hard drive becomes corrupt.
The service will provide ample storage, and it will act as a reliable backup for anybody's media. What makes SmugMug special, however, is that it can also be used to build an online portfolio and website from the ground up.
With a SmugMug account, users can professionally present and advertise content to prospective buyers using that integrated website. And, they can opt to sell directly to customers either in digital formats or by sending out professional high-quality prints.
Pricing and Plans
SmugMug can be purchased in one of four plans. What is striking is that even the Basic Plan offers more than just simple cloud storage.
The Basic Plan
For $8 per month, the user gets their own customizable website, where they can use full page galleries to show off their stuff. The account permits for unlimited high-resolution uploads, content can be shared directly from password-protected folders to social media.
The Power Plan
Steps things up a notch by giving users access to 26 different templates for their website. They can also set their own domain name to add professionalism to their online presence. HTML and CSS customization is available as an optional extra for those who require it, and right-click protection is enabled for protecting photos on the fly. The extra customization available with this plan will cost you $14 per month.
The Portfolio Plan
For those who have made sales a regular habit and need to hone their plan even further. In addition to everything mentioned so far, this plan adds a Turnkey storefront and e-commerce-optimized galleries, as well as the ability for site visitors to order prints directly from a number of top labs (Bay Photo, WHCC, EZPrints, and Loxley Colour [UK]). It also allows users to sell videos via downloads. Sitewide pricing can be setup manually, and users get to keep 85% of the markup. This option costs $33 per month.
The Pro Plan
Alongside everything mentioned above, it allows users to create custom price-lists and coupons for marketing directly at specific individuals or groups. Galleries can be grouped by customers so that they can pick their favorites. Client orders are shipped with custom branding and with the option to gift wrap. And users can implement watermarks to protect their digital content from piracy. This will increase the cost of the subscription to $51 per month, which works out at $612 per year. As a result, this will only really be an option to those who have managed to create a steady income from their work (the same is true of the Portfolio plan).
Overall, these plans give users plenty of choice and allows them to scale up their business as they need to, depending on the amount of success they have. For those interested, a 14-day free trial is available.

This will allow users to get a close look at the service, without actually having to risk their cash. The free trial can be accessed by providing a name, email, and password. For those who decide to stay after those 14 days, subscription payments can be made via credit or debit card. PayPal is unfortunately not an option.
Features
Upload unlimited photos
Create a website using sophisticated templates (or custom using HTML and CSS
Sell digital copies and hard copies of photos
Create public or private galleries
Share on social media
Import photos from Flickr, Dropbox, or Amazon Drive
iOS and Android apps
Watermark protect photos
Password protect and share files, folders, or the entire website
Advanced customization features
SmugMug Adobe Lightroom plugin (add photos and sync your entire library)
Upload to SmugMug directly from Lightroom, Luminar, or On1
Live chat and email support
Excellent tools for tracking and making sales
Let customers purchase using professional printing services
Create personalized galleries, prices, and offers
Integrated SEO tools to help you get your website in front of people
Ease of Use
Anybody who signs up to SmugMug must start off by taking advantage of the free trial. To do so, enter your name, and email address, and a password for your account. With that done, you are ready to roll.
On the welcome screen, SmugMug asks you to pick from eight different templates for your website. These are the same templates available to Basic plan users. All the templates look bright and enticing, but don't worry about your initial choice because if you change your mind later on, you can switch.
As mentioned earlier users can choose from 26 different templates when they upgrade their account past basic. This gives you a reasonable amount of choice, but is still rather restrictive when compared to single-minded website building services like Wix, which has over 500 templates to choose from.
We opted for Osiris, which the site claims is "well-suited for portraits, landscapes, and other artistic images." After seeing a preview of what you can expect your site to look like, click the big Use This Template button in the top right.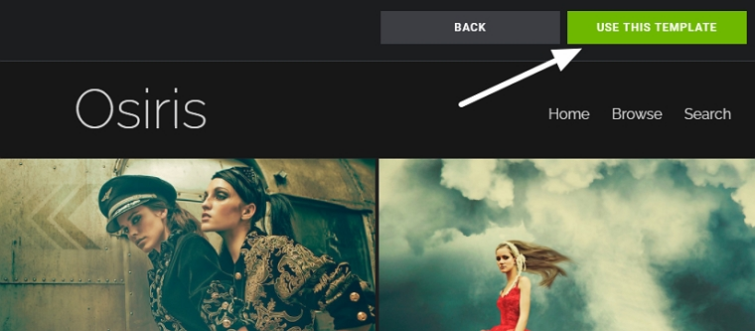 With that done, you are ready to upload your images. This will allow you to make your first personalized gallery. For the purposes of this review, we uploaded a few screenshots (of the ProPrivacy.com website).
The form for uploading the content is extremely easy to use. You can name the Gallery however you prefer, and can upload a company logo if you have one. Again, we uploaded the ProPrivacy logo – just to get a sense of how it all works.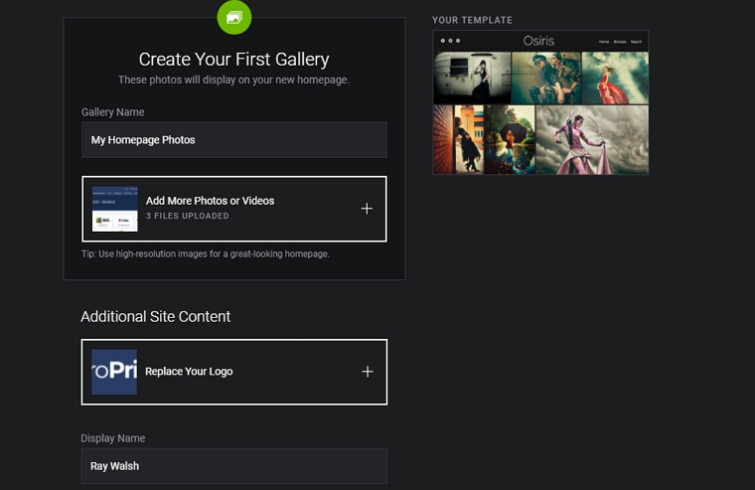 With all the uploads selected, all you need to do is click on Show Me My Site. This will take you to your page where you can see your first gallery, with your logo sitting nicely at the top.
Overall, we were highly impressed by the initial setup, which is designed to hand-hold you through the process. This makes it a good option for beginners and means that anybody can get started right away.
It is also worth noting that you can import photos en masse from Flickr, Dropbox, or Amazon Drive. So if you already have extensive collections of photos on those services, you will be able to bring them across quickly and effortlessly.
Perhaps the only issue we discovered with this template format is that images will be placed automatically into the digital frames that make up the gallery. You can't move the images around inside those frames. This is a minor issue, but it may annoy users if they want to reposition a larger image to show a different preview.
Clicking on 'Organize' in the top navigation menu launches a wizard that walks you through how to organize your image files into folders.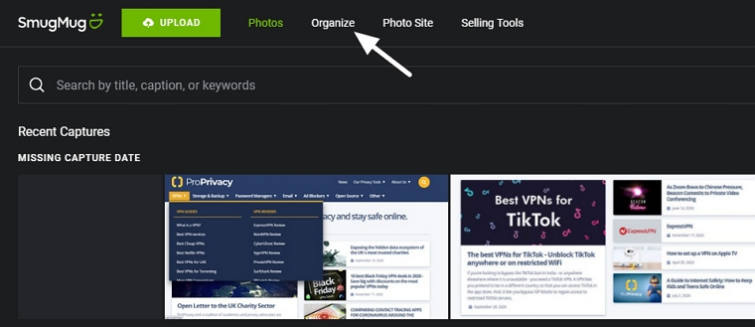 This organization is handled by dragging and dropping files to where you want them, which makes it exceptionally easy to move photos around from one gallery to another.
In the sidebar on the left, you can clearly see all of your galleries. The Create button sitting above this menu allows you to create new galleries as and when you wish. In addition, you get a toolbar with four options: View, Edit, Download, and Delete.
These buttons allow you to edit your galleries or share content directly onto social media. To use them, choose a gallery on the left, click a photo in the gallery on the right, and then click on the button that you wish to use.

Again, all of these settings are pretty self explanatory, but the inclusion of a walkthrough to explain everything is a massive bonus.
Clicking on Selling Tools in the top nav opens up a page on which you can set prices and see what income you have made so far. Each option has a nifty Manage button that allows you to see information or options for that subsection.
We found these selling tools to be extremely comprehensive. However, please bear in mind that many of these features – such as being able to brand and watermark images – will not be available unless you pay for one of the more expensive plans.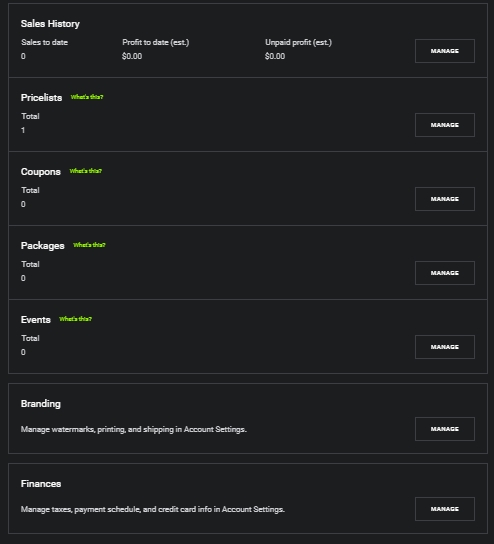 Security
In order to provide users with plenty of privacy options, SmugMug has settings that allow images and galleries to be made either Public, Unlisted (but sharable with a link), or Private. You can access these options in Settings.
To prevent people from downloading your content, you can create a personalized watermark that appears on the image throughout the site – this ensures that internet users can't pirate your images. A right-click message that informs the user that they cannot download the image without purchasing can also be setup. This disables the right click function (save or download) for them while on site.
To protect galleries and files being actively shared online, it is possible to set up password protection. This guarantees that only contacts who have the password will be able to access the content in an Unlisted gallery. This password protection ensures that even if a link is passed around online, people will not actually be able to access the content unless they also have the password. Users get the option to password protect folders, galleries, pages, or their whole site.
To speak of security itself, all uploaded content is stored at Amazon S3. Each account is secured using the user's master password, as well as any passwords used to secure individual files and folders. However, please bear in mind that all encryption happens server side.
This service does not provide end-to-end-encryption (e2ee), because this would cause all your images to be fully encrypted before they are uploaded. As a result, the service wouldn't be able to serve your images on your personal galleries – or automatically sell them and send them to be printed, for example.
Obviously, server side encryption is not as secure as robust e2ee, but if you want that kind of storage then you probably aren't interested in what SmugMug offers; and there are plenty of secure services of this kind, if that is what you want.
What we can say is that as long as it's set up securely (and we can only presume it is) – AWS S3 storage should be secure against hacking.
However, it is important to remember that the company (and its employees) theoretically has complete access to all your data, and it could be compelled to share access to your files if it is served a warrant by the government.
As with many other providers, SmugMug also clearly points out that there is no way for it to 100% assure that data will never be subjected to a cyberattack, something that is an unfortunate (and honest) reality:
SmugMug takes physical, technical and administrative measures to help protect information about you from loss, theft, misuse and unauthorized access, disclosure, alteration and destruction. However, no security measure is perfect. SmugMug cannot and does not promise that any information will remain secure.
Privacy
The privacy policy clearly states that the user retains copyright over their material, which means they can withdraw it as and when they wish. We looked at the policy closely and found it be clear and transparent.
The service clearly states that it will collect some data from users. This includes things like their "name, email address, postal address, phone number, fax number, credit card information, bank transfer information, Social Security number (and other data necessary for tax reporting relating to payments to users), title, gender, and other information you choose to provide."
Depending on what information a user chooses to upload, and which additional services they opt to engage with on SmugMug's website (such as surveys), – SmugMug may collect additional information. In addition, the site will track users with both cookies and web beacons.
It is also important to note that the service harvests certain information automatically via its website and services. This includes your IP address, browser type, the time that you accessed its services, and what pages you visit.
The company is also able to track the geo-location attached to photos, which means it knows where photos were taken – and potentially allows it to track where you have been.
All things considered, the majority of user data is collected to provide its services. And the data that it uses to engage with personalized marketing and behavioral analysis is only shared in an aggregated or anonymized manner.
This is probably not concerning data usage to most users, but is something worth bearing in mine (because studies have revealed that it possible to de-anonymize data under certain circumstances) depending on your personal threat model.
Customer Service
SmugMug has live chat support that is available Monday-Friday 9am–8pm EST (excluding holidays). Thus, it is worth bearing in mind that this service is primarily targeted at a US audience. With that said, it does have subscribers worldwide, and you can always ask for support via email if you do happen to live somewhere on the opposite side of the world.
We sent the live chat 'heros' a few messages about using the service just to see how they would cope, and the agents seemed like well trained and capable. That said, you may find that trickier question are forwarded to the technical support department, and you may have to wait for an email to get those responses.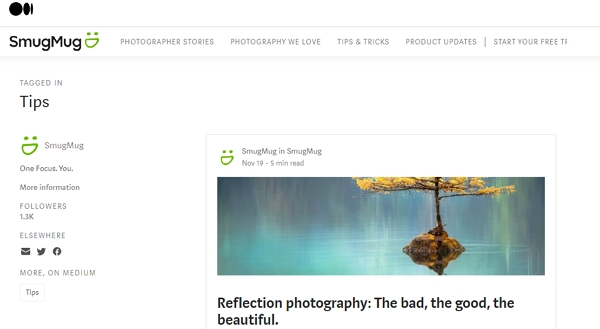 Beside the email and live chat support, the website has a blog on Medium that you can access via the bottom of its website. This has a large selection of articles covering all kinds of topics.; including information about photography, photographers, and Tips and Tricks for taking, processing, and editing photos. It also provides information about the latest updates to SmugMug's service.
To help users further, SmugMug has an official forum on DGrin. Here people can discuss photography, filmmaking, and the SmugMug service itself. This gives users the ability to ask each other questions and creates a useful SmugMug community.
This also gives users another place to gain support using their SmugMug account and allows users to request features if they have any worthwhile ideas.
Conclusion
SmugMug is a scalable online storage platform and automated website builder. It integrates a wide selection of features needed by professional photographers and artists. It is a service suited primarily to working artists, photographers, and videographers who want to be able to share and sell their work.
The service is easy to use, and the pricing is reasonable considering what you get. The Portfolio and Pro plans are expensive, but they are clearly aimed at those who are successfully creating an income from their works.
What we like about SmugMug is that the starter plans create the potential for amateurs who are starting out to grow their business in such a way that they may eventually naturally progress onto these higher tiers.
Overall, we found SmugMug to be a service that succeeds in doing what it sets out to do. It is a useful resource for anybody seeking to use the internet to gain exposure and make a living from digital media.
The fact that it currently powers the websites of over a million professional photographers proves that it is doing something right. For this reason, we consider it to be a solid service that is worth taking for a test run if you are in need of storage, a website, and the ability to sell your content online.
0 User Reviews
Leave a Review
Thanks for your review!