Likes
First 5 GB of storage is free
Monthly & annual prices
Offline viewing & editing with Microsoft's Office 365
User-friendly
Cross-platform support
2-factor authentication
File versioning
Dislikes
Lack of zero-knowledge policy
Closed-source
Based in the US
Pricing & Availability
Out of the "big three", Microsoft sits firmly in the middle with an initial 5 GB available, free of charge. Dropbox offers the lowest at just 2GB, while Google Drive offers an ample 15GB. Fortunately, the company offers a few premium plans that include more storage space.
Individuals can opt for a standalone OneDrive plan for $1.99 per month, gaining access to 50 GB of storage but missing out on a range of features that have become staple to cloud storage services. These include password-protected sharing links, automatic ransomware protection, 30-day file versioning, offline viewing, multi-page scanning and desktop Office applications. That's a lot to miss out on, but perhaps justified considering the unprecedented price.
If the extra trimmings sound appealing or you simply want 1 TB of personal storage, it'll set you back $6.99 per month or $69.99 per year if you want to save some money by pre-paying. Home plans cater to six different users, offering 1 TB per person as well as the bonus benefits for $9.99 per month or $99.99 for the full year. This plan comes with 60 free minutes of Skype calls per month, priority support from Microsoft and can be trialed for 1 month free of charge.
Please bear in mind that the link below will take you to a subscription for Office 365, which comes with OneDrive included.
Features
Offline viewing & editing
Accessibility
File versioning
File sharing support
Cross-platform synchronization
Operating System integration
2-factor authentication
Multimedia playback
HTML Embedding
Offline Viewing & Editing
As OneDrive been increasingly integrated with Windows, the service has become more dynamic. The inclusion of "placeholders" allows devices with smaller storage space to access content stored in the cloud directly from their computer without impacting their hard drive too heavily. Although these files appear within the local Explorer/Finder, they aren't necessarily available offline and are instead simply for convenience.
Clicking on a folder or file will reveal whether it's available offline at the bottom of the window. If you see "available when online" on something you want to view or edit offline, simply right-click the file and select the option from the listings. Be mindful of your local and cloud storage when tinkering with this, as enough space is required on each for downloading and later synchronizing offline files. If local storage becomes an issue, you can "free up space" from the same list of options but this will delete the file from the device.
If you are online, then Microsoft's Office suite enables you to edit almost any document through the browser. Editing documents offline requires the correct applications depending on the file. Word, Excel, and PowerPoint are free for Android and iOS with in-app purchases, while the same applications cost on desktop. Thankfully, included applications such as WordPad on Windows and Text Edit on Mac do the job just fine for most tasks.
Accessibility
Microsoft has made sure that OneDrive and its accompanying Office suite are as accessible as possible for those with visual and auditory impairments, thanks to intuitive keyboard shortcuts, screen reader compatibility, and the VoiceOver/Narrator functions . The company has created the Disability Answer Desk to ensure all questions go addressed and detailed comprehensive guides on Accessibility support for OneDrive.
NVDA and JAWS are officially supported screen readers, but Microsoft states that the assortment of applications can work with more than just the two listed.
File versioning
Keeping track of a file's history and its edits not only helps you to erase undesired changes but also avoid malicious viruses that could compromise your valuable data. Fortunately, OneDrive automatically saves changes regularly and logs an extensive collection of different versions.
The most reliable way to access and restore older versions of a file is to go through the browser, right-clicking any individual file and selecting "version history". This will display iterations of the file since its conception, whether it has been manually saved or autosaved.
While applications for Mac, iPhone, and Android don't have this functionality, file versioning is present within the Windows integration. Right-clicking a file and selecting "restore previous version" should display the history of modifications made on the device, but I did have trouble getting this to work consistently.
Individual desktop applications such as Word, Excel, and PowerPoint can each recover old and even unsaved versions by heading into File, Info and selecting Version History. Of course, you need to be connected to the internet to keep files up to date if you're collaborating with a team or working from multiple devices.
File sharing support
OneDrive makes it particularly easy to share files with other users. Right-clicking a file or folder within the browser and selecting "share" will allow you to copy an instant link to your clipboard or fire off an email to other users with a personalized message. Parameters can be customized, such as allowing or removing the ability to edit, setting a password or implementing an expiration date for the link.
The mobile applications are quite versatile with similar options to the browser version, minus the ability to protect content by adding a password. The desktop applications are sadly underwhelming in comparison. While you can create an instant link directly from the Explorer/Finder, selecting "more OneDrive sharing options" will redirect you in to your default browser.
Cross-platform
Microsoft officially states that OneDrive is supported by anything from Windows 7, Mac OS X 10.12 or Windows Server 2008 R2 and later for its desktop application. Mobile devices are required to run anything from Android 5.0, iOS 11.3 or Windows Phone 7.5 to gain access to the client. As for browsers, the company recommends the latest version of Edge, Internet Explorer, Chrome, Firefox or Safari, but most browsers should display the cloud storage without trouble.
While OneDrive has relatively low system requirements of at least 1GB of RAM and a processor at 1.6 GHz, Office 365 applications are a little more intensive if used outside of the browser at 2-4 GB of RAM.
OS Integration
OneDrive integrates into operating systems via its desktop and mobile applications.
Windows and Mac users will immediately see OneDrive appear in the Explorer and Finder respectively, granting the ability to upload files by copying and pasting or dragging and dropping. Windows specifically houses a handful of features that its Apple counterpart doesn't. Right-clicking local files from within the platform allows you to send them to OneDrive, while right-clicking files already in the cloud grants the ability to create share links for files within the cloud and redirect themselves into the browser.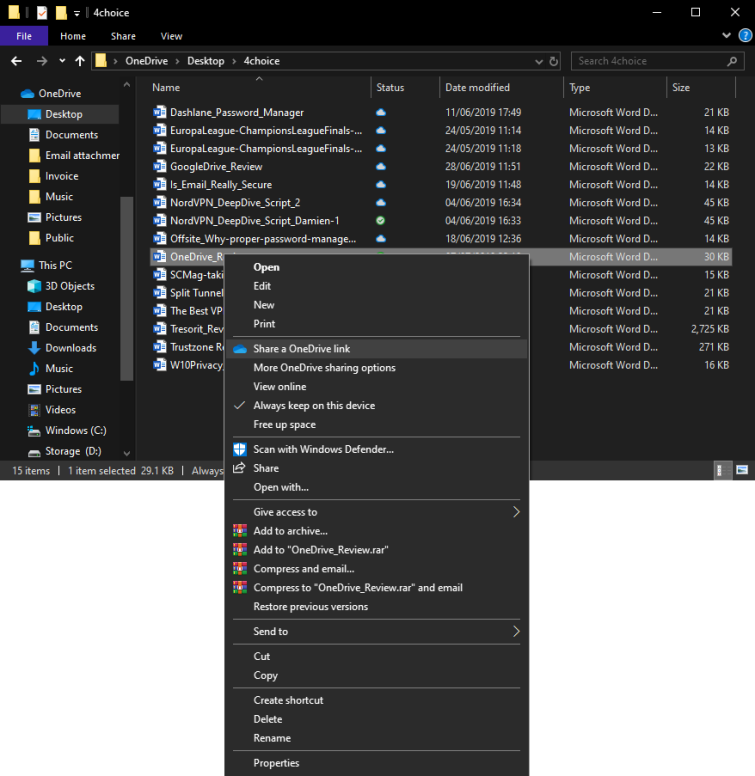 Mobile users with the app installed will see OneDrive appear within their "share" options, able to directly send files to the cloud.
Other features
Microsoft offers its own authenticator for mobile and desktops, helping to secure accounts with 2-factor authentication. This will apply to all Microsoft products that you log into attached to the same email. We always recommend this addition.
OneDrive on the browser can also playback videos and generate a HTML code to embed folders or files into external websites, perfect for businesses and professionals.
Privacy and security
Jurisdiction
Companies are beholden to the privacy laws of the country they reside in, which makes jurisdiction an important factor when you're placing your data and details in the hands of others. Microsoft is based in the United States, a country often criticized for its stance on privacy regulations. There is a large likelihood that the National Security Agency (NSA) or other government bodies have access to any and all information stored on OneDrive servers, particularly because Microsoft has allegedly handed access to encrypted messages in the past.
Zero-knowledge
Zero-knowledge policies are often a saving grace, as it means that companies do not hold on to sensitive data like encryption keys or your master password. Unfortunately, OneDrive is not a zero-knowledge cloud provider and does store this information on its servers.
Those already invested in OneDrive can turn to client-side encryption services to protect their information from prying eyes, but it is always disappointing when it isn't a feature baked right into the platform.
Technical security
OneDrive's privacy policies are certainly questionable, but its security meetsUS government-standard with layered encryption when in-transit and at-rest.
In-transit uses a TSL connection with 2048-bit keys as it moves in and out of Microsoft's data centers. When customer data is firmly sitting in Microsoft's server, it is known as at-rest. This is split into BitLocker disk-level encryption and per-file encryption to bolster security, as the former secure an entire disk while the latter adds AES 256-bit encryption to each individual file.
If any of this is fails, and an attack is successful, you will be notified via the attached email address or connected applications so that you can restore compromised files, change your password and notify the company.
Issues
Browser Cryptography
Cryptography is responsible for hashing, verification, encryption, and decryption, with JavaScript becoming the most prevalent. This has been updated in recent years with WebCrypto API, but neither approach is perfect. Browsers accept any code pushed to them by the respective server without user input, meaning anyone that visits a website will have to explicitly trust the publisher's intent.
Some security and privacy-based companies have opted to use a browser extension to mitigate these issues, as you are required to manually review and install the add-on, but no such thing is present for OneDrive. It's unclear what cryptography Microsoft opts for here, but the web is a poor delivery system in its current state.
Closed-source
Companies often keep their programs closed-source in order to protect the proprietary material underneath, but this sadly means that there is no telling what kind of code is being pushed onto your system. OneDrive is no exception, requiring you to take Microsoft's word for it.
We would much prefer OneDrive, and quite frankly all applications, to be open-source and therefore subject to peer review from experts in the field.
Ease of Use
Desktop
Windows users have OneDrive ready at their fingertips, while Mac users will have to go the extra mile by downloading it from the website. Beyond this, both applications perform almost identically by integrating into Windows' Explorer and Mac's Finder. Thanks to this, accessing files is as simple as clicking "OneDrive" from the left-hand portion of the window and screenshots can automatically be saved to the cloud.
Despite the convenience, this method does come with a handful of caveats. Both file versioning and some sharing methods are relegated to the browser version of OneDrive, redirecting you when you click on it. Alternatively, those with the latest Office 365 (included within the pricier subscriptions) can use the respective applications to look at version history, but that isn't the primary focus of this review.
Mobile
OneDrive for Android, iOS and even Windows Phone is nearly as fully featured as the browser version, complete with an accessible, modernized layout. Files are displayed alphabetically by default but can be rearranged into what has most recently been accessed and shared in both list and grid formats.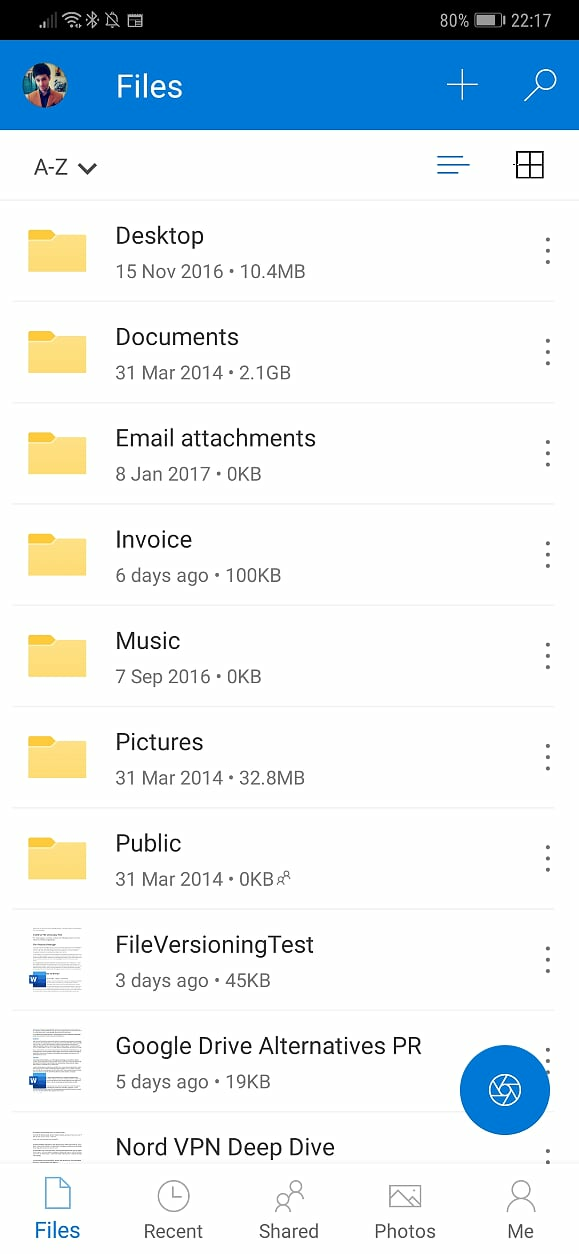 The "Photos" section allows you to automatically backup photos from your device onto the cloud, as well as access screenshots taken on a desktop. Of course, this does require you to give the application permissions to access your camera, photos, and videos in order to work. The "Me" tab displays how much storage space you have left, allows you to browse files that are available offline or in the recycle bin and adjust notifications and settings.
Browser
Microsoft makes all features available on browser, debatably making this the best version of OneDrive. At first, the user interface looks simplified across the left panel and top ribbon, but there are several options hidden away that are exclusive to this platform. Almost all core information is available at a glance and you can save different sort orders, even arranging things by file size.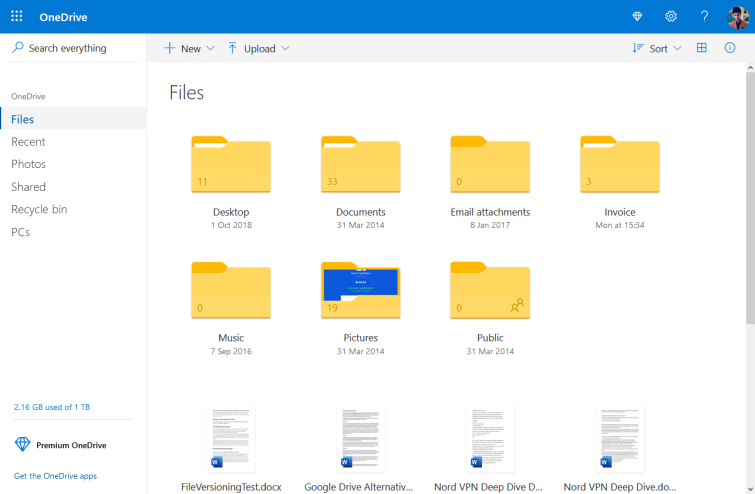 Double-clicking on any file will redirect users to the correct application for viewing and editing automatically. You can access Microsoft's assortment of apps manually by clicking on the 9-dotted grid next to the logo in the top-left, including Outlook, OneDrive, Word, Excel, PowerPoint, OneNote, and Skype.
Final Thoughts
OneDrive is certainly a powerful service, full to the brim with features without diving too heavily into the pocket. Set-up is simple and accessible for veterans and newcomers alike, with one of the most comprehensive list of different file versions for recovery if needed.
Windows integrating OneDrive at operating-system-level is a double-edged sword. On the one hand, it is incredibly convenient for those already in Microsoft's ecosystem. On the other, it is a little intrusive with some to go out of their way to try installing it.
Since Microsoft is far from a zero-knowledge cloud provider, OneDrive is essentially a service built with comfort and ease in mind, streamlined without sacrificing many features in the process. Its shortcomings can be improved by pairing it with password managers and client-side encryption services, but these are inclusions that could have transformed a good service into a great one.
1 User Reviews
Leave a Review
Thanks for your review!