Alternative Choices for You
Features
SlickVPN offers VPN servers in 142 cities across 46 countries worldwide. They operate a complex business structure with multiple Offshore Holding Companies, Subsidiary Holding Companies and Operating Companies. For marketing purposes, they're based in the USA, but their operational entity is based on the island of Nevis, part of an independent federation of islands in the West Indies. It's worth noting that any personal information you do supply to SlickVPN, though, is processed by systems within the United States and is subject to its laws.
As a SlickVPN customer, you're permitted up to five simultaneous connections to the VPN from up to two different IP addresses at a time. This means you could connect on, say, your home PC and tablet as well as on your mobile phone's data network at the same time if you need to.
Speeds and Performance
SlickVPN's servers performed well in our tests. We did have the occasional issue connecting to one or two servers, and noticed that the client becomes sluggish and unresponsive when it experiences an error. Generally though, connections happened quickly and without incident, and we enjoyed high average speeds without much speed loss: the US servers we tested were especially good, with consistently high speeds and almost no drop off compared to our basic test connection.
DNS and IP checks were fine, and as mentioned above, the client does a good job of warning you whether you might be susceptible to a leak and pointing you in the right direction to fix it. It's also nice to see built-in WebRTC protection too.
Pricing and Plans
SlickVPN offer a single VPN package with the option to pay in increments of one, three, six or twelve months, at increasingly better value per month. Paying on a yearly basis works out cheapest at about $4 per month, whereas paying monthly puts that figure up to $10: these prices are on the lower side of what VPN providers often charge and represent pretty good value for money.
Payment can be made by BitCoin as well as by PayPal or credit card, with SlickVPN respectfully requesting nothing more than an email address and password for the former. Using a credit card simply requires handing over the card: type, number, expiration date, verification number - no name or billing address needed. SlickVPN does offer the facility to request a refund within 30 days of making a purchase.
Security and Privacy
SlickVPN offer 256-bit OpenVPN connections as standard using the AES cipher, which is very secure; 128-bit IPSec and PPTP connections are also available, but SlickVPN rightly recommend users stick with OpenVPN if possible. Hash authentication is handled by SHA-1, and handshaking by 2048-bit RSA; this is an excellent level of security.
A recent update includes Hydra, a 'multi-hop' gateway through servers in Washington, DC - or other portal areas - which then routes your connection to a different portal from which it's continually funneled before connecting to the internet, further obfuscating your IP address. This feature further encrypts your connection to the point of making it close to uncrackable (though a powerful enough governmental adversary, could very well be able to do so).
The precise legal situation of SlickVPN's services is unclear owing to the division of the operation into various subsidiary, offshore and operating companies. A significant part of their operation does however seem to be subject to US law and jurisdiction. To allay any concerns users may have about the resulting potential for US government interference, SlickVPN operate both a strict logless policy and – impressively – maintain a Warrant Canary page. Updated every 14 days and PGP signed, this enables the company to communicate a warning of government interference to its users even in the event of receiving a federal gag order. Not only is it reassuring to see them maintain this feature, it's also great to know they take the issue so seriously.
There are no restrictions on peer-to-peer traffic or filesharing on any of their servers, though as with many VPN providers, you won't be able to send email using SMTP while connected.
The website
SlickVPN's website looks good and is easy to navigate. Lots of helpful information is available within a few clicks; we were particularly pleased to see a prominent link explaining what protocols, ciphers and key strengths are used by the VPN, as well as a page listing all the VPN server locations. Terms of use and privacy policy are all present and correct, and there's a page explaining conditions for refunds too.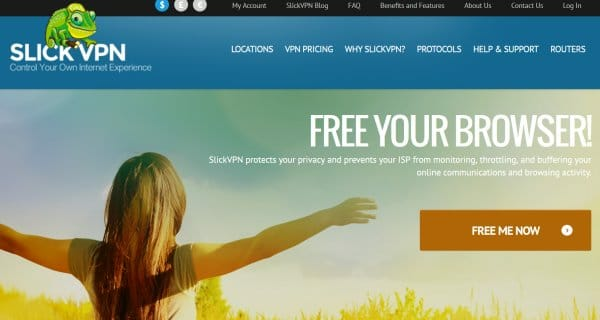 You'll also find a blog with news about the service, giveaways and competitions, and the occasional feature on using a VPN to enhance your security. Our only minor gripe is that the navigation bar where the blog, as well as other important pages like Contact and Account links, is easy to miss and disappears as soon as the user scrolls down the page.
Support
SlickVPN offer 24/7 support, though we were disappointed to find this is ticket-based only and is only accessible through the account area once logged in. Once you've sent a ticket, though, you won't have to wait too long for a response. We found support agents to be polite, helpful and knowledgeable, and we never felt like it was a burden to ask them questions. It'd be even better if this level of service could be extended to a live chat facility and made available for interested visitors to ask casual questions before they've signed up.

As for web resources, SlickVPN offer some great setup guides, but there's not much else by way of reference material for customers with issues or questions.
Software
Signing Up
Getting an account with SlickVPN is straightforward. After choosing a pricing plan and payment method you're asked to enter an email address for the account to be registered to and a password to use to log in – and, provided you pay with BitCoin or PayPal, that's it.
Once you're signed up, SlickVPN will send you a welcome email including the login details you'll use for their VPN service, as well as links to help you get started by downloading the client, viewing some tutorials or sending feedback on the service. It's worth noting that the password you're sent isn't obfuscated in any way, so you may wish to change it after registering.
The Windows VPN client
SlickVPN provides a powerful, feature-rich client for Windows based around OpenVPN. Connecting to the VPN is simple and options are easy to find and well explained by a web tutorial. One interesting quirk is that servers must be added to a 'group' profile before you can connect to them. This has the advantage of speeding up the server selection process if, for example, you don't care what geographic location you connect to but just want the fastest servers, or also if you don't mind where in the continental United States you end up so long as you can watch US Netflix. In conjunction with the auto-group feature and the balancing feature found in preferences, this also allows you to automatically choose either the closest or least-loaded server to connect to in any country without any extra effort. The downside is that it adds an extra layer of complication if the user wants to connect to a specific server in a specific location. Overall, though, we like the feature.
A quick browse of the preferences reveals a number of useful features. There's the option to start the client and, if you like, the VPN connection too with Windows. In addition to DNS and IP leak protection options in the 'Network' preferences tab, the client will display a warning if a user's Windows setup is liable to cause DNS leaks, complete with some basic instructions on how to resolve the issue: this is great, but it'd be even better if the built-in DNS leak protection was powerful enough to make that unnecessary.
Here you can also choose whether to connect via TCP or UDP, as well as choose your port number. This is useful for getting the VPN to work across different network setups - for example, on a public WiFi hotspot. There's also the option to step up security and anonymity by another notch through automatically changing your IP address at a timed interval. Finally, really advanced users can also specify custom OpenVPN parameters, which is a nice feature to see – especially in conjunction with the connection log displayed on the main tab. If we had a gripe, it'd be that the client can be slow to respond to user input at certain times, but overall we felt it was a good piece of software which makes connecting to SlickVPN easy and painless.
Other Platforms
SlickVPN provide a bespoke client for Windows and Mac OSX. In addition to this, there are setup guides for several major platforms including iOS, Android, Ubuntu and Tomato/DD-WRT routers. There are also guides to manually setting up the VPN on Windows and OSX if you're so inclined. The guides are generously illustrated and easy to follow, and it's always nice to see a variety of protocols provided for too.
Final thoughts
SlickVPN is a feature-rich VPN service with plenty to offer. As well as loads of servers across the world, a great client and good speeds, it's got the added benefits of offering a high level of user anonymity and security – we're especially pleased to see them maintain that Warrant Canary page. With prices low and a 30-day money-back policy, maybe SlickVPN is the VPN service you've been looking for. Click on the link below to give them a visit.
0 User Reviews
Leave a Review
Thanks for your review!