Alternative Choices for You
Price
VPN Unlimited has changed its pricing scheme substantially since we last reviewed the service. Originally KeepSolid's VPN Unlimited was a cheap VPN with a budget single month plan. Today, it is a service that conforms to a more standard VPN pricing scheme.
At the equivalent of $5 per month on the yearly tariff (billed $59.99 every year) and $9.99 for a single month, it is fair to say that VPN Unlimited is an averagely priced VPN for its bracket.
Users can also opt for a lifetime subscription for a one-time payment of $199.99. However, as is always the case, we advise against lifetime plans because it is impossible to guarantee that the service will always be available (or that it will continue providing a reliable and trustworthy service in the future).
New since we last reviewed the service, VPN Unlimited now permits users to purchase additional simultaneous connections on top of the 5 connections included in the base subscription plan. On the monthly plan, one additional device is an extra $0.99 per month, 5 additional devices will run you an extra $2.99 per month, and 10 additional devices is an extra $5.99 per month. If you opt for the annual subscription plan, you're looking at an extra $0.83/month for 1 additional device, $2.50/month for 5, and $5.00/month for 10. With the lifetime plan, you can get 5 additional devices for a one-time payment of $49.99.
VPN Unlimited now also offers users the option to bundle their VPN subscription with Passwarden, KeepSolid's password manager product. It's a great deal, because for about a buck more per month, you can get a secure password manager on top of your VPN subscription. The VPN Unlimited/Passwarden bundle is going for $10.99 per month or $69.99 per year (which comes out to just $5.83 a month).
VPN Unlimited accepts Paypal and credit/debit card payments, as well as Bitcoin for anybody who prefers to pay with added privacy. As an added bonus, anyone paying via PayPal can save 10% on their purchase. On top of more traditional payment methods, VPN Unlimited also accepts payments via Amazon or using gift cards for added anonymity.
The VPN also provides an industry-standard 30-day money-back guarantee, which is definitely enough time for users to test the service to see if it fits their needs.
Does VPN Unlimited unblock Netflix?
| | | | |
| --- | --- | --- | --- |
| | VPN Unlimited | ExpressVPN | NordVPN |
| Netflix | | | |
| iPlayer | | | |
| Amazon Prime | | | |
| Hulu | | | |
| Disney+ | | | |
The good news is that VPN Unlimited is above par compared to many other providers out there when it comes to streaming content. If you are looking for a VPN that works with Netflix this service is definitely worth considering. On top of reliably unblocking Netflix, VPN Unlimited is also a great VPN for BBC iPlayer, as well as a ton of other popular streaming services from around the world. You'll also be able to unblock hulu, Amazon Prime Video, and Disney+ with VPN Unlimited, which is great. On top of all that, this VPN will give you the power to unblock YouTube videos that are restricted in your region.
That said, a support agent told us that VPN Unlimited users won't be able to access Netflix UK with the service, however. This shouldn't really be much of a problem, though, since it is much better to have access to the US catalog, anyway.
When it comes to accessing streaming sites like Putlockers, 123 Movies, etc, this VPN works perfectly and lets you unblock them privately. And, because it provides more than adequate connection speeds for streaming, you should be able to watch content in full HD quality without encountering any annoying buffering issues.
Features
| | | | |
| --- | --- | --- | --- |
| | VPN Unlimited | ExpressVPN | NordVPN |
| Android | | | |
| iOS | | | |
| Windows | | | |
| macOS | | | |
| Linux | | | |
VPN Unlimited provides a well-rounded service in terms of features. Here is what subscribers get:
500+ servers in over 80 countries
Kill-switch (Android, iOS, Windows, and Mac)
5 or 10 simultaneous connections (depending on what you pay)
No usage logs policy (and only extremely minimal and non-invasive connection logs)
Strong encryption options including: OpenVPN, L2TP/IPsec, IKEv2, KeepSolid Wise, and WireGuard
KeepSolid Wise (obfuscation for concealing VPN use and bypassing firewalls)
Unblock Netflix, hulu, Amazon Prime, Disney+, and iPlayer
P2P Torrenting permitted on selected servers
Outstanding iOS app (with OpenVPN and a kill-switch)
Dedicated static IPs (add-on feature with an added cost)
24/7 live chat support
30-day money-back guarantee
Router compatibility
DNS Firewall
Two-factor authentication
Browser extensions for Chrome, Opera, and Firefox
Speed and Performance
We test VPN speeds three times a day using our scientific server-based speed testing system. Our dedicated VPN-testing servers check the UK, US, Hong Kong, and Australian servers both for average download speeds and burst (top) speeds. Below you can see VPN Unlimited average download speeds for the last three months as compared to a few of the biggest names in the VPN industry.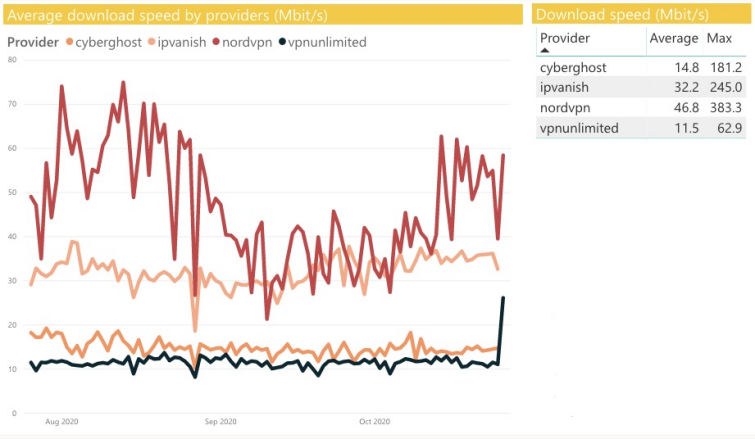 During the last three months, VPN Unlimited appears to have been suffering from relatively slow speed issues. However, while there are faster VPNs on the market (and some that are cheaper, too) this isn't necessarily a badly performing VPN. Average download speeds of 11.5 Mbits per second mean it should be good enough for streaming in HD, even if it may not be quite as fast as some of the other VPN options on the market today.
To be fair, we do not get many complaints about this VPN having speed problems, which means that the VPN should perform just fine for most people's needs. However, if you have particularly data-intensive requirements, you may want to test it using the 30-day money-back guarantee (to make sure you don't experience any performance issues due to speeds).
Considering the price of this VPN service, we would advise that there are faster options on the market that will almost certainly perform better for streaming HD content. Check out our best VPNs for streaming page for a list of these services.
IP, DNS, and WebRTC Leaks
We tested this VPN's desktop clients for IP leaks using the testing website ipleak.net. We detected no IPv4 leaks, IPv4 DNS leaks, or IPv4 WebRTC leaks.
However, when we tested on an IPv6 connection, we detected WebRTC leaks on both Windows and on Mac. Thus, in order to make this VPN secure on IPV6 connections, you will need to either disable IPv6 altogether or disable WebRTC (either in the browser itself or by using the Easy WebRTC Block extension for Chrome or Firefox).
Even more concerning, when we tested the Mac client with an IPv6 connection we got straight IPv6 IP leaks in addition to the WebRTC leaks. This is a very problematic leak, and, as a result, you will need to completely disable IPV6 on Mac to use this VPN securely. Failure to do so will mean you are leaking your IP address to the websites and services you use. Because of this, it makes it difficult to recommend this VPN to Mac users.
Privacy
| | | | |
| --- | --- | --- | --- |
| | VPN Unlimited | ExpressVPN | NordVPN |
| Kill-switch | | | |
| Obfuscation (stealth) | | | |
| IPv6 leak protection | | | |
| WebRTC leak protection | | | |
| Bare-metal servers? | | | |
| Self-hosted DNS | | | |
VPN Unlimited is based in New York, which may put some people off the VPN provider altogether. The US is generally considered to be a location that is bad for privacy because it is home to the NSA and the CIA. In addition, the US is a location where the authorities can serve tech firms (including VPNs) with a warrant and gag order.
This means VPN Unlimited could theoretically be forced to begin logging in secret (and even to log on its international servers and send that data back to the US). Although this is a genuine concern that may be a dealbreaker for some, we have no reason to believe that VPN Unlimited has actually been forced to do this. So, for most people, the service is likely to provide more than adequate levels of privacy. It really depends on your personal threat model.
Although VPN Unlimited claims to have a zero-log policy on its website, the reality is that it does appear to keep some limited connection logs (bandwidth used). However, it claims not to ever store timestamps with IP addresses, which means that this VPN can be considered extremely close to no-logs, and, more importantly, completely secure.
We do not keep the logs of the websites our customers visit, we only store the data related to the amount of traffic downloaded by the user. This information is available to be viewed in his account only. Also, it is crucial to point out that every time a customer logs in to VPN Unlimited, the system assigns dynamic IP-addresses. They are not static and there is no way that we can log the exact IP addresses or particular time stamps of VPN Unlimited customers.
Encryption
| | | | |
| --- | --- | --- | --- |
| | VPN Unlimited | ExpressVPN | NordVPN |
| PPTP | | | |
| L2TP/IPSec | | | |
| SSTP | | | |
| IKEv2 | | | |
| OpenVPN | | | |
| Other protocols | KeepSolid Wise (OpenVPN TCP over port 443) | | |
| WireGuard | | | |
| Shadowsocks | | | |
VPN Unlimited is one of the few VPNs that provides OpenVPN on all four popular platforms. OpenVPN is available natively on iOS, Android, Windows, and macOS. This is great, and means that you can use the VPN securely on any device (as long as you make sure to plug the aforementioned leaks).
We also like that VPN Unlimited does not provide PPTP encryption on any of its platforms. And both L2TP/IPsec and IKEv2 (the other protocols it provides) are known to be secure, which is good news. On top of that, it's great that the provider has also recently added WireGuard to its list of VPN protocols offered.
Here is how OpenVPN encryption is implemented:
AES-256-CBC/GCM, SHA1 for HMAC authentication, and an RSA-2048 handshake.

Perfect Forward Secrecy is provided with Diffie-Hellman (DH) with a 4096-bit key.
The SHA1 authentication is the weakest part of this protocol, but it is still considered secure enough to provide digital privacy for the foreseeable future. To conclude, VPN Unlimited's implementation of the OpenVPN protocol is considered secure.
Customer Service
| | | | |
| --- | --- | --- | --- |
| | VPN Unlimited | ExpressVPN | NordVPN |
| Free trial | | | |
| Money-back guarantee | | | |
| 24-hour support | | | |
| Live chat | | | |
| Money-back guarantee length | 30 | 30 | 30 |
VPN Unlimited gives you the choice of either 24/7 live chat support or a ticket system for asking a question via email. We found VPN Unlimited staff to be extremely knowledgeable and quick to respond to our queries. In addition, the team could contact secondary tech support agents quickly (and during the conversation) in order to provide us with more detailed technical information.
VPN Unlimited also has an extensive help section on its website which includes a blog, an FAQ section, and setup guides for getting the VPN going on various platforms. These resources are a great addition to the service, which definitely gets a 5/5 from us for customer support.
First-time subscribers also have a generous 30-day money-back guarantee to fall back on in case they are displeased with the service for any reason. This means you can test VPN Unlimited for a full month completely risk-free to see if it's the right VPN solution for your particular needs.
User Experience
The VPN Unlimited website is easy to navigate and provides a lot of useful information. Details about how it implements its encryption can be found on the website (though it does somehow make those details slightly confusing). Subscribing to the VPN is also easy, and the software is simple to access and install without any issues.
One thing we did notice is that VPN Unlimited has five trackers on its website, including facebook.net, yandex.ru, and google-analytics. Not ideal, but pretty normal nowadays.
Windows app
The Windows VPN client is an excellent app that is fully-featured with a kill-switch and OpenVPN encryption. In addition, users can connect using the VPN's proprietary obfuscation protocol KeepSolid Wise (TCP or UDP). This protocol is said to be extremely secure but only "moderate" in terms of performance.
The fact that KeepSolid Wise comes with UDP or TCP implies that it is actually OpenVPN. So we decided to press its support agent, who confirmed that it is OpenVPN over port 443 for concealing VPN use as HTTPS. This is what the agent told us:
Thanks to using the TCP 443 and UDP 443 ports, and with the OpenVPN protocol forming its backbone, it is much more encrypted and becomes extremely difficult to detect and block.
What is confusing about this is that obfuscated OpenVPN is actually only ever TCP over port 443 (not UDP over port 443 – which would stick out like a sore thumb if the traffic were analyzed). Thus, we are at a loss to understand why VPN Unlimited even has UDP as an option for the KeepWise protocol. They should only really have TCP and UDP as an option on regular OpenVPN. Thus, if you do intend to use the KeepSolid Wise obfuscation feature – stick to TCP!
Warning
OpenVPN TCP over port 443 is not a high-end obfuscation method (such as Stunnel, Xor, or Obfsproxy). Thus, it seems extremely misleading for VPN Unlimited to be giving OpenVPN TCP over port 443 the proprietary name "KeepSolid Wise" – there is nothing proprietary about it.
Overall, we found that the Windows client works well and has all the important features necessary for gaining digital privacy. Thus, we can recommend this Windows VPN for doing tasks such as Torrenting via P2P. However, it is also worth bearing in mind that VPN Unlimited only permits torrenting on five servers: US-California 1, Canada-Ontario, Romania, Luxembourg, and France.
macOS app
The Mac VPN app does not differ greatly from its Windows counterpart. OpenVPN encryption is available and users can elect to use OpenVPN TCP over port 443 (KeepSolid Wise protocol) to conceal VPN traffic as regular HTTPS. IKEv2 is also available from within the client.
A kill-switch is available in the client, meaning this VPN is good for downloading via BitTorrent. However, as is the case on Windows, Torrenting is only permitted on five server locations.
We liked the fact that the app showed us the workload percentage on each server; allowing us to pick a server that was suffering from less congestion.
Sadly, when we tested this VPN on IPv6 connection, we suffered straight IPv6 IP leaks as well as IPv6 WebRTC leaks. This is awful and means that you will need to completely disable IPv6 to make this VPN work securely on macOS.
Android app
The Android VPN app is easy to use and gives users the option to connect using IKEv2, OpenVPN and KeepSolid Wise (OpenVPN TCP over port 443) protocols are also available. In addition, a Killswitch is available on this platform.
Auto connect on WiFi feature allows people to stay safe as they move around and use public WiFi; this stops them from accidentally connecting to an untrusted (and unprotected) WiFi hotspot (such as an evil twin hotspot belonging to a criminal).
The Trusted Networks feature is available on mobile versions, which allows people to whitelist networks that are known to the user. This is a pretty impressive list of features for a mobile VPN app.
iOS app
The iOS VPN app gives users the choice of IKEv2, OpenVPN, and KeepSolid Wise (TCP and UDP) protocols. This is good, and the inclusion of OpenVPN on iOS is excellent; because it is pretty rare.
Users also get the addition of a feature called Connect on Demand, which is effectively a kill-switch (but which only works while connected via the IKEv2 protocol).
To turn it on, go to your iOS Home screen > Settings > VPN > Tap on a blue info icon of VPN Unlimited profile > enable Connect On Demand.
Other platforms
On top of providing apps for the most popular platforms, VPN Unlimited also provides full support for Linux, Windows Phone, router configurations, as well as for various browser extensions and streaming devices. This makes VPN Unlimited a truly versatile service that will work well on virtually any platform.
Final thoughts
KeepSolid VPN Unlimited is a VPN provider that is a good all-rounder. Anybody looking for a VPN that is solid in terms of encryption won't go far wrong with VPN Unlimited, and it is fair to say that it is a well-priced service that is quite easy on the wallet. However, the VPN's IPv6 leaks are indeed concerning and mean that Mac users should look elsewhere.
This VPN does keep some limited connection logs, including bandwidth use logs. However, those logs are extremely minimal and do not include IP addresses next to time stamps. This means that the VPN is as close to a no-logs VPN as it is possible to get, and we generally consider the service secure in terms of privacy. On the other hand, it is based in the US, which depending on your threat model, may be enough to put you off the service entirely.
As far as connection speeds are concerned, this VPN is nothing to phone home about. Average downloads over a three-month period demonstrate that it is a VPN that will have no problems streaming in HD, which is good, but there are definitely much faster VPN services out there. We also really like the fact that this VPN accesses the majority of popular streaming services. However, it is also true that speeds have been slipping more recently, which may become a problem if it persists.
Finally, if you opt for the annual subscription plan, this VPN becomes extremely cheap, which may suit people on a budget. The lifetime subscription plan is also interesting – and even if the VPN stays in business for just 5 years more; you would end up saving some money. However, we would recommend against committing for such a long period of time, because there are better services at a similar price point – and it is nice to have the option to leave a service if it starts to lose its way.
0 User Reviews
Leave a Review
Thanks for your review!