Alternative Choices for You
Price
Le VPN provides both VPN and Smart DNS services with all its subscriptions. It provides both those functions in one plan. You can reduce the monthly cost of a subscription by committing for a longer period of time. However, you have to pay for the entire subscription period up front.
As well as the standard options on the pricing page, it is worth keeping your eyes open for seasonal discounts on a two-year deal, these get posted on the website's homepage.
LeVPN provides subscribers with a seven-day money-back guarantee with all of its subscription options. Le VPN also accepts a long list of payment types, including credit cards, PayPal, and Bitcoin. The VPN also permits people to pay using a number of online payments such as OneCard and OpenBux. Finally, LeVPN uses the third party payment processors: Stripe and Paypal.
Features
| | |
| --- | --- |
| Server locations | 100 |
| Routers supported | |
| Total servers | 800 |
| Simultaneous connections | 5 |
| Split-tunneling | |
| Number of countries | 76 |
Le VPN is based in Hong Kong, a location that is recognized as being good for privacy. The territory has no data retention requirements.
The main features of the provider's package are:
A total of 800 servers in 114 countries

Multilingual website and app

Peer to peer BitTorrenting permitted

No usage logs policy (but keeps connection time stamps alongside user IP addresses collected at subscription phase)

Smart DNS (now greatly expanded and available on all subscription plans)

Automatic WiFi protection

Optional hybrid service incorporating Smart DNS

OpenVPN, L2TP/ IPSec, IKEv2, and PPTP protocols

Apps for Windows, Mac OS X, macOS, iOS, and Android

Manual installation for routers and Linux machines

Split Tunneling
The impressive server network includes many countries in the Caribbean and South America. There's also a strong presence in Middle Eastern countries, where censorship is prevalent and penalties are tough.
Unblock Netflix?
If you are looking for a VPN for Netflix, then I would recommend looking elsewhere. Le VPN told me that it is working at trying to provide access to the service but it is "not stable" at the moment. Keeping one step ahead of Netflix isn't easy and if unblocking Netflix is a primary concern to you we would recommend you look elsewhere.
The good news is that LeVPN provides unblock BBC iPlayer outside the UK with no issues. The UK's Channel 4 and ITV also allowed me to watch videos. Of US streams: I was unable to watch a video on the ABC website because its system spotted the VPN. However, I accessed videos on NBC without a hitch.
Speeds and Performance
We conducted speed tests for Le VPN using our scientific server-based speed test system. Our unique speed test system tests VPN speeds three times a day across servers in the UK, the US, Australia, and Hong Kong. Averages are ascertained by taking 40% of local burst speeds (tested in the UK) and 60% of average download speeds (in Mbps) across all four locations. This gives consumers the most reliable and realistic snapshot of VPN speeds available on the market.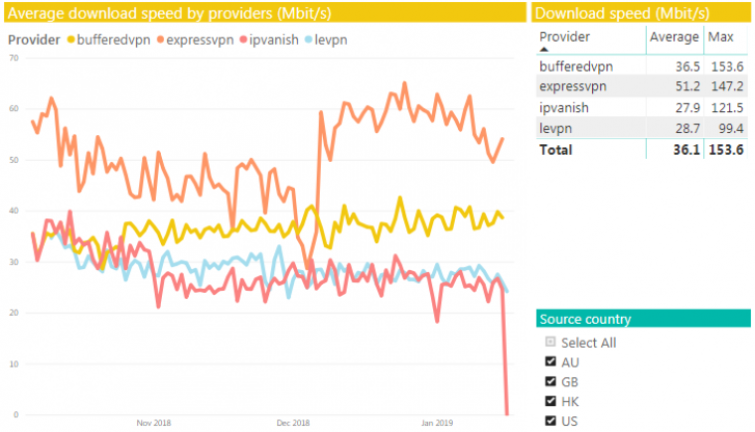 The image above shows Le VPN speed results for a four-month period stretching from October 2018 to January 20, 2023. As you can see Le VPN averages out at 28.7 Mbps for download connection speeds. Burst speeds are 99.4 Mbps.
These speeds are only just good enough to stream in 4k HD, which would likely result in some buffering. However, it is fair to say that the speeds are fast enough for most people to enjoy streaming on platforms like Netflix or YouTube.
All in all, the speed test results are not terrible, but it is easy to see other VPNs on the graph that are performing at around double that of Le VPN.
IP leak tests
| | |
| --- | --- |
| ProPrivacy.com SpeedTest (average) | 63.9 |
| Speed | 125.67 |
I tested for IP leaks on IPv4 while connected to Le VPN's New York server. Tests found no IP leaks, DNS leaks, or WebRTC bug leaks. Tests consistently showed my location as being in the United States when I used a DNS server in Georgia, meaning that the VPN was successfully masking my location. I used ipleak.net to check DNS leaks and the WebRTC bug. I also tested this with our own VPN leak test tool check for WebRTC leaks. The site couldn't detect my actual location during these IPv4 tests.
Unfortunately, the VPN did not fare as well on IPv6. During these tests, I connected to a server in the Netherlands and the VPN detected my real IP address and showed my real location in WebRTC leaks also. That demonstrates a regular IPv6 IP leak and a WebRTC IPv6 leak. All tests were done on a clean Virtual Machine on incognito to avoid cache problems. During our tests, the WebRTC bug was found for IPv6 on both Mac and Windows. You can see the results of the Windows test in the image below.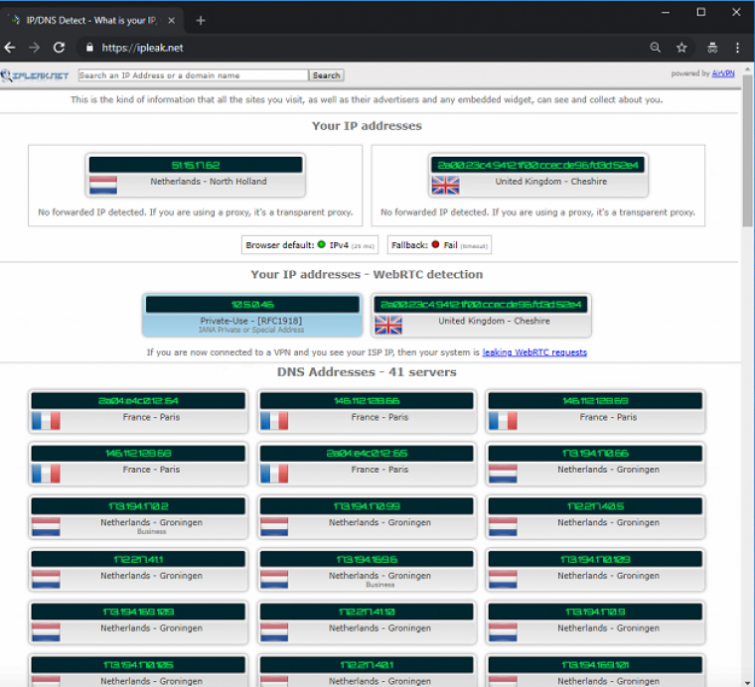 Privacy and Security
| | |
| --- | --- |
| IPv6 leak protection | |
| Kill-switch | |
| Obfuscation (stealth) | |
| WebRTC leak protection | |
LeVPN provides strong OpenVPN and a no logs policy, this alongside its location in Hong Kong makes the VPN generally good for privacy purposes. In addition, the firm permits P2P downloading via BitTorrent.
LeVPN's privacy policy explains that the company doesn't record its users' activities, meaning the sites they visit while connected. However, it does keep some connection logs (timestamps). This is hugely problematic because the firm admits in its Terms of Service that:
"When you register we will collect your username, email address, password (encrypted) and IP address."
Connection time stamps stored next to IP addresses allow for time correlation attacks. This kind of attack can allow authorities to figure out what subscribers have done online. Admittedly, a time correlation attack is a highly targeted process, that will likely only be used against high-level criminals. Despite this, it is a hole in LeVPN's security in terms of privacy.
Encryption
There are six different ways to access each VPN server. You can use the Smart DNS service or a mix of VPN and Smart DNS. If you want to stick with a VPN connection, you can use Open VPN over User Datagram Protocol (UDP) or Transmission Control Protocol (TCP), L2TP/Information Protocol Security (IPSec), IKEV2, or PPTP.
Le VPN's OpenVPN implementation uses:
Data channel: AES-256-CBC, HMAC SHA256

Control channel: AES-256-CBC, HMAC SHA256, DH-2048 for TLS handshake. The firm told us that it implements PFS with DHE.
This is strong OpenVPN encryption that exceeds our minimum standards for privacy. However, due to IPv6 leaks on Mac and Windows, consumers will need to ensure they are not suffering from leaks in order to guarantee privacy using this service.
Customer Service
| | |
| --- | --- |
| Money-back guarantee length | 30 |
| 24-hour support | |
| Money-back guarantee | |
| Live chat | |
| Free trial | |
| Free trial length | 7 |
Members have a number of choices when it comes to getting support. The knowledge base is a useful resource that answers questions on many topics and FAQs. However, members are also able to raise a support ticket or ask questions via live chat. Anybody can access the live chat in the bottom right of their web pages. If there is no one available at that moment, you'll be asked to raise a support ticket.
Unfortunately, I found the live chat to be unavailable a lot of the time. On one occasion I was left in a queue for an hour. Despite this, when I did manage to speak to a support agent they were always helpful and knowledgeable. Though when I got onto more techy questions, they faltered slightly.
The knowledge base is most useful for installation instructions. It doesn't have much troubleshooting advice. However, there is a search field to help you look through them so it is always worth having a quick check to see if there is support for your particular problem.
To raise a support ticket, you can access this web page either through the menu on the homepage or via the client area. It is possible to change the language of the support form.
User Experience
User experience is extremely important when it comes to VPN services. Below you will find various facets of the service tested to see how it performs in actual day to day use.
Signing Up
To sign up for the service, click on the button for the subscription period that you want to buy on the pricing page. The signup page is extremely straightforward. It only requires an email address to identify you. If you want to remain anonymous, you can create a burner webmail account for communicating with the LeVPN. However, it is important that you enter a real email address because Le VPN will send your login details there.
The PayPal payment options allow you to choose whether to take out a one-time subscription, or set up a repeat billing agreement.
Once your payment clears, Le VPN presents you with an online receipt. Le VPN sends an order confirmation, a welcome email, a receipt from your payment processor, an email with your username and password for the VPN service, and a payment confirmation email.
Click on the button for your operating system to get the installer to download. If you have other VPNs on your computer, make sure that they're not running before you launch the installation. As a subscriber, you get access to the client area of the Le VPN website. Click on "My Account" in the website's top menu to access the page.
The Le VPN Windows VPN Client
To log in to the Windows VPN, you need the username and password that you receive via email after subscribing. These generated credentials aren't easy to remember. You can cut and paste them from the email. The good news is that you only have to enter them the first time you use the app.
The layout of the app's main screen is very simple. You can click on the Connect button to connect directly from the server selection list or click on the Back button and press Connect in the main screen. The system settings are accessible through the three dots menu at the top right of the app.
The settings screen has few options. However, the app does include a kill switch to block access to the internet if the connection to the VPN drops. It is also possible to change the language in the app from this menu.
The app gives access to servers in eight locations in the US, including a specialist media streaming server. Le VPN now also provides a free Smart DNS service with its premium subscription. This is useful for people who like to do a lot of streaming and want fast connection speeds (but aren't specifically in need of privacy to do so).
Other Platforms
You can install the this VPN for Mac, Windows, Android, iOS devices and Windows phones. You can also load the Le VPN software onto DD-WRT routers and Linux machines.
You can access the Le VPN Smart DNS service separately by altering the setup of the network for Windows, Mac OS X, macOS and Linux computers. You can also alter mobile devices that run Android or iOS to use Le VPN's Smart DNS system. In addition, you can access the Smart DNS from games consoles, smart TVs, and routers.
Android client
Since we last tested LeVPN at the end of 2017, LeVPN claims it has updated its Android and iOS clients. However, the Android client is still extremely bare-boned with no settings that can be toggled. I found no killswitch, no ability to toggle through encryption protocols in the client, and no availability of features such as split tunneling.
The good news is that the Android VPN client does use OpenVPN (UDP 53) by default. So despite what it tells you if you click on "More protocols/locations" in the client (it links to a page on its website that tells you to download the third part OpenVPN client) - you do get OpenVPN encryption.
iOS client
Like Android, this client does not have a killswitch. It also does not allow users to toggle through encryption protocols or do anything extra like turning on DNS leak protection or split tunneling. The iOS VPN client uses IKEv2 by default with IPsec also available via the app. As is the case with nearly all iOS clients, users must download the third party OpenVPN connect client and .ovpn config files to connect using OpenVPN encryption.
Final Thoughts
The option to use a Smart DNS service on a home TV is a great feature for expats. The allocation of 5 simultaneous connections is comparable to other VPN services on the market, which is great.
The Smart DNS/VPN hybrid concept is a great idea. It creates a situation called "split tunneling." This is a hot topic in the VPN industry at the moment, and it is good to see LeVPN providing this feature.
Although this VPN service is reasonably priced, speeds are not as fast as one would hope. For most people, there are better services with tighter privacy policies (that do not keep timestamps next to IPs) and better connection speeds available on the market. I wouldn't subscribe to LeVPN because I can think of a number of better VPNs in this price range.
This VPN targets itself successfully at the French market, where it is very successful. At ProPrivacy.com, we can't help feeling a bit sorry for those French consumers; who could be using a better VPN for their money!
0 User Reviews
Leave a Review
Thanks for your review!