Alternative Choices for You
Features
| | |
| --- | --- |
| Simultaneous connections | 1000 |
| Server locations | 63 |
| Routers supported | |
| Split-tunneling | |
| Total servers | 1000 |
Windscribe Ltd is a fledgling VPN provider that makes its home in Ontario, Canada. Founded in 2016, it's an incredibly young service, and the last time we reviewed Windscribe we had difficulty finding its features on its website. The good news is that since then, Webscribe has updated its site and included a handy "Features" page.
You'll also be able to compare "Unlimited" and "Limited" plans via the "Pricing" page. Pro users have access to a number of exclusive features, including:
Unlimited simultaneous connections
63 server locations
Unlimited bandwidth
OpenVPN encryption
IKEV2 encryption (default on iOS) in Beta for Windows and Mac.
DNS leak protection
Kill-switch (displayed as Firewall in the client)
Stealth mode and port forwarding options
Adblocker
Peer-to-peer (P2P) support
Chrome and Firefox extensions
Windflix Netflix access (pro only)
R.O.B.E.R.T ad-block feature (excellent ad block that is fully customizable)
This is interesting, as Windscribe claims to keep no "permanent logs" on its features page.
Some connection logs would need to be kept in order to analyze where subscribers are logging into the VPN. This is something that we'll investigate later in the review.
Netflix
Windscribe does unblock different Netflix libraries including the US library and various other streaming services via its Windflix servers. These servers are only available on the paid plan, however.
We found that the servers were functional, meaning Windscribe is a great pick for unblocking Netflix – particularly its US content. It's worth noting that the service was temperamental at times, and could not unblock Prime Video or BBC iPlayer. If Netflix is your main concern, or if you'd like to unblock content from other streaming services, you might prefer to shop elsewhere.
Speed and Performance
Here at ProPrivacy.com, we test our VPNs three times a day using the OpenVPN protocol and a scientific server-based system – and you can check out the results below.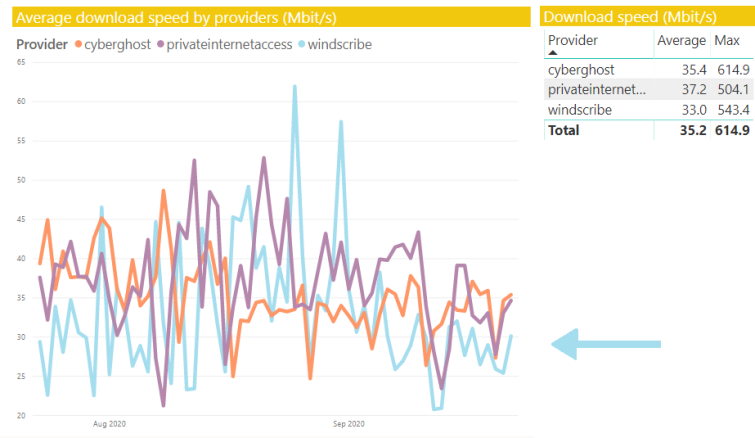 Despite its outstanding burst speeds, Windscribe might not top the charts when it comes to average download speed. However, the provider certainly holds its own against other names in the VPN market and remains in the top percentile. Over 3 months, Windscribe clocked in an average download speed of 35.2, making it a great choice for anyone wanting to stream in HD without constant buffering interruptions.
Leak tests
| | |
| --- | --- |
| ProPrivacy.com SpeedTest (average) | 17.8 |
| Speed | 207.7 |
In addition to fast speeds, the good news is that I didn't detect any DNS leaks during. I used ipleak.net to check for both DNS and Web Real-Time Communication (WebRTC) leaks. Sadly, I was unable to test for IPv6 leaks because my ISP does not provide it. While I found no leaks myself, here at ProPrivacy.com we do recommend that you run these tests every so often to make sure that your VPN is working well for you.
Price
Windscribe heavily advertises its free VPN plan, although it is there largely to temp people into buying a premium subscription. Windscribe Unlimited – the premium option – is only available in one plan, which can be purchased either yearly or monthly.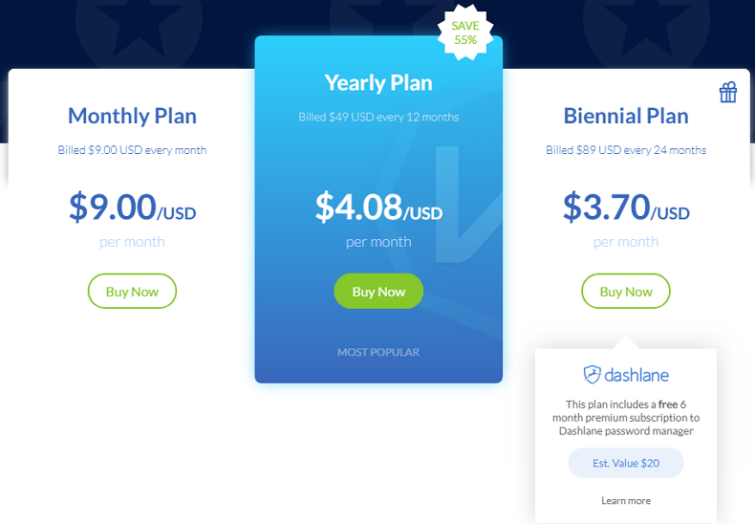 As with most VPN services, subscribers are rewarded for committing for a longer period of time.
Subscribers can pay for Windscribe using MasterCard, Visa, PayPal, and American Express. For those that would rather pay with BitCoin (and retain a higher degree of anonymity), there is an option to do so. What's more, a three-day money-back guarantee is also available and valid for up to 10 Gb of usage. Bear in mind, however, that you can also trial Windscribe without paying a penny – thanks to its excellent free plan.
Ease of Use
| | |
| --- | --- |
| Android | |
| iOS | |
| Windows | |
| macOS | |
| Linux | |
Windscribe VPN has software for just about every platform on the market. The Windscribe client is supported on all of the following:
Computers: Windows, Mac, and Linux Ubuntu
Browsers: Chrome, Firefox, and Opera
Mobile phones: iPhone, and Android
Routers: DD-WRT, Tomato, and Asus
NAS: Synology and QNAP
Torrent clients: uTorrent, Deluge, qBitorrent, and VUZE
It is also worth bearing in mind that smart TVs and other types of devices can be used with the VPN via a router or computer. In the guides section, there is even setup information for Amazon FireTV, Nvidia Shield and Kodi. As such, you'll be hard-pressed to find a device that you can't connect to Windscribe.
It is possible to buy a pre-flashed WiFi router from Windscribe that comes with the VPN installed and ready to plug and play. This is an excellent option for anybody that wants a no-fuss way of protecting all the devices in their home.
If you want to use a VPN specifically for torrenting, take a look at our best VPN for torrent sites guide.
Windscribe on Mobile
Windscribe offers users VPN apps for Android and iOS, and these clients are all available on the downloads page for Windscribe.
Windscribe mobile looks and functions just the same as the desktop version. With the iOS and Android clients, you'll be prompted to log in once you've launched the app. From there, simply hit the On/Off button to activate the VPN, and select the server you'd like to connect to.
The Windscribe iOS VPN app used IKEv2 encryption by default, users will need to install the third party OpenVPN connect client to connect to Windscribe via OpenVPN on iOS devices.
Customer Service
| | |
| --- | --- |
| Money-back guarantee | |
| 24-hour support | |
| Live chat | |
| Money-back guarantee length | 3 |
| Free trial | |
Windscribe has four support options available: setup guides, an FAQ page, support tickets and a chatbot. Sadly, there is no 24/7 live chat feature. You'll need to use the email ticket system to troubleshoot directly with Windscribe, or strike up a conversation with "Garry", the VPN's chatbot.

The setup guides are fantastic, however. They provide details on how to install Windscribe on all devices and platforms. No matter whether you want to use Windscribe on Linux, Opera, Windows Mobile, uTorrent – or even a Synology NAS device – you'll find a comprehensive guide. What's more, each guide offers clear step-by-step instructions supplemented with screenshots.
Windscribe's FAQ page is also rich in content. It covers basic questions and high-tech queries honestly, and without glaring errors. For example, the FAQ explains that the VPN will not provide complete anonymity, but rather privacy – a distinction that plenty of VPNs seem oblivious to. This insight is excellent and reassures us that Windscribe's general VPN knowledge is trustworthy and superb.
If for some reason you can't find the answer to your question, it is possible to send a support request ticket to the Windscribe support team. I wondered if I could use this service without registering, and was happy to find that I could use a fake Windscribe username on a ticket request to ask a question.
I received a ticket response immediately, and the answer to my question within 24 hours.
After I had purchased a subscription, I sent a more technical query and again got a response within 24 hours. All in all, Windscribe's support was good – but not available 24/7 like other top-of-the-range VPNs.
Privacy and Security
| | |
| --- | --- |
| Kill-switch | |
| Obfuscation (stealth) | |
| IPv6 leak protection | |
| WebRTC leak protection | |
| Bare-metal servers? | |
| Self-hosted DNS | |
Windscribe is based in Canada, which is part of the Five Eyes surveillance agreement. In addition, it is known that CSIS (the Canadian version of the NSA) has previously been caught illegally accessing citizens' metadata. Add to that the fact that ISPs in Canada are supposed to keep logs to comply with anti-piracy legislation (Bill C-11) and you understand why Canada is a less than perfect place for a VPN to be based.
It is for this reason, that it is important for a VPN located in Canada to have a zero logs policy. Any logs kept by a Canadian-based VPN provider could at some point be accessed via a warrant, or perhaps even be intercepted via CSIS.
In the EULA Windscribe specifies that: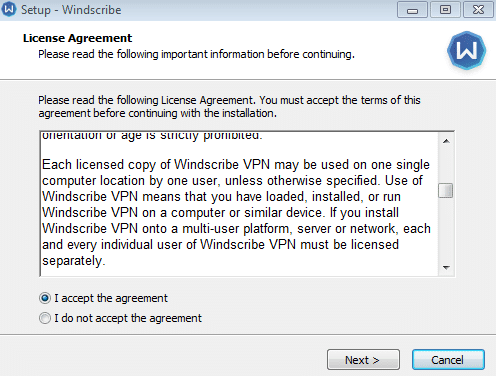 This implies that the firm may keep an eye on what is happening with each VPN subscription to ensure that it isn't being used by too many devices/IP addresses at one time. In order to do this kind of analysis, connection logs and IP addresses would need to be stored – at least for a short period of time if not indefinitely. However, later in the EULA, Windscribe states that any data collected about subscribers will not be "personally identifiable".
I checked the privacy policy and it states that:
As you can see, Windscribe does delete all connection logs three minutes after a connection to the VPN ends. This means that Windscribe must monitor for potential abuse of the service during sessions (to make sure it isn't being used by more than one person). This is good news and means that Windscribe is not keeping any data that could later be accessed by the authorities.
On the whole, it would appear that although Windscribe often mentions that the VPN should only be used by one person – the logs it keeps make it hard for Windscribe to actually enforce this. As such, you will be alright allowing other family members (who live in the same house as you) to use the VPN without concerns that Windscribe might notice.
Windscribe's logging policy is fair and it is excellent. In addition, the privacy policy is written in a very clear and precise way. This allows you to trust that the VPN is doing its job properly and leaves no gray areas surrounding how your data will be handled. This is an extremely positive side of Windscribe's VPN service.
Encryption Protocols
| | |
| --- | --- |
| PPTP | |
| L2TP/IPSec | |
| SSTP | |
| IKEv2 | |
| OpenVPN | |
| WireGuard | |
| Catapult Hydra | |
| Shadowsocks | |
The good news is that when it comes to encryption, Windscribe can be considered highly secure. It provides OpenVPN encryption (our recommended protocol) implemented to a high standard. The details of that encryption implementation are as follows:
AES-256 cipher, SHA512 authorization, and a 4096-bit RSA key – in addition to supporting Perfect Forward Secrecy using Diffie Hellman (DHE).
It is also worth mentioning that Windscribe clearly advertises these encryption details on the features page of the website. This is excellent and is something that many VPN providers could learn from. Transparency in this key area of the service goes a long way!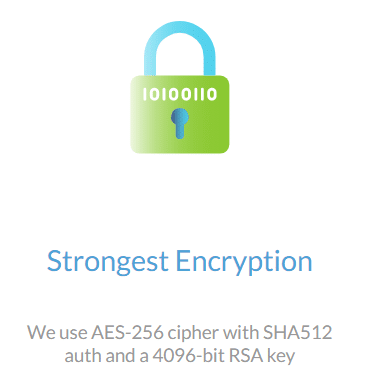 It is also worth noting that Windscribe is in the process of adding the IKEv2 protocol to its clients. IKEv2 is available for Windows and Mac in the new Beta version of the client. It will be rolled out as the default encryption on its new client in a few months time. Windscribe does also plan to add IKEv2 to the Android client, but this will take a little bit more time according to the firm. IKEv2 is a secure form of encryption that provides excellent speeds for streaming.
Here at ProPrivacy.com, as a general rule, we recommend OpenVPN (because it is the most mature and well-tested form of secure VPN encryption). However, having IKEv2 as an option is a fantastic option that definitely helps to give consumers more options.
In addition to strongly implemented encryption, the Windscribe VPN software also provides Internet Protocol version 6 (IPv6) and Domain Name System (DNS) leak protection. It also clearly denotes which servers can and cant be used for P2P Torrenting. Check out our best VPNs for torrenting article for a list of alternatives. The Windscribe client also has a kill-switch that will disconnect you from the internet if your VPN connection drops out. This stops you from accidentally leaking unencrypted traffic to your ISP.
Finally, Windscribe also provides double hop (in the Chrome extension). This allows subscribers to tunnel through two proxy servers rather than one. This will slow down your internet connection a little bit more (and is not particularly necessary for most people). However, for people who want to obfuscate their location as much as possible, it is an interesting extra feature.
Final thoughts
Windscribe is a Canadian VPN provider that's transparent and privacy conscious. The firm's honesty and well-presented privacy policy is a testament to its service.
The free version of Windscribe might be slow, but will allow folks to access blocked news websites amongst other things. Considering there's no price tag, it's a useful resource for bypassing censorship and geographic restrictions. For the more data-intensive tasks like streaming, however, the free service is not going to cut it.
On the other hand, the Windscribe Unlimited plan is a superb premium VPN that provides blistering speeds. Although the USA VPN did clock in slower than its European counterparts, it was fast enough to stream in HD. Considering the relatively low price of this VPN service (especially if you commit for a year), I found this VPN to be well thought out, well designed, fully featured, and a pleasure to use. With privacy assured thanks to OpenVPN encryption, this VPN is definitely worth considering.
3 User Reviews
Leave a Review
Thanks for your review!