PROS of VPNTunnel
Seven-day money-back guarantee
Secret three-day free trial
Custom app for Windows, Android, and iOS
Third-party OpenVPN app for Windows, Mac OS X, macOS, and Linux
Allowance of five simultaneous connections
No logs
CONS of VPNTunnel
Custom app not available for Macs
No kill switch
File sharing not allowed
Pricing and Plans
VPNTunnel is one of the cheapest VPNs in the industry. The one year discounted rate is particularly cheap when calculated on a monthly basis. A three-month subscription period is also available, though not as heavily discounted as the one-year plan.
Each subscription period qualifies for a seven-day money-back guarantee. A subscription entitles you to connect up to five devices at once. However, account sharing is forbidden.
The company accepts a large range of payment methods, including credit cards, PayPal, Bitcoin, and bank transfer.
The VPNTunnel website won't tell you, but ProPrivacy.com will: you can get a three-day free trial of VPNTunnel if you write to the support team through the Contact Us page on the site.
Features
The features of the company's package are:
More than 800 servers in 31 countries
Proprietary app for Windows, Android, and iOS
Multilingual app for OpenVPN
Point-to-Point Tunneling Protocol (PPTP), Secure Socket Tunneling Protocol (SSTP), and Layer 2 Tunneling Protocol (L2TP) available for manual setup
No activity logs
Allowance of five simultaneous connections
No data throughput limits
Multilingual website
The server network has a strong presence in Europe. It also has some great locations in Latin America, including Brazil, Argentina, and Panama.
Security
VPNTunnel offers PPTP, SSTP, and L2TP/Internet Protocol Security (IPSec) for manual setup. Owners of macOS computers should note that PPTP isn't supported by the operating system. The VPNTunnel website states that OpenVPN is not available for iOS and Android devices. Instead, it gives manual VPN setup instructions for those operating systems. However, there is an OpenVPN GUI interface available for free for those operating systems. Thus you should at least give installing that version a try on your smartphone or tablet.
Oddly enough, once I subscribed to the service, I discovered that there is actually a custom app available for Windows, Android, and iOS. It seems the statements on the site's FAQ page are heavily out of date.
The OpenVPN implementation uses Blowfish encryption with a 128-bit key. Most VPNs use a 256-bit key with Advanced Encryption Standard (AES) encryption. AES was invented for the US government. It is the most secure encryption system in the world. However, some mistrust it because of the US government's involvement in its creation. Blowfish is a respectable alternative. Nobody has ever cracked it.
A longer encryption key makes it harder to crack encryption. A computer program can just work through every possible key combination in a brute force attempt to discover the key. However, the longer the key, the longer it would take to get the key by this method. Therefore, it would take far longer to crack a 256-bit key than a 128-bit key. Supporters of 128-bit keys point out that Blowfish with a 128-bit key has never been cracked. Using a 256-bit key creates a lot of extra processing, using up CPU capacity and creating long delays in the communication process. This is an unnecessary piece of over-engineering, when the aim is to improve on a system that is already uncrackable.
OpenVPN Encryption
Cipher: Blowfish-128
Data Auth: HMAC SHA1
Handshake: RSA-2048
Control Auth: HMAC SHA1
Forward Secrecy: DHE-2048
Logs & Legal
Connection:None
Traffic: None
Country: Ok
Those Blowfish encryption keys have to be distributed because the same key encrypts and decrypts a message, so both sides in the connection have to possess the same key. The data encryption key distribution task is potentially a weak point in any security system. OpenVPN uses a public key system for this phase. In this scenario, a different key decrypts a message and it is impossible to guess the decryption key if you have the encryption key. This means that the owner of the key can make the encryption key public. This public key is written on a security certificate, which also acts as authentication method.
The security certificate is held on a separate server. The first thing the client will do when connecting to a server is encrypt a message using the public key written on the certificate. If the server can decrypt that message and reply to it, it has proved its identity. A hacker intercepting the message would not be able to decrypt the message.
The RSA cipher used by VPNTunnel has a 2048-bit key. This is standard for the VPN industry. However, the top rank of companies has decided to move up to a 4096-bit key, just to be safe.
A big problem with the use of the standard free OpenVPN GUI interface is that VPNTunnel is unable to include extra security features. VPN providers with their own apps usually write these into their custom software. The main security measure, which really enhances a standard OpenVPN implementation, is a kill switch (to block off the internet if the connection to the VPN gets broken). Another nice-to-have security feature is automatic WiFi protection. This is particularly important for mobile devices.
Privacy
VPNTunnel's privacy policy is one of the best in the industry. It doesn't keep any logs. Just about all VPNs say that, but then the fine print gives away the fact that they actually do keep logs. Not only does VPNTunnel not keep activity logs, but it also doesn't keep any connection logs. The connection log issue is an aspect that a lot of VPN companies fail on.
VPNTunnel's fine print speaks with confidence about its servers in Sweden. The company began in Sweden. The owners and operators clearly still have a great interest in that country, even though the service's operational base is now in the Seychelles.
Police forces can easily get court orders to force VPN companies to hand over their records. The presence of connection logs, containing your IP address and timestamps showing when you were active, is enough to enable prosecutors to trace you. Thus the absence of connection logs at VPNTunnel is very, very good.
Unfortunately, the company then goes on to state that this excellent policy only applies to its servers in Sweden. The privacy policy statement on the VPNTunnel website's FAQ page refers the reader to the company's terms of service and privacy policy document for the logging procedures enforced on servers in other countries.
However, neither of these pages details what the logging policy is in countries other than Sweden. The privacy policy declares that the company doesn't collect personal information on its customers. However, there is no specific mention of the treatment of the IP addresses of VPNTunnel's users.
The terms of service also explicitly bans the downloading of copyrighted files.
Support
The customer support team can be reached through a live chat service at the website. The service isn't always manned. A notification on whether there is someone attending the live chat is shown at the bottom right of the website.
If there's no one on the help desk you can leave a message either by clicking on the notice, or by going to the site's contact page.
You can also contact the support team via email.
The FAQ page is another support channel. However, the information there is aimed more at potential customers, rather than being a troubleshooting aid.
The Process
Signing Up
When you're ready to subscribe, click on Order in the site's top menu bar. Click on the subscription period that you want to buy and enter your email address. Don't enter a fake email address. You need access to the email account you enter into this field because a verification email will be sent to it. You can't use the service until you've validated your email address. If you are angry that this requirement compromises your anonymity, simply create a burner webmail account for communication with VPNTunnel.
You have plentiful payment options. The payment section of the screen adapts according to which payment type you choose. I went for PayPal.
Make sure you uncheck the "Enable Subscription" option. Otherwise, you end up with a repeat billing agreement.
As a PayPal user, I was asked to log into my account and approve the purchase. This charge is valued in US dollars. I have dollars in my PayPal account, so this transaction was straightforward. If you don't have dollars, the money will be taken out of whatever currency you have in your PayPal account and converted automatically to dollars. If you cancel the subscription, PayPal regards a refund as a deletion of the transaction. Therefore, if you paid out of an account that is in a different currency, you'll receive back exactly the same amount. This applies even if the dollar exchange rate changed between you paying for the service and getting a refund.
After the payment process was complete, I was shown a Thank You page.
The message in this page worried me because it told me that I could cancel the repeat billing agreement. However, I had unchecked the "Enable Subscription" box, so there shouldn't have been a repeat charge placed on my account. I checked on my PayPal account. There was no recurring payment entry for Online Sales Solution, which is the billing name used by VPNTunnel.
Click on the button in the Thank You screen to set up an account and download the VPN software. Once you create your username and password, you get access to the website's client area. This is where you can download the app.
Annoyingly, the app installation process requires you to restart your computer.
You'll receive three emails about your subscription. The first relates to your account and has a validation button in it. You need to validate your email address before the service will work. The second email is just a thank you. The third is a receipt from you payment processor.
The VPNTunnel Windows VPN Client
The installation process should create a shortcut on your desktop. Click on it to open the VPNTunnel app.
Your username and password for the app are the credentials that you set up just after you paid for the service. You only need to enter them the first time you access the app. After that, the system will log you in automatically.
The app is well laid out and you don't need to be an expert to use it. The top of the screen shows your current location. You then have a drop-down list that gives you VPN protocol options. This is a great feature, but your best bet is to leave that setting on its default, which is OpenVPN over User Datagram Protocol (UDP). Your only other task is to select a location and press Connect.
The app's settings options are limited. It would be really nice to see a kill switch and automatic WiFi protection. However, by activating "Start program with Windows" and "Auto-reconnect if connection is dropped," you can get pretty close to those two requirements.
You can also change the language settings of the app. There are options for English, French, German, Russian, Spanish, and Swedish.
Further down in the screen are options to specify the port that your connections go to. However, you should probably leave those alone unless you're a networking specialist.
Performance (Speed, DNS, WebRTC, and IPv6 Tests)
I conducted speed tests on the VPNTunnel service using OpenVPN over UDP.
In each case, I performed five test runs with testmy.net from a location in the Caribbean. Connections to the US were made to a server in Miami. The UK tests went to a server in London.
I used IPLocation.net to test the actual location of the VPNTunnel servers that I accessed. I first selected the VPN server in New York. The app reported my new location as Parsippany, New Jersey. This isn't exactly New York, but it's close enough. IPLocation collects results from five geo-location systems. Two of these reported my true location to be in Parsippany, New Jersey, one decided I was in Newark, New Jersey, another said I was in Garwood, New Jersey, and the last thought I was in New York City.
I disconnected from the server and reconnected. This time, the app told me that I was in New York City. IPLocation reported my location as New York Garden City (two votes), Westbury in New York, Lingwood, Texas, and the City of London in the UK.
For a second North American VPN server, I wanted to try a location in Canada. Thus I accessed the VPNTunnel server in Toronto. However, the connection failed. I tried the VPNTunnel location in Montreal instead. Only one member of IPLocation's panel reported this location as Montreal. Three thought that I was in Saint Quentin, New Brunswick, and one declared that I was in Carvel, Alberta.
The speeds reported for my Montreal location were so slow that they seemed unrealistic, so I disconnected and then tried again. IPLocation came up with exactly the same results. Speeds were still impossibly slow. I took all possible steps to give VPNTunnel a fair chance and rule out the possibility that the results were unfairly impaired by other factors. However, the Canadian server's speed tests were terrible every time.
VPNTunnel has three servers in the UK. One of those is tuned for BBC iPlayer. As I wanted to test the service's abilities to get into video streaming services from abroad, I chose that option. The IPLocation results when I was connected to this server were literally all over the map. One of the five underlying detection services thought that I was in Johannesburg, South Africa. One detection service told me that I was in Maidenhead and another said that I was in Bromley - two locations in Kent, in the UK. The other two services saw that I was in the UK, but couldn't name my precise location.
Unfortunately, the speeds offered by that server were far too low to stream video.
I was unable to establish a connection with the VPNTunnel server in London, so I connected to the Coventry server. The five IPLocation services placed this server in Coventry or Rugby, which is right next door.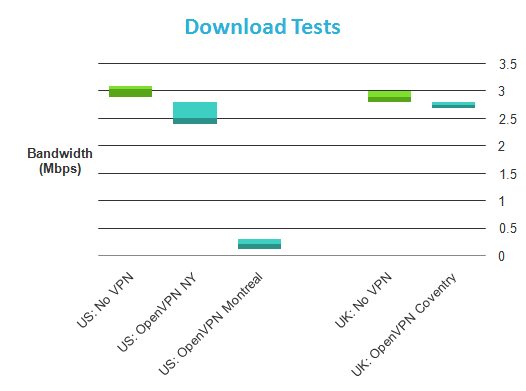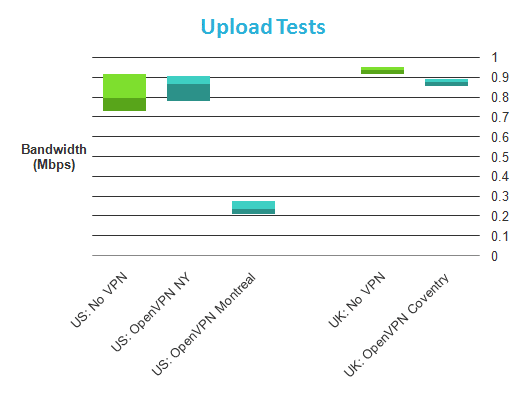 The graphs show the highest, lowest, and average speeds for each server and location.
The New York and Coventry servers gave a respectable speed performance both for download and for upload.
I performed more tests with ipleak.net while I was connected to the VPNTunnel server in New York, to check Domain Name System (DNS) leaks and the Web Real-Time Communication (WebRTC) bug. This site reported my location as Parsippany, New Jersey and encountered calls to just two DNS servers. One of these was in Arizona and the other in Sweden. This is unusual. However, neither gave away my true location in the Dominican Republic.
While still connected to the New York server, used our leak test. This also detected my location as being in the US. This test site could find no WebRTC inconsistencies or DNS leaks.
My Internet Service Provider doesn't use Internet Protocol version 6 (IPv6) addresses, so I was unable to test for IPv6 leaks.
Streaming Services
I tested access to a number of video streaming services to check whether VPNTunnel could circumvent their overseas access blocks. While connected to the New York server, I was unable to load the Netflix website. The error returned by my browser stated that the website took too long to respond. However, at the same time, I was able to access Yahoo and Facebook without problems. ABC spotted the VPN and refused to deliver a video. I also couldn't watch a video at NBC, which is bad because that site's VPN detection system has a very low bar.
I connected to the VPNTunnel server designated for access to BBC iPlayer. However, the BBC spotted the VPN and wouldn't let me watch a video. Netflix UK also refused to deliver me a video. Channel 4 allowed me to watch. However, the transfer speeds were too slow and the playback paused for long periods.
The Coventry server had much better speeds, so I was able to watch a video from the Channel 4 website comfortably. However, Netflix UK and BBC iPlayer still wouldn't let me watch.
Other Platforms
The VPNTunnel custom app is available for Windows, Android, and iOS devices.
VPNTunnel can be used with the OpenVPN GUI interface on Windows, Mac OS X, macOS, and Linux. The company states that the OpenVPN system isn't available to users of mobile devices. However, there are OpenVPN interfaces available for free for iOS and Android operating systems. These OpenVPN interfaces rely on OVPN files to configure connections to servers. The OVPN files supplied by VPNTunnel should be compatible with any open source, non-proprietary OpenVPN interface.
VPNTunnel runs PPTP, SSTP, and L2TP servers that customers can connect to by setting up a VPN manually on their operating systems. PPTP is not supported in macOS, but it can be used on Windows, Mac OS X, iOS, Android, and Linux. SSTP and L2TP can be used on all of those operating systems and also on macOS.
VPNTunnel Review: Conclusion
VPNTunnel badly needs to update its website because it doesn't mention its custom app anywhere on its sales pages. The presence of this app is only made apparent once you've has signed up. Owners of mobile devices wouldn't bother to subscribe to this service because the website tells them that there is only PPTP and L2TP available for them and they will have to set up the VPN manually, which isn't true.
You should avoid VPNTunnel if you like to download files with torrents because the terms of service bans the use of the network for this activity. The VPN also isn't any use for trying to get into streaming services from abroad.
I liked:
Seven-day money-back guarantee
Multilingual site and app
Accepts PayPal and Bitcoin
Unlimited data
Online chat for support
I wasn't so sure about:
Online chat rarely manned
I hated:
Ban on peer-to-peer (P2P) downloads
Some servers not available
Some servers very slow
Can't get into many video streaming services
It is mystifying that VPNTunnel offers a three-day free trial but only makes that information available to customers after they have paid. Perhaps the company doesn't want the poor performance of many of its servers to be revealed to potential customers.
0 User Reviews
Leave a Review
Thanks for your review!