Alternative Choices for You
Features
| | |
| --- | --- |
| Simultaneous connections | 5 |
| Routers supported | |
| Server locations | 50 |
| Total servers | 1300 |
SaferVPN is a well rounded VPN provider with a strong feature set, below we have included what you can expect to get with the subscription:
Apps for all popular platforms
No logs policy
1300 servers in 50 countries
Strong OpenVPN and IKEv2 encryption
Automatic WiFi protection feature
Kill switch (Windows, macOS)
5 simultaneous connections permitted
24/7 live chat support
Automatic location selection algorithm
Peer-to-peer (P2P) torrenting is permitted (Canada, Spain and Netherlands servers only)
Router support with guides (DD-WRT, Tomato and more)
Chrome extension
Automatic Location Selection Algorithm
This is a feature that SaferVPN appears very proud of:
"We have a diagnose fix feature that runs in the background and selects the best VPN protocol to be used based on the system configuration. In most cases, we use IKEv2 over IPSEC (AES 256) and falling back to OpenVPN (AES 256)."
IKEv2 is widely regarded as a secure VPN protocol and is particularly great when regularly switching between WiFi and mobile, or between different WiFi networks. However, we generally recommend OpenVPN as it is a proven standard for keeping your data safe. If you prefer to stick with OpenVPN then its no big deal as Automatic Location Selection Algorithm is optional.
Please see my VPN Encryption Guide for a detailed discussion on this subject.
Does SaferVPN unblock Netflix?
As always, we tested this VPN to see how it performs for unblocking popular streams. We connected to the US West server and found it to work perfectly for accessing Netflix US. It also works with Hulu, ABD, NBC, and a choice of other popular US services. Thus, if accessing US streams is a major draw – this service will tick your boxes.
However, we connected to a UK server to test BBC iPlayer and found the service unable to unblock it. As a result, we can't recomend this service for accessing UK TV channels.
Speed and Performance
At ProPrivacy, we test VPNs using a scientific, server-based speed test system. We test all of the world's leading providers 3 times a day to give you accurate and up-to-date results. Our servers test VPNS using the Open VPN UDP protocol for consitence, and we test the South Africa, UK, and US server locations for average dwnload and burst (max speeds) This allows us to give a fair comparison of how VPNs are performing compared to each other.
All tests were performed on my Virgin Media UK 80 Mbps/5 Mbps fiber connection, using the OpenVPN protocol. I allowed SaferVPN to auto-select servers in a given location.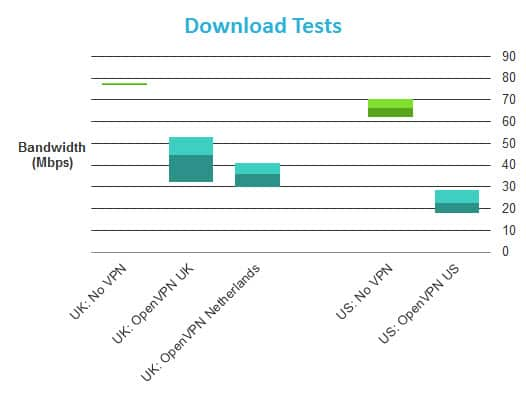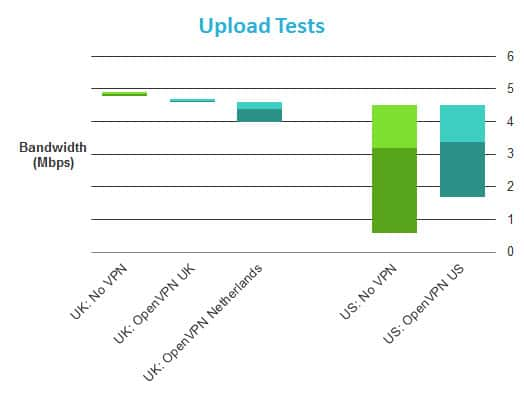 The graphs show the highest, lowest, and average speeds for each server and location. I have seen worse results, but meh.
Leak tests
Our tests revealed that SaferVPN handles DNS requests using third party servers, specifically Google DNS. This isn't as favourable as DNS resultion being handled by SaferVPN's own servers, which we always prefer.
However, the good news is that DNS requests are proxied to prevent Google from knowing who made them. As a result, there are no inherent privacy risks for users that arise from the handling of DNS requests in this manner. Of course, if you are against Google accessing data in general, then this may stick in your throat a little.
Next we checked for leaks using our in-hour leak check tool. The results were a bt of a mixed bag.
In Windows, we detected an IPv6 WebRTC leak. This means that you will need to disable WebRTC in your browser to mke this VPN secure. And, we do also recommend manually reverting back to IPv4 if you do have an IPv6 connection, as it is clear this VPn is not setup to handle IPv6.
Even worse than the WebRTC leak we detected in Windows – the macOS client leaked my IPv6 address. This is a full IP leak, not just a leak caused by the WebRTC bug. Anyone with an IPv6 connection is therefore strongly advised to disable IPv6 in their OS settings and to block WebRTC in their browsers.
Price
As with all premium VPN providers, Safer VPNs provides a number of different subscription plans that will provide subscribers with a bigger discount if they are willing to commit for a longer period of time. Those subscription plans do not differ in any other way, meaning that you get the same level of service no matter which plan you decide on
A single month subscription with SaferVPN will set you back $12.95, which is one of the more expensive single month plans you are likely to find on the market. We find that cost to be a little too high, considering what is available elsewhere.
However, prices become much more reasnable when you commit for a longer period of time. A one-year plan costs just $5.49 per month (paid in a single installment of $65.88). A two-year plan reduces the cost to $3,29 per month. And a three year plan makes the subscription cost the equivalent of just $2.50 per month. That is an extremely competitive price point.
For those who want to try the service, SaferVPN offers a 30-day money-back guarantee. Payments can be made via credit/debit card, Paypal, or Bitcoin. And, more obscure payment options are also available courtesy of Paymentwall. This gives consumers the potential to pay anonymously if they wish to do so, for added privacy.
Ease of Use
| | |
| --- | --- |
| Windows | |
| macOS | |
| iOS | |
| Android | |
| Linux | |
SaferVPN offers custom apps for Windows, Mac OS, iOS, and Android. The mobile apps use OpenVPN with the same encryption settings as the desktop apps. SaferVPN also provides good manual setup guides for Linux, Blackberry phones, Windows phones, numerous routers, and various media streaming platforms.
The SaferVPN Windows VPN client
The SaferVPN client is quite simple, but gets the job done.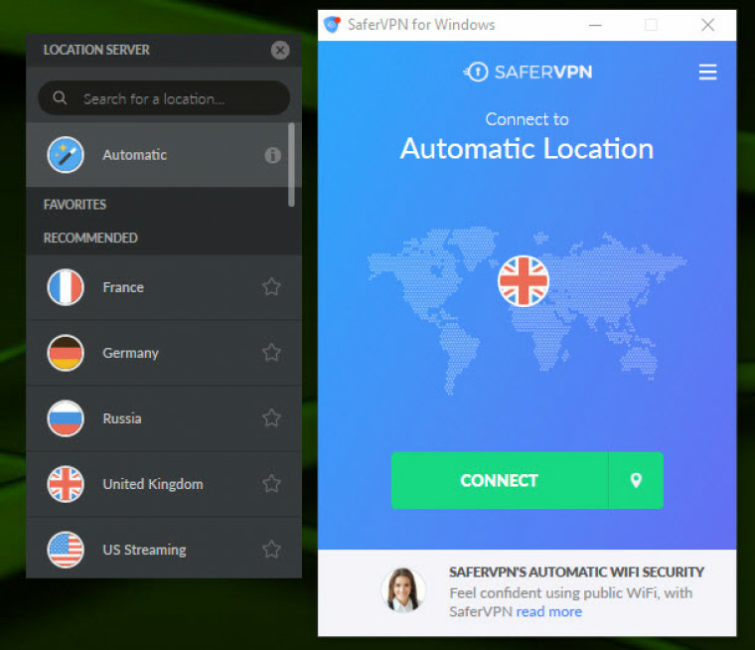 It is not clear which protocol is used when the default "Automatic" is selected. Support was unable to tell me this, either.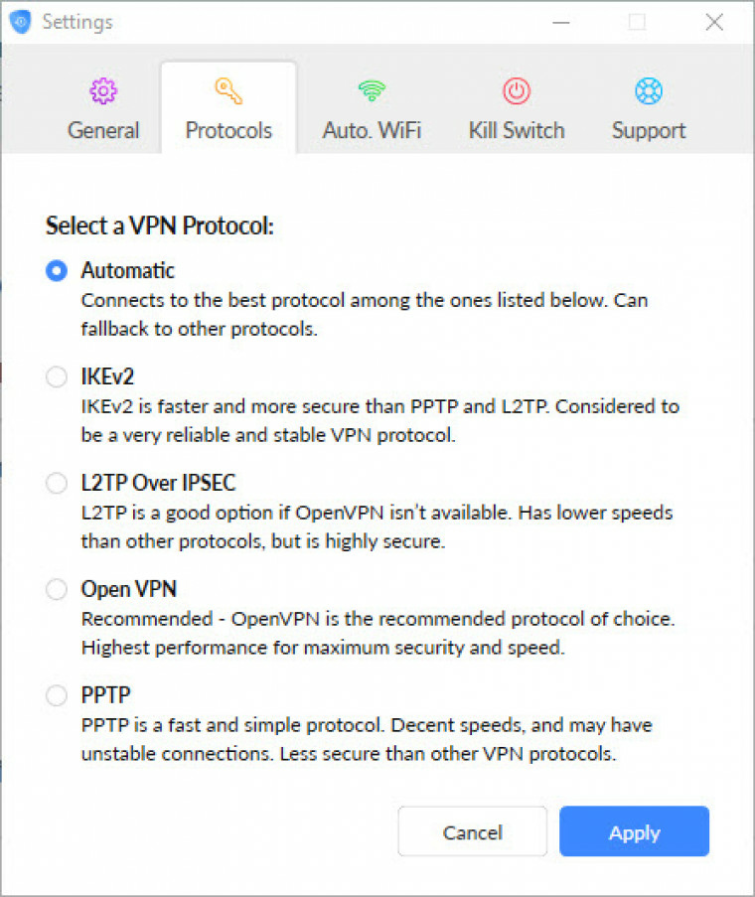 The SaferVPN Windows client has a kill switch. I tested this by force-closing the app in Windows Task Manager, but found myself still connected to the internet.
This means that the kill switch is reactive – it shuts down the internet when it detects that the VPN has disconnected. It does not work, for example, if the VPN client itself suffers a crash. A firewall-based kill switch that prevents any connections outside the VPN would be better, but any kill switch is preferable to none.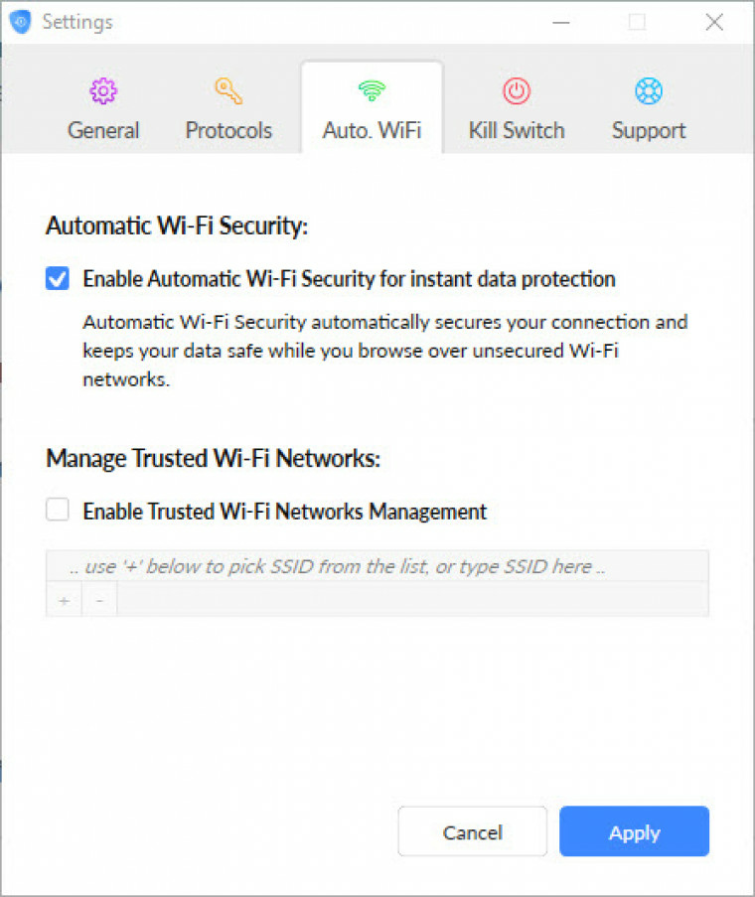 I did notice that the client connects to VPN servers very quickly, which is nice. As we shall see, though, the client does not include any DNS leak protection.
Android App
I own an Android phone, so I downloaded the Android app from the Play Store.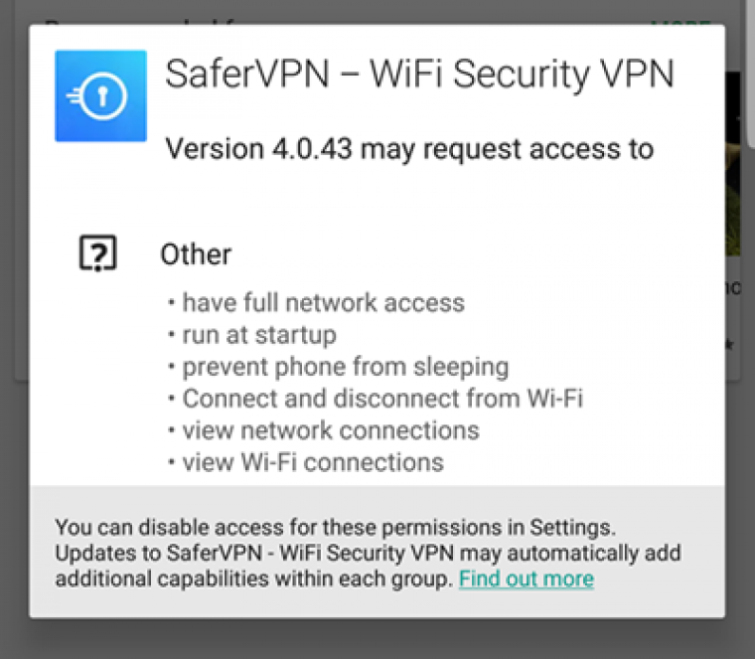 SaferVPN has greatly reduced the number of permissions its app requires. The above list is now very reasonable.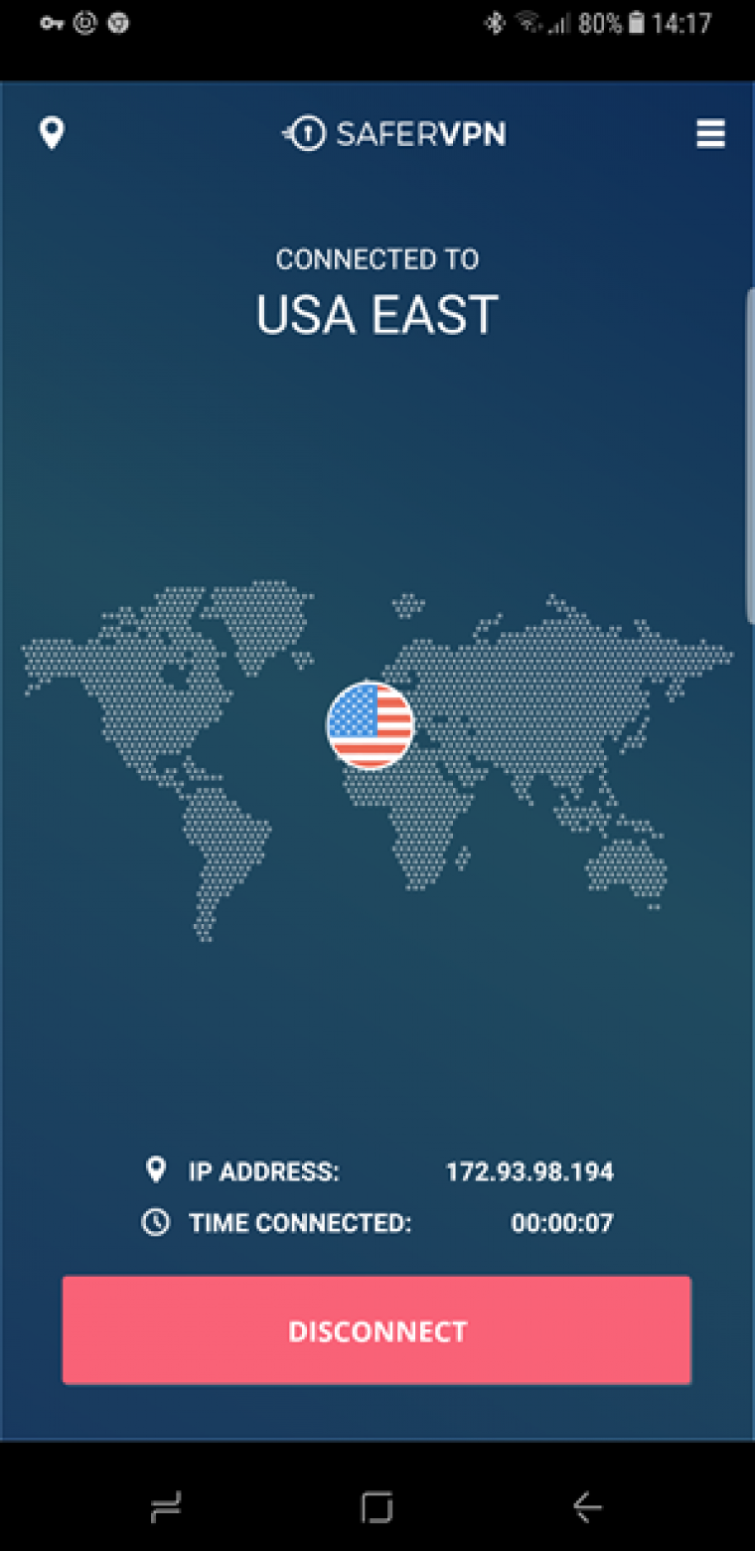 The app also looks good, and I detected no IP leaks while using it.
Chrome and Firefox Extensions
SaferVPN offers browser extensions for Chrome and Firefox. I was told that (and I assume this also applies to the Firefox add-on):
"We do not explicitly use the encryption within our Chrome extension. The Chrome itself (internally) use SSL as security layer on top on http protocol to secure a user session data from being stolen by "bad" people."
I think this means it uses HTTPS, but am far from sure. If you want an encrypted connection then stick with using the full VPN client.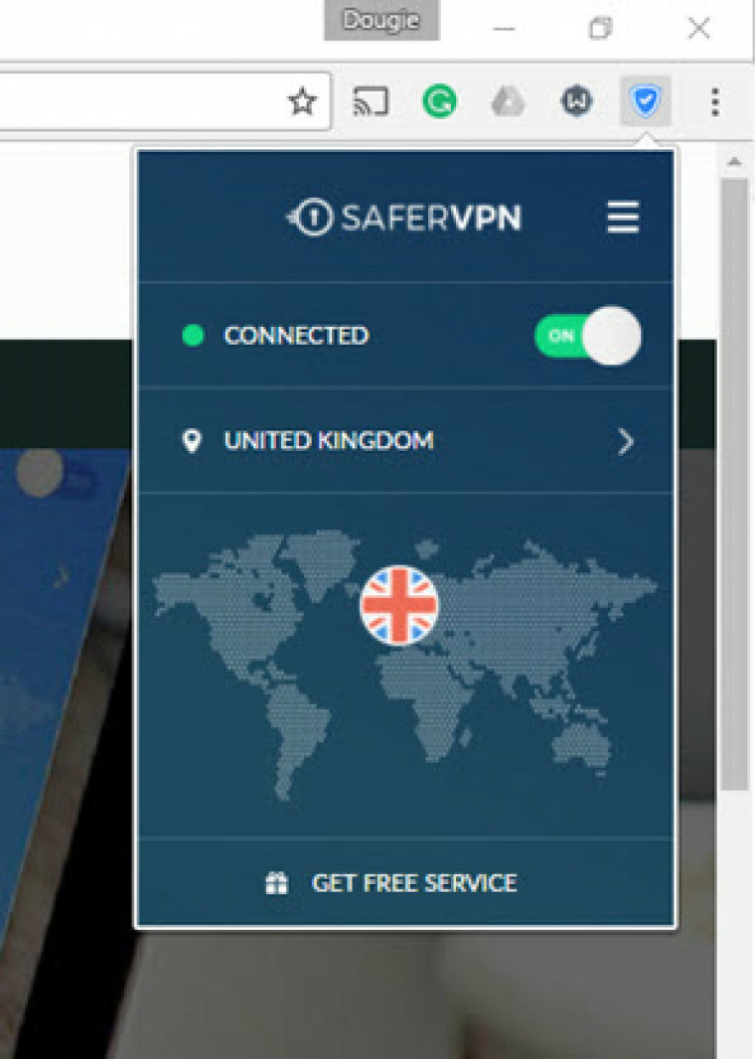 Customer Service
| | |
| --- | --- |
| Money-back guarantee length | 30 |
| Live chat | |
| 24-hour support | |
| Money-back guarantee | |
In addition to the setup guides available on its website, support is available via 24/7 live chat and an email ticket system. When I contacted SaferVPN's support via live chat, responses were almost instant, and very friendly.
I do not consider it fair to expect front-line support staff to have in-depth technical knowledge. However, I was a little annoyed when they refused to provide information about encryption implemntation, and instead told me "I can assure you that we use the best possible encryption."
More importantly, when my queries were escalated via ticketed email for attention by more knowledgeable staff members, I found the answers to remain unsatisfactory. Good examples of this are when I asked about Chrome extension security, and when I was ultimately unable to discover if perfect forward secrecy is deployed as part of its encryption implementation.
This kind of information should not be a secret, and plenty of other VPNs manage to provide this important information openly on their websites. This is somethign that SaferVPN could seek to improve for any consumers looking for in-depth information about the security and privacy standards they can expect when using the service.
Privacy and Security
| | |
| --- | --- |
| Obfuscation (stealth) | |
| Kill-switch | |
| IPv6 leak protection | |
Jurisdiction
SaferVPN (and therefore Perimeter 81) is VPN based in Israel, which has strong data protection laws that strictly and specifically limit the government's ability to spy on personal data.
On the other hand, Israel's intelligence community is a close ally of the NSA, and Israel is known for the robustness of its cyberdefense operations and for its cooperation with the NSA in mass surveillance operations, which is far from ideal.
On balance, though, Israel's strong data protection laws make it a privacy-friendly location, and we see no reason not to trust SaferVPN's logging claims...
Logs
On its home page, SaferVPN says,
"No Logging Policy! We value and respect your privacy — in and out of the web. We never log or monitor your VPN network traffic."
Drilling down a bit more, SaferVPN does not keep any usage logs. It also does not log your IP address when you make connections. However, it does keep a fair amount of connection (metadata) information:
"• date and time on which the Session began, date and time on which the Session ended,
• the amount of data transmitted during each Session,
• to which location (eg. USA East) (We do not hold servers' IP addresses),
• and from which country you connected from (We do not hold IP addresses)."
This data should not cause much of a risk to users, but it is still more data collection than you get with completely zero-logs VPN provider. Despite this, it seems that the VPN will be adequate for most people's privacy needs.
Technical security
| | |
| --- | --- |
| SSTP | |
| PPTP | |
| L2TP/IPSec | |
| IKEv2 | |
| OpenVPN | |
SaferVPN uses the following OpenVPN encryption: AES-256 for data channel cipher, RSA-2048 for the Transport Layer Security (TLS) handshake, and SHA-256 for control channel hash authentication. SaferVPN also uses SHA-1 is for the data channel handshake (which is also secure). SaferVPN has now confirmed that it does use perfect forward secrecy (PFS) for all OpenVPN and IKEv2 connections.
This is a reliable OpenVPN setup. The SaferVPN Windows and macOS apps also include DNS leak protection and a kill switch, but as we have seen, these are not always effective. SaferVPN's Android and iOS apps include a kill switch, which remains a very useful, if all too unusual, feature.
Final thoughts
Since it was first released, SaferVPN has made some major improvements, and it is now getting to be a much more recommendable service. It uses excellent encryption, has plenty of servers in useful locations, allows five connections at once, and has a reasonable logging policy.
It also offers some handy bells and whistles, such as a Chrome extension and strong support for IKEv2. Underwhelming speed performance and sub-par (but friendly!) customer support is the services primary drawback. And, IPv6 users should take additional security precautions by reverting back to IPV4 – and blocking WebRTC in their browser.
On the whole we find this to be a pretty good service that is priced fairly if you commit for a longer period of time. And, because it has a 30-day money-back guarantee, there's little reason not to compare the service to other options that interest you.
0 User Reviews
Leave a Review
Thanks for your review!