Alternative Choices for You
Price
HMA VPN has various subscription plans. All the subscription plans for HMA VPN come with the same features; only the price changes dependent on how long you are willing to commit.
The monthly plan costs $11.99, which is about average, if not a touch expensive for a single month VPN subscription.
That price reduces substantially if you commit for a year – to just $83.88 – or the equivalent of $6.99 per month. (Though admittedly, at the time of writing, the VPN provider is advertising a special offer in which the single year price has been reduced to $59.88)
A two-year subscription costs $119.76 – which is the equivalent of $4.99 per month. And, the firm has now introduced a lengthier 36 month plan, which costs just $119.76 – or the equivalent of $2.99 per month. This is an extremely competitive price point that puts HMA VPN firmly in the cheap VPN category.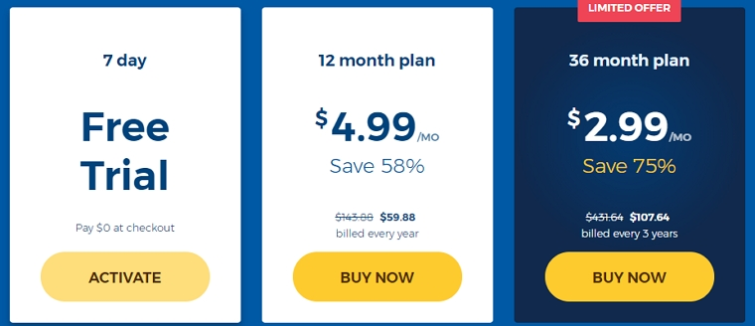 HMA also recently introduced a family plan. This increases the simultaneous connections on offer to 10... more than enough for a family.
All customers are given the opportunity to test the VPN thanks to its generous 30-day money-back guarantee. Please note, however, that users must not exceed 10Gb of download usage before they ask for a refund – or this will invalidate the money-back guarantee.
In addition, you cannot get a refund if you pay via iTunes or Google Play. So, if you want the option to change your mind, please purchase the VPN directly from HMA. Many people have previously complained about not being able to get their money back, but it is always because of this fine print – so please bear this in mind.
For those who prefer to try before they buy, HMA VPN also has a 7-day free trial that lets you test the VPN without providing any payment details at all. This is a very nice touch.
Warning: default settings enable auto-renewal of subscriptions – so if you don't want to renew you will need to cancel your subscription in the member's area of its website before the end of your contract. Finally, payments can be made via credit or debit card, PayPal, iDEAL, bank/wire transfer, AliPay, UnionPay, SOFORT, and a ahole bunch of different payment methods. However, HMA does not accept Bitcoin or cryptocurrency payments.
Unblock Netflix?
| | |
| --- | --- |
| Netflix | |
| iPlayer | |
| Amazon Prime | |
| Hulu | |
As is always the case when we review VPNs, we tested this service to see if it can unblock Netflix and other highly sought-after streaming services.
We found the VPN to worked with Netflix US when connected to the Liberty Island server (Which is optimized for streaming). It also had no problem accessing US TV stations like ABC and NBC. However, HMA does seem to be having some troubles with Hulu at the moment, so if this is a requirement definitely have a word with the live chat support to see if it has been fixed before subscribing.
HMA is a top VPN for BBC iPlayer, we were able to unblock it easily when connected to their UK servers. In general, this is a great VPN for streaming; especially because it provides excellent speeds for watching content in HD without buffering.
HMA VPN Features
| | |
| --- | --- |
| Simultaneous connections | 5 |
| Total servers | 1040 |
| Server locations | 290 |
| Routers supported | |
| Split-tunneling | |
| Number of countries | 210 |
Now that Version 5 of the HMA client is available to all subscribers, an HMA subscription comes with the following awesome features:
1000+ VPN servers in 280+ locations in 190+ countries. HMA has servers in unusual places like the Falkland Islands, Papua New Guinea, Malawi, Serbia, and many more. If unblocking content in unusual places is important to you; this service is a great option.

Super fast 20Gbps servers (already rolled out across a quarter of its network).

IP refresh tool lets you get a new IP address in the same location (if the IP address you are using is suddenly blocked by a service).

IP shuffle feature lets you automatically change IP after a pre-defined period

Five simultaneous connections.

Supports OpenVPN, Point-to-Point Tunneling Protocol (PPTP) and Layer 2 Tunneling Protocol (L2TP) VPN protocols.

Kill switch (Mac, Windows and Android).

New smart kill-switch for Windows lets you auto-launch the VPN (with the kill switch enabled) when you launch specified programs.

Split tunneling. Lets you decide what data is sent down the VPN tunnel and which programmes keeps your local IP address instead.

IPv4 and IPv6 leak protection

Speed test feature lets you check how HMA servers are performing.

24/7 live chat support.

30-day money-back guarantee (as long as you don't download over 10 Gb of data during the 30-day period and buy the VPN directly from the HMA website).

No logs policy.

Free HMA proxy service with servers in the US, Germany, the Netherlands, the UK and the Czech Republic. Excellent free proxy service encrypts the URLs that get stored in your history (in case you forget to use private browsing mode), turns off cookies, and removes scripts.
Speed and Performance
| | | | |
| --- | --- | --- | --- |
| | HMA | ExpressVPN | NordVPN |
| ProPrivacy.com SpeedTest (average) | 35.8 | 100 | 85.9 |
| Speed | 597.2 | 100 | 568.0 |
At ProPrivacy.com, we test VPN speeds as part of our rigorous testing methodology. Our proprietary system tests VPNs regularly using OpenVPN UDP protocol (for consistency across all providers). We test a UK server for local burst (maximum) speeds. And Hong Kong, US, UK, and South African servers for downloading speed averages.
During our tests, we discovered average download speeds of 35.8 Mbps and burst speed results of 597.2 Mbps. These are great speeds that compare well to some of the leading providers on the market.
Admittedly, this VPNs speeds have slowed slightly since we last checked the results in February. And, as you can see, the competitors that HMA is in range with are slightly faster. Thus, if you want a seriously fast VPN, you might look elsewhere.
On the other hand, this VPN is fast enough to perform data intensive tasks, so users would be happy with the performance levels they get, especially when considering the low price point.
However, DNS lookup times were slow when compared to leading competitors. We registered average lookup times of 7 seconds, which will have the effect of making the VPN seem sluggish when loading pages. This is a massive downside of this service, and is definitely a factor that could ruin an otherwise reasonable experience.
IP leaks, WebRTC leaks, and DNS leaks
| | |
| --- | --- |
| ProPrivacy.com SpeedTest (average) | 35.8 |
| Speed | 597.2 |
We tested the VPN thoroughly for IP leaks and DNS leaks using our industry standard VPN leak testing tool. We tested the Windows and macOS clients and discovered no IPv4 leaks, IPV6 leaks, WebRTC leaks, or DNS leaks. This is excellent and means that the VPN is 100% working as it should. It is also worth noting that this means the DNS leak protection built into the clients is working as advertised.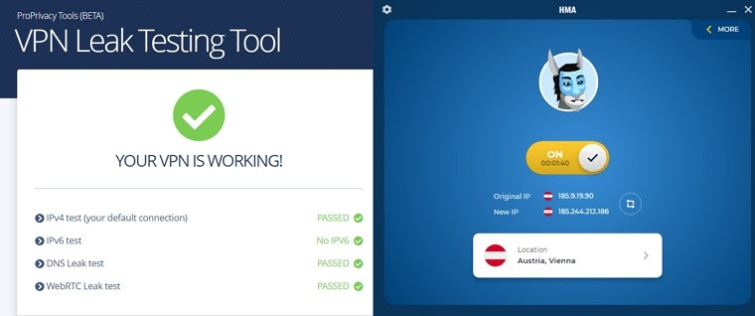 Below you can see that the VPN only registered one IP address in Austria. We also only detected a single DNS resolver; also in Austria. This shows that the VPN is successfully proxying DNS requests via its own servers. These are ideal results. Also worth noting, the IPv6 test was not reachable because the client was blocking IPv6 connections. Again, this shows that the VPN is working as it should.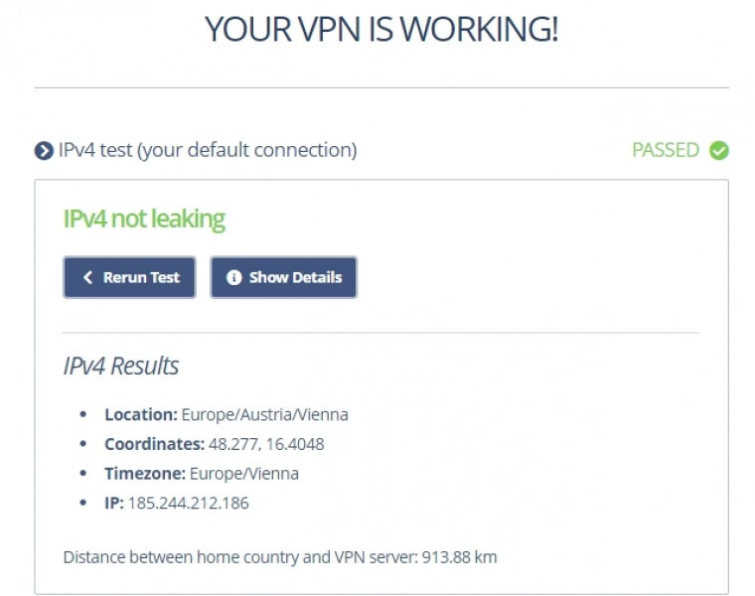 Finally, we are happy to report that HMA VPN had no WebRTC leaks on either Mac or Windows. This is excellent, and means that the VPN is completely clear of any leaks. With that said, we recommend that users check the VPN on their own system using our automated test system, as it is always better to be safe rather than sorry by checking the VPN once in a while!
Privacy and Security
| | |
| --- | --- |
| Kill-switch | |
| Obfuscation (stealth) | |
| IPv6 leak protection | |
| WebRTC leak protection | |
HMA was acquired in 2015 by the Czech company, Avast Software. However, it is still managed and run in the UK. Being based in the UK is enough to put some people off this VPN. The UK is a location where government intelligence is massively overreaching, and where the authorities are able to issue warrants and gag orders that force firms to hand over the data they have on their servers in secrecy. This makes the UK far from an ideal location for a privacy service to be based.
The UK's surveillance habits are only problematic if a VPN stores logs, but HMA has now completely stopped storing any logs whatsoever. While it is true that HMA did used to keep some connection logs for 30 days, this is no longer true. This is what HMA told us about its new policy:
"HMA will not log any identifiable user activity defined as follows:
Original IP addresses, which could be used to identify the user.
No DNS query data, which would let us see what sites users visited when browsing (and probably help us identify them).
Any online activity, which includes sites logged into, services interacted with, apps running, and streams being watched… basically anything done online."
We checked the policy and could see that these changes have now been implemented, which is great news for its subscribers. Also positive; the firm told us that its new No Logs Privacy Policy is going to be "audited by third-party cybersecurity consulting firm VerSprite, which will verify the anonymization of user behavioral data and the disconnection of this data from personal identifiable information (PII) that HMA stores for legal and billing purposes."
This is good news, and means that users of HMA can be assured that there are no logs stored on file that could potentially be used to identify them and track what they did online while connected to the service.
Finally, it is worth noting that there have been incidents when HMA has handed over logs to the police. In 2011, HMA handed over internet records and personal details about Cody Kretsinger to the cops. Kretsinger was a LulzSec member accused of hacking Sony Pictures; he was imprisoned on hacking charges (in part proven with the help of HMA). In 2017 a judge from Galveston County, Texas was arrested for harassing his ex-girlfriend. He was an HMA user whose IP address was uncovered using connection timestamps.
These kinds of incidents should now be squarely in this providers' past, because the VPN should have no valuable data to provide to the authorities even if it is served a warrant.
Encryption Implementation
| | |
| --- | --- |
| PPTP | |
| L2TP/IPSec | |
| SSTP | |
| IKEv2 | |
| OpenVPN | |
| Other protocols | UDP, TCP |
The HMA website claims that it implements its encryption as follows:
"OpenVPN is using OpenSSL with algorithms 3DES, AES 256, RC5, 256-bit encryption for the control channel (e.g. password, authentication, etc.)."
That is extremely vague. After some digging, however, I was able to figure out that HMA implements its encryption as follows:
Data channel: a AES-256-CGM with 4096-bit RSA keys for handshakes, and SHA256 for authentication.

Control channel: an AES-256 cipher with RSA-2048 handshake encryption and SHA-1 hash authentication. Perfect Forward Secrecy is provided courtesy of a Diffie-Hellman key exchange.
Any subscriber using the very latest version of HMA will get these encryption standards, and will find that the encryption is robust on both channels. This means that anybody using HMA is secure against anybody attempting to hack their data. For more information on VPN encryption please read our VPN Encryption: Complete Guide.
Finally, it is worth noting that HMA told us that those standards may revert back to AES 128 CBC with a SHA 1 auth for 'Legacy Users.' This is a slightly confusing statement, and we aren't clear in which circumstances that may occur. However, we would presume that anybody using an up to date machine and the latest client will connect using the standards mentioned above.
Customer Service
| | |
| --- | --- |
| Money-back guarantee | |
| 24-hour support | |
| Live chat | |
| Money-back guarantee length | 30 |
| Free trial | |
HMA VPN is a provider that is great in terms of customer support. Live chat is available on its website 24/7 and its agents are both helpful and knowledgeable. The support staff always respond immediately, and we found them to be polite. All in all, we found the service outstanding for getting fast responses about unblocking content, help with installation, or any other problems you might be having.
Admittedly, some of our techy questions had to be elevated to a more senior member of staff. This was done by the customer support agent who told us we would receive a response via email. That email did come to our inbox with the desired information, which is great.
In addition, the website has a community where you can ask fellow users questions about the service; a Blog where you can see useful articles about VPNs, privacy, and using VPNs to access content from around the world. And a knowledge base full of FAQs and guides that will help you to resolve the majority of setup and troubleshooting issues you are likely to experience.
We found these resources to be truly outstanding, and they act as a fantastic counterpart to the live chat support.
User Experience
| | |
| --- | --- |
| Android | |
| iOS | |
| Windows | |
| macOS | |
| Linux | |
The Windows Client
The Windows VPN app is a fully-featured client that is easy to use. It comes with a kill switch to stop you leaking data to your ISP – should the VPN connection happen to drop out.
On the other hand, HMA specifically told us that "we do not support the use of Torrent to share copyrighted material illegally. If you use our VPN service for such activity, you will probably cause us to receive DMCA notices from the copyright holders, who monitor Torrent trackers." This is usually an unspoken sentiment shared by many providers that allow for torrenting and shouldn't worry you.
On a more positive note, the Windows client comes with a lot of excellent features such as auto-connect, IP shuffle for automatically gaining a new IP address in the same location (useful if an IP address becomes blocked by a specific service), and lightning connect (to connect to the fastest server available to you). Unfortunately, split tunneling is not yet available in the Windows client.
Users get a choice of OpenVPN or L2TP/IPsec encryption. And the OpenVPN encryption is implemented securely. Also good news; this VPN is fast and unblocks a lot of content from around the world. As a result, consumers looking for privacy from their ISP, unblocking capabilities, and WiFi protection – will find this VPN to be ideally suited to the task.
On the other hand, it is worth considering whether you are happy paying for HMA – when you can pay a similar price for a VPN that offers tighter security and better logging practices. At the end of the day, this depends on your personal requirements, and if you need a server in one of the more exotic locations that HMA has – this VPN may be extremely interesting!
The Mac client
The HMA Mac client is well featured for a Mac client (which are sometimes a little bare bones). It has a kill-switch which means that you will be ok torrenting if you wish (although HMA does specify in its privacy policy that you must never use its service for illegal torrenting activities).
It also now has the IP shuffle feature, which randomly changes your IP address at user defined intervals. This adds an extra layer of privacy and makes it harder to track HMA users. In addition, Mac users get:
An app Kill Switch

Lightning connect

Speed Test

Auto Connect
On the whole, the Mac OS X VPN app is easy to use, and we found it to work without crashing. Having a large choice of server locations is useful, and, because this VPN is good for unblocking Netflix and iPlayer; it could be a worthy choice for people who like to stream.
OpenVPN encryption is available, however, it is worth noting that it is not implemented as strongly as it is with many competing VPNs on the market.
The mobile apps (iOS and Android)
If you are looking for a secure VPN for Android or iOS, the HMA clients are pretty good. The VPN has DNS leak protection built into its clients, and the Android mobile VPN app has a kill switch. Unfortunately, the iOS app does not yet have the kill switch.
On Android, subscribers get OpenVPN encryption. On iOS users must settle for L2TP/IPsec. Having a large choice of servers is useful, and for those who aren't particularly paranoid about the minimal logging practices – this VPN is probably a good option (for example, it unblocks Netflix US and iPlayer).
If your primary reason for wanting a VPN for a mobile device is to protect your data on public WiFi – this VPN will do the job fine on either Android or iOS – and it will successfully stop hackers from being able to sniff your data.
Other devices
HMA told us that they also provide native apps for Apple TV and Android TV. We haven't tested these yet, but it is nice to see that the VPN is providing a wide range of applications. In addition, the VPN has browser extensions for both Chrome and Firefox.
For Linux users, a manual setup using a script is available with instructions on its website. And Ubuntu users can set it up with Network Manager. These options will suffice for most users, but it is worth remembering that there is no GUI client for Linux – which is a slight drawback. Finally, the VPN is also compatible with various routers.
Final thoughts
HMA is a service that is well suited to causal VPN users in need of privacy both at home and on public WiFi. The service is a good all rounder, that will give most consumers what they need. However, people looking for advanced VPN features such as anti-censorship technologies and obfuscation will probably prefer to look elsewhere.
Being based in the UK is not ideal, and while the VPN is advertised as no logs, there are reasonable concerns regarding UK legislation such as the Snoopers Charter and what that means for the VPN if it approached with a warrant and gag order. This may put the biggest privacy advocates off the service.
The good news is that on Mac, Windows, and Android, this VPN has a kill-switch. It also has DNS leak protection built into all of its clients, and it does not suffer from any leaks in our experience. However, please note that the kill switch is reactive (not system level), so if the VPN crashes you will leak data to your ISP.
So, why get HMA? HMA is a service that is not expensive, and if you specifically require a server in a more exotic/rare location (that isn't covered by other VPN providers) this VPN is a good option. It is also true that this VPN can protect you on public WiFi without issues.
Assuming you aren't someone who requires extremely high levels of privacy (such as a political dissident, an activist, or a journalist), the level of service provided by HMA is likely to be more than enough.
Speed test results were pretty good indeed, though there are faster services available at a similar price point. So, you may want to shop around if speeds are extremely important to you (and they should be).
Finally, don't forget that this is one of the few VPNs that can unblock BBC iPlayer and Netflix US. This makes the service versatile, and will make it a good option for those looking for a VPN for entertainment purposes.
3 User Reviews
Leave a Review
Thanks for your review!