Watching the BBC online with a VPN is becoming increasingly difficult. This is because the British broadcaster is working hard to block all IP addresses associated with VPNs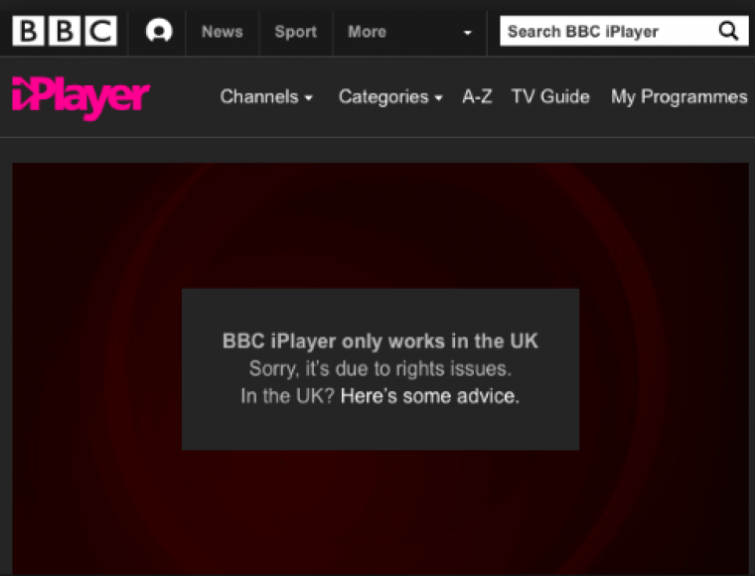 The good news is that there are still a few VPNs on the market that unblock iPlayer. However, it is possible that you may still encounter some problems. Luckily, there are things you can do to troubleshoot a VPN that is supposed to be working with iPlayer.
How do BBC block VPNs?
If the BBC is blocking your current VPN, this is likely because it has worked out that you are trying to bypass geo-restrictions. So, how can Auntie Beeb tell?
When a regular British viewer tunes into iPlayer, they are the only person accessing BBC programs from their IP address. Even in shared accommodation - or a family home (where various people all watch iPlayer at the same time) - the number of viewers is unlikely to exceed four or five people at any one time: the BBC knows this.
When many VPN users attempt to watch iPlayer using the same UK VPN server, it becomes extremely obvious that a VPN is in use. At that point, the BBC can easily block access to its service from the VPN's IP address.
Has BBC blocked your VPN?
If you have already gone to the trouble of subscribing to a VPN that you know works with iPlayer (by subscribing to a VPN from our best VPN for BBC page, for example) then you are probably feeling frustrated if it isn't working. The good news is that there are a few things you can do.
BBC VPN block workaround
Contact your provider
It is possible that your VPN has a specific server set aside for iPlayer. If this is the case, you might be connecting to the wrong UK server. Connecting to the server they recommend may fix your problem.
If you are accustomed to using a specific server to watch iPlayer, it is possible that the BBC has discovered the IP and blocked it. If this has happened, your VPN provider is probably already working hard to fix the issue. In fact, it is possible that they have already set aside another IP address for you to use.
Clear your cookies
One possibility is that the BBC has left cookies on your machine that are informing it about your location. If this is the case, you may need to clear your browser's cookies/cache in order to access iPlayer. If after you have cleared your cookies and cache iPlayer still does not work, you may need to seek more help from your provider.
Update your browser's geo-location data
Another possibility is that your browser is sending geolocation data to the BBC. If, for example, your VPN is telling iPlayer that you are in London - but Chrome is showing that you are actually in Australia - this could allow the BBC to block you.
If you are connected to a VPN server that your provider has assured you is working – but you still can't access iPlayer – please try updating your browser's geolocation data.
Fix DNS leaks
None of the VPNs that we recommend for watching iPlayer have DNS leaks. So if you are currently subscribed to one of those services it is highly unlikely that this is your problem. In case you are using a service we haven't recommended, we have decided to include this fix.
DNS leaks can inform the BBC about your real location - which will result in your VPN not working. If you are using a VPN that you are convinced is supposed to work with iPlayer, then it is possible that you need to fix a DNS leak problem.
WebRTC leaks
Like DNS leaks, WebRTC leaks can ruin your VPN experience by disclosing your real location. As is the case with DNS leaks, none of the VPNs we recommend for watching iPlayer actually suffer from these kinds of leaks, so it is unlikely this is your problem.
If you are using a random VPN (that you believe is supposed to work with iPlayer) then you may need to plug a WebRTC leak.
In Firefox, you can completely disable WebRTC. In Chrome you will need to download an extension called Easy WebRTC Block. This should fix the problem if it is being caused by a WebRTC leak.
Fix with a dedicated IP address
Some VPNs permit subscribers to get an IP address that only they have access to. Due to the fact that this IP seems like a normal home, it is very hard for it to be discovered and blocked by the BBC.
In fact, one of our recommended services for watching iPlayer (PrivateVPN) actually provides all users with access to dynamic dedicated IP addresses (in Sweden, Norway, Germany, Netherlands, Ukraine, Switzerland, United Kingdom, France, and the USA).
For more information, check out our guide to the best VPNs with static IPs.
Conclusion
Although there are a few things that you can do, it is primarily down to your VPN to keep providing access to iPlayer. If your VPN stops working with iPlayer, the first thing you should do is to try and connect to a different server in the UK. If that fails, you will need to contact your VPN's customer support directly for help. Cookies are a frequently experienced problem, so clearing your cache and cookies in your browser can be a quick fix.
At ProPrivacy.com, our experts test VPNs every day to make sure they are working with other popular streaming services. To see our recommendations for VPNs that can effectively unblock iPlayer, check out our Best VPN for iPlayer guide.
---
Image credits: chrisdorney/Shutterstock.com, Jasni/Shutterstock.com