With a VPN, UK citizens can protect their online privacy when surfing the web and unblock content from anywhere in the world.
The UK has fast become one of the most snooped-on places in the world due to the Investigatory Power Act (A.K.A. the Snoopers Charter). Thankfully, with a VPN, UK citizens can protect their online privacy when surfing the web and stop the snoopers in their tracks.
What's more, a VPN can also unblock content that isn't available in the United Kingdom, such as Hulu or DAZN. VPNs can also provide you with a UK IP address so that if you're located outside of the UK, or you just go on holiday to another country, you can watch BBC iPlayer outside the UK, as well as other British TV channels.
If this has piqued your interest, read on to find out what the best UK VPN services are.
WANT TO TRY OUR BEST RATED VPN RISK FREE?
ExpressVPN offers a risk-free 30-day trial if you sign up here. You can use our #1 rated with no limitations for an entire month.
There are no strings attached—just contact support within 30 days if you decide ExpressVPN isn't right for you and you'll get a full refund, no questions asked.
What are the best VPNs for the UK in 2023?
Our testing found these to be the best VPNs for the UK in 2023:
ExpressVPN - The best VPN for the UK. ExpressVPN is fast and secure making it perfect for torrenting, streaming & gaming.
NordVPN - A great VPN pick for the UK regardless of what device you use. NordVPN works great on all platforms, including iOS and Android.
CyberGhost VPN - A UK VPN that is packed with value. You get 7 simultaneous connections and slick mobile apps for Android & iOS.
Surfshark - A cheap VPN for the UK on our list. From $2.49 a month, you can unblock US Netflix and BBC iPlayer on all devices, including smart TVs.
VyprVPN - A great all-round VPN choice for the UK. It has proprietary servers with fast speeds & improved levels of privacy.
Try our #1 VPN pick ExpressVPN Today!
See the full list and analysis
How we found the best UK VPN services
We have been reviewing VPN services since 2013 and in that time we have tested 150+ VPNs, so we know our stuff. Our researchers test each service themselves and write a summary of the service based on their experience. When putting together our list of the best VPNs to use in the UK, we ask the following questions:
How secure is the VPN?
Does it protect your privacy?
What speeds does the VPN offer?
How many servers does it have?
What can it unblock?
Is it good value for money?
What is a VPN?
You might've previously heard the term "Virtual Private Network" without knowing exactly what it means... or what it is! And you might still be wondering, even after reading this article. Essentially, a VPN is a service you can use on your PC, laptop, or phone (amongst other devices) to protect your digital privacy and access restricted sites and services on the web.
A VPN creates an encrypted tunnel between your device and the VPN server, and acts as your gateway to the internet. All data that flows through this tunnel is securely encrypted – meaning nobody, not even your ISP, can take a peek at it.
As a result, you'll be able to browse the web with privacy! And because a VPN can assign you a new, temporary IP addressed based in the location of the server you connect to, it's totally possible to check out what's new on Netflix US, even if you live on the other side of the world! Of course, being able to access restricted sites could be that much more important if you're living in a country where an oppressive government is doing the restricting.
Looking for more?
If you're interested in learning more about what a VPN can do and how they do it, check out our beginner's guide to VPNs for a jargon-free explanation
The 10 best VPNs to use in the UK in 2023
Here's a full list of the VPNs we recommend for the UK today:
Our methodology – how do we test VPNs?
We're serious about transparency here at ProPrivacy, and to make sure we're only reporting the most accurate and up-to-date info, we constantly test and trial the VPNs we recommend.
There are tons of VPNs on the market, after all, and not all of them are secure... or even functional.
Our writers each trialed several VPNs, including household names, promising newcomers, and smaller services – so you can rest assured that our reviews are all bespoke, relevant, and reflect our actual experience with the product. But, in order for a VPN to claim a spot in our list of the best VPNs for the UK, it has to be put through a series of comprehensive tests.
First and foremost, we made sure that the VPNs all had a selection of servers within the UK – and that they were speedy enough to handle HD streams! We have our very own speed methodology process to measure this, and we also made good use of our leak testing tool to ensure that the VPNs weren't putting user data at risk.
We always comb through privacy policies, check out jurisdictions, and look for no-logs policies – three massively important privacy factors. Encryption is just as important, however, and we make sure to examine how these VPNs implement their encryption standards, as well as the type of encryption they offer. If users also get a kill-switch or obfuscated (stealth) servers, that's a bonus in our eyes!
Next, we'll check out which streaming services the VPN can unblock. Unfortunately, more and more sites are blocking VPN IPs, so it's important that we let you know, before you buy, whether the service in question can actually unblock Netflix US or HBO Max, for example. Our final consideration is price, seeing as you don't have to break the bank to get a reliable, secure VPN – there are some awesome budget-friendly alternatives out there.
To be completely transparent in the table below we have included some of the features that we compare when we put together this list. This will allow you to compare the key features of these services and allow you to choose the best VPN for your needs.
| No Value | ExpressVPN | NordVPN | CyberGhost VPN | Surfshark | VyprVPN |
| --- | --- | --- | --- | --- | --- |
| ProPrivacy.com SpeedTest (average) | 100 Mbps | 85.9 Mbps | 63.92 Mbps | 41.0 Mbps | 20.9 Mbps |
| Netflix | | | | | |
| iPlayer | | | | | |
| Amazon Prime | | | | | |
| IPv4/6 leak detected | | | | | |
| Independently audited? | | | | | |
| Jurisdiction | British Virgin Islands | Panama | Romania | British Virgin Islands | Switzerland |
| Logs aggregated or anonymized data | | | | | |
| Obfuscation (stealth) | | | | | |
What are the fastest UK VPNs?
To do data intensive tasks like gaming, streaming, and torrenting, you will need a super-fast VPN. Not all VPNs provide the speeds you require, which is why it is a good idea to stick to our recommendations. The table below provides the results of our regular speed tests, so that you can see how VPNs are performing in real-time. As a result, you can choose to subscribe to the fastest VPN for the UK if you want to.
| | | | |
| --- | --- | --- | --- |
| | ExpressVPN | NordVPN | CyberGhost VPN |
| Reliability | 9 | 8 | 7 |
| Performance | 10 | 9 | 7 |
| Speed | 100 | 568.0 | 556.2 |
| ProPrivacy.com SpeedTest (average) | 100 | 85.9 | 63.92 |
Will a VPN improve my speeds?
A VPN will not improve internet speeds most of the time. This is because your connection speed revolves around your contract with your ISP. Even the fastest VPNs must encrypt your traffic and route it further (via the VPN server) which will usually incus some latency.
That said, a VPN can prevent your ISP from engaging in bandwidth throttling when you perform data intensive tasks such as gaming or downloading torrents. If you believe your ISP is throttling you, it is definitely worth trying a VPN to see if it improves your speeds.
However, if you have naturally slow broadband speeds, using a VPN will not help improve those speeds.
Why you should use a VPN in the UK?
A VPN is a privacy tool designed to prevent local networks, ISPs, government agencies, and websites from tracking you online. By connecting to a VPN you can use the internet anywhere without concern that someone is monitoring your activities.
In addition, a VPN conceals your real IP address from the services you visit, which permits you to pretend to be in a different location. This lets you access geo-restricted content and gives you the freedom to access any websites that have been blocked by ISPs.
To help summarize, we have listed some of the benefits of using a VPN in the UK below:
Your ISP cannot see any of your data
In the UK, ISPs must harvest web history data and metadata about UK citizens, which is then shared with the Government, HMRC, and around 50 other government agencies due to the Investigatory Powers Bill.
In addition, ISPs are ordered to restrict access to certain websites by the government, like torrent sites for instance. By using a VPN in the UK, you can prevent surveillance and bypass that annoying blocks imposed by your internet service provider.
A VPN encrypts your data, which stops your Internet Service Provider (ISP) from tracking your entire web history and communications metadata on behalf of the government, HMRC. The VPN server acts as a proxy sitting between your ISP and the internet which your ISP cannot see beyond.
Unblock UK streaming services, or streaming sites blocked in the UK
One of the most useful functions of a VPN is to provide access to geo-restricted content from all over the world. As we've already mentioned, a VPN lets you connect to servers in any country around the world, so the possibilities are endless.
Streaming with VPNs outside the UK
If you are a UK expat currently living abroad, or if you are just living outside the UK and want to access BBC iPlayer, ITVhub or one of the other UK based streaming services, then a UK VPN can help.
To do this, all you need to do is connect to a VPN server in the UK, so any of the VPN recommendations we have made above will do the trick. Once you have connected to a UK server, you can browse to your favorite streaming service and start watching!
Unblock American Streaming Services
Unblocking and streaming inside the UK
If you live in the UK, you can use a VPN to pretend to be in another country to access content that is only available in another country, such as Hulu, HBO GO, ESPN to name a few. Another common use case by UK citizens is to use a UK VPN for US Netflix to unlock the exclusive titles available to US citizens on Netflix.
Using a VPN to combat UK government surveillance
The UK is one of the most surveillance-heavy nations in the world. GCHQ is the government's intelligence agency and it constantly monitors and snoops on everybody.
In addition, the government uses the Investigatory Powers Act 2016 to capture everybody's data and web browsing histories from ISPs. In the UK, surveillance has become thoroughly widespread and completely pervasive, and the only way to stop your entire online presence from being tracked is with a VPN.
If you value your privacy and the privacy of your loved ones, using a VPN in the UK is highly recommended. If you don't use a VPN, your ISP will collect the following data about you and store it for 12 months:
Your IP address
Your personal details (address, payment details, etc.)
A log of every website and the time you visited it
Your communications metadata (emails, messages, etc)
Surveillance in the UK is intense – and Brexit will likely only exacerbate matters. So be sure to prepare by investing in a secure VPN.
Hackers can't snoop on what you do online
Wi-Fi hotspots are popular targets for hackers. These cybercriminals will attempt to intercept your data and steal your credit card information and other sensitive personal data if you're not protected by a VPN.
If you're new to VPNs, we recommend getting up to speed with our helpful guides:

CyberGhost VPN
Discount Coupon
85%
Off Today
Get 3 months for free, and a 45-day money-back guarantee
Internet privacy in the UK post-Brexit
Most experts agree that Brexit is going to give the government the power it needs to begin using the Snoopers Charter to its full extent. As a result, it is likely that Brexit will cause higher levels of internet surveillance.
Until now, the Snoopers Charter was barely enforced because it was found to contradict European regulations. With the EU no longer standing in its way, many experts fear things will go downhill rapidly.
With the chances of GCHQ snooping on your data higher than ever, and ISPs collecting all your metadata and web browsing history records for 12 months, there has never been a better time to protect your digital footprint.
A VPN will encrypt your traffic, making it harder for the government to track everything you do, which is your right as a citizen who voted them in to protect you –not snoop on you.
How much will a VPN cost you?
The average cost of a decent VPN in the UK is around $5 USD (around £3-4 per month). However, this can vary a lot depending on the provider, if you want any additional features like a static IP, and how long you are willing to commit for.
VPN subscriptions are usually offered over one month, a year, or multiple years, and the longer that you sign up for the less you will pay per month for the service. For example, the cost of a one month subscription can be as high as $12 per month, but if you are willing to sign up for 2-years you can see this monthly cost reduced by as much as 80%.
Monthly VPN subscriptions in the UK
If you are looking for a monthly VPN subscription, it is still possible to get a good deal. Just be aware that the real savings are in the longer subscription packages.
Cheapest monthly VPN: ProtonVPN

Based on our recommended list above, the cheapest monthly VPN is Proton at $5 per month (around £3-4). This is a very attractive price if you are looking to keep costs down. For this, you get access to the "basic package" which is suitable for everyday browsing and keeping you secure online. However, if you want the extra perks, like unblocking US Netflix in the UK, you may want to consider spending a little more.
Best value monthly VPN: PrivateVPN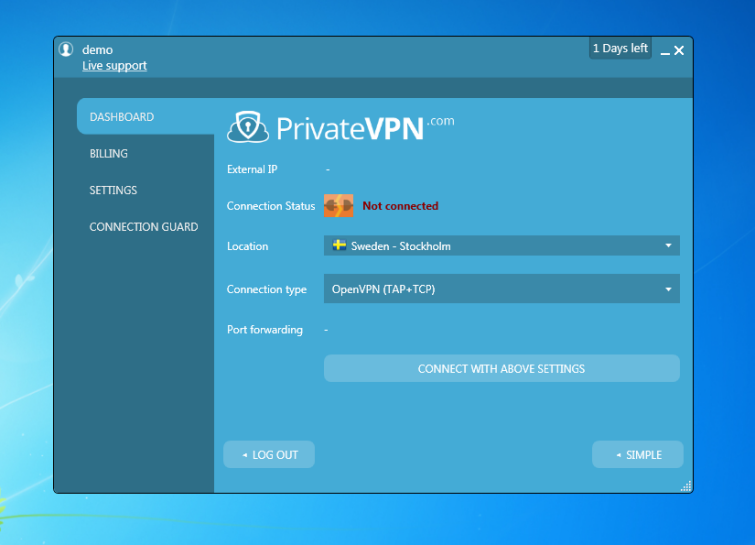 Coming in at $7.12, PrivateVPN is incredible value-for-money. Not only do you get online privacy and security, but this service is a real demon when it comes to streaming and unblocking. We pitted PrivateVPN against all the major streaming services, are rarely does it fail. What's more, it has a solid server network capable of handling speeds good enough for streaming in HD (providing your connection can handle it).
Get PrivateVPN Monthly Plan >>
Save 49% & get 3 extra months of ExpressVPN free with our exclusive offer

ExpressVPN
Discount Coupon
Get 3 extra months for free
when signing up for 1-year
An overall saving of 49%
Can I get a free VPN for the UK?
Yes, if you're careful! There are some free VPNs we'd recommend. However, these are really only suitable for providing privacy on a day-to-day browsing basis. They generally would not be able to handle more data-intensive tasks like streaming, gaming, or torrenting. This is because they're often intended to just give the customer a flavor of what a VPN is about and what one can do – all in the hopes that the user will enjoy it enough to upgrade to the premium service.
We recommend that you take advantage of VPN free trials or money-back guarantees. All the VPNs listed in this article have them, and they will allow you to try out the full service before committing to a lengthy contract.
What about the unlimited free VPNs I've seen?
This is where you need to be careful. We have been reviewing VPNs since 2013 and we can tell you we have never come across an unlimited free VPN that doesn't steal your bandwidth or data and sell it to third parties. As you can imagine, this is the exact opposite of what a VPN is meant to do.
The issues with UK based VPN services
There are a number of VPNs based in the UK. You may be wondering, "are UK based VPNs safe to use?", given the increasing government involvement in data collection.
To answer this question bluntly: no, not if you value your privacy.
The UK's heavy-handed surveillance laws dictate that ISPs, as well as VPNs, are required by law to log users' online activity and store it for 12 months. This means that if you use a UK-based VPN, it will be required to record what you do on its network and potentially hand it all over to authorities upon request.
UK-based VPNs should be avoided at all costs for this very reason. The good news is that a VPN doesn't have to be actually based in the UK to make it an excellent UK VPN. In the end, your best bet will be to sign on with one of the quality VPN providers we highlight in this guide here. These providers have been thoroughly researched and tested by our experts, and are all excellent at protecting user privacy while being based safely out of the jurisdiction of the overly-intrusive UK regulatory landscape.

Private Internet Access
Discount Coupon
Get 84%
Off With our PIA Discount
With a 30-day money-back guarantee
FAQs
Here are a few of the most common questions we get from our readers looking for a UK VPN. If you have additional questions, feel free to drop us a note in the comments section below!
Conclusion
Now that we have covered everything you need to know about choosing and using a VPN in the UK, let's review our top picks:
ExpressVPN - The best VPN for the UK. ExpressVPN is fast and secure making it perfect for torrenting, streaming & gaming.
NordVPN - A great VPN pick for the UK regardless of what device you use. NordVPN works great on all platforms, including iOS and Android.
CyberGhost VPN - A UK VPN that is packed with value. You get 7 simultaneous connections and slick mobile apps for Android & iOS.
Surfshark - A cheap VPN for the UK on our list. From $2.49 a month, you can unblock US Netflix and BBC iPlayer on all devices, including smart TVs.
VyprVPN - A great all-round VPN choice for the UK. It has proprietary servers with fast speeds & improved levels of privacy.