What is ExpressVPN Router?

In this ExpressVPN router review (or, more specifically, ExpressVPN Linksys WRT1200AC Router review), I find that powerful hardware makes for a great VPN router. But the stock unit is cheaper, more fully featured, and includes an OpenVPN client anyway. As you can see from my recent ExpressVPN Review, I have been very impressed by this high-profile VPN provider.
In addition to offering easy-to-use custom software apps for most platforms, ExpressVPN has partnered with FlashRouters to offer customized ExpressVPN routers. These routers use stock Linksys WRT1200AC and Linksys WRT1900ACS hardware, which ships pre-flashed and pre-configured with ExpressVPN's custom OpenWRT firmware app.
In this review, I take an in-depth look at the slightly cheaper ExpressVPN Linksys WRT1200AC.
Setting Up the ExpressVPN Linksys WRT1200AC Router
Setting up basically involves:
Plug the WRT1200AC into your broadband modem or router.
Connect your device(s) to it via either Wi-Fi or plugging in an Ethernet cable.
Authenticate your ExpressVPN account using a provided authentication code.
Choose a VPN server.
And that's it! You may need an extra step if connecting directly to a cable modem. To use the router for VPN, you must have a subscription with ExpressVPN. However, you can use it as a simple no-VPN router without a subscription. A handy new feature is split-tunneling. This means that you can route some connected devices through the VPN,while allowing others to access the internet outside the VPN.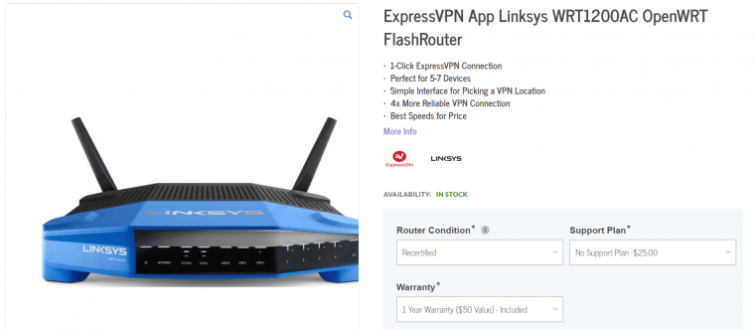 ExpressVPN Router Hardware and Features
11ac 5.8 GHz Radio Frequency, 802.11 a/b/g/n
AC1200 speeds up to 867Mbps on 5Ghz band, 400Mbps on the 2.4Ghz band
3GHz dual-core ARM CPU
128MB flash memory storage and 512MB DDR3 RAM
2x adjustable, removable antennas to "ensure maximum range and performance in single and multi-story buildings"
4x gigabit (1 GbE) Ethernet ports
The 12V 1A power supply comes with a selection of international adapters (so great for me as a Brit!)
The stock hardware also features a 1x eSATA port for sharing files across a network with data transfer speeds of up to 3Gbps (can also serve as a USB 2.0 port) and 1x USB 3.0 port for external storage. Unfortunately, these ports are not supported by the ExpressVPN firmware, and are therefore not available for use.
The 1.3GHz dual-core ARM processor is very powerful. This is important in a VPN router because processing a strongly encrypted OpenVPN connection is very processor intensive. This means that most routers struggle when configured for VPN, resulting in slow internet connections. Wi-Fi performance is not so impressive, however.
The WRT1200AC supports the dual-stream (2x2) rather than the faster three-stream (3x3) Wi-Fi standard. 3x3 has a theoretical top speed of 1,300Mbps on the 5Ghz band and 60Mbps on the 2.4Ghz band. That said, the real-world performance gains of 3x3 are often minimal, and dual stream transfer is still much faster than even the fastest internet connection. When it comes to using the router for VPN, the WRT1200AC's powerful processor is by far the most important factor. It is also worth noting that the two detachable antennae can be replaced with high-gain alternates supplied by a third party. This can increase the Wi-Fi range of the router.
Firmware Features
The WRT1200AC unit that I am reviewing here has been pre-flashed with custom firmware by ExpressVPN. This means that the stock Linksys GUI for the WRT1200AC has been replaced by the ExpressVPN app. As with the stock Linksys firmware, the ExpressVPN firmware app uses a custom build of open source Linux-based OpenWRT.
The ExpressVPN Firmware App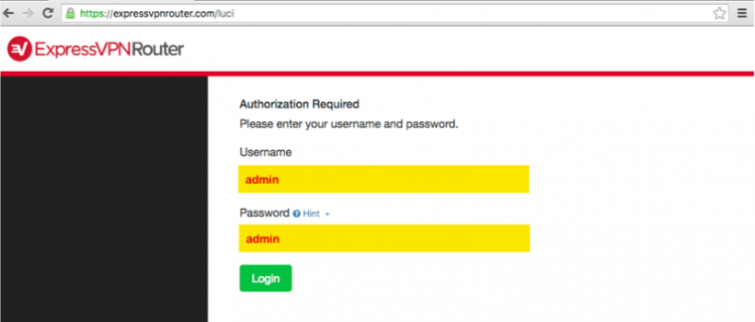 Unlike DD-WRT, OpenWRT has no default GUI. It is instead a platform that others can build packages onto. It is wildly extensible, but requires customisation by developers to make it useful to end-users. Unsurprisingly, ExpressVPN's version of OpenWRT is concerned primarily with providing a smooth and hassle-free VPN experience. After all, ease of use is ExpressVPN's hallmark! To this end, the router app allows you to choose OpenVPN protocol (TCP or UDP) and server location (136 cities in 87 countries). A firewall ensures that no DNS leaks are possible. Since all internet traffic goes through the VPN tunnel to ExpressVPN's servers.
Leak Protection
The firewall has been pre-configured to prevent DNS leaks and act as a kill switch. You can tinker further, should you wish. A static IP address can be selected if desired, which is useful for remotely accessing your system. It is also possible to port forward using the firewall.
Analyzing Your Network
As always, the beauty of running VPN on a router means that you can connect as many devices as you like to the router. Therefore, the VPN protects every device using the network. This includes devices such as Smart TVs and games consoles, which cannot normally be configured to use a VPN. Which is great for geo-spoofing.
The app includes various tools that allow you to monitor and analyze your local network.
It's important to know that the original firmware by Linksys offers features not available on the ExpressVPN version of the router. These include eSata and USB 2.0/3.0 support (as mentioned earlier), and signal optimization. Linksys also offers a mobile app that allows advanced remote network management and parental controls. These aren't available with the ExpressVPN router. If you have a family and you want to learn more about parental controls, check out our guide on how to set up parental controls on all devices.
Conclusion
The stock Linksys WRT1200AC is a good mid- to-high-end router (high-end hardware, mid-end WiFi performance). The fact that it sports a very powerful processor really pays off when used as a VPN router, as it clearly handles the extra processing required for encrypting and decrypting a VPN connection with ease.
The ExpressVPN firmware, as is typical of the companies' other products, is very easy to set up and use. It works flawlessly, and produces superb VPN performance results. Using this router, you will enjoy some of the best VPN connection speeds currently available. The problem is that the stock router on Amazon costs less than half the price of the ExpressVPN version. On top of this, it has much more features (and better Wi-Fi performance). The inclusion of an OpenVPN client in the stock firmware also means that you can easily configure the router to use ExpressVPN's (excellent) service while enjoying the full range of features the router's manufacturer intended.
That said, the ExpressVPN Linksys WRT1200AC from FlashRouters uses one of the best VPN services out there. And it offers built-in DNS leak protection and kill switch, provides WebRTC leak protection, and allows you to select which devices use the VPN (split tunneling). The one-to-one support (with optional TeamViewer support) is also a great plus, although it should be noted that ExpressVPN has understandably had to scale back its support and suspend live chat with the coronavirus crisis causing staffing concerns.
As a complete plug-and-play VPN solution, it is a joy to use.
0 User Reviews
Leave a Review
Thanks for your review!