Pricing and Plans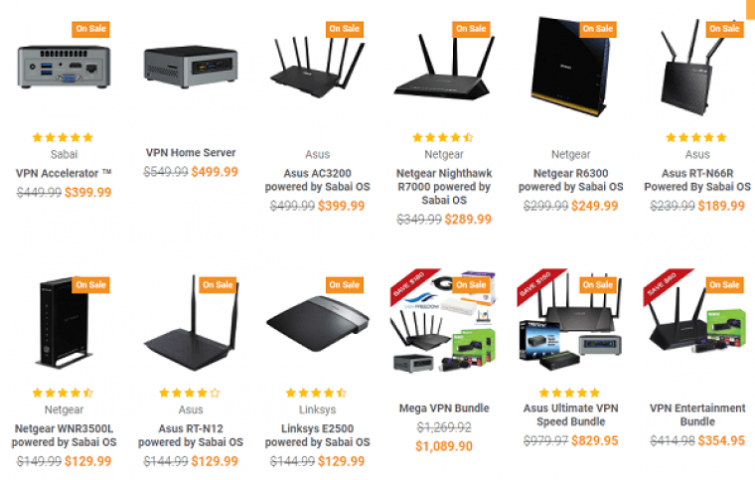 Sabai has three different kinds of products on sale:
Flashed Routers
VPN Accelerator
Accessories
Firstly, as mentioned they sell Sabai OS and DD-WRT flashed routers. Their prices for these are in the same league as for other flashed routers you can purchase online.
Secondly their most innovative and original product - the VPN Accelerator. This comes with a hefty price tag of $449.99. However, as we will discuss below it could be a very useful device for you.
Lastly, they also have a number of accessories on sale - of which the power adapter is a must as they ship the routers with a US (dual-voltage) plug. The rest of the accessories can be found cheaper elsewhere but you do save hassle on customs and cost on shipping. All the packages also come with a superb 1-year hardware guarantee and premium (Sabai Freedom) support. There is also free shipping to US Army -, Diplomatic- and Fleet Post Offices.
Features
In most scenarios, the Sabai OS is no different to your average DD-WRT, Tomato and stock firmware. However, their firmware is optimized for VPN speeds and set-up - both of which they deliver on. Furthermore, their exclusive 'Gateways' technology allows you to use your router in such a way that one device is using the VPN while the other isn't. While this is becoming a popular feature, it's still not commonplace.
Security and Privacy
The security you receive with Sabai Technology depends entirely on the VPN provider you use. Their OS is based on a number of Tomato builds that they have modified to a large extent but it is still fully open source which just makes this company that much more fantastic.
Support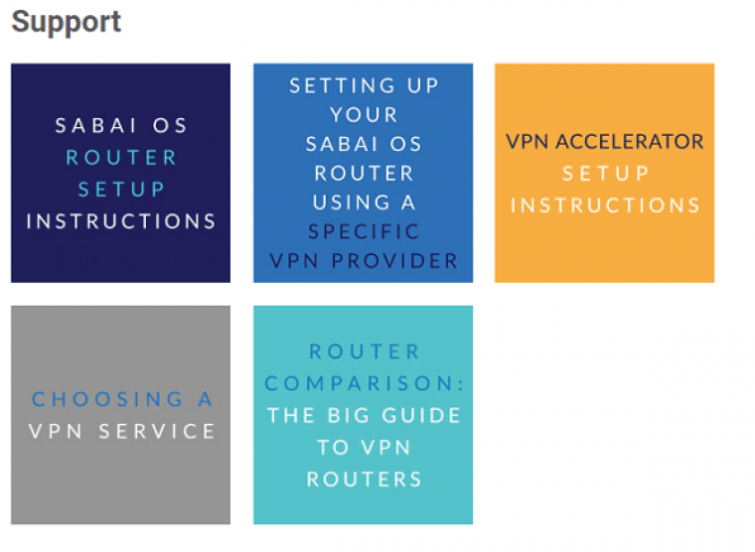 Sabai understands that routers and their settings can be complex so they provide each customer with Sabai Freedom for a whole year. This provides you with phone, chat, remote log-in, ticket and email support - the latter two of which you can get forever.
They also have a Knowledge Base but this will only help solve most basic issues. We have found that all of their support service and types are very efficient and user-friendly, and will help you solve any problems.
Unfortunately, the remote support has to be booked in advance and the ticket support takes a few hours for a reply. However, their phone support is always available for near instantaneous help. These latter 3 support mechanisms though aren't 24/7, but the quality of it definitely makes up for this.
Clearly, a prominent feature with Sabai is the amazing pre- and post-sales support you receive helping you solve most issues you may have!
Getting Your Router
Getting your router, accelerator, or accessory is as simple as any other online ordering. Their average delivery time is 3.5 days (maximum 7 days) and we received our Asus N66U in just 2.5 days!
Before you start using your router you will be required to Activate it (if using Sabai OS). However, this is just inputting your email and clicking Activate.
The Sabai OS client itself is like with any standard router firmware. The basics are easily accessed and changed and the navigation is straightforward. It is also possible to change Advanced Settings for simple things such as Enabling USB to more complicated areas such as Scripts. Further to this, it is also possible to install your own packages just like with the standard DD-WRT and Tomato Firmware.
Performance (Speed, DNS and IP Test)
These results -especially the DNS and IP Test - will vary depending on what VPN provider you use. We carried out our testing using VyprVPN as it has some of the best speeds on the market. With our router, we only noticed a 10% drop in speeds. With the VPN Accelerator, there is absolutely no loss in speeds.
Remember these speeds will not only depend on your VPN provider but also the CPU speed of your router, so get the fastest that you are able to afford.
The router speeds were all measured through a wired connection. With wireless, the results were understandably slightly lower. We also had a look at whether the Gateway setup with some devices running VPN and other on normal made any difference and we didn't notice any substantial speed changes.
Other Services
VPN Accelerator

The VPN Accelerator itself is designed for one task and one task only. That is to maximize the VPN speed through your router. This means that the 6 USB ports and the HDMI port provide no functionality and you can't use it for NAS, printer sharing or any alike tasks.
The VPN Accelerator works with any router but it is optimized to be used with Sabai routers. It is essentially a bare-bones computer that does all the VPN processing instead of your computer or router. Since there isn't anything else running on it, it is able to do this very efficiently.
Speed and Performance
This is the most important part when considering the purchase of the VPN Accelerator so we've made sure we put extensive effort into testing it under different environments and on the whole we found it to deliver extremely well on its promise of speeding up your VPN connection. As noted previously, when using the VPN Accelerator, there was no drop in VPN speeds at all!
The downside of this was that the ping increased substantially and in some cases it caused lag. However, streaming quality and buffering was substantially better than when we ran VPN on our router. Changing VPN providers did improve the ping results somewhat but impacted the speed so you will have to do some testing to find the best VPN for you if you choose to buy the VPN Accelerator.
The reason for the large difference in ping is caused by the fact that instead of your connection going as Computer -> Router -> Internet, it goes Computer -> Router -> Accelerator -> Router -> Internet.
Another advantage of running a VPN on your router or on the accelerator is the fact that you won't be exposed to the major WebRTC leak.
Sabai Freedom
This is their custom support package as described under support. It's fantastic and you get it free for a whole year which is absolutely amazing.
Sabai Technology Review Conclusion
If you only have a few devices connected to your router then it's probably enough if you're running VPN on the router or choosing a VPN provider that allows plenty of simultaneous connections.
However, if you have a large household or wish to have everyone in your company connected to a VPN network then Sabai is a great choice.
Overall Sabai Technology (their products and especially service) is great. They deliver on all that is important and we would fully recommend them if you're looking for a router to use with VPN and don't like the DD-WRT and Tomato alternatives.
0 User Reviews
Leave a Review
Thanks for your review!