If you've been around on the internet for any amount of time, you'll be pretty familiar with the process of handing over your email address to sign-up for a new account or app, or to purchase something – but that seemingly innocuous action can result in unwanted spam, targeted ads and open your personal account up to vulnerabilities.
And this is where a disposable email address comes in handy. These services allow you to generate a temporary email address that you can use in lieu of your real one. This way, you avoid signing yourself up to years of spam emails, as well as skirt targeted ads and data leaks should a site itself be attacked. Keep reading, and we'll take a look at some of the best temporary Email services out there and they're all free!
What are the best Secure disposable email clients?
In a hurry? Well, look no further than the table below to check out our top picks for a disposable email address. These providers are free to use and pretty intuitive, meaning you'll be able to generate a temporary address in a few clicks and save yourself the hassle of sorting through spam. We'll take a closer look at each name later on – so keep reading!
In order to claim a spot in our top 5, a disposable email provider has to meet a few important criteria. These include:
Security – the email address might be disposable, but you won't want to compromise your privacy by using one!
Automation – if a service is routinely deleting emails and addresses after a set time, that's one less thing for you to worry about.
Ease of use – a disposable email service shouldn't slow you down, and it shouldn't require a PhD to figure out how to create your temporary alias!
All the services we've highlighted exceed these expectations, and you'll find some additional handy features tacked on, too. All in all, regardless of the disposable email service you choose, you can trust that it'll generate you a temporary address that'll divert spam and security threats away from your personal and work accounts.
Looking in-depth at secure disposable emails
Let's get into the details! Below, we'll take a scrutinizing look at each disposable service and lay out what they offer – as well as what they don't. You can count on each service to generate an address in an instant and obliterate emails after a set time. So, if you're looking for a temporary email that's going to offer you utility in addition to security, keep reading – we'll almost certainly be able to pair you up with a provider!
10 Minute Mail can truly be used by anybody, and packs a surprising amount of utility into ten short minutes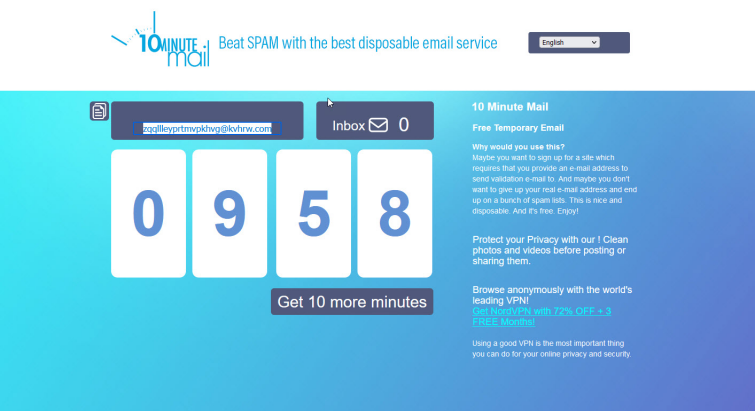 10 Minute Mail can truly be used by anybody and packs a surprising amount of utility into ten short minutes. In addition to the address itself, any emails in the inbox will also be deleted after the timer runs its course. Simply by opening the page, you'll see your generated email. From there, you can input it wherever you like – so long as you don't close the initial 10 Minute Mail page!

Sites that require you to click a verification link are no problem, seeing as 10 Minute Mail hangs on to emails, and users can also reply with their disposable address, and reset the 10-minute timer if they need a while longer with their address. It's possible to recover emails from 10 Minute Mail even if the timer has expired, too. The service doesn't ask for any personal information to use, and if you're interested, 10 Minute Mail has a sister service that claims to be able to remove metadata from photos and videos.

Temp-mail doesn't hang on to your identifying information, though it does offer disposable emails without built-in timers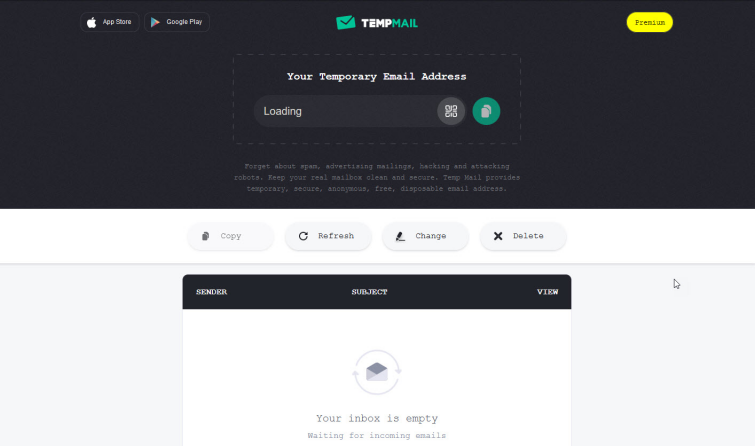 Temp-mail is a solid disposable email address service that doesn't ask for any personal details, doesn't need you to register an account, and doesn't automatically delete your generated email address until you delete it yourself or the domain list changes. This might be a good thing or a bad thing, depending on your need, but it does mean that you don't have to request an extension of time. The Temp-mail inbox looks and functions just as any other – only you'll be unable to send any emails of your own.

In terms of security, Temp-mail only stores emails for around 2 hours, and removes any and all personal details – like your IP address – once you're finished using the service. You'll be able to download Temp-mail from the App and Play stores, as well as use the service on Chrome, Safari, and Firefox browsers.

A robust, well-rounded service that allows you to manage emails, priority and spam and send encrypted emails to anyone.
Free option

Yes

Pricing

Free: $0/mth
1 month: $0/mth
Plus: $4/mth
Plus: $5/mth
Professional: $6.25/mth
Professional: $8/mth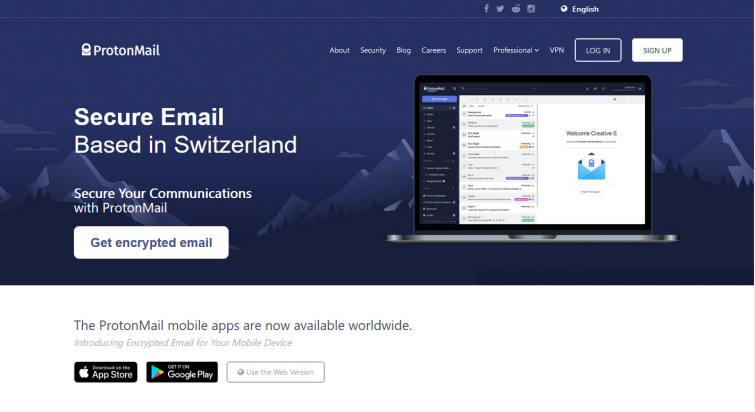 ProtonMail offers users the chance to create additional email addresses and aliases that can be accessed from the same account.

As such, a user can craft a variety of different identities for different purposes, organize incoming and outgoing mail, and ensure that their inbox remains uncluttered. For folks with a premium ProtonMail account, additional email addresses can be created and managed in the same way. Premium users are also able to actually send emails via their short domain (@pm.me) address, whereas free users can only receive mail.

ProtonMail is an open-source service supported on Android and iOS devices, as well as most web browsers. Being based in Switzerland means that ProtonMail is subject to Swiss privacy laws – which has seen ProtonMail hand over user information to Swiss authorities. However, ProtonMail employs end-to-end encryption, as well as full disk encryption, which makes it a secure email service (but not an anonymous one).

Don't be put off by the no-frills site layout - GuerrillaMail is a powerful tool that allows for the composing of new emails, too.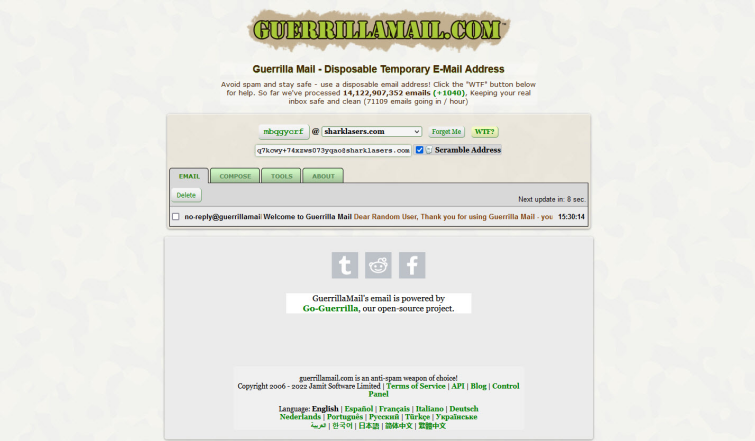 GuerrillaMail is an excellent candidate for generating disposable emails, as it allows users to click verification links and then delete the mail. GuerrillaMail handles the rest, removing spam before it can reach your inbox. The service holds onto incoming mail for an hour, though the generated addresses themselves do not expire.

Perhaps the most impressive about GuerrillaMail is that the service allows you to create and send original mail from your disposable address, and users can also pick their own email address. However, the service recommends using the Scramble Address feature – implemented to boost security by making a person's Inbox ID that much harder to guess. To further bolster privacy, GuerrillaMail is only accessible with HTTPS encryption, and is an open-source service.

An easy-to-use and efficient provider, EmailOnDeck lets users write mail as well as divert spam.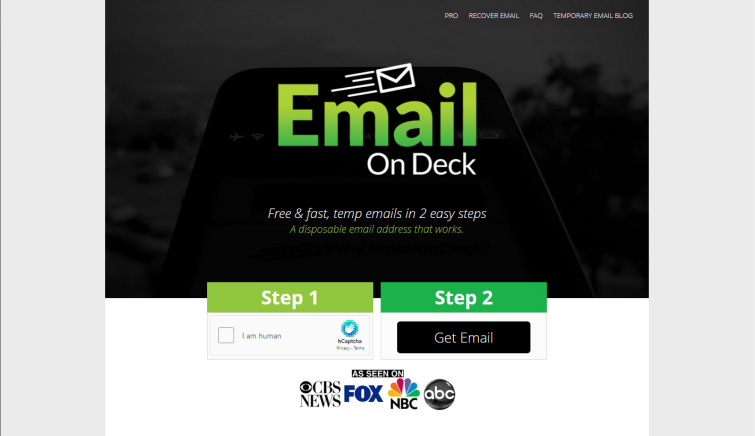 Emailondeck is certainly one of the more accessible disposable address providers, being able to generate you an email address in two straightforward steps. The service is free, and retains incoming mail for about 24 hours – though you can speed up this process by clearing your cookies. EmailOnDeck is routinely deleting mail, and actively wipes mail logs in order to cut storage costs – for this reason, it's probably not a good idea to use the service for any long-term endeavors.

At this point in time, only premium users can send anonymous mail to any email address. Otherwise, free users can send secure mail to other EmailOnDeck accounts. A premium account will also remove ads, and allow users to save their generated email address – as well as create custom addresses. The EmailOnDeck site is impressively secure, being accessible via HTTPS, and the provider's servers make use of TLS, to boot.
Want to check out more providers? The following services also offer disposable email addresses:
GetNada
LuxusMail
MailCatch
MailDrop
Mailinator
MohMal
MyTemp
OwlyMail
ThrowAwayMail.com
TrashMail
What is a disposable email address?
In an ideal world, we'd all be able to use one personal email address for everything – and spam probably wouldn't even exist. Unfortunately, it does, and the sheer quantity can prompt folks into looking for solutions to stop the influx. A disposable email address is one such solution, but what exactly are they?
First and foremost, they're temporary. Disposable. This makes them different to any email address you'd get from Gmail or Outlook. They're also different in that most disposable email services don't require you to register an account or hand over any personal details, like your name, number, or physical address.
So, you'd visit one of the sites listed in this guide, follow the steps to generate your temporary email address, and then copy and paste that address into a form on another website where your real email would usually go.
Sounds pretty handy, right? All those annoying junk emails will be diverted to the disposable address, which will usually self-destruct after a set time, too. Your personal inbox will stay clean, and the associated address won't be included on a database that might potentially be involved in a leak someday.
It is worth noting that these disposable services come with some drawbacks. They don't have the utility of a Gmail or Outlook account – you won't be able create folders or signatures, check if someone's read your mail, or BCC people. However, some disposable email services do give you the option to send mail, recover recently deleted mail or addresses, and forward emails.
Why do you need a disposable email address?
The internet nowadays revolves around the concept of convenience, and it's certainly easier to input your main email address into a site or app rather than generate a temporary one. But as soon as you do, that data is gone, out there, and could be used by sites to flood you with spam messages – or worse. We're familiar with what disposable email addresses are as well as how they work – but why use one? There are dozens of reasons! We'll dip into some of the more prevalent ones below.
✉️Spam central
Spam is public enemy number one for everyone with an email address. It feels as though you can spend hours unsubscribing from these lists only to be snowed under with more spam, later. Avoiding this influx is the main reason why folks invest in a disposable email address. By doing so, you're preventing your main account from being known – and targeted – by spam lists.
💰Guilt-free spending
Disposable emails come in handy when shopping, too. It might be that you're interested in making a one-time purchase from a site you've never visited before, and one that you'd rather not receive advertising spam from. Or, you could want to skirt the similar "deal", "sale", and "new in store" spam emails you receive after signing up for a loyalty card.
👻Ghosting sites
Don't worry, we all do it. There are times where you know you'll probably never use the site or app you're visiting ever again and, as a result, it can feel more reassuring to use a disposable email during registration. Similarly, if you're interested in a free trial and need to hand over an email to access it, use a temporary one! In either situation, you'll be able to use the service you're interested in and then forget it – with no subsequent spam emails to worry about.
⛓Staying secure
Whilst disposable emails are invaluable when it comes to avoiding spam, they also have an important security function. How many times have we all signed up for a service without reading the terms and conditions? Well, it might be that the site is actually asking you for permission to use, share, or even sell your personal information, and sites can also hand over your email address to advertisers.
And there you have it! A whistle-stop tour of how a disposable email address can keep your inbox clean, tidy and secure – and all without costing you a penny.
One more thing...
There are times where it's better to avoid using a temporary address, though.
For example, it's not a good idea to use a disposable email address to sign up to any important services – like banking, medical, or educational sites. You might one day need to reset your password via email, and you won't be able to do so if you signed up with a disposable one that's long since expired. Similarly, if you ever need to request bank statements, a medical history, or troubleshoot issues with a customer service team, it'll be incredibly difficult without a valid email address.
Conclusion
Disposable emails can save you an enormous amount of stress. In a few clicks, you'll have generated a temporary address you can use to sign-up to websites, enter competitions, make one-off purchases, and with the confidence of knowing you won't be inundated with spam for months to come. Furthermore, a good disposable email can be a quick and effective security measure. By handing over a disposable email, and not your real address, you protect yourself from potential data leaks, and can feel safe using sites that may have a shoddy security history. All in all, it's a good idea to have one or two of these handy sites bookmarked!
So, if you need a reminder of our top five secure disposable email services, here they are! They're all easy to use and won't cost you a penny, and some even allow you to reply and compose new emails, anonymously.