Price
Vipre Antivirus Home Edition can be purchased in three different subscription plans:
Antivirus Plus
Advanced Security
Ultimate Security Bundle
Antivirus Plus is the most basic plan, for $34.99 per year it provides users with coverage for a single PC. The option is there to increase the number of devices covered to either three at a cost of$44.99, $54.99 for five devices, and $69.99 for 10 devices.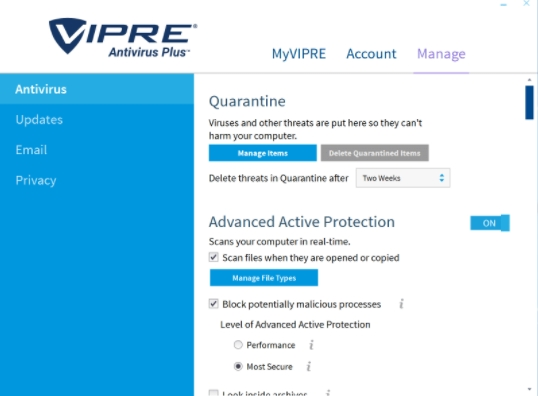 This ensures that consumers can get antivirus protection for as many machines as they happen to own. It is also worth noting that it is cross-compatible with various platforms. This makes the Antivirus Plus plan a good option for families looking for active and real-time malware protection with automatic updates and Ransomware protection.
Advanced Security adds a few extra features to the Plus plan. Users gain access to automatic third-party application patching, anti-spam protection, and a dedicated Firewall. To get these extra features, users must pay $54.99 for a single device, $64.99 for three devices, $74.99 for 5 devices, or $99.99 for ten devices.
These prices are generally comparable to other security suites on the market that offer similar features. Certainly, $10 per device (for active virus scanning on 10 machines), cannot be considered expensive. However, $54.99 for a single device may be a touch on the pricey side considering that you can actually get similar real-time protection (with ransomware protection) for notably elsewhere.
Finally, the Ultimate Security Bundle adds another layer of advanced security features to the service. Users get anti-tracking, a webcam and microphone blocker, a VPN, personal profile protection, and a dark web scanning tool that searches to see if your email address or other sensitive information is being sold online. To gain access to this complete suite of security services, users must pay either $139.99 for 5 devices or $189.99 for ten devices.
Also good news, any internet users who only require an antivirus on their Android device have the option to pay for the Vipre Android Security plan. It will protect a single mobile device for a reasonable cost of $19.99, three devices for $34.99, five devices for $49.99, and 10 devices for $69.99.
Overall, these prices can be considered competitive, particularly if you have more than one device to protect. Even a cost of $39.99 for a single device with active and real-time protection is comparable to other competitors such as F-Secure ($35.99), Trend Micro ($39.95).
Of course, Avira, Avast, Malwarebytes, and some other competitors do provide a free plan for a single device – so there are ways to use a basic antivirus for free if you want to. However, you will not get as many features, or real-time protection using those basic free plans, which you will if you subscribe to Vipre Antivirus Plus.
Get the best price!
It is also worth noting that Vipre often has sales on, too. So while these are their official prices – you may be able to get a bargain from time to time. So it is well worth clicking the link in this article to check whether you can avail of a special offer! At the time of writing, it was cybersecurity awareness month and Vipre was offering 15% discounts on single-user subscriptions!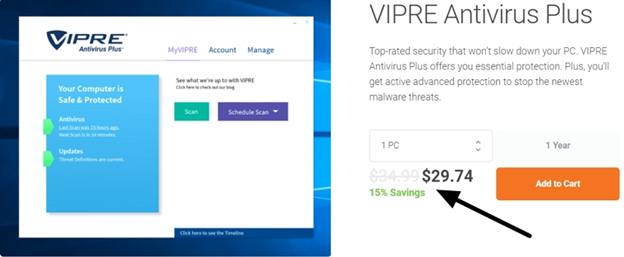 Vipre Antivirus Features
Vipre Home Edition has a whole suite of features ranging from basic virus scanning to online malware protection and real-time threat scanning for incoming files, including ransomware protection. Below, we have included a comprehensive list of all the features available across the various plans.
Active protection with real-time scanning
Automatic updates via the cloud
Virus, malware, and spyware protection
Ransomware protection
Microphone and Webcam protection
Automated patch notification for third party applications
Email scanning with spam protection
Firewall with outgoing protection rules (to stop Trojans from communicating with CnC servers)
Tracking and phishing protection
Dark web scanning to protect your personal data and identity
Document scanning and auditing feature for sensitive local documents
Virtual Private Network
30-day money-back guarantee
Customer care (based in the US)
Vipre Antivirus Setup
Purchasing a subscription with Vipre is easy through its website. You can choose to pay with either a debit or credit card, PayPal, by wire transfer, or via a cheque in the post. If you do choose to pay via cheque or wire transfer, you will need to wait until the payment has been processed before you can access the software and install it. However, with that aside, getting a subscription is easy and only requires a valid email, zip code, and payment.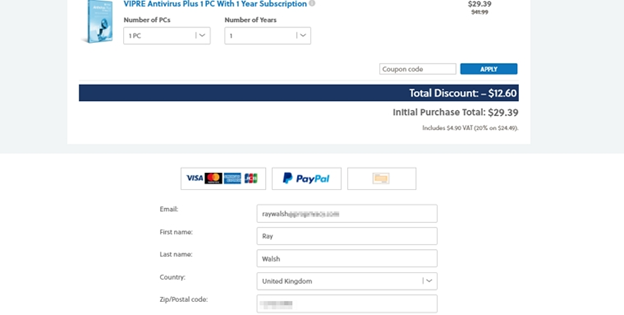 With your subscription made, you can download the version of the app that you require. We went ahead and downloaded the Windows version of Vipre Advanced Security, which is the subscription we ended up getting for the review.
With the .exe installer downloaded, we went ahead and installed it. The first step is to input the Product Key, which will have been delivered to you in your welcome email. Simply input that key, and the software will install on your device.
Following that, Vipre will install on your computer and it will perform the first scan automatically. If you have any other antivirus programs installed on your machine, Vipre will prompt you to remove these. This, it tells you, is because it is better to only have one security suite installed at any time.
The installation takes only a minute or two, which is mainly due to it downloading all the necessary threat definitions. However, you will need to restart your computer halfway through installation in order to complete the process, which is slightly unusual.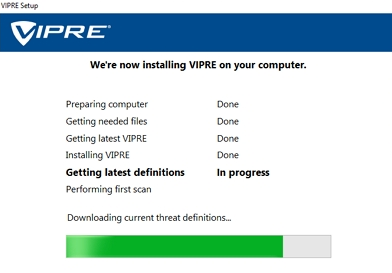 The automated initial first scan is a foolproof way to ensure that the first scan occurs without hiccups, and ensures that the antivirus is doing its job right front the beginning, even if you are a total newbie with an aversion to tech.
Once the installation is complete, you will be asked whether you want to provide your computer's data to ThreatNet.
A worldwide network of thousands of VIPRE users sharing and identifying potentially dangerous program files (both through manual submissions and automatically), resulting in the blocking of new malware almost as quickly as it is released into the wild. ThreatNet also enables VIPRE Security to track new outbreaks and compile statistical information.
For privacy purposes, we decided to disable this tracking. However, the firm promises never to transmit any personal information to its servers that can be associated directly with you or your computer. Thus, it should be safe to engage in this telemetry tracking system. Whether you choose to accept really depends on your personal threat model.
Following that, you can finally open the application to see all of its superb security features. We have included a screenshot of the main dashboard below, and, as you can see, the status shows that the first scan has already been successfully completed: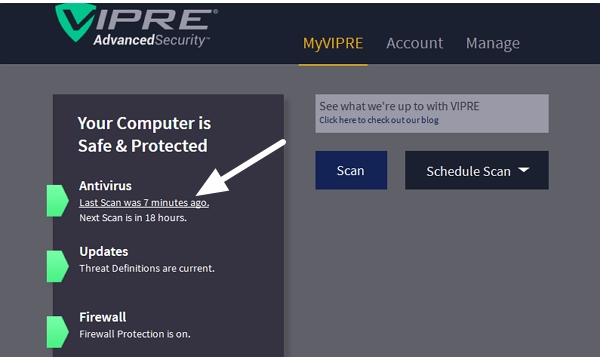 Is Vipre antivirus easy to use?
With Vipre now installed on your machine, you are ready to start using the antivirus suite. The good news is that it comes preset by default to give you the protection you paid for. This makes Vipre extremely good for beginners.
A big blue Scan button allows you to scan your computer as and when you want to. In addition, users can easily click on Schedule a Scan to set up a convenient time when a regular automatic scan will occur. We found setting up a scheduled scan to be much easier than in some competing products, which is good.
We asked for a full scan on a Friday at 3 a.m., and we asked the scan to include any devices connected via USB. We left the quick scan setup to happen each day at 10 a.m. which is the default.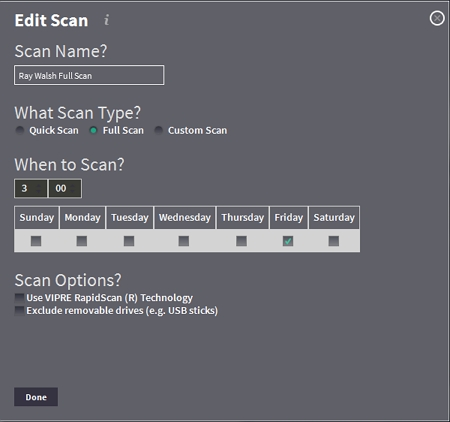 Users can also opt to change the scan from a Full Scan to a Custom Scan. This is ideal for anybody who wants to scan for specific things including cookies, programs that are running, the Windows Registry, archived and compressed files, as well as a specific deep level scan that searches for signs of Trojans or Rootkits.

Unlike some other antivirus programs, however, there is no way to set up a custom scan of particular files or folders of interest to you (other than the Windows Registry). Thus, you will need to perform a full scan each time that you want to check all of the files and folders on your machine outside of the custom options provided.
Overall, we found this to be no real issue and were happy with the custom options provided by Vipre – which give users the ability to seek out particularly stubborn infections.
Other features
With our scheduled scan setup, we decided to check out the rest of the available features. To do so, we simply clicked on Manage in the top right of the dashboard. Here we gained access to various extra settings and features.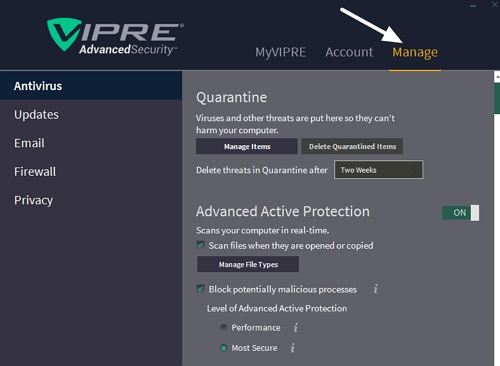 Here you can decide things like how often to delete any threats that have been quarantined, you can turn off the advanced active protection, which by default is switched on and will scan files when they are opened or copied and block any potential malicious processes.
Edge protection
This prevents exploits from being downloaded by your browser. This comes turned off by default, to ensure that the internet works normally, for beginners not used to dealing with this kind of feature. However, it is a useful addition that has a whitelisting feature that advanced users can employ to whitelist any websites they trust that are blocked or work irregularly with the feature turned on.
Web filtering
Blocks websites that could be dangerous, and comes turned on by default. As is the case with the firewall, the scanning of removable drives, and any other features that Vipre considers essential. However, users can opt for a few other options here as well, so it is definitely worth checking the settings if you want Vipre to do a full scan, for example, when it finds something during the daily scheduled quick scan.
Overall, we found all the settings in the 'Manage' section of the dashboard to be easy to navigate and use. We particularly like that there is a small information icon next to each parameter, which easily allows movies to get a clear picture of what each setting actually does.
Updates
Clicking on updates allows you to check that the antivirus is up to date. This is important to ensure that the scan is being effective and includes all the latest threat definitions are up to date.
Again, Vipre ensures that this is set up to check the cloud for new definitions every half hour, which is extremely thorough. Of course, Vipre will only be able to provide this service as long as you are actively connected to the internet, so this is something worth thinking about.
In this section, you will also find the third party patching feature. This ensures that all the software on your computer is being kept up to date with any new patches that become available. This comes turned on by default to happen automatically without notifying you, however, the option is there to ask for your confirmation before patching occurs.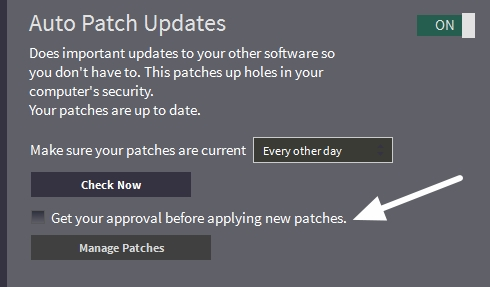 We would recommend that you switch this setting on so that you have some visibility over what is getting updated and when.
Email
In this tab, you can set up the antivirus suite to help protect your emails. These features come switched on by default to work with Outlook. So, if you use some other third-party email client, you will need to go into these settings to tell Vipre which email ports you use for POP3 or SMTP.
Please also bear in mind that if you use Microsoft Edge, Internet Explorer, Google Chrome, or Mozilla Firefox to access your email account (such as Gmail) – VIPRE's email protection will not actually be doing anything.
These browser-based email clients are protected differently, any potentially malicious incoming files will be quarantined using the Advanced Active Protection that is always running in the background in real-time.
Firewall and Privacy
The final two tabs available are the Firewall and Privacy settings. The firewall settings are pretty comprehensive, which is good. They allow you to gain granular control over firewall rules, and to set up unique features such as the Stealth Mode, which prevents your computer from automatically responding to potentially malevolent port scans.
An option is also there to scan for threats that appear to be coming from within the same LAN, however, this is turned off by default. Overall, the firewall features are pretty self-explanatory, and for those users who lack knowledge of firewalls, it comes setup natively to provide the kind of protection most users need, which is good.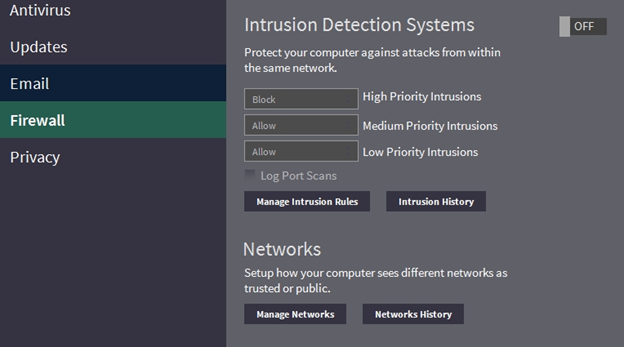 A learning feature allows you to monitor what the firewall is doing via notifications, and allows you to teach Vipre how to behave when confronted with different types of network traffic. This is an advanced feature that most people won't require, but it is nice to see this level of attention to detail.
Protection and Usability
How well an antivirus is performing can be evaluated in two ways:
How good it is at detecting and deleting exploits and threats (such as malware, viruses, spyware, trojans, adware, Rootkits, and ransomware)
How much impact it has on internet connection speeds, page load times, and device-level performance
To get highly accurate and trustworthy information about how Vipre performs, we opted to rely on test data provided by the independent antivirus auditor AVTest.org. This is a highly trusted independent organization that tests a broad range of antivirus programs every year to see exactly how effective those services are.
Protection
AVTest most recently tested Vipre in August of 2023. At that time it awarded Vipre a 5.5 out of 6 for protection. The results of the audit revealed that on Windows, Vipre was able to deal with 9.1% of incoming web and email threats. This is higher than the industry average.
The antivirus was also able to detect and quarantine 100% of malware test samples that had been discovered in the four weeks before the tests. This reveals this antivirus to be highly effective at dealing with incoming threats in real-time.
The Vipre macOS audit performed by AVTest is, unfortunately, not as recent. The antivirus was last tested in June 2019. However, at that time, the antivirus was given a six out of six for protection, which shows that this is a solid antivirus across platforms. Overall, we consider these results to be extremely good, and we can certainly recommend this antivirus as a service that will provide reliable scanning against dangerous exploits.
Performance
In terms of usability and performance. AVTest rated Vipre with a six out of six on both categories. The antivirus was found to only cause a minimal impact to page load times and device performance, which is excellent news.
The antivirus also made no false detections of any kind, which is far better than the 15 false positives that are the industry average. This makes Vipre an excellent choice for any beginner who doesn't want to be troubled by the confusion of false positives (which causes an antivirus to detect a normal application as a potential threat).
Overall, these results were fantastic, and show that Vipre will not have much of a detrimental effect on computer or internet performance while it is in use. This makes it a great option for people who don't have a super-powerful computer.
Privacy
As is always the case, we checked Vipre's privacy policy to see if we could spot any dubious data practices that might ring alarm bells. This is particularly important for any user who has paid for the Ultimate Security Bundle, which comes with a VPN.
The policy begins by stating that "notwithstanding anything to the contrary in this Policy, and to the extent allowed by applicable law, VIPRE does not collect or log any traffic on Internet Shield, its VPN service." This seems like a good start, however, the notwithstanding element did leave us wondering whether the policy would reveal that certain connection logs were indeed being harvested.
A deeper look at the policy reveals that the firm may collect personal data from you when you use its apps. This is rather vague, especially when considering the VPN app. The firm also admits that it may receive extra information about you from the third-party apps and services you use. This reveals that Vipre is collecting data about you not just directly, but from other sources.
This is the kind of data collection levels that you would never really want a VPN provider to be harvesting, and the acknowledgment that this kind of data collection is occurring generally puts us off using Vipre's VPN service. We would recommend that you stick to a dedicated no-logs VPN provider if you want to be certain about the privacy levels you are receiving while connected to it.
Apart from this fairly major quibble, we have to say that the kinds of data collection and data processing that this antivirus company admits to is pretty standard fare. We see similar kinds of privacy policies right across the industry, and while it isn't ideal that the firm is collecting information about its users for marketing purposes, we can't really single Vipre out as being particularly malicious compared to other services.
With that said, let it be known that the policy does state that the firm will collect the following information: IP address, device-level identifiers, operating system type, browser type, the dates and times of connecting to a site, app usage statistics, app settings, dates and times of connecting to an app, location data, and other technical communications information (some of which may constitute Personal Data), username, password, security login details, usage data, and other aggregated statistical information.
This is a lot of information, and it does appear to raise very serious questions over the privacy levels that you will be getting if you choose to use its VPN. Again, we recommend that you stick to only using the antivirus service, which rules out paying for the expensive Ultimate Security Bundle in our opinion.
Customer care
Anybody in need of help will unfortunately not find any real live chat support agents available on the website. Any questions will have to be asked via the support center on its website, and while you can ask the automated bot questions if you want to, it will only be able to recommend pre-made articles and guides from the knowledge base to you. Failing that, you will need to create a ticket, which the firm promises to reply to within 24 hours.
However, please bear in mind that support agents are based in the US, so depending on where you live you may have to wait the full 24 hours. In fact, in our experience, some requests can take up to two days to be resolved.
The good news is that you can access the support center from the application itself by clicking on Account. This allows you to quickly get to the help center on its website without needing to open your browser and search.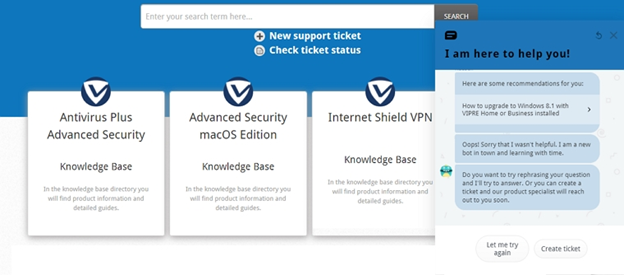 Overall, we found the support to be a little lackluster considering the cost of a subscription and what you can get elsewhere. This problem will be all the more annoying for anyone who is planning to use the VPN (proper VPN services have excellent 24/7 live chat support which justifies paying for those services).
On the other hand, the knowledge base is pretty comprehensive, and the standalone antivirus is both reliable and easy to use – so you shouldn't need to contact support very often.
Final Thoughts
Vipre is a solid and reliable antivirus program that can be considered a good option for both beginners and techy people looking for higher levels of control and customization. The Antivirus Plus plan is an effective and low-cost solution that promises to protect your computer against threats in real-time. Its ability to quarantine incoming exploits, including malware, worms, spyware, and ransomware makes it a trustworthy application for everyday protection against the exploits you may run into online.
For those who want a bit more of an all-round security suite, the Advanced Security bundle certainly has some benefits. The firewall is a nice addition, and it definitely adds a little extra protection when compared to the standard Windows firewall, thanks to its ability to prevent outgoing communications from Rootkits and trojans attempting to communicate with Command and Control servers.
The email protection feature is worth paying for if you do use Outlook or a third-party email client like Thunderbird, Postbox, or Mailbird. However, if you use a browser-based portal to access your email, this feature is going to be a waste of money because the Antivirus Plus plan (and its active cloud protection) will already do the trick.
For 99% of internet users, the basic plan should afford the kind of antivirus protection you need. The extras available in the more comprehensive security suites increase the price considerably, so unless you really believe you need that extra protection it is probably not going to be worth the added investment.
This is particularly true of the most expensive bundle which we would generally steer away from, simply because we can't recommend the VPN for privacy purposes. Having said that extras like tracking protection, identity, and social media protection, deep web protection, and webcam and microphone protection may interest some users. So if you have a lot of devices – and don't mind spending a bit more – these comprehensive packages may be worth your while. Just stick to a standalone VPN service, in our opinion. A solid antivirus suite that will get the job done.
0 User Reviews
Leave a Review
Thanks for your review!