Macs are thought to be less vulnerable to viruses than computers running Windows. Despite this reputation, many viruses and malware can still infect macOS computers.
Considering this, Apple's continued refusal to bundle a comprehensive antivirus solution with macOS is frustrating. This is why we recommend you use an antivirus app to secure your computer yourself. In this article, we have listed the best antivirus software for Mac.
There's nothing implicitly safer about a Mac except for the rarity of threats compared to Windows.
Best antivirus for Mac
Below are our picks for the best antivirus software for Mac users. These services have been thoroughly tested by our experts to ensure that you get excellent virus protection and genuine value for money.
Intego offers impressive levels of antivirus protection for macOS users, including a firewall as standard with the base version.
Pricing

Intego Antivirus Personal Plan (1 PC): $2.5/mth
Intego Antivirus Family Plan (3 PCs): $3.33/mth
Intego Antivirus Extended Plan (5 PCs): $6.67/mth
Mac Premium Bundle X9 (1 Mac for 1 year): $5.83/mth
Mac Premium Bundle X9 (1 Mac for 2 years): $5.42/mth
Mac Premium Bundle X9 (3 Macs for 1 year): $7.92/mth
Mac Premium Bundle X9 (3 Macs for 2 years): $7.29/mth
Mac Premium Bundle X9 (5 Macs for 1 year): $10/mth
Mac Premium Bundle X9 (5 Macs for 2 years): $9.17/mth

Pros

Free 7 day trial
Base version includes firewall
Real-time virus scanning

Cons

No mobile apps
Not the cheapest option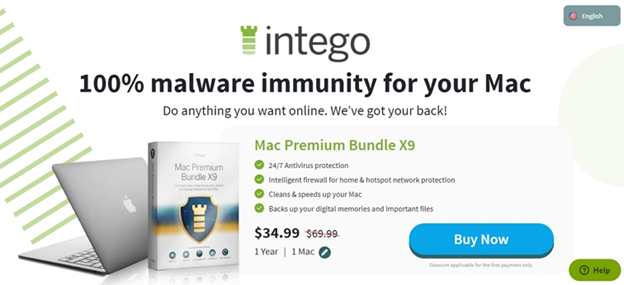 Intego is an award-winning antivirus that has an incredible reputation for macOS. The antivirus is massively effective at detecting and removing threats, and it has superb protection against all kinds of exploits – including ransomware. The antivirus can be purchased in various plans, however, they all come with the active real time scanning of incoming threats provided by the VirusBarrier app. That app was found to be 100% effective at dealing with threats in the latest test performed by the independent auditor AVTest.

Beyond that, which subscription plan you opt for depends on your personal needs. There's the base Internet Security X9 product which includes an antivirus program and firewall, and the Premium Bundle which includes all the other features such as parental controls, Mac cleaner and backup tool. To speak of the apps, we found them to be some of the best designed mac antivirus and personal computer security apps on the market. They are extremely easy to use, and a real pleasure on the eye. Plus, the firewall is extremely good at protecting against threats posed by Trojans.

Norton is one of the most well known antivirus providers on the market today, bringing a wealth of experience and technical know-how to their Mac product.
Pros

Highly rated by independent testing
Lightweight performance
Offers a full security suite

Cons

Firewall not as good as it used to be
Struggles with viruses in ZIP files
Price: Standard (1 Mac): $39.99 /year, Deluxe (5 devices): $49.99 /year. These prices are for the first year and double thereafter – make sure you don't get caught out and cancel your auto-renewal.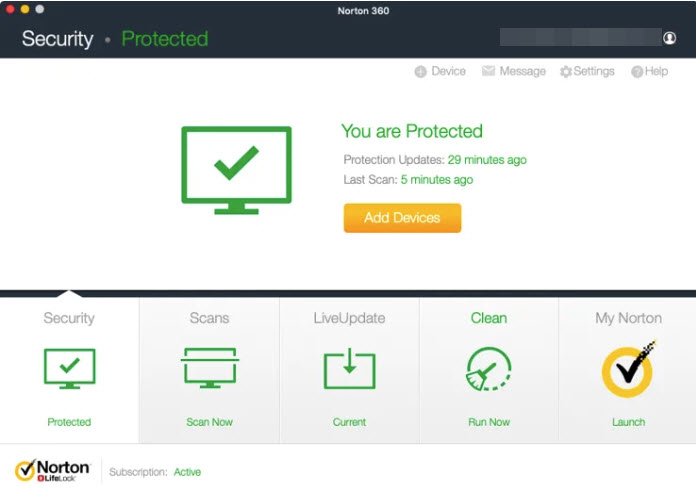 A 60-day free trial is on offer, although you must provide card details and must cancel within 45 days to avoid being charged. For up to 60-days you can ask for a refund, but this only applies if using for the free trial. Norton is a household name because of a partnership with Microsoft to bundle the software with just about every new Windows machine ever sold, Norton for Mac receives top ratings in all categories from AV-Test.

Crucially, Norton has moved away from offering stand-alone antivirus products, and now works solely on a subscription model. Norton has always taken a kitchen sink approach to security threats, and the new Norton 360 continues this tradition.

Norton Mac users enjoy comprehensive malware protection via real-time detection and regular scans, a cloud backup (10GB or 50GB depending on plan), a "smart" firewall, "SafeCam" webcam protection, a password manager, DarkWeb monitoring (which scans the dark web for stolen account details that belong to you), and a (rather limited in our opinion) VPN. Whew! Deluxe users also have access to advanced parental controls, and all users will receive a full refund if they contract a virus infection that Norton can't remove.

Vipre is a simple antivirus program for macOS, with additional features available at higher paid tiers.
Pricing

Antivirus Plus (1PC): $2.48/mth
Antivirus Plus (3 PCs): $3.19/mth
Antivirus Plus (5 PCs): $3.9/mth
Antivirus Plus (10 PCs): $5/mth
Advanced Security (1 PC or Mac): $3.67/mth
Advanced Security (3 PCs or Macs): $4.33/mth
Advanced Security (5 PCs or Macs): $5/mth
Advanced Security (10 PCs or Macs): $6.67/mth
Ultimate Security (5 devices: Windows, macOS, Android, iOS): $5.83/mth
Ultimate Security (10 devices: Windows, macOS, Android, iOS): $7.92/mth

Pros

Easy to use
Independently tested
Can be packaged with a VPN

Cons

No additional security features
No URL blocking/filtering
Base version doesn't check email attachments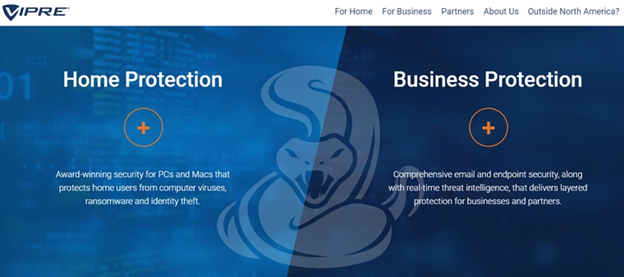 Vipre is a superb antivirus that has been tested by multiple third-party auditing companies. AVTest gave it full marks for protection, performance, and usability on Mac computers. This means that it does not negatively affect your computer's performance or the speed of the internet while it is working.

Vipre has apps for all platforms, so you can pay to use it on macOS and any other devices you happen to own. The threat definitions update automatically each day, and this program was noted for protecting Macs against 100% of the threats it was tested with. This makes Vipre a truly outstanding option for ensuring you are never victimized by hackers.

In terms of value for money, we tend to recommend the Vipre Advanced Security plan – as this has the perfect balance of cost to performance. However, if you only want active real time protection and scanning, you can pick up the Antivirus Plus plan for a little less. What's more, if you click on the link in this article you will find the antivirus at a reduced price! So give the link a click to check out the special offer.

Trend Micro Antivirus for Mac is a solid contender, with great malware/virus detection, reasonable pricing and plenty of additional features if you upgrade to one of the Security products.
Pricing

Free: $0/mth
Internet Security (Windows) – 1 device: $3.33/mth
Maximum Security (Windows, Mac, Android, iOS, Chromebook) – 5 devices: $3.33/mth
Comprehensive Premium Security Suite (Windows, Mac, Android, iOS, Chromebook) – 10 devices: $5.83/mth

Pros

Independently verified and tested capabilities
Solid malware detection/removal
30-day trial

Cons

Parental controls could be better
No multiple-license subscription for Mac
Full-scan is resource intensive
Price: 1 Mac: $29.99, Max (5 devices, any major platform) $39.95, 1-month free trial.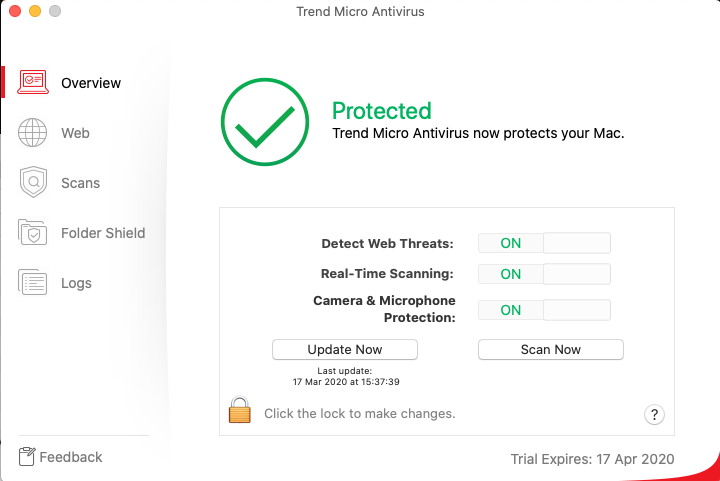 Trend Micro is a well-respected name in the antivirus community and scores a straight flush in AV-Test's Protection, Usability, and Performance tests.

Besides real-time protection and customizable virus scans (smart, custom or full), Trend Micro for Mac offers microphone and camera protection to alert you when these input devices are in use, and Folder Shield, which protects you from ransomware by blocking programs from changing or accessing selected folders.

Trend Micro for Mac also installs a toolbar for Safari that rates all links on webpages and includes an optional rollover function to see more details. Unfortunately, this feature is not available if you use a third-party browser such as Chrome or Firefox.

AVG is a well known free antivirus provider on Windows, and now macOS users can enjoy its protection as well.
Pricing

Free: $0/mth
Premium – 1 Device: $3.33/mth
Premium – 10 Devices: $4.17/mth
Ultimate – 10 Devices: $6.49/mth

Pros

Free tier available
30-day money-back guarantee
Independently audited

Cons

Not as many features as competitors
Flags "risks" in an attempt to encourage paid upgrade
Price: Free, Full Protection (1 Mac): $69.99 with 1-month free trial. Alternatively, you can upgrade in-app for around $20/year (with a 30-day money-back guarantee).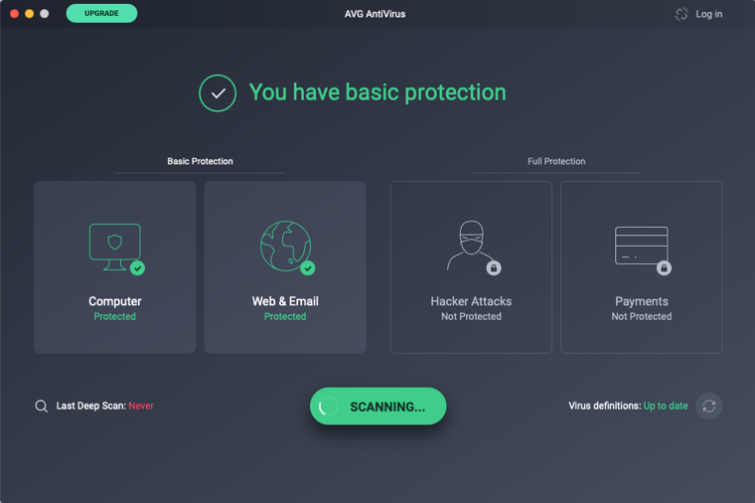 The core AVG AntiVirus package for Mac is everyone's favorite price... free! Which, when you consider that AVG for Mac gets top scores in every category from AV-Test, makes for a very easy recommendation.

AVG Free users enjoy full real-time protection and routine customizable scans, which is all many Mac users will ever need from an antivirus program. Running a system scan will also offer to clear up any "clutter" that AVG discovers in the process.

Upgrading to Full Protection provides ransomware protection, online payment protection via a database of known phishing sites and fake sites, and a "Wi-Fi inspector" which scans for network intruders and other network security issues.
Do Macs need virus protection?
Simply put, yes.
If you use a system that runs macOS, you should most definitely use antivirus software to keep your system safe. People have clung onto the outdated notion that Apple devices are immune to malware for many reasons, which we will outline below, but we recommend taking all precautions.
Macs are not (usually) targeted by viruses
There is no doubt that Macs get viruses much less often than Windows machines, and that the internet is full of anecdotes from Mac users who have used the platform every day since the Macintosh II was released in the eighties, and have never once had their systems exposed to a virus.
This is almost entirely because hackers and script kiddies stick to targeting Windows and the huge number of computers it runs on. The returns for creating Windows viruses may traditionally have been seen as bigger, but hackers also know that the average Mac user is likely to be a professional with potentially more valuable data to steal.
Macs are also becoming more popular among consumers, which is resulting in a growing number of viruses and malware that target the platform. In its sobering 2021 State of Malware Report, antivirus vendor Malwarebytes discovered a 400% year-on-year increase in Mac threats in 2019, outpacing the growth of new Windows threats by a ratio of nearly two to one.
Macs are inherently secure
macOS is based on UNIX, which is at heart a very simple OS that is very particular about gatekeeping who can access which resources (such as the kernel).
Macs also need not be compatible with a huge backlog of legacy hardware and software, and Apple just doesn't care if it irritates customers by making older stuff obsolete with new updates. So there is much less room for weaknesses to become embedded in the system.
Don't macs already have antivirus protection?
Although macOS does not come bundled with a fully-fledged antivirus and malware program such as Windows Defender, it includes three key antivirus features:
Gatekeeper – macOS does not permit you to install programs from anywhere except the official macOS App Store (or which, optionally, have been signed by approved developers without explicit authorization). And according to the company, Apple has supposedly vetted everything in the App Store.

Besides this, all apps installed from the App Store are sandboxed, meaning they run in separate, self-contained environments. In theory (more on this later), even if an app downloaded from the App Store is malicious, the amount of harm it can cause is severely limited.

There are plenty of perfectly legitimate Mac programs out there, including many excellent open source ones, that can only be found outside of the App Store.

XProtect – this is a real-time antivirus checker built into macOS that scans files when they are newly installed or updated, comparing them to a database of known malware.

Malware Removal Tool (MRT) – this built-in tool runs on start-up, and it scans your Mac for any viruses lurking on your computer that may have slipped past XProtect.
Why malware is still a problem for Mac users
Mac Viruses
The biggest argument against the notion that Macs don't get malware is Mac malware! They may be less common, but viruses that target Macs very much exist.
Almost all Mac viruses, crapware, and adware, are Trojans, infecting your machines when you think you are installing legitimate software. If they didn't overrule Gatekeeper to install software from outside the App Store, this would not happen.
The problem is that most of us Mac users want to use software that is not available through the App Store (which, as we have already noted, includes almost all open source software)...
Inadequate defenses
Gatekeeper, XProtect, and MRT are quite primitive anti-malware defenses that simply do not match the protection offered by proper anti-malware products (including Windows Defender). XProtect, for example, is a basic signature-based malware detection system.
It compares the signature of new software you plan to install to a list of software known to contain malware and blocks the installation of anything on that list. Neither it nor MRT performs even the most basic heuristics analysis.
Both these programs have also been criticized for their slow update schedules, which give new viruses plenty of time to infect machines before Xprotect or MRT's definitions are updated to catch them.
Despite being about as rudimentary as it's possible to be, Gatekeeper is actually quite effective at preventing Mac users from picking up malware. But we think Apple's "if you get malware from installing apps from outside our App Store, then you're on your own" attitude frankly stinks.
This is especially true when you consider that there are other ways for even the most cautious Mac user to pick up malware. Such as:
Malicious email attachments – we all know we shouldn't open suspicious email attachments, but when they appear to come from a trusted contact, it's all too easy to do.

Malicious websites – just visiting a website is enough for it to execute JavaScript that can install malware on your system.

USB dongles – malware can transmit when you plug an infected USB stick into your Mac.
It's also the case that Apple is not always as good at catching malicious apps in the App Store as it would like us to believe.
In 2017, Adware Doctor was one of the Store's best-selling apps until an independent security researcher discovered that it could evade Gatekeeper's sandboxing restrictions, and was sending highly personal information such as browsing history and running processes to servers in China. Ouch.
What is malware?
Malware is any kind of deliberately malicious software. Strictly speaking, a virus is just one type of malware – one that is contagious across systems. The two terms, however, have become heavily conflated in popular parlance.
Given that all modern "antivirus" programs offer full spectrum malware protection, we see no useful advantage in being pedantic about the difference for the purposes of this article.
The most common types of malware are:
Virus – a small piece of (non-self-replicating) code designed to infect other machines, whose payload (the bit that performs the malicious action) can be almost any other form of malware.

Adware – software designed to show you lots of ads. Not all adware can be considered actively malicious, but most people view it as a nuisance at the very least.

Spyware – this is malicious software that spies on you, tracking everything you do on your computer. The most famous kind of spyware are keyloggers that record your every keystroke so that hackers can discover your account passwords (such as your bank account passwords).

Trojans – a kind of virus that infects other machines by hiding malicious code inside what appears to be safe and legitimate programs. When you install the program, you also install the malware.

Worms – these often highly destructive malware programs are self-replicating. They endlessly make copies of themselves to infect other computers, usually by exploiting weaknesses in the target's security systems. Worms can destroy files, eat up resources, and cause havoc on networks.

Ransomware – this very scary malware locks users out of their own systems. To access their files and use their computer again, victims must pay a "ransom" to the criminals who control the malware unlock codes. And even when paying the demand, there is no guarantee the attacker will release your system.
The importance of malware prevention for Mac users
It should go without saying that you don't want any of this nasty stuff on your beautiful (and expensive) Mac. Prevention is always better than cure!
All good antivirus software will provide robust real-time protection against all forms of malware, and many antivirus programs for macOS also include additional features like:
Anti-phishing protection (such as warning about unsafe links in emails)
Additional layers of ransomware protection
Fake website detection
How to remove malware on Mac
In addition to preventing malware from infecting your system, the antivirus software listed above will:
Regularly scan your system for threats, allowing it to detect malware that might somehow have slipped past the real-time protection provides, or which had already infected your system prior to installing the antivirus software.
Remove any malware that a scan has detected on your Mac. All the antivirus programs listed above include malware removal tools.
A key aspect of advanced malware detection is heuristics analysis. This is used to detect new kinds of malware (or new variants of known malware) found in the wild that are otherwise unknown and therefore don't turn up on databases of known malware (such as the ones Apple relies on to protect macOS users).
Heuristics analysis uses a variety of techniques, such as de-compiling suspicious programs to detect code found in known malware example, or executing the programs inside a sandbox environment for detailed analysis where they cannot do any harm to the host system.
Once malware is detected, the antivirus software can usually remove automatically it, although sometimes additional tools are required (which are usually supplied by the antivirus vendor).
Mac users should protect against ransomware
What is ransomware?
Ransomware is a form of malware that locks infected computers so that their own owners can't log-in to them or access any of their files. To regain access to their data, the distributor of the malware demands victims pay a "ransom."
Ransomware is bad enough when it happens to individuals. When it happens to banks, government systems, hospitals, and like, the consequences are potentially devastating. And there is never a guarantee that the criminal will keep to their word.
How do Macs get infected by ransomware?
Ransomware is usually delivered as the payload of a virus, so you can infect your Mac by:
Installing an app with the malware hidden inside it (a Trojan)
Opening an infected file that has been emailed to you (PDF files are especially dangerous)
Plugging in an infected USB drive that has been handed to you/you found
As with most malware, the majority of ransomware targets Windows users, so the biggest danger to Mac users is ransomware trojans hidden inside macOS downloads. The KeRanger OS X ransomware, for example, was hidden inside a compromised version of the popular Transmission BitTorrent client.
How do I protect myself from ransomware?
Arguably the best protection against ransomware is to regularly back up your important files to an external off-site location. Cloud storage services are ideal for this, although a removable hard disk (kept separate when not being used to perform backup) also works well.
In the event of becoming infected, you can then just reformat your SSD drive and reinstall macOS, reinstall your apps, and restore your files from wherever you backed them up to.
Download a good antivirus with real-time protection
Make regular backups of your files to a cloud storage service, so you can easily format your hard drive if anything slips through
Do not click on any suspicious emails, download attachments from people you don't know, or install programs from unverified sources
Real-time protection means that pretty much all dedicated antivirus software for macOS will do a good job at detecting ransomware and stopping it dead in its tracks before it can infect your machine, although, in the constant arms race of detect and evade, it's always possible an unknown form of ransomware will slip under the radar.
If this happens to you (or you opted not to use antivirus software in the first place) then a variety of tools are available for decrypting many common forms of ransomware. AVG, for example, offers a number of such tools free to everyone.
Protect your Mac against spyware
Spyware is malware that hides on your system and spies on what you do on your computer and/or what you do online. The most famous (and arguably the most dangerous) spyware are keyloggers, which record your every keystroke and send all your passwords and login details to criminals.
Less dangerous forms of spyware include adware that tracks your interests online, and even the humble ubiquitous tracking cookie that follows you around the web and records which websites you visit.
How do I get infected by spyware?
The really nasty stuff – such as keyloggers and webcam hijackers – is usually delivered as the payload by a trojan, by opening an infected file, or by plugging in an infected USB stick.
Cross-platform adware that will happily run in macOS is often bundled by third-party distribution platforms such as CNET, as a wrapper along with the installation files of otherwise legitimates apps.
Unfortunately, just about every website on the planet will try to track your internet activity using tracking cookies that are installed when you visit a website.
How do I protect myself from spyware?
The best defense against keyloggers and suchlike is to only install apps from the App Store, or to use a good antivirus app. These will almost certainly stop spyware from ever becoming installed on your Mac in the first place, while regular virus scans ensure nothing slips under the radar.
Don't download anything without first installing a good antivirus with real-time protection
Disable third-party cookies in your browser
Don't open suspicious emails, click on attachments from unknown sources, or install applications from unverified vendors
Back up your files regularly to a cloud storage service. This enables you to wipe your hard drive if you want to take extreme measures
If you are going to install apps from outside the App Store, then try to download them directly from their developers' website – not from third-party intermediaries – in order to avoid adware. If you must install from a third party platform, then it's usually possible to opt-out of bundled crapware if you pay attention during the installation processes.
And, of course, many antivirus packages are good at spotting crapware – often labeling it as a Potentially Unwanted Program (PUP), rather than as outright malware.
The best defense against tracking cookies is to disable third-party cookies in your browser.
Conclusion
If you want to keep your Mac protected from malware, then an antivirus is an essential tool. As always, if you want to know more, be sure to make use of our search bar, or drop us a query in the comment below and we'll be happy to help. For now, here's a quick reminder of the best antiviruses for Mac: