Price
AVG is an antivirus that provides a limited version of its service for free. The free version can be used by any consumer to detect and delete viruses, malware, spyware, and ransomware; to scan incoming attachments links and downloads in emails; and to get real-time security patches for the antivirus. This is a pretty impressive level of protection at no cost.
For users who want the extra features that come with AVG's premium security suite, the option is there to upgrade at a cost of $39 per year - for one device. This is a steep cost considering the limited extra features you get (which you could get for free using other free security solutions). And that price will auto-renew up to the non discounted price of $69.99 if you don't remember to cancel your subscription after a year. That is absolutely extortionate.
Admittedly, anybody can trial the premium version for free for 30 days. However, following that we recommend that you either shop elsewhere or use the free version.
Alternatively, consumers can pay $77.88 to get the Ultimate package for up to 10 devices. That works out at about $7.80 per device, making AVG a reasonably priced antivirus for people with many devices or for families that require the use of an antivirus on various PCs, laptops, smartphones, and tablets. That subscription is cross-compatible with various platforms, so you can install and use it on macOS, Android, and Windows machines. However, please bear in mind that a subscription will auto-renew after the first year and at that time the price will go up to the full whack, which is $89.99.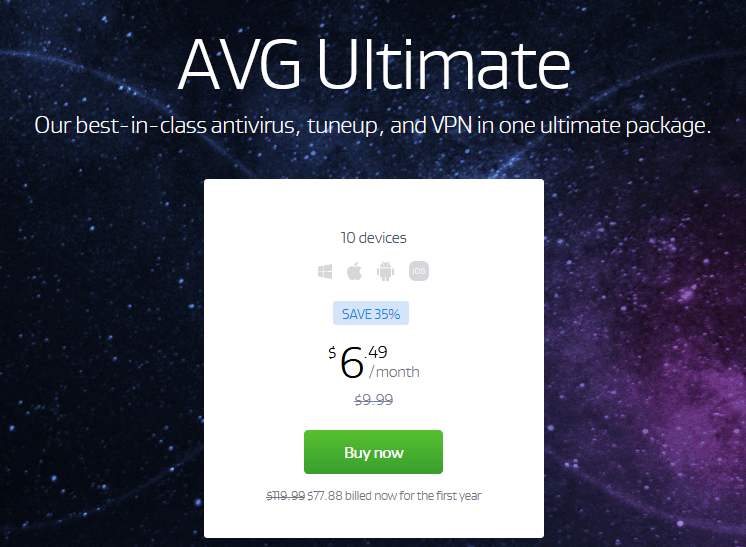 In terms of value for money, we found the free plan and the multiple device subscription plans to be Ok at the discounted price. However, the single device plan is a bit expensive when compared to similar products, and there are options available on the market that perform better in terms of performance – for less money.
Features
Antivirus protection against malware, worms, viruses, spyware, trojans, and ransomware
Available for all popular platforms
Real-time scanning and updates
Protection against Potentially Unwanted Programmes
PC optimization tool (premium)
Safe browsing (premium)
Webcam security (premium)
Behavior shield to monitor for unwanted or suspicious device activity (premium)
Enhanced firewall to boost the protection provided by your native firewall (premium)
Email scanning to spot malevolent links, downloads, or attachments (premium)
WiFi scanning to spot potentially vulnerable hotspots (premium)
Encryption for sensitive folders and files and a shred tool to permanently delete sensitive information (premium)
Payment protection feature to allow you to shop and bank online securely (premium)
AVG Setup
Getting AVG set up on a Windows or macOS machine is easy thanks to the installer available on its website.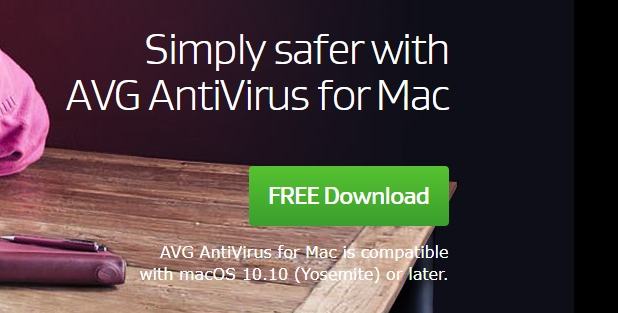 Alternatively, If you need antivirus for Android, you can simply grab the application from the official Google Play Store. If you are an iOS
The first thing we noticed when installing AVG is just how similar the install screen looks to Avast. The installer asks you whether you want to also install the AVG safe browser extension, and this is identical in format to the Avast setup procedure. This is potentially revealing of how similar these two products have become since AVG was acquired.
To install AVG, you will need to agree to its privacy policy and terms of service. This is nothing out of the ordinary. However, the privacy policy states that AVG may share data with its partners and affiliates. In the case of Avast (which is the data controller), this includes a subsidiary called Jumpshot, which sells user browsing habits to third parties. For this reason, we recommend against installing AVG's browser extension. More on these privacy concerns below.

If you are using the free antivirus, the installation will complete after you click install. If you are using the 30-day trial, select the free trial instead of entering the activation code. The antivirus will now install, taking around a minute to complete. Following that, the installation automatically prompts you to run an initial scan.
This is a nice feature that ensures you are protected from the get-go, without really having to do too much thinking. This makes this free antivirus a useful application for non-techy people or antivirus beginners who believe they may have become infected – or who simply want to start performing regular checkups on their machine.
The automatic scan will first search for browser-based threats, then for malware and other known exploits, and finally advanced threats. If you are using the free antivirus, the advanced threats will not be solved unless you upgrade by paying. However, if you are using the 30-day free trial, you can use those features for the time being.
The trial version will also add a performance scan into the mix. It will spot things like system junk, broken registry items, and programs running in the background that can be put to sleep. However, if you attempt to resolve these issues, you will be prompted to upgrade to premium as it isn't actually included in the trial version of AVG. Unfortunately, your only options are to skip this step or pay.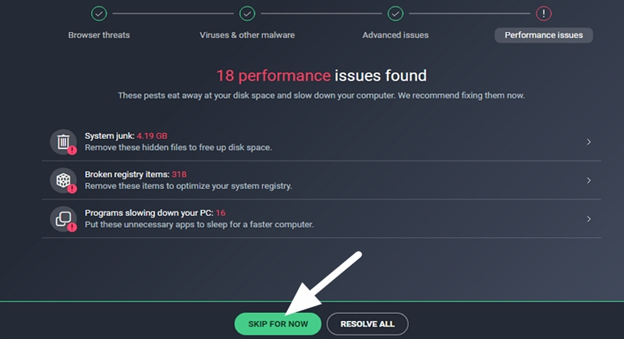 Finally, AVG will ask you to set up a smart scan to run once a month. This is a nice touch that will ensure that non-techy users are reminded to at least run a scan once every 30 days. That scan is set up to run on the 24th day of each month by default.
Ease of Use
With AVG now installed, users are free to do several different scans. Clicking on the menu button next to Scan Computer will reveal those options.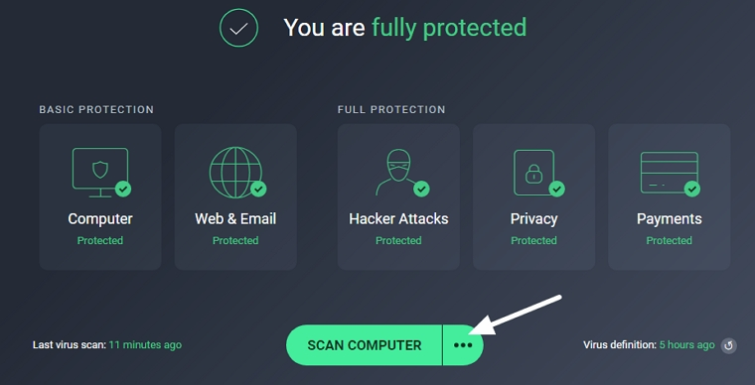 Those options are regular scan, a deep scan, a USB or DVD scan, a file or folder scan, and a boot-time scan (which requires the installation of an extra feature). Once that has installed, you are free to toggle boot time scan on and off.

Once inside AVG, running the performance scan results in a prompt to install a separate clean up tool called AVG Tuneup. That software is free, and at first, it feels like you have found a cool AVG hack. However, the reality is that you are prompted to upgrade to a paid account immediately after installing Tuneup, so don't bother to download it unless you intend on paying.
Back on the main menu, AVG antivirus users can opt to select from various settings. These are Computer, Web & Email, Hacker Attacks, Privacy, and Payments. Most of these features come turned on by default, so users need not do anything to ensure that AVG is protecting their devices. This makes AVG suitable for beginners and non-techy users.
However, there are a few exceptions. Clicking on Payments will allow you to download and install protection against spam and phishing. AVG has a reminder notice that recommends installing this feature.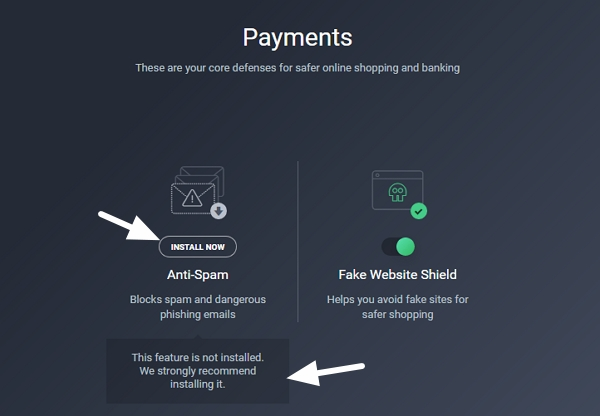 Enabling the anti-spam feature will require you to restart your machine. This feature is not available on the free version.
In the Privacy tab, webcam protection and sensitive data shield come enabled by default. However, users can open the data shield and add specific folders that they want to protect if they want to. By default, the shield will protect images, documents, databases, and other folders that AVG considers sensitive by default. To find files or folders to add to this protection, users can also perform a scan. These are premium features not available on the free version.
Web shield is designed to block malicious domains, while Email shield blocks unsafe email attachments – both of these features come turned on by default in the premium version. Finally, the File shield and Behavior shield are also turned on by default and will ensure that any newly downloaded files are scanned and that any unusual behavior results in a warning. But again, these are premium features.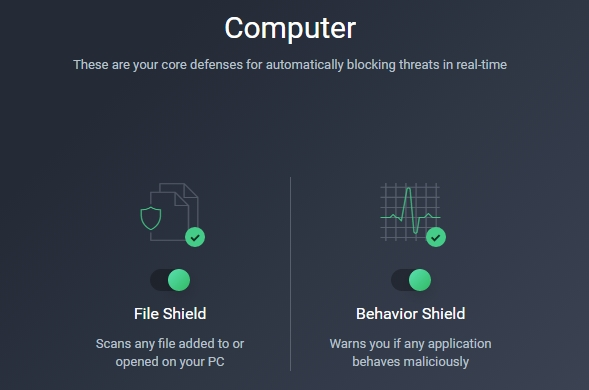 Going in Settings will allow users to access the File Shredder, which can be used to ensure deleted files are completely overwritten. A password manager is also available for those who want to secure their passwords. However, we recommend opting for a secure open-source password manager – and we do not trust AVG's browser extension, which must be used to allow for autofill.
Overall, we found all of AVG's settings easy to use, and while technical users can delve into settings to perform advanced functions, AVG is nicely set up to allow beginners to gain protection with no steep learning curve. This makes AVG free antivirus suitable for anybody, and means that it can easily be set up and left to its own devices.
Performance and Reliability
How well an antivirus performs can be judged in two ways:
How good it is at detecting and deleting exploits and threats.
How much impact it has on your internet's and device's performance.
To get accurate information about how AVG performs, we opted to rely on test data provided by the independent antivirus auditor AVTest.org. This is a trustworthy independent organization that thoroughly tests a broad spectrum of antiviruses using a large sample of exploits.
Protection
AVTest.org performed its last round of testing on AVG in December 2019. It tested AVG with a sample library of around 27,000 threats and exploits.
At that time, AVG was revealed to be able to discover and remove 100% of the exploits it was tested with. AVTest found that AVG was able to spot all the most prevalent kinds of exploits including malware, ransomware, spyware, viruses, worms, and trojans. During those tests, AVG was able to prevent:
100% of zero-day malware attacks, including web and email threats.
100% of widespread and prevalent malware discovered in the last 4 weeks.
This ensures that even free users of AVG are fully protected against exploits. And AVG ensures that the antivirus automatically updates itself regularly with any newly discovered virus definitions. This is excellent performance for an antivirus.
What's more, AVG was found to be able to protect against all known exploits not just on Windows machines – but also on macOS. This means that AVG can be trusted to protect your devices against threats on both platforms. However, on Android the results were not so great.
AVTest found that some of the latest real-time Android malware attacks slipped through the net. The same was true of newly discovered exploits, which AVG could not prevent 100% of the time. This is quite disappointing and means that mobile users may want to stick with a different antivirus. Trend Micro and Norton, for example, were both able to deal with 100% of the exploits they were tested with across all three platforms.
Performance
Where performance is concerned, AVG scores adequately but not excellently. According to tests performed by AVTest using both a standard computer, AVG makes a PC 39% slower when launching popular websites.
AVG reduced performance by up to 32% on high-end PCs
This is considerably slower than the 18% average seen across the antivirus industry. Even high-end PCs saw a decrease in performance of 32%, which is a lot. Compare that to Norton, for example, which only saw a performance drop of 11% when loading web pages on a standard computer, and you can understand why people with a slow PC or a slower internet connection may want to shop elsewhere.
AVG also slowed down the launching of software by a rate that was higher than the industry average. Admittedly, when installing files, AVG did perform slightly better than the industry average. However, overall, the results were disappointing.
The good news is that on Android and macOS, the performance was noticeably better, getting a 6/6 on both those platforms. This means that Mac users will probably be happy using AVG. For Android users, however, the slightly better performance has to be weighed against its lower protection score.
Where usability is concerned on Windows, AVTest awarded AVG a 5.5 out of 6. This is a near-perfect score that was lowered only because it made some false malware detections when scanning legitimate programs. On Mac, however, AVG scored a six – meaning that it made no false positives whatsoever.
Finally, on Android, AVG scored 5 out of 6 due to the fact that it falsely detected a legitimate app on the Google Play Store as malware. These kinds of false positives can add confusion for beginners and non-techy users, and those consumers may prefer to get something that does not suffer from false positives at all.
Privacy
We analyzed the AVG privacy policy and found that the firm states it will collect personal data from its users. According to that policy, the data controller is Avast Software in the Czech Republic. This means that user data is not controlled by AVG in the Netherlands. This raises concerns because Avast has been revealed to be collecting user web browsing habits and click data.
According to the privacy policy, the following personally identifiable information is collected from users:
Name
Address
Email address
Phone number
Login account number
Login password
Marketing preferences
Social media account
Payment card number
IP address
This is the same as the data collected by Avast, and it seems obvious that both AVG and Avast customers are treated identically. This raises concerns because, in December 2019, Mozilla decided to pull both Avast and AVG extensions from its extension library after it was discovered that the extension was enabling Avast to track user browsing habits and click data.
According to the research that was conducted, despite promising to anonymize and aggregate users' personal data, Avast actually harvests its users' browsing histories and sells it to third parties via Jumpshot. This is also true for AVG users and is far from ideal, almost certainly ruling out both Avast VPN and AVG VPN – which we strongly suggest you stay away from in favor of a trustworthy dedicated VPN provider.
Admittedly, tracking is only likely to be an issue if you use the secure browser extension AVG ships with. If you do not install any AVG extension in your browser, you should be ok. However, AVG is a closed source platform and so it is hard to make any promises about what it is doing in the background.
At the end of the day, Avast's decision to collect web browsing habits and click data is bad news. Whether you use Avast or AVG antiviruses anyway is up to you, and will largely depend on your personal threat model.
Finally, it is worth mentioning that Avast has claimed that the data it tracks from its users cannot be traced back to any individual user. However, studies have shown that anonymized data can be re-identified and the level of data that Avast passes to its subsidiary, Jumpshot, is far too invasive to be considered safe.
For users who want to make use of AVG for free, the option is there to head into settings and turn off some of the data collection. Those settings can be seen in the image below.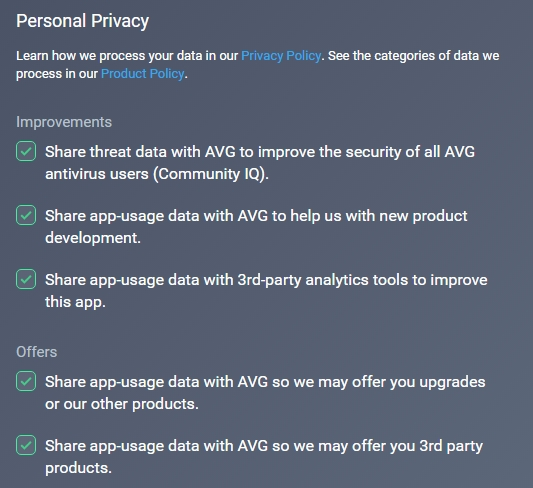 However, it is not 100% clear from those settings whether disabling everything will completely prevent Jumpshot from receiving your data. Ultimately, you have to trust the firm to do the things it promises, which many privacy advocates will find too much of a leap of faith.
Conclusion
AVG is an antivirus that performs extremely well for free. However, you will have to deal with it serving you constant pop-up reminders to upgrade to the premium version. And there are genuine privacy concerns surrounding tracking and consumer data sales to third parties.
Where AVG really shines is on the macOS version, where it gets maximum scores in all three of the most important categories: Protection, Performance and Usability. This makes AVG a much better antivirus for Mac than on other platforms.
On Windows, the antivirus could detect 100% of the 27,000 threats it was tested with. This is a fantastic result that definitely makes AVG a reasonable free antivirus option. Despite this, we don't feel that paying to upgrade to premium – particularly on a single device – is worthwhile, because the price is too expensive and you don't get enough for your money. It is also worth remembering that AVG causes a rather large drop in page load speeds, so paying Windows users will definitely be better off shopping elsewhere.
For free, this antivirus provides strong protection, and it is certainly much better than no antivirus at all. However, paying for the 10-device plan seems unwise considering the performance issues it suffers from on Windows, and the failure to prevent 100% of malware attacks on Android.
To conclude, paying customers are advised to look elsewhere. The fact that Avast (the data controller) was recently found to be tracking user web browsing habits and mouse clicks rule out using AVG's secure browser extension – so avoid this even if you use the free antivirus. And, while you're at it, stay away from both Avast VPN and AVG VPN because purchasing a VPN from a company that is known to sell browsing habits to third parties is a conflict of interests.
Finally, it is worth mentioning that many consumers are complaining about AVG on Trustpilot, citing bad customer care, extortionate prices, pop-ups (even in the paid version), and failure to honor the 30-day money-back guarantee as reasons to shop elsewhere.
0 User Reviews
Leave a Review
Thanks for your review!