Price
Intego has what it refers to as "straightforward pricing tailored for your needs". This is a fair way to describe its pricing scheme on Windows, which, compared to 99% of other antivirus firms does not leave you scratching your head. On macOS, however, things are a little bit trickier. Despite this, the pricing options do give consumers plenty of reasonable options, which allow you to pay for (or opt-out of) various features depending on what you need.
Intego Antivirus for Windows
The standard plan for Windows PCs is the Personal plan. It provides antivirus protection for a single PC, for one year, at a cost of $29.99. This is a fair price, in our opinion. However, please bear in mind that this is a reduced introductory price and, in the second year, the contract will roll-on to the higher cost of $35.99. Either way, this is a reasonable price point that competes with other services on the market.
The Family plan can be used to protect three Windows computers for a year. It costs $39.99 in year one and $47.99 in the years after. Again, this is a competitive price point, particularly in year one.
Finally, the Extended plan will protect up to five PCs for a year. It costs $79.99 in year one and $99.99 thereafter. We think this price seems a touch too expensive, because there are other antivirus companies that offer ten instances of the antivirus (across a wider range of operating systems) for a similar price.
However, this is a small quibble, and will not really matter to you if you only need protection for 5 computers. Also, the first year discounted price of $79.99 makes the price of the antivirus just $16 per device, which is definitely competitive.
Intego Antivirus for Mac
The macOS antivirus options are a little more complex. However, they are not nearly as overwhelming or confusing as those of competing services. OS X users get four different options to pick from:
Mac Internet Security X9
Mac Premium Bundle X9
Mac ContentBarrier X9
Mac Washing Machine X9
Mac Internet Security X9
Mac Internet Security X9 comes with two apps, VirusBarrier x9 and NetBarrier X9. Together, these will protect your Mac computer against malware and viruses by allowing you to perform scans, as well as by providing active protection against unauthorized access and incoming threats encountered in real-time on the internet.
This basic antivirus plan will cost you $39.99 for a single device for a year, $54.99 to protect three devices for a year, and $69.99 to protect 5 devices for a year. However, please bear in mind that these are introductory prices that will increase in year two.
Users who want dual coverage on both mac OS computers and Windows computers will need to pay $64.99 for three devices and $79.99 for five. Again, this does seem a little bit pricey, because competing services will usually allow users to install their antivirus on whichever Operating System they want. However, the single device price of $39.99 is pretty average, and the prices are definitely comparable to those of other vendors.
Mac Premium Bundle X9
Mac Premium Bundle X9 is almost definitely the best value for money plan available to macOS users.
The bundle comes with:
VirusBarrier x9
NetBarrier X9
ContentBarrier X9
Mac WashingMachine X9
Personal Backup 10.9
This is by far the most comprehensive plan available, and it will cost you $69.99 for one Mac for a single year, $94.99 for three Macs for a single year, and $119 for five Mac computers for a year. It is also worth noting that even bigger discounts are given to users who decide to commit for two years.
Mac Washing Machine & ContentBarrier X9
The last two bundles Mac ContentBarrier X9 and Mac Washing Machine X9 offer the antivirus and internet scanning apps with either a disk cleaning app or the firewall (with Parental Control features). This is ideal for people who don't want to splash out on the bundle, but do need one of those two features. Again these are priced fairly at $59.99 for a single Mac for a single year (with similar discounts as those described above if you want those particular bundles on more than one device.
Overall, these plans give consumers a lot of options. They allow users to either stick with a simple antivirus with online protection only. Or to branch out into fuller macOS security suites that we found to be priced extremely reasonable considering the level of service they provide.
To be absolutely honest, we would tend to recommend the Premium Bundle, because it provides the best price to performance ratio available, and ensures that you get access to all of those superb features.
However, if you really don't require the firewall feature or the parental controls (ContentBarrier X9) then there is definitely an argument for opting for the Mac Washing Machine X9 plan, which gives you everything, apart from Parental Controls, at a cost of $55.99 for a single device or $109.99 for three (there is no option for five with this particular bundle).
Intego Features
Intego antivirus for macOS or Windows is primarily designed to protect your PC against malware, viruses, trojans, worms, spyware, ransomware, and other potential exploits encountered online. Below we have included a full list of all the features available across the various apps and bundles you can purchase with a subscription:
Antivirus with real-time automatic scanning 24/7 for Mac viruses, Windows viruses, Unix viruses, Microsoft Word and Excel macro viruses, Trojan horses, worms, spyware, adware, hacking tools, dialers, keyloggers, and scareware (fake security programs)
Scan scheduling
Automatic updates
Automatic scanning of external drives and USB hubs
Flexible rules for dealing with malware (remove, quarantine,
Network protection to prevent unauthorized access
Email scanning both in browsers and standalone email clients
Mac cleaner to speed up your computer's performance and remove unnecessary files
Scanning for iPads and iPhones via the VirusBarrier app (when you plug your device into your OS X computer)
NetBarrier Firewall with two-way protection to ensure that both incoming and outgoing data is monitored and blocked (to prevent trojans from communicating with CnC servers).
Parental controls allow you to block access to specific domains
Bandwidth monitoring for active applications and their incoming and outgoing
Application activity monitoring that looks for spyware connections
Automated desktop organization tools
Setting up Intego
Getting a subscription to Intego is extremely easy, simply head over to its website, select the plan that interests you, and pay for the service either with a debit, credit card, or PayPal. To subscribe you will need to provide a valid address and Zip Code as well as a valid email address where your product key will be delivered.
As you can see from the image below, the company attempts to encourage users to purchase a bolt-on subscription to a VPN service for $19.99. We did not go for this extra, and would generally recommend sticking to a standalone VPN service.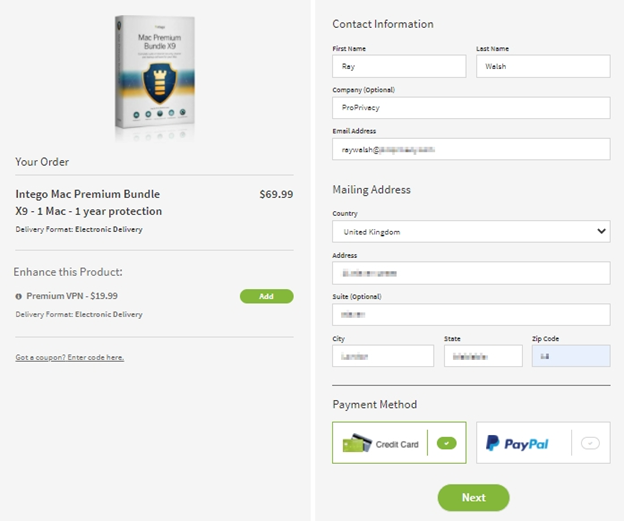 With your payment made, you can go ahead and download the version of the application that you have paid for. We found the application to install quickly and easily both on Windows and macOS. The antivirus took about 2 minutes to install on Windows, which is about average considering that it must install all of the necessary threat definitions.
With the antivirus installed, you are ready to make use of the free trial if you wish to. Alternatively, click on I have a key and register the product key you received via your welcome email.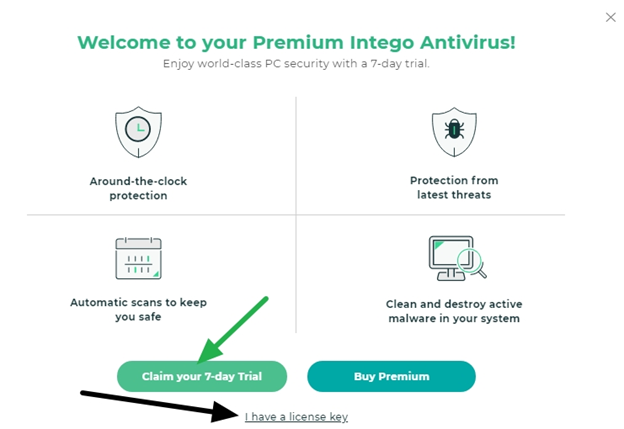 With the license key entered, you will be granted access to the dashboard and you can start using the antivirus. Overall we found the setup process to be extremely easy, which makes this antivirus a good option for any beginner who is worried about running into problems.
Is Intego easy to use?
In this section, we decided to take both the Windows and macOS versions of the antivirus for a test drive. This will allow you to get an idea of the service on either platform.
Intego bundle for Mac
With your Intego for macOS bundle installed, it is time to start using the apps. Rather than one integrated dashboard for all of Intego's features, you will need to use each standalone app. The version that we tested had the VirusBarrier, NetBarrier, and Content Barrier features. Each will need setting up separately, which does make this a little more cumbersome to set up than some other integrated security suites.
VirusBarrier
The VirusBarrier dashboard is clutter-free and pretty self-explanatory. The real-time scanning element of the application comes switched on by default, and you can easily access it's setting in the center of the dashboard to define what you want it to do when it discovers a threat.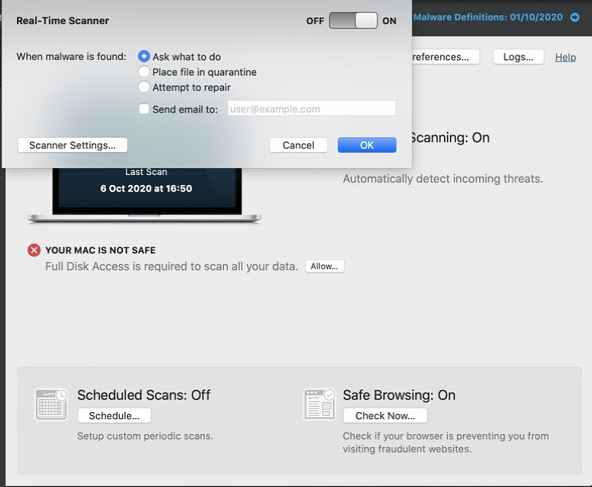 We left it on "ask what to do" so that we can be flexible over whether we want to repair or quarantine each specific exploit. By default, the antivirus comes set to automatically detect a large number of potential exploits, including known Mac and iOS malware, Windows malware, Linux malware, malicious scripts, hacking tools, and keyloggers.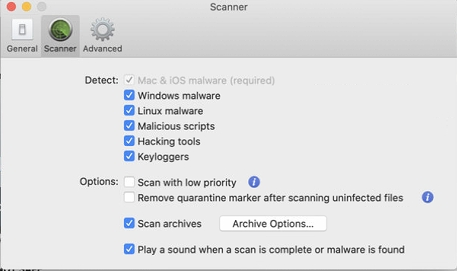 This is good and means that it is pretty much set up out of the box to provide all the protection you require. Clicking on General reveals that email scanning is also set up by default. However, this will only scan emails within the Apple Mail client as far as we are aware (the safe browsing feature of VirusBarrier will scan any threats coming from your browser – and, as a result, any online email portals you happen to use).
The only real thing left to do to properly set up the VirusBarrier is to schedule a regular full scan. To do this, simply click on schedule in the bottom left of the client. This will open a window that allows you to set exactly when you want a scan to occur. You can opt to run a full scan or a quick scan, however, we recommend that you do a full scan at least once a week.

Clicking on scanner settings allows you to define what the scan will search for, this comes set up correctly by default to search for all potential threats. If you are concerned about whether the threat definitions are up to date, you can check when they were last updated in the top right of the dash.
Here you can see when it was last updated, and by clicking and then selecting scheduling you can choose to update the definitions if you want to (you can set it to check either daily, weekly, or monthly).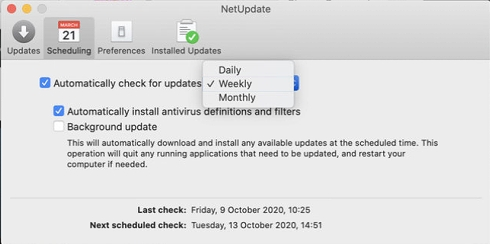 Weekly should be adequate for most people's needs, though admittedly daily is probably not a bad shout – so switch it over if like me, you are a little on the eager side!
Finally, you will need to set up the safe browsing feature from your dash. To do so, simply click Check Now under Safe Browsing.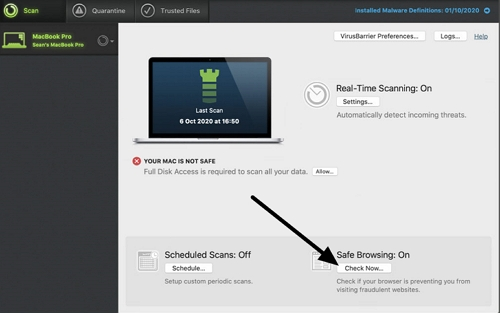 Here, you will be able to check that safe browsing has been set up to work with Safari, Chrome, and/or Firefox depending on which browsers you ten to use.
With that done, the only other real points of interest are the Quarantine and Trusted Files tab in the top left of the dashboard. Here you can either check on files that have been quarantined by the application, or set trusted files or folders that you do not want the antivirus to scan during real-time, manual, or scheduled scans.
Overall, we found the VirusBarrier application to be extremely self-explanatory and easy to use, We really can't imagine this dashboard causing anybody complications, and it definitely comes setup natively to do most of the things you would expect. Without a doubt, this is a good antivirus program for anybody who wants an easy life.
NetBarrier
Setting up NetBarrier is pretty self-explanatory. First, it will ask you what kind of network you are connected to: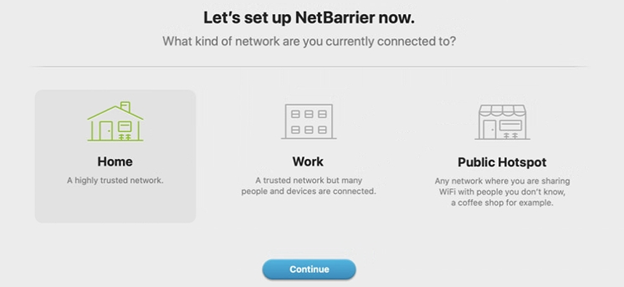 Following that, you are given a nifty explanatory screen that tells you where you can set up each feature of the firewall.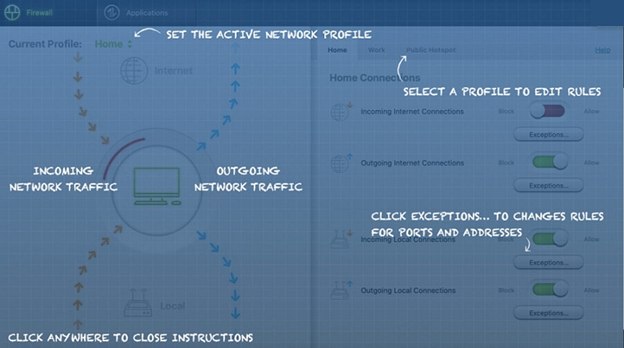 As you can see, you can easily set up the firewall rules for both incoming and outgoing connections, in order to prevent unwanted data transmissions – while easily being able to ensure that genuine programs can communicate with the web without issues using exceptions.
Overall we really loved using this firewall because of its ease-of-use and fantastic functionality. The fact that you can monitor all traffic in real-time is extremely gratifying, and gives you a real sense of control. Below you can see an example of the traffic being created by various applications we had running: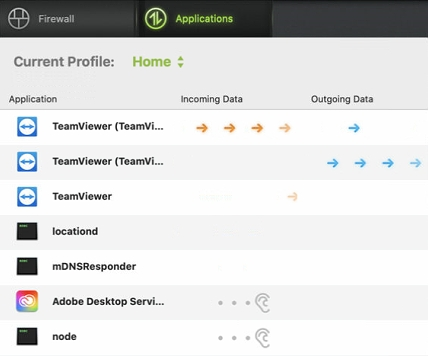 Most important of all, the ability to control both incoming and outgoing data ensures that this is an advanced firewall capable of detecting suspicious activity from unwanted programs such as rootkits or trojans that are attempting to contact a CnC server in order to steal your data or to download secondary exploits such as keyloggers.
ContentBarrier
This is the parental controls feature that ships with the advanced Intego bundle. It is a useful tool that will allow you to restrict access to online content and website domains. To set it up you simply drag each user profile into a bucket and define the level of control you want for that profile.
You can also set it up to send you reports if the application believes your child has been attempting to access content that is deemed dangerous, concerning, or inappropriate. These will arrive by email, and will allow you to make further decisions on what to block in the future.
We found the entire dashboard to be very easy to use. It is easy to block specific domains to ensure that any child using your Mac computer will not be able to access particular websites. In addition, you can filter by content type, which easily allows you to restrict access based on topics. This allows for a much faster application of parental controls: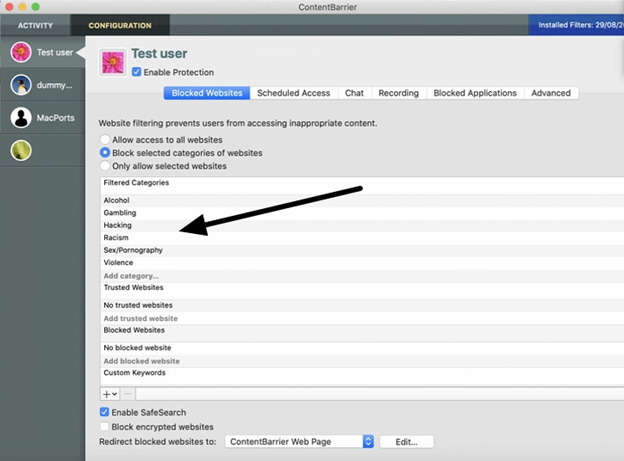 We also like that you can automatically set up ContentBarrier to restrict the amount of time that your child is allowed to spend online. Overall this is an app that is extremely well designed and extremely easy to use. A great addition for anybody who wants to protect children from unwanted online activity.
Washing Machine
This feature allows users to both organize their machine better, and clean away any files that are cluttering up the machine unnecessarily. The look and layout, as is the case with all of Intego's apps is extremely good. In addition, the features are easy to use, and will easily let you 'reclaim' space on your hard drive.
By clicking on reclaim you can search for old and unused files you may want to get rid of. By clicking on duplicates you can seek out unnecessary duplicates of files that are clogging your machine.
Finally, the organize feature will let you clean up your desktop or set up smart folders. You can also clean up your dock to ensure that only programs you actually use show up.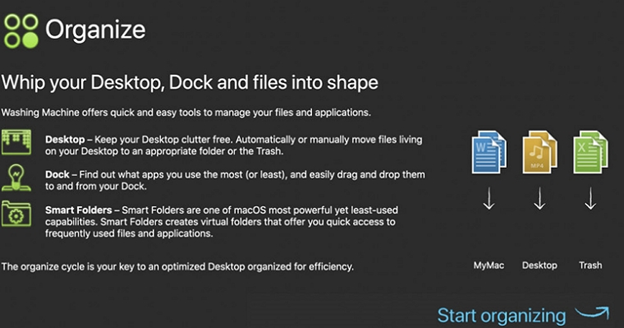 Again we found this to be a useful tool, that any messy computer user will probably benefit greatly from. However, it is worth bearing in mind that if you were proactive you could actually do everything that WashingMachine does for you manually – if you really wanted to. Despite this, it is an excellent application that many users will find extremely functional.
Intego for Windows
Unlike its Mac counterpart, Intego for windows comprises solely of the antivirus. Thus, it is effectively a port of the VirusBarrier app for Mac. As is the case with the macOS version, the dashboard for Intego antivirus is extremely uncluttered and user friendly.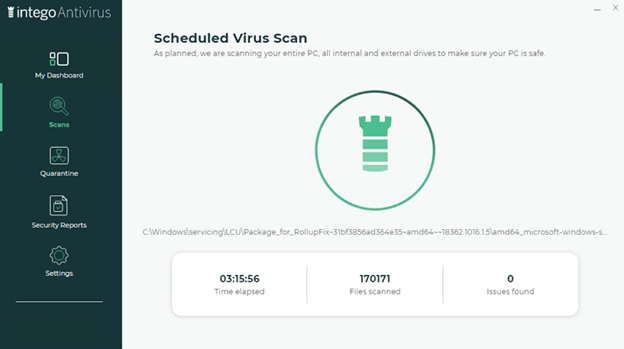 Performing manual scans, checking and updating threat definitions, scheduling scans, defining what should happen when a threat is detected – and all the other features you would expect from an antivirus – are easily accessible and easy to set up.
Clicking on settings in the bottom left allows you to access the panel to ensure that real-time protection and cloud protection are enabled, but these come turned on natively, which ensures that the antivirus will perform as desired out of the box.
Overall, we consider this antivirus to be practically identical to its award-winning Mac counterpart. It is an easy-to-use antivirus that is highly suitable for beginners. And, while it does not have any fancy extras, it does the job it sets out to do extremely well).
This alone makes it a good option for any Windows user who just wants the peace of mind of knowing they are getting good malware protection 24/7 – without actually having to deal with the massive array of security features that come in larger security bundles (that a huge percentage of consumers probably fail to use anyway.)
Perhaps the only surprising aspect of this antivirus, is that we found it to be pretty slow. A full scan took around 4 hours to complete, and we do not consider our computer to be particularly full of data in the first place. However, it did not affect the performance of our PC, which means that we were able to continue working without issues as the scan occurred in the background.
Protection and Usability on Mac
Evaluating how an antivirus performs really revolves around two key factors:
How good the application is at detecting and removing exploits and threats (including viruses, worms, malware, spyware, adware, trojans, rootkits, and ransomware)
How much impact it has on your internet connection speeds, page load times, and device-level performance
At ProPrivacy.com, we choose to leverage the antivirus performance data provided by the highly-trusted third-party antivirus testing organization AVTest.org. This reliable independent auditor regularly tests antivirus applications using a wide range of exploits, including widespread and prevalent malware that was discovered in the previous 4 months before the audit.
Below we have surmised the findings of its latest round of tests so that you can get a clear picture of what to expect when using Intego's malware and virus protection packages.
Protection
AVTest last tested Intego in June of 2021. At that time, it found the service was able to detect and remove or quarantine 100% of the exploits it was tested with – including prevalent newly discovered threats from the previous 4 months. This is a testament to the efficacy of the VirusBarrier application.
Considering that the industry standard for the detection of dangerous malware, trojans, and viruses on a Mac is 85% it is easy to see why this application received a 6 out of 6 for protection. Certainly, this is going to be a superb choice for anybody looking for an antivirus program for OS X.
Performance
When it comes to performance, some antivirus programs can cause havoc by taking up so much CPU that it becomes impossible to use your computer, or by slowing down your internet and page load times. With Intego, this is far from the case. AVTest detected that downloading files from the internet slowed down by 0% with Intego running and scanning. That is an incredibly impressive statistic.
Popular Mac applications launched around 2% slower, which is pretty negligible. Copying of files either on a local drive or on a local network slowed down by just 2%, which is pretty mind-blowing considering that the industry average with an antivirus running is around 37% slower.
Overall this demonstrates that Intego is extremely light on resources, and will run silently in the background while still providing real-time protection.
Another performance factor that can make or break an antivirus revolves around false positives. Some antivirus suites accidentally flag perfectly normal applications as a potential threat. However, during AVTest's audit (using 526,823 samples of commonly used software) Intego for Mac was found to make no false positives.
Overall this ensures that Intego is not only extremely good at spotting exploits and threats in real-time or during scans, but also ensures that it is good for beginners who don't need the hassle or confusion of false positives. Superb all round!
Protection and Performance on Windows
Unfortunately, the Windows version of Intego was only recently released, and for the time being AVTest has not published any findings. For this reason, we decided to rely on the results of recent tests performed by Virus Bulletin, another independent organization that tests antivirus programs to certify whether they are reliable at catching exploits.
Virus Bulletin is a member of the Anti-Malware Testing Standards Organization (AMTSO) and it complies with its standards, best practices, and guidelines when designing and updating its testing processes and methodologies. Thus, we trust the results provided by this independent auditor to be reliable (while we wait on AVTest to publish a more detailed report).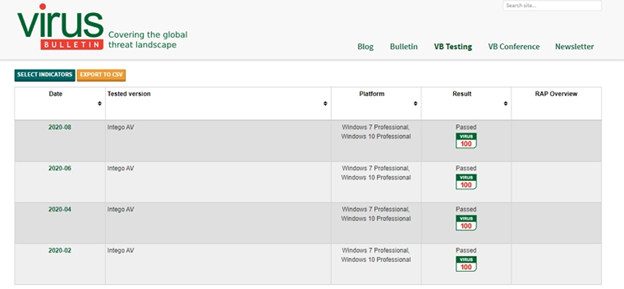 In the January 2023 VB100 audit, Virus Bulletin tested the Windows version of Intego on both Windows 10 and Windows 7. Those tests resulted in Intego being awarded a pass. This means that the antivirus missed no more than 0.5% of the malware samples it was tested with. In addition, the antivirus resulted in false positives no more than 0.01% of the time.
This is impressive and reveals that the antivirus is efficient at detecting and dealing with a variety of dangerous exploits on the Windows platform. The fact that it doesn't lead to false positives also ensures that this antivirus isn't unnecessarily confusing, which is what is needed by regular consumers.
Unfortunately, Virus Bulletin does not publish any details regarding the speed of downloads or the performance of a computer with Intego installed and running.
However, I can attest to the fact that I was able to continue using my laptop while a full scan was in progress with no noticeable negative effect on performance. While this is completely anecdotal, it does serve to provide some idea of how you can expect this antivirus to affect performance (the laptop I was testing on is an i5 with 8 GB of RAM).
Privacy
As is always the case when we review consumer-facing computer security products, we decided to open up the privacy policy to see if there is anything that raises an eyebrow. The first thing to note is that there are two separate policies, a general Intego policy and a standalone policy for the Windows antivirus.
The general policy directly mentions the California Consumer Privacy Act (CCPA), and it appears to be compliant with that legislation, which is a good start. The policy details what data will be collected from users when they use both Intego's website and products or services.
This includes personal data such as your name, address, e-mail address, and username. In addition to this, the firm admits to collecting your IP address (captured and stored in an anonymized format), approximate location (country only), and your transaction information – including purchased items, the price paid, billing method, and partial credit card information.
In addition to this personal information, the firm collects some data that it claims to be "non-personal" such as your:
Browser type
Computer operating system
Weblog information
Date and time you visit the website
Language Preference
Other click-stream data
The company also admits to sharing user data with a number of third-party service providers that it works with solely to provide its services. However. it clearly specifies that "we do not sell or rent personal information collected through Intego's Site to anyone."
Finally, the firm admits it will share data with the authorities if it is legally required to do so with a warrant, which is standard fare.
Overall, this level of data collection is pretty standard for an antivirus (from what we have seen from other antivirus companies). While it isn't ideal that the firm collects this kind of data, it actually does seem a little less invasive than some other services we have reviewed.
The anonymization of stored IP addresses is good, but no indication is given as to whether that system also permits easy deanonymization when necessary. This definitely raises some concerns over using the VPN if you decide to pay for that extra at checkout.
On the whole, we would recommend that you stick to a stand-alone VPN with one of Kape's world-renowned services (or any other reliable no-logs provider). This will ensure that your VPN is covered by a standalone VPN privacy policy, which you can have much more confidence in.
It is also worth noting that the privacy policy states that Intego antivirus shares threat report telemetry with Avira SAVAPI SDK. Thus, it would appear that Intego is leveraging Avira (a competing antivirus service) in order to provide malware protection and a False Positive Control feature. In fact, the policy states that:
Avira SAVAPI SDK which is integrated in some of the company's Products may collect and send the necessary information to its servers to determine whether a file contains malware, also known as Avira Protection Cloud. This information may contain a file's digital fingerprint or the whole file itself.
The fact that whole files could end up being sent to Avira to provide Intego's antivirus services may ring alarm bells, depending on your personal threat model. It certainly does raise an eyebrow, because it raises concerns over.
Finally, we browsed the Windows Intego policy to see if anything differed. However, the policy was practically identical and did not raise any further data concerns of any kind.
Intego Customer care
Anybody in need of help with their Intego antivirus suite can go ahead and seek help on the Intego website. A chatbot is present on the page, and it will allow you to seek out responses to FAQs. The bot can point you to a number of knowledge-base articles for a variety of issues.
Alternatively, you can click on Support in the top navigation menu of the website to arrive at a page that contains the same information in a searchable format. Failing that, you will need to start a support request that will be handled by email. Support is available in either English or French.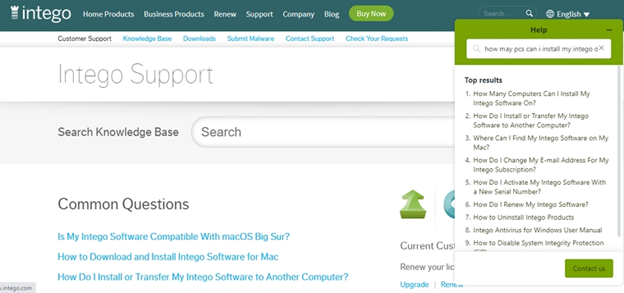 We tested the support service by mystery shopping them. They claim to respond to tickets within 24 hours and we found this to be true. The firm was able to provide good answers – usually within a few working hours. Of course, this is a US company, so depending on the time of day that you happen to ask a question you may be left waiting until US business hours for a response to arrive.
Despite this, we found the support to be perfectly adequate. Of course, some other companies have live chat support. However, while this seems exciting and useful, in our experience, those agents are primarily there to drive sales and are rarely trained to be able to do much more than the Intego chatbot can do.
On the other hand, most premium VPN services nowadays have excellent 24/7 live chat support that can help you with using the VPN, and iron out any kinks you might be having with the software. This kind of help is extremely useful when it comes to VPNs specifically, and the lack of proper Intego live chat could be considered another reason to steer away from purchasing the VPN add-on that is available when you checkout.
Final Thoughts
Intego is an extremely functional antivirus program that is particularly excellent on the macOS platform. The antivirus suite has a lot of advanced features if you invest in the Premium Bundle, and we have to say that having used those excellent apps we can recommend them pretty confidently.
The Windows app is a lot more stripped back. However, the cost of a one-year subscription on a single device reflects this, and it is an extremely reliable antivirus that offers both active and real-time protection against incoming threats.
Overall we really enjoyed using this antivirus. It is easy to see why it has won awards, and it has an incredibly low impact on both internet connection speeds and device-level performance. Plus, it doesn't lead to frustrating false positives that might leave you wondering what to do.
In our experience, few antivirus applications have such a nice layout, which definitely adds to the appeal – particularly when using the various macOS applications. We consider this antivirus fairly priced and fantastic for beginners, and it is without a doubt an application that is very easy on the eye.
Our only real quibble with this service is due to some slightly invasive and questionable data collection habits. However, we found this to be the same with all antivirus companies, and Intego does seem to collect less data than many of its competitors.
With that said, the one feature we would recommend against using is the optional VPN add on. Instead, we recommend that you stick to a stand-alone VPN with a strong no-logs policy, as this is far more crucial with a VPN service than it is with an antivirus. A top-notch service with very little to complain about.
Get Intego for Mac Get Intego for Windows
0 User Reviews
Leave a Review
Thanks for your review!