Price
Trend Micro antivirus can be purchased via four different subscription plans:
Antivirus+ Security for Windows or Mac – $29.95 per year for one device (then $39.95 after the first year).
Internet Security for Windows – $39.95 per year for three devices (then $79.95 after the first year).
Maximum Security for Windows, Mac, Chromebook, Android, or iOS – $39.95 per year for five devices (then $89.95 after the first year).
Comprehensive Premium Security Suite for Windows, Mac, Chromebook, Android, or iOS – $69.95 per year for ten devices (then $129.95 after the first year).
At the time of writing, the Maximum Security plan for five devices has been reduced to the same cost as the Internet Security plan for three devices. This makes it exceptional value for money for anybody who requires protection for more than one device.
With Maximum Security, you get access to the majority of Trend Micro's features – giving you an extremely well-rounded security suite with a large number of features. Unless you only have one computer that requires security, we do recommend splashing out on the Maximum Security plan, so that you can protect up to five smartphones, tablets, and PCs. (Particularly at this price point.)
The Comprehensive Premium Security Suite comes with all of the same features as the Maximum Security bundle, but offers dark web monitoring for personal information, a VPN, 24/7 technical support and emergency assistance, and fast, remote diagnosis and repair. While we've not had chance to review Trend Micro's VPN (watch this space for when we do), a $30 dollar price increase over the Maximum Security bundle seems steep – considering you don't get that much more.
It might be cheaper to utilize a standalone VPN service alongside Trend Micro's antivirus. If you want to find out more, check out our detailed comparison of the best VPN services.
If you use the antivirus on 5 devices, it works out at $7.99 per device, which is an extremely cheap cost, considering that you get a password manager and parental controls. Comparatively speaking, Trend Micro is priced fairly and similarly to the vast majority of similar products if you get it for just one device.
Features
Antivirus with real-time scanning
Ransomware protection
Advanced AI learning-based protection
Email threat protection and phishing protection
Payguard for secure transactions
Safe browsing blocks malicious domains that can steal personal data
Firewall booster
Spam protection (Outlook only) – Internet Security and Maximum Security plans only
Parental controls to keep children safe online – Internet Security and Maximum Security plans only
Fixes and optimizes systems – Internet Security and Maximum Security plans only
Password manager – Maximum Security plan only
Mobile device security – Maximum Security plan only
Secure erase feature to get rid of file permanently – Maximum Security plan only
24/7 support – Maximum Security plan only
Trend Micro – Setup
Getting the Trend Micro antivirus software set up on your computer is easy thanks to the installer it provides on its website. You can easily pick up a version for Mac or Windows, and if you require a mobile version you can grab it from the Apple or Google Play app stores.
The initial setup checks your computer for conflicting software, and if a previous antivirus is discovered it will ask you to uninstall it. However, our experience of this was bad. The uninstaller removed a version of Malwarebytes it found hanging around on our machine, but it left some files behind that wouldn't permit Trend Micro to install. For this reason, we had to clean up behind it using Revo uninstaller. Not a great start.
A free trial is available which you can activate in the second phase of the installer. It lets you use all the features of the antivirus for thirty days. If you decide to pay for the service, you will also need to enter your license key and provide an email to create a login to your account. Paying users must also decide whether they wish to receive monthly security emails.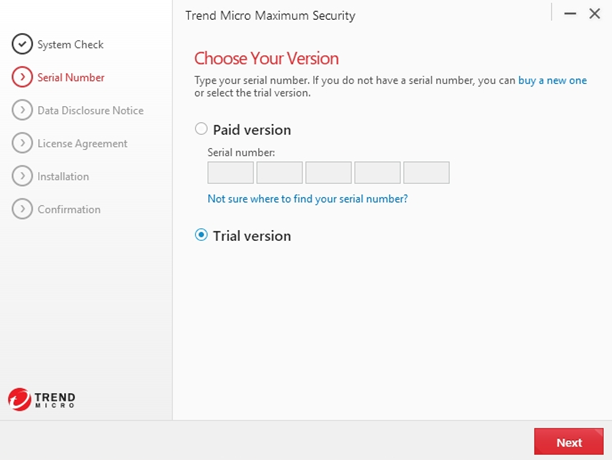 To install Trend Micro, you must agree to its privacy and personal data collection disclosure. This informs consumers that quite a lot of invasive data will be collected by the firm, including device-level identifiers and IP addresses. The data that's collected is as follows:
IP address
MAC address
Gateway BSSID
Gateway MAC address
System information and Windows system event logs
Email address
Password
First name and last name
Computer name
Obviously, for an antivirus app to work, you must entrust it with full access to your system. As a result, worrying about this kind of data collection could be considered like shutting the barn door after the horse has bolted. On the other hand, it is hard to understand why Trend Micro needs some of this data, given the nature of the product.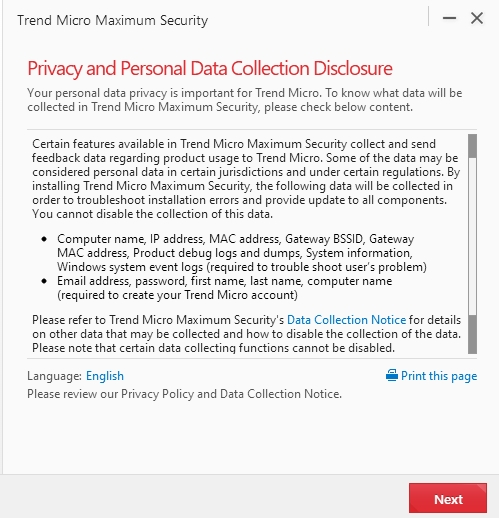 Following that, users must accept the License Agreement, which is pretty standard fare. Finally, the installer asks users to provide an email address. However, you do not have to provide it to make use of the trial period if you prefer not to.
Once installed, you are ready to start using the software to protect your computer. Overall, we found the setup to be easy to navigate, and suitable for beginners looking for an antivirus on any of the most popular platforms.
Ease of Use
The first thing that Trend Micro asks new users to do is to set up Folder Shield – a feature designed to protect users against Ransomware. Folder Shield works by allowing you to select specific folders on your hard drive that Trend Micro will then specifically protect against ransomware attacks that attempt to lock-up important files.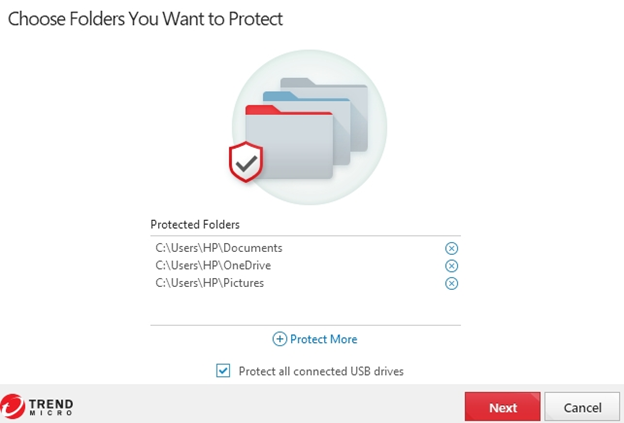 Once folders have been selected, Folder Shield will send you a warning if it suspects that a malevolent application is attempting to access those files. It will also allow you to restore those files if a problem is encountered further down the line. This is a strong ransomware specific feature that we found very easy to set up.
With Folder Shield successfully setup, users can begin scanning their device for existing threats. Users can opt to do a Quick Scan, a Full Scan, or a Custom Scan.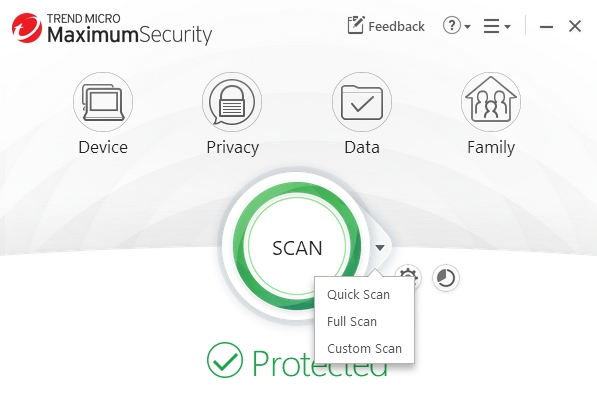 We recommend opting for a full scan the first time, to ensure that Trend Micro antivirus is given the opportunity to detect any harmful software that may have already made its way onto your machine.
During our testing, the scan took around 30 minutes – which is a little faster than many of the antivirus apps we have tested. However, please bear in mind that how long a scan takes will depend on the amount of data you have on your hard drives.
From that point on, users can opt to scan automatically at predefined periods. To do so, click on the Settings icon (the cog) and select Scheduled Scans.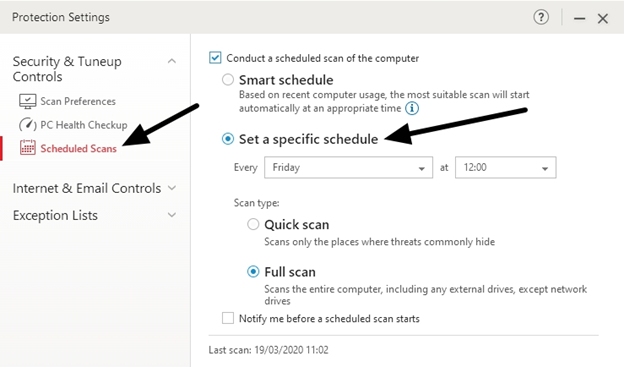 Once the schedule is set up to an appropriate time, you can either select Notify me before the scheduled scan starts or untick this box if you prefer the scan to happen without having to do anything (during the night for example).
Clicking on Internet & Email Controls allows you to set Trend Micro to block potentially dangerous websites. Users can opt for either Low, Normal, or High levels of filtering. By default, it is set to normal. It is also set to automatically prevent internet explorer, Firefox, and Chrome from running malicious scripts on infected websites.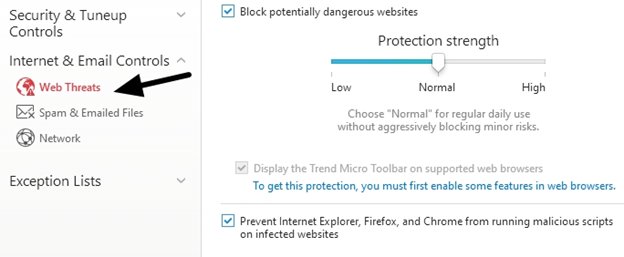 These settings are fine as they are. In fact, most people will find that Trend Micro is set up correctly out of the box – and will not need to change any of its settings. This is great, and means that there is no steep learning curve for beginners. Exceptions to this include the Pay Guard and Data theft Prevention features, which must be configured and turned on within the client. Trend Micro Pay Guard specifically creates an icon on your desktop for a separate application that you must run in order to set it up.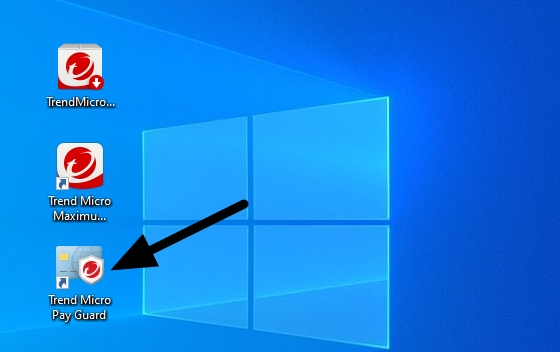 Clicking on Spam and Emailed Files (in settings) will let you set up Trend Micro to protect your emails. Spam filtering is only available for users of Microsoft Outlook. However, all users can set Trend Micro to check for threats in files attached to email messages.

The Network tab lets you activate a "firewall booster," which increases the protection provided by the native Windows firewall. It also allows you to turn on protection against potentially insecure wireless networks and hotspots. If you are a laptop owner and you often use wireless hotspots we recommend turning this on (it comes off by default). On the other hand, if you do regularly use hotspots we strongly recommend getting a VPN.
The rest of the Security and Tuneup Controls are pretty self-explanatory and they all come turned on by default. This means that you shouldn't need to alter anything. If you often deal with zipped files, you may want to turn on the Enable real-time scanning for compressed files feature – as this is not switched on by default.
Finally, users can click on Other Settings to access some more advanced features. This includes extra network settings for connecting to the internet via a proxy, and other features that advanced users may need. Most people will not need these settings, but it is nice that Trend Micro offers a deeper level of customization for those who require it.
Overall, we found Trend Micro to be extremely easy to use, and we liked the simplicity with which all the features were made available. The default settings are strong, and the antivirus comes preset to perform automated security by default, which is great.
For parents who require controls for their kids, the Maximum Security bundle will give you the ability to block websites and specific kinds of content by category. Time limits can also be set to ensure that kids do not spend too much time on the device, and applications can be prevented from running at certain times – to ensure that kids do not play games when they should be in bed, for example.
Finally, the password manager can easily be integrated into any browser and will allow for automatic form filling, auto password generation, and even secure note storage for protecting pins and other sensitive information in a way that makes them accessible across your various devices.
Performance and reliability
How well an antivirus performs can be judged in two ways:
How good it is at detecting and deleting threats
How much impact it has on internet and device-level performance
To get accurate information about how Trend Micro performs, we opted to rely on test data provided by the independent antivirus auditor AVTest.org. This is a trustworthy independent organization that thoroughly tests a broad spectrum of antiviruses using a large collection of exploits.
Following tests performed in December 2019, AVTest awarded Trend Micro with a maximum score (six out of six) in three key areas: protection, performance, and usability.
Protection
Where protection is concerned Trend Micro was found to effectively detect and protect against 100% of the exploits it was tested with (20759 samples in total). This includes 100% protection against:
Zero-day malware attacks, including web and email threats
Widespread and prevalent malware discovered in the last 4 weeks
The tests performed by AVTest were for all kinds of known threats including malware, viruses, worms, and Trojan horses. It is also worth noting that Trend Micro scored a 6/6 for protection on Windows, Android, and macOS. That means you can trust this antivirus to work no matter which platform you use it on.
Where ransomware is concerned, Trend Micro provides a multifaceted approach to protection that includes real-time scanning for incoming threats, URL monitoring for malicious domains, and Folder Shield to spot unwanted encryption. In addition, it backs up your most important folders – so that if something does go wrong – you can restore them.
When it comes to phishing threats, Trend Micro is extremely robust. It provides warnings when you visit URLs that are malicious including dangerous HTTPS websites, and provides email scanning for links and files that are malicious. Also good news, this protection works similarly-well across platforms.
Performance
In terms of performance, Trend Micro scores a very respectable 5.5 out of 6. The antivirus was tested by AVTEst.org using both a "standard" and a "high performance" PC. In both cases, Trend Micro was found to have some negative impact on page load times and download speeds. As expected, this degradation affected the standard PC at a higher rate than the top-end PC. A little slowing of application launching times was also recorded.
Despite this, the real-world impact is going to be pretty minimal – as long as you have a faster computer. That said, it is worth noting that there are antivirus applications on the market that receive a 6 out of 6 in this category. So if your PC is quite slow – you may want to look elsewhere.
AVTest's results showed that Windows users can expect performance drops of around 19% – which is the industry standard.
In terms of usability, Trend Micro was also awarded a 5.5 out of 6. Points were deducted due to the fact that it did falsely block certain actions whilst installing legitimate software. These warnings would need to be bypassed to install those applications successfully, which could cause a little confusion for less techy users.
While this is not ideal (and there are antivirus apps on the market that do not give false positives) – it is worth noting that Trend Micro does not make other kinds of false detections, including:
False warnings or blockages when visiting websites
False warnings concerning certain actions carried out whilst installing and using legitimate software
Overall, Trend Micro is slightly more power-hungry than a number of high-end antivirus applications on Windows – including Norton, Kaspersky and Avira. However, on Mac and Android, the antivirus performed much better – gaining a 6/6 on both platforms during the most recent round of testing.
Final Thoughts
Trend Micro is a solid antivirus that is suitable for beginners and non-techy people. The software is easy to use and comes with native defaults that are ideal for most users. If you require a well-rounded antivirus that can protect against all known threats – the basic Antivirus+ plan is well priced and will protect one device without issues. And don't forget that this antivirus also boosts your firewall so that it is monitoring outgoing, not just incoming data.
For those who want to use payment security, it is worth bearing in mind that this must be set up using a separate launcher on your desktop. This is an important thing to remember if you do want to get the full benefits of the security suite. During our time reviewing the application, we found that everything else comes pre-set-up, which is great.
For users who are willing to pay a little extra for more security features, Trend Micro offers excellent value for money with its Maximum Security plan. The fact that you also get a password manager is a big bonus – after all, the average price for a password manager is around $20 per year.
The parental controls are another excellent addition, which adds value to this plan. Overall, we found Trend Micro to be a good investment, whether you want a lot of useful tools across a number of different devices, or a solid antivirus for just one computer.
The only potential drawback is performance, and, if you are worried that Trend Micro will be a bit resource-heavy – it is worth bearing in mind that Norton and Avira both scored better in this regard (with exactly the same protection scores as Trend Micro).
0 User Reviews
Leave a Review
Thanks for your review!