Price
Norton provides various levels of service to its users. A simple antivirus can be purchased for one device at a yearly cost of $19.99. That price is excellent, but it is worth noting that there are plenty of free antiviruses available on the market that will provide a similar level of coverage.
Where Norton really becomes excellent value for money, is when you opt to invest in its Norton 360 security suite. That plan can be purchased for either one device at a cost of $39.99 or for five devices at a cost of $49.99.
Those subscription plans offer value for money because they include access to a VPN, a password manager, webcam safety, and secure cloud storage as part of the deal.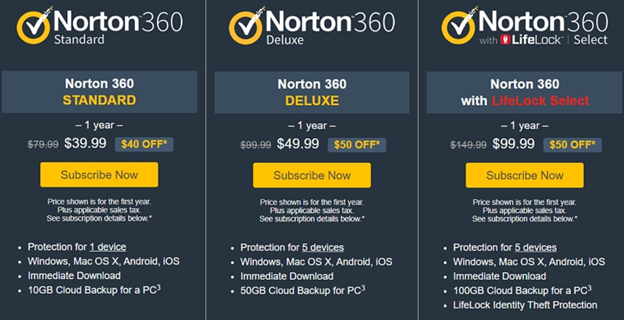 In addition, users can opt to pay $99.99 per year to get Norton 360 on five devices with an extra feature called LifeLock Select. LifeLock adds fraud prevention to the plan – including identity theft monitoring and credit monitoring.
Subscribers can opt to pay via credit or debit card, and a variety of popular cards such as Visa, Mastercard, Amex, JCB, and Discover are available. PayPal payments are also accepted. However, Symantec does not accept any cryptocurrency payments – so, unfortunately, that is not an option.
All users are offered a 60-day money-back guarantee on all yearly subscription plans. This refund guarantee is also available on the rolling subscription. So, if you forget to cancel and are automatically billed for another year – you do get another 60 days to cancel – which is great.
It is worth noting that in the US quoted prices do not include tax – which will be added on at checkout. And, if you do ask for a refund, the sales tax will only be refunded in certain US states (as well as in all countries that permit it).
So, how do these prices compare to the rest of the market? To start with the stand-alone antivirus plus plan is competitive, and certainly will not break the bank. Considering its performance levels it would definitely be an investment well made.
The introductory Norton 360 prices are also extremely competitive, especially considering the massive feature-set you get. Beyond that, whether you stick around for a second year at full price will depend on whether you can afford an increase of $40 or $50 (depending on which plan you opt for).
In our opinion, once the price is hiked, you are probably better off shopping around for a better deal – because there are many excellent antiviruses on the market. As a privacy watchdog, we would tend to recommend opting for highly secure stand-alone services rather than this convenient all in one package. But, that does require more effort, and those looking for convenience will be extremely happy with the service provided by Norton LifeLock.
Finally, if you are a fan of the LifeLock features. Norton also has its Ultimate Plus plan, which costs a whopping $350 per year at full price. That adds another layer of fraud protection to its service by scanning for 401(k) and investment activity threats, as well as home title monitoring. To us, that seems a pretty expensive option. However, depending on your individual requirements – you may find that a price worth paying.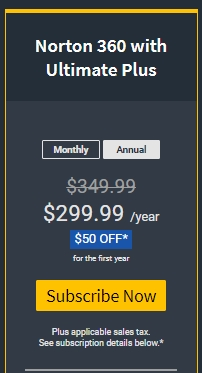 Perhaps the most disappointing thing about Norton is its privacy policies. These very seriously affect the VPN, the password manager, and the cloud storage features. Thus if you are very serious about privacy you may prefer to avoid 360 and stick to Antivirus Plus. That way you can opt for a subscription to one of the best VPNs in the world.
Features
Below we have listed all of the features available on the various Norton plans. We have annotated each feature to shows which plan those features come with.
Anti-Spyware, antivirus, malware, and ransomware protection – Basic antivirus and all plans above
Secure browsing with online protection – All 360 plans
Smart firewall – All 360 plans
Password manager- All 360 plans
VPN – All 360 plans
SafeCam – All 360 plans
Dark Web monitoring – All 360 plans
Cloud storage – 10 GB Standard plan, 50 GB Deluxe plan, 100 GB 360 with Lifelock Select, 500 GB Ultimate Plus
Parental controls – Deluxe plan and above
LifeLock identity alert system – LifeLock Select and above
Credit monitoring – LifeLock Select and above
Million-dollar protection – LifeLock Select and above
Bank and credit card activity alerts – Ultimate Plus
Fictitious identity monitoring – Ultimate Plus
Court record scanning – Ultimate Plus
401K and investment activity alerts – Ultimate Plus
Home title monitoring – Ultimate Plus
Setup
Getting a subscription with Norton is easy thanks to its website. Before you can pay you will need to create an account. This will require you to provide an email address and a mobile phone number. For those who value privacy, this will likely be the first black mark – and you may decide to sign up using a Google Voice number to avoid providing your real number.
Signing up for an account requires you to agree to Norton's global privacy policy at this stage.
With an account made, you are able to sign in and purchase the subscription plan you desire. The firm will again ask you to agree to its privacy policy, a product privacy notice, the terms of sale, and a EULA. These policies do raise some concerns, so please read the Privacy section of this review (below).
With the payment made, you will receive a confirmation email. From that point on, you will be able to login to the members' area to keep track of the subscription you have made. We went ahead and clicked Get Started to access the software installer.

We were using the device that we wanted to protect (a Windows laptop) and so we opted to download the software directly. However, Norton gives you the option to protect a different device, if that is what you wish.
Those who purchase a multiple-device subscription will be able to go ahead and download the software into each of those five devices in turn. To do so, Norton creates a download link that you can send to each of those devices.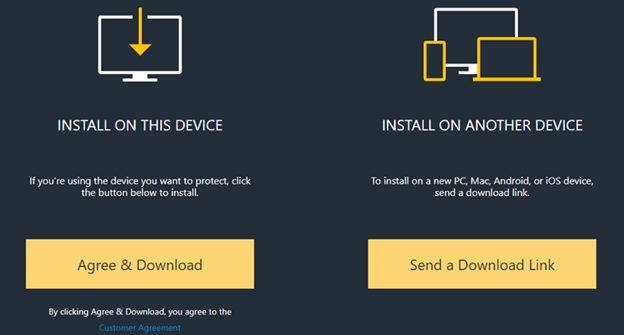 Once the executable file has downloaded you can run the installer. The installer will ask you if you want to send diagnostic information back to Symantec to help in the fight against cybercrime. Whether you agree to this is up to you, however, it does lead to extra telemetry and metadata being harvested – which it is probably better not to agree to.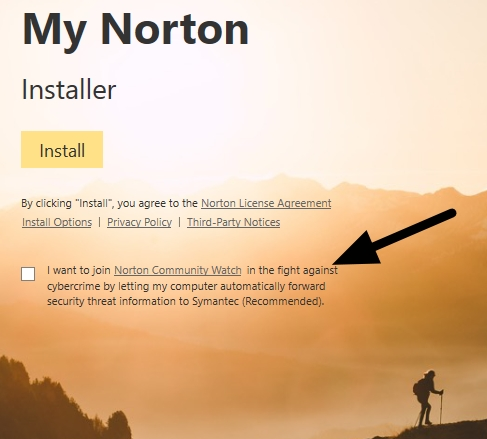 The security suite will now install. Once it is finished, you are ready to begin using its features.
Overall, the setup process for Norton is easy. The convenience with which it allows users to set up and access all of its features (more on this below) is extremely good – and definitely makes this a good security suite for non-techy users and beginners.
Ease of Use
With the installer finished, we were ready to start using the security software. To begin we opted to run a virus scan. Doing so is not as easy as it is with other providers. Most antiviruses come with a big scan button on the front of the application. However, because Norton 360 has so many features, it is necessary to click a few buttons to find the scanner. To do so, click Open next to Device Security.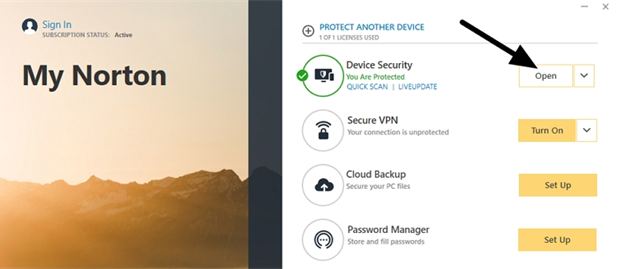 Here you will be able to opt to either perform a quick scan or (by clicking on the down arrow) access a choice of scans.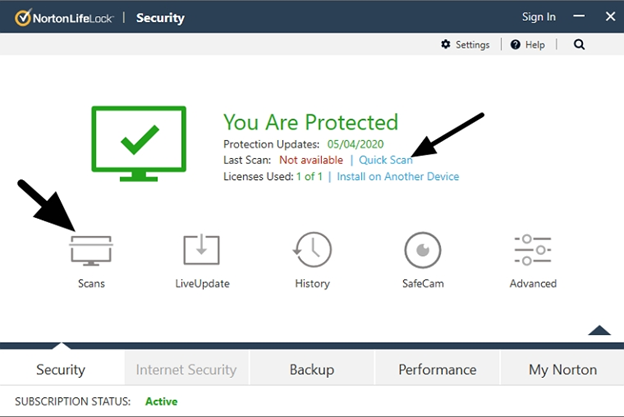 The available scan options include:
Quick scan
Full system scan
Custom scan
Custom task (which allows you to use the LiveUpdate tool or perform performance and backup tasks)
The scan menu also allows you to use Norton Power Eraser to "eliminate difficult to detect threats." This is a great feature that can allow you to seek out deeply embedded threats. Norton Insight can be used to determine which files need to be scanned, and the Diagnostic Report allows you to get insights about your device.
As this will be your first time scanning, we recommend that you run a full system scan. This will ensure that any malware or viruses that might have previously infected your machine are successfully dealt with. Our full system scan discovered no exploits. However, the scan did detect and delete cookies that it decided were harmful to our machine.
It is worth noting that the full scan did take quite a long time – and was definitely slower than a number of other antiviruses we have tested. However, this is not a particular concern, because Norton is one of the best antivirus software when it comes to detecting threats. As a result, it seems fair to say that it takes its time because it is thorough (more on this later).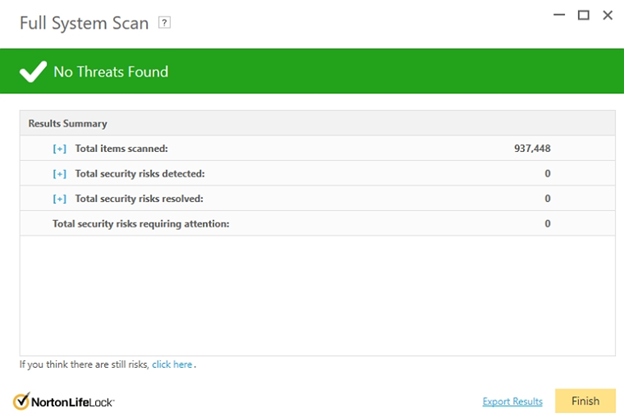 Next, we decided to test the Norton Power Eraser tool. This tool is designed for users who believe they have a deep infection that the regular antivirus scan was unable to pick up. It works by blocking key malware processes that may be blocking the antivirus from working. This is an excellent feature that you will want to run if you have been experiencing any niggling performance issues.
One thing to bear in mind is that running this tool may accidentally result in legitimate programs being marked for removal. However, this is not a concern if you do have a real problem and need to use this feature – because if it does accidentally remove something you need – it is possible to reverse the action using the Undo Previous Fix option: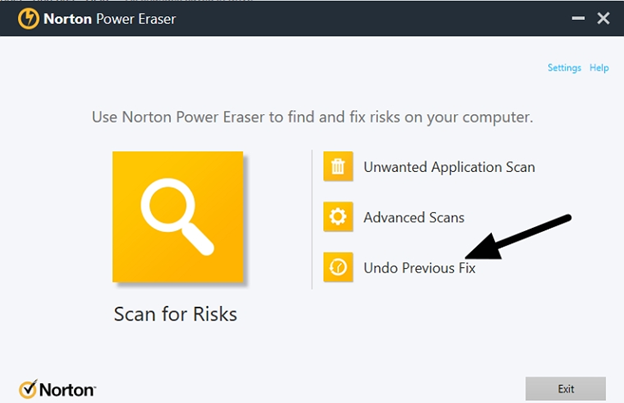 We scanned for unwanted applications and found none. Those with specific issues or concerns can use the Advanced Scans feature to scan specific files or folders that they are concerned about.
Overall, we found the antivirus to be extremely easy to use, and anybody who decides to opt for the simple Antivirus Plus plan will find it to be both, a robust threat prevention application, and an easy-to-use tool. Admittedly, there is a little bit more of a learning curve than with other antivirus programs, but only because it has more features than most.
Security features
The great thing about Norton 360 is the number of extra features it comes with. If it is your first time using the application, we recommend that you click on Internet Security, and set up all of its features by clicking on Set Up Now.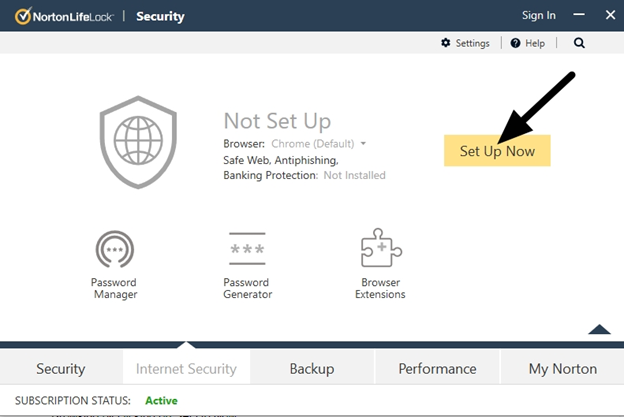 This will forward you to a home page that asks you to install four things:
Norton Safe Search
Norton Home Page
Norton Safe Web
Norton Password Manager
We recommend that you install all of these features by clicking on Enable All Norton Extensions. Admittedly, if you prefer not to have Norton as your homepage you don't have to. The same goes for Norton's search results (which it serves by default); you can opt to use Google if you prefer, and Safe Search will still work.

Safe Browsing
Enabling Safe Search and Safe Web allows Norton to protect you online in real-time. We installed both those extensions in our browser. Once installed, these extensions protect you by giving you warnings. Malicious websites are singled out inside your search results, allowing you to make an informed decision before you even decide to click on them.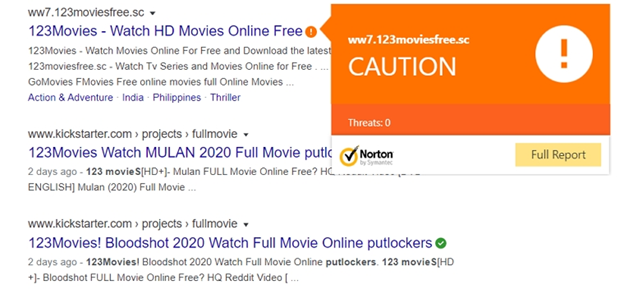 The orange exclamation mark is for sites that are potentially dangerous. The green tick reveals sites that you are safe to visit. Any sites with a red cross should be avoided because they are known to be malicious domains.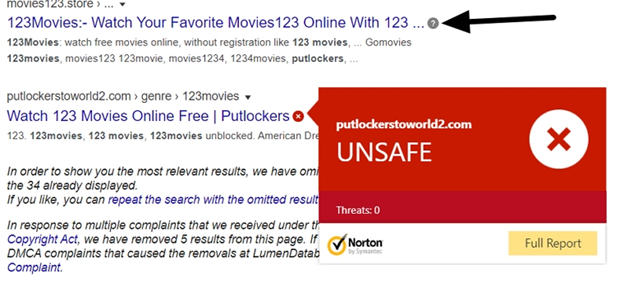 Finally, grey question marks are sites that have yet to be tested. If you want the site to be tested or retested – simply click on Full Report followed by Click here to submit a dispute.
The Safe Web extension will provide statistics on the threats that are detected on the sites that you visit, and will work alongside the antivirus to ensure you are protected. If you do attempt to visit a page that contains an exploit Norton will block the site:
We like the simplicity of the Safe Search and Safe Web tools, which definitely makes browsing safely stress-free and is ideal for beginners and non-techy people who want to know exactly where they stand from within a Google search.
However, please bear in mind that if you prefer to use StartPage or DuckDuckGo you will not get the safe search warning in the search results. For users who prefer to browse privately, this is a limitation of the Safe Search function. The good news, however, is that the Safe Web extension will still stop you from visiting any malicious sites – no matter which search engine you use.
Safe Cam
The SafeCam feature comes enabled by default, which means that all Norton 360 subscribers get the benefit of it right out of the box.

SafeCam automatically permits apps that are considered safe to have access to the webcam. However, the ultra-paranoid can opt to be prompted each time that an app wants to access the webcam.
This is another useful feature that ensures cybercriminals will not be able to snoop on you should you become infected with a trojan that remotely turns on your camera.
Performance Optimization
For those who are suffering from a slow PC, the option is there to use these performance optimization tools. These are a useful extra that comes with Norton 360, and will ensure that any useless files are tidied up from your machine.

You can also use the disk optimization tool to defragment your hard drives regularly.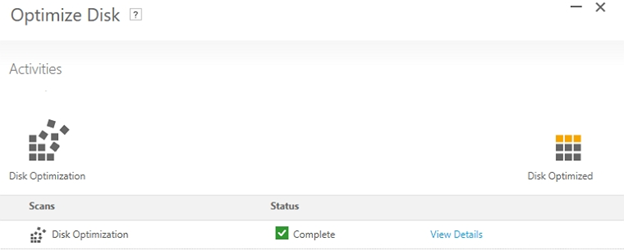 Again, we liked the simplicity of this feature, and the convenience of having it in the central hub means that you won't forget to actually defrag your machine from time to time.
Password Manager
Norton Password Manager is another one of the extensions that install when you enable all Norton extensions. Once installed we tested it by adding our social media passwords.
To add these passwords to your vault:
Click on the extension in your browser followed by Vault.


Now, click on the plus sign followed by New Login to add another password to your vault.


Here, you can also opt to save wallet items, addresses, and securely stored notes.


Once the item is added to the vault it will automatically fill anytime that you arrive on the login page. During our time using the password manager, we found it to work extremely well. The ability to autofill passwords makes it similar to the best password managers on the market – and, because it includes a password generator, you will be able to create robust new passwords without needing to think.
We like that users can opt to link a mobile phone to the password manager, to unlock it using a fingerprint or face scan if they wish. Users can even opt-out of requiring their vault password for auto-filling specific password/credential combinations. This allows the user to speed up the login process for specific websites and services (at the sacrifice of a certain level of security).
Overall, we found this password manager extremely easy to use, and while we have seen complaints about people being forced to regularly re-sign into Norton to access their vault, we did not experience any issues.
Cloud Backup
One of the nice things about Norton 360 is that it comes with secure online storage. Setting up this feature is easy because it is available right within the main hub.

Once it is set up, you are free to start saving files to your vault where they will be safe if your computer is lost or stolen, or if your hard drive is corrupted for some reason.
Having 10 GB of storage – even on the standard 360 plan – seems generous considering the price of a one-year subscription. And, for consumers who like the idea of a single service that allows them to do everything – this definitely adds another tick to the box.
The ease of use provided by the Norton 360 app, is definitely one of the main benefits of this service. When it comes to backups, Norton isn't just a simple uploader with storage space. Users get granular control that allows them to choose which files they want to backup and when.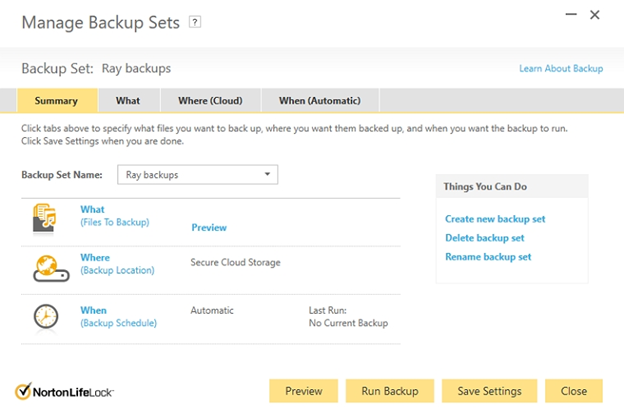 This automation makes Norton an easily customizable backup service that will ensure you always have recent backups of files in your vault.
Users can opt to back up either weekly, monthly, or automatically (which ensures they are backed up each time that the computer becomes idle). And users can opt to recover from a number of different versions if they wish (file versioning).
Norton VPN
As is the case with the other security features, Norton Secure VPN is available from within the main Norton app. To engage it simply click on My Norton followed by Turn on.
The VPN has servers located in 31 countries, and you can select between them by clicking on the down arrow next to Secure VPN – followed by VPN Region. Allowing the VPN to connect automatically will connect you to the fastest available server.
Unfortunately, the VPN has no other features to speak of other than an ad-tracker blocking feature, which we couldn't tell was doing anything even when we disabled our adblockers and anti-tracking extensions (uBlock Origin, Ghostery, AdblockPlus, and Privacy Badger) and loaded sites that have a lot of ads: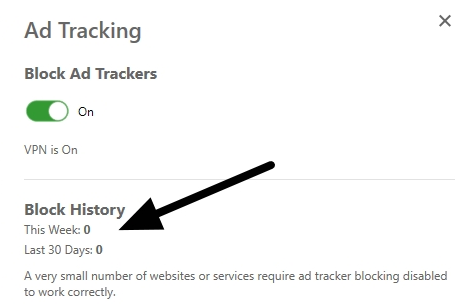 Generally speaking, we found the VPN to work well. Surprisingly, it even allowed us to access Netflix US. However, it failed to provide access to BBC iPlayer; so it may not be able to unblock absolutely everything you are interested in. For a full review of Norton VPN follow the link.
The main problem we have with Norton's built-in VPN service surrounds privacy. The fact that Norton collects users' mobile phone numbers and other sensitive information, which it stores on file with device-level identifiers and IP addresses does make the VPN slightly questionable.
Admittedly, the VPN-specific policy does state that IP address data collected by the VPN is anonymized. However, Norton does appear to have the power to re-identify that data (according to the privacy policy).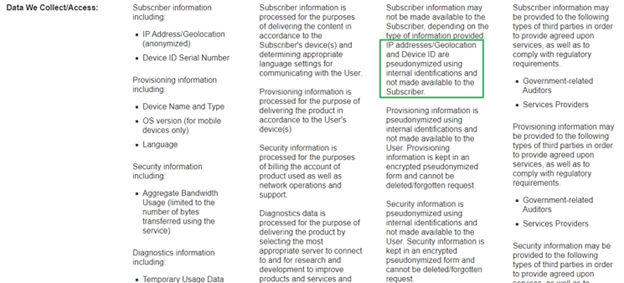 As a tool that comes bundled with Norton360, the VPN is useful and it will allow users to conceal their browsing habits from their ISP and nosy public WiFi providers. It will also stop ISPs from being able to track your browsing habits on behalf of the government.
Whether the level of privacy provided by this VPN is enough for you will largely depend on your personal threat model. However, anybody looking for a watertight VPN is advised to get a stand-alone service with a strong zero-logs policy.
Deluxe Features (Parental Controls)
Anybody who pays for Deluxe and above will automatically be able to enjoy Norton 360 on up to 5 devices. This means they can install it on PCs, tablets, and smartphones of their choice. The good news is that the tools and features that Norton provides are accessible on all platforms, and the quality of those features is excellent right across the board.
Those who pay for Norton on more than one device will also get extra features that allow them to set parental controls. This allows parents to block particular types of web content and to ensure that inappropriate content cannot be accessed both on websites and in web searches.
Norton Family also allows parents to monitor the kinds of content their children search for online. And parents can set time limits to ensure that their kids are not spending too much time on their devices.
LifeLock Features
Beyond this, the rest of the features provided by Norton revolve around fraud prevention. And, while we did not actively test these features ourselves, they all seem like useful security features that may be of interest to a lot of consumers. We particularly like the Privacy Monitor feature, which will check data broker sites to see if your personal data is for sale. If it is, Norton will ensure that it is removed.
The level of fraud protection provided by Norton is extremely comprehensive, and those that are interested in these features should definitely look closely at everything available to decide whether subscribing for Norton 360 with LifeLock Select, LifeLock Advantage, or LifeLock Plus, is for them.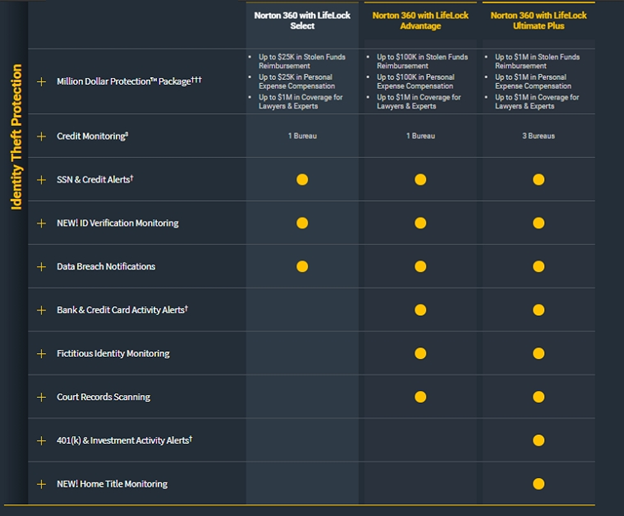 Performance and Reliability
How well an antivirus performs can be judged in two ways:
How well it detects and deletes exploits and threats
How much it impacts internet and device-level performance
To get accurate information about how Norton antivirus is performing in 2023, we opted to rely on test data provided by the independent antivirus auditor AVTest.org. This is a trustworthy independent organization that thoroughly tests a broad spectrum of antiviruses using a large sample of exploits.
Protection
AVTest.org last tested Norton's antivirus in January of 2023. At that time, AVTest checked Norton's ability to identify and deal with exploits on Mac, Windows, and Android.
The independent auditor tested the most recent Norton versions using in excess of 27,000 exploits. It tested Norton to ascertain whether it is good at preventing malware, viruses, worms, spyware, trojans, and ransomware.
During those tests, Norton was found to be one of the few antivirus applications able to deal with 100% of the malevolent exploits it was tested with across all three popular platforms.
This is an amazing result that puts Norton in the top-tier of antivirus programs.
On Windows, Norton successfully protected against zero-day malware attacks, including web and email threats. It also succeeded in identifying and deleting a catalog of widespread and prevalent malware that had been discovered in the four weeks previous.
On macOS, Norton Security was similarly successful, combatting 100% of the samples it was tested with. Again, this included widespread threats discovered in the month running up to the tests.
On Android, AVTest again found Norton to be able to successfully identify and protect against 100% of the exploits it was tested with. This included protection against the latest Android malware attacks in real-time and protection against recently discovered threats.
A 100% success rate on all platforms is an outstanding performance that makes Norton 360 champion over many excellent antiviruses like Trend Micro, F-Secure, AVG, Avast, and Malwarebytes. So, if an antivirus with an extremely strong catch net across all platforms is what you are after, it seems fair to say that Norton is an optimal choice.
Performance
Where performance is concerned, Norton is incredibly good across all platforms. It scored six out of six for both performance and usability on Windows, macOS, and Android. This is an extremely rare outcome that truly makes Norton one of the most impressive antivirus applications available on the market.
On Windows, the antivirus was found to slow down web page loading times by just 11%. This is 7% better than the industry average. When launching apps, the antivirus only slowed down a standard machine by 6%, this absolutely mashes the industry average of 16%. Finally, the app made no false positives whatsoever when tested in four categories including falsely detecting legitimate software, false warnings on legitimate websites, and false warning during the installation and launch of legitimate software.
On Android, the app was found not to impact battery life, or to slow down the device during normal use. In addition, the app was not found to generate unreasonable amounts of traffic that would cause subscribers to use up their mobile data plans. In addition, the app was found to cause no false positives when downloading apps from the Google Play Store and made no false positives when installing legitimate apps. This is extremely important for non-techy users because false-positives can be extremely confusing.
Finally, on macOS, Norton received a maximum score of 6 (out of 6) for both performance and usability. The software was found to make no false positives and was found to slow down a MacBook almost imperceptibly when downloading applications and when copying, installing, and launching applications.
Privacy
Signing up to Norton 360 requires you to agree to its privacy policies. We decided to take a closer look at those policies to see how it would affect our personal data. This is especially important if you intend to make use of cloud backups, the password manager, and the VPN – because those services require you to trust Norton to handle your personal data. So can you trust Norton?
Firstly, Norton LifeLock (formally known as Symantec) is a computer security company based in the USA. This means that any servers controlled by Norton could theoretically be served a warrant that forces it to provide the keys to its servers to US authorities.
Due to the gag orders that the US government can also serve US companies, Norton subscribers would not even know it had been served a warrant. This is a concern because it does mean that, theoretically, the US government could be accessing users' private data.
When we consider the NSA's track record for accessing user data from corporations regarding the Snowden leaks – you can see why this is a serious and legitimate concern.
Looking at the privacy policy reveals that Ireland is the data controller for subscribers living in the EU. However, this does not necessarily improve privacy for those users because the US government is able to access data on foreign servers thanks to FISA and the Patriot Act. Norton does admit this in its policy:
"To conduct our business, and in accordance with this Statement, your Personal Data may be transferred to Symantec Corporation in the United States, and subsidiaries and third-party vendors of Symantec Corporation located worldwide."
This makes it important to understand what Norton can access and what it states it will do with user data.
Firstly, Norton states that it will not "without consent, sell, lease, or rent your information to third parties for monetary or other valuable consideration." This is a good start, but it is only effective if the firm doesn't acquire that consent via its lengthy policies. What we were able to deduce from the policies that Norton will collect the following personal information:
Contact details, such as name, mailing address, email address, and phone number
Shipping and billing data, including credit card and payment data
Your transaction history
Data you provide to receive technical assistance or during customer service interactions
Data about other people that you may provide with any program or services including Refer-a-Friend
Data about your computer or device, including browser type and settings, IP address, and traffic data relating to your Internet connection
Geolocation data
The firm also admits that it may collect data about you from third parties. However, it claims that this is to provide LifeLock services. This is where it states it will harvest extra data about you from:
Credit reporting agencies and financial institutions (used for purposes such as identity theft protection services)
Marketing and joint-marketing partners (used for purposes such as to offer products/services and/or joint product bundles to prospective members)
public sources (such as The Dark Web to alert you to potential misuse of your data, and Data Broker sites allowing you to remove your data at your discretion, and other sources for purposes such as to identify prospective customers or alert customers to potential fraud).
In addition to collecting all of this data, Norton states that it will share that user data with third-party partners, affiliates, and service providers. The firm claims that those service providers will not attempt to profit from data provided by Norton, and will only do the jobs they are tasked with doing on their behalf. On the other hand, this does include using data for "marketing/survey/analytics."
What's more, the Norton policy states that its Safe Search feature will track user "browsing activity". If the user agrees to provide telemetry, the firm will also collect invasive metadata – including location data from the various devices used to access the service. For users with mobile devices, this could result in an invasive location history database.
At the end of the day, Norton is doing a lot of data collection, and the list of sub-processors that user data may pass through as a side effect of using Norton because of its owner Broadcom is truly massive.
Whether any of this is of concern to you, really comes down to your own personal threat model. However, looking at the individual policies for its password manager, and cloud backups, does appear to reveal that the firm may be able to access the data that subscribers store on its servers; including sharing it with the government if it is served a warrant.
While Norton states that it does anonymize IP address information collected by its VPN service, the policy states that the data is "pseudonymized using internal identifications." This seems to reveal that Norton has the ability to re-identify that data if it chooses too, which is a privacy concern to those VPN users.
Finally, it is worth noting that the number of privacy policies Norton and its owner Broadcom publishes are both numerous and lengthy. Thus it is possible that we have not exhaustively covered the ways in which Norton may invade your privacy. Needless to say, however, that the privacy policies Norton publishes are less to do with telling you what privacy you will receive and more to do with explicitly stating how it will be invaded.
Customer service
When it comes to support, Norton is considered to be good by current users; who usually praise it in reviews. The firm provides a live chat service on its website. However, when we attempted to use it we found it to be unavailable due to high demand.

This was slightly frustrating. However, you should be able to get support via email even when the live chat is down. The firm also provides a user community where people can ask questions.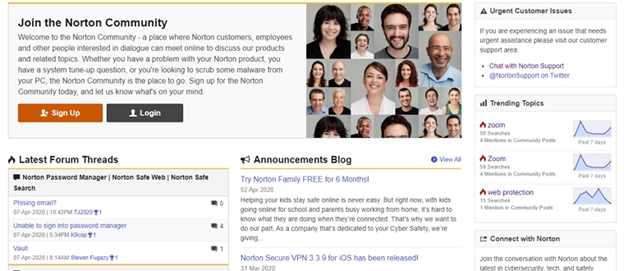 In addition, the firm provides FAQs and several video tutorials for setting up and using its service. All in all, Norton provides a high level of support that includes a lot of excellent features.

Final Thoughts
Once upon a time, Norton was considered a bog-standard antivirus that was inferior to many of its competitors. The fact that it shipped with many Windows computers earned it a reputation as bloatware. The good news is that Norton has put those days behind it. Critics holding onto those preconceived notions need to start admitting that Norton is a high-quality security product.
Norton 360 is a security suite that adds a whole host of features to its basic antivirus. The idea of this is to give consumers everything they need under one roof – and it accomplishes this brilliantly. The password manager and cloud backup are fully integrated into the Norton 360 app, and the setup for each feature is extremely easy
Once successfully set up, Norton 360 clearly shows you what has been set up and what hasn't – letting users get the most out of its features. The Norton 360 Hub is simple and easy to use – which means that it's perfect for beginners and technophobes.
The VPN works impressively well for a bolted-on service – even unblocking Netflix US. However, during our tests, it could not unblock BBC iPlayer, so it may be a bit touch and go.
Admittedly, Norton and Broadcom's privacy policies do cause some legitimate concerns. Broadcom owns Norton and it does work with a huge number of third-party partners, affiliates, and service providers.
This is far from ideal, and those looking for high levels of privacy may want to stick to only using Norton Antivirus Plus. That said, hundreds of thousands of consumers around the world enjoy Norton 360 because it simply gets the job done.
Even when you start paying for Norton on multiple devices, at $49.99, Norton is remarkably cheap. And, if you do decide to keep on using the service after the introductory year, the price is not expensive for what you get.
Paying for a VPN, a password manager, an antivirus, cloud backup, and a parental controls app, could easily cost you more. And the convenience of having all of the security features under one roof definitely makes Norton 360 a service well worth considering.
0 User Reviews
Leave a Review
Thanks for your review!