Price
Avast is an antivirus that all consumers can use for free on Windows, macOS, and Android. The free version provides intelligent antivirus features that combats viruses, malware, spyware, ransomware, phishing, and other threats in real-time. The free version even includes a software updater tool and a password manager. That is a hell of a lot of features for a free computer security suite.
For those that want to upgrade, Avast provides a choice of two primary subscription plans: Premium Security and Ultimate. Premium Security is available at a cost of $39.99 per year for one Windows PC (rising to $69.99 after the first year). Alternatively you can pay $49.99 for up to ten devices (Windows, macOS, Android, and iOS), but this rises to $89.99 after the first year. The prices are the same on Mac, however the free trial period is for 60 days, rather than 30.
Subscribers can opt to get Ultimate, which costs $65.88 to protect one Windows machine for a single year (rising to $99.99 after that year). Ultimate adds a VPN and a clean up tool into the mix, though generally we would recommend sticking to a dedicated VPN with a zero-logs policy if you truly value privacy. For those who want Ultimate on multiple devices, paying $77.88 will allow you to install it on up to 10 devices (Windows, macOS, Android and iOS) but this will rise to $119.99 after that first year.
Overall, the prices for protecting just one device seem costly, especially considering the quality of the application available for free. However, if you own a lot of devices (or have a big family) the option to protect up to ten devices for $65.88 isn't bad – especially because this version provides added ransomware protection and safe browsing that monitors for spoofed websites.
As for Ultimate, it only really adds a VPN into the mix, and we were not particularly impressed by Avast VPN, so we would recommend looking elsewhere for VPN protection.

Features
Excellent free plan
Automatic updates
Antivirus with real time protection against all known threats
Password manager
Single device or multiple device options (up to 10 devices; ideal for families)
Safe browsing with fake website protection (not on free)
Ransomware specific protection (not on free)
Advanced firewall (not on free)
Email scanning for Outlook or an email client like Mozilla Thunderbird (not on free)
WiFi inspector feature checks WiFi for vulnerabilities (not on free)
Sandbox feature to open files or programmes safely (not on free)
Sensitive data shield – stops spyware from accessing specific folder (not on free)
Webcam shield (not on free)
Data shredder to delete files permanently (not on free)
PC cleanup to make it run faster (Ultimate only)
VPN (Ultimate only)
Avast Setup
Getting Avast antivirus software set up on your PC or Mac takes very little time and is very easy thanks to the installer provided on its website. For those who require a mobile version, it is available on both the Apple or Google Play stores.

The Avast Premium Security installer starts by asking you whether you want to also install Avast Secure Browser, which will allow you to search the web with added security. We opted to install it to give it a trial run.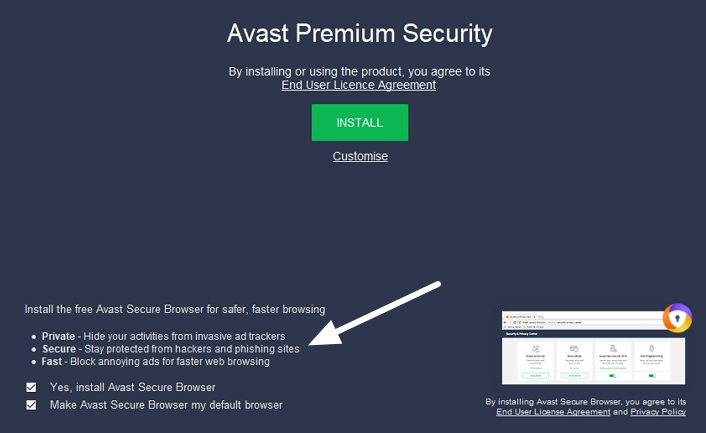 Installing Avast Premium Security results in you accepting both the Privacy Policy and the End User License agreement (more on this is the privacy section below).
Once the installer begins it takes around a minute to complete and launches automatically. You can either opt to use the free trial or to activate using their activation code (if they already paid for a subscription). The secure browser will also now launch automatically.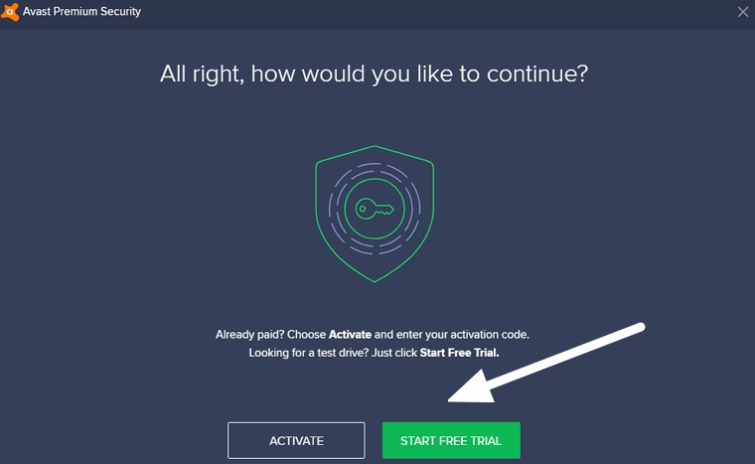 Once you've made a choice, Avast will ask you to perform your first scan. It starts by scanning your browsers. It will also ask you to set your WiFi network to either Private or Public, followed by a scan of that network.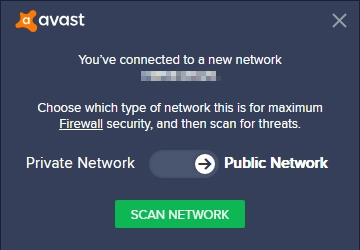 Next, Avast will automatically check for outdated software. On our machine it found a slightly outdated version of VLC Media Player.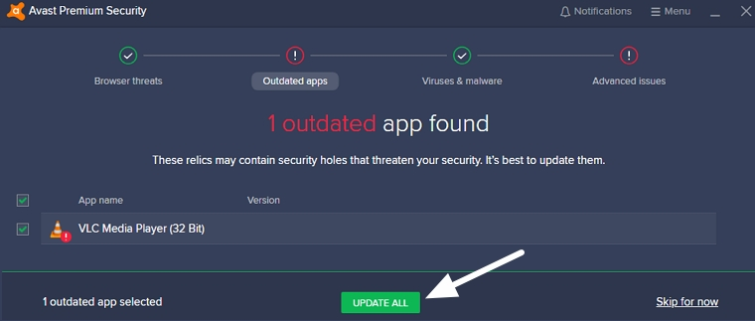 Following these updates, Avast will inform you if there are any malware threats, and then recommend any advanced issues that require fixing. This includes securing sensitive folders against ransomware, setting up webcam protection, turning on the advanced firewall, and turning on safe browsing mode to ensure that your online activities are secure.
Clicking Resolve All ensures that those important security features are used. Admittedly, these extra features are not available with the free version. However, because Avast provides a free trial of Premium Security and you will can use all the features during that trial period, it's a great way to get a sense of what the premium antivirus can do and you can upgrade at any time.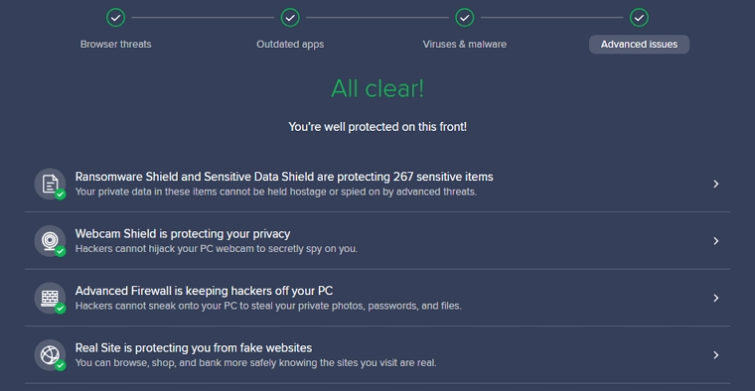 Ease of Use
The compulsory initial scan that happens as part of the software installation is a superb feature that ensures your device is not only checked for malware but is also set up to make use of other native security features. We found this stage of the install to act as a walkthrough for getting the antivirus setup correctly, as well as a comprehensive scan of all potentially problematic areas.
This makes Avast extremely simple for beginners to use and means that even the most non-techy user will get full protection from the get go with the click of just a few simple buttons.
With that initial setup out of the way, you can opt to either scan when you want to or to set up a scheduled smart scan. Again, setting up the scheduled scan to run once a month is part of the setup phase, meaning you do not need to painstakingly search through a menu to find the scheduling settings.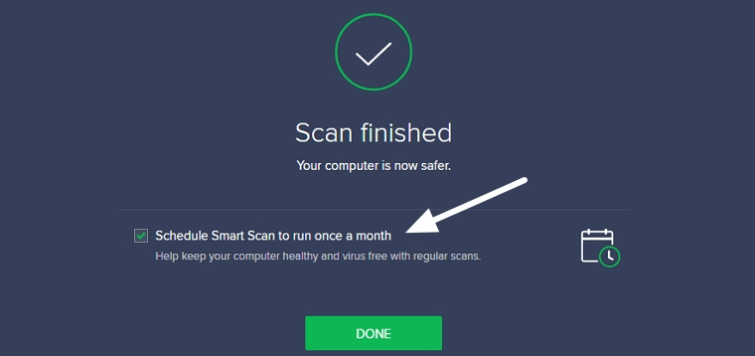 Avast will also attempt to get you to install Avast Cleanup Premium to check that there aren't outstanding issues causing performance to slow down. However, this feature is only available if you either pay for the Ultimate subscription or pay extra to have it as a standalone (at a cost of around $20 per year).
Avast allows you to trial cleanup for free for 60 days. However, you must enter your card details and it will automatically charge you if you don't remember to cancel your subscription before those 60 days are up. If you aren't keen on providing your payment information for this service, simply click Ignore.
With that done, you can use all of Avast's features individually. To do so, you primarily make use of the four menu options on the left-hand side: Status, Protection, Privacy and Performance. Most of the features you will require are in the Protection area: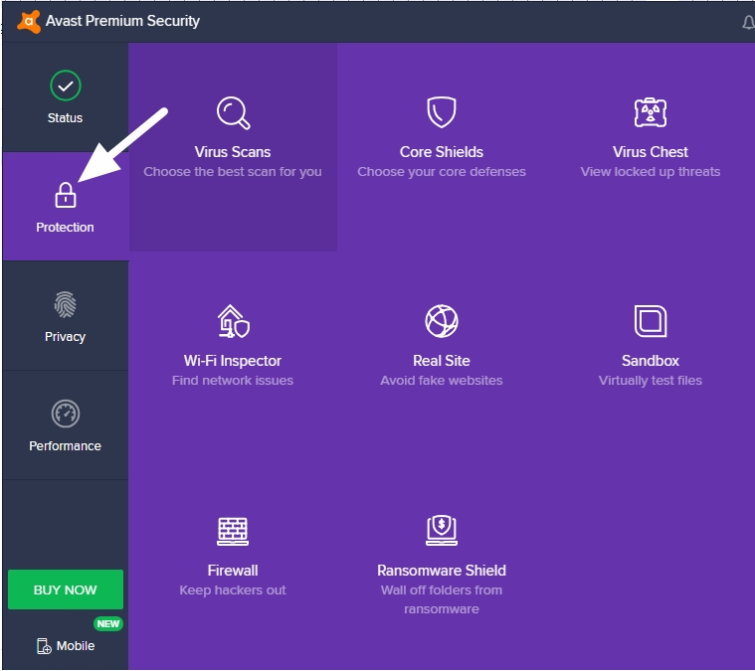 Clicking on Virus Scans allows you to choose between various types of scans (available in addition to the smart scan). You can opt for a Full Virus Scan, a Targeted Scan, a Boot-Time Scan, or a Custom Scan.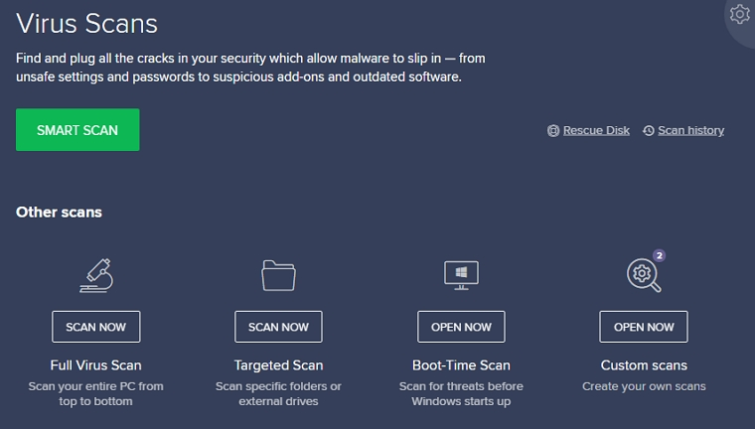 These various scans allow you to either select specific files or folders or to set allocated times when they want a scan to happen (before Windows launches, for example). This is a nice level of customization.
The rest of the Protection features are pretty self-explanatory and will be available to you depending on which subscription plan you have paid for.
Here you can check on each feature individually, such as performing a WiFi network scan, for example. The network scan is an excellent way to ascertain what devices are connected locally, allowing you to see if anybody unwanted is connected to your network.
If you have a paid subscription, clicking on Core shields and Ransomware shields, should reveal all those settings to be on and working. All the settings should be fine as-is, because Avast does an outstanding job of ensuring they are all activated during the setup process.
However, the password manager – which is available even on the free plan – is an excellent feature that is definitely worth setting up as this is one of the few features that does not get activated during the initial install. To do so, click on the Privacy tab and then select the password manager.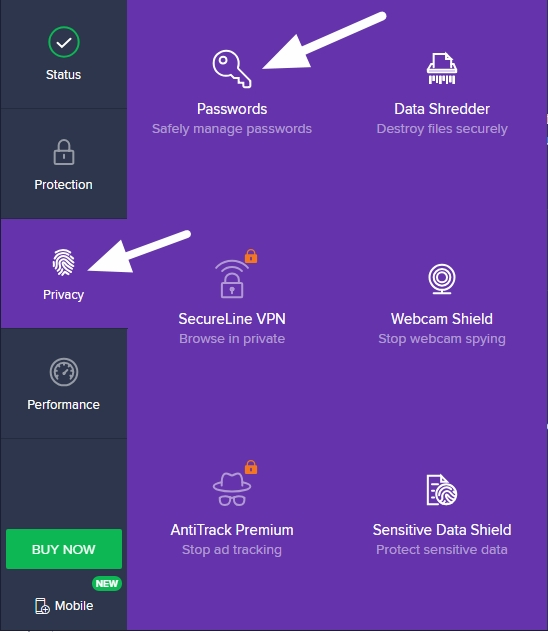 The password manager can be set up to either work automatically with Avast's browser, or with Chrome and Firefox using an extension.
If you use the password manager with Avast's safe browser, you will get autofill and auto-capture of passwords by default. However, Avast's closed source browser should not be trusted, because Avast was recently discovered harvesting peoples' click habits and web browsing history (more on this in the privacy section below).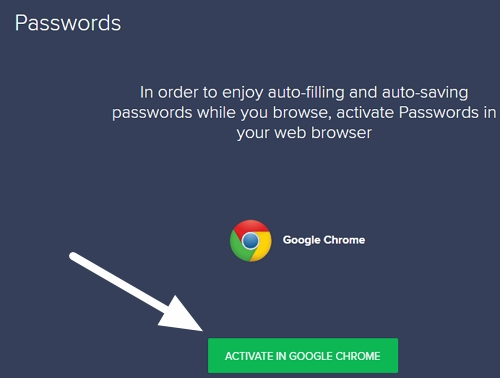 Clicking on Activate in Google or Activate in Firefox will forward you to the respective add-on repositories for you to add the extension to your browser. Once the extension has installed, you are ready to store passwords in your vault. While the password manager is a useful addition, it is worth noting that it is closed source, and at ProPrivacy we prefer to recommend open source password managers.
Overall, we found using Avast to be extremely easy, and there is no doubt this antivirus is excellent at ensuring devices do not become infected with dangerous exploits. For this reason, Avast can be considered good for beginners.
Performance and Reliability
The performance of an antivirus can be judged in two ways:
How good it is at detecting and deleting threats.
How much impact it has on internet- and device-level performance.
To get accurate information about how Avast performs, we opted to rely on test data provided by the independent antivirus auditor AVTest.org. This is a trustworthy independent organization that thoroughly tests a broad spectrum of antiviruses using a large collection of exploits.
Protection
Following tests performed in December 2019, AVTest awarded Avast with a maximum score (six out of six) for Protection. This means the antivirus can be trusted to protect you from all known exploits, including malware, viruses, worms, ransomware and Trojan horses.
During AVTest's tests, Avast was found to stop:
100% of zero-day malware attacks, inclusive of web and email threats.
100% of widespread and prevalent malware discovered in the last 4 weeks.
Overall, those results are excellent, and the fact that Avast was capable of detecting all the exploits it was tested with (21,000 in total) is extremely comforting.
However, it is worth bearing in mind that while Avast scored a 6 out of 6 for protection on Windows and macOS – it only scored a 5 out of 6 on Android. That means Avast isn't quite as good at preventing malware on Android, a deficiency that might be a deal breaker if you require protection for mobile devices.
In our opinion, this deficiency will be a deal breaker if you are looking for a paid subscription to an antivirus/security app – mainly due to the high costs involved.
Performance
In the areas of Performance and Usability, AVTest awarded Avast a score of 5.5 on Windows and 6 on Mac and Android. This score is respectable, but means that users with a slow Windows laptop or PC may want to shop elsewhere. There are some antiviruses on the market that score a 6/6 in every important category, which is worth bearing in mind if you are looking for a paid service to protect multiple devices.
In terms of false positives, Avast was found to falsely detect legitimate software as malware during a system scan (on Windows) 5 times out of 964,585 samples used. This is two higher than the industry average of 3. However, it had no other false positives in the three other categories used by AVTest.
Overall, this isn't a terrible result. However, there are antivirus apps on the market that make no false positives whatsoever. If you are worried that false positives will confuse you, then you may want to look elsewhere.
Privacy
We checked the privacy policy and found that the firm states it will collect the following personally identifiable information from you:
Name
Address
Email address
Phone number
Login account number
Login password
Marketing preferences
Social media account
Payment card number
IP address
This data collection is not necessarily out of the ordinary for an antivirus. However, it is worth understanding that the firm collects this data and shares it with the third party analytics firms it works with. This includes a subsidiary called Jumpshot, which it uses to sell customer marketing data to third parties.
Unfortunately, recent studies have shown that despite promising to anonymize and aggregate users' personal data, Avast actually harvests its users browsing histories and sells it on via Jumpshot. This is extremely disconcerting and, in our opinion, completely eliminates Avast as a viable VPN option and we advise you don't subscribe to Avast Ultimate.
According to the research, the aforementioned data collection only occurs on the free antivirus. However, Avast does not make this clear to consumers when they download the software, which raises some serious trust issues. In fact, Avast collects click data that is logged to the second. This data can ultimately be used to de-anonymize an Avast user.
The good news is that Avast has now removed tracking from its Chrome extension. That means you should only have problems if you use Avast's proprietary (closed source) browser.
Whether you decide to use Avast is ultimately your decision. However, the level of tracking that was recently uncovered is hugely problematic, and it could be a deal breaker depending on your threat model.
On the other hand, Avast is a very good antivirus that is suitable for beginners and has plenty of great features. And, if you use it with Chrome, you should be fine. It is also worth mentioning that the tracking was not found to be occurring on the paid version, so you should also be ok if you use premium – but of course, we cannot guarantee this.

Avast results in a few more false positives than we would have liked, especially considering the steep costs involved in subscribing. For free users, this may be less important. However, where performance is concerned Windows PC users with a slower machine may well want to look at Norton, Kaspersky, or Avira – which all perform with a much smaller footprint.
Conclusion
Avast is a solid antivirus that was found to be able to detect and delete all viruses in real-time. Considering the fact that it's free, the antivirus and security platform – which comes with a password manager – is a real bargain.
However, please remember it was found to be tracking people's web visits for marketing purposes. This rules out using the 'secure' browser that comes with Avast because it is too risky. Using Avast with Chrome should not result in tracking, according to the firm. However, it is closed-source, so you will need to take Avast at its word, and this may put you off depending on your threat model.
We feel that the tracking Avast performs is too problematic to ignore.
The trust issues it raises and the privacy concerns it causes within a platform that is supposed to guarantee your privacy and security is really disappointing. For this reason, we generally advise that you shop elsewhere for an antivirus.
For free, this antivirus is pretty impressive – and if all you want is something that will catch exploits, then you won't go far wrong. However, it does not perform particularly well on Android, which rules it out as a multi-platform solution for paying users.
Overall, we must recommend against using Avast Ultimate, which includes a VPN. The trust issues produced by Avast selling consumer browsing habits via its subsidiary, Jumpshot, are just too concerning. A VPN is a dedicated privacy service that is supposed to conceal your browsing habits, and a company that sells those kinds of habits to third parties seems like too much of a conflict of interests.
0 User Reviews
Leave a Review
Thanks for your review!