These are the best antivirus to use on Windows
The internet is a haven for exploits that could cause your computer to become dangerously infected. Malware, viruses, trojans, adware, spyware, and ransomware are all part of an ever-growing ecosystem of threats. If you are victimized, your compromised PC could lead to data theft, account theft, identity theft, and financial losses.
While Windows already has great built-in antivirus protection in the form of Windows Defender, a standalone antivirus is essential if you want to actively protect your computer against all kinds of exploits.
In this article, our experts have pinpointed the very best antivirus apps for Windows. The good news is that protecting your PC from online threats doesn't need to break the bank.
The best paid Antivirus for PC
Although there are some mediocre free antivirus apps for Windows that you can use, those applications will not protect against real-time incoming threats. For comprehensive real-time protection that scans and quarantines exploits as they are downloaded, you will need to pay for an antivirus. The options below are at the top of their game and provide the highest levels of security at the fairest price.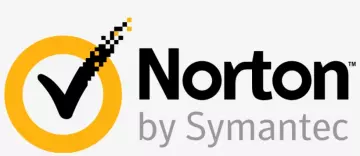 An incredible all-rounder that is priced extremely fairly – the best AV for Windows.
Pricing

12 month: $39.99/mth

50% OFF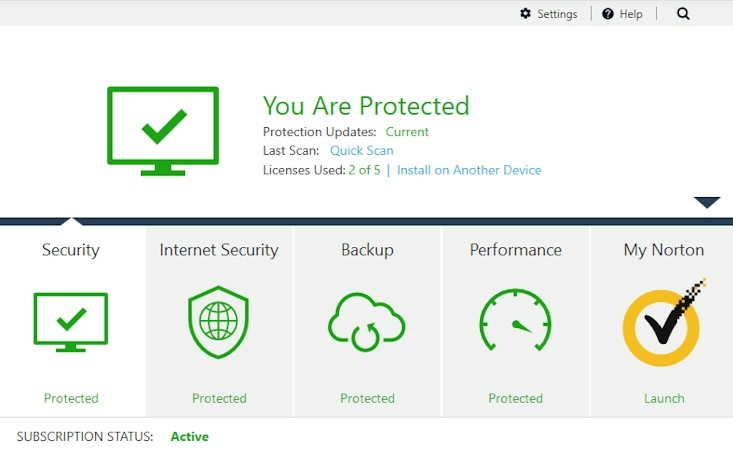 Norton is an antivirus for Windows that provides effective protection against both real-time threats and newly discovered exploits. Tests performed in December 2019 revealed that Norton was able to protect against 100% of zero-day malware attacks, including web and email threats. It was also able to spot 100% of the 20,428 malware samples used to test it, including new threats that were less than 4 weeks old. These are highly impressive results.

For $19.99 Windows users get anti-spyware, antivirus, malware, and ransomware protection. It also provides a password manager, a smart firewall (that monitors outgoing traffic in addition to incoming traffic to detect communication with a CnC server), 2GB of cloud storage, and online threat protection that promises to protect your private and financial information online.

Overall, Norton offers an excellent level of protection at a reasonable cost. In addition, Norton performs around 10% better than the industry average when it comes to page loading times and download speeds. Finally, Norton was found to give zero false positives, which means it won't cause confusion.

A reliable and well-priced service that offers great protection and coverage for any Windows computer.
Pricing

Antivirus Plus (1PC): $2.48/mth
Antivirus Plus (3 PCs): $3.19/mth
Antivirus Plus (5 PCs): $3.9/mth
Antivirus Plus (10 PCs): $5/mth
Advanced Security (1 PC or Mac): $3.67/mth
Advanced Security (3 PCs or Macs): $4.33/mth
Advanced Security (5 PCs or Macs): $5/mth
Advanced Security (10 PCs or Macs): $6.67/mth
Ultimate Security (5 devices: Windows, macOS, Android, iOS): $5.83/mth
Ultimate Security (10 devices: Windows, macOS, Android, iOS): $7.92/mth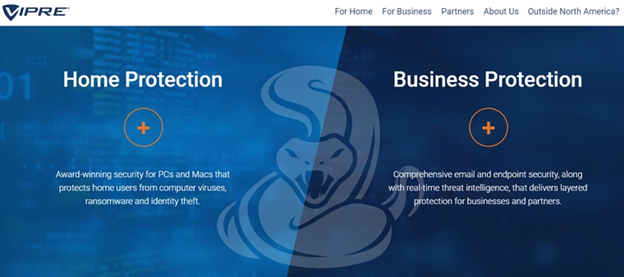 Vipre is an antivirus for Windows that represents not just watertight security against incoming threats but also good value for money. The antivirus can be purchased in a number of different plans, which means you can either get simple and effective antivirus scanning with real time protection against cloud-based threats – or a more complete security suite with extras such as a firewall, microphone and webcam protection, email scanning with spam and phishing protection, a VPN, and even dark web scanning to ensure you identity and personal data is safe.

Where performance is concerned, this antivirus was found to cause barely no impact on device level performance, and incredibly, the antivirus had almost no effect on speeds when downloading software from the internet. This makes Vipre better than just about every other antivirus on the market. We love the ease of use you get with Vipre, the antivirus will update its threat definitions quietly in the background and you can easily access all of its features from a single dashboard.

Admittedly, the antivirus doesn't try to be particularly flashy or good looking, but it makes up for this with effective protection and amazing performance levels. To get the best value for money, we tend to recommend the Advanced Security plan. However, if you are happy to just get the antivirus and no extra features you can do so. And, don't forget to follow our link to its website because it will usually provide you with a special offer!

An easy to use Windows antivirus that keeps things simple and direct while ensuring great malware protection
Pricing

Intego Antivirus Personal Plan (1 PC): $2.5/mth
Intego Antivirus Family Plan (3 PCs): $3.33/mth
Intego Antivirus Extended Plan (5 PCs): $6.67/mth
Mac Premium Bundle X9 (1 Mac for 1 year): $5.83/mth
Mac Premium Bundle X9 (1 Mac for 2 years): $5.42/mth
Mac Premium Bundle X9 (3 Macs for 1 year): $7.92/mth
Mac Premium Bundle X9 (3 Macs for 2 years): $7.29/mth
Mac Premium Bundle X9 (5 Macs for 1 year): $10/mth
Mac Premium Bundle X9 (5 Macs for 2 years): $9.17/mth
Intego is an award-winning antivirus for macOS that has now released a Windows version too. The antivirus is extremely effective at dealing with incoming threats in real-time, and it is perfectly suited to beginners because it only has one simple subscription model – with one set of features.

Tests performed by independent auditors found that Intego for Windows provides effective malware protection against all known threats – without the confusion you often get elsewhere. With Intego you get an antivirus that will not negatively affect your PC or the internet's performance. It also doesn't provide false positives, which means that it will not leave you scratching your head wondering what to do.

We found Intego to be priced fairly, and you can get it for either a single machine or multiple devices. However, the best value for money appears to be the family plan, which allows for three computers to be protected - which is ideal for most people's needs. In addition, a single computer can be protected for just $29.99 per year, which really is almost impossible to beat considering the level of protection you get.

One of the few Windows antivirus apps that gets a max score for Protection, Performance, and Usability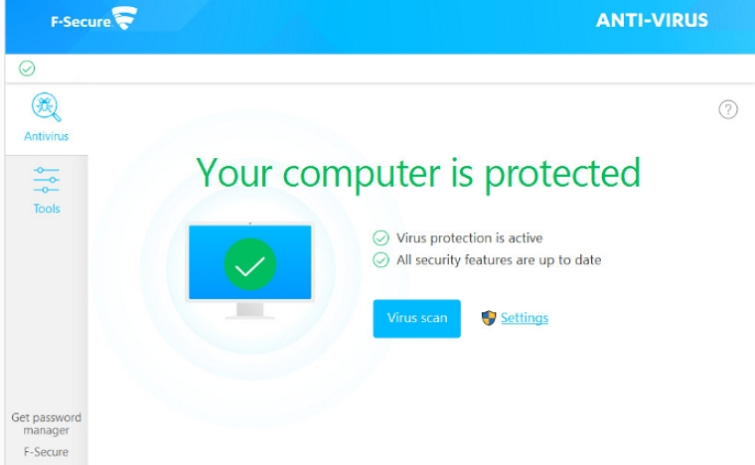 F-Secure is an outstanding antivirus program that is ideally suited to all Windows users. Offering real-time protection against threats, its extremely competitive one-year plan protects up to 3 devices for $34.99 – something we find both affordable and reliable.

With F-Secure, you get protection against viruses, worms, spyware, malware, trojans, and ransomware. And, in the most recent round of tests performed by the highly-trusted organization AVTest.org, F-Secure was found to be able to deal with 100% the exploits it was tested with (around 21,000 in total – including a large sample of exploits discovered in the 4 weeks previous to the tests).

Besides performing better than the majority of well-known antivirus applications, F-Secure scored a maximum of 6/6 for both Usability and Performance. The software barely impacted performance on both a standard and high-end Windows PC, meaning that you can use it without concerns it will slow down your internet, or cause you CPU to come to a grinding halt. In addition, the software made no false positives, which is great for non-techy people who don't want to have to worry about confusing results.

Alongside being a mind-blowingly good antivirus, F-Secure Safe also provides parental controls, safe browsing protection, and safe banking features. Few antivirus suites for Windows can claim to score a maximum score across every category they were tested in – but F-Secure is one of them.

A well-known antivirus provider that provides great value for money and excellent real-time protection.
Pricing

Free: $0/mth
Internet Security (Windows) – 1 device: $3.33/mth
Maximum Security (Windows, Mac, Android, iOS, Chromebook) – 5 devices: $3.33/mth
Comprehensive Premium Security Suite (Windows, Mac, Android, iOS, Chromebook) – 10 devices: $5.83/mth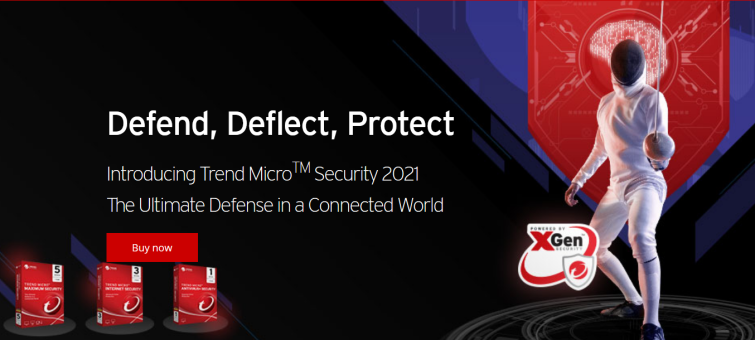 Trend Micro is a popular antivirus and security solutions provider based in the USA. Its Antivirus client works with Windows, Android, macOS, and iOS – striking a reasonable balance between features and cost.

The antivirus is effective and is capable of detecting and dealing with a large range of threats including viruses, worms, malware, spyware, Trojan horses, and ransomware. It is easy to use, efficient, and has a low impact on computer performance. However, it doesn't perform quite as well as the services recommended above it when it comes to catching the massive number of exploits circulating in the wild for Windows.

Despite this, it is a service that comes highly recommended compared to just about every other antivirus available on the market, which is why it comes in at number 5 on this list!
Do Windows users need antivirus?
This largely depends on what you require from your security software. Windows Defender is an exceptional antivirus program that is extremely good at dealing with all known types of exploits. It is so good that it is questionable whether you need another antivirus to go along with it. The reality is that if you are short on cash, Windows Defender will do an excellent job of protecting your PC.
On the other hand, Windows Defender will not protect you against exploits in your browser unless you also install the Windows Defender Browser Protection extension. So, if you want protection while browsing and protection against phishing, you will need to install that extension to get full coverage.
So, why splash out on a third party antivirus? The answer is that Windows Defender is very specific in what it does, and it does not provide any extra features such as phishing email protection, safe online browsing to block malicious domains, or protection against Potentially Unwanted Programs (PUPs) and ransomware.
As a result, most security experts agree that it is a good idea to double down on Windows Defender with a program that offers real-time malware protection against these other kinds of potential vulnerabilities. That way you will not end up downloading any potentially harmful PUPs that Windows Defender is not designed to deal with.
Who needs antivirus software?
Anybody who uses the internet requires an antivirus. In fact, a strong antivirus would even be necessary if your PC was air-gapped – because malware and viruses can get onto your machine via external hard drives, USB dongles, and other external devices that you plug into your machine via USB. As a result, everybody needs an antivirus.
With that said, people who often visit risky websites, or who regularly download a lot of content or software via BitTorrent, definitely require stronger protection. This is because they are much more likely to encounter drive-by downloads, malevolent pop-ups, and other exploits concealed in the websites they visit and the files they download – so be sure to check out our guide to the best torrenting VPNs on the market.
Thus, if you are a power user who tends to visit these kinds of sites, then it is an extremely good idea to double down on Windows Defender with a top antivirus software.
Windows antivirus feature comparison
In the table below, we have included the features available on the most basic iteration of each developer's antivirus. Some companies we have recommended have more features, but you need to pay extra to unblock those features. The table below compares the features available on the most basic antivirus plan available.
| | | | | |
| --- | --- | --- | --- | --- |
| Protection type | Windows Defender | Norton | Vipre | Intego |
| Malware protection | Yes | Yes | Yes | Yes |
| Malware removal | Yes | Yes | Yes | Yes |
| Phishing protection | No | Yes | Yes | Yes |
| Spyware protection | Yes | Yes | Yes | Yes |
| Adware protection | No | Yes | Yes | Yes |
| Works on other devices | No | Yes | Yes | Yes |
| Real-time scans | Yes | Yes | Yes | Yes |
| Password manager | No | Yes | No | No |
| Smart Firewall | No | Yes | Yes | Yes |
| Spam filter | No | Yes | Yes | Yes |
Conclusion
If you want to keep your PC protected, then an antivirus is a vital tool. With plenty of options out there, it's important to get the right antivirus for you. Here's a quick reminder of our top picks for antiviruses for Windows: