Unlike we have seen suggested elsewhere on the web, it is not necessary to use a cloud torrent service to download torrents on a Chromebook. In fact, thanks to Chrome OS increasing its support for Android and Linux apps, you can torrent files conventionally and it's never been easier.
Warning:
ProPrivacy does not condone or recommend the torrenting of any kind of copyrighted material such as movies or TV series. Torrenting copyrighted materials is illegal in almost all countries and could see you facing a criminal investigation.
Torrent safely on your Chomebook using a VPN
Choose your path: Android or Linux
Before you torrent on a Chromebook, the first thing you need to decide is whether to do it in Android or Linux, although that decision might be made for you depending on what device you own. Almost all Chromebooks are now compatible with Android apps, while Linux support is reserved only for newer models.
Check if your device is compatible with Linux.
Chrome OS's native integration of the Google Play Store means that torrenting using Android VPN and BitTorrent apps is undoubtedly an easier option. It is, therefore, the option we recommend for most Chromebook users, although Linux does have its advantages.
The main benefit of torrenting in Linux on your Chromebook is that it allows you to use full desktop BitTorrent clients, such as qBitTorrent. These are undoubtedly more powerful than their Android cousins, although it is questionable whether many torrenters will ever really use their advanced features.
Below, we show you how to set up using both the Android and the Linux method, so you can pick the solution that works for you.
How to Torrent on Chromebook - The Android way
Chromebook users can torrent safely using Android VPN and BitTorrent apps available from the Play Store. Simply follow the steps below.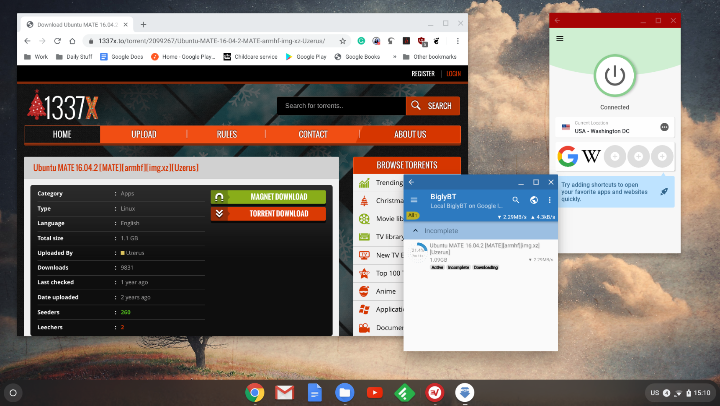 How to Torrent on Chromebook - The Linux way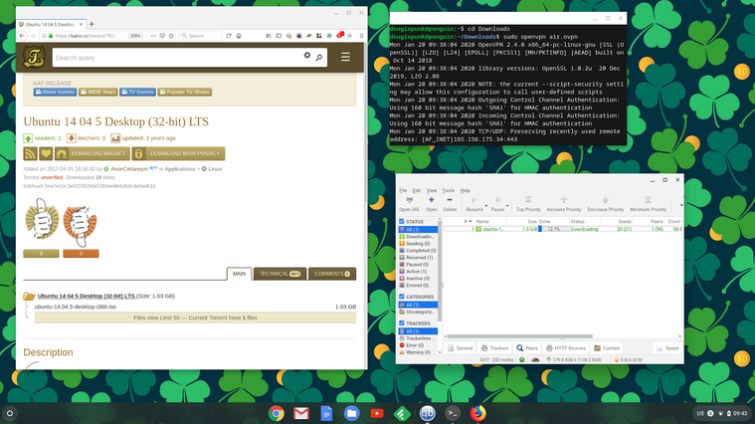 Enable Linux (if supported)

All new Chromebooks now come with Linux (Beta) enabled by default. If you have an older Chromebook which supports Linux, you can enable it by going to Settings -> Apps -> Linux (Beta) and turning it On.

You will now find the Linux Terminal app in the Linux apps folder of your Apps Drawer.

Top tip: With Linux, it's worth updating all existing packages before installing new ones by opening Terminal and running:

sudo apt-get update

Install a Linux browser.

To install Firefox for Linux on your Chromebook, open Terminal and enter:

sudo apt install firefox-esr

You will now find Firefox in the Linux folder of the Chromebook Files app.

Install a Linux VPN app

There are only two GUI Linux VPN apps, of which we have only had success running the Mullvad app under a Chromebook Linux environment (AirVPN's Eddie client will install but hangs on launch).

The Linux command-line OpenVPN client works well, though, and can be used to connect to almost any VPN service. To install it, open Terminal and enter:

sudo apt-get install openvpn

In your Linux browser navigate to your VPN provider's website and download OpenVPN files for the server(s) you want to use.

Top Tip: You might want to visit your Linux Downloads folder in the Chrome OS Files app and rename the downloaded OpenVPN files to something that's easy to type in.

To run the VPN, open Terminal and enter:

cd Downloads

Followed by:

sudo openvpn [openvpn file]

Download and install a Linux BitTorrent app

The Chrome OS Linux container is based on Debian, and the Files app includes a packet manager that can install regular DEB files simply by double-clicking on them.

Alternatively, you can install qBittorrent using the following Terminal command:

sudo apt-get install qbittorrent

Visit a torrent site in the Linux Browser

While BitTorrent clients include a handy built-in search function to discover new content, you lose out on benefits found when visiting websites directly, such as comments from the community, which can all help direct you towards reputable files.

If you don't know where to look, try using Google or, preferably, DuckDuckGo to find the right website for you.

Top tip: We recommend checking out our torrenting safely guide so you know what to look at for when picking a torrent to download.

Unfortunately, ISPs place restrictions on many torrenting websites, meaning you will likely need to be connected to a VPN server to visit them.

Consider using an Adblocker

Although you might get lucky and choose one of the good ones, many of these websites rely on spamming visitors with pop-ups and inappropriate ads as a form of revenue. Worse yet, these can contain malicious files that you will definitely want to avoid. Simply choose a good adblocker and you will be able to navigate anywhere safely.

Start downloading a torrent

You can begin downloading torrents directly by file, or by using the more convenient Magnet Link. There is little difference to the average user.

Clicking either format should see a window pop-up in your BitTorrent client automatically, confirming the files you're about to download. You might also be asked if you want to associate Magnet links or .torrent files with your BitTorrent client if it is the first time you've clicked on it.

In the event that your .torrent file doesn't boot your BitTorrent client, you will need to navigate through Files -> My Files -> Linux Files -> Downloads folder.

This process might vary depending on the client you've chosen, but most clients will check you are happy with your downloads pathway. If successful, you should see your torrent begin downloading.

And that's all there is to it. Once the content is downloaded, you can run it or open it in a suitable Linux program, Android app, or Chrome Web App.

Seed

Seeding torrents is simply courteous to others in the peer-to-peer community. This is the process in which you upload parts of the file you've just downloaded so that others can repeat the process, creating a larger network that doesn't rely on the expensive costs of host servers.

Doing this is easy, as you simply need to leave the torrent open in your BitTorrent client once the download has finished. Generally, a 1:1 ratio is considered acceptable, as you have uploaded just as much as you've downloaded, but closed communities might expect more.

Using a VPN is essential to avoid peeping Toms, as the Peers tab on your client shows the IP address of everyone that has downloaded and seeded the file - including yours. VPNs mask your IP address, replacing it with one belonging to one of its servers.

Port forwarding (optional)

If your VPN service uses a NAT firewall (most do) and if it offers the feature (many don't), then you may want to port forward through the NAT firewall.

If your VPN service doesn't use a NAT firewall... well, you can't port forward through something which doesn't exist. If it does, then port forwarding will likely improve your torrenting speeds. But doing so is most definitely not essential.

To find out more about the pros and cons of port forwarding, complete with instructions on how to do it, please see our Ultimate Guide to VPN Port Forwarding.
How to test your VPN is working before you torrent
The easy way
No BitTorrent client we know of supports IPv6 connections by default, although some (including qBittorrent) allow you enable this feature manually. WebRTC leaks and DNS leaks are browser-based issues and do not affect torrent clients.
So as far as just torrenting is concerned, all you need do to check your VPN is working is to ensure your external IPv4 address is that of your VPN server. To do this, simply:
Turn off your VPN and go to our what's my IP page.
Turn on your VPN
Refresh this page and rerun the widget. The IPv4 address should have changed to the VPN server you are supposed to be connected to.
Having issues?
If you are still seeing the same IPv4 address on and off your VPN, then something is wrong. First, you should try reconnecting to your VPN. If this doesn't resolve the issue then contact your provider for further technical assistance.
If you have an IPv6 connection and you have enabled IPv6 connectivity in your BitTorrent client, then you might run to check for IPv6 leaks using our new IP leak test tool. This is something that you probably want to do anyway if you also use the VPN at all for non-torrent related stuff.
The paranoid way
Simply checking that you have no IPv4 leaks as described above is sufficient to show that your VPN is working properly for torrenting. If you are of a more paranoid disposition, however, then you can double-check specifically for torrenting using the ipMagnet tool.
Visit the ipMagnet web page and click on the Magnet Link to open a dummy torrent download in your BitTorrent app or client. Chrome should be your first choice when doing things the Android way, while Linux-based browsers (such as Firefox) can be used if you're running Linux.


A few seconds later you should see the IP address trying to download the dummy torrent file on the ipMagnet web page. This should belong to your VPN server.
How to test for speed
There are too many variables in play when it comes to torrent download speeds to isolate the effect using a VPN has on them. The most important of these are:
The number of seeds
How many peers are seeding the torrent you are downloading. The more sources you have, the faster your download speeds will be. There is nothing you can do about this except choose torrents that have a good seed (number of uploaders) / leech (number of downloaders) ratio. Most torrent websites clearly show these figures.

Your bandwidth
How much upload bandwidth you have (and are allowing the BitTorrent to use). The BitTorrent protocol is designed to encourage sharing by rewarding those who share more with higher download speeds.

All BitTorrent clients and apps allow you specify how much upload bandwidth they can use for seeding, although this is, of course, limited by whatever plan you have purchased with your ISP.
NAT Firewalls
A VPN that uses a NAT firewall may restrict incoming connections, which reduces the number of peers you have and, therefore, limits your upload speeds. This is why you might want to consider using port forwarding if your VPN uses a NAT firewall and supports the feature.
How to test the kill-switch
Finally, if you have a kill-switch enabled, you may want to test that it's working. To do this, simply:
Connect your VPN.
Start your BitTorrent client. We suggest performing this test when only legal torrents are running.
Disconnect your VPN.
Check your BitTorrent client. All downloads should have ceased. If they haven't, then the kill-switch isn't working.