VPNs can either be installed directly onto your Chromebook or you can use a VPN extension.
Chrome OS has changed a lot over the last five years, or so. It has gained in power and usefulness to the point that it can now be seriously considered as a viable alternative to Windows.
The best VPNs for Chromebooks:
It should go without saying that you need (and want) a Virtual Private Network (VPN) on your Chromebook as much as you would on any other platform. But, should you use a VPN extension or are you better off installing a VPN directly onto your Chromebook? We cover all of this and more below.
The best VPNs for Chromebook?
We have listed our top VPN picks for Chromebook VPN. each backed by a money-back guarantee should you have any issues or change your mind. They all also offer browser extensions and provide Android apps, making it incredibly easy for you to get started.
If you need more information about any of the services we have listed below, check out our VPN reviews.
Using VPNs on a Chromebook
A VPN usually routes all internet connections from a device through the VPN interface to your chosen VPN server. In Chrome OS, though, this situation is much more complicated, as you may be running apps from three different platforms side-by-side.
If that sounds confusing, don't worry. We will explain the four ways to run a VPN in Chrome OS:
1. Using an Android VPN app (recommended)
If your system supports Android, then you can use an Android VPN app to protect all Chrome OS and all Android connections, but not Linux ones. Using an Android VPN app is the recommended route for most Chromebook users because of its simplicity and features.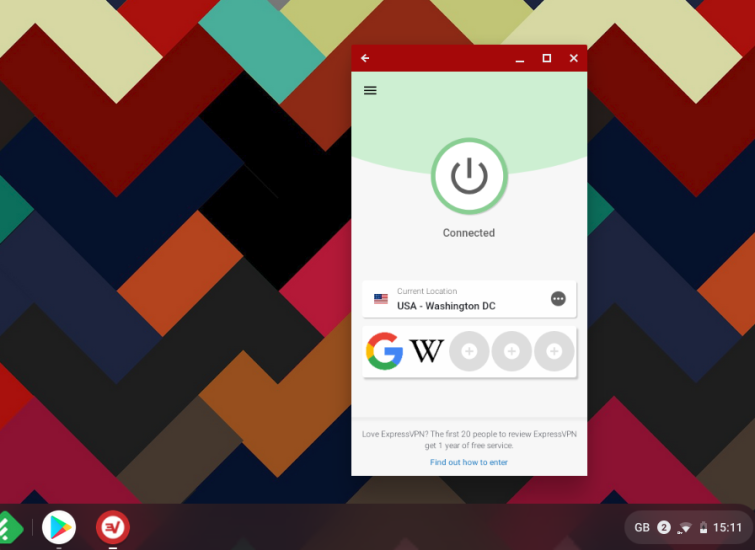 2. Using the native Chrome OS VPN client.
This supports the L2TP/IPsec VPN protocol and routes all Chrome OS and all Android connections through the VPN interface (just like using an Android app does). Linux connections are not routed in this way and thus do not benefit from the VPN.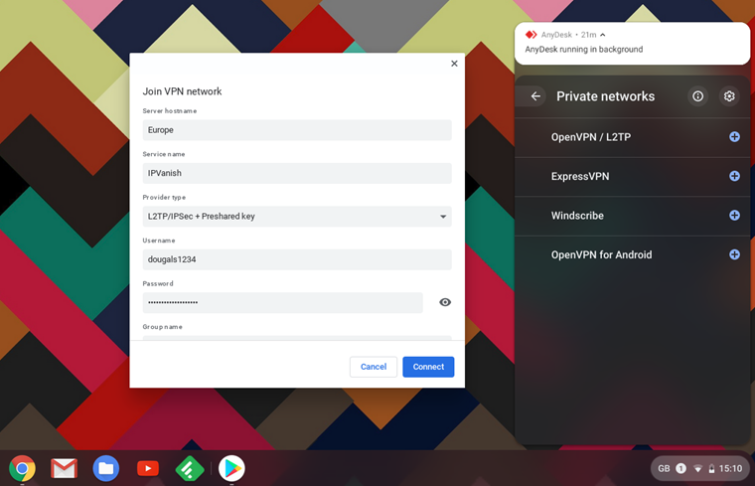 L2TP/IPsec is generally regarded as being secure when properly implemented, but has almost certainly been cracked by the NSA. This situation is not helped by the fact that every VPN service we know that offers this VPN protocol uses insecure pre-shared keys.
Given that Android apps that use OpenVPN or IKEv2 are more secure, and manually configuring the Chrome OS L2TP/IPsec client is a bit fiddly anyway, we strongly recommend using an Android VPN app over this method if your Chromebook supports Android.
It's worth noting that the native VPN client also has basic OpenVPN support, but it cannot import the standard .ovpn configuration files used by almost all commercial VPN services.
Google itself recommends using an Android app for this, which makes Chrome OS' native OpenVPN support all but useless for most VPN users.
3. Using a Linux VPN app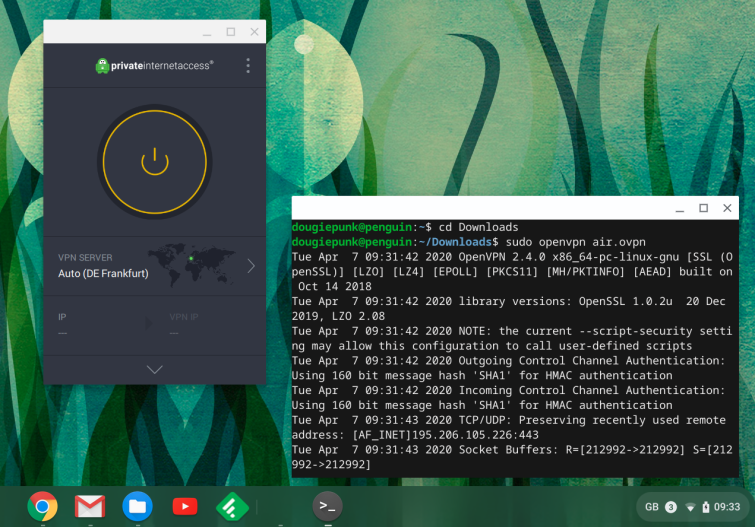 A Linux VPN app will protect Linux connections, but will not route Chrome OS or Android connections through the VPN interface.
There are only two full GUI Linux VPN apps that work on a Chromebook at the time of writing (Private Internet Access and Mullvad), but using OpenVPN in Terminal works for any VPN service that supports manual OpenVPN setup (which is most of them).
If you want to route both Chrome OS/Android and Linux connections through a VPN, then you will need to run either the Chrome OS client or an Android VPN app and run a Linux VPN app.
4. Using a Chrome browser extension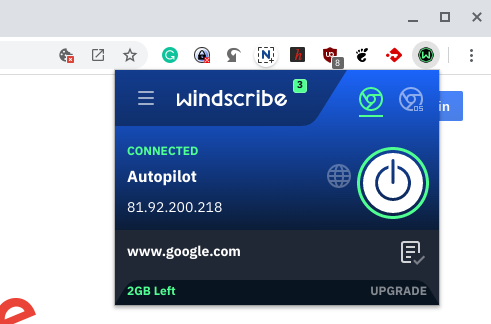 A VPN browser extension for Chrome is not a true VPN, as it only routes connections from the Chrome browser through a proxy. But if you are not using Android or Linux apps, then the Chrome browser is basically your entire OS!
So for those who prefer to keep their Chrome OS experience pure and simple, a Chrome Browser extension can provide a quick and lightweight way to gain most of the benefits of using a true VPN.
Please check out How to Install a VPN on Chromebook for step-by-step guides to using each of these methods to run a VPN in Chrome OS. And if you torrent, then you may enjoy How to Torrent with a VPN on Chromebook.
Why do I need a VPN for my Chromebook?
Still undecided if you need a VPN service for your Chromebook?
When you use a VPN service, everything you do on your computer is encrypted. This improves you online privacy and overall security of your Chromebook. A VPN will give you the following advantages:
Your internet provider (ISP) can't see the contents of your data because it is encrypted.
Your ISP can't see which websites you visit on the internet, as they are hidden from it by the VPN server.
What your ISPs can't see, neither can your government (unless it is looking hard).
And what your ISP and government can't see, it can't censor.
Websites you visit can't see your real internet (IP) address - only the IP address of the VPN server, making it difficult for them to identify you.
Because VPN providers run VPN servers located around the world, it is easy to "spoof" your location simply by connecting to a VPN server based in a different country. This makes VPNs great for accessing geographically restricted streaming services such as BBC iPlayer and the full US Netflix catalog.
VPNs keep you safe when torrenting.
If you are new to VPNs find out more about all the cool things a VPN can do for you and their limitations, please check out our Beginner's Guide to VPNs.