Using a VPN for Google Chromebook will improve your online privacy and also allow you to unblock content and websites that aren't available in your country. Unfortunately, not all VPNs offer VPN clients for Chromebooks, making it difficult to find a service with all the features you need.
In this guide, we list the best Google Chromebook VPN services and also give you some top tips on how you can stay secure and private by using a VPN service on Chromebook.
What are the best VPNs for Chromebook?
We give you a sneak peek at the 5 best Google Chromebook VPN services below. If you want more information about any of these services, keep scrolling for in-depth analyzes of each provider.
In order to make sure you're getting the most out of your Google Chromebook VPN, we put all of the services we recommend through a meticulous reviewing process to ensure they all feature the following:
Support for Chromebook with an Android app or manual configuration.
Money-back guarantee or free trial
Fast servers
Streaming service unblocking capabilities
Best Chromebook VPNs – In-depth Analysis
We take a closer, more in-depth look at the best Google Chromebook VPN services below. If you want more information on any provider listed here, in particular, check out our detailed VPN reviews.
Useful Guides for Chromebook users
Why do I need a Google Chromebook VPN?
Still undecided if you need a VPN service for your Chromebook?
When you use a VPN service, everything you do on your computer is encrypted. This improves your online privacy, as well as the overall security of your Chromebook. Using a VPN will give you the following advantages:
Your internet service provider (ISP) can't see the contents of your data because it is encrypted.
Your ISP can't see which websites you visit on the internet, as they are hidden from it by the VPN server.
What your ISP can't see, neither can your government (unless it is looking hard).
And what your ISP and government can't see, it can't censor.
Websites you visit can't see your real internet protocol (IP) address – only the IP address of the VPN server, making it difficult for them to identify you.
Because VPN providers run VPN servers located around the world, it is easy to "spoof" your location simply by connecting to a VPN server based in a different country. This makes VPNs great for accessing geographically restricted streaming services so you can watch BBC iPlayer outside the UK and change Netflix regions to access content that is blocked in your location. See our VPN for Netflix or VPN for iPlayer pages for more information about accessing these services.
VPNs keep you safe when torrenting.
How to use a VPN on Chromebook
Usually, a VPN will route all internet connections from your device through the VPN interface to your chosen VPN server. In Chrome OS, though, this situation is much more complicated, as you may be running apps from three different platforms side-by-side.
If that sounds confusing, don't worry, we will explain the four ways to run a VPN in Chrome OS:
1. Using an Android VPN app (recommended)
If your system supports Android, then you can use an Android VPN app to protect all Chrome OS and all Android connections, but not Linux ones. Using an Android VPN app is the recommended route for most Chromebook users because of its simplicity and features.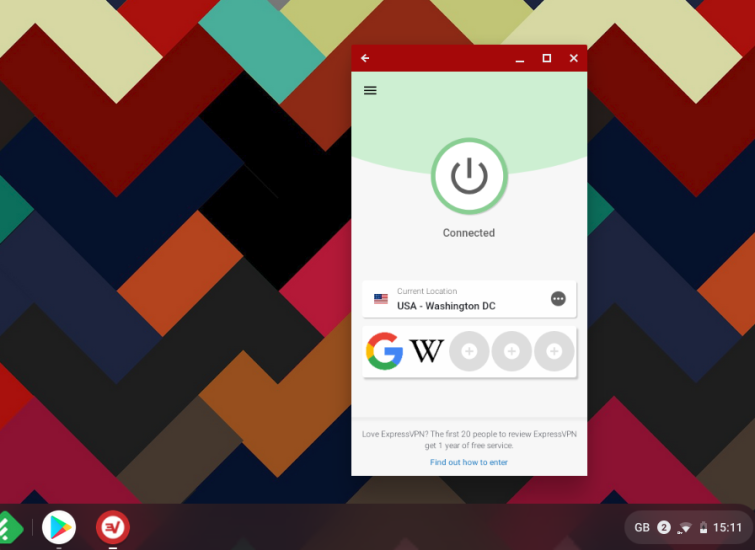 2. Using the native Chrome OS VPN client.
This supports the L2TP/IPsec VPN protocol and routes all Chrome OS and all Android connections through the VPN interface (just like using an Android app does). Linux connections are not routed in this way and thus do not benefit from the VPN.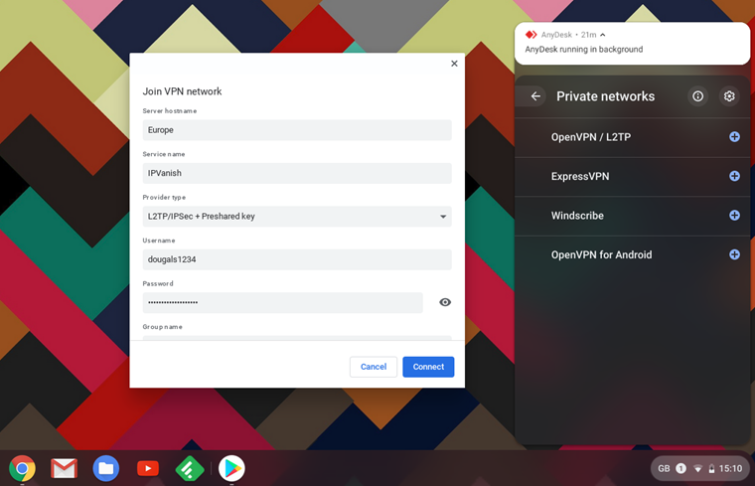 When properly implemented, L2TP/IPsec is typically regarded as secure – but it's worth noting that it's almost definitely been cracked by the NSA. This situation is not helped by the fact that every VPN service we know that offers this VPN protocol uses insecure pre-shared keys.
Given that Android apps that use OpenVPN or IKEv2 are more secure, and because manually configuring the Chrome OS L2TP/IPsec VPN client can be a bit fiddly anyway, we strongly recommend using an Android VPN app over this method if your Chromebook supports Android.
It's worth noting that the native VPN client also has basic OpenVPN support, but it cannot import the standard .ovpn configuration files used by almost all commercial VPN services.
Google itself recommends using an Android app for this, which makes Chrome OS' native OpenVPN support all but useless for most VPN users.
3. Using a Linux VPN app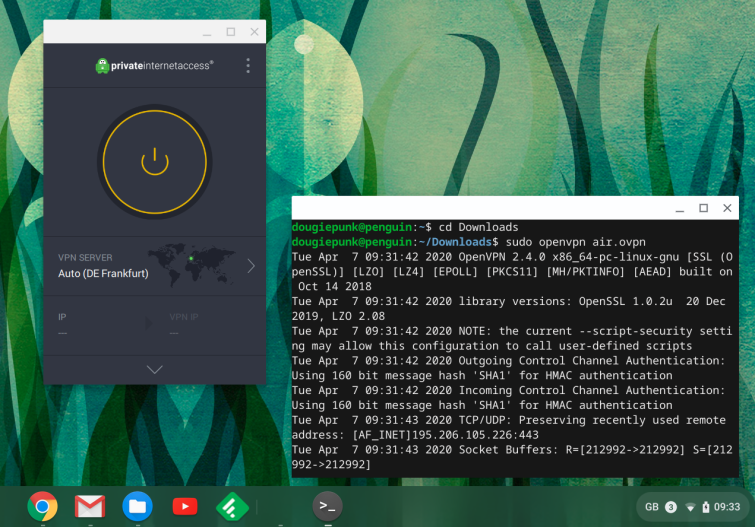 A Linux VPN app will protect Linux connections, but will not route Chrome OS or Android connections through the VPN interface.
There are only two full GUI Linux VPN apps that work on a Chromebook at the time of writing (Private Internet Access and Mullvad), but using OpenVPN in Terminal works for any VPN service that supports manual OpenVPN setup (which is most of them).
If you want to route both Chrome OS/Android and Linux connections through a VPN, then you will need to run either the Chrome OS client or an Android VPN app and run a Linux VPN app.
4. Using a Chrome browser extension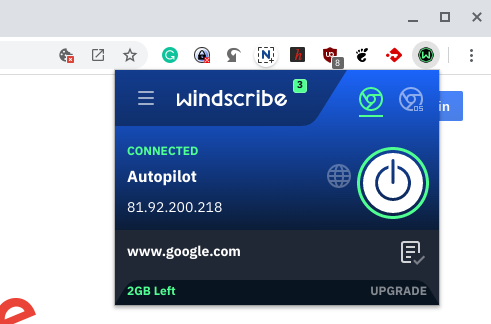 A VPN browser extension for Chrome is not really a VPN in the genuine sense of the term, as it only routes connections from the Chrome browser through a proxy. But if you are not using Android or Linux apps, then the Chrome browser is basically your entire OS!
So for users who prefer to keep their Chrome OS experience pure and simple, a Chrome Browser extension can provide a quick and lightweight way to access most of the benefits of using a true VPN without having to download an entire VPN package.
Please check out How to Install a VPN on Chromebook for step-by-step guides to using each of these methods to run a VPN in Chrome OS. And if you torrent, then you may enjoy How to Torrent with a VPN on Chromebook.
Conclusion
This guide should have given you a bit of insight into how VPNs can help you protect your Chromebook device. If you're new to VPNs and want to find out what else they can do for you, as well as their limitations, be sure to check out our Beginner's Guide to VPNs.
In the meantime, here is a reminder of our top Chromebook VPNs: