Alternative Choices for You
Pricing
As is increasingly common these days, ZenMate offers a simple one-size-fits-all plan with a fairly high monthly price if paid monthly, which drops dramatically if you purchase a one or two-year subscription.
And it has to be said that its longer-term plans are among the cheapest on the market.
All subscriptions come with a 30-day money-back guarantee. You can also take advantage of a 7-day free trial, for which only a valid email address is required. A one-year subscription to McAfee Total Security is also thrown in for free.
Payment is accepted by PayPal or credit card, with card payments processed by Cleverbridge.
Features
| | |
| --- | --- |
| Number of countries | 81 |
| Total servers | 4800 |
No logs
Unlimited simultaneous devices
74+ server locations
Multi-platform support
Browser extensions
Kill-switch (Windows and macOS)
P2P support
AES 256-bit encryption
24/7 live chat support
30-day money-back guarantee
7-day free trial
Most of its servers are located in Europe, but ZenMate also runs servers on the East and West Coast United States, Canada, Brazil, Israel, South Africa, various East Asia locations, and Australia.
ZenMate markets itself as an easy-to-use VPN service aimed at the layperson. This is fair enough, but it means that its feature set is a little basic.
Speed and Performance
Speed
Our speed test results for ZenMate are very average. Max burst speed results are also somewhat middle-of-the-road but are plenty fast enough that you won't notice any slowdown when connecting to a server in the same geographic area as you.
| | | | |
| --- | --- | --- | --- |
| | ZenMate VPN | ExpressVPN | NordVPN |
| ProPrivacy.com SpeedTest (average) | 24.2 | 100 | 85.9 |
| Speed | 190.9 | 100 | 568.0 |
In the graph below, you can see how ZenMate's current speed performance has fared against some of the other top VPN providers on the market. We use our testing methodology to test VPN providers' speeds so we can reliably present the most current results for any provider at any given time. Below, we have presented speed tests for the time period spanning June 2023 to September 2023. As you can see, during that time, ZenMate's average speeds registered at 24.2 Mbps, and the service's max burst speed topped out at 190.0 Mbps. While certainly not particularly mind-blowing, these speeds are fast enough for most online activities, including streaming and torrenting.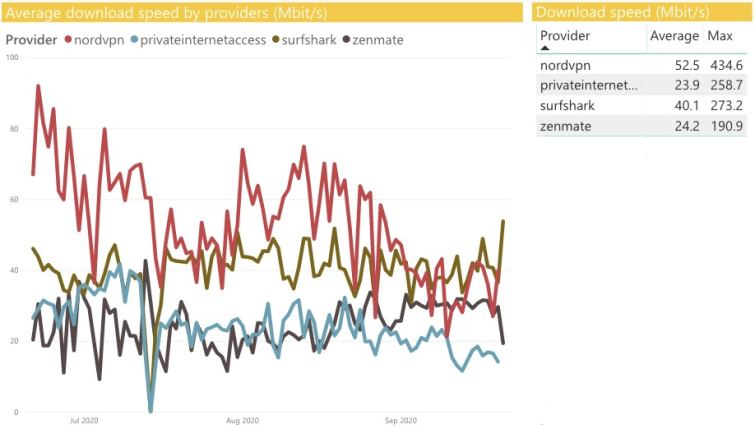 IP leak tests
| | |
| --- | --- |
| ProPrivacy.com SpeedTest (average) | 24.2 |
| Speed | 190.9 |
In Windows we detected the odd IPv6 WebRTC leak, so Windows users should disable WebRTC in their browsers or disable IPv6 at the system-level. Alternatively, ZenMate offers its own WebRTC Protect browser add-on for Chrome.
We detected no leaks at all in macOS, although in both macOS and Windows we were a little surprised to see some DNS queries being resolved at a location very close to our true physical location. The DNS translation was being handled by ZenMate's servers, though, and so does not constitute a DNS leak.
We cannot test mobile devices using an IPv6 connection at this time, but on an IPv4 connection detected no IP leaks of any kind. To test your VPN, check out our VPN leak testing tool.
Does ZenMate unblock Netflix?
ZenMate offers special streaming servers, optimized to unblock a selection of popular streaming services in different countries around the world.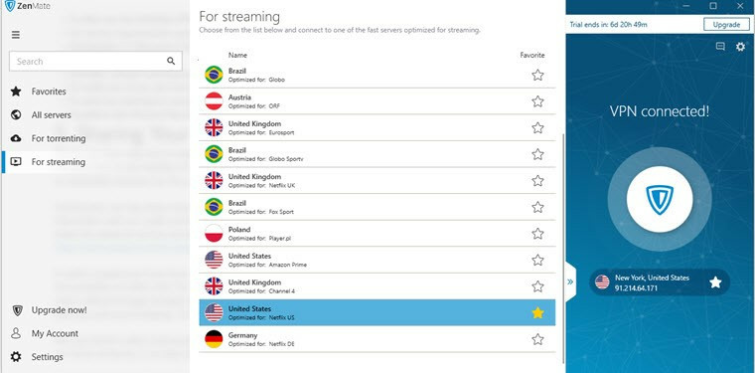 We tested these servers using our benchmark Netflix US and BBC iPlayer services, and sure enough, they successfully unblocked both platforms. ZenMate runs special Netflix servers based in the US, UK, Germany, and France.
Besides reliably unblocking different Netflix regions and BBC iPlayer, ZenMate can unblock the following streaming services from around the world:
YouTube
HBO Now
Amazon Prime
Hulu
7TV
ORF
Globo
Globo Sportiv
Yle
ZDF
ARD
Fox Sports Brazil
Comedy Central DE
Zattoo DE
Ease of Use
| | |
| --- | --- |
| Android | |
| iOS | |
| Windows | |
| macOS | |
| Linux | |
As already noted, only an email address is needed to sign-up for the free trial, and paying for the full service only additionally requires providing necessary payment details. Dedicated apps are available for Windows, macOS, iOS, Android, Android TV, Amazon Fire Stick, Chromebook, and routers.
Manual OpenVPN setup guides are also available for all major platforms, including Linux and Chrome OS. Unfortunately, we could not find the required config files anywhere on the website as all the links redirected to pages that were not useful.
The Windows client
ZenMate's Windows VPN software looks good and is easy to use.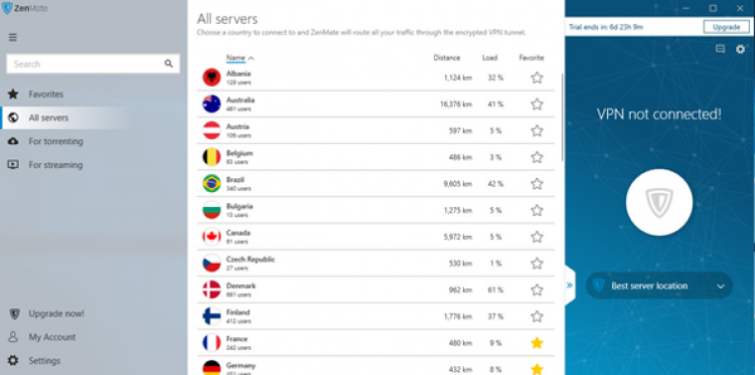 In keeping with ZenMate's mantra that simple is the best philosophy, you can select server locations, but you cannot select individual servers. You can, however, sort servers for ones that unblock selected streaming services and allow torrenting.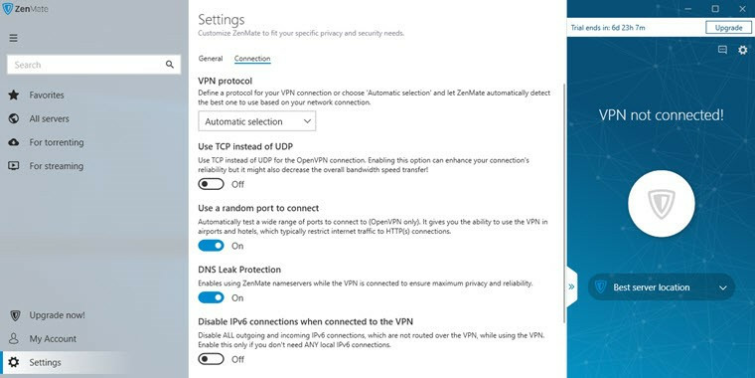 You can choose between the OpenVPN, IKEv2 and L2TP/IPsec VPN protocols, with OpenVPN being the default. You can also choose between OpenVPN UDP and TCP, which is handy for defeating moderate levels of VPN censorship. Similarly, the random port selection feature can be effective at defeating simple VPN blocks.
A kill-switch is included. Force-closing the app itself to simulate a software crash did not terminate the VPN connection. Force-closing the OpenVPN daemon did, but we were then no longer able to connect to the internet. This means the kill-switch uses system-level firewall rules to prevent connections outside the VPN tunnel, which is good.
You would not be mistaken if you notice a resemblance between ZenMate's user interface and CyberGhost's client. In fact, this is far from a coincidence and their similarities go even deeper. Now that both companies are owned by Kape Technologies, they seem to share a common server network.
The macOS client
Bar minor OS interface differences, ZenMate's macOS VPN client looks identical to the Windows one. The Mac app uses OpenVPN only, though, and does not feature random port selection or the ability to switch from UDP to TCP. It does feature a kill-switch, however.
Mobile apps
Not surprisingly, the OpenVPN Android app is a simple affair. It works well, however, and offers random port selection and the ability to switch from UDP to TCP. There is no kill-switch, although Android 7.0+ has a built-in kill-switch that works with any VPN app.
The iOS VPN app looks almost identical to the Android VPN app but uses the IKEv2 protocol and does not offer random port scanning.
Customer Service
| | |
| --- | --- |
| Money-back guarantee | |
| 24-hour support | |
| Live chat | |
| Money-back guarantee length | 30 |
| Free trial | |
ZenMate offers 24/7 live chat in 4 different languages, but we found the support to be a bit spotty overall. We asked some questions that were admittedly rather technical but never received a reply. Let's just say this didn't impress us!
When we asked simple questions, however, a live chat agent was quick to respond and friendly.
So, unfortunately, if you're in need of help that requires a bit more technical know-how, you may be out of luck.
There are also setup guides and a decent number of technical trouble-shooter type guides on the website that may have the answer to what you're looking for.
Privacy and Security
| | |
| --- | --- |
| Kill-switch | |
| Obfuscation (stealth) | |
Jurisdiction
ZenMate itself is based in Germany. This is a country known for its strong data privacy laws, and in 2018 was the first country to fully align its data protection legislation with the GDPR.
Contrary to this, it has also enacted the now invalid-on-human-rights-grounds EU Data Retention Directive into local law. This came into full force in 2016 and requires all telecommunications and internet service providers to retain user metadata for up to 10 weeks. Unfortunately, the definition of "metadata" used by the law includes a list of all websites visited.
Currently, we are unable to determine if the Data Retention Act applies to VPN services based in Germany.
Germany is a close ally of the United States, with the NSA basing its European headquarters in the country. The 2016 Communications Intelligence Gathering Act authorized Germany's Federal Intelligence Service (BND) extensive powers to monitor all internet traffic entering and leaving the country.
In 2018 ZenMate was acquired by Kape Technologies, a company that now appears to be based in the UK. This is far from ideal since the UK now enforces some of the most extensive mass surveillance laws ever passed anywhere, and as a founding member of the Five Eyes spying alliance, its GCHQ security agency works in very close partnership with the NSA.
Logs
ZenMate minces no words when it says it keeps absolutely no logs on those that use its service, meaning ZenMate is as secure as VPNs come despite Germany's Data Retention Act. We do wish this law was mentioned in its privacy policy to give further peace of mind, but it cannot categorically call itself a zero-logs VPN if it keeps information on its users.
The same cannot be said for visitors of ZenMate's website, however, which retains some personally identifiable information on its users. This data is retained for the statutory period and not shared with any third party unless that third party has a role to play, such as facilitating payment.
Just to emphasize, this only applies to the website. ZenMate states that it keeps no logs when using the VPN service itself:
The above-mentioned Personal Data is not, at any point, associated with any kind of activity done by the user inside the ZenMate VPN tunnel, which is NOT recorded, logged or stored at all.
Technical security
The Windows app uses the OpenVPN encryption protocol by default, although you can switch to IKEv2 or IPsec. The Android and macOS apps use OpenVPN, while the iOS app uses IKEv2.
When using OpenVPN the data channel is secured using an AES-256-CBC cipher with SHA-256 hash authentication.
Information is not available on settings used for the control channel, although they are probably the same as used by CyberGhost: an AES-256-CBC cipher with SHA256 hash authentication. Control channel: an AES-256 cipher, RSA-4096 key encryption, and SHA384 hash authentication. Perfect forward secrecy is provided by an ECDH-4096 key exchange.
Overall, this is a very strong setup.
ZenMate uses also 100% bare metal servers, which is great news for privacy. As already noted, we detected WebRTC leaks in Windows, but the apps are otherwise secure.
Final Thoughts
ZenMate is an easy-to-use cheap VPN service that does what it says on the tin. It is especially good for larger families or users with many devices, as one account allows users an unlimited number of simultaneous connections. The service is also great at unblocking many of the most popular streaming services worldwide, and offers respectable speeds. As such, we think it delivers great value for money for the more casual VPN user who isn't necessarily in need of tons of features.
0 User Reviews
Leave a Review
Thanks for your review!