If you are looking to unblock Facebook or messenger at school or work, then a VPN can help you. By using a VPN for Facebook, you can access the site on any WiFi network even if it is restricted by the network admin. It will also let you unblock geo-restricted content and other services like Facebook Messenger.
A VPN encrypts all of your online traffic and changes your IP address so the network administrator can't see what you get up to online. In this guide, we list the best VPNs for Facebook and give you some top tips on how to unblock it.
What are the best VPNs to Unblock Facebook & Messenger?
We have listed the best VPNs for unblocking Facebook at school or work below. Scroll below this list for a closer look at our recommended services.
All the VPNs above will reliably unblock Facebook on restricted WiFi networks, and they all have the following:
Fast servers located around the world.
The ability to unblock Facebook and other sites
Great online privacy and security features
Apps for all major platforms.
These services also have their own unique features. We give you more information about each VPN below.
The Best VPNs for Facebook & Messenger | In-depth analysis
We take a more detailed look at our recommended Facebook VPN services. If you still want more information about these services, check out our detailed VPN reviews.
ExpressVPN is the best VPN for Facebook. It's a reliable & secure service with fast servers located worldwide. It has stealth servers which allow you to unblock Facebook anywhere.
Pricing

From $6.67 - $12.95

Available on

Windows
macOS
iOS
Android
Linux

Unblocks
ExpressVPN is our top pick for a Facebook VPN. Its global network of robust and lightning-fast servers gives users a secure and private tunnel around their internet traffic. It also comes with a simple and easy-to-use app that gives users in-depth control of their VPN and make it fit their needs. With strong encryption, DNS leak protection, and obfuscation (stealth) technology, Express is perfect for users in countries where Facebook is banned.

ExpressVPN's premium service comes with a premium price tag, but one that we are certain that it justifies. The all-round phenomenal VPN is backed up by a five-star 24/7 customer support team and knowledge base; and if that's still not enough, it comes with a 30-day money-back guarantee. ExpressVPN is a top-shelf VPN that ticks all the boxes and continues to set standards in the industry.

CyberGhost is great VPN for anyone looking to unblock the Facebook app on mobile. Its mobile iOS and Android apps are really easy to use, which is great for VPN beginners.
Pricing

From $2.75 - $12.99

Available on

Windows
macOS
iOS
Android
Linux

Unblocks
CyberGhost is a high-profile VPN provider based in Romania. It offers users lots of functionality and thoroughly secure VPN servers for a very competitive price point. CyberGhost also offers a no-logs policy so that users can be confident in their own privacy, and being based in Romania means that the company is outside of the jurisdiction of the Fourteen Eyes spying alliance.

The only major downfall with CyberGhost is that it lacks proper obfuscation (stealth) technology, and so isn't ideal for users in countries with mass censorship and surveillance. It is better for getting around restrictive networks, rather than government censorship. If you want a Facebook VPN that's going to give you great value for money, then CyberGhost is a real contender. CyberGhost lets you test the VPN for yourself with a 14-day refund window for monthly subscribers and a whopping 45-day money-back guarantee for 6-month plans and above.

Private Internet Access is the most secure Facebook VPN on our list. It has a proven zero logging policy & has features for unblocking Facebook at school or in a country where it is blocked.
Pricing

From $2.69 - $11.95

Available on

Windows
macOS
iOS
Android
Linux

Unblocks
Private Internet Access (PIA) is a US-based provider that keeps zero logs – a claim it has proven in court. Offering extremely secure servers with AES-256 encryption, PIA has long been admired by the privacy community. Their robust obfuscation (stealth) technology makes it an ideal choice for users in countries where Facebook and VoIP technologies are banned.

PIA allows up to 10 simultaneous connections, making it great for protecting multiple devices, and for use in tech-heavy households. PIA utilizes auto-connect and a kill switch to keep users protected and reduce the risk of information leaks in the event of server failure. If you want a reliable and privacy-oriented VPN service that doesn't break the bank, then PIA is the best for the job. Why not try it out for yourself with PIA's 30-day money-back guarantee?

Surfshark is the cheapest VPN for Facebook on our list. It's packed with features, like obfuscated servers that are great for unblocking Facebook and more.
Pricing

From $1.94 - $11.95

Available on

Windows
macOS
iOS
Android
Linux

Unblocks
Surfshark is a feature-heavy VPN service that focuses on unrestricted streaming for users. With a global network of super-fast servers, it's great for streaming movies and shows without your internet becoming sluggish. Its whitelisting feature enables split-tunneling; letting users access content from other countries whilst still accessing local services.

Its kill switch and obfuscation technology make it great for users who want to hide their VPN usage from restrictive networks. Surfshark also allows for unlimited simultaneous connections from a single subscription and offers greater savings with longer subscriptions. It's a great choice for big families and tech-enthusiasts alike. But don't just take our word for it, give it a shot for yourself with Surfshark's 30-day money-back guarantee.

VyprVPN is a great all-round VPN service that unblocks Facebook. It has slick apps for all major platforms & a cool "Chameleon" feature which will let you unblock Facebook anywhere.
Pricing

From $2.50 - $12.95

Available on

Windows
macOS
iOS
Android
Linux

Unblocks
VyprVPN is a privacy-oriented VPN service that offers advanced obfuscation (stealth) technology through its proprietary Chameleon function. This feature is perfect for users looking to access Facebook in countries such as China, as it cloaks your VPN traffic and can also evade deep packet inspection. Keeping your internet usage secure and increasing your online privacy in one fell swoop.

Vypr offers support for multiple VPN protocols, even adding Wireguard to its list for fast and secure encryption. Alongside its fantastic stealth capabilities, Vypr utilizes a global network of fast servers that offer rock-solid AES-256 encryption. Its 24/7 customer support is also backed up with a 30-day money-back guarantee, so users can rest easy if they're not happy with their subscription. If privacy is what you need most in a Facebook VPN, then VyprVPN is a solid choice.
How will a VPN unblock Facebook at school?
A VPN is an online service that permits subscribers to do two things. Firstly, a VPN service will allow you to pretend to be in a different country by switching your IP address for one owned by the VPN provider, kind of like a proxy service. Doing this allows VPN subscribers to access Facebook (and Facebook Messenger) even when it is blocked on your WiFi network.
Secondly, a VPN encrypts the data going to and from your device. This is why they are more secure and reliable than proxy services. This stops Internet Service Providers and local network administrators from being able to monitor what you are doing online.
It is worth noting that more and more institutions are wising up to VPNs, and it is increasingly common to find VPNs blocked. Please check out our How to Bypass VPN Blocks guide for information on getting around these blocks on your school network.
How to use a VPN to unblock Facebook at school
To unblock Facebook at school or work, just follow these simple steps:
Select a VPN for Facebook - we have listed five above.
Log onto your VPN.
Turn on the kill switch and DNS leak protection - A kill switch is a security feature that kills your internet connection if you VPN stops working. Working alongside DNS leak protection, both combined will stop anyone finding out you used Facebook.
Configure your encryption settings - By default Windows and Android services will use OpenVPN and Mac and iOS will either use IKEV2 or WireGuard as default. These are the most secure protocols.
Connect to a VPN server - We recommend that you connect one closest to you (if possible) as this is usually the fastest server.
Head over to Facebook - You will now be able to access Facebook! If your VPN stops working, then try another server.
Can I use a free VPN for Facebook?
Free VPN services have their uses. But, if you want to get around restrictive networks, censorship, and avoid tracking and tracing, then a premium VPN is the way forward. When it comes to privacy, free VPN services can (ironically) be more harmful than helpful. In fact:
The encryption offered by free VPNs is usually too weak to get around restrictive networks and government censorship.
Free VPNs regularly impose speed and data caps, which can slow you down and stop your internet altogether.
It is common practice for free VPN services to monitor and sell your information and data to third parties (that's usually how they make their money).
Free VPNs will operate a small number of highly congested servers, meaning that you will have to queue to connect and your internet speeds may become sluggish as well.
Some free VPN providers (such as Hola!) use your IP address as an exit node when you sign up, letting other people use your IP address!
There have been reports of Free VPN services infecting devices with malware.
Getting the right VPN doesn't mean paying lots of money, and we recommend using either CyberGhost or Private Internet Access for the best value and best budget VPNs. If neither of these providers appeals to you, there are plenty of other budget-friendly VPNs available.
Will a VPN stop Facebook from tracking my location?
A VPN is a great way to hide your IP address and cloak your internet traffic. However, Facebook can still track your true location outside of your IP address through device-level GPS services and tracking cookies. But don't worry, there are ways to get around this:
Preventing tracking on a computer
If you're accessing Facebook via a desktop or laptop computer, then there are a couple of things that you need to do before you can access Facebook without revealing your true location:
Launch your VPN and choose an appropriate server.
Launch your browser and clear your cookies and cache.
Open a new tab in incognito/private browsing mode.
Log in to Facebook in that private tab.
It's important to launch your browser in incognito mode as this prevents identifying cookies.
Without incognito: SPOTTED!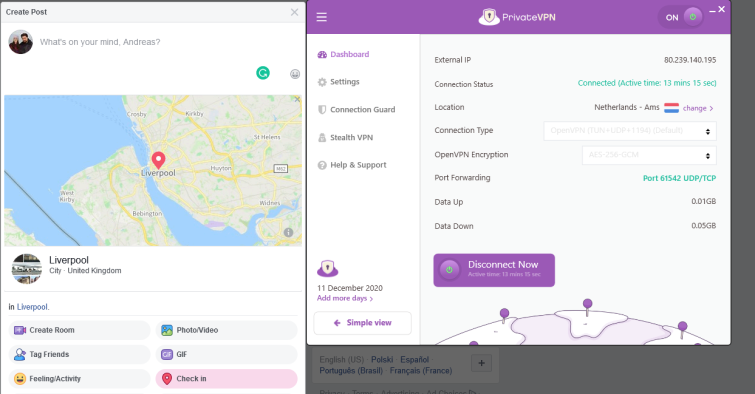 With incognito: HIDDEN!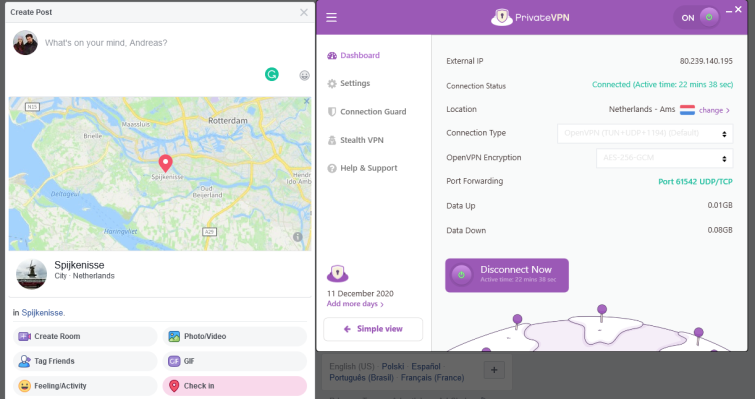 Preventing tracking on a mobile device
Using Facebook on a mobile device requires a slightly different approach (as most smartphones and tablets have built-in GPS capabilities). If you want to access Facebook securely on a mobile device without it tracking your true location:
Uninstall/Disable the Facebook app.
Turn off location settings (GPS tracking) for Facebook in your device settings
Turn off location settings for Google and/or your browser in your device settings.
Launch your VPN and connect to an appropriate server.
Launch your browser and delete your cache and cookies.
Open a new tab in incognito/private browsing mode.
Log in to Facebook.
Access Facebook if it is blocked in your country
Some VPNs are great for unblocking streaming content online. However, they aren't considered secure enough to protect you in a country where Facebook is blocked. That is why it is vitally important to select a VPN with the following privacy features:
DNS leak protection - This stops you from leaking DNS requests to your ISP. A DNS leak could reveal that you used Facebook, so please turn on DNS leak protection.
Kill switch - this feature stops you from leaking any traffic to the ISP that could reveal you accessed Facebook.
Autoconnect - This feature re-connects the VPN if the connection drops out.
Stealth mode or "cloaking" - This conceals VPN use and allows people to use VPNs in places that block VPN connections.
Where is Facebook Blocked?
Many governments block Facebook because they do not like how Facebook allows citizens to discuss dissenting views and ideas with people from around the world. Governments see Facebook as a threat to their power. The following countries censor access to Facebook. Note that this information is subject to change.
China - Facebook is completely blocked in mainland China. That said, there are an estimated half a million Facebook users in China. For more details on bypassing Chinese censorship, check out our Best VPN for China guide.
Iran - The Iranian government uses specially trained "cyberpolice units" tasked with tracking down visitors to banned websites, including Facebook. It has been reported that Iranians use to local VPN providers to hide their online activities, however, many of these VPNs appear to be government-run honeypots. People caught trying to evade the government's bans face arrest, interrogation, torture, jail and even death.
North Korea - In a world full of oppressive regimes, North Korea is the most repressive of all. The vast majority of the population has no internet access at all. China supplies some broadband lines to North Korea, so a few selected government and party officials probably have limited access to the internet. It is very unlikely, however, that these are permitted to use this access to peruse Facebook.
Syria - Facebook is blocked in many cities in Syria due to both the government and ISIS.
Vietnam - Facebook is unofficially banned, but appears to be widely available to home users. Many hotels and internet cafes block access to Facebook.
Unblock Facebook Messenger at school
Facebook Messenger, like Facebook itself, is blocked by a lot of schools and colleges. The solution is the same, you can use a VPN to unblock Facebook messenger at school. All the services listed above will work to unblock the service.
The service is also blocked in some countries. China, Iran, and North Korea have a permanent ban on Facebook and Messenger. However, many other countries, including Bangladesh, Syria, Egypt, and Turkey, sometimes blackout social media sites and messengers - usually during politically sensitive events such as protests. Saudi Arabia has a permanent ban on Facebook Messenger, but not on Facebook. That ban is to protect the income of the Saudi state-owned telecoms firm.
FAQs