If you're looking to unblock Facebook or messenger at school, in work, or in a country like Russia, then a VPN can help! By using a VPN for Facebook, you can get unrestricted access to your favorite social media sites on any Wi-Fi network – even if it's blocked by your network admin or government. It also lets you unblock geo-restricted content and other services.
In this guide, we list the best VPNs for Facebook and give you some top tips on how to unblock it.
What are the best VPNs to Unblock Facebook & Messenger?
We have listed the best VPNs for unblocking Facebook at school or work below. Scroll below this list for a closer look at our recommended services.
All the VPNs above will reliably unblock Facebook on restricted Wi-Fi networks, and before we include them in our list we make sure they have each of the following:
Fast servers located around the world
The ability to unblock Facebook and other sites
Great online privacy and security features
Apps for all major platforms
These services also have their own unique features. We give you more information about each VPN below, so pick the one which best fits your personal needs.
The Best VPNs for Facebook & Messenger | In-depth analysis
We take a more in-depth look at our recommended Facebook VPN services here. If you still want more information about these services, check out our detailed VPN reviews.
How will a VPN unblock Facebook at school?
A VPN encrypts all of your online activity and changes your IP address so no snooping parties can see what you get up to online. This allows you to do two things: firstly, a VPN service lets you pretend to be in a different country by switching your IP address for one managed by the VPN provider, much like a proxy service (but more secure). Doing this will give you the ability to access Facebook (and Facebook Messenger) even when it's blocked on your Wi-Fi network.
Secondly, a VPN encrypts the data going to and from your device. This is why they are more secure and reliable than proxy services. This stops Internet Service Providers and local network administrators from being able to monitor what you are doing online.
It is worth noting that more and more institutions are wising up to VPNs, and it is increasingly common to find VPNs blocked. Please check out our How to Bypass VPN Blocks guide for information on getting around these blocks on your school network.
How to use a VPN to unblock Facebook at school
To unblock Facebook at school or work, just follow these simple steps:
Select a VPN for Facebook – we have listed five above.
Log onto your VPN.
Turn on the kill-switch and DNS leak protection – A kill-switch is a security feature that kills your internet connection if your VPN stops working. Working alongside DNS leak protection, both features combined will stop anyone finding out you used Facebook.
Configure your encryption settings – By default Windows and Android services will use OpenVPN and Mac and iOS will either use IKEV2 or WireGuard as default. These are the most secure protocols.
Connect to a VPN server – We recommend that you connect one closest to you (if possible) as this is usually the fastest server.
Head over to Facebook – You will now be able to access Facebook! If your VPN stops working, then try another server.
Can I use a free Facebook VPN?
There are plenty of Free VPN services, and they do have their uses. However, if you're looking to access Facebook on a restrictive network or in a country where it is banned, then using a free VPN can be dangerous. Most free VPN services monitor and sell on the information of users to third parties. We all know that when a service is offered for free, then you are the product (which defeats the entire purpose of using a VPN).
On top of this, free VPNs rarely have sufficient encryption or security features to properly protect you online or to bypass restrictive networks and government firewalls – so they may not even work. Add to this the data and speed restrictions that come with free VPN services, and you have a service that will never be as good as a quality, paid VPN service. Remember, a good VPN doesn't have to be expensive, and if you want to protect your privacy, then a paid VPN is the best way forward. If you want a low-cost, high-security VPN, we recommend Private Internet Access. If that doesn't fit your needs, check out our other recommendations for budget-friendly VPNs.
Will a VPN stop Facebook from tracking my location?
A VPN is a great way to hide your IP address and cloak your internet traffic. However, Facebook can still track your true location outside of your IP address through device-level GPS services and tracking cookies. But don't worry, there are ways to get around this:
Preventing tracking on a computer
If you're accessing Facebook via a desktop or laptop computer, then there are a couple of things that you need to do before you can access Facebook without revealing your true location:
Launch your VPN and choose an appropriate server.
Launch your browser and clear your cookies and cache.
Open a new tab in incognito/private browsing mode.
Log in to Facebook in that private tab.
It's important to launch your browser in incognito mode as this prevents identifying cookies.
Without incognito: SPOTTED!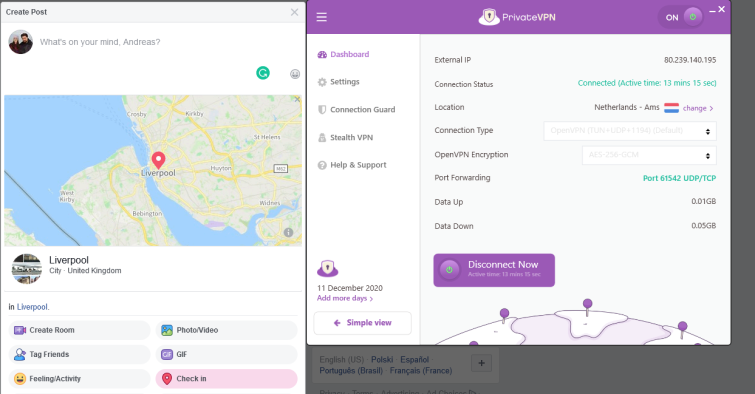 With incognito: HIDDEN!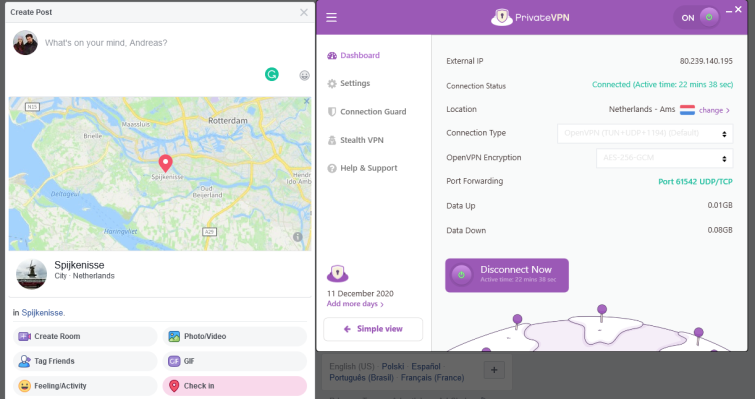 Preventing tracking on a mobile device
Using Facebook on a mobile device requires a slightly different approach (as most smartphones and tablets have built-in GPS capabilities). If you want to access Facebook securely on a mobile device without it tracking your true location:
Uninstall/Disable the Facebook app.
Turn off location settings (GPS tracking) for Facebook in your device settings
Turn off location settings for Google and/or your browser in your device settings.
Launch your VPN and connect to an appropriate server.
Launch your browser and delete your cache and cookies.
Open a new tab in incognito/private browsing mode.
Log in to Facebook.
Access Facebook if it is blocked in your country
Some VPNs are great for unblocking streaming content online. However, they may not be considered secure enough to protect you in a country where Facebook is blocked. That is why it is vitally important to select a VPN with the following privacy features:
DNS leak protection – This stops you from leaking DNS requests to your ISP. A DNS leak could reveal that you used Facebook, so it's always a good idea to turn on DNS leak protection.
Kill-switch – this feature stops you from leaking any traffic to the ISP that could reveal you accessed Facebook.
Auto-connect – This feature re-connects the VPN if the connection drops out.
Stealth mode or "cloaking" – This conceals VPN use and allows people to use VPNs in places that block VPN connections.
Where is Facebook Blocked?
Many governments block Facebook because it facilitates the discussion of dissenting views and exposes citizens to different ideologies from around the world. Some governments see Facebook as a threat to their power. The following countries censor access to Facebook (please note that this information is subject to change):
China – Facebook is completely blocked in mainland China. That said, there are an estimated half a million Facebook users in China. For more details on bypassing Chinese censorship, check out our Best VPN for China guide.
Iran – The Iranian government uses specially trained "cyber-police units" tasked with tracking down visitors to banned websites, including Facebook. It has been reported that Iranians use local VPN providers to hide their online activities, however, many of these VPNs appear to be government-run honeypots. People caught trying to evade the government's bans face arrest, interrogation, torture, jail, and even death.
North Korea – In a world full of oppressive regimes, North Korea is the most repressive of all. The vast majority of the population has no internet access at all. China supplies some broadband lines to North Korea, so a few selected government and party officials probably have limited access to the internet. It is very unlikely, however, that these are permitted to use this access to peruse Facebook.
Syria – Facebook is blocked in many cities in Syria due to both the government and ISIS.
Vietnam – Facebook is unofficially banned, but appears to be widely available to home users. Many hotels and internet cafes block access to Facebook.
Russia – Since the invasion of Ukraine, Russia has begun banning foreign media outlets, including social media (in an attempt to replicate China's Great Firewall).
Unblock Facebook Messenger at school
Facebook Messenger, like Facebook itself, is blocked by a lot of schools and colleges. Fortunately, the solution is the same, you can use a VPN to unblock Facebook messenger at school. All the services listed above will work to unblock the service.
The service is also blocked in some countries. China, Iran, and North Korea have a permanent ban on Facebook and Messenger. However, many other countries, including Bangladesh, Syria, Egypt, and Turkey, sometimes blackout social media sites and messengers – usually during politically sensitive events such as protests. Saudi Arabia has a permanent ban on Facebook Messenger, but not on Facebook. That ban is to protect the income of the Saudi state-owned telecoms firm.
Conclusion
It's important to weigh up each VPN provider with how they meet your own needs. Whether you're looking for low-cost, robust stealth functions, overall performance, or just plenty of servers; picking the right VPN can save you hassle in the future. Here's a quick reminder of our top choices for Facebook VPNs:

From $6.67/month
The best VPN for Facebook. It's a secure service with great privacy features, lightning-fast servers, and a 30-day money-back guarantee.
ProPrivacy TrustScore:

10 out of 10

Simultaneous connections

5

Free trial

No

Server locations

160

From $3.69/month
The best mid-range Facebook VPN. You get fast connections, sleek apps for all OS, and a 30-day money-back guarantee.
ProPrivacy TrustScore:

9.9 out of 10

Server locations

60

Simultaneous connections

6

Free trial

No

From $2.19/month
The most secure Facebook VPN. Unblocks social platforms, advanced privacy features, and a 30-day money-back guarantee.
ProPrivacy TrustScore:

9.8 out of 10

Server locations

84

Simultaneous connections

10

Free trial

No

From $2.00/month
The best Facebook VPN for beginners. With easy-to-use apps for all platforms and a 30-day money-back guarantee.
ProPrivacy TrustScore:

9.7 out of 10

Simultaneous connections

10

Free trial

No

Server locations

200

From $2.30/month
The best value-for-money Facebook VPN. It easily unblocks Facebook and more, it's super fast, with a 30-day money-back guarantee.
ProPrivacy TrustScore:

9.6 out of 10

Server locations

142

Simultaneous connections

Unlimited

Free trial

Yes
FAQs