Is Facebook blocked where you live? Worried about using Facebook because someone might find out and you could get in trouble? With a VPN for Facebook, you can securely unblock Facebook from anywhere. Use a Facebook VPN to unblock Facebook in China, Iran, or at work in the US. Best of all, you can use Facebook without your ISP, the government, landlord, school, or employer knowing you did it. A VPN gives you the digital privacy to unblock Facebook messenger too.
In a hurry? Check out which VPN providers our experts put in their top 5 for Facebook in the table below. Want more information? Keep scrolling for in-depth analysis.
Facebook VPN Summaries:
What is a VPN for Facebook?
A VPN is an online service that permits subscribers to do two things. Firstly, a VPN service permits anybody to pretend to be in a different country. Doing this allows VPN subscribers to access Facebook (and Facebook messenger) even when it is blocked by the government.
Secondly, a VPN provides military-grade encryption. This stops Internet Service Providers - and local network administrators - from being able to tell what a VPN user is doing online. This watertight digital privacy lets anybody, anywhere, use Facebook without having to be paranoid about being found out.
Unblocking Facebook While Traveling
Another reason that people might desire a Facebook VPN, is because they are about to go traveling. People who are traveling to countries like Turkey, Russia, China, UAE, Saudi Arabia, Iran - and many others - will not be able to access their Facebook account while they are away. A VPN lets you unblock Facebook no matter where you are. For more information about using VPNs when travelling see our 5 best VPNs for Travel page. It is important to note that you must be careful when using a VPN for UAE or a VPN in China as well as the other countries above.
Using Facebook at Home Without Paranoia
If Facebook is banned in your country you may be afraid to use Facebook at home, especially if you are in shared accommodation or are renting a property from a nosy landlord. The good news is that the encryption that a VPN provides stops anybody from knowing that you used Facebook at home. A VPN also stops your home IP address from being flagged up for Facebook use.
Remember, when you use Facebook it will still know who you are because you are logging into the service with your real name. However, the VPN will fool Facebook into thinking you are in a different location. If you require a Facebook account to also be anonymous, you will need to use a VPN for privacy and sign up under a fake name. This is going to be very hard to achieve. However, in theory, if you never give Facebook any real information about yourself or give it any real photos - by using a VPN it shouldn't know where or who you actually are.
Unblocking Facebook at Work or at School
Facebook can be a plague on productivity. Employees and students are well known to have a social media addiction that can stop them from doing work. Most employers and learning institutions - including schools, colleges, and universities - ask the local network administrator to block access to Facebook. The good news is that with a VPN for Facebook, it is possible to access Facebook even when it is blocked. Simply connect to a VPN server and you appear not to be in school anymore; the same goes for work.
Also awesome: VPN encryption makes it impossible for your employer or the school network administrator to tell what you are doing online. VPN encryption means the only way you can get in trouble for using Facebook at school, or at work, is if somebody walks up behind you and catches you using the service.
It is worth noting that more and more institutions are wising up to VPNs, and it is increasingly common to find VPNs blocked. Please check out our How to Bypass VPN Blocks guide for information on getting around VPN blocks.
How to Use a VPN to unblock Facebook
Unblocking Facebook from a place where it is blocked (school, workplace, or country) is extremely easy. To do so follow these simple steps:
Select a VPN for Facebook. To unblock Facebook we recommend VyprVPN because it is a secure and reliable provider that has everything you need to unblock Facebook. This includes stealth mode for unblocking Facebook even when VPNs are also being blocked. However, any of the VPNs in this guide are a great option so please check out each summary to see if it is suitable for you.
Click through to your favorite VPN for Facebook. Once you have decided on a VPN you can navigate to the website and subscribe to the VPN
Once you have subscribed you can log in to the VPN website and download the VPN software (known as a "VPN client").
Remember to get the right software for your device. VyprVPN lets you install and use the VPN on five devices. you can connect to the VPN and use Facebook on all these devices at the same time!
Select OpenVPN encryption. This is the strongest and most reliable VPN encryption so please use it.
Turn on the VPN cloaking (also knows as "VPN stealth mode" and "VPN obfuscation technology"). If you are living in a place where VPN use is blocked - or if VPNs are being blocked by a local network administrator - you will need to use VPN cloaking. VyprVPN , ExpressVPN , and Torguard all have excellent cloaking features.
Turn on the Killswitch and DNS leak protection (security features to stop anyone finding out you used Facebook).
Select a VPN server from the list. remember to choose a place where Facebook is allowed. A server closer to you will provide better speeds.
Click connect.
As soon as the VPN connects you can head over to Facebook and join. You will need an email account to join Facebook, and you may not want to use your regular email address for privacy reasons.
Once you have subscribed, remember to connect to your VPN everytime you use Facebook. To ensure you don't leak any data to your ISP (that could reveal you are using Facebook) also turn on the Killswitch feature.
VPNs for Facebook: Security Considerations
There are well over 850 VPNs on the market and the vast majority of them are not reliable. When using Facebook in a country where it is blocked by the government, reliability is extremely important. That is why it is vital not to go for an insecure service.
Some VPNs, like our cheapest VPN (PureVPN) are great for unblocking streaming content online. However, PureVPN is not considered secure enough to protect you in a country where Facebook is blocked. That is why it is vitally important to select a VPN that is recommended for Facebook - and not just any old VPN service!
To ensure your privacy when using a Facebook VPN you should also use the following features:
DNS leak protection. this stops you from leaking DNS requests to your ISP. A DNS leak could reveal that you used Facebook so please turn on DNS leak protection.
Killswitch. this feature stops you fro leaking any traffic to the ISP that could reveal you accessed Facebook.
Autoconnect. This feature re-connects the VPN if the connection drops out.
Stealth mode or "cloaking". This conceals VPN use and allows people to use VPNs in places that block VPN connections.
How a Facebook VPN Works
Normally, when you connect to the internet, you first connect to your internet service provider (ISP), which then connects you to Facebook (for example). All your internet traffic passes through your ISP's servers, and can be viewed by your ISP.
When using a VPN, however, you connect to a server run by your VPN provider (a "VPN server") via an encrypted connection (sometimes referred to as a "VPN tunnel"). This means that all data traveling between your computer and the VPN server is encrypted so that only you and the VPN server can "see" it.
Thus neither your ISP nor any anyone else who monitors the traffic between your computer (or tablet or smartphone) and the internet can see what you get up to online. This includes visiting Facebook.
Where is Facebook Blocked?
Many governments block Facebook because they do not like how Facebook allows citizens to discuss dissenting views and ideas with people from around the world. Governments see Facebook as a threat to their power. The following countries censor access to Facebook. Note that this information is subject to change.
Unblock Facebook in China
Facebook is completely blocked in mainland China. Or at least that is the theory. Inconsistencies in how the Great Firewall is implemented actually mean that in practice it might be available in some locations, and at different times. For the vast majority of China's citizens this is not a major issue, as the home-grown 51.com, renren and 开心网 (Kaixin001) social networks are much more popular.
That said, there are an estimated half a million Facebook users in China. And expats and visitors to China are usually keen to access the social media service. For more detailed information on how to access Facebook from China, please check out our Best VPN for China guide. It is also worth noting that Facebook is not censored in Hong Kong.
Unblock Facebook in Iran
Facebook is banned in Iran. In addition, the Iranian government uses specially trained "cyberpolice units" tasked with tracking down visitors to banned websites, including Facebook. We have heard reports of desperate Iranians turning to local VPN providers in order to hide their online activities. Unfortunately, although these are cheap, many appear to be government-run honeypots.
People caught trying to evade the government's bans face arrest, interrogation, torture, jail and even death. Although I do not usually like giving in to this kind of intimidation, I strongly suggest that anyone in Iran think carefully before using a VPN (or any other method) to access banned content.
If you do consider the risk to be worth taking, then use a foreign VPN provider (one based in Europe is probably your best option) and use overseas VPN servers. Also, ensure that you use ALL the VPN security features available to you.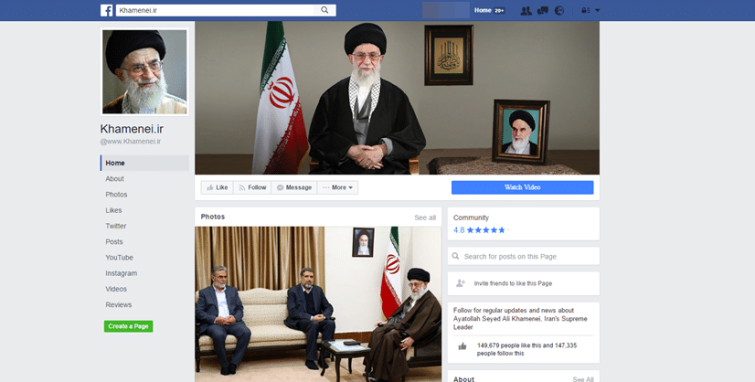 Bizarrely, given the situation, the Ayatollah Ali Khamenei not only uses Facebook himself but has run his own Facebook page since 2012 ! At the time of writing, his page has attracted some 150,000 Likes
Unblock Facebook in North Korea
In a world full of oppressive regimes, North Korea is the most repressive of all. The vast majority of the population has no internet access at all. China supplies some broadband lines to North Korea, so a few selected government and party officials probably do have limited access to the internet. It is very unlikely, however, that these are permitted to use this access to peruse Facebook.
Unblock Facebook in Syria
Fcebook is blocked in many places due to both the government and ISIS, a VPN is a fantastic solution. However, great caution is urged dut to the political situation a ongoing war.
Unblock Facebook in Vietnam
Facebook is "unofficially" banned, but nevertheless appears to be widely available to home users. This probably accounts for the fact that, despite the ban, 13.5 million Vietnamese people (around 15% of the population) use Facebook.
Many hotels and internet cafes have installed VPN software to bypass the ban. Visitors should beware, however, the fact that these computers are often heavily infected by viruses and other malware. Check out 5 Best VPNs for Vietnam for further discussion on this subject.
VPN for Facebook Messenger
Facebook Messenger is banned in several countries. China, Iran, and North Korea have a permanent ban on Facebook and messenger. However, many other countries, including Bangladesh, Syria, Egypt, and Turkey, sometimes black out social media sites and messengers - usually during politically sensitive events such as protests. Saudi Arabia has a permanent ban on Facebook Messenger, but not on Facebook. That ban is to protect the income of the Saudi state-owned telecoms firm.
Facebook messenger also now includes "Secret Conversations" in October 2016. That service adds end-to-end encryption to conversations, using the Signal protocol. For this reason, you can expect access to Facebook Messenger to become trickier in a growing number of countries around the world. Thankfully, you can access Facebook messenger from anywhere using a Virtual Private Network (VPN).
VPNs for Facebook: Conclusion
Facebook is blocked in many countries around the world. Even in countries where Facebook is allowed, workplaces and schools often block Facebook. In this article, we have explained everything you need to know about choosing a VPN for Facebook. Depending on your particular needs, there is a perfect VPN for Facebook for you in this guide. So please be sure to read and understand every part of this article before looking at the VPN summaries.
However, if you are in a rush and want the very best VPN for Facebook then VyprVPN is perfect and outstanding value. With that said, all of the VPNs in this guide are world class, so they are all worth considering depending on your needs. If you have any questions when choosing your VPN please leave us a message: we are always happy to help.