Alternative Choices for You
Astrill has established itself as a high-end VPN service – and it certainly offers all of the perks that you'd expect as such. Customers can select from servers in 109 locations, making the VPN ideal for spoofing and unblocking restricted content. In particular, the Windows client is stuffed full of features and allows you to toggle through the many different encryption options. There's also DNS leak protection, IPv6 leak protection, and a kill-switch. These tools are implemented to a high standard, and definitely indicative of a quality provider.
The client may seem a little complicated to VPN newbies, but most of the settings are well set up by default. As a result, so long as customers use the drop-down menu to select OpenVPN (Astrill is set to proprietary OpenWeb* encryption by default), then everything will be right as rain from the outset.
Pricing and Plans
Astrill puts three plans on the table for prospective customers – a one-month plan, six-month plan, and a year's subscription. However, all of these plans are on the pricey side!
A single month's subscription to Astrill will set you back $20. For six months, the monthly fee drops to $15 (for a total of $90), and if you commit to Astrill for an entire year, you'll pay only $10 per month (for a total of $120). It goes without saying that other premium VPN providers are a whole lot cheaper. You can get a similar service for a fraction of this price if you're savvy, so we'd advise you to shop around before handing over fistfuls of cash.
To make matters worse, Astrill simply doesn't do refunds or a money-back guarantee. The VPN states on its website:
All Astrill service sales are final and no refunds are possible. If you have any issues with Astrill VPN, please contact support which is available 24/7 via chat and email.
Hardly encouraging, right? Instead of letting you trial the product for a month, the provider instead suggests that you suck it up and buy the "shortest plan" on offer. It's a gamble, and again, there are other VPN services out there that are more than happy to honor a money-back guarantee if you're less than satisfied with the product. Astrill offers a 7-day trial, however, though this unfortunately does not extend to users in China.
Customers can pay for their subscription via a number of different means. Credit and debit cards are accepted, as well as PayPal and Bitcoin. Additionally, Webmoney, Alipay, and Perfect Money all do the trick. It's worth noting that you'll need to buy your subscription directly through the Astrill site and not Google Play or the App Store.
And, before you take the plunge and click "pay" on your plan, you'll be given the opportunity to select a few add-ons. A private IP will cost you an additional $5 per month, but you'll get an IP that's solely yours, used only by you, and that remains the same for the duration of your subscription. Additionally, if you want access to Astrill's VIP servers (which prioritized traffic, multi-hop, and latency reduction for users in Asia), that'll be an extra $10 per month.
Features
Astrill comes loaded with privacy-enhancing features, and you'll be able to install the VPN on any Windows, Mac, Linux, Android or iOS device with a minimum of fuss. What's more, Astrill is also compatible with routers. Five simultaneous connections makes securing multiple devices a cinch, too!
When it comes to servers, Astrill has a smaller network than other premium providers. 109 locations are still pretty impressive, though, as are the unlimited speeds and unlimited server switching – and dedicated P2P VPN servers. VIP servers with prioritized traffic are available, and come in handy for gamers or users in Asia looking to neutralize their latency. If you want to use these servers, you'll need to shell out an additional – but optional – $10 per month.
Astrill has two versatile split tunneling features. The Application Filter lets you dictate which apps (like Skype, games, and torrent clients) to route through your VPN connection. Meanwhile, the Website Filter can be applied to entire domain or IP ranges. These tools come in handy if you'd like to use your regular ISP connection to use company intranets and local services, and your VPN for everything else!
However, you can temporarily lose your connection with even the best VPN. Astrill has prepared for this eventuality with its own kill-switch – known as App Guard on Windows devices. App Guard is a little different to your garden-variety kill-switch, and allows users to specify which applications will be affected by the kill-switch in the event of a drop out. The apps that could potentially leak your true IP address will be disconnected from the internet, and those you deem safe will not – making a VPN connection loss a little less disruptive. The App Guard feature is automatically enabled when you install Astrill, so you don't have to go hunting through the settings for it.
Astrill's other security measures are pretty robust, too. The service offers port forwarding and a "Smart Mode" that allows users to stick to regional IP addresses, preventing ISPs from clocking on to their VPN usage. For an additional layer of safety, users can check out the multi-hop capability. This handy feature makes third-party traffic monitoring that much more difficult, as a user connects to an initial VPN server which then routes requests through an encrypted tunnel to a second (and potentially third) server. The second server completes the requests, sends it back to the first, and then back to the user. Additionally, Astrill customers can use Onion over VPN – without actually having to run any Tor software.
Can Astrill VPN unblock Netflix?
Strangely enough, there's little to be said for Astrill's unblocking capabilities on its website. You won't find a page dedicated to listing the sites and services the VPN can unblock, and there's no guide to spoofing your location to access geo-restricted content. Luckily, we've got that covered for you.
Astrill can unblock US Netflix with a minimum of fuss, and you'll be able to stream shows and movies in glorious HD. Also, Astrill had success when accessing Disney+. The VPN, unfortunately, does falter when it comes to BBC iPlayer, Prime Video, and hulu.
Privacy
Astrill is based in the Seychelles, which means that the firm is not under the jurisdiction of any overreaching governments. This is very good news for its users' privacy.
Privacy Policy and Usage Logs
Astrill's privacy policy is excellent. It doesn't cooperate with any third parties, meaning that user data will never be shared with these third parties for advertising or other purposes. In addition, Astrill keeps no logs whatsoever. Again, this is fantastic – the provider would not be obligated to hand over usage logs if asked by law enforcement. As the service is based in the Seychelles, however, it's very unlikely that this would ever happen.
Connection Logs
Although no usage logs are kept, Astrill does keep the last 20 connection logs (time of connection and connection duration). Rest assured that these logs are deleted as you create more, and only 20 are ever held at any one time. Whilst this is acceptable, there are VPNs out there that provide a truly zero-logs experience.
Security
Encryption Options
Astrill's Windows client comes with plenty of encryption options. You can select from OpenVPN, StealthVPN, and OpenWeb. We'd recommend using OpenVPN, seeing as it's the only truly secure VPN encryption option – and you don't want to gamble with your online privacy. Luckily, OpenVPN has tons of cipher options in the Astrill Windows client, too. These include:
BlowFish 128-bit, BlowFish 192-bit, BlowFish 256-bit, BlowFish 512-bit.
AES 128-bit, AES 192-bit, AES 256-bit
CAST 128-bit, CAST 192-bit, CAST 256-bit, CAST 512-bit
Camellia 128-bit, Camellia 192-bit, Camellia 256-bit
Needless to say, this is a fantastic array of options. Being able to use non-Nist Camellia is particularly great and highly recommended. As for handshake, hash auth, and whether Perfect Forward Secrecy is used, we can't tell you – Astrill informed us that this information is 'classified'. We can only assume that encryption is implemented badly, as a result.
*OpenWeb: Note that in both the Windows and Android VPN clients we tested, the OpenWeb protocol was selected by default. This is an unknown and proprietary encryption protocol that we know very little about. We don't trust it for privacy and security purposes, and as such, would advise you against using it. Astrill did inform us that it worked as a proxy service in the browser, however, it does not need to be installed as an actual app in the browser. Whether this is a functioning privacy measure is as yet unknown. The fact that it is a closed source and proprietary protocol certainly does not bode well, either. Without handshake and hash auth, the Android app is likewise not as secure as it could be – and we were unable to find out anything about Perfect Forward Secrecy on any of the Astrill clients.
The Website
Astrill's website is simple, easy to navigate, and self-explanatory. It doesn't have a particularly flashy feel or attempt to sell itself overmuch – not like some other VPNs out there.
There are a lot of options and extras to click on, but you won't need to worry about these unless you're an experienced VPN user or a business. Anyone interested in the service for solely personal use will get on just fine ignoring the vast majority of features on the site. The majority of folks will be able to simply download the client they require for the platform they're running – and the good news is that Astrill is compatible with Windows, Mac, Linux, Android, iOS, and VPN enabled routers.
If you prefer to troubleshoot your own troubles, you're in luck! Astrill has its very own Wiki, where you'll find setup guides for just about every device under the sun. Additionally, Astrill has some nice video tutorials for a more in-depth look at the features it offers, as well as information about the protocols provided by the service. These videos aren't too long, and offer a great "crash course" overview of their topics for those who might be new to the tech.
For snappier answers, customers can head on over to Astrill's FAQ section. There's plenty of questions to browse through; varying subscriptions and compatible devices are discussed, as well as the VPN's policy on logging. Astrill does also have its own blog, and whilst it's very pretty to look at, it's rather sparsely updated.
Support
Support is provided via a ticket system, email, or a 24/7 live chat. Our emails were replied to within a few hours, which isn't at all a long time to wait. More importantly, the tech support was there within a few minutes each time we used the service – though not every member of the tech team was expertly clued-in about encryption options. However, the team was able to make contact with its developers quickly to answer the more techy questions.
All in all, the support team really pulled together to walk us through the things we wanted to know, quickly, efficiently, and with a friendly manner. As such, we really can't fault Astrill's customer service.
The Process
Subscribing to Astrill can be finicky. We were confronted with the dreaded 'captcha' a few times as we subscribed and downloaded the software. However, we reckon we can deal with this annoyance, as it means Astrill is doing its bit to keep bots from infiltrating its systems.
Astrill asks for an awful lot of details about its users before they can subscribe. Potential customers must enter an email address, physical address, and a phone number to receive a four-digit verification code. If you don't enter this code, you can't use Astrill (or its free trial). As soon as you confirm the code, however, the client is easily accessed on the website and downloads quickly.
The client installs smoothly, and after confirming your email and password you'll be able to connect to a server. Be aware that Astrill comes set to OpenWeb by default, so take a few seconds to shore up your security and select OpenVPN from the drop down menu at the top of the client, instead.
Windows VPN Client
Astrill's Windows VPN client is pretty awesome. Once installed, you'll find it tucked away in the notification area of your Start bar. It's easy to control its feature from here, and its Settings are only a click away, too. In this menu, you can select your desired level of encryption for the OpenVPN protocol. You can also click on Privacy to access the kill-switch and leak protection tools. When you've navigated to OpenVPN, you'll see a little lock next to the server location. This lock will remain in place the entire time that you're protected. Oh, and you'll need to switch off your VPN connection in order to re-access the drop down menu of server locations.
DNS Leak Protection
Astrill gives users the option to enforce DNS leak protection, IPv6 leak protection (both of which are enabled by default) and WebRTC leak protection.
The good news is that DNS leak protection is built into the Windows client. The better news is that it works. No DNS leaks were detected using ipleak.net. In addition, no WebRTC leaks were detected. Obviously, this is just what you want to see – it means that Astrill's Windows client is doing its job when it comes to privacy. Sadly, the Android client was found to suffer from DNS leaks during our tests.
kill-switch
Astrill does in fact have its very own kill-switch! To find it, head to Settings > Privacy > Internet kill-switch. Once selected, you'll be protected in the event of a VPN drop out, and won't send any unencrypted traffic to your ISP. The kill-switch will completely terminate your internet connection until the VPN connection is reestablished. This is an incredibly valuable feature, and speaks highly of Astrill's intent to offer a premium service.
Other Platforms
Astrill's Android VPN downloads quickly and is a breeze to install. The client is designed for Android, and as a result, is ready to use as soon as you've installed the app. Sadly, there's no kill-switch or DNS leak protection in the Android client, and we did run across a DNS leak when we tested the Android service.
Astrill also offer VPN for iPhone users – so don't feel left out! Once again, the process of installing the iOS app is straight-forward – simply follow along with the on-screen instructions to complete installation and get to browsing the web, securely.
Performance (Speed, DNS, WebRTC and IPv4 Tests)
At the time of writing this review, Astrill has claimed fifth place on our overall speed table – a pretty impressive feat when you consider that we test more than 30 VPNs every day! Our speed testing system is server-based and scientific, unlike comparison sites, and you can read all about it in our how we perform VPN speed tests page.
Astrill is undoubtedly one of the quickest VPNs available – just take a look at the graph below. When connecting using the super secure OpenVPN protocol, Astrill clocked an average download speed of 79.7 Mbit/s. This is a blisteringly quick result, and even other premium providers will struggle to match it. Naturally, these speeds will be more than enough to handle data-intensive tasks like HD streaming, online gaming, and VoIP calls.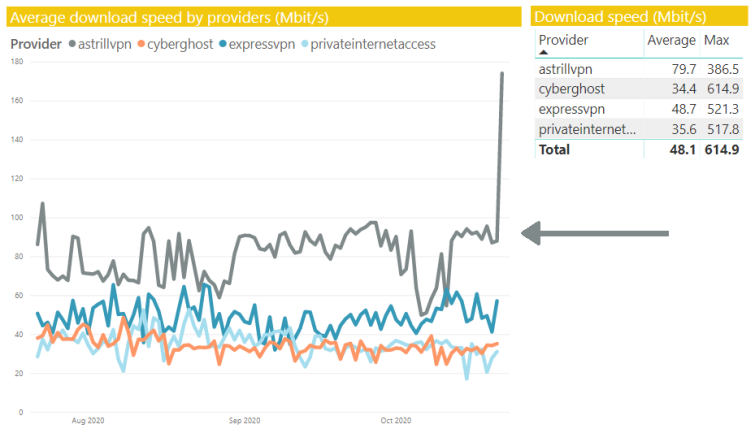 Next, we checked out Astrill's max burst speed. The numbers get smaller here, but the VPN's result of 386.5 Mbit/s is still pretty impressive. In order to ensure that you only experience a nominal loss of speed, we'd suggest connecting to a VPN server on your home continent.
But that's not all! No IPv4 DNS leaks were detected in the Windows client, and neither were any WebRTC leaks.
Conclusion
Overall, Astrill is a pretty good VPN service for Windows. The Windows client offers excellent cipher options that keep the service secure – though handshake, hash auth, and PFS are unconfirmed and likely a let down.
Whilst Astrill is a great pick for unblocking US Netflix, the service does struggle when accessing more remote content libraries. We'd love to update our review some time in the future to say that Astrill can unblock BBC iPlayer and Prime Video, but at the moment, you'll need to look elsewhere for a VPN that can access those particular streaming services.
The VPN's pricing might cause some double-takes, too. Astrill is certainly one of the pricier providers out there, and the lack of a money-back guarantee will be enough to put off some customers. Considering how important it is to be able to trial a VPN's services before committing to a lengthy subscription, we totally get it. That being said, you do get a relatively robust set of features in exchange for that hefty price tag. Astrill offers users a kill-switch, optimized P2P and VIP servers, versatile split tunneling features, and compatibility with just about every device. Whether or not you can get a similar VPN package elsewhere for less, well, that's your call to make!
0 User Reviews
Leave a Review
Thanks for your review!