Popcorn Time is a great app for watching free movies and TV shows on a wide range of devices. But under its butter-smooth interface Popcorn Time is BitTorrent client, which means you really should use a VPN to protect yourself when using it.
Want to find out more? Then read on!
What are The 5 Best VPNs for Popcorn Time?
The VPNs on the list below have been picked by our team of experts. They all have excellent privacy features, plus these VPNs allow P2P downloading. For more information on any of these services, keep scrolling.
Best 5 VPNs that work with Popcorn Time: In-depth Analysis
See the section below for an in-depth look at the best Popcorn Time VPNs:
The ultimate guide to Popcorn Time VPNs: Everything you need to know
Why do I need a VPN for Popcorn Time?
You need a VPN for Popcorn Time because a VPN will hide what you get up to online from your internet service provider (ISP) and prevents anyone on the internet from knowing who you are.
Popcorn Time is basically a polished BitTorrent client. This means that instead of streaming a movie from a centralized server (as you do with Kodi, for example), the movie is hosted by everyone who is watching or downloading that movie.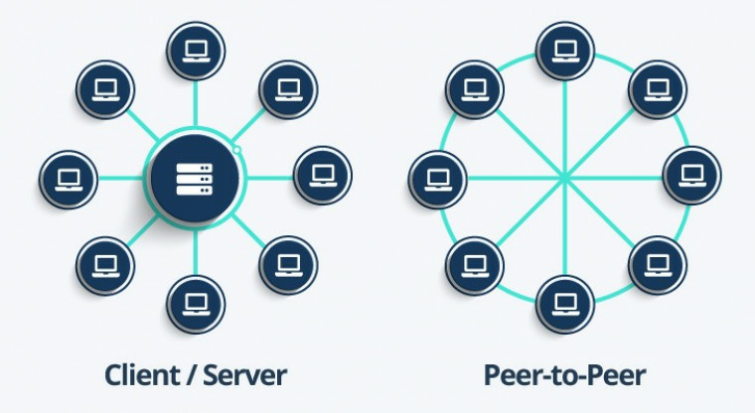 This lack of centralization means there are no servers that can get raided and their operators arrested. It does also mean, though, that everyone else watching or downloading the same movie or TV show as you know exactly who you are because their BitTorrent client needs to know (and can therefore see) your real IP address. This is why you shouldn't use Popcorn Time without a VPN.
If you're new to the world of VPNs or torrenting, we can help you get up to speed with our handy guides:
How does a VPN for Popcorn Time protect me?
A VPN service works like this: The VPN operates servers, usually located in many countries around the world. You connect to these servers via a secure encrypted connection. So, all the other people sharing the same torrent file as you will see is the IP address of the VPN server rather than your actual IP address.
This deceptively simple setup protects you when using Popcorn Time because:
Copyright holders (and anyone else on the internet) cannot see your real IP address or who your ISP is because the VPN server blocks their "view." All they can see is the IP address of the VPN server. This is invariably shared among many (sometimes hundreds) of VPN users, making it very hard to tell who did what.
Your ISP cannot see either your data (because it is securely encrypted between your device and the VPN server) or what you get up to on the internet because the VPN server acts as a proxy, beyond which your ISP cannot see.
Important features for a Popcorn Time VPN
There are some important features to look out for when choosing a Popcorn Time VPN, these are:
Make sure the VPN allows P2P torrenting

Not all do, and if they don't, then they make no promises to protect you when they receive the inevitable DMCA complaints from copyright holders. If a VPN service allows torrenting, though, it will protect you when using Popcorn Time. The only issue to watch out for is…

A Kill Switch

VPN connections occasionally fail. If this happens when you are in the middle of watching a movie on Popcorn Time then everyone else sharing the same movie file (including regular BitTorrent downloaders) will immediately be able to see your real IP address. The solution is to use a kill switch, which shuts down your internet connection when the VPN connection goes down. Check out our guide to kill switches for more information.

All the VPNs featured in our best VPNs for Popcorn Time list have a kill switch.

Fast servers

The higher your bandwidth (that is, the faster your internet connection), the higher resolution you can stream content without experiencing annoying buffering issues.

A good Popcorn Time VPN is, therefore, also a fast VPN. As always, speed performance can be improved by connecting to a server close to your real location and by selecting servers which are not overloaded.

Popcorn Time offers most content in either 720p or 1080p resolutions. TV shows are sometimes available in 480p. If you experience buffering issues when streaming then you can reduce buffering by switching to a lower resolution version of the movie or show.
Can I use a VPN when casting?
The short answer is… yes.
Popcorn Time allows you to stream from your device to a big screen via Chromecast, Airplay, and DLNA. Most VPN apps exempt local network addresses from the VPN so you can access stuff like WiFi printers and LAN drives when the VPN is running.
Assuming this is the case with your provider, then you will be able to cast Popcorn Time content over your local WiFi network without any problem.
If for some reason your provider's software routes local network connections through the VPN, then you may not be able to connect to your cast-enabled devices. The good news, though, is that most generic VPN software does allow you to bypass the VPN for local networks.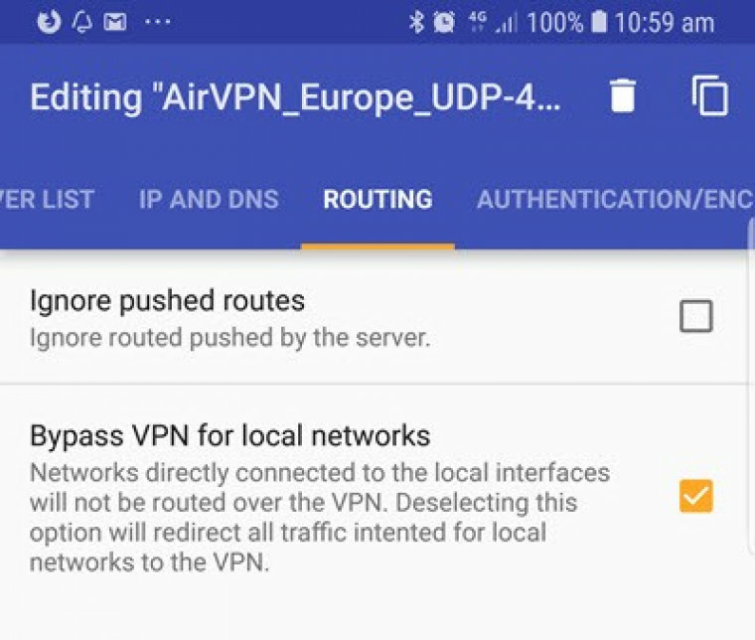 Above we can see the settings in OpenVPN for Android edit VPN connection -> Routing.
Which Popcorn Time should I use?
Popcorn Time is an open source software that has been abandoned by its original creator. Various developers have since picked up the ball and run with it, creating their versions (known as "forks") of it.
Unfortunately, some forks are deliberately malicious and will install malware on your system. Others simply demand that you pay for what should be free software. Please be aware that reputable Popcorn Time forks do not cost anything. If you find one that does, run away from it very fast!
As of January 2020, the only Popcorn Time forks that we recommend are listed below, and you should only download the apps directly from their official websites. As always with open source software, you really should also check their hashes and/or digital signatures.
Note that different Popcorn Time forks source their libraries from different torrent sites, so available titles may vary a little depending on which version you use.
It is also worth noting that the forks listed below have undergone various name changes during their often tumultuous histories. For ease of understanding, we simply refer to them by their current names.
It is worth noting that there is a fair amount of animosity between these forks, which includes unfounded accusations against each other.
Popcorn Time.sh claims to be the most "official" version of Popcorn Time, although what that means with free and open source software remains open to question. It was, however, endorsed by Federico Abad (aka "Sebastian," - Popcorn Time's original developer).
PT.sh promotes use of its partner VPN.ht service. Please check our full VPN.ht Review. It is not terrible, but the tl:dr version is that we recommend using a third-party VPN service instead.
PT.sh is available for Windows, macOS, Linux (tarball), Android, and Android TV (5.0+). The default catalog is enormous and up-to-date. Steaming via Chromecast, Airplay, and DLNA is also supported and works without issue in our tests.
This time last year it was called Popcorn Time.to, now its called Popcorn Time.is. Though, it still features the slogan: "this Popcorn Time service will never be taken down." Along with PT.sh, it been around almost since the beginning, and many features now considered standard in Popcorn Time were pioneered by this fork.
As with PT.sh, PT.is has teamed up with a VPN service - in this case Anonymous VPN. There are a few annoyances with this (more than with PT.sh), but they are easily ignored in favor of using a better third-party option (such as the VPNs listed in this article).
Popcorn Time.io is available for Windows, macOS Linux, and Android (4.0+). There is even an iOS version, although this requires jailbreaking your device and installing Cydia to run.
Most content is available in both 720p and 1080p resolutions. In our subjective experience, PT.is has a better library than PT.sh, especially when it comes to TV shows.
FAQs