DO NOT USE PUTLOCKER WITHOUT A VPN
The original PutLocker site no longer exists. There are many dangerous and malicious sites using the name. If you are attempting to access PutLocker sites it is vital that you use a VPN. Keep reading to find out more.
If you use a PutLocker site to watch movies or TV shows for free, then you need to use a VPN to protect yourself. In many places, you will need a VPN to even access a Putlocker site, as Putlocker domains are among the most widely blocked in the world.
Once on a Putlocker site, you need to think carefully about why it exists. After all, Putlocker sites cost time and money to maintain. And one as a number-one enemy of powerful copyright bodies worldwide, the people who run these sites are at considerable risk of criminal prosecution. Yet they offer their content for free...
The best VPN for PutLocker
Unblock PutLocker with one of the VPN services listed below:
Best VPNs for PutLocker: Detailed comparison
What is Putlocker?
Putlocker was a website, originally based in the UK, which illegally offered visitors a large catalog of TV shows and movie titles that they could watch for free. It got considerable notoriety for receiving 1.6 million customers a day after Megaupload was shut down for copyright infringement in 2013.
At its height in early 2016, Putlocker was listed among the top 250 websites globally, and among the top 150 in the United States. Almost certainly thanks to action by the MPAA, however, as of October 2016 the original Putlocker no longer exists.
But in its place, there has arisen a multitude of websites that purport to offer a similar service, using the "Putlocker" name as a brand to identify themselves in both their title and domain.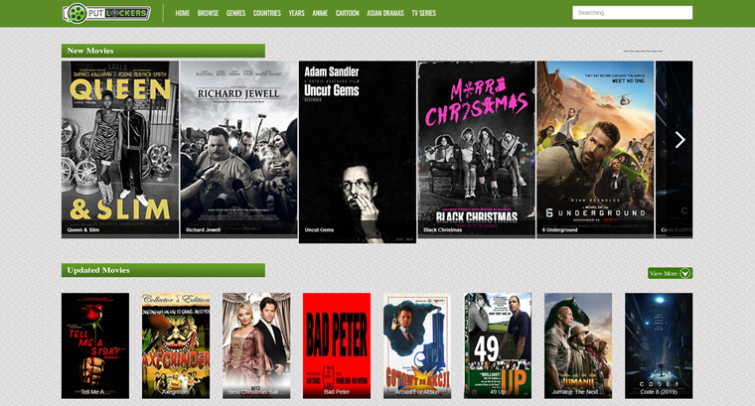 Putlocker sites are notable for the fact that they allow you to stream content directly inside your browser window, with no need to download the content itself or any special software to view it. Most Putlocker sites that actually work are free to use and very few require you to sign up for any kind of account. Of course, some things are simply too good to be true.
Are Putlocker sites safe?
When researching this article, we found that at least half the Putlocker websites we visited simply did not work, and in many cases were actively malicious.
A common tactic is to redirect you after you click on a video, scaremongering you with false alert pages that tell you your Windows installation is broken and that you should download a special repair tool to fix it. Needless to say, this download will be filled with malware and you should run away from such sites very quickly indeed!
Many sites also opened links to porn videos, dubious ads, or other "scammy" content, either in new tabs when first opened or as redirects when video content is clicked on. Much of this content is clearly not safe and some of it is can be highly illegal! Given that your internet service provider (ISP) likely keeps logs on your browser habits and what websites you visit, this is very worrying.
That said, there are Putlocker websites out there that appear to be genuine, and which do indeed serve up free video content to visitors with minimal fuss. These might be on the level, or they might be doing sneaky stuff that is less easy to detect.
As we noted in the intro this article, there is every reason to mistrust websites whose motive for existing is unclear. At the very least, it is probably safe to assume they log your IP address, tie this to your viewing habits, and then sell this information to advertisers in order to pay for the upkeep of the site.
No HTTPS
Another big issue we encountered during our research is that not a single Putlocker website we visited protects its users with HTTPS. This means that your ISP can see everything you do on the website: not just that you visited a Putlocker website, but also the actual content you watched while there!
Most ISPs are happy to work hand-in-glove with content owners to identify and punish copyright infringers. And in the United States, ISPs are now legally allowed to sell your browsing history to business partners, who can include legal firms known as "copyright trolls." These make a living from threatening infringers with court action if they don't agree to a making a cash settlement.
How a VPN can help protect you when using Putlocker
If you are not familiar with what a VPN is or how they work, please check out our Beginner's Guide to VPNs. If you're visiting a Putlocker site, then you should use a VPN because:
1. A VPN hides your real IP address from the Putlocker website
The VPN server acts as a proxy, meaning that websites you visit only see the internet address (IP) address of the VPN server. Not your real unique IP address which can be used to identify you and track you as you surf the web.
The same is true of any advertising scripts used by the website, and any "partner" websites that also open when you visit the Putlocker site's URL.
2. A VPN hides what you get up to from your ISP
A VPN prevents your ISP from seeing which websites you visit, again because the VPN server acts as a proxy. All your ISP can see is that you have connected to the VPN server.
In addition to this, the connection between the VPN server and your device is encrypted by the VPN, so your ISP cannot see the contents of your data. For example, video content.
A VPN will unblock Putlocker sites
In addition to protecting you when visiting a Putlocker website, a VPN will allow you to visit them in the first place! Putlocker domains are widely blocked by ISPs all over the world, but you can easily access them by connecting to a VPN server located somewhere that does not censor them.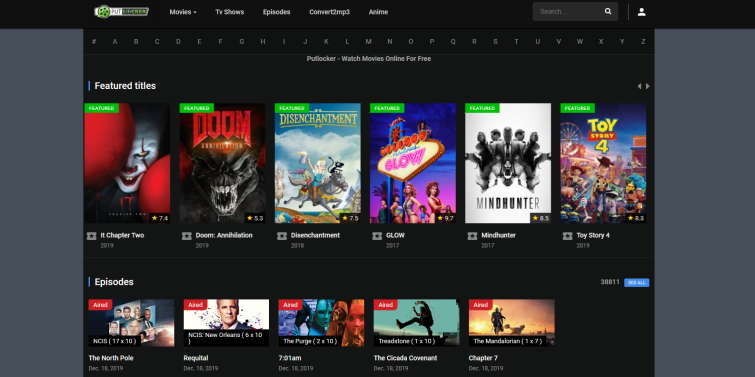 Is watching Putlocker illegal?
In most jurisdictions, simply watching copyrighted material is not a criminal act. Indeed, even downloading copyrighted content is rarely seen as a criminal act, but it does make those caught doing it liable to civil action from the copyright holders - which can result in very large fines.
It is sometimes argued that those caught streaming content are safe from such prosecutions because no content is actually downloaded.
Unfortunately, this simply isn't true. In order to provide a smooth streaming experience, web-based media players of the kind used by every Putlocker site will always cache content locally on your device. This means that you have, in fact, downloaded copyrighted material to your device.
Can I use a free VPN for Putlocker?
As a Putlocker user, you are undoubtedly a big fan of everyone's favorite price: free. We get it, and some decent free VPNs do exist these days. Most free VPNs, however, understandably offer very limited bandwidth or have strict data limits. Even the better ones.
Neither of which are ideal for streaming high-quality video content without buffering issues or burning through your data allowance. Fortunately, there are some excellent cheap VPNs out there that offer fully-featured and limit-free VPN services for very little financial outlay.