We've been reviewing VPNs since 2013, and if you want to torrent with a VPN, you need to be careful which one you pick. A bad VPN might drop your connection and your IP address will get exposed!
In short, we suggest you look at only two VPNs:
- NordVPN - where you can currently get 75% off , which works out to $2.99 a month, and they have the best product.
- CyberGhost - even cheaper, at $2.75 at the lowest price
For more details on our research, keep reading.
Watch Game of Thrones outside of the USA

With the right VPN, you can stream the Game of Thrones Finale outside of the US. GoT is also showing on several other streaming services around the world, so, take a look at our "where to watch Game of Thrones guide" for a list of services broadcasting the new season.
What makes the best VPNs for torrenting?
When recommending a torrent-friendly VPN, we look at a number of factors. All the VPNs recommended by ProPrivacy.com meet the following requirements:
A Ranking of the Best
With the above criteria in mind, you can find the best VPN for your torrenting needs below:
| | | | |
| --- | --- | --- | --- |
| 1. | From $2.99 / month | ProPrivacy.com Score 10 out of 10 | Visit Site |
| 2. | From $2.75 / month | ProPrivacy.com Score 9.8 out of 10 | Visit Site |
| 3. | From $1.89 / month | ProPrivacy.com Score 9.4 out of 10 | Visit Site |
| 4. | From $6.67 / month | ProPrivacy.com Score 9.3 out of 10 | Visit Site |
| 5. | From $1.33 / month | ProPrivacy.com Score 9.1 out of 10 | Visit Site |
For those wanting to really get into the detail of why we recommend these providers, here is our in-depth analysis of the very best VPNs the market has to offer for torrenting safely, securely and speedily:
NordVPN is a popular high-quality VPN provider. It offers fast servers in 62 countries and a strong focus on privacy. NordVPN offers six simultaneous connections, which means that everyone in the family can use the VPN without interrupting downloads. As well as permitting torrenting, NordVPN works with all major streaming services; Netflix, iPlayer, Hulu and Amazon instant video. Nord features clients for all major platforms, and the easy-to-use software looks great and works well. A 30-day money-back guarantee gives you plenty of time to change your mind.



Likes
No logs
P2P: Yes
Based in Panama (great for privacy!)
Six simultaneous connections
Great customer service
Servers in 62 countries
Dislikes
No port forwarding
Two Mac clients is confusing and the new one lacks features
No Linux client
CyberGhost offers great value for money. Despite its low price point, it boasts all the features you would expect from a premium VPN service. There are no bandwidth limits (a must for torrenting), 7 simultaneous connections, strong encryption and a watertight privacy policy making this a robust VPN package. It has global coverage with decent local speeds and is fast enough for streaming. The Cyberghost team are major supporters of uncensored internet culture and prove 24/7 customer care. Check out their 45-day money back guarantee today.
Likes
P2P: Yes
5 simultaneous devices
No logs
Based in Romania, which has no government surveillance
Cheap
PrivateVPN is a Swedish provider which is particularly ideal for those torrenting on Windows machine. It features both a firewall-based system killswitch and application-level killswitch, which is great for those who leave torrents downloading overnight. IPv4 and IPv6 DNS leak protection are also built-in to its client.

PrivateVPN offers a high level of customer service and servers in 50 countries, as well as fast streaming speeds. You can test this service for a month thanks to its 30-day money back guarantee. This VPN is the perfect option for serious torrenters.
Likes
P2P: Yes
Port forwarding
Helpful customer service
30-day money-back guarantee
Comprehensive IP leak protection
6 simultaneous connections
Dislikes
Still new
No stealth technology for torrenting out of China
ExpressVPN is a super fast provider with a strong focus on privacy, which is crucial for torrenting. ExpressVPN consistently ranks as one of the fastest VPN providers in our official BestVPN Speed Test, if time is of the essence, this is the VPN service for you. It offers 24/7 live chat support, three simultaneous connections and works across all platforms. Robust encryption and no usage log ensures your data is safe. You can test it out risk-free for a month thanks to a 30-day money back guarantee.
Likes
30-day money-back guarantee
No logs
P2P: Yes
Servers in 94 countries
Stealth" servers
Dislikes
No port forwarding
A bit pricey - but worth it!
3 simultaneous connections - could be more generous
Ivacy is an impressive VPN service which performs well across all our key critera - privacy, speed, unblocking content and value. They are currently offering some of the cheapest subscription deals on the market. Despite this the service keeps no logs and offers super-fast streaming speeds

This value VPN offers no logs, servers in over 50 countries, access to services like Netflix and iPlayer and 24/7 customer care and this VPN has a killswitch. Based in Singapore this up and coming VPN also 30-day money back guarantee.



Likes
30-day refund plus 7-day free trial
Split tunneling (not Mac)
P2P allowed
No logs
Blazing fast speed performance
Dislikes
Support wobbles on very technical questions
What is a VPN?
A Virtual Private Network (VPN) connects your device(s) to a server run by a VPN provider using an encrypted connection. Most VPN providers run servers in various locations around the world. This simple setup provides a wealth of privacy and security advantages for torrenters.

The VPN server acts as a proxy. It sits between your computer and the internet so that anyone watching your internet activity sees the internet (IP) address of the VPN server instead of your real IP address. So, when you torrent a VPN stops anyone from seeing what you download.
To find out more please check out our What is a VPN? – a beginner's guide.
Why do I need a VPN for torrenting?
With the right VPN for torrenting, you can anonymously torrent shows like Game of Thrones season 8. Torrenting is also known as "file sharing" and "P2P" (peer-to-peer). Unlike the traditional client/server model, where you download files from a centralized server, torrenters share files among with other users (who are known as peers).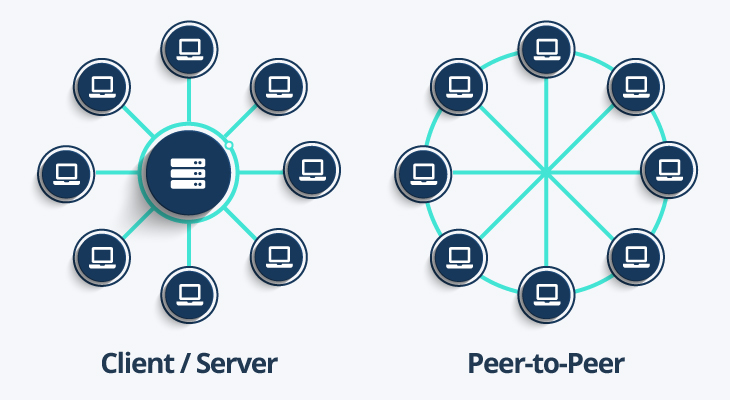 This means that when we talk about a torrenter "downloading" a file, this description is rather inaccurate. What they are actually doing is sharing small pieces of a file with other torrenters who are also sharing the same file. Once all the pieces have been collected, they are assembled into the complete file.
It is this decentralized setup which has led to the success of the BitTorrent protocol, but it does have a big downside sharing files with other torrent users is not at all private.
In order to "download" files, your torrent client needs to be able to connect to others who are also downloading (sharing) the same files. Whether as regular peers or seeders. To do this, it needs to know their IP addresses.
This means that anyone "downloading" the same file as you can see your IP address, and thus can easily find out who you are. Copyright holders regularly monitor who downloads their files…
Using a VPN for torrenting will keep you safe. This is because:
A VPN encrypts all your internet traffic: As it travels between your device and the internet. This prevents your ISP from seeing what you are downloading (or even that you are downloading!).
The VPN server acts as a proxy: Preventing peers from seeing your real IP address, and your ISP from seeing that you are visiting torrent websites. All either side sees is the IP of the VPN server.
This picture is further muddied by the use of shared IPs, which makes it very hard (although not impossible) to identify individual torrenters that have used that VPN IP.

And as a handy side-benefit, if your ISP can't see which websites you are visiting then it can't block you from visiting them.
Torrenting Definitions
If you need help to understand any of the terminology used on this page, we explore it in detail below:
Peer: Other torrent users who are sharing ("downloading") the same file as you.
Swarm: All the peers sharing a single torrent are called a swarm. This includes both ordinary peers and seeders.
Seed: When you have finished downloading a torrent but remain a peer in order upload it only, you are seeder. It is good netiquette to seed to at least a ratio of 1:1 before exiting a torrent as a peer. That is, upload as much data as you download.
Leech: Strictly speaking, to leech is simply to download as part of the normal file-sharing process. The term is often used, however, to refer to people who have a poor seed ratio (they download much more data than they upload) and who therefore take from the system without giving anything back in return. It is not a complimentary term.
Index: This is a list of .torrent files and magnet links, usually hosted on a "torrent website." Index websites may or may not also be trackers.
Tracker: These are special servers that assist in the peer-to-peer file-sharing process. They keep track of which seeds and peers are in a swarm, where file copies reside on peer machines, and generally help to co-ordinate peer transmission and assembly of torrents. Trackers are not required for the BitTorrent protocol to work, but do make the entire P2P network more efficient and therefore faster for users.
Client: This is the software used to download, manage, and seed torrents.
Magnet Links: An alternative to downloading .torrent files, magnet links provide all the information needed to identify and locate torrents via a cryptographic hash. The main advantage of this is that there is no longer any need to store .torrent files on servers.
Setting up and using a VPN for torrenting
If you can install and run a torrent client, then using a VPN app is a doddle. If you are not sure about how to set up a VPN to torrent, please see our guides for Windows, macOS, and Android (Apple does not allow torrent apps in the App Store).
Do be sure, however, that your VPN client has a kill switch, and that it is enabled (they often aren't by default). This will prevent your IP from being exposed to the world if the VPN connection drops.
Alternatively, our favorite torrent client, qBitTorrent, includes a feature called "bind to VPN interface" which prevents torrents from being downloaded unless the VPN is up and running.
For more information about using a VPN with any of the devices above, see these guides:
Using a torrent client with a VPN
If you've played with torrents before you'll know it's a hobby that requires a degree of patience. Large files can take hours, days or even weeks to download. If your VPN connection drops for even a moment during the download, your IP address could be exposed, revealing your true identity. If you're serious about protecting yourself when torrenting, the most important feature to look out for is a 'kill switch'. A kill switch is part of your VPN's software that, when enabled, will make sure your IP address isn't exposed by instantly killing your connection if your VPN connection fails.
The providers above all include kill switches, but if you're using a VPN that doesn't have its own built-in switch, there are other options.
Our favorite torrent client, qBittorrent, actually includes its own kill switch functionality. The software monitors your VPN network connection and blocks all file transfers, both up and down, if the network connection changes.
Testing your torrent VPN
While connected to your VPN service:
Visit IPLeak.net. If you cannot see your real IP address or one belonging to your ISP, then you are protected. It should also be noted that just for torrenting you do not need to worry about WebRTC leaks, as these affect browsers only. You don't really need to do anything else, but if you are a paranoid android then you can specifically test whether your BitTorrent client is leaking your real IP address. To do this:
Visit IPMagnet and click on the Magnet link to open the tracker torrent in your BitTorrent client. After a few seconds, you should see the IP address your download appears to come from. Again, as long as none of the IPs displayed belong to either you or your ISP, then you are good.

If you want, you can just leave the tracking torrent active in your client in order to check that your real IP address is hidden. Simply select the torrent then go to Trackers -> Message to see your apparent IP address.

The dangers of torrenting without a VPN
Torrenting, per se, is illegal nowhere but torrenting copyrighted content usually is. It should be noted, though, that copyright infringement is almost always a civil offense, rather than a criminal one. Although this is changing somewhat.
Even though piracy is not usually a crime, you can still get into a lot of trouble if caught. In places such as France and the USA, ISPs may impose punitive measures. More common, however, is civil action taken by copyright holders or their representatives. This can be expensive.
Indeed, these "representatives" have created a whole cottage industry from this. "Speculative invoicing" performed by dubious legal firms often called "copyright trolls" has become something of a plague, which takes a scattergun approach that often targets innocent victims.
For this reason, their threats can often be ignored, but the danger of a ruinously expensive civil case being brought against you remains real. At the very least, receiving a letter from one of these legal firms is likely to be very stressful.
This is why using a VPN for torrenting is so important: as long as you use a VPN that allows torrenting and you deploy a kill switch, the chances of getting caught are virtually zero.
Downloading torrents in the UK
The UK has always enjoyed the dubious distinction of being at the forefront of the battle against copyright piracy. Indeed – it censors more websites than any other country in the so-called "free world." And most of the sites blocked are on copyright grounds.
The "Big 5" UK ISPs (BT, EE, Sky Broadband, Talk Talk and Virgin Media) all block every major torrent site in accordance with Section 97A of the Copyright, Designs and Patents Act. This includes The Pirate bay, Kickass, and 1337x.
It is possible to use proxy URLs and mirror websites to bypass these blocks, but many of these methods contain malware or inject unwelcome ads into your browser window. It is therefore much safer to use a VPN to access the proper official websites directly.
A VPN therefore not only protects you when downloading, but it allows you to access torrents safely in the first place.
Copyright laws and torrenting around the world
Fastest VPN for torrenting
Please check out our Daily VPN Speed Test results to see our continually updated speed test results. The chart below shows results for the five fastest VPN services on the market:
VPN torrent expected speeds
Using a VPN will slow down your internet (and therefore download speeds). This slowdown, however, is often minimal enough that most people will hardly notice it. If you are experiencing speed issues when using a VPN, the following tips can help:
Use a VPN server close to you: As a very good rule of the thumb, the nearer a VPN server is, the faster your connection will be. Many VPN providers only allow torrenting on certain servers (typically located in places with a more relaxed attitude to copyright infringement), to connect to the nearest location where torrenting is allowed by your VPN. Most VPNs, for example, allow torrenting on Netherlands servers. So the Netherlands is a great location for UK or European torrenters to connect to!
Pay attention to server load: If a server is overloaded with too many VPN connections then its hardware will struggle to process the connections, and its bandwidth will all be used up. You can therefore vastly improve VPN performance by connecting to servers that are not overloaded (i.e. fewer people are using them and/or which have greater resources such as processing power, memory, and bandwidth).

Not all VPN providers do it, but many provide server load statics, either in their custom clients or on their website in order to help customers choose a server which not overloaded. The details vary by provider, but servers with plenty of resources to spare are usually clearly marked in green.

Use a different VPN protocol when torrenting: OpenVPN is arguably the most secure VPN protocol, but it is also the slowest. The new IKEv2 protocol is not as battle-tested as OpenVPN, but it is much faster. L2TP/IPSec is secure enough for most purposes and is also faster than OpenVPN. PPTP is not at all secure, but is very fast and is probably secure enough to prevent your ISP from seeing that you are torrenting.
Can a VPN improve speed performance?
Yes, it can! We've mentioned a few times that VPNs will always have a negative impact on your speeds. So how can a VPN improve speed? Well, all ISPs have some form of traffic management policy. Internet service providers use traffic management or "traffic shaping" to protect the integrity of their network. If you ever find that your speeds (downloads or uploads) are throttled after periods of heavy use… that's your ISP shaping your traffic. Even if you pay for "unlimited broadband", your provider will monitor how you use the internet and curb your speeds accordingly.
Torrenting is a particular "no no" for ISPs. Not only is it usually conducted for unlawful purposes it is a huge drain on resources, with torrenters downloading gigabytes or even terabytes per day. If your ISP detects torrenting activity, you may well find your speeds severely throttled.
However, VPN encryption prevents this - because what an ISP cannot see, it cannot throttle!
Best VPN protocols for torrenting
PPTP
PPTP is a VPN protocol only and relies on various authentication methods to provide security. Among commercial VPN providers, this is almost invariably MS-CHAP v2. The encryption protocol (similar to a standard cipher) used by PPTP is Microsoft Point-to-Point Encryption (MPPE).
Point-to-Point Tunneling Protocol (PPTP) was developed by a consortium founded by Microsoft for creating VPN over dial-up networks. As such, PPTP has long been the standard protocol for corporate VPN networks.
PPTP is available as standard on just about every VPN-capable platform and device. It is easy to set up, without the need to install additional software. This ensures that PPTP remains a popular choice both for business VPNs and commercial VPN services.
It also has the advantage of requiring a low computational overhead to implement… so it's quick!
L2TP/IPsec
Layer 2 Tunneling Protocol (L2TP) is built into almost all modern operating systems and VPN-capable devices. It is therefore just as easy and quick to set up as PPTP.
On its own, L2TP does not provide any encryption or confidentiality to traffic that passes through it, so it is usually implemented with the IPsec authentication suite (L2TP/IPsec). Even if a provider only refers to either L2TP or IPsec (as some do), it almost certainly actually means L2TP/IPSec.
L2TP/IPsec can use either the 3DES or AES ciphers. 3DES is vulnerable to Meet-in-the-middle and Sweet32 collision attacks, so in practice, you are unlikely to encounter it these days.
IKEv2
Strictly speaking, IKEv2 is a tunneling protocol only. It only becomes a VPN protocol when paired with an authentication suite such as IPSec. This could best be described as IKEv2/IPsec… but never is.
Dubbed VPN Connect by Microsoft, IKEv2 is particularly good at automatically re-establishing a VPN connection when users temporarily lose their internet connections. For example when entering or leaving a train tunnel.
Because of its support for the Mobility and Multihoming (MOBIKE) protocol, IKEv2 is also highly resilient to changing networks. This makes IKEv2 a great choice for cell phone users who regularly switch between home WiFi and mobile connections, or who regularly move between hotspots.
IKEv2 is not as common as L2TP/IPSec, as it is supported on many fewer platforms. It is, however, considered at least as good as, if not superior to, L2TP/IPsec in terms of security, performance (speed), stability and the ability to establish (and re-establish) a connection.
OpenVPN
OpenVPN is a highly configurable protocol and is the one we recommend for the vast majority of users.
OpenVPN is an open source technology that uses the OpenSSL library and TLS protocols, along with an amalgam of other technologies, to provide a strong and reliable VPN solution. It is now the industry standard VPN protocol used by commercial VPN services - for good reason.
One of OpenVPN's major strengths is that it is highly configurable. It is natively supported by no platform, but is available on most platforms via third party software. Custom OpenVPN clients and apps are often available from individual VPN providers, but the core open source code is developed by the OpenVPN project.
For more information on any of the protocols above, check out our VPN Protocols guide.
The best legal torrent sites
If you want to download free movies, games or documents from torrent websites without infringing on anyone's copyright, there are many legal ways to do so.
Unfortunately, most popular torrent websites don't provide the opportunity to download legally shared content (or at least don't provide any data on this).
However, with a little persistence, you can find websites that let you download freely, without legal restrictions.
What are Legal Torrents?
The BitTorrent protocol can be used to transfer just about any kind of file. Despite its notoriety for providing access to "illegal" copyrighted content, it is equally good for distributing copyright-free legal content.
How to Find Legal Torrents
There are numerous sites that only index legal torrent files. We've rounded up some of the best here:
Public Domain Torrents. This website hosts old movies and TV shows which are no longer in the public domain thanks to their copyright expiring.
Linux Tracker. Linux distros are often made available as torrents because BitTorrent is a very efficient way to distribute files. It also has the advantage in an open source non-profit ecosystem of need requiring expensive centralized ever storage space.
SXSW Torrents. South by Southwest (SXSW) is a famous film, interactive, and music festival that take place every year in Austin, Texas. The official website hosts torrent files of many of the acts and events from each year, free for everyone to enjoy.
Internet Archive. The Internet Archive is a non-profit website, "founded to build an Internet library. Its purposes include offering permanent access for researchers, historians, scholars, people with disabilities, and the general public to historical collections that exist in digital format."
Other excellent legal torrent sites include:
Best VPN for Torrenting: Price Comparison
If you're looking for a cheap VPN for torrenting, you can use the table below to easily compare prices:
| | | | |
| --- | --- | --- | --- |
| 1. | From $2.99 / month | ProPrivacy.com Score 10 out of 10 | Visit Site |
| 2. | From $2.75 / month | ProPrivacy.com Score 9.8 out of 10 | Visit Site |
| 3. | From $1.89 / month | ProPrivacy.com Score 9.4 out of 10 | Visit Site |
| 4. | From $6.67 / month | ProPrivacy.com Score 9.3 out of 10 | Visit Site |
| 5. | From $1.33 / month | ProPrivacy.com Score 9.1 out of 10 | Visit Site |