If you torrent, then you need to use a Virtual Private Network (VPN) to protect yourself. This is because the nature of P2P file sharing leaves your IP address exposed for all to see. This guide explains how VPNs protect your identity when downloading torrents and why it is so important.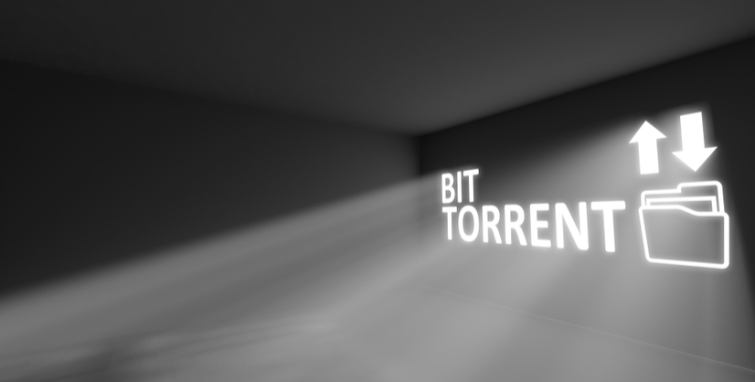 Copyright holders routinely monitor torrent downloads to catch those who file share their intellectual property such as software, movies and tv shows without permission. Depending on where you are, they may then alert the police, notify your internet provider (ISP) who may then sanction or sue you. Using a VPN protects you against this, mainly by hiding your unique internet address from anyone watching the files you download.
What are the Best VPN for Torrents?
The list below is a quick look at our favourite VPNs to use when downloading torrents. For more information on why these providers made the list, or to compare them in more detail, keep scrolling.
For more details on our research, keep reading.
What makes the best VPNs for torrenting?
Not all VPNs are created equal. Most importantly, not all VPNs allow torrenting using their service.
Software featuring a good kill switch is particularity important to torrenters, who often leave their computers downloading torrents unattended for hours at a time! A kill switch ensures that your internet connections cuts off if the VPN fails in any way.
Below we take a detailed look at five services we think make the best VPNs for P2P.
The best VPNs for torrenting
NordVPN is a no logs VPN service based in Panama. Because it keeps no logs it is unable to identify torrent users to copyright holders, even if it wanted to or was somehow forced to.

Which is unlikely. Panama takes fairly blasé attitude to copyright piracy, putting NordVPN users safely out of the reach of legal action from US and other rights holders. Torrenting is permitted on all servers, although NordVPN offers speciality P2P servers which are optimized for the task.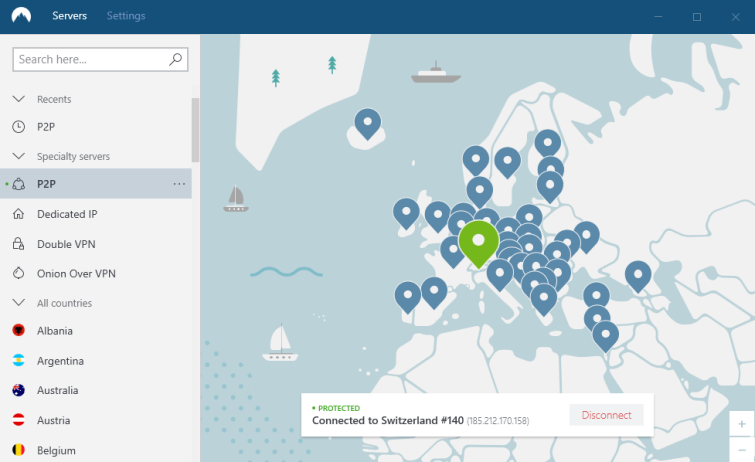 NordVPN is also notable for the fact that its Windows and Mac apps feature both a system kill switch and a per-app kill switch. This means you can have double-protection against VPN dropouts on your BitTorrent client (not that you should need it), or can opt to only protect your torrent client. It's up to you!

NordVPN's speed performance continues to lag a little behind some of its competitors, but this is unlikely to have any noticeable impact on P2P performance.

In more general terms, being based in Panama places NordVPN outside the direct influence of the NSA and its Five Eyes mass surveillance partners. It offers servers in over 60 countries and is one of the few VPN services that continues to reliably unblock popular streaming services such as Hulu, Netflix, iPlayer - and many more.

NordVPN allows up to six devices to connect at once, has a slick user interface, clients for all platforms, and implements strong encryption on all clients by default. It also offers a lot of high-end privacy features such as VPN over Tor, double-hop encryption, and XOR obfuscated servers.

Key P2P Features: NO LOGS | SYSTEM KILL SWITCH | PER APP KILL SWITCH
Likes
P2P allowed on all servers
No logs
Based in Panama so resistant to copyright pressure
Both system and per-app kill switches
Servers in 62 countries
Dislikes
No port forwarding
Two Mac clients is confusing and the new one lacks features
This Romanian VPN service combines ultra-low pricing with a fully-featured and privacy-friendly VPN service. Unlike most European countries, Romania has no mandatory data retention laws, a situation CyberGhost takes full advantage of by keeping no logs which might compromise its users' privacy.

CyberGhost permits torrenting on many of its servers, although not in the United States or Canada due to their very hostile copyright environments. North Americans can still P2P download using European servers, however. CyberGhost provides a special list of P2P-optimiszed servers.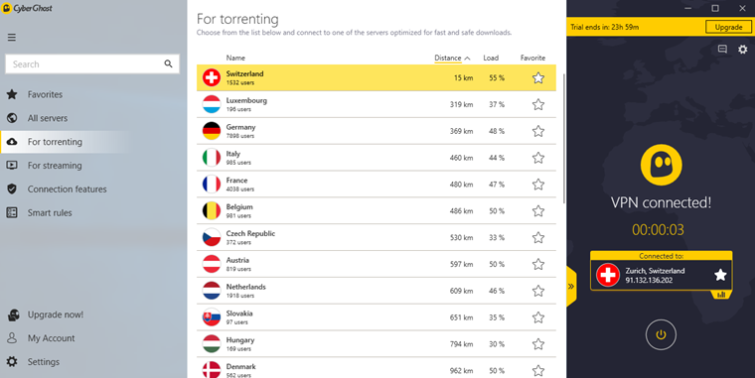 A feature that may be of particular interest to torrenters is "App Protection," which allows you to specify that only certain apps are protected by the VPN. Such as your BitTorrent app! This is also known as split-tunneling.

Torrenters will also appreciate kill switches baked into (and enabled by default!) both CyberGhost's Windows and macOS apps.

CyberGhost runs servers in 55 countries around the world, and is notable for allowing a whopping 7 simultaneous connections. This is generous, and makes the service perfect for larger families with multiple devices in their home.

Customer service is available 24/7 via both email and live chat, which is available on its website in English, French, and German. And with an industry-beating 45-day money back guarantee, torrenters can get a lot of downloading done before committing to the service!

Key P2P Features: NO LOGS | KILL SWITCH | SPLIT TUNNELING
Likes
No logs
Based in Romania, so no mandatory data retention
P2P allowed on most servers
Kill switches
Split tunneling
45-day money back guarantee
PrivateVPN is a zero-logs Swedish provider with 80+ servers in 52 countries around the world. Torrenting is allowed on all PrivateVPN servers, although servers listed "dedicated IP/Torrenting" provide superior P2P performance.

Of particular interest to torrenters is that PrivateVPN supports forwarding through its NAT firewall. We discuss this feature at greater length later in this article, but the tl:dr version is that it can greatly improve torrent download speeds.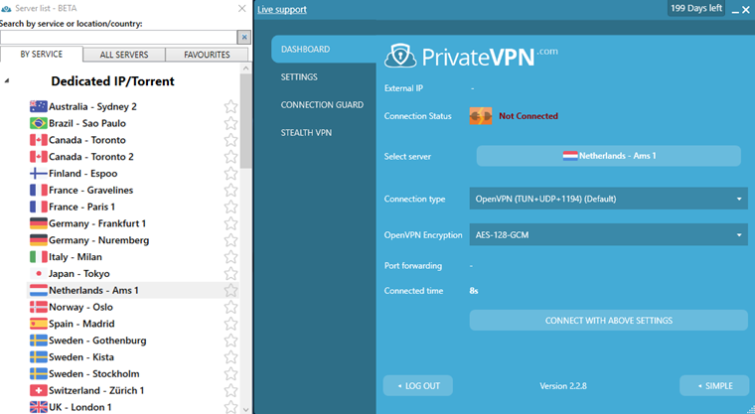 Sweden is also a good location for a torrent VPN to be located. Although the country at large suffers from some government surveillance issues, VPN providers in Sweden are not required by law to keep any logs. Which is great for torrenters.

Windows P2P users will appreciate both a system kill switch and per-app kill switch, perfect for protecting just your torrent sessions. Sadly, the macOS client doesn't have a kill switch built in, although Mac users can always use the Tunnelblick client instead. Which does.

HTTPS SOCKS5 proxies are a nice bonus, as they allow you to secure just your torrent sessons (much like split tunneling does).

PrivateVPN allows users to connect up to six devices at once, operates servers in 56 countries, uses strong OpenVPN encryption settings, handles all DNS requests via its own servers, and offers a "stealth VPN" mode to overcome censorship. But what really impresses us is official support for local versions Netflix in a whopping 17 countries!

PrivateVPN's high level of customer service is also impressive, which even offers remote installation for technophobes! With a 30-day no-quibble money back guarantee there is little reason not to give this service a try.

Key P2P Features: NO LOGS | PORT FORWARDING | HTTPS SOCKS5 PROXIES
Likes
Port forwarding
No logs
P2P allowed on all servers, plus dedicated P2P servers
System and per-app kill switch in Windows
Servers in 80+ countries
Dislikes
No kill switch in macOS client
ExpressVPN pioneered many of the features that have now become standard for tier 1 VPN services. These include keeping no logs which compromise users' privacy, offering a 30-day money back guarantee, and providing24/7 live chat support using operators who actually know what they are doing.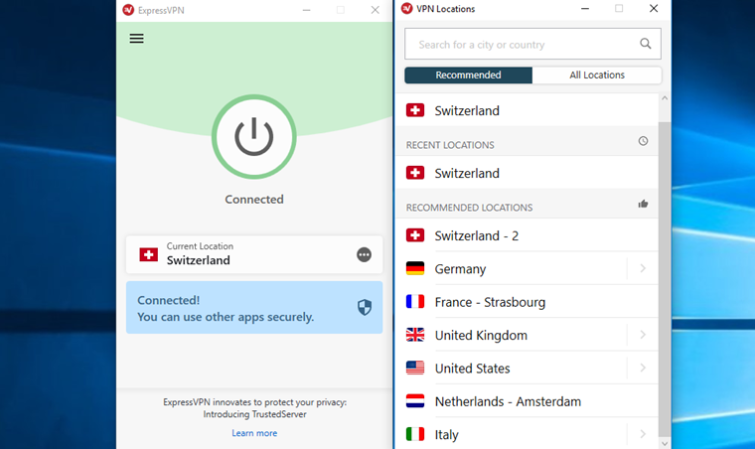 P2P is permitted on all servers, although ExpressVPN understandably prefers to maintain a low profile about this. Both the Windows and macOS client feature good kill switches. Torrenters will also appreciate the fact that ExpressVPN is a very fast service, and its top-notch encryption will please everyone.

It may not be as useful to those of us who torrent as it is to other VPN users, but the full smart DNS service which ExpressVPN throws in with all VPN subscriptions effectively doubles the value of this service. Similarly, the fact that ExpressVPN flawlessly unblocks streaming services such as US Netflix and BBC iPlayer will be appreciated by most.

Key P2P Features: NO LOGS | KILL SWITCH
Likes
P2P allowed on all servers
No logs
Fast
Kill switch in Windows and macOS
Servers in 94 countries
Smart DNS service
Dislikes
No port forwarding
3 simultaneous connections - could be more generous
Although it has been around for ages, this recently rejuvenated Singapore-based VPN service has raised eyebrows by offering an impressively fully-featured VPN service that permits torrenting on all servers.

Unlike many VPN services, Ivacy does not use a NAT firewall by default, making port forwarding unnecessary for torrenters. Alternatively, it is possible to purchase NAT firewall protection as a bolt-on extra, which automatically comes with port forwarding included.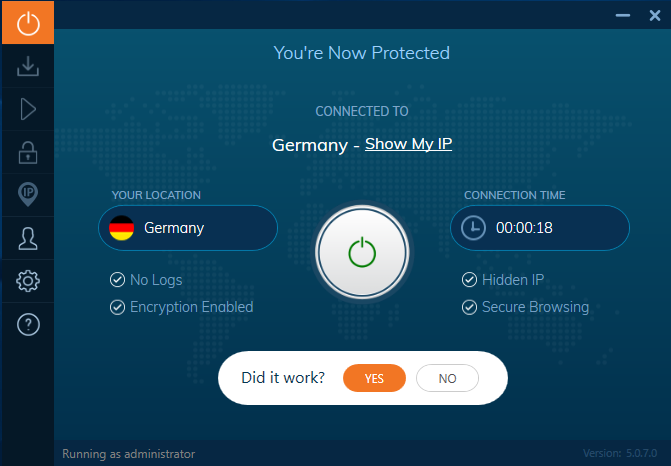 So either way, torrents will download at full speed when using Ivacy. And given Ivacy's low initial buy-in cost, we appreciate the flexibility this approach provides. The Windows client (and Android app) features a kill switch, but sadly the macOS one does not.

Also of interest to Windows (but, again. not Mac) torrenters is Ivacy's split tunneling feature that lets you choose which programs use the VPN tunnel (for example just your BitTorrent client), and to exclude the rest.

Singapore suffers from a repressive political atmosphere, but ISPs (and presumably VPN providers also) are not legally required to log users' internet activity. And so Ivacy doesn't. Which is great news for torrenters, as it would be unable to identify them to copyright holders even in the unlikely event that it wanted to.

In other news, Ivacy is a very fast service with servers in over 50 countries. It uses strong encryption and offers highly robust technical security.

Key P2P Features: NO LOGS | NO NAT FIREWALL / OR PORT FORWARDING | SPLIT TUNNELING (WINDOWS)
Likes
P2P allowed on all servers
No logs
No NAT firewall (optional NAT firewall w/port forwarding)
Very fast
Servers in 94 countries
Canada-based Windscribe proves that not all free VPN services are rubbish. It's a rare free torrent VPN at all, but the 10GB monthly data allowance is generous enough to actually be useful for downloading stuff.

Thanks largely to its membership in the Five Eyes spying alliance, being based Canada does introduce some privacy concerns. Windscribe nevertheless has a very good privacy policy, where logs are deleted three minutes after a session ends.

Although arguably something of an edge-case, we think this poses such a minimal threat to users' privacy that we are comfortable describing the service as a "no logs VPN."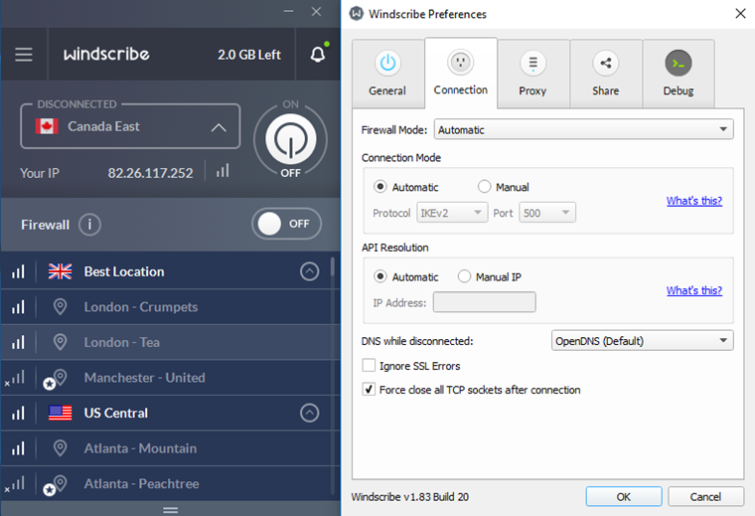 Windscribe offers SOCKS5 proxies for per-app protection, but itself reports that these are currently blocked by most popular torrent trackers and there is little it can do about it. Although only available using the paid VPN, we should note that Windscribe offers port forwarding for static IPs.

These static IPs cost extra each month, but users have to option to purchase data center static IPs or residential IPs (which are very unlikely to be blocked). All users benefit from strong encryption and can enable customizable DNS filtering to help protect their systems from a variety of threats. If you need unlimited bandwidth however, you will need to choose one of the VPNs above.

Key P2P Features: Free | 10GB PER MONTH | SOCK PROXY | PORT FORWARDING (NOT FREE)
Likes
Lots of payment options
Strong encryption options
Software for all popular platforms
Excellent Chrome extension
Free VPN option
Dislikes
Live chat support, but can be slow
WebRTC IPv6 leak on Mac
Based in Canada
Should I use a VPN when torrenting?
Yes. BitTorrent is a peer-to-peer file sharing protocol. This means that instead of downloading files from a centralized server location, you share them among other BitTorrent users.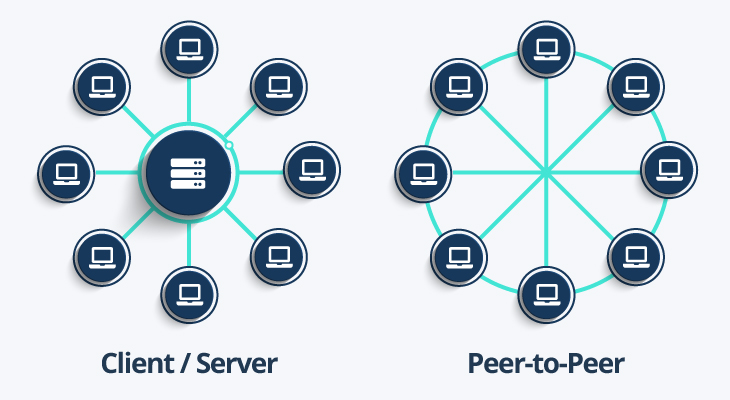 The big advantage of this decentralized model over more traditional ways of downloading is that there is no central server which can be blocked, shut down, and/or its operators arrested. The big downside is that in order to share verified torrents with other users, they need to know who you are.

Any BitTorrent user can see the unique internet (IP) address of every other BitTorrent user who is sharing the file with them.
And if other users can see your real IP address, then so can copyright holders who routinely monitor their intellectual property to identify those who share without permission. Those caught are often threatened with legal action unless they pay a fine, or are taken to court.
They may also face warnings or sanctions from their ISP when informed about the violation by the copyright holder.
Is it safe to download a torrent with a VPN?
Yes. You should always use a VPN when torrenting because it protects you in a number of ways:
1. The most important is that it hides your real IP address from others who are sharing the same files are you ("peers"). The VPN server sits between you and the internet, so anyone on the internet (such as other peers) will only see the IP address of the VPN server – not your real IP address.
2. The connection between you and the BitTorrent VPN server is encrypted so that your ISP can't see data passing along it – including torrented files.
3. The VPN server blocks the "view" in both directions. Just as anyone on the internet cannot see who you or your ISP are, your ISP cannot see what you get up to on the internet. This means it cannot see which IP addresses belonging to peers that you share torrents with, and it can't see when you connect to torrent sites.
And if it can't see when you connect to torrent sites, it can't block you from doing so.

The main caveat is that not all VPN providers permit torrenting. Many do, but when selecting a VPN for torrenting, it is vital to ensure that you pick one which does.
If you torrent using a VPN which does not allow it, then the provider is likely to cancel your subscription on receipt of a DMCA (or similar) complaint, and may even hand your details over copyright holders who could take action against you.
Torrent-friendly VPN services, on the other hand, undertake to protect you against copyright holders. Their business model relies on their ability to do this, so if they say they will do it then they will.
If in doubt, a good no logs VPN service will be unable to identify you with any wrongdoing, even if it wanted to.
What happens if I torrent without a VPN?
A DMCA notice is basically a cease and desist warning sent to the owners of an IP addresses that copyright holders have identified with pirating their material.
Strictly speaking, DMCA notices are only valid in the United States, but they are often sent to, and are respected by, companies elsewhere in the world. In addition to this, DMCA notices are so well known that local versions of them are often referred to simply as DMCA notices.
Your private IP address belongs to your ISP, so it is your ISP which will initially receive a DMCA notice about your infringing behavior. For the first offense or two, the most likely outcome is that you will receive a warning letter from your ISP.
This may be simply "educational" in tone, or may threaten you with sanctions if it receives any further DMCA notices.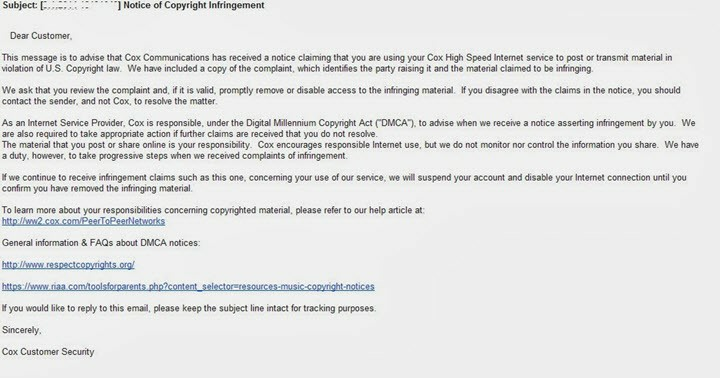 Or it could hand over your details to the copyright holder. In theory, these can then take you to court for civil damages, where you may be ordered to pay thousands of dollars in compensation.
In reality, obtaining such convictions is not easy. So copyright holders often employ unscrupulous legal firms known as "copyright trolls" to monetize the piracy of their intellectual property.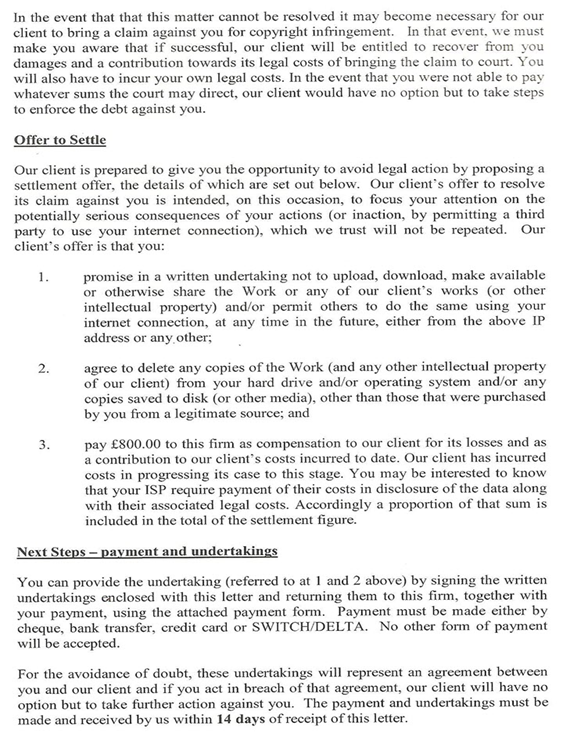 This is done via the tactic of "speculative invoicing," which is basically a fancy name for threatening victims accused of copyright offenses with full legal action (and the associated court fees) if they do not pay a reduced cash settlement out of court.
If this happens to you, then the UK government's official guidance on the matter is also broadly useful if you live anywhere in Europe or North America. We think everyone would agree, though, that using a VPN to prevent the need for this in the first place is a much better option!
How do I torrent with a VPN?
All you need do to torrent with a VPN is run the VPN (i.e. connect to a VPN server) before you start to torrent.
Use a kill switch
A kill switch prevents your device from connecting to the internet when a VPN is not running. Most VPN clients these days offer a kill switch, so use it!
Port forwarding
If your VPN service uses a NAT firewall (many do but by no means all) then unsolicited incoming connections will be blocked. You can still download torrents from behind a NAT firewall, but your ability to seed will be impaired. This is if your ability to seed is impaired, then your download speeds will suffer.
The solution to this is port forwarding. This punches a hole through the NAT firewall to allow unsolicited incoming connections, allowing you to seed as normal.
Port forwarding does introduce security risks, however, so many VPN services quite understandably opt not to support it. We will, therefore, stress again that even when a NAT firewall is in place, port forwarding is not required for torrenting. But it does usually make it faster. If a NAT firewall is not used, then port forwarding is redundant.
For a full discussion on this topic (with how-to guides) please see our Ultimate Guide to VPN Port Forwarding.
How to test your torrent VPN is working?
Assuming you are using a VPN service which permits torrenting (most free ones don't, for example), then you will be protected as long as the VPN is working. To check the VPN is working correctly, simply visit ipleak.net.
As long as the IP address shown (including your IPv6 address if you have one) is not your real IP address, then you're good.
Note that DNS leaks and WebRTC leaks do not affect torrent connections, but you probably also use the VPN to protect your web browsing sessions. If you see your real IP address or your real ISP showing anywhere on that page then you should consult our Complete Guide to IP Leak Protection.
If you need further reassurance that the VPN is protecting specifically your torrent sessions then you can visit ipMagnet. Simply click on the Magnet tracking link to open the link in your BitTorrent client, and a few moments later you will see the IP address that peers who share files with you see.

All being well, this will belong to your VPN provider and not be your real IP address!
Does a VPN slow down torrenting?
Using a VPN will slow down any internet connection due to the extra leg that traffic must travel, and to the extra processing power required to encrypt and decrypt data. It is, however, just one of the many variables which affect the speed of torrent downloads, and is a long way from the most important one.
Our anecdotal assessment after years of torrenting is that the negative speed impact of using a VPN is negligible to the point of not being noticeable. On the other hand…
Can a VPN speed up torrenting?
To which the surprising answer is - yes. If your ISP is throttling P2P traffic, which is common practice in many counties (notably the United States, especially now that net neutrality rules have been abolished).
Also known as "traffic management" or "traffic shaping," ISPs often discriminate against torrent traffic. This is done either on moral grounds (often at the behest of powerful pro-copyright lobbyists) or simply because it is viewed as nuisance traffic which uses up precious bandwidth.
Using a VPN prevents your ISP from identifying BitTorrent traffic, which also prevents it from deliberately slowing it down it.
Is torrenting illegal?
It should go without saying that torrenting legal content is always 100 percent legal. It's not the technology that's the problem, after all, but what people do with it. Torrenting stuff that infringes copyright is illegal almost everywhere, although enforcement is much more aggressive in some countries than others.
In most countries, copyright infringement (at least for personal use) is a civil, rather than a criminal offense. This means that you probably won't go to jail, but getting caught may cost you an arm and a leg. As the table below shows, however, this is changing.
Copyright laws and torrenting around the world
Is torrenting illegal in the UK?
The UK is one of the most aggressive places in the world when it comes to enforcing strict copyright laws.
A 10-year jail sentence is designed primarily to deter those who illegally distribute copyrighted content for profit, but is nevertheless rather scary (and according to the letter of the law, can be applied to simple infringers – even those caught for downloading a single illegal torrent).
In accordance with Section 97A of the Copyright, Designs and Patents Act, all the main UK ISPs also block access to most popular torrent sites, including The Pirate bay, Kickass, and 1337x. While many start looking for less reliable torrent alternatives, it's worth noting that a VPN will unblock all popular torrent sites.
Is torrenting illegal in the USA?
Torrenting for personal use is a civil offense in the United States, but the country is known for the aggressiveness of its copyright protection bodies (and their lawyers).
The "six strikes" Copyright Alert System (CAS) signed-up for by most of the big ISPs between 2011 and 2013 has died a quiet death, but private prosecution of pirates and the unsavory practice of copyright trolling remain rife.
Is torrenting safe?
Without a VPN - no. With a VPN - yes. Whatever the legal situation might be, using a VPN service which permits P2P torrenting (such as the ones listed here) allows you to torrent in almost complete safety.
Just ensure you are using a kill switch, so you don't return home to find the VPN connection dropped and your real IP address exposed for all the world to see for the last few hours!