Popcorn Time is a popular option for streamers, but using it without a VPN could land you in hot water. As we outline in this article, not just any VPN will do. Read on to find out which providers offer the best VPNs for Popcorn Time.
---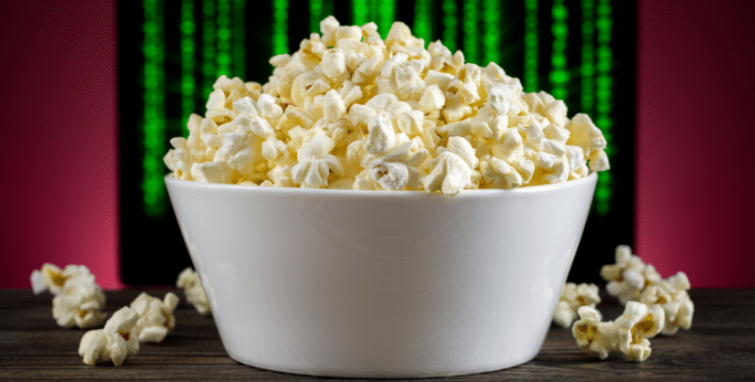 The Best VPN for Popcorn Time: Summary
Here's our recommended list of providers to use with Popcorn Time:
---
Popcorn Time is an open source app that uses BitTorrent P2P technology to stream high-quality video content to your desktop or mobile device. As with more conventional BitTorrent clients, it is vital that you use a VPN to protect yourself.
The VPNs on the following list have been picked by our team of experts, not only for their overall excellence but because they all permit P2P downloading; and if they permit P2P, they also allow you to use Popcorn Time in safety.
Top 5 VPNs that work with Popcorn Time
See the section below for an in-depth look at the best Popcorn Time VPNs
NordVPN is a solid service for accessing streaming sites. It's also a great pick for those who are looking for P2P capabilities. These two qualities make it a strong choice to use with Popcorn Time. The service is super affordable if you catch the three-year subscription offer. You get an allowance of six simultaneous connections with this VPN, which will enable you to share an account with friends. It provides 24/7 customer support and 30-day money back guarantee.
Likes
Fast speed - great for streaming!
Excellent privacy
Great customer support
30-day money-back guarantee
Good for P2P
Double-hop option
Six simultaneous connections
PrivateVPN is a service from Sweden that users praise regularly. It is a superb choice of VPN for using with PopcornTime. It is fast, efficient, easy to use, and extremely reliable. It also provides super fast speeds for streaming in HD and will unblock Netflix and BBC iPlayer. PrivateVPN also has all the important security features you need as well as live chat support. This fantastic VPN is unexpectedly cheap and offers a 30-day money-back guarantee.
Likes
Super fast for streaming
Zero logs
Fully featured for security and privacy
Fantastic customer care
A fans favourite!
CyberGhost is an easy to use VPN, ideal for Popcorn Time. The app has a pre-screen that lets you select activity preferences. It then adjusts the VPN's settings to suit your intended connections. These options include 'unblock streaming' and 'torrent anonymously.' You can play around with these settings to see which gives you the best performance for Popcorn Time. This VPN has a 45-day money back guarantee and also unblocks popular services like Netflix and BBC iPlayer.



Likes
30-day money-back guarantee
Free version with unlimited data
Optimization for specific tasks
A system-wide kill switch, plus options to monitor specified apps
Strong encryption
ExpressVPN offers both high levels of security and fast torrenting speeds, making it ideal for Popcorn Time. In addition, the service uses the OpenVPN protocol implemented to pretty high standards. It has apps for all platforms, will unblock streaming services such as Netflix and BBC iPlayer and provides a high level of customer care via live chat support. ExpressVPN also offer a 30-day money-back guarantee.
Likes
Fast and super secure!
30-day money-back guarantee
Up to 5 simultaneous connections
Good security
P2P: Yes
85+ countries worldwide
Dislikes
Bit expensive but worth it
IPVanish is a high-profile VPN company with good privacy credentials. It keeps no logs, accepts payment in bitcoin, and permits P2P. IPVanish also throws in a free Smart DNS service for all customers. Its software is easy to use and works well. Importantly, IPVanish owns and runs its own network infrastructure, which ensures it is a very fast service for streaming. It is an excellent VPN for streaming and downloading content via P2P and you can try it free for a week with its 7-day money back guarantee.



Likes
No logs at all
Five simultaneous connections
Smart DNS included
Runs own CDN so very fast
P2P allowed
Dislikes
Based in the US
So-so support
Why do I need a VPN for Popcorn Time?
A VPN hides what you get up to on the internet from your internet provider (ISP) and prevents anyone on the internet from knowing who you are.
Popcorn Time is basically a polished BitTorrent client. This means that instead of streaming a movie from a centralized server (as you do with Kodi, for example), the movie is hosted by everyone who is watching or downloading that movie.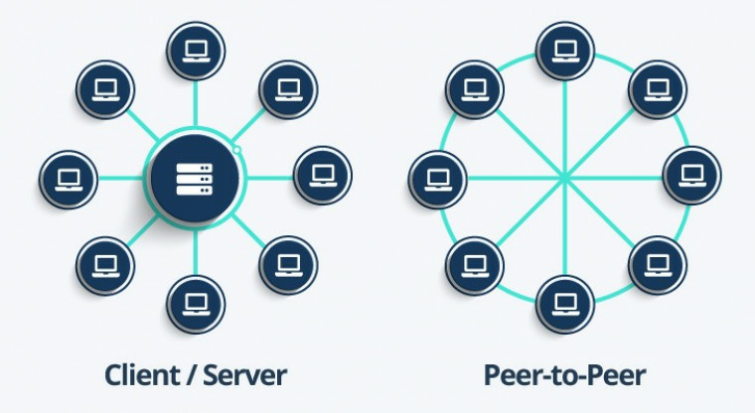 This lack of centralization means there are no servers that can get raided and their operators arrested. It does also mean, though, that everyone else watching or downloading the same movie or TV show as you know exactly who you are because their BitTorrent client needs to know (and can therefore see) your real IP address. This is why you shouldn't use Popcorn Time without a VPN.
How does a VPN for Popcorn Time protect me?
A VPN service works like this: The VPN service operates VPN servers, usually located in many locations around the world. You connect to these VPN servers via a secure encrypted connection. So, all the other people sharing the same torrent file as you will see is the IP address of the VPN server rather than your actual IP address.
This deceptively simple setup protects you when using Popcorn Time because:
Copyright holders (and anyone else on the internet) cannot see your real IP address or who your ISP is because the VPN server blocks their "view". All they can see is the IP address of the VPN server. This is invariably shared among many (sometimes hundreds) of VPN users, making it very hard to tell who did what.
Your ISP cannot see either your data (because it is securely encrypted between your device and the VPN server) or what you get up to on the internet because the VPN server acts as a proxy, beyond which your ISP cannot see.
Important features for a Popcorn Time VPN
There are some important features to look out for when choosing a Popcorn TimeVPN, these are:
Make sure the VPN allows P2P torrenting
Not all do, and if they don't, then they make no promises to protect you when they receive the inevitable DMCA complaints from copyright holders. If a VPN service allows torrenting, though, it will protect you when using Popcorn Time. The only issue to watch out for is…
For a more in-depth look at services that permit P2P, check out our best VPNs for Torrenting guide.
Kill Switch
VPN connections occasionally fail. If this happens when you are in the middle of watching a movie on Popcorn Time then everyone else sharing the same movie file (including regular BitTorrent downloaders) will immediately be able to see your real IP address. The solution is to use a kill switch which shuts down your internet connection when the VPN connection goes down.
All the VPNs in our list have these featured in our best VPNs for Popcorn list have these features.
Can I use a VPN when casting?
Short answer… yes.
Popcorn Time allows you to stream from your device to a big screen via Chromecast, Airplay, and DLNA. Most VPN apps exempt local network addresses from the VPN so you can access stuff like WiFi printers and LAN drives when the VPN is running.
Assuming this is the case with your provider, then you will be able to cast Popcorn Time content over your local WiFi network without any problem.
If for some reason your provider's software routes local network connections through the VPN, then you may not be able to connect to your cast-enabled devices. Good news, though, is that most generic VPN software does allow you to bypass the VPN for local networks.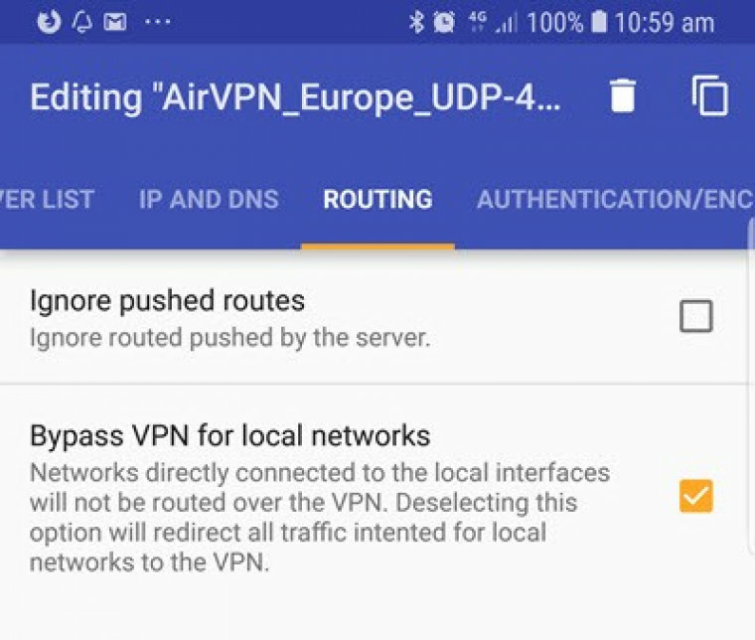 Above we can see the settings in OpenVPN for Android edit VPN connection -> Routing.
Speed
The higher your bandwidth (that is, the faster your internet connection) the higher resolution you can stream content without experiencing annoying buffering issues.
A good Popcorn Time VPN is therefore also a fast VPN. As always, speed performance can be improved by connecting to a server close to your real location and by selecting servers which are not overloaded.
Popcorn Time offers most content in either 720p or 1080p resolutions. TV shows are sometimes available in 480p. If you experience buffering issues when streaming then you can reduce buffering by switching to a lower resolution version of the movie or show.
---
Quick View