Virtual Private Networks are a great way to improve your internet privacy and security on your Android phone. In this guide, we list the best VPNs to use on Android phones and tablets in 2022 and explain the pros and cons of using one.
As VPNs have become increasingly popular, the quality of VPN software for Android devices has vastly improved, however, there's still a lot of shoddy services out there.
We tested 200+ VPN services that were present on the Play Store and we found that a large proportion of VPN services on there were overpriced and didn't provide users with the necessary encryption to keep them private and secure online. There are, of course, some fantastic VPN services for Android out there and we have curated a list of the best services in this article.
What are the best Android VPN apps?
Our experts have searched the VPN market to find the best VPNs for Android and have listed them below. They all provide strong encryption and unblock geo-restricted websites.
As avid Android users ourselves, we know how important it is to have apps that are properly optimized for Android devices. As well as a great app, there are several other things that we look for when testing Android VPN services, these are listed below:
Robust privacy policies
Top-grade encryption
Fast servers for streaming and downloading
Key security features, such as kill-switches
A seamless Android app
The best VPNs for Android | In-depth analysis
We recommend that you use one of the VPN services below for your Android phone or tablet.
ExpressVPN is our #1 best VPN for Android. Combining a well-rounded VPN app with fast speeds and good privacy – you're on to a real winner!
Pricing

12 months + 3 months FREE + Backblaze backup: $6.67/mth

49% OFF

6 months: $9.99/mth
1 month: $12.95/mth

Pros

30-day money-back guarantee
Servers in 94 countries
Great customer service
No logs
Supports P2P activity

Cons

A bit pricey - but worth it!
No free trial
Port forwarding is not included
Specialized servers could be labelled better

Play Store score

Integrated kill switch

Encryption

Numer of server locations

Average Sped

Also works with
ExpressVPN is easily one of the most well-recognised and respected names in the VPN industry - and it's easy to see why. They pioneered the idea of "one-click connect" in its mobile apps, and offers users a now industry-standard 30-day money-back guarantee as well as outstanding 24/7 live chat support.

ExpressVPN has continued to innovate and this why they are our favourite Android VPN app. Recently they have launched their own secure and fast encryption protocol called "lightway". I found the connections when switching between servers using this protocol to be super-slick and it's a welcome addition to their Android app.

The ExpressVPN Android app is especially easy to use and nice to look at! Navigation is simple, and you can hop between ExpressVPN's servers (in over 90 countries, no less) with just a few taps. Having a kill switch right on your phone was a nice bonus, too, seeing as it kept our data encrypted even when our connection dropped. All in all, the ExpressVPN app is a great reflection of the provider's commitment to privacy.

Another thing I loved was ExpressVPN's "Security Assistant" feature. Within their app ExpressVPN gives users some tips on how they can improving overall online privacy and security, making it great if you want to start taking your online privacy seriously. These tips include things like; how to remove malware from your device, turn off your Google activity, and much more.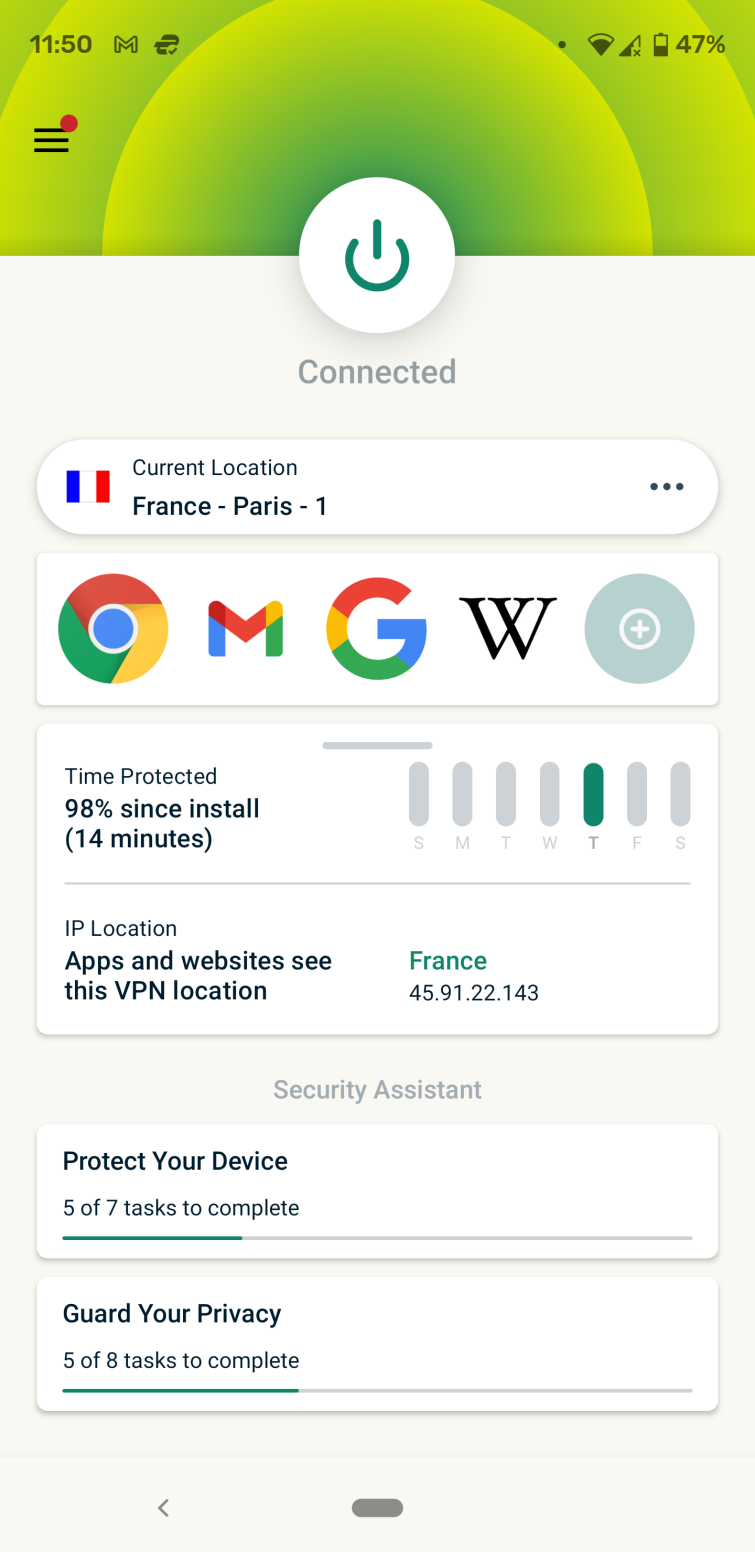 Its Android app has a 4.1-star rating in the Play Store and is compatible with all Android 5.0+ devices. It can be downloaded from either the Play Store, or, for the more Google-phobic out there, as an APK file for sideloading onto your device. ExpressVPN provides L2TP/IPSec setup instructions for users of Android versions 2, 3, and 4.

The app is easy to use and offers split-tunneling, which allows you to decide which of your apps use the VPN tunnel and which don't. It also features a kill-switch (called "network protection"), which ensures your data is constantly encrypted even when your internet connection drops.

ExpressVPN is a no-logs VPN service with servers in over 90 counties and a strong focus on privacy.

NordVPN is a great pick if you want a VPN app that is chock full of features and is easy to use. A superb VPN at a superb price point, a real solid choice.
Pricing

NordVPN Special Deal - 24 months: $3.29/mth

73% OFF

24 months: $3.99/mth

67% OFF

12 months: $4.99/mth

59% OFF

1 month: $11.99/mth

Pros

No logs at all
Six simultaneous devices
Servers in 61+ countries
30-day money-back guarantee
"Double-hop VPN"

Cons

No free trial
Lacks port forwarding and port selection
One of the more expensive VPNs out there
Android app doesn't list all available servers in a location

Play Store score

Integrated kill switch

Encryption

Numer of server locations

Average Sped

Also works with
NordVPN is a no-logs VPN service is based in NSA-free Panama. Its Android app has a very respectable 4.3-star rating on the Google Play Store and is compatible with all Android 5.0+ devices.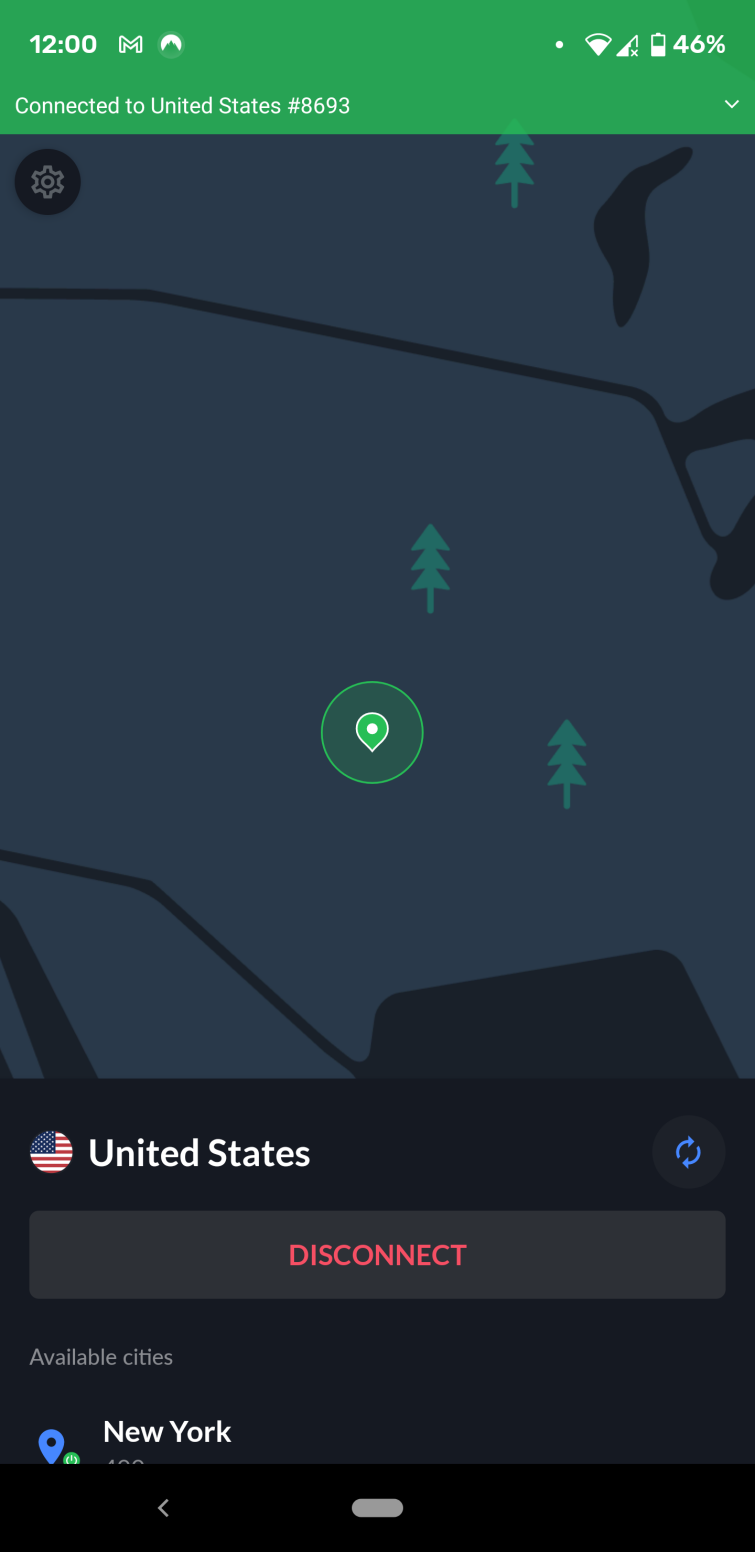 The app is quite distinctive in the way it looks thanks to its dynamic map of server locations making it easy to switch between servers. It uses OpenVPN in UDP mode by default, although TCP is also an option. Besides this, the app allows you to connect to NordVPN's special Obfuscated servers, which use XOR encryption to evade VPN blocks.

One of my main considerations when it comes to choosing a VPN for Android is speed. NordVPN is one of the quickest VPN services that I have come across; it seems to be super-quick regardless of where you connect. I also felt really secure using this provider too because CyberSec - NordVPN's malware/advert blocking technology - is one of the most comprehensive around.

The app also sports a kill-switch and NordVPN's "CyberSec" feature which I loved. Like on its desktop apps, "CyberSec" uses a DNS blocklist to protect users from malware, help prevent botnet control, and block many intrusive web ads. Their Android app also has a "TapJacking protection" feature which alerts the user if malicious apps try to trick you into clicking a dodgy link. These features vastly improve the user's online security and all you have to do is click a button. Their app also features split-tunneling, this feature is really user friendly as it allows users to search for a particular app.

As is increasingly common, its APK is also available to download directly from the NordVPN website, which will auto-update when new versions become available. This is perfect for those who wish to avoid the Google Services Spyware Framework.

CyberGhost is a value-packed Android VPN for beginners. It's a feature-rich app that's incredibly easy-to-use, while still offering good levels of customization.
Pricing

24 months + 2 months FREE: $3.25/mth

75% OFF

6 months: $6.39/mth

50% OFF

1 month: $12.99/mth

Pros

Inexpensive and feature-rich
Android app makes good use of OpenVPN
No-logs
Unblocks Netflix and more with ease
Speedy servers ideal for streaming

Cons

Lacks dedicated stealth servers
No multi-hop feature
Has not been independently audited since 2012

Play Store score

Integrated kill switch

Encryption

Numer of server locations

Average Sped

Also works with
If you're looking for a budget-friendly option with great geo-spoofing capabilities and a huge network of servers, then CyberGhost might be the VPN for you. The service is based in Romania, which is great news for anyone looking to avoid the jurisdiction of the 14-Eyes spying alliance. I found the app was really easy to use and it has all of the features you want from an Android VPN service. You'll also be able to unblock a veritable ton of geographically restricted content thanks to servers in key locations around the world. It has a split tunneling feature which can customized and an ad, tracker and malware blocker which can be enabled really easily.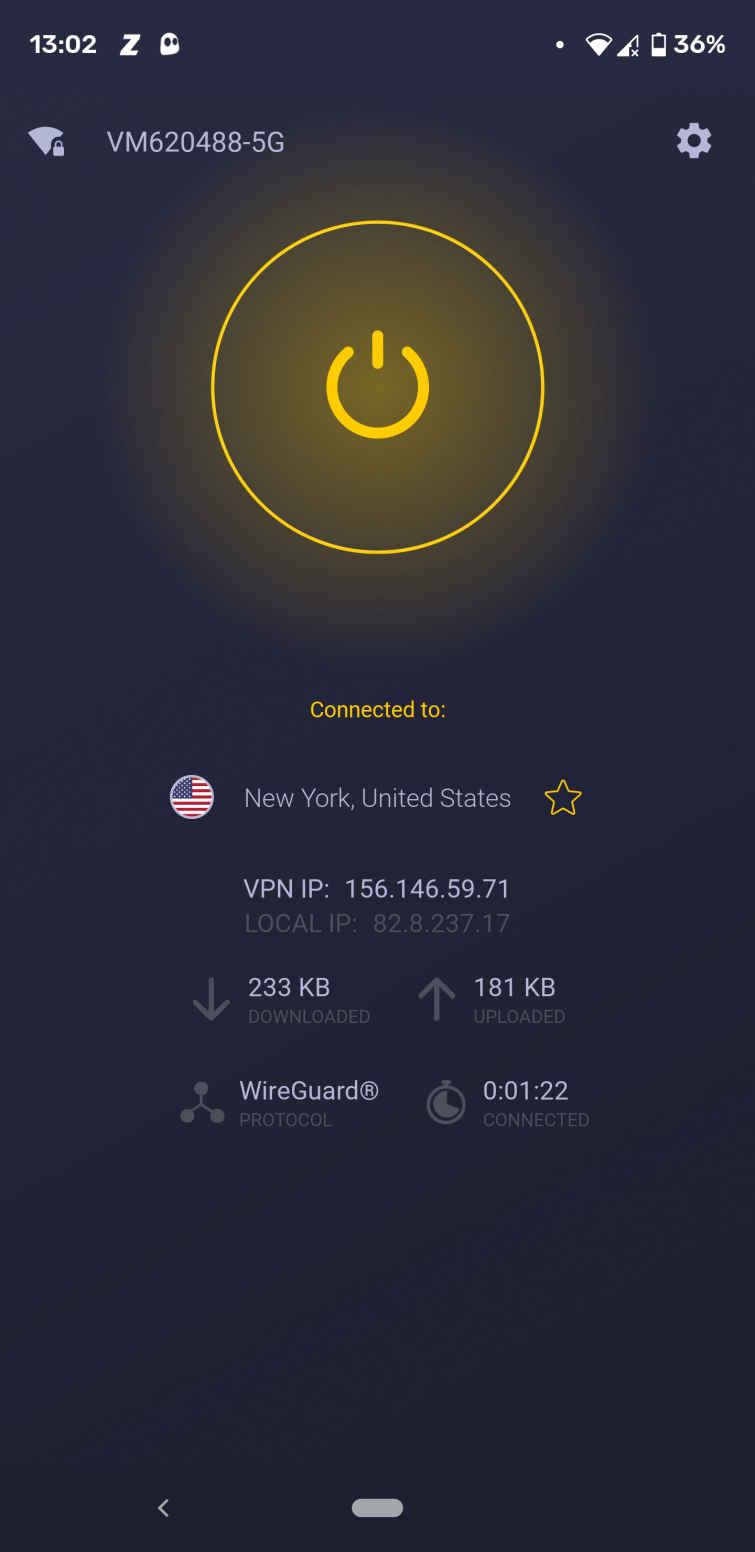 In our experience, CyberGhost is ultra-secure and really easy to use, but I think it really excels on the speed front. With CyberGhost's fast servers, you won't be waiting on buffering screens. I found the app connected really quickly to servers and unblocked streaming Netflix with ease via the Netflix Android app. Overall, CyberGhost is a high-functioning, low-cost VPN that's great for newer VPN users.

The Android app uses OpenVPN encryption (which is our recommended protocol for security) and it offers WireGuard which is a great alternative. WireGuard, a relatively new VPN protocol partly designed to improve speeds, used to only be available for Linux Ghosties. But now all you have to do is download the latest version of their Android app, you'll be able to use it. I have been enjoying the upgrade!

One thing that I would like to see CyberGhost adopt some obfuscation (stealth) measures in the future, but users are still able to cloak their VPN usage by running TCP over port 443. This is especially important if you need a VPN to avoid government surveillance.

Try it for yourself with its generous 45-day money-back guarantee on subscription plans longer than one month.

Surfshark is the cheapest VPN on our Android list. It offers great speeds, versatile unblocking, and strong privacy at a fantastic price point.
Pricing

24 months + 2 months FREE: $2.3/mth

83% OFF

12 months: $3.99/mth

70% OFF

1 month: $12.95/mth

Pros

Unlimited simultaneous connections
Packed with privacy features, like ad and malware blocking
Unblocks popular streaming services
Kill switch included
Android app supports OpenVPN and Wireguard

Cons

Limited P2P servers
No dedicated IPs
WebRTC protection only offered via browser add-ons

Play Store score

Integrated kill switch

Encryption

Numer of server locations

Average Sped

Also works with
SurfShark is registered in the British Virgin Islands and offers an Android 5.0 app rated 4.3 stars in the Play Store. I am pleased to see that you can also download the .APK direct from the Surfshark website.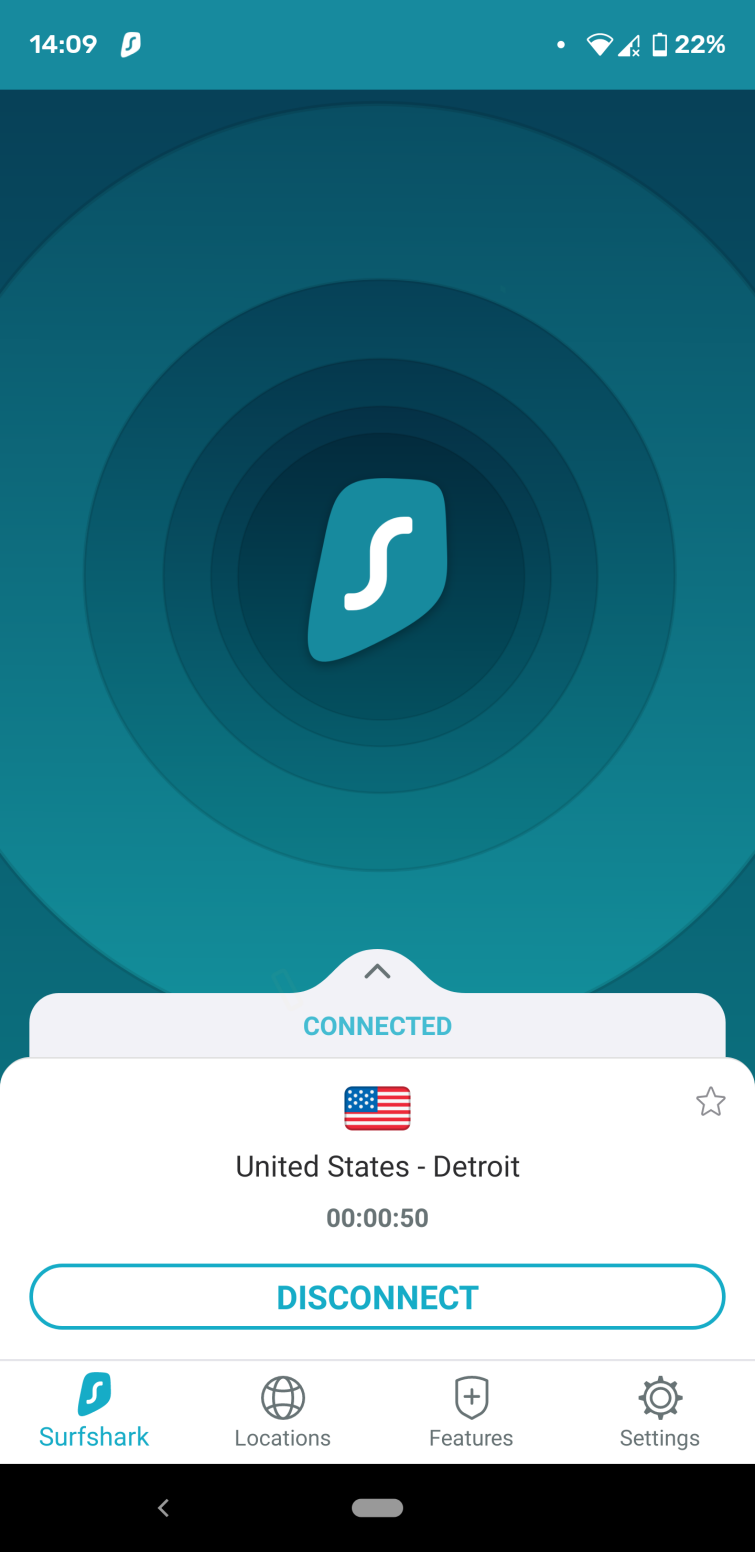 Surfshark has always impressed us with the incredible amount of bang it offers for your buck, and its Android app is no different. It includes a kill-switch, split-tunneling ("Whitelister") for apps you want to exclude from the VPN, a DNS adblocker, an incognito mode for web searches, and even a GPS override feature that ensures your browser's GPS location matches your VPN location. It is also has a fantastic privacy policy and keeps no logs.

The Surfshark Android app uses IKEv2 by default, but also offers OpenVPN (UDP and TCP, although port numbers are not specified). It also offers the Shadowsocks protocol for those who need to evade restrictions on VPN use.

Overall, I found Surfshark's Android app to be one of the best mobile VPN apps I have ever tried. What really stood out to us was the silky smooth user interface, which was an absolute pleasure to use. I was able to breeze through all the options and settings easily, and never got stuck searching for any particular feature that I wanted to try out. Oh, and the speeds were unbelievable both when connected to wifi and on my mobile network. Top class work here by Surfshark!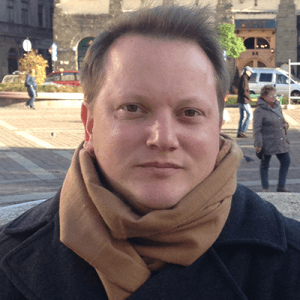 Tested by Attila Tomaschek

VyprVPN is the value lover's choice. It's run on a private network of servers & access to Chameleon privacy technology – all at a great price point.
Pricing

24 months + 12 months FREE: $1.81/mth

86% OFF

12 months + 6 months FREE: $2.5/mth

80% OFF

1 month + 1 month FREE: $6.47/mth

50% OFF

Pros

Very fast due to own infrastructure
"Chameleon" stealth servers
Servers in over 70 countries
100% no logs
Fully audited

Cons

Doesn't support cryptocurrency payments
Connection times can be a little slow
No multi-hop

Play Store score

Integrated kill switch

Encryption

Numer of server locations

Average Sped

Also works with
VyprVPN is based in Switzerland and is notable for owning its own server network, which gives it complete control over its infrastructure. It's great for the security-conscious Android user looking for privacy because it keeps no logs. The app supports all versions of Android, but we recommend sticking to 4.0.3 and later.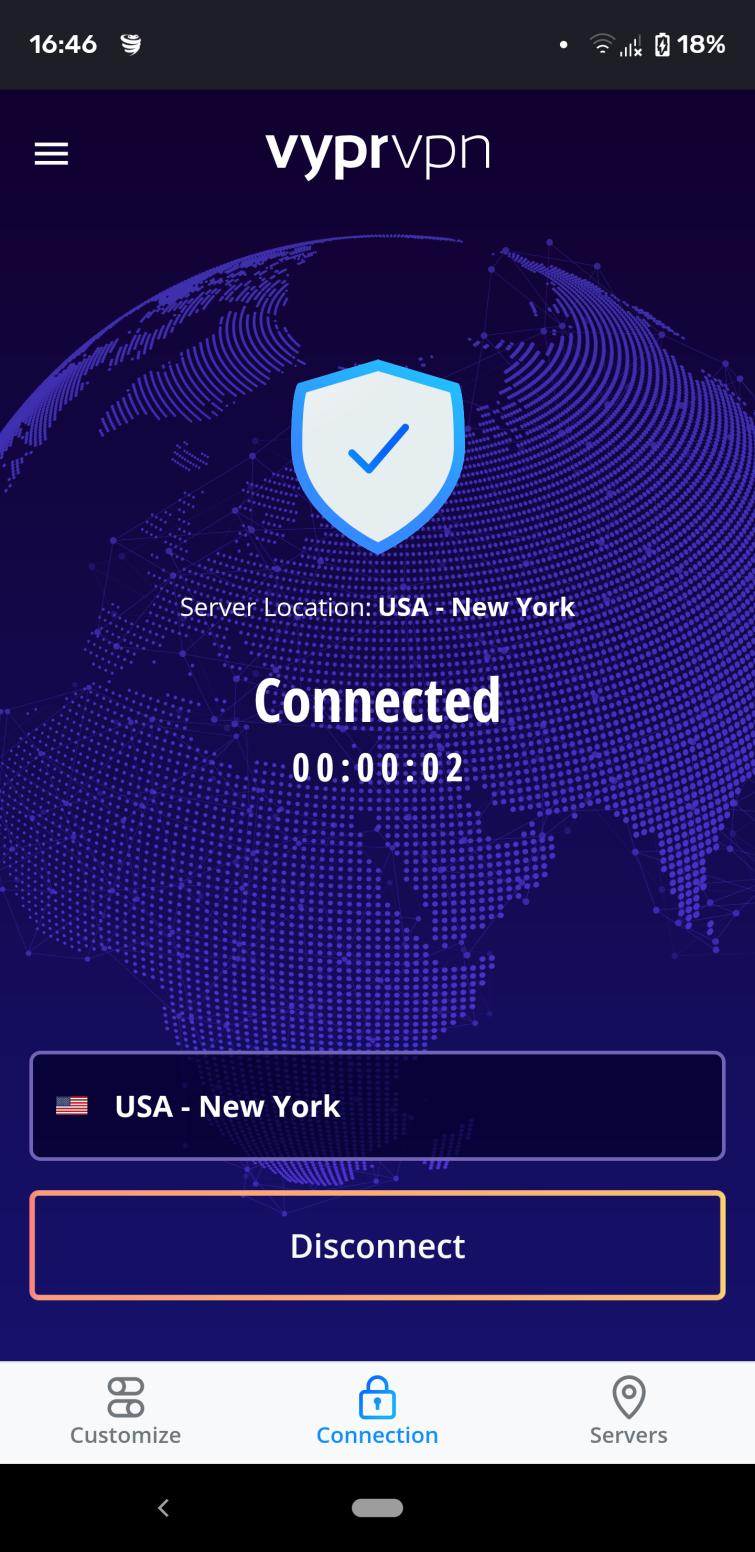 VyprVPN for Android has a somewhat modest 3.9-star rating in the PlayStore, but it has nonetheless always worked flawlessly in our tests. It has a fully-featured app with a kill-switch, DNS leak protection, ad and malware blocking, and public WiFi protection to ensure the VPN connects each time that your device joins a new network.

I really like the fact that VyprVPN owns their own server network too. This is a rarity on the VPN market, with even the priciest providers often renting many - if not all - of their servers. This makes me feel safe when using VyprVPN because I know no third parties will have access to any of the servers I connect to and that these servers will be managed and maintained by VyprVPN staff.

The app uses OpenVPN, and you can switch between ports, which is great. Plus, the Android app offers VyprVPN's obfuscation feature called Chameleon, which is known to be great at defeating VPN restrictions in countries where VPN use is frowned upon. This is a lot of features for an Android VPN app, and users get the benefit of a large network of servers in over 70 countries; which makes it excellent for unblocking content worldwide.

For ease of access, the app is available as an .APK download in addition to being featured in the Play Store.

IPVanish is a great all around Android VPN. It provides fast speeds, easy to use app that work seamlessly & is packed full of great features.
Pricing

12 months + FREE VIPRE Antivirus: $3.99/mth

64% OFF

3 months: $5.32/mth

51% OFF

1 month: $10.99/mth

Pros

No logs at all
Five simultaneous connections
Smart DNS included
Accepts bitcoin
P2P allowed

Cons

Based in the US
So-so customer support
Missing a built-in kill-switch
Can't unblock BBC iPlayer

Play Store score

Integrated kill switch

Encryption

Numer of server locations

Average Sped

Also works with
IPVanish is a high-profile no-logs US-based VPN service. Its Android 4.0.3+ app rates 3.9 stars in the Play Store, but, again, has always worked well for us and is packed with useful features. When choosing a server you can filter the servers by county, city, or ping times allowing users to find the best server for them. It has a handy feature called scramble witch adds obfuscation to OpenVPN so users can bypass VPN blocks with confidence.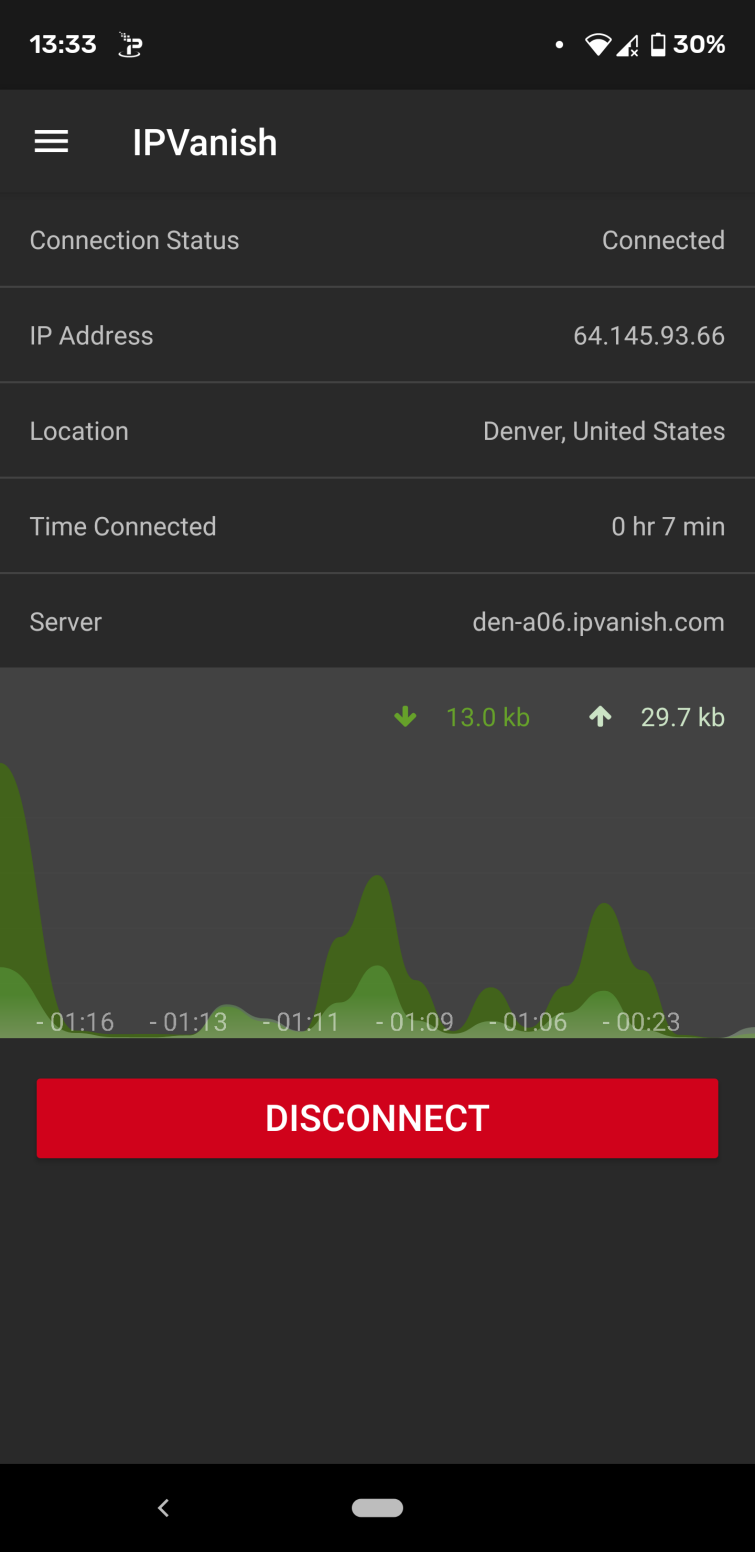 The IPVanish app does not include a built-in kill-switch per se., but on Android 8+ devices it provides instructions for enabling Android's new built-in kill-switch feature to work with the app.

The app features split tunneling and insecure network notification both of which are super handy features. It uses OpenVPN in either UDP or TCP mode, and you can select which ports it uses which is great for more advanced VPN users. It also offers IKeV2 which is a great alternative to OpenVPN because it's fast.

Overall, I was really amazed by how well the Android app performed on my phone as well as on my tablet. The app looks great and is incredibly easy to use. I found the speeds to be excellent no matter which servers I connected to and regardless of whether I was connecting from home or on the go. I really liked the look of the Android app, the interface is pretty simple, but this made it easy to navigate to what you need. Nothing you need is any more than 3 taps away. I also loved how it shows ping times, this really helped when trying to choose a server.

And, as with all the Android apps on this list, you can download the .APK from IPVanish's website for improved privacy.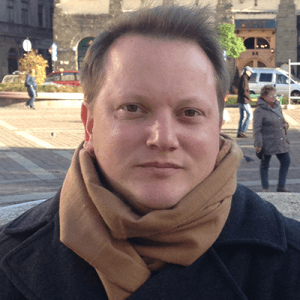 Tested by Attila Tomaschek

Ivacy is the cheapest VPN for Android on our list. For $1.50 you can access servers in over 100 countries, decent speeds for streaming and a superb Android app experience.
Pricing

60 months: $1.33/mth

86% OFF

12 months: $3.5/mth

64% OFF

1 month: $9.95/mth

Pros

Inexpensive when purchasing a long-term plan
Smart purpose selection makes picking a server easy
P2P supported
Android app includes split tunneling and mutli-port
10 simultaneous connections

Cons

Obfuscation isn't as strong as it could be
No independent audit
No Wireguard protocol

Play Store score

Integrated kill switch

Encryption

Numer of server locations

Average Sped

Also works with
Ivacy VPN is a service based in Singapore that has superb apps for all platforms – including for Android mobiles and tablets. The VPN has everything you would need in a VPN to gain privacy and security on Android both at home and on public WiFi. And, if you want to bypass restrictions on a work or school network – to watch YouTube or access Reddit, for example – this VPN will work perfectly.

I like that the app labels servers by "purposes" so that you can connect to servers for streaming, secure downloading, and unblocking websites. The streaming server list allows you to pick based on what streaming service you want to unblock (as shown in the screen shot below). I used it to access Netflix without issues, which is great.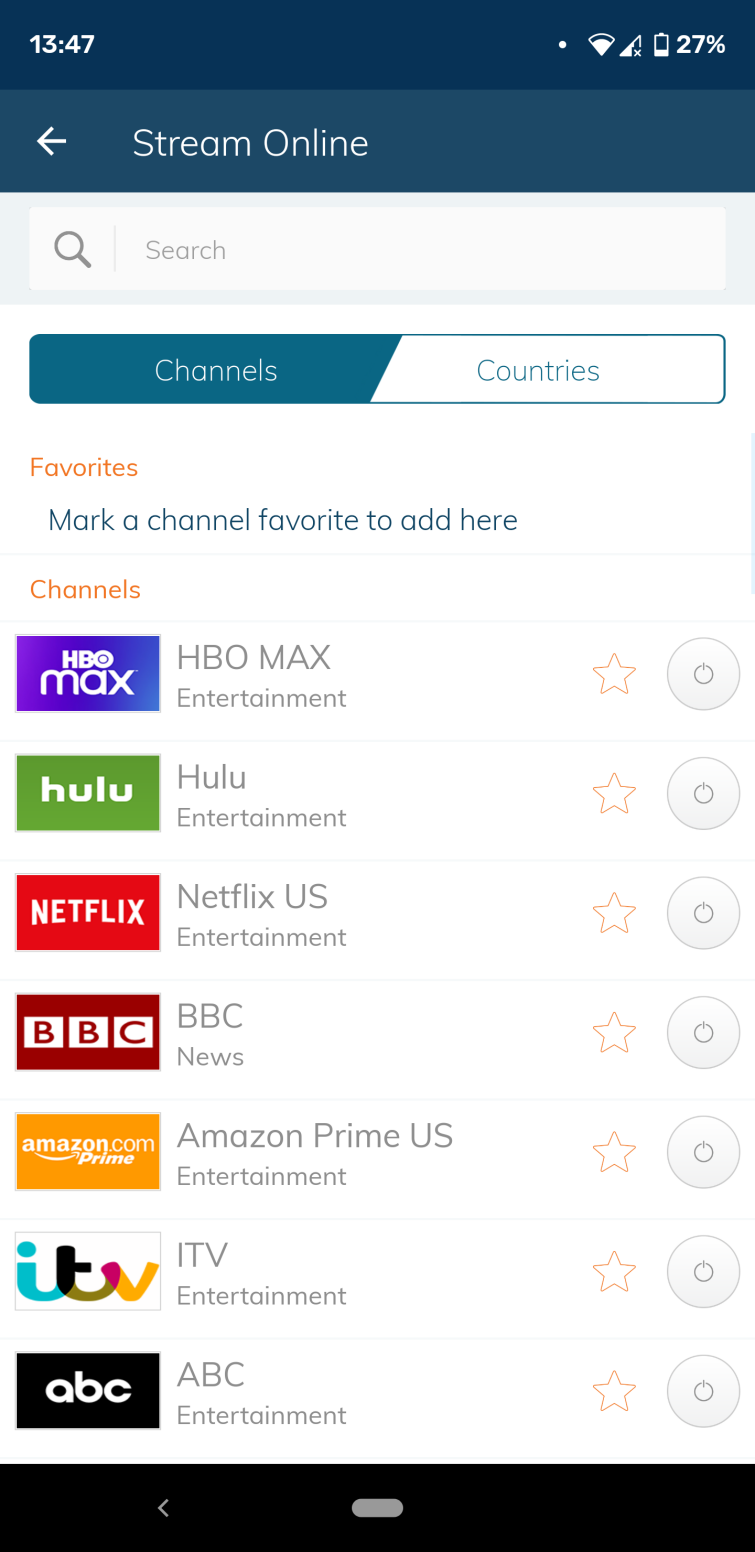 I found this server listing system to be extremely useful, allowing me to find a server that works without scrolling through hundreds of different options to check whether they could unblock our favorite streaming sites. And, this is one of the few VPNs that reliably unblocks Netflix US, BBC iPlayer, Hulu, YouTube TV, and other popular streaming services.

The Android app comes with all the features you need to protect your online activity from your ISP and the government. As a result, you will be able to bypass government censorship, or access streaming media in total privacy. I also liked that Ivacy has servers in over 100 countries around the world, which is a huge amount of choice – great if you like to experiment with accessing a lot of international content like me.

Well worth comparing to our other options using its 30-day money-back guarantee. Cheap subscription prices – and can be used on up to 10 devices simultaneously.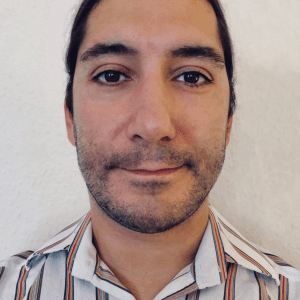 Tested by Ray Walsh

ProtonVPN is a trusted VPN app for Android users. From the guys behind ProtonMail, this VPN is fast, secure and just as reliable as it is on Windows, macOS and iOS.
Free option

Yes

Pricing

24 months: $3.29/mth

34% OFF

12 months: $4/mth

19% OFF

1 month: $5/mth
Free trial: $0/mth

Pros

Superb free plan
Unblocks Netflix... and more!
Audited, no-logs provider
10 simultaneous connections
Kill-switch included

Cons

Android app speeds are a little slow
No live-chat support
Lacking obfuscation measures
Wireguard protocol missing

Play Store score

Integrated kill switch

Encryption

Numer of server locations

Average Sped

Also works with
ProtonVPN is a superb service that is based in Switzerland – a location that is considered fantastic in terms of data privacy. The VPN can be used for free thanks to its basic subscription plan, however, this is restrictive in terms of server locations and speeds. On the other hand, if you like the service and want to be able to unblock Netflix US with unlimited speeds – you can simply subscribe to a premium subscription plan.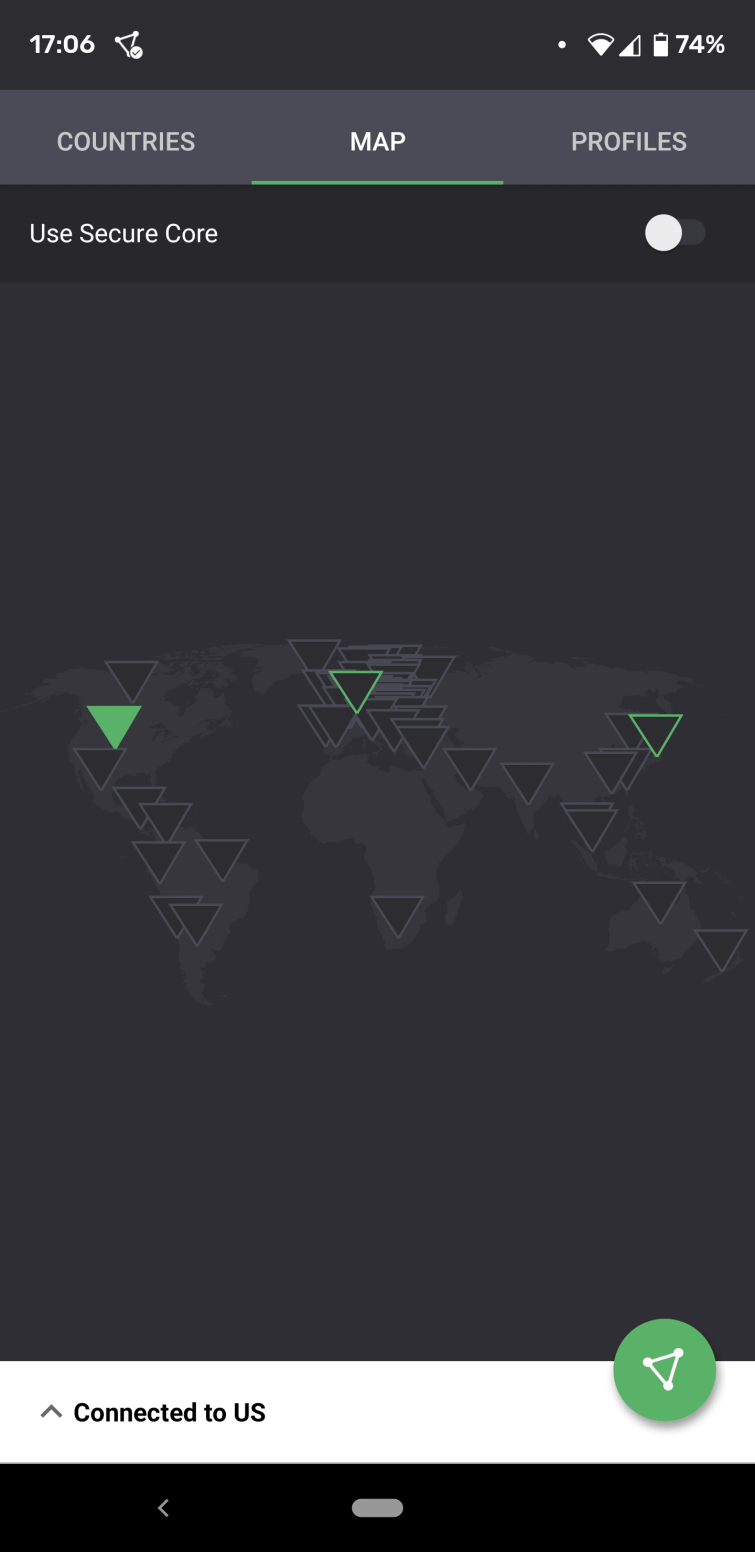 I found ProtonVPN's free Android app to be a bit slower than the others mentioned in this list, but that certainly doesn't mean it's not worth checking out. It comes with all the features you need to stay secure when at home and on the go, which is key for a mobile app. I also found it incredibly easy to connect to ProtonVPN's servers, which are scattered across 55 countries. Although this isn't the fastest Android VPN on the market, it will allow you to unblock virtually anything you desire.

I trust this VPN to protect our online habits from snooping WiFi providers and ISPs. All of their apps are open source and they are audited which a massive bonus and proves that they are secure and private.

A superb all-rounder that comes with great provenance. Well worth taking for a test drive using its 30-day money-back guarantee.

PrivateVPN is a great VPN app for Android users looking to stream. This reliable VPN from Sweden has great features for unblocking and speeds that can easily handle HD content.
Pricing

12 months + 12 months FREE: $2.49/mth

79% OFF

3 months: $6/mth

50% OFF

1 month: $9.99/mth

17% OFF

Pros

30-day money-back guarantee
6 simultaneous connections
Customizable encryption
Can unblock in-demand streaming services
Interface is great for VPN newbies

Cons

DNS must be configured manually
Android app can run a little slow
Fewer servers than other providers
No kill-switch for Android

Play Store score

Integrated kill switch

Encryption

Numer of server locations

Average Sped

Also works with
PrivateVPN is a VPN provider from Sweden that is recommended by VPN users worldwide. The VPN is very cheap considering what you get – and it is perfect for unblocking content from all over the world on an Android smartphone or tablet. With PrivateVPN you get apps for all platforms, and you can run it on up to 6 devices simultaneously.

I tested it on an Android tablet and found it to be extremely good for beginners and reliable. Best of all, it comes set up for OpenVPN when you download it, so it is not tricky to set up. That said, I liked that it had plenty of advanced features for those who need them.

I was impressed that this VPN can unblock more international Netflix catalogs than just about any other VPN service – and it also works with sought-after streaming services like iPlayer, Hulu, YouTube TV, HBO Max, and pretty much anything else you can think of.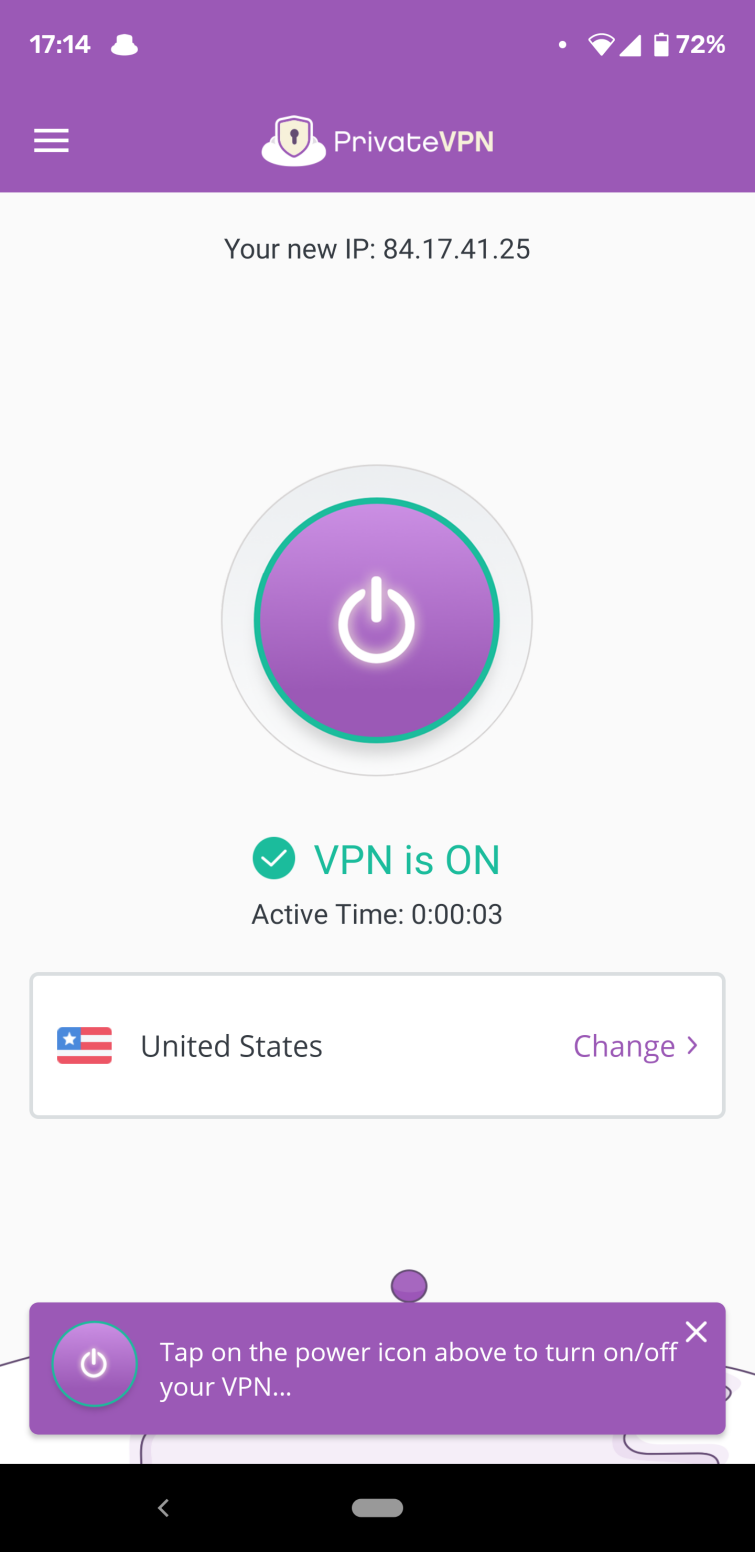 Another excellent thing about this service is PrivateVPN's live chat support. I found their agents to be polite and extremely helpful when testing response time and knowledge. And, with PrivateVPN you get the benefit of a no-logs policy, a kill-switch, port forwarding, and obfuscation – which makes it great for torrenting or engaging in other sensitive online tasks. A superb service that comes at an amazing price point, and you don't have to take our word for it thanks to its 30-day money-back guarantee.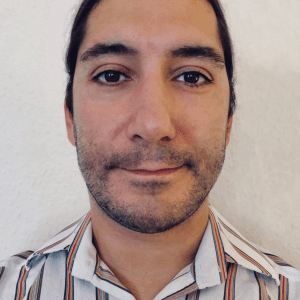 Tested by Ray Walsh

PIA is a great no-logs Android VPN app. It's both affordable and secure, being one of the only providers to have proven its zero-logs policy in court.
Pricing

26 months + 2 months FREE: $2.19/mth

82% OFF

12 months: $3.33/mth

72% OFF

1 month: $11.95/mth

Pros

Outstanding customer support
Consistently fast streaming speeds
Unblocks Netflix
Built-in blocker helps avoid malicious links and sites
Huge server network

Cons

Based in US
Lacks a free trial
No multi-hop
No whitelisting feature

Play Store score

Integrated kill switch

Encryption

Numer of server locations

Average Sped

Also works with
Private Internet Access (PIA) offers top-shelf VPN security and features with apps for all platforms, including Android. It's great for both new and experienced VPN users, offering a simple interface with lots of options for customization. Users can select from a wide range of VPN protocols, including OpenVPN and WireGuard.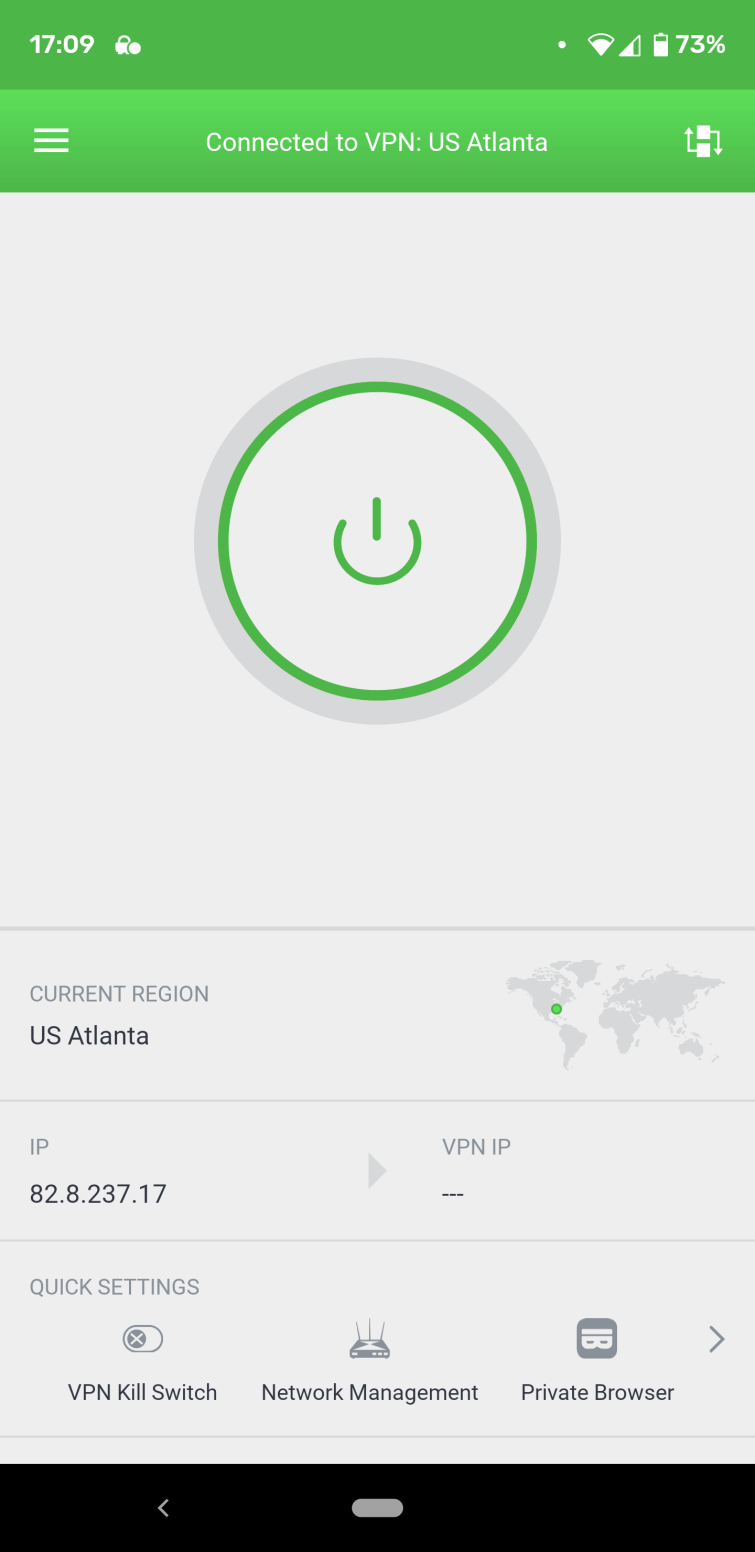 PIA provides superb connection speeds, with P2P support and built-in ad-blockers to improve your internet experience. When using this VPN on Android, I was particularly impressed with the fluidity with which the app worked. OpenVPN encryption comes set by default in the Android client, and the secure tunnel connected to its servers quickly from my experience. The VPN provided ample speeds for streaming on YouTube, and also easily unblocked Netflix to watch a few extra shows.

If you're looking to protect multiple devices, PIA allows for up to 10 simultaneous connections, so you can protect your Android device along with pretty much any other computer or device you own all at the same time.

Test it for yourself, risk-free, with a 30-day no-hassle money-back guarantee.
Compare Android VPN Speeds
When choosing a VPN for your Android phone or tablet, you should opt for a service with fast VPN servers. All VPNs will slow down your internet connection as they encrypt your connection and send it to a server far away from your physical location. However, finding the right service will make sure you don't notice the change in speeds.
Using a VPN with fast servers will allow you to stream in HD and 4K, allow you to make video calls, playing online games, and do anything else that requires more data throughput. To help you tell which Android VPN apps are the fastest, we run speed tests three times per day on our top picks and display the results in the table below.
How to Set up a VPN on Android
Using a VPN on an Android device isn't really much different to using a VPN on any other platform, so if you want to know more about VPNs, in general, then please check out our Beginner's Guide to VPNs for more info on what they are and how they can make your life better.
If you would like help getting set up with your VPN, check out our step-by-step guide on how to install a VPN on Android.
How does a VPN work on your Android device?
When you access the internet all your data passes over a local network before going through an ISP's gateway servers. This path to getting online creates two potential opportunities for your web visits and data to be tracked and potentially harvested and sold on. Once on the local network, and when you pass through your ISPs gateway.
What a VPN does is it encrypts your data before it leaves your Android device, before routing it to a VPN server. This ensures that nobody can see what you are doing online and prevents websites and online services from detecting your actual IP address. Check out the video below for further explanation of how a VPN works.
...
Advantages of using a VPN on your Android device
Below, we look at how a VPN can help you stay secure online from hackers and snoopers, including your ISP and the Government. But, before we get into the benefits, let's start with the basics...
The privacy benefits of a VPN for Android users
A VPN server can block your ISP's "view" of what you get up to online.
Governments can no longer enforce blanket mass surveillance on you, as they rely on data provided to them by ISPs. So, if your ISP has no idea what you're doing, neither will your government.
A VPN will prevent websites from knowing who you are because, instead of seeing your real IP address, the website will just see the IP address of the VPN server – meaning you can stop annoying ads.
Public WiFi hotspot hackers won't be able to steal your data, and hotspot operators won't be able to sell your browsing history since they won't be able to see anything that you're doing online through the VPN tunnel.
A VPN will help you to torrent on Android by preventing peers from seeing your real IP address.
A VPN will prevent your government or ISP from censoring content. VPN services run servers from countries all over the planet, so just connect to one located somewhere that does not censor internet content and you're good to go!
Compare the encryption of the Android VPNs listed on this page
All of the services we have listed in this article provide users with the best encryption, to ensure that the data on your Android device is kept private and secure. OpenVPN encryption is the gold standard, however, some services also offer some great alternative encryption protocols that are both secure and fast.
Some services on our list also offer ad and malware blocking which vastly improves the users online security and privacy. We have detailed what type of encryption each Android app uses and if they have an ad and Malware blocker built-in to the app in the table below:
| VPN Provider | OpenVPN | WireGuard | IKeV2 | Ad & Malware Blocker |
| --- | --- | --- | --- | --- |
| ExpressVPN | Yes | Yes | No | No |
| NordVPN | Yes | Yes | No | Yes |
| CyberGhost | Yes | Yes | No | Yes |
| SurfShark | Yes | Yes | Yes | Yes |
| VyprVPN | Yes | Yes | No | No |
| IPVanish | Yes | No | Yes | No |
| Ivacy VPN | Yes | No | No | No |
| ProtonVPN | Yes | No | No | Yes |
| PrivateVPN | Yes | No | No | No |
| Private Internet Access | Yes | Yes | No | No |
Please note that these features are specific to the provider's Android VPN apps and desktop apps may include some features that aren't available to Android users. For more information about encryption, check out our VPN encryption guide.
Unblock streaming services
With a VPN for Android, you can "spoof" your geographic location in order to watch streaming services such as the US version of Netflix on your phone or tablet, which has a much larger catalog of titles than paying Netflix customers living elsewhere can access. You can also unblock other free services, for example you can watch BBC iPlayer outside the UK, which are only available in certain countries. Check out our iPlayer VPN and Netflix VPN pages for more details about accessing these services.
| No Value | ExpressVPN | NordVPN | CyberGhost VPN | Surfshark | VyprVPN |
| --- | --- | --- | --- | --- | --- |
| Netflix | | | | | |
| iPlayer | | | | | |
| Amazon Prime | | | | | |
| Hulu | | | | | |
| Disney+ | | | | | |
Unblock Android Games blocked in your Google Play Store region
There are benefits for gamers too. Particularly if you live in a country that restricts access to certain gaming titles. With a VPN, you can change your Google Play region with a VPN and unblock apps that were previously unavailable in your region. Or even connect to new servers to play against opponents from other countries.
Can you get a free VPN for Android?
There are plenty of free Android VPNs for Android users lurking in the Google Play Store, but don't be lured in - the vast majority of these providers are known to be risky. Studies have revealed that a lot of free VPNs are a scam, designed to harvest user data. Free VPNs have been found to have dangerous privacy policies, critical leaks, unreliable apps, weak encryption, and even adware or spyware.
The good news is that there are some reputable free VPN services on the market that offer a free plan. Most of the time these plans cap speeds, limit data usage, and limit the number of servers you can use. However, these services don't skimp on privacy or security features in any way, so you will be kept private online.
Remember, if you are not paying for the product, then you are the product! Nobody is offering a "free" service simply out of the goodness of their hearts.
Windscribe is the best free VPN for Android
Windscribe is a no-logs, privacy-friendly, Canadian VPN service that offers users 2GB data allowance per month completely free without having to hand over any personal information or a very generous 10GB in exchange for your email address.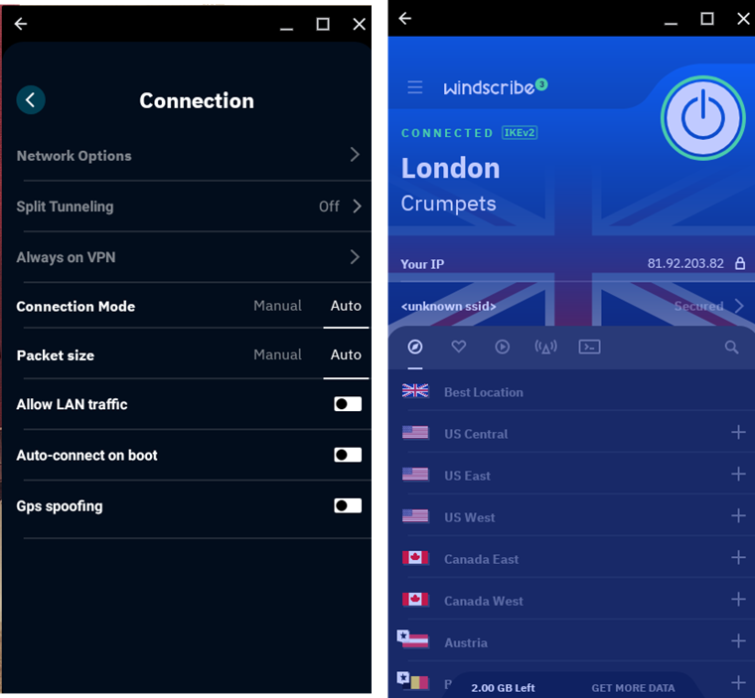 Windscribe's speeds are decent for a free service. We achieved 55 Mbit/s download results using a server in our own country (UK), although this will depend on the speed of your raw broadband or 4G connection.
Free users can connect to servers in ten countries, including the USA, Canada, France, Germany, the Netherlands, Norway, Romania. Switzerland, the UK, and Hong Kong. This is actually quite generous for a free service and gives free users plenty of options for unblocking content. Although, the data limit may cause problems if you want to stream with it.
Make use of Android VPN money-back guarantees
You might be on the fence about VPNs if you've never used one before. And this is totally understandable! After all, you won't know what a VPN can do for you until you try one for yourself. The good news is that you can do just that with all of the VPNs in this guide, thanks to their money-back guarantees.
This allows you to test the VPN out – without actually committing to a contract. We think once you experience the freedom of being able to access blocked content at work or in school, or experience unrestricted access to geo-restricted services around the world – you will decide to keep your VPN.
Don't forget that if you want to, you can try a few different services to see how they each differ. That's the beauty of these refund promises; it allows you to shop around and decide which service you prefer.
| | | |
| --- | --- | --- |
| VPN | Money-back Guarantee? | Duration |
| ExpressVPN | Yes | 30 days |
| NordVPN | Yes | 30 days |
| Surfshark | Yes | 30 days |
| VyprVPN | Yes | 30 days |
| IPVanish | Yes | 7 days |
Android VPNs to avoid
There are literally dozens of bad or dangerous VPNs for Android. Far too many to list here. That is why searching for a VPN on the Play Store is so risky. The best advice is to stick only to our recommended VPNs, as those are known to be reliable and secure.
Paid-for services that also have full desktop VPN support (so are not just otherwise no-name Android apps) are more likely to be trustworthy, but we still recommend hunting down reputable VPN reviews before trusting them with your privacy.
Google One VPN
If you're a Google One user - good news! You'll soon be able to check out a new VPN as part of your subscription, (provided you're paying for one of the higher tiers).
VPN by Google One will be available as part of the $9.99 p/m plan, which also provides an extra 2TB of expanding Drive storage. The VPN is also baked into the 10, 20, and 30TB plans. Keep an eye out for updates over the next few weeks - Google plans to introduce the VPN to Android users in the near future, and it's reported that customers will be able to enable and/or disable the service via their mobile app.
Other ways to improve your privacy on Android
If you're an Android user, you must be aware that, while a VPN app will do its job to secure your sessions when using a mobile browser, it can't stop Android apps from sending personal data back to their developers - as well as Google, via the Play Services Framework.
You should therefore always use a service's web portal rather than its Android app whenever possible when you're using your VPN. It's not always an option, but when it is, it's the best way to maximize your privacy.
FAQs