The VPN market is extremely competitive, which is great for us consumers. These days, you can pick up an excellent VPN for just a few dollars a month. But even with rock-bottom prices, some folks love shopping around for a great deal. If that sounds like you, you've come to the right place.
Some cheap VPNs are terrible. They don't offer the service or support required and can leave you frustrated and out of pocket. Other 'bargain' VPNs are even dangerous, mis-using your personal data for their own gain. The good news is that there are trusted VPNs on the market that provide outstanding performance at an affordable price.
We have scoured the market looking for the very best cheap VPNs. Our selected cheap VPN apps come with all the privacy features you require to stay safe online, the performance you need to unblock services like Netflix and even allow p2p so you can torrent safely.
Cheap VPN price comparison
Below is a quick summary of the best cheap VPN services in 2019:
These services above are considered cheap even if you subscribe for only one month. However, they do get much, much cheaper if you commit for a longer period of time.
Best 5 cheap VPN services
Below you will find detailed comparisons of the 5 best cheap VPNs. All the services differ slightly so it's worth checking them out more closely...
Why do I need a VPN?
When you visit websites they can automatically see your IP address. That unique address can be used to track you, so that the website knows if you come back to the site. In addition, your ISP can keep tabs on your web browsing habits. Without a VPN, your ISP can keep records of your web browsing habits and feedback that information to the government.
Nobody likes being tracked; regardless of what they do online. A VPN is the perfect solution because it can help you encrypt your traffic to keep it private. VPN encryption also protects you from hacking. Here are the most important benefits of a VPN:
Improved security - Your data is encrypted which protects it from hackers on public WiFi and at home (the KRACK vulnerability, for example).
Online privacy – With a VPN you can stop websites tracking your IP. You can also stop your ISP from tracking your web browsing habits. This stops the ISP from performing mandatory data retention on behalf of the government.
Unblock websites and bypass censorship – A VPN gives you internet freedom and even lets you unblock geo-restricted services like Netflix or BBC iPlayer.
Finding the best and cheapest VPN for you
If you want to find the best VPN for you, our new VPN tool can help you find a cheap VPN suited to your needs:
What do you need from your cheap VPN?
Answer a few simple questions and we'll recommend the perfect VPN for your needs
Are cheap VPN services safe?
Although there are many cheap VPN services that have a bad reputation, there are plenty of lousy expensive ones too. When it comes to the VPN market, price is not always a good representation of what you are going to get.
So what is wrong with some cheap VPNs?
Some VPNs keep VPN logs, and have bad privacy policies. All the cheap VPNs in this article keep no to minimal usage logs.
Some VPNs have malware in their VPN apps. The cheap services in our list have been tested for malware.
Often Cheap VPNs are lacking vital features that are needed to keep your data private. All the VPNs in our best cheap VPN list have all the features you need to stay secure and unblock content.
A VPN with performance issues such as IP leaks, is also a huge problem because it means that VPN isn't protecting you (even though it is connected and you think it is). All the Cheap VPNs in this article have been tested and do not have IP leaks.
All of they VPNs in this article are all well-known and trusted VPN brands that have proven their worth. The VPNs in this article are cheap but they are also safe, which is why you are free to opt for the one that you prefer.
Where can I use a cheap VPN?
The cheap VPN providers in this article have servers worldwide. That means they are good for people living almost anywhere! However, if you are using a VPN in countries such as China and the UAE (where censorship is an issue), you will need a VPN with specific features that help users bypass government censorship. These features are offered by NordVPN, CyberGhost and PrivateVPN.
How much does a VPN cost?
VPN subscriptions can be purchased for various lengths of time. These are usually monthly, six monthly, and annual plans. It is becoming common nowadays for VPNs to offer even bigger discount for two year subscriptions. VPNs reward customers with discounts for committing for a longer period of time.
The average cost of a VPN service currently sits at about $5 a month, or approximately 50$ if purchased on the annual plan. Of course, the longer subscription you purchase, the bigger discount you will receive. For this reason we consider anything in the three dollar range to be cheap.
Although there are free VPN services on the market; most of them are extremely risky. The free VPNs that we can recommend usually have download limits and connection speed restrictions. For this reason you will never get the kind of performance from a free VPN as you do from a cheap VPN.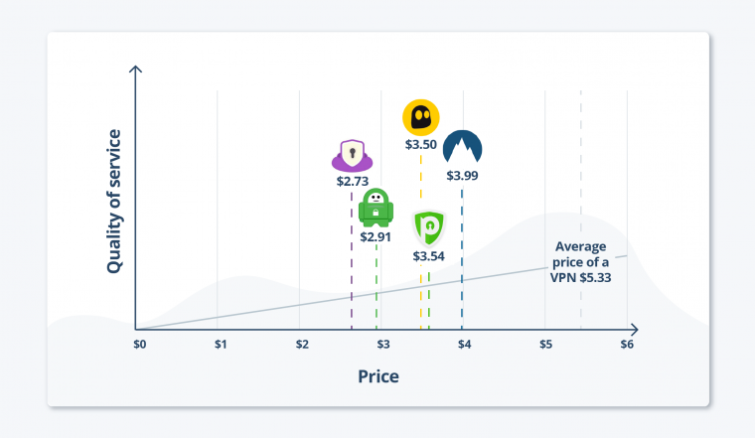 If you want to see what offers are out there then take a look at our current VPN offers.
Are lifetime VPN subscriptions worth it?
There are lifetime VPN subscriptions that are sold for as low as $30. That means, you pay $30 as a one-off and then enjoy the VPN for as long as you want. The actual price could be somewhere around $300, but various discounts drastically reduce the price.
While a lifetime VPN subscription sounds like a great deal on paper, the reality is that VPN companies need to have a sustainable business model to support launching new servers and keeping the existing ones properly maintained.
Instead of a lifetime VPN subscription, you should consider a trustworthy, cheap VPN, such as the ones listed here.
Are budget VPNs fast?
If you are looking for the fastest VPNs in the world, we recommend that you read our fastest VPN article. Although, the cheap VPNs in this article are all known to provide connection speeds that can cope with streaming and other data intensive tasks.
All of our recommended cheap VPNs have a massive number of servers - so if one VPN server seems slow, just connect to another!
Using a cheap VPN for torrenting
If you often download TV shows and movies, or even software via BitTorrent; you really should use a VPN. Piracy is a crime and without a VPN you will be caught easily.
With a VPN you can avoid copyright violation notices from torrenting. All of the cheap VPNs in this article permit P2P downloading; which means they are all valid options if you want a VPN for torrenting.
What else can I use a VPN for?
In addition to protecting your data and digital privacy, a VPN is everyone's favorite way to access more content online. With a VPN you can unblock YouTube videos that are unavailable in your region and access foreign streaming platforms.
FAQs
The questions below are popular questions about cheap VPNs that we get asked here, or have seen people asking on Reddit and in other places. If you have any other question drop us a message below!