If you enjoy using Spotify, you'll probably be annoyed to discover that the music streaming service geo-restricts some of its music so you can't listen to it outside your home country. This is because Spotify is only licensed to play certain music in specific regions.
However, with a VPN you can unblock Spotify music no matter where you are in the world. VPNs change your IP address and encrypt your connection, which tricks websites into thinking you are in a different location.
In this article, we list the best VPNs for unblocking Spotify and show you how to do it.
The best VPNs to unblock Spotify
To ensure you can unblock Spotify from anywhere in the world, we have meticulously tested and reviewed all of the VPNs on this list. They each come with the following key features:
The ability to get around regional restrictions easily (also known as geo-spoofing!)
Servers in countries where Spotify is available
Lightning-fast speeds for the smoothest Spotify experience
Robust encryption with multiple protocols available
Strong and customizable privacy features
The best Spotify VPNs in 2023
We take a closer look at our recommended VPNs for Spotify below.
How to unblock Spotify from anywhere
Whether Spotify is blocked by a local network administrator (at work or in school, for example), or is unavailable because of international geo-restrictions - a VPN can easily allow you to regain access.
All of our recommended VPN providers have custom apps, which makes them extremely easy to use. As a result, you can follow the guide below to get the VPN up and running with Spotify:
Choose a VPN that unblocks Spotify (like ExpressVPN). We've listed some stellar services in this guide, but make sure to try them out for yourself.
Download and install the VPN software/app on your device.
Connect to a VPN server in any of 180+ locations where Spotify is available.
Go to Spotify and subscribe (if you already have an account, open the app or the website to continue using Spotify as if you were in your own country).
Enjoy over 82 million Spotify tracks from anywhere in the world!
Remember to connect to your VPN to stream music on Spotify.
Anybody wanting to purchase a new Spotify subscription with a VPN should be aware that they may need a valid local payment method to complete the purchase. One option is to use a virtual online card. We recommend Get US Unlocked as it's cheap and easy to use.
Another way around this is to purchase a gift card online from an online vendor selling Spotify gift cards in the country where you intend to purchase the subscription. These will arrive by email and will allow you to check out and get a Spotify subscription without having to enter a valid local card number.
How to download the Spotify app with a VPN
If you are in a country that doesn't have access to Spotify you will need to use a VPN to download the Spotify app. Below, we have explained how to do this:
Download and install a VPN from the list above – they all unblock Spotify and work seamlessly with the music streaming service.
Open the VPN app and connect to a server in a place where Spotify is available.
Head over to the Spotify website and download the APK (alternatively, download it from the Google Play store by following the instructions below).
How to use a VPN to download Spotify on Google Play
Using a VPN to download Spotify on Google Play may sound complicated to users who aren't totally tech-savvy, but it's actually very quick and simple. Here are the steps:
Create a new Google account by clicking on Add another account in settings.
Launch your VPN and connect to a server in the US.
Open the Google Play store and click on the hamburger menu to switch to your newly created account.
Now, click on the hamburger menu followed by Account and choose Switch to the United States Play Store.
With that done click on Add debit or credit card. Click continue and then cancel straight away to avoid adding a card.
You will now be on the US Play Store and, as long as you did everything connected to a VPN server in the US, the Play store will have updated.
Once you have logged into the US Play Store you will be locked into it for a year. This is why it is important to make a secondary account (so that you can use your regular account in your own country as usual). This may differ depending on what device you are using it on. Check out our Android VPN and iOS VPN guides for more information about using a VPN on your mobile.
Can I use a free VPN to unblock Spotify?
Although there are some free VPN services available on the market, the unfortunate reality is that they are not suitable for streaming vast amounts of music content on Spotify. Free VPN services that aren't shady (most are because they harvest your data and sell it) only offer their service as a loss leader. The idea is to let people try the service so that they will eventually pay for a premium subscription.
As a result, reliable free services have bandwidth restrictions, usage limits, and limited server locations. This will make streaming music problematic, because you will suffer from buffering issues due to slow speeds, and will run out of data early on each month and not be able to listen to anymore Spotify.
For this reason, if you are short on cash, we recommend sticking to a cheap VPN service that gives you unlimited data and unthrottled speeds.
Where is Spotify available?
Spotify is available in most of Europe, the Americas, Australia, New Zealand, and parts of Africa and Asia.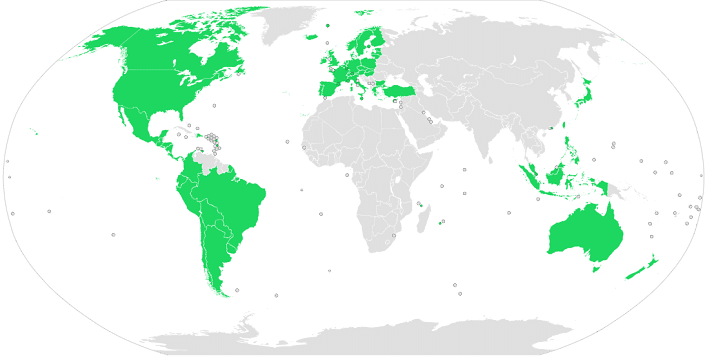 Below we have included a full list of locations where Spotify is available:
| | |
| --- | --- |
| Africa | Algeria, Egypt, Morocco, South Africa, Tunisia. |
| Asia | Bahrain, Hong Kong, India, Indonesia, Israel, Japan, Jordan, Kuwait, Lebanon, Malaysia, Oman, Palestine, Philippines, Qatar, Saudi Arabia, Singapore, Taiwan, Thailand, United Arab Emirates, Vietnam. |
| Europe | Andorra, Austria, Belgium, Bulgaria, Cyprus, Czech Republic, Denmark, Estonia, Finland, France, Germany, Greece, Hungary, Iceland, Ireland, Italy, Latvia, Liechtenstein, Lithuania, Luxembourg, Malta, Monaco, Netherlands, Norway, Poland, Portugal, Romania, Slovakia, Spain, Sweden, Switzerland, Turkey, United Kingdom, Russia, Belarus, Kazakhstan, Moldova, Ukraine, Albania, Bosnia, Croatia, Montenegro, North Macedonia, Serbia, Slovenia, Kosovo |
| North America | Canada, Costa Rica, Dominican Republic, El Salvador, Guatemala, Honduras, Mexico, Nicaragua, Panama, United States. |
| South America | Argentina, Bolivia, Brazil, Chile, Colombia, Ecuador, Paraguay, Peru, Uruguay. |
| Oceania | Australia, New Zealand. |
How Spotify blocks unlicensed music
When you use Spotify (be it on your PC or mobile device), it uses your IP address to determine your geolocation. In doing so, Spotify may decide to either completely block access, or restrict the availability of songs and artists due to licensing restrictions.
By connecting your VPN to a server in a different country, Spotify will detect the IP of the server and your real IP address will be hidden. Spotify will now offer you all the music available in that region, rather than your current one.
You can use this workaround to get the most out of Spotify's service and unblock its full musical archives.
FAQs
Below we have answered some of the most commonly asked questions about using a VPN with Spotify.

From $6.67/month
The best Spotify VPN. It's lightning-fast, offers apps for all platforms, a worldwide server network, and a 30-day money-back guarantee.
ProPrivacy TrustScore:

10 out of 10

Simultaneous connections

5

Server locations

160

Free trial

No

From $3.69/month
The most popular Spotify VPN. Unblocks Spotify from anywhere, with great network of fast servers, and a 30-day money-back guarantee.
ProPrivacy TrustScore:

9.9 out of 10

Simultaneous connections

6

Server locations

60

Free trial

No

From $2.30/month
The best value-for-money Spotify VPN. It's packed with features, and works on unlimited devices, with a 30-day money-back guarantee.
ProPrivacy TrustScore:

9.8 out of 10

Simultaneous connections

Unlimited

Server locations

100

Free trial

Yes

From $2.03/month
A secure VPN for Spotify. It offers advanced features, highly customizable apps, and a 30-day money-back guarantee.
ProPrivacy TrustScore:

9.7 out of 10

Simultaneous connections

Unlimited

Server locations

84

Free trial

No

From $2.11/month
The cheapest VPN for Spotify. Offers great apps for all major platforms – ideal for newbies, and a 45-day money-back guarantee.
ProPrivacy TrustScore:

9.6 out of 10

Simultaneous connections

7

Server locations

117

Free trial

Yes