If you enjoy using Spotify, you'll probably be annoyed to discover that you can't pick it up outside your home country. This is because the Spotify service is only licensed to play music in specific countries. As such, it enforces regional restrictions in order to comply with contractual conditions with music copyright holders.
You can join in the Spotify fun from a country that doesn't have coverage - you just have to trick the streaming servers into believing that you're somewhere else. This trick is one of the main functions of a Virtual Private Network (VPN). There are many VPN services available around the world, but they are not all equal. This review narrows down your choice to those VPN services that our experts have assessed to be the five best VPNs for Spotify.
You can read more about Spotify further down in this review. However, first of all, let's take a look at our list of the best VPNs for Spotify. These VPNs have good speeds, servers in Spotify countries, and the ability to get around regional restrictions.
Considerations with Spotify VPNs
How Spotify Regional Restrictions Work
When the Spotify app on your phone, or your computer's web browser, connects to the Spotify server, it sends communications over the internet. The only way that contact can be made is by tagging addresses onto the messages that go back and forth between your device and the Spotify server. Each request that leaves your device has the address of the Spotify server on it and also the internet address of your device.
The addresses of devices that are connected to the internet are called IP addresses. These can be traced to a specific location. This is how the Spotify server is able to detect which requests it needs to block.
When you turn your VPN software on, you have to select a server from a list of locations. If you select a VPN server in the same country as your Spotify account, the Spotify server will let you listen to music, not realizing that your are really located outside of its service footprint. This is because the VPN server doesn't just pass through your request - it puts its own IP address as the source of the request.
The Spotify server will send back the music stream to the return address on the request it received. When that request comes from the VPN server, the music stream goes there. The VPN server keeps track of which customer it sent out each request for. When the response comes in, the VPN passes it on to the correct customer. This process takes place so quickly that you shouldn't experience any slowing of the connection.
Spotify Countries
If you don't live in a country that is covered by the Spotify service, you should probably forget about signing up for the paid service. That's because the bank account you use to pay for the service will give away your real location. However, you don't need to give any personal details in order to set up a free account. Here is a map of the countries that Spotify currently covers: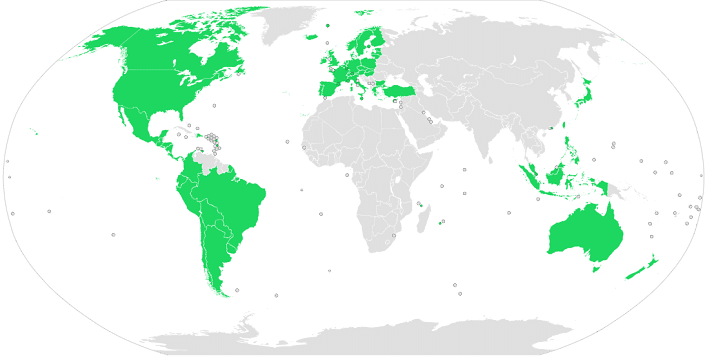 Before you access the Spotify service for the first time, you should select a VPN server in one of the countries that Spotify transmits to. You will need to give a genuine email address to which you have access. If you don't want to give your regular email address, you could set up a burner webmail address. However, you will have to access the email in order to get your log-in details, so don't make up a fake address.
Best VPNs for Spotify: Conclusion
Spotify is a great service. It removes the need to download music files, which fill up your hard drive. If you like to listen on a mobile device, your storage space can soon fill up if you have to keep the songs. Spotify avoids this happening.
Spotify keeps extending its reach. As such, those countries that currently have no Spotify service may eventually be included in the party. In the meantime, installing a VPN will solve all of your problems and get you access to Spotify. Any of the VPNs on our list will work well. You can enjoy Spotify wherever you are in the world, thanks to your Spotify VPN.
Spotify VPNs: Side-by-Side Comparison
IMAGE CREDITS:
Logo of Spotify, Public Domain
Danindub, Availability of Spotify in the World, CC BY-SA 3.0
Wikimedia Commons, Public Domain