A VPN for gaming can vastly reduce the cost of purchasing new games, let you compete in tournaments that aren't available in your region and reduce ping. And because a VPN improves your online security, a gaming VPN combats the risk of DDoS from hackers. No matter which way you look at it, a VPN for gaming is a must have for any gamer.
If you're new to VPNs you can level up your knowledge with our helpful guides:
What are the best VPNs for online gaming?
Looking for a shortcut? Check out the 5 best gaming VPNs listed below.
NordVPN

Editor's Choice
If you want more information, keep scrolling for an in-depth analysis of each of the services featured above.
The best 5 gaming VPN services
To help you select between the top 5 gaming VPNs, our experts have explained their differences below. These are the best of the best, which means they do have many similarities. However, they do differ slightly so it is well worth taking your time to select a gaming VPN that is perfect for you.
Why do I need a gaming VPN
If you are a newbie and want to know more about VPNs, take a look at our VPN beginner's guide. To save time, this section will explain what a gaming VPN can do for you:
Connecting to a VPN server conceals your home IP address (location). This stops the websites and gaming servers you visit from knowing where you are. This is how a VPN lets you pretend to be in a different country.
What features does a gaming VPN service need
The most important features of a gaming VPN are speed and server locations. However, privacy is also important because some famous game distributors - such as Steam - will block accounts if users are discovered to be geo-spoofing to a different country.
When selecting the best 5 gaming VPN services, we considered:
Remember: if you are new to VPNs all our recommendations provide a money back guarantee, which means you can test them all to see which you prefer.
Can I save money with a gaming VPN?
Economies differ all over the world, meaning that people have vastly different amounts of spending power. Game developers know they can charge much higher rates in some countries than in others. In addition, local sales taxes and currency rates may affect the cost of a game.
With a VPN for gaming, you can save money on AAA releases. You can also save money on games by checking out the following online game retailers are all worth checking out:
Plus, in 2019 it has become more common for game developers like Taleworlds, Mojang, and Cloud Imperium to sell games directly from their websites. So, always shop around and always test a few countries by using your gaming VPN.
What games can I get a discount on?
The list below provides some examples of the differing prices that games can be purchased at. You can use a VPN to buy games cheaper from Steam, PS4, Xbox One, Nintendo Switch, and many more.
| Game | Store | UK Price (£- $) | US Price ($) | European Price (€- $) | Cheapest option |
| --- | --- | --- | --- | --- | --- |
| Rainbow Siege Six | Steam | $38.95 | $14.99 | €17.35 | $10.70 (Vietnam) |
| Middle Earth - Shadow of War | Steam | $58.47 | $58.47 | $69.95 | $20.63 (Vietnam) |
| Dirt Rally | Steam | $51.40 | $59.99 | $63.70 | $20.63 (Vietnam) |
| Injustice 2 | Steam | $32.50 | $29.99 | $34.73 | $8.38 (Vietnam) |
| Spyro Reignited | Microsoft Store | $45.14 | $39.99 | $45.06 | $26.07 (Argentina) |
| Lethal Blaze | Steam | $23.40 | $19.99 | $22.76 | $8.09 (Vietnam) |
| RimWorld | Steam | $27.99 | $34.99 | $34.14 | $12.05 (Vietnam) |
| Call of Cthulhu | Steam | $52.01 | $44.99 | $51.21 | $21.74 (Vietnam) |
| Red Dead Redemption PS4 | PlayStation Store | $78.09 | $59.99 | $79.64 | $59.73 (Hong Kong) |
| Red Dead Redemption Xbox one | Microsoft Store | $77.42 | $59.99 | $78.85 | $32.10 (Argentina) |
| Madden 19 | PlayStation Store | $78.09 | $59.99 | $79.64 | $54.76 (Hong Kong) |
| Battlefield V | Microsoft Store | $103.35 | $79.99 | $101.41 | $59.75 (Turkey) |
| Overwatch Legendary Edition | Microsoft Store | $64.53 | $67.70 | $59.99 | $38.72 (Turkey) |
| Fifa 19 PS4 | PlayStation Store | $78.09 | $59.99 | $79.64 | $54.76 (Hong Kong) |
| Fifa 19 Xbox One | Microsoft Store | $77.57 | $59.99 | $78.88 | $30.82 (Hong Kong) |
| Fall out 76 pre-order | Microsoft | $77.61 | $59.99 | $78.89 | $20.10 (Argentina) |
| Spider-Man | PlayStation Store | $64.99 | $79.99 | $78.89 | $44.86 (Indonesia) |
| Assains Creed Odyssey | PlayStation Store | $71.08 | $79.99 | $33.80 | $33.80 (France) |
| Devil May Cry 5 | Steam | $58.64 | $59.99 | $59.99 | (Vietnam)$34.81 |
| Metro Exodus | Playstation Store | $71.68 | $59.99 | $68.08 | (Turkey)$56.74 |
| Resident Evil | Steam | $71.68 | $59.99 | 68.08 | (Vietnam)$34.41 |
| Crackdown 3 | Xbox Store | $68.03 | $59.99 | $79.37 | (Turkey) $56.74 |
| Far Cry New Dawn | Steam | $49.52 | $39.99 | $51.02 | (Vietnam)$32.14 |
| Apex Tournament | Steam | $15.63 | $14.99 | $17.00 | (Vietnam)$7.18 |
| Fortnite (SFP) | Playstation Store | $43 | $39.99 | $45.35 | (Turkey)$16.88 |
| Kingdom of Hearts 3 | Xbox Store | $71.68 | $59.99 | $79.37 | (Turkey)$56.74 |
As you can see it is possible to save up to $57 on some titles. That makes a VPN an absolute bargain that could save you hundreds of dollars on games! If you want to compare game prices for various PS4 stores around the globe - click here! To compare Xbox stores from around the world check this website.
Buying games for less is extremely easy using a VPN! Simply connect to a VPN server in a foreign country. If a valid local payment method is required, you can get one by following our guide about virtual online card services.
Can a fast gaming VPN increase connection speed?
Unfortunately, all VPNs will slow down your connection speed a bit. Encrypting your data and sending it via a VPN server (to allow you to pretend to be elsewhere) is bound to cost you a tiny bit of speed.
Some VPN services slow down internet connection speed by anything between 50% and 90%. That is not going to cut it when it comes to gaming. That is why we have worked hard to find VPNs with high-speed servers so your connection will not be slowed down. On the other hand, if your ISP is actively throttling your connection when you game: a VPN could actually speed up your connection speeds. Thus, it is worth testing a VPNs speed to see if it can increase your connection speeds.
Will a VPN for gaming reduce ping?
Connecting to a VPN server closer to the gaming server may reduce your ping - so it is worth trying it out. However, generally, a VPN will not reduce your ping much (if at all). Unless your ISP is throttling your internet connection a VPN is likely to slightly reduce your connection speeds.
For gaming, you will require internet speeds of at least 10 Mbps. Always check your internet connection speeds without a VPN to figure out whether a VPN is going to work well. The higher your benchmark speed is without a VPN - the more confident you can be about using a VPN.
To understand more about how VPNs affect connection speeds please visit our fastest VPN article. Also, remember that our recommended gaming VPNs all have money-back guarantees. So if you are unsure whether your ISP is throttling you when you game, simply trial a VPN to see if it improves your ping rates and connection speeds.
Tips for reducing VPN ping
In this section, we will look at a few helpful tips that may help to reduce your ping when using a VPN.
Encryption protocols
VPNs come with various different encryption protocols and some are faster and some offer extra privacy. For gaming, you mainly want a fast-tunneling protocol. If your VPN provides PPTP encryption, you may want to give it a test run as it will provide faster speeds. If you are purchasing games overseas, we generally recommend using a more robust protocol with better privacy (such as OpenVPN or IKEv2).
Connect to a VPN server that is closer
Always connect to a VPN server that is as close as possible. If you need a server in the US to consider whether an East or West coast server is closer to your home country. Every second counts, so always choose a server that is as close as possible to you.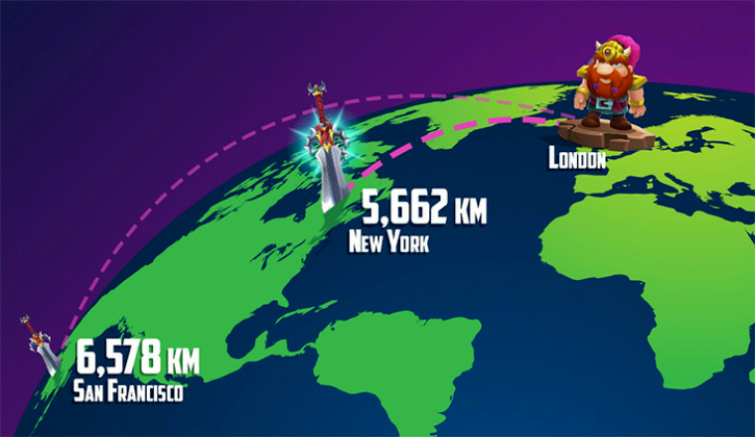 Top tip: always test a few servers as some may be faster than others. Servers can slow down if they are oversubscribed due to congestion. If a VPN server seems a bit slow just check another that is also close by.
Use a VPN gaming router
Most games consoles do not let you install a VPN directly on to them. This means you have two options:
Connect your console to the internet via a desktop computer or laptop that is running the VPN. You can achieve this by connecting an ethernet cable from your console to the PC.
Install a VPN on your router (or buy a flashed router) so that every device in your home (including your games consoles) are automatically connected to the VPN server of your choice.
A VPN router is always the best solution for consumers playing games on consoles like PS4, Xbox, or Nintendo Switch. A VPN router also stops you from having to run a gaming VPN on your PC. This can reduce some strain on your CPU - which will leave more power for rendering graphics.
How else can I speed up my VPN connection?
The best option is to subscribe to a fast VPN in the first place. However, one useful tip is to test servers not only in the country where you want to use a server but also in countries between you and that server (if those countries are permitted to connect to the server).
Doing so could help to reduce ping by routing your internet differently to the final location. A little trial and error is definitely recommended.
FAQs
The following section has been created by collecting frequently asked questions from our own site as well as services like Quora and Reddit. If you have any other questions - or are still confused about something - please contact us directly for more help.