Alternative Choices for You
Features
BTGuard VPN is extremely sparse on features, and the ones it does have all come as standard with the third-party software that subscribers must use to connect to the VPN. Allow us to explain. BTGuard VPN runs on the third-party OpenVPN software. This software is open source and is very good at its job. With that in mind, it is a very effective way of connecting to BTGuard's three servers.
Furthermore, that open source software is reliable and nowadays provides Domain Name System (DNS) leak protection (though we couldn't get that version to actually work with BTGuard's .ovpn files, and had to use an outdated version with no DNS leak protection).
However, the best VPNs provide custom VPN software that has pro features such as a kill-switch and auto-connect, to protect subscribers' identity should the VPN connection drop out. Due to the fact that BTGuard runs on third-party OpenVPN, these features are nowhere to be seen. Most VPN providers also offer users multiple simultaneous connections, while BTGuard offers just one. According to BTGuard's knowledge base, users even risk termination of their account if they are caught using more than one connection at once. Considering the cost of the subscription, this is all incredibly infuriating. Why does it cost so much, for barely any appealing features and for access to just three averagely-located servers?
Three Server Locations
Servers are located in only three places: Canada, The Netherlands, and Singapore. As such, this VPN is not good for unblocking purposes, such as watching BBC iPlayer outside the UK or streaming US Netflix. Only subscribe if you want access to those three locations. BTGuard does offer unlimited download speeds through those servers, though. Check out our iPlayer VPN and Netflix VPN pages for more details about unblocking it.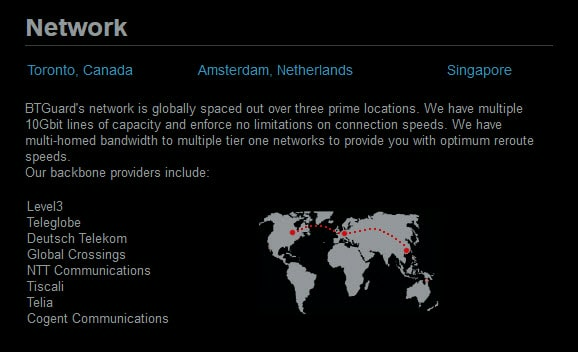 Protocols
BTGuard provides access to its servers via only two protocols. Due to the fact that Point-to-Point Tunneling Protocol (PPTP) has been proven to be insecure for quite some time now, we strongly recommend that subscribers never use it. The good news is that users can connect to BTGuard's servers using the best VPN protocol: OpenVPN. However, as mentioned above, to do so, subscribers will need to use the third-party OpenVPN software.
Speeds and Performance
We tested BTGuard using testmy.net on a 50 Mbps internet connection. Usually, at ProPrivacy.com we test a UK server, US server, Hong Kong server, and Australian server. Sadly, due to the fact that BTGuard doesn't have servers in any of those locations, going through our normal speed testing methodology was impossible. For this reason, we tested Canada from a US (San Francisco) test server, Singapore from a Singapore test server, and the Netherlands from a UK test server (to give some idea of the speed difference between our UK non-VPN test, and the speeds with the VPN turned on as close as possible).
Of course, bear in mind that some of the speed loss is because of geographical distance.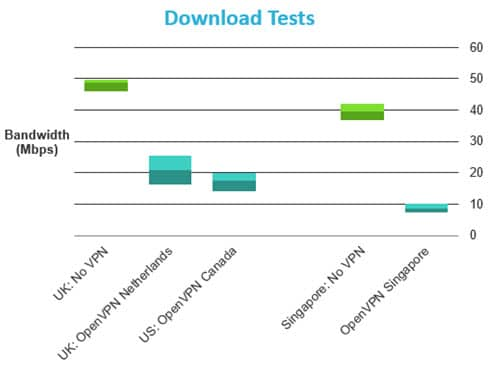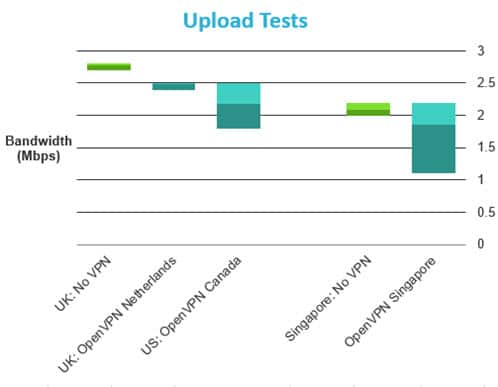 As you can see, we experienced a massive drop in speeds. That drop-off was similarly huge on every server, even when taking into account speed loss due to geographic distance.
Due to the fact that we couldn't get BTGuard to work with the latest version of OpenVPN, there was also no DNS or WebRTC leak protection in the software.
This is a real shame. We used ipleak.net and found there to be no IP address or WebRTC leaks. However, we detected DNS leaks to several DNS addresses, including GoogleDNS (which keeps logs). This is an abject failure from a firm that claims to provide privacy for its users.
Pricing and Plans
BTGuard VPN offers two separate subscription plans. These can be paid for monthly or yearly (with a 25% price reduction for paying annually). The first is a proxy service that is primarily aimed at BitTorrent users (the BT part of their name stands for BitTorrent). The second is a full VPN service with servers in Toronto, Amsterdam, and Singapore.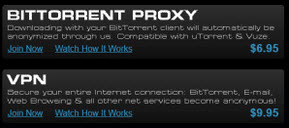 BitTorrent Proxy
This plan is aimed at BitTorrent users who wish to download files anonymously. It does so by providing a proxy Internet Protocol (IP) address with which users can hide their true IP address. This is an extremely useful tool for protecting your identity from other users on any peer-to-peer (P2P) network. In addition, BTGuard provides encryption for users who are having their bandwidth throttled by their Internet Service Provider (ISP). To get people up and running, BTGuard VPN comes with a pre-configured version of the uTorrent BitTorrent client.
Furthermore, it provides instructions for manually configuring other torrent clients with its proxy servers. For anybody wanting to hide their identity while file-sharing, this proxy service will certainly do the job. However, please bear in mind that at $6.95 per month it is very pricey. In fact – for that price (and often for less) you could get a full VPN service elsewhere, so why settle only for a proxy service?
BTGuard VPN Service
BTGuard's VPN service costs $9.95 per month. Or users can opt for varying monthly plans, and annual plan that is billed at a reduced rate of $89.95 for a year (25% off). All plans are identical in terms of the service offered: un-throttled use of just three VPN servers. This is extremely expensive, and with no VPN servers in the UK, the US, and many other useful places, the service is insanely limited considering the sky-high price. There are tons of other VPN options available that offer a much higher quality level of service overall for less than what you would pay for BTGuard's meager offering. In fact, as far as we're concerned, you can flick away from this review now: BTGuard VPN is a total rip off (and the rest of this review proves it conclusively).
On top of all that, BTGuard doesn't offer any type of free trial or money-back guarantee, so there's no way for users to test the service for themselves before committing fully. When you sign up for BTGuard, you're essentially going in completely blind and risking your hard-earned cash on a terribly sub-par service without any safety net to speak of in the form of a VPNs free trial or money-back guarantee. Luckily for you, we've tested the service ourselves, so we can confidently let you know that there's no reason at all to waste your money here.
Security and Privacy
BTGuard is based in Canada – a place that is no longer considered particularly great for data privacy. In the last few years, Canada has passed a number of invasive laws, which make it a far-from-ideal place for a VPN to be based. In addition, it has the Five Eyes intelligence-sharing agreement to contend with.
That aside, BTGuard claims to keep no logs, which is good. Sadly, it does keep some personal information on file for billing purposes. In addition, the privacy policy isn't written in the clearest language possible, which is a little concerning. At least it specifies that no data will be shared with third parties unless permission is granted by the subscriber.
However, what worries us about that part of the privacy policy is that, if it is truly a zero logs VPN provider, there shouldn't be any data to share in the first place. This implies that some connection logs are being kept, so we would suggest that BTGuard really means that no usage logs are kept.
Encryption
Encryption is handled via PPTP, which is an outdated protocol that is not recommended, or OpenVPN. OpenVPN implementation is as follows: The data channel uses Blowfish-128 cipher with keyed-hash message authentication code (HMAC) Secure Hash Algorithm 1 (SHA1) data authentication. This isn't great but is arguably unimportant because to get to the data channel (what the actual data is encrypted with), you need to first break the control channel or Transport Layer Security (TLS) connection.
The TLS connection is encrypted as follows: AES-256 (Advanced Encryption Standard) with RSA-1028 handshake and Perfect Forward Secrecy courtesy of a Diffie-Hellman Exchange. Sadly, the RSA-1028 handshake is not considered strong enough by today's standards, so the overall implementation of OpenVPN on BTGuard falls somewhat short of the best VPN providers. The verdict? This VPN is far too costly and doesn't provide the strength of privacy that it ought to for what users are forced to pay for the service.
Ease of Use
The BTGuard website looks really slick and has a lovely-looking Flash animation on its homepage. This does the job of making it seem much, much better than it really is. The black logo and website is definitely designed to instill an extremely professional feel to the well-branded VPN.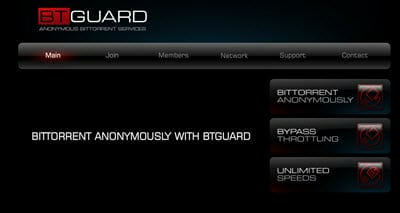 However, it only takes a click or two to find out that this branding is not continued throughout the website. It is just a cunning sales technique designed to suck consumers in. The support pages and FAQ present users with a generic forum interface that is ugly and drives home the message that this VPN is all about depriving people of their hard-earned cash for little in return.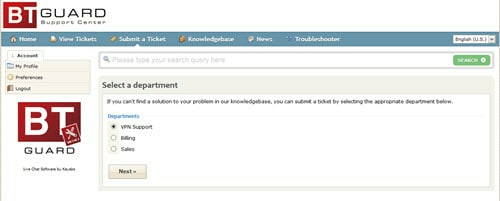 It also rapidly becomes obvious that the entire website is extremely sparse in terms of features and information. Sure, what is available is correct and does fulfill its job. However, other VPNs have blogs about developments in the VPN industry and privacy in general. Other VPNs also attempt to inform their subscribers about updates to the platform. This type of thing is unavailable with BTGuard. It provides the most basic service it possibly can, with no attempt made to update or improve this entirely basic service.
Customer Support
BTGuard's customer support is also extremely basic: just a ticket-based email service. Again, considering the high cost of the service, in our opinion, this isn't at all appropriate. Most VPNs of a similar cost provide 24/7 customer service. Many even have a live chat feature on their websites. Even more disconcerting is that when you put in a ticket request, BTGuard advises that it will take from one to three days for a support rep to respond. We put in a ticket with various questions about the service, to see what sort of response time we would be subjected to.
The ticket system gave us an error notice, but when we checked in 'active tickets' we had active tickets. Unbelievably, neither our pre-sales messages nor the two tickets we submitted (one marked as urgent) ever got a reply! This is insanely lousy and pretty scary considering the high price that people pay. Without a doubt, some of the worst support we have ever encountered in the VPN industry.
The website offers a Support section, which includes some setup guides and a few basic FAQs, so users can check those if they need help or have a question. But anyone who has made the mistake of purchasing a BTGuard subscription shouldn't expect to get much (if any) help from an actual human.
The Process
Signing Up
Signing up is easy. Only an email address and payment details are required to subscribe. Payment is accepted via PayPal or credit/debit card. In addition, we are happy to say that since the last time we tested the service, the VPN has added bitcoin as a payment option.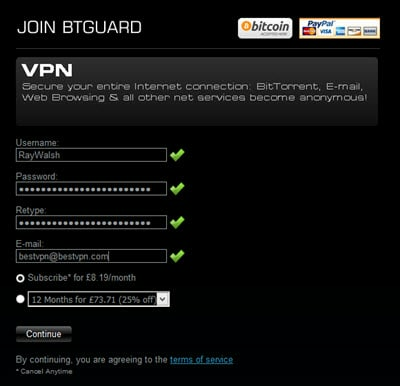 As previously mentioned, BTGuard does not have its own VPN software. Instead, users must connect to one of its three servers using third-party open-source OpenVPN software. Getting that software is easy – it is available on the Google Play Store for Android, through iTunes for iOS and Mac, and from the OpenVPN website for Windows. In addition, BTGuard links to all of those versions, so picking them up isn't a struggle.
We tried installing the latest version of OpenVPN 2.4.1, as that one has excellent features such as DNS (including Internet Protocol version 6 – IPv6) and Web Real-Time Communication (WebRTC) leak protection. Sadly, despite installing all signs of OpenVPN and its network tap (TAP) drivers, and reinstalling it, BTGuard simply would not connect using the latest version. For this reason, we were forced to go with an older version (openvpn-install-2.3.14-I601-x86_64.exe) to get it to run.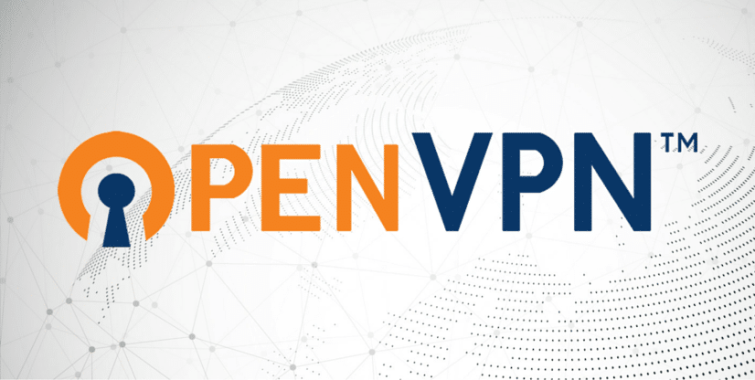 This version worked like a dream BUT it lacks those excellent newer features. This is really sad because when we tested for DNS leaks using ipleak.net, we did get a DNS request leak (and it appears that it uses GoogleDNS anyway).
Compatibility Issues
We tried contacting BTGuard to see why their .ovpn files were not compatible with the newer version of OpenVPN but we didn't get a response. Making sure that its .ovpn config files are compatible with the new OpenVPN client is something that should be a no-brainer – it is very easy to do. Once the software is installed on the user's platform, the subscriber must download the .ovpn files from the download area of the website. Those files must be extracted onto the device and then imported into the OpenVPN software using the import feature (in the app) or placed in program files > OpenVPN > config on Windows.
The entire process is easy, and BTGuard has a guide to walk users through the process. However, if you run into any problems, communicating with BTGuard is not 24/7 like it is with many many other VPNs in the same price range. Once the software is installed and the .ovpn files have been imported, connecting is easy. Right click the icon on the desktop and run as administrator, then right-click on a server and select connect. You will be asked for your username and password.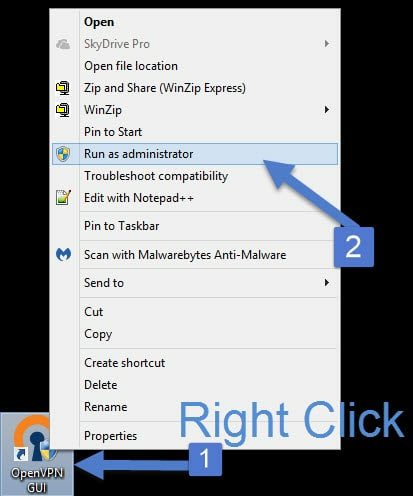 Once it is running, right-click the icon in the system tray in the bottom right of the screen (on Windows) or use the Connect button in the various smartphone apps. Simply select the desired location and connect to the server. Once a connection has been established, the icon goes green to let you know that everything is working as it should be. Once connected, it is a good idea to use ipleak.net to make sure that the connection is working properly. It's also a good idea to test for DNS leaks.
The BTGuard Windows and Android VPN clients
Unfortunately, Windows VPN and Android VPN users have to use a third-party open source OpenVPN software to connect to BTGuard. This is due to the fact that the service does not offer a custom app. The same goes for iPhone VPN and Mac VPN users.
Final Thoughts
BTGuard is a VPN provider that has been around for years. As such, the Canadian-based service has absolutely no excuse for providing such a mind-bogglingly poor service. BTGuard VPN fails, time and time again, to provide a respectable VPN service. Its website is designed to entice consumers with flashy looks, but peel back the curtain and, just like in Oz, it is all a bad illusion.
This VPN service is just as expensive as many world-class VPNs that provide servers in upwards of 75-100 countries, yet it offers so little:
A poorly-worded privacy policy; poor encryption implementation
No custom client
Barely any features to speak of
A lack of compatibility with the latest OpenVPN software
The worst customer care we have ever experienced while reviewing VPN
Bottom line: we would not recommend BTGuard VPN to anyone under any circumstances.
0 User Reviews
Leave a Review
Thanks for your review!