With so many VPNs on offer, it's understandable that you would feel uncertain. VPN free trials let you test a service out to make sure it's going to work how you expect. In this guide, we take a look at the best free trial VPNs on offer.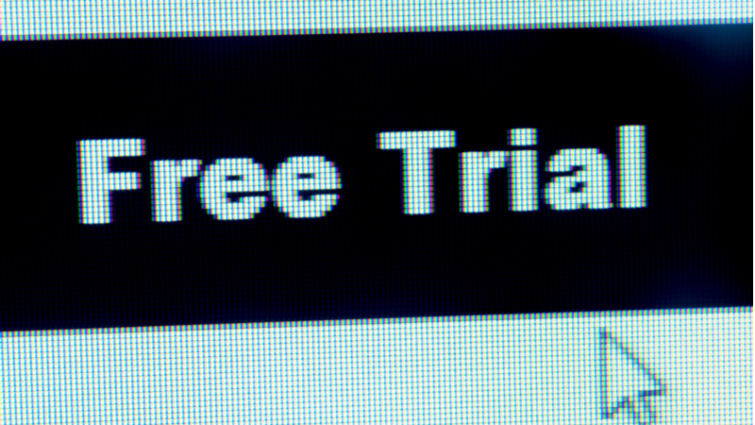 With a free trial VPN you get to try something without having to worry about wasting money. Fewer and fewer VPNs offer free trials that allow you to get a feel for how the service will work. However, a lot of premium VPN options also offer a Money Back Guarantee which, if leveraged properly, can give you an unrestricted taste of the service without spending a penny!
What are the best VPN free trials available?
Here's our list of recommended best VPN free trials. For more information on any of the providers, scroll down:
If you would like more information on these providers, check out our in-depth analysis below.
---
Top 5 VPNs with free trials
These are our expert picks for the top free trial VPN services on the market.
Why are free trial VPNs useful?
A VPN free trial is a fantastic way to see if the VPN you want to use is blacklisted when using a particular service. No one wants to have to input their card details just to make sure the restricted service of their choice can actually be unblocked by the VPN.
Free trials are pretty vital nowadays because VPN services are quickly being blocked out by media services. Nobody ever considered the extent to which Netflix would go just to block VPN services. Under pressure from copyright holders, expect similar services to adopt a similar approach if they haven't already.
If the service you're considering doesn't offer a free trial, or if it comes with heavy restrictions, consider taking advantage of their money back guarantee (if one is offered).
VPN Free trials vs VPN moneyback guarantees
A proper free trial VPN will allow you to use the VPN for free for anything between a day and a week. This kind of free trial is extremely useful, however it is pretty rare.
The vast majority of VPNs provide a money back guarantee. This does permit you to trial the VPN and all of its features, however, you must initially pay for the service in order to get access. Money back guarantees may last for anything between one week and a month, with some rare providers even offering a 45 day money back guarantee.
Do VPN services with money back guarantees always honor their guarantee?
Sadly, this is not always the case, so if you are thinking about subscribing to a VPN that we have not recommended specifically it is worth checking whether we've reviewed it on ProPrivacy.com. check out our VPN reviews.
The price section of our reviews will let you know if there are any limitations or clauses in the VPN's money back guarantee that might catch you out. The primary limitation placed on money back guarantees is a data limit that if exceeded voids the guarantee.
Choosing a Free Trial VPN
Ok, so let's assume for a moment that you already have a free trial VPN. If you are keen on seeing how the VPN performs before purchasing, there are a few simple tests you can run while connected to the service.
Follow these tips to properly test a VPN:
IP and DNS Leaks - With data encryption and online privacy being the main reasons people buy a VPN, having your IP or DNS address leak while connected to the service is unacceptable. Test your VPN connection with a tool such as ipleak.net to see if your VPN is properly masking your real IP And DNS addresses. Read more in our guide on IP and DNS leaks!
VPN Speed - While connected to the VPN, run a quick speed test through a service such as Speedof.me or Speedtest.net. Keep in mind there are a number of factors that may affect the connection speed of a VPN. Check out our VPN speed tests to see which providers offer the fastest servers!
VPN Features - There are tons of potential features with a VPN service that should be examined during a free trial period. These features can range from as simple as allowing torrenting on servers to double VPN encryption or network kill switches.
Customer Support - If you are having issues with any of the points above, submit a support ticket or jump on live chat (if available) to see what level of assistance the VPN provides for customers.
Additionally, if you are looking for a VPN for Netflix or want to unblock BBC iPlayer abroad, try accessing the stream using a couple different VPN server locations to ensure proper coverage and the ability to watch in HD quality.
Alternatively, if you want a low-cost service, take a look at our cheap VPN or VPN deals pages.
Free trial VPN restrictions
When it comes to VPN free trials there are a couple of variations that VPN providers commonly offer. The most common is a money back guarantee and although it does involve initially paying for a subscription, the VPNs that we recommend are known to always honor their guarantee. This is great, because it permits people to trial a premium VPN with all the trimmings without actually having to risk their hard earned cash.
The next kind of trial is a limited time free trial. This kind of free trial is for a full premium account and usually lasts for anything between one day and seven days.
Finally, some VPN providers do have a full free service. This kind of free VPN is not a trial but rather a free service that has a number of restrictions designed to make people want to upgrade to the full service. Check out our guide to find out more about free VPNs.
Are free trial VPNs secure?
Free trials for VPNs are always for the full premium VPN service. That means that you are getting all the same privacy and security features that you can expect to get if you pay. The free trial is specifically designed to let potential subscribers try the full service, with all its bells and whistles. This means that all of the free VPNs in this article are secure and provide watertight digital privacy.
Do VPN Free trials keep logs?
Whether you are using a full premium VPN service, or that provider's free trial, the logging policy remains the same. The providers that we have recommended are all known to have either a no logs policy or a policy that involves only minimal non-invasive connection logs. That means you can trust these free trial VPNs to provide you with solid digital privacy. To find out more check out our no logs VPN page.
FAQs
Below you will find the answers to some of the most commonly asked questions about free trial VPNs. If you have any other questions please don't hesitate to drop us a message in the form below the article.
---
Quick View
IMAGE CREDIT: Rawpixel.com/Shutterstock.com