It can be tough trying to pick between two established services like IPVanish and Proton VPN. We've compared each Virtual Private Network (VPN) in-depth to give a definitive answer as to which is best for the average user. Check out our guide to find out the key differences, as well as for help with picking your ideal provider.
IPVanish vs Proton VPN – Which is best?
IPVanish and Proton VPN are two respected names in the industry, with strong security, fast speeds, and heaps of additional features.
As for which is best overall, it depends on what you're looking for, but Proton VPN would be our pick in most scenarios. However, IPVanish is a worthy contender with a lot to offer, and it holds its own in a number of the sections below.
Read on to find out exactly how Proton VPN and IPVanish compare in this detailed head-to-head.

NordVPN
Discount Coupon
Save 63%
with this coupon
Exclusive 63% Off a 2-Year Subscription
Pricing
We'll begin with pricing. Proton has three simple tiers, depending on how long the user is willing to subscribe. It's cheaper if you sign up for a while, but you will have to pay for the whole contract upfront.
For example, Proton VPN costs €9.99 for a single month, 12 months is €5.99 per month (€71.88), and 24 months is €5.99, or €119.76 in total.

As for IPVanish, one month is priced similarly to Proton at $11.99, but it drops to $4.50 ($53.99) for a year of coverage. 24 months of IPVanish is $3.33 ($79.99), which is a price that most VPNs will struggle to match.

IPVanish is compatible with PayPal and credit cards, but Proton also supports bank transfers, as well as anonymous payment methods like Bitcoin, or simply sending cash to their address along with your username.
Each provider comes with a simple money-back guarantee, which is good for the first 30 days of service. However, IPVanish will only offer a refund for its 12-month and 24-month plans.
IPVanish is certainly cheaper in most instances, but it doesn't offer the anonymous payment options seen with Proton VPN.
Winner: It's a draw
Which has better features?
Let's take a look at each VPN's respective features, including servers, and anything that sets it apart from the competition.
| No Value | IPVanish | ProtonVPN |
| --- | --- | --- |
| Simultaneous connections | 1000 | 10 |
| Total servers | 2000 | 1864 |
| Server locations | 75 | 61 |
| Split-tunneling | | |
The providers are on even footing in terms of network size. IPVanish gives access to 75+ locations, via 2,000+ servers in over 50 countries. It also owns and operates its entire network, rather than renting servers from third parties.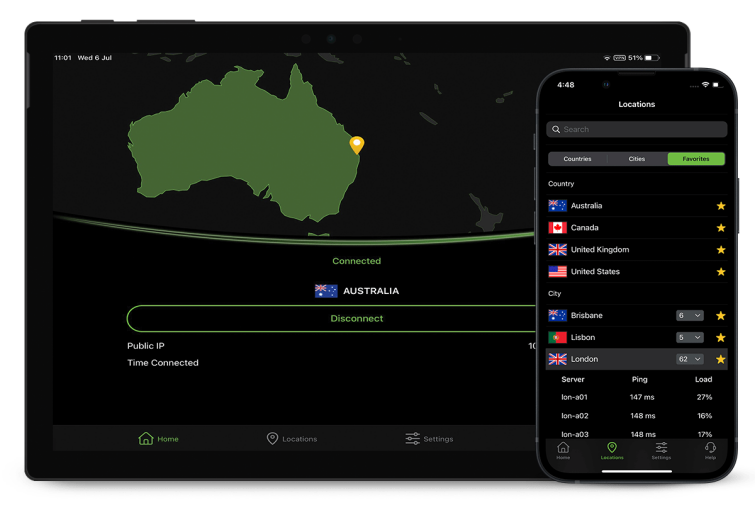 Proton VPN currently operates in 67+ countries, with 2,300+ servers in total. This includes 98+ Secure Core servers, which route traffic through privacy-friendly countries like Switzerland or Iceland. (Essentially, this works as a double VPN.)
You'll be able to use up to 10 devices with a single Proton VPN Plus plan, with free users limited to one device. IPVanish comes with the ability to connect unlimited devices at the same time with a single account, which is great if you plan to share with friends or family.
Either service is perfect if you're looking for the basics like a kill-switch and DNS leak protection, while split tunneling is also available with both providers.
You can connect to Tor (onion) servers via Proton, and the VPN Accelerator claims to boost connection speeds by up to 400%. (To its credit, it was a little faster than IPVanish during testing.)
Proton VPN is the only major service to offer free access to VPN servers in the United States, Netherlands, and Japan, without any bandwidth, duration, or speed limits to free users. However, you will need to upgrade your subscription to stream videos from popular sites like BBC iPlayer and Netflix. (ProtonVPN won our Best Free VPN 2023 Award, so it's a viable option for light use.)
As for IPVanish, it gives the user a SOCKS5 proxy for free when you sign up to the VPN. (This is great for faster speeds and torrenting files.) Both support obfuscation, with Proton using its Stealth VPN protocol, and IPVanish Scramble working via OpenVPN. Scramble is an OpenVPN-powered obfuscation feature, ensuring ​​that VPN-blocking firewalls detect VPN traffic as regular HTTPS traffic.
Winner: It's a draw
Are routers supported?
Some VPN routers come with software pre-installed. Otherwise, you'll have to install the VPN app to the router yourself, sometimes manually.
IPVanish works with a number of router models, including AsusWRT, AsusWRT-Merlin, DD-WRT, and Tomato operating systems. It's a strong selection, and you can also purchase routers with the VPN pre-installed.
Proton excels if you're hoping to configure your router to work with the VPN. It works with the models listed above, as well as OpenWRT, pfSense, and more. The service has partnered with InvizBox to create an open-source router specifically for Proton VPN. Either is capable, but Proton VPN is the superior option for routers.
Winner: Proton VPN
What services do they unblock?
The ability to unblock streaming services tends to be important for the average VPN user. IPVanish and Proton are both great for accessing various international platforms, but the latter is the better option. Check out the table below for more information.
| No Value | IPVanish | ProtonVPN |
| --- | --- | --- |
| Netflix | | |
| iPlayer | | |
| Amazon Prime | | |
| Hulu | | |
| Disney+ | | |
IPVanish is able to unblock a range of popular services, including Hulu and Disney+. It also works with some of the smaller UK platforms, like ITV Hub, Channel 4, and Sky Go.
However, Proton works with ABC, DAZN, HBO, Hulu, BBC iPlayer, Channel 4, ITV Hub, Prime Video, Sling TV, and many more. Of course, this is only true for premium plans, as a method to entice users over to paid versions of Proton VPN.
Which Netflix libraries?
| No Value | IPVanish | ProtonVPN |
| --- | --- | --- |
| USA | | |
| UK | | |
| Canada | | |
| Japan | | |
| France | | |
| Germany | | |
As for Netflix, it's a similar result when looking at each VPN's ability to access the various different catalogs for each region. Netflix toggles the available content depending on the region in which the user is based.
Proton VPN can access Netflix US, UK, India, Italy, Australia, Germany, Canada, Japan, and France. That's a strong selection of countries, with heaps of content on offer.
IPVanish can handle unblocking Netflix heavy hitters like the United States and the UK, but it's not ideal if you're hoping for reliable support from smaller regions.
Winner: Proton VPN
Torrenting
Both Proton and IPVanish work well if you're planning to use the service for torrenting. Each comes with a kill-switch, which should definitely be enabled at all times, and offers split tunneling.
| No Value | IPVanish | ProtonVPN |
| --- | --- | --- |
| Port selection | | |
| Port-forwarding | | |
| Kill-switch | | |
| Torrenting allowed? | | |
| Dedicated servers? | | |
Proton VPN allows for torrenting with any of its Plus servers, while there are special P2P servers optimized for BitTorrent network traffic. IPVanish doesn't have any servers specifically for torrenting, but it does come with super-fast speeds that are quick enough to get the job done.
IPVanish comes with a SOCKS5 proxy, while ProtonVPN provides port forwarding. This is a great way to access resources that would otherwise be blocked by the VPN server.
Winner: Proton VPN
Setup & usability
It's easy to download, set up, and install both IPVanish and Proton VPN, no matter the operating system. Each provider is available on a range of core devices, including Windows, macOS, and Linux. IPVanish includes a browser extension for Chrome, with Proton VPN also supporting Firefox.
The majority of Proton features (VPN Accelerator, ad blocking, malware filtering, and DNS leak protection) work in the background, although both VPNs allow the user to switch servers with a couple of clicks. Proton VPN apps are responsive whether it's desktop or mobile, and it comes with a server location map that lists regions alphabetically.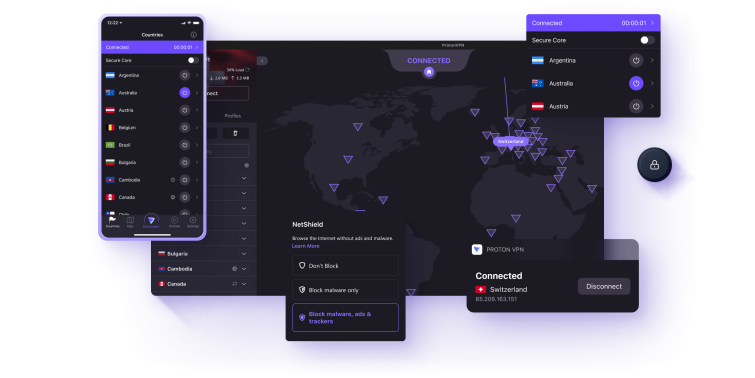 IPVanish also has an alphabetical server list, or the user can choose from a map. It lists extra information like the ping and the server load. Either is a suitable choice for multiple devices, so it's a draw between the two providers.
Winner: It's a draw
Mobile features
Both VPNs are solid when looking at functionality on mobile devices.
For example, Proton VPN's NetShield ad-blocker works on iOS and Android, and blocks DNS queries to tracker and malware domains. You'll also find the VPN Accelerator built into all Proton VPN apps.
As for IPVanish, mobile apps come with a network block feature, OpenVPN Scramble, and it'll automatically suggest the fastest VPN server. In practice, either will have you covered on iOS and Android.
Winner: It's a draw
Performance & speed
Both VPNs score well in terms of performance. Of course, faster connection speeds will be helpful for everything from streaming to torrenting, so it's highly important for any provider.
| No Value | IPVanish | ProtonVPN |
| --- | --- | --- |
| Speed | 477.5 Mbps | 490.4 Mbps |
| ProPrivacy.com SpeedTest (average) | 51.0 Mbps | 53.4 Mbps |
If you'd like to find out more about our testing methodology, see our full speed test explanation for more details.
Proton VPN recorded an average speed of 53.4 Mbps during testing, which is slightly faster than the 51.0 Mbps seen with IPVanish. With IPVanish capping out at 477.5 Mbps, Proton's max of 490.4 Mbps is another impressive result for the Swiss-based VPN.
For the fastest speeds, we'd stick with the WireGuard protocol.
Winner: Proton VPN
Security
Both providers stand up to initial tests, offering solid AES-256 encryption and a selection of protocols to choose from. ProtonVPN uses a stronger RSA-4096 handshake, but either VPN is sure to keep your data safe and secure. IPVanish's OpenVPN encryption uses the HMAC SHA1 handshake.
| No Value | IPVanish | ProtonVPN |
| --- | --- | --- |
| Obfuscation (stealth) | | |
| IPv6 leak protection | | |
| WebRTC leak protection | | |
| PPTP | | |
| L2TP/IPSec | | |
| SSTP | | |
| IKEv2 | | |
| OpenVPN | | |
| WireGuard | | |
| Shadowsocks | | |
| Bare-metal servers? | | |
| Self-hosted DNS | | |
Each will keep you safe from IP, DNS, or WebRTC leaks. Since 2020, Proton VPN has used full disk encryption on its servers for improved security, protecting against any man-in-the-middle attacks. It auto-reconnects to the VPN in case of any issues, while Proton also supports Tor over VPN.
IPVanish comes with a collection of extras that boost security. Obfuscation makes it more difficult to tell that you're using a VPN in the first place, and the provider also offers network blocking and access to a SOCKS5 proxy.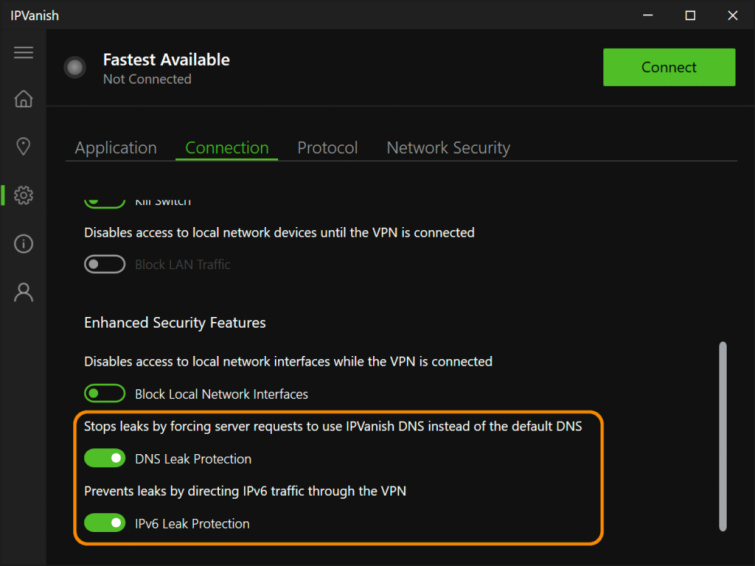 Winner: Proton VPN
Privacy
| No Value | IPVanish | ProtonVPN |
| --- | --- | --- |
| Jurisdiction | USA | Switzerland |
| Independently audited? | | |
| User details required for sign up? | | |
| Anonymous payment options? | | |
It should be a routine win for Proton when it comes to privacy. After all, IPVanish is based in the United States. Considering the various letter agencies that litter the country, and what we know about the NSA, it's not recommended from a privacy perspective.
Proton is open-source, which does mean that it's especially easy to audit, as anyone can take a look at the source code for themselves.
In comparison, IPVanish was independently audited by the Leviathan Security Group in 2022, guaranteeing that it doesn't retain data about the content or destination of user sessions. It does record the username, client IP address, session start time, duration, and traffic volume, which is more information than we'd like.
You'd expect Proton VPN to score well in terms of online privacy. It offers anonymity when making payments, and it has a strong no-logs policy. It's also based in Switzerland, which isn't the worst location for online privacy.
However, in 2021, it came to light that the popular ProtonMail service was forced to give up user information, as French authorities managed to obtain the IP address of a climate activist who was using its email service. This was following a legally binding order from Swiss authorities.
It's a consequence of being based in a European country with strong ties to the union, even if Switzerland isn't actually a member of the EU. Regardless, Proton would still be our pick for privacy, as long as you take care to remember that it logs the date and time of your last connection, and the service is beholden to Swiss laws.
Winner: Proton VPN
Customer service
IPVanish offers the usual range of customer service options you'd expect, including 24/7 live chat, and a range of guides found online.
| No Value | IPVanish | ProtonVPN |
| --- | --- | --- |
| Free trial | No | Yes - 7 days |
| Money-back guarantee | | |
| 24-hour support | | |
| Live chat | | |
| Money-back guarantee length | 30 days | 30 days |
Unfortunately, Proton VPN only offers a support page with a few FAQs, and you'll only be able to get in contact via email, or by filling out a form. Depending on when you send a message to the support team, you could be waiting a while for a response.
On the off-chance that you do need customer support, IPVanish is much more responsive and would be our pick of the duo. After all, staff will be able to get back to you a lot quicker with live chat than via email.
Winner: IPVanish
Conclusion
Proton VPN picks up the win in this particular head-to-head. There's the generous free tier, the fact it's a tad speedier, and that it comes with stronger streaming capabilities. Security is solid, while it allows for increased anonymity.
IPVanish is still one of the best providers on the market, especially if you're looking for cheaper deals and unlimited device connections. Customer service is a clear bonus, while each provider has pros and cons if you're focusing on privacy and notable features.
Outright Winner: Proton VPN
Are you interested in checking out more VPN comparisons? Here's how Proton VPN and IPVanish have fared against some of the bigger names in the industry:
Image credit: Gratisography on Pexels