If you are a fan of the multiplayer battle royale game Fortnite – but it is currently blocked for you – then you need a Fortnite VPN. In this article, we list the best VPNs for Fortnite gaming and give you some top tips on how to unblock Fortnite from anywhere.
What are the best VPNs to unblock Fortnite?
These are the VPNs we recommend using to unblock Fortnite:
If you're wondering how it works, it's simple. VPNs change your IP address and encrypt your internet connection; a powerful combination that allows players to unblock Fortnite from anywhere.
If you've experienced an IP ban, slow connectivity, or you've been suspected of cheating, then a VPN for Fortnite can help to solve all these problems.
We get into how it all works further into this guide. But first, to ensure that you can unblock Fortnite from anywhere, you must make sure that your chosen VPN is armed with the following features:
Fast servers for lag free gaming
Easy to set up so you can get back to the action
Ability to bypass censorship to bypass pesky blocks
Apps for popular devices that also support Fortnite
Only services that can offer all of these things are eligible for our recommended VPNs for Fortnite list. Now, let's take a look at who made the cut.
The best Fortnite VPNs
Here's a full list of our recommended Fortnite VPNs to unblock & beat an IP ban:
Speed testing Fortnite VPNs
Our recommended VPNs for Fortnite are all fast enough to support fast-paced online gaming. Check out our speed test results below:
| | | | |
| --- | --- | --- | --- |
| | ExpressVPN | NordVPN | Private Internet Access |
| Reliability | 9 | 8 | 8 |
| Performance | 10 | 9 | 8 |
| Speed | 100 | 568.0 | 254.93 |
| ProPrivacy.com SpeedTest (average) | 100 | 85.9 | 62.2 |
For information about how we test VPN speeds, check out our speed methodology page.
Will a VPN help with lag in Fortnite?
Fortnite players need to be aware that VPNs are not always a solution for decreasing latency and lag. A VPN makes your traffic travel further: which causes your net to slow down a small percentage (even when you use the best VPNs in the world).
Also, the slower your internet speed is to begin with, the more a VPN can affect your connection speeds. That is why it's so vital for you to choose a fast VPN in the first place.
When a VPN can help with lag
Sometimes, ISPs engage in traffic shaping when people are doing data-intensive tasks like watching HD videos or gaming. Under these specific circumstances, a VPN can improve your internet speeds. A VPN's encryption conceals what you are doing online from your ISP, which prevents them from throttling your bandwidth when you play Fortnite.
Remember: a VPN will only improve your speed in these specific circumstances. Thus, you will need to test a VPN on a case-by-case basis to see if it can help you. We recommend trying a few different VPN server locations to see if you can find one that helps.
What makes a VPN good to use with Fortnite?
All the services in the list above have been chosen because they have the ability to unblock Fortnite. However, we have also taken the following things into account to ensure that you can unblock Fortnite and get the most out of your gaming experience.
Server Speeds
When playing games like Fortnite where innumerable players around the world connect and battle it out, milliseconds could be the difference between winning and losing, this is why you need a fast VPN.
Nevertheless, it is important to keep in mind that although raw speed is significant; it is not as crucial as low latency. If a VPN service provides fast upload and download speeds, that's awesome, but it should also offer low network lag as well.
Raw speed depends on the VPN provider (and the speed of your connection to the ISP of course), however, latency is greatly influenced by how you configure your VPN connection.
Server Locations
Your choice of VPN server is vital. You should select a VPN server that is geographically close to the Fortnite server that you connect to. Fortnite has a website called Fortnite Server Status, which displays the status of the available servers. Before connecting to your VPN, it is always a good idea to consult this site to find the best server to use.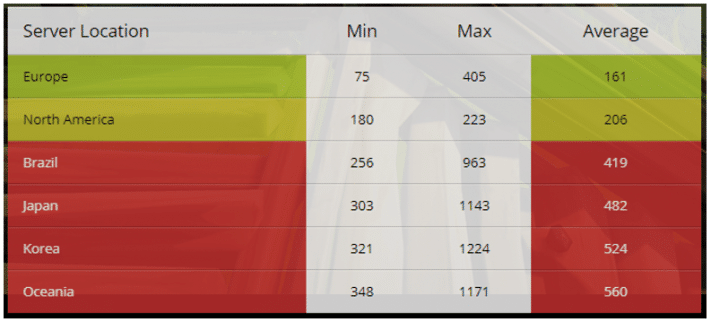 As shown in the image above, depending on where in the world you are, different servers will appear as the best choice.
Now Fortnite does not disclose the specific location of its servers, as many users have asked on the forum without getting an answer. Nonetheless, they are hosted by Amazon Web Services in North America, supposedly on the east coast of the United States according to rumors (possibly Virginia).
In each case, you may experiment with various VPN server locations and reopen the Fortnite Server Status page to see what kind of results you get. With a bit of experimentation, you can optimize your connectivity speed to get the best playing experience possible.
Security and Encryption
For most players, security and encryption over the VPN connection when playing games like Fortnite are not so much of a concern. However, some VPN encryption protocols will provide better speeds for playing Fortnite, which means that they are still worth considering.
For more information about VPN encryption protocols and how they affect connection speeds, take a look at our Complete Guide to VPN Encryption.
What to do if your Fortnite VPN isn't working
If you are currently subscribed to a VPN that isn't recommended in this article, you may need to get a new subscription with a better VPN service. However, you can try the tips below to try to get your current VPN up and running first:
Restart your machine and relaunch the VPN software.
Connect to a different VPN server (check with your VPN's customer support to check whether they recommend a specific server for Fortnite).
Delete Fortnite and reinstall it.
If you believe you were previously banned From Fortnite for some reason, create a new account while connected to the VPN.
Subscribe to a different VPN that is known to work with Fortnite.
Unblocking Fortnite in China
Shutting down
Unfortunately, as of November 15 2021, Fortnite China (also known as Fortress Night) will be shut down completely.
Neither Epic Games nor Tencent have commented on why exactly Fortnite China is going offline. However, players suspect that the increasingly stringent restrictions that the Chinese government has placed on video games are to blame, and that things have already gotten a lot more severe since the game's release in 2018.
And that's not all that Chinese citizens have to deal with. The Great Firewall of China is the government's primary censorship tool, and prevents citizens from accessing all sorts of services on the web. The government has even been known to block IP addresses known to belong to VPN companies.
The best VPNs, and the ones that work in China, offer obfuscation technology and stealth servers, however, which can bypass the IP blocks and the Great Firewall, and even disguise your VPN traffic as regular internet traffic! As a result, if you're in China and don't want to miss out on your Fortnite fix, you'll want to be sure you pick a VPN with these all-important obfuscation features. Check out our VPN for China page for more details about staying safe when using a VPN service in the country.
VPN for Fortnite: Conclusion
Fortnite is a fast-paced Battle Royale game. If you're experiencing connectivity problems due to your IP address being banned or due to problematic latency issues, a VPN is the best solution.
To maintain an optimum gameplay experience, the proper VPN servers should be chosen, and the appropriate encryption configuration and server locations should be selected.
Ultimately, Fortnite is about gameplay, excitement, awesome online experiences and just having fun. Using our recommended VPNs, and our detailed analysis of how VPNs can benefit you, you will be able to continue playing and enjoying the game to the fullest!
FAQs
Still got questions? Check out this quick FAQ section before using our search bar to find out more.