All US citizens should consider using a VPN to protect their privacy. A VPN will protect you from invasive government surveillance, Big Tech harvesting your data, and hackers. You can also use a Virtual Private Network to unblock content from around the world. Alternatively, you can use a VPN to get a US IP address and access content that is only available in the United States.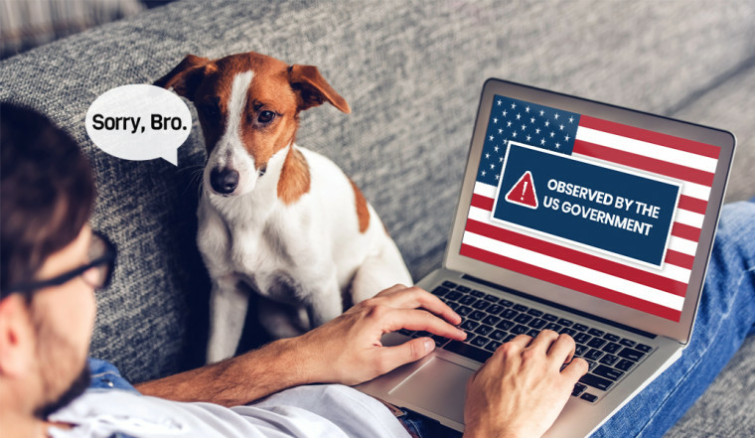 If you live in the US, government agencies such as the NSA and the CIA are placing you under surveillance. Laws such as the Cloud Act, Patriot Act, and FISA, all give the government permission to spy on your data. If that wasn't enough, the Trump administration has made it legal for ISPs to retain data indefinitely to sell it to any third parties (including the government). With so much surveillance occurring, American citizens should seek to protect themselves with a VPN. It's about time you thought about getting a USA VPN.
A VPN will also let you unblock geo-restricted content, so if you connect USA VPN server you can unblock American Netflix as well as other content such as NBC, ABC, and HBO out of the US. You can also use a VPN to unblock iPlayer outside the UK as well as other foreign content.
What are the best VPNs for USA?
Our VPN experts test and review VPNs regularly in search of the best VPN services for unblocking content in the US. Here's a quick look at their favorite VPNs to use in the USA.
For more information on the VPNs listed above, keep reading.
The 5 best VPNs for the USA
All the US VPN services in this article have been carefully chosen. However, each service differs on things like price, server numbers, speed, simultaneous connections offered and other aspects. Read through our in-depth list below for each provider to help you choose.
ExpressVPN has a lot going for it, though most people like it because of fast and reliable servers. Plus, it does locate servers throughout the United States and neighboring North American countries like Canada and Mexico. It isn't fettered by US jurisdiction since it is based in the British Virgin Islands. You'll have plenty of international connection options to choose from in over 94 countries too.

ExpressVPN allows three simultaneous connections per account, which is still better than some other plans that only allow one or two. There are a couple things I dislike about the service though. I wish it had a free version of its service or at least had a free trial. Instead, it has a 30-day money back guarantee, which is still loads of time to test out the service.

It accepts anonymous crypto-currencies like Bitcoin. I also like that ExpressVPN allows P2P and Bittorrent traffic through its servers, and that it has an app that simplifies the process of configuring a VPN on your router.
Likes
Fast speeds
Super secure with strong encryption
Servers in 94+ countries
Router VPN app
30 day money back guarantee
Based in the British Virgin Islands
Dislikes
Pricier than most other competitors
NordVPN is a great option for the US because most residents in the United States prefer VPN services that operate headquarters in different countries (to negate the risk of NSA and Federal coercion). It is based out of Panama, which prevents the Federal government from claiming jurisdiction and forcing the company to forfeit sensitive customer records. Additionally, NordVPN doesn't keep any logs of your data, so you can rest assured that your anonymity is being adequately protected.

It allows more simultaneous connections than any other paid plan I've seen connecting up to six devices. At the same time with NordVPN, it has a decent number of servers to choose from with servers in over 50 countries. Like most other providers, NordVPN seems to add more servers to new locations as customer demand increase. US residents looking for servers outside the US will be happy to know that NordVPN does have servers hosted in Mexico and Canada. These aren't my favorite two countries to connect to, but they do offer geographically close connections (which minimizes latency) for smoother streaming.
Likes
Great speeds + unlimited downloading
No logs
Based in Panama (great for privacy)
Six simultaneous connections
Great customer service
Servers in 62 countries
P2P: Yes
CyberGhost is based far from US soil in Romania, so you won't have to fear about the government meddling with the company's data. I do wish that CyberGhost had a larger network of servers, but it seems to be on par with the standard number of connection options in the industry.

Right now it operates servers in over 59 countries including Canada and the US. It does not, however, operate servers in Mexico at this time. Plus, the encryption is rock solid since it offers IKEv2 encryption and access to the OpenVPN protocol. The website boldly claims, "Our servers keep no logs." Actually, some logs are kept to monitor server status and aggregate anonymous bandwidth data, but the servers won't keep logs of your data or online activities.

Naturally, I'm also thrilled that the service allows up to five simultaneous connections as well, so you can protect all your devices or share the account with family and friends. And last but not least, note that this provider is fairly priced when you opt for the annual plan.
Likes
Servers in 56 countries
Native IKEv2 encryption
No activity logs
Help blocks malware and ads
Dislikes
Monthly plan costs $10.99
PrivateVPN is a Swedish provider that has everything you need from a USA VPN. Consumers love this VPN because it is amazing for privacy and unblocking. It has servers in over 50 countries, and all those servers provide fast enough for streaming in HD. The software is easy to use and available for all platforms. This VPN keeps unblocking services like iPlayer and Netflix US: unlike many VPNs out there. Encryption is strong OpenVPN, and this VPN has a zero logs policy.

With so much on offer at such a low price, there is no wonder that this is a fantastic VPN for American citizens. Why not try it thanks to its 30-day money back guarantee.
Likes
Fast for streaming
Unblocks everything
Servers in over 50 countries
Easy to use Apps for all platforms
Excellent customer care
IPVanish is an American VPN provider that many people in the US love and trust. Although being based in the US is never the best option for US citizens (in our personal opinion), it is true that IPVanish keeps zero logs. That means that even if it is approached by the government it won't have any data to hand over.

IPVanish has servers in over 60 countries and those servers are exceptionally fast. For streaming and downloading content via P2P this VPN is excellent. Customer care is great and this VPN has a killswitch, obfuscated servers and DNS leak protection. This VPN comes with easy to use apps for all platforms.

IPVanish is not expensive and if you prefer a US service,then this is the best USA VPN on the market for both privacy and fast speeds for unblocking content. You can try IPVanish thanks to its 7-day money back guarantee.
Likes
Very fast speeds
Strong OpenVPN encryption + zero logs
Killswitch and DNS leak protection
Torrenting is permitted
Servers in over 60 countries
Dislikes
Based in the US
Does not unblock Netflix US
Why do I even need a VPN?
VPN software encrypts all the data that leaves your internet connected devices. This stops your ISP and the government from tracking what you do online.
With a VPN installed onto your devices, you're free to use the net to access as much restricted content as you want. You can download software, music, or videos via BitTorrent. You can also stream TV shows and movies because no one will know what you are doing.
To find out more about gaining privacy with a VPN please read our VPN no logs guide.
Remember, a VPN also conceals your real IP address and location from the websites you visit. This stops websites tracking you and lets you pretend to be in a different country including pretending to be in the US while you are on vacation.
To learn how a VPN works take a look at our VPN beginner's guide.
Staying secure with a US VPN
Having your data collected and sold against your will used to be illegal. Sadly, the Trump administration legalized ISP data retention practices. ISPs are now allowed to collect your data without your permission, and they can sell it to anyone they want, including the government.
The only way to stop this violation of your privacy is to use a USA VPN. a VPN for the USA lets citizens encrypt their data with strong military grade tunneling protocols. This rips the power to track you out of your ISP's hands and closes the faucet on the constant flow of information about you.
The VPNs in this article have superb VPN apps for all platforms. The result is that US citizens can gain digital privacy on their smartphone, tablet, laptop, or desktop computer. No matter which device you have: You can protect it with a US VPN from this list.
You can use a VPN on all of your devices, all of the American VPN services list offer VPN apps for Android and iOS users. It's important to know that iOS VPN services may use different encryption protocols, check the provider website for more details.
NSA surveillance
In the USA, intelligence agencies perform surveillance on both US citizens and people living abroad. Those surveillance habits were made famous by Edward Snowden in 2013. At the time, Snowden revealed that the NSA covertly snoops on the entire US populace.
In addition, the US has laws that permit it to serve firms with warrants and gag orders. These court orders force businesses to pass people's data to the government while also keeping it a secret.
Thankfully, the USA VPN services listed above provide a working solution.
Three degrees of separation: Why the NSA could be monitoring you
The six degrees of separation is a theory that people are six connections or fewer away from anyone. Privacy Expert, Glenn Greenwald, explained that the NSA is allowed to investigate anyone that is 3 hops from their original target. This means it is very likely you or someone you know is under NSA surveillance as many of us are three people away from a hacker or a criminal. Read this Guardian article to understand how the three degrees of separation is being used against you.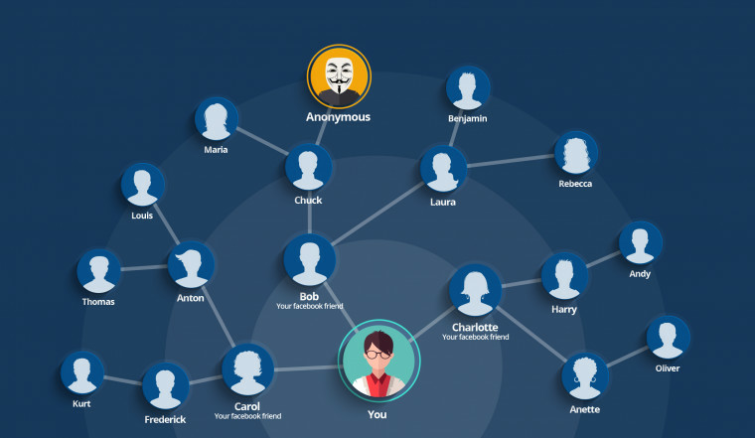 Privacy not anonymity
In short no.
True online anonymity means that nobody knows who you are. When you use a VPN, you must subscribe and pay which means there are some records of who you are with the VPN provider.
Instead, a VPN provides privacy. When you use the internet, you rent your connection from your ISP. To use the internet all your data must pass through your ISP's servers. With a VPN your data is encrypted in your computer, tablet, or smartphone before it goes through your ISP's servers. This stops your ISP, the government and even hackers from tracking what you get up to online.
Copyright Infringement: A Big Deal?
In the USA, copyright holders have put a lot of pressure on the government and ISPs to help them crush piracy. Streaming and BitTorrenting allow people to watch content for free and copyright holders want people to be punished for doing so.
ProPrivacy.com & the VPN services that we feature are not intended to be used as a means of copyright circumvention. Please ensure you read the terms of service and any terms and conditions of any service you sign up to for more details.
ISPs operate a six strikes and you're out system. This results in DMCA notices, and eventually, people losing their internet subscription and having their data passed to copyright holders and the authorities.
Prosecution for copyright infringement can result in a fine of between $200, $150,000 or even jail time.
To avoid repercussions, more and more US internet users are turning to VPNs. For more information about torrenting with a VPN see our best VPN for torrenting guide.
FAQs
This section is designed to answer Frequently Asked Questions about using a VPN in the US. However, if anything is still unclear - or if you have any other questions - please don't hesitate to leave us a question below.