Use these VPNs to watch NBC outside the US
NBC is a popular American TV network that has embraced the online world, making its shows available to watch through its on-demand service. Although the channel is only officially available in the USA, you can watch NBC from anywhere in the world by using a virtual private network (VPN).
Admittedly, earlier episodes of your favorite shows will be locked by NBC unless you link a valid US TV provider. However, with a VPN for NBC, you can stream three locked shows when you first sign up, and there are tons of recent episodes of shows that you can stream on NBC without signing in.
In this guide, we will walk you through three different methods you can use to unblock NBC.
How to watch NBC in the UK or elsewhere
Streaming NBC in the UK is not rocket science. All you need to do is connect to a USA VPN server and head over to the NBC website. Once there, you can stream any recent episodes of shows that have aired on NBC.
NBC lets people catch up on shows for 30 days. Once those thirty days are up, the shows become locked and can only be viewed if you sign in and link a valid US TV provider. A VPN is the easiest and best way to stream NBC in the UK. However, in this guide we will walk you through every method available to you, including:
How to watch NBC with a VPN
Streaming NBC with a VPN is the easiest method on this list, simply requiring you to choose a VPN that unblocks NBC and follow these simple steps:
Subscribe, download, and install your VPN onto your chosen device - All our recommendations support 5 devices simultaneously.
Choose a server based in the US and connect to your VPN - Some VPNs have dedicated servers for streaming content, meaning it's best to check with your provider if you are unsure.
Boot NBC through the app, or open the website up in your browser - Please note: that connecting to a VPN before opening these helps reduce potential issues.
Pick a TV show and watch - Top tip: It's best to choose a free show to make sure that your VPN works, before potentially paying for more content.
The best VPNs to watch NBC in UK & abroad
Our experts have compared the market and created detailed summaries about the 5 best VPNs to unblock NBC. These services all work, and you are free to trial any of them thanks to their money-back guarantees. Check out the summaries below to see if there is a service that best suits your needs.
ExpressVPN is a highly respected service that has become popular over the past decade
Pricing

12 months + 3 months FREE + Backblaze backup: $6.67/mth

49% OFF

6 months: $9.99/mth
1 month: $12.95/mth

Available on

Windows
macOS
iOS
Android
Linux

Unblocks

Netflix
iPlayer
Amazon Prime
Hulu
ExpressVPN is a little pricier than some other options on this list, meaning that you might want to scroll down if money is a concern and all you want is to access NBC. However, if you want a VPN service that has a lot of high-end privacy features, including DNS leak protection, a kill switch, obfuscated servers, OpenVPN encryption and keeps no logs; this provider is a superb choice.

You can connect to servers within a staggering 94 different countries, each of which are lightning-fast as ExpressVPN often sits in the top 3 fastest VPNs in the world. This makes it one of the ultimate streaming VPNs, not only unblocking NBC but also granting access to ABC, Netflix US and Canada, BBC iPlayer, hulu, Prime Video, and more.

ExpressVPN has easy-to-install software for all core platforms and can be used across 5 devices simultaneously. You get what you pay for, but if its premium price is off-putting, then you can try it for yourself with the company's generous 30-day money-back guarantee.

CyberGhost boasts the biggest money-back guarantee and the most simultaneous devices
Pricing

24 months + 2 months FREE: $3.25/mth

75% OFF

6 months: $6.39/mth

50% OFF

1 month: $12.99/mth

Available on

Windows
macOS
iOS
Android
Linux

Unblocks

Netflix
iPlayer
Amazon Prime
Hulu
CyberGhost is a Romanian VPN provider that is a cheap option. Servers are available in the USA and in 90 countries around the world. This makes it perfect for unblocking content. The VPN is not the fastest, but it is more than enough considering the price. It will certainly work fine for streaming content on NBC, as well as Netflix US and BBC iPlayer.

The provider has applications on all major platforms and lets users install and use the software on up to 7 simultaneous devices. This VPN proudly boasts that it is contains no logs and has strong encryption to ensure your data is always private and secure. But don't just take our word for it, let its unprecedented 45-day money-back guarantee speak for itself.

Fast connections - Multiple US servers - Value for money
Pricing

26 months + 2 months FREE: $2.19/mth

82% OFF

12 months: $3.33/mth

72% OFF

1 month: $11.95/mth

Available on

Windows
macOS
iOS
Android
Linux

Unblocks

Netflix
iPlayer
Amazon Prime
Hulu
Private Internet Access is a US-based VPN that provides a watertight no logs policy. That means it is fantastic for preserving your online privacy. PIA is easy to install on any laptop or desktop, or mobile device - thanks to its custom apps. ITs servers in the US are perfect NBC or any other US channel. And this VPN can unblock Netflix US, hulu, and other streaming services. PIA has a kill-switch so that you will never leak data to your ISP outside of the VPN tunnel

With PIA you get fast connection speeds to stream shows in HD without any buffering. Considering what you get with this provider the cost is very cheap. Admittedly live chat support is during US business hours, but the email response time is great. Finally, PIA can be used on up to 10 devices simultaneously - making it good for families to use both at home and on public Wi-Fi. You can test it risk-free thanks to its 30-day money-back guarantee.

Fast US servers - Great for streaming - Loved by subscribers
Pricing

24 months + 2 months FREE: $2.3/mth

83% OFF

12 months: $3.99/mth

70% OFF

1 month: $12.95/mth

Available on

Windows
macOS
iOS
Android
Linux

Unblocks

Netflix
iPlayer
Amazon Prime
Hulu
Surfshark is a VPN based in the British Virgin Islands that is ideal for unblocking streams. It has servers in various places across the US that will allow you to unblock local TV channels such as NBC, ABC, ESPN, as well as subscription services like Disney+, hulu, Amazon Prime Video, Netflix US, HBO Go, and anything else you fancy. The VPN has an excellent reputation with consumers; scoring a 4.3 out of 5 on TrustPilot. With a single subscription, users can connect as many devices as they want which makes this VPN incredible value for money.

This service has a watertight no logs policy and it is well out of reach of invasive governments. Plus, this service has reliable apps for all platforms that provide OpenVPN encryption, a killswitch, DNS leak protection, and obfuscation. Surfshark VPN is great for beginners thanks to its setup guides and 24/7 live chat support. Well worth a test run using its 30-day money back guarantee. And, it accepts card payments, cryptocurrencies, PayPal, Google and Amazon pay - making it extremely easy to subscribe!

PrivateVPN goes beyond its namesake to unblock more Netflix servers than any other, alongside NBC
Pricing

12 months + 12 months FREE: $2.49/mth

79% OFF

3 months: $6/mth

50% OFF

1 month: $9.99/mth

17% OFF

Available on

Windows
macOS
iOS
Android
Linux

Unblocks

Netflix
iPlayer
Amazon Prime
Hulu
PrivateVPN is an incredible service from Sweden that lives up to its name. The VPN is fully featured and has everything from OpenVPN encryption to obfuscated servers. This VPN is quick and will definitely let you stream NBC or Netflix US. Plus, this VPN is one of the best for unblocking streams, as it provides access to more Netflix catalogs than any other VPN.

PrivateVPN is praised by subscribers worldwide, so this VPN is trusted. Considering the cheap cost of this VPN, we think it well worth testing using its 30-day money-back guarantee. And it has live chat support in case you have any issues.
Why we recommend using a VPN with NBC
A Virtual Private Network is an online service that allows consumers to conceal their real location. It does this by encrypting your data and routing it to a VPN server on its way to the destination (in this case NBC). Connecting to a VPN server in the USA provides you with a US IP address, tricking NBC into thinking you live in the US.
Besides allowing you to pretend to be in a different location, a VPN provides digital privacy and security. The encryption provided by the VPN software ensures that your ISP, the government, and other snoopers can never track what you do online. Alongside this, it stops your data from being intercepted by hackers on public WiFi.
A VPN service is by far the most reliable way to unblock NBC, remaining excellent value for money because of its five pillars:
The ability to change your location, helping you to pretend to be anywhere that the VPN has servers (often between 60 and 90 countries)
With a VPN you can unblock Netflix, Hulu and access services like BBC iPlayer outside the UK
Super-fast connection speeds that stop ISPs from throttling your internet over certain kinds of traffic
Encrypted data to stop your ISP, local network administrators, the government, and WiFi hotspots from analyzing your web habits and tracking your metadata
Security against hackers in public WiFi
How to watch NBC with a Smart DNS
Although VPNs are much better value for money and many come with their own Smart DNS services, standalone options might be preferred. Setting up a Smart DNS differs per device, but all are relatively simple. On Windows, you need to:
Choose your Smart DNS provider

Go into your Control Panel > Network and Internet > Network and Sharing > Change Adapter Settings and double-click your connected network.

Navigate into Properties and uncheck Internet Protocol Version 6 (TCP/IPv6) if needed.

Click on Internet Protocol Version 4 (TCP/IPv4) and head into Properties.

Within the General tab, select Use the following DNS server addresses and input your Smart DNS.

Accept the changes that have been made and you're now free to watch NBC.
Watching NBC abroad with a Smart DNS service
Smart DNS is an online service that allows your DNS requests to be rerouted. By bypassing your ISPs DNS resolver and resolving your DNS requests in the USA, you can access NBC to stream shows.
Although this process sounds like a VPN, it is important to understand that there is no encryption. This means that your ISP can still track everything you do and knows precisely which websites you are visiting (including NBC and the shows you watch).
The good news is that some VPNs throw in a free Smart DNS service with the VPN plan. This gives you the ability to dial in a specific DNS address in the USA, while simultaneously making use of the VPN's encryption.
As for standalone Smart DNS services? These cost around the same amount as a VPN per month. So, if you pay for Smart DNS, you are throwing away good money on a service that provides you with a third of the benefits you get with a VPN.
Doesn't provide privacy
Not as reliable as a VPN
Expensive for what you get
Stream NBC outside the US using a Proxy Service
Proxy services route your web traffic via a remote server to make you appear to be in a different county. Unlike a VPN, they only route the traffic from a single website (in a single browser tab) via the proxy. In addition, they do not provide privacy, so your ISP knows exactly which websites you are visiting.
Using a website or browser-based proxy was a popular method of unblocking NBC until a few years ago. However, as streaming services like NBC have become better at blocking IP addresses associated with proxies - their ability to unblock NBC has withered.
Although it is still possible that some proxy services still unblock NBC, there are very few proxy services around that successfully unblock popular streams in 2021. If you find one that works, you are very lucky, and chances are that it will only work for a short period before it is blocked again by NBC.
In addition, most browser-based proxy extensions are extremely slow. So even if you find one that is working, you will be bogged down with buffering issues the whole time.
Hard to find one that works
Too slow for streaming
What shows are available on NBC?
If you are still in two minds about unblocking NBC, you may be wondering what kind of shows you can watch. It is important to note that you cannot watch any live TV. This is reserved for users that log in and link a valid US TV provider to their account. Despite this, NBC is an awesome way to watch brand new releases of popular shows, free of charge.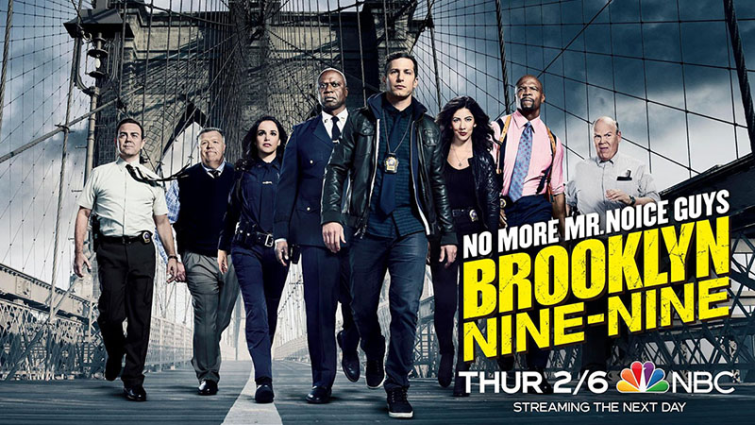 NBC allows all viewers to catch up on recently broadcasted shows. So, if you are a fan of a long running show and you want to watch new episodes just after they have been broadcasted live in the USA - NBC is perfect for you. Below we have included a list of the kinds of TV shows you can stream on NBC:
The Good Place
Brooklyn Nine-Nine
Law and Order
Superstore
This is us
Chicago
Saturday Night Live (SNL)
The Tonight Show
America's Got Talent
Bluff City Law
Blindspot
Manifest
Days of our Lives
Project Runway
New Amsterdam
The Magicians
Dare Me
NBC will also be broadcasting the 2022 Winter Olympics - check out our how to watch the Winter Olympics page for more information.
Unblock Peacock TV with a VPN
With a VPN service you can also unblock NBC owned Peacock. Peacock gives users access to live sports, TV, Movies and much much more. Check out our VPN for Peacock TV page for more details.
Can I watch NBC Gold outside the USA?
NBC Sports Gold is an over the top service that is run by NBC. It shows a large amount of sports content at a reasonable rate. Users can gain access to English Premiership Football matches, Rugby, Cycling, PGA Golf, Motocross, Skiing, Basketball, Supercross, and many more.
NBC Sports Gold costs between $19.99 and $89.99 per year depending on which sport you choose. Football fans can stream Premiership games for just $39.99 per year, and this gives them access to replays of every premiership game (380 matches) and at least 4 live games for each individual club each season.
If you want to purchase a subscription to NBC Gold, you will require two things:
A VPN with servers in the USA that work with NBC. Please select one of the options in this article to avoid disappointment.

A valid US payment method.
Unfortunately, unlike hulu and other US-based services, it is impossible to buy a gift card for NBC Gold (without already being a member). NBC eGift cards exist, but these are for purchasing products from their online store only, not for purchasing NBC Gold subscriptions.
As a result, you will need a virtual US debit card to pay for an NBC Sports Gold subscription. Please read our article on virtual online cards to pay for NBC Gold. Once you have a virtual US payment method, follow these simple steps:
Connect to a VPN server in the US.

Navigate to NBC Sports Gold and select the sport (or sports) that you want to see.

Set up your account and use a valid US Zip Code.

Pay for the service using your virtual US debit card.

Log in and watch NBC sports using your valid Gold account.
Please remember
You will need to always connect to your VPN before logging in and using your NBC Sports Gold account. We also recommend that you always log in using private browsing mode or incognito mode to ensure that no cookies are left on your machine, as these can cause issues with streaming NBC or NBC Gold.