Alternative Choices for You
Pricing
Trust.Zone pricing is pretty average if you get a single month subscription, but gets dramatically cheaper for longer-term purchases. If you buy a 2-year account, then the maximum number of devices you can connect at once increases from 3 to 5.
The single month account will set you back just $8.88. This would be reasonable, if it weren't for the lack of features you get on all platforms apart from Windows, which severely limits how useful this VPN is.
A yearly subscription will set you back the equivalent of $3.33 per month (paid in a single installment of $39.95). This is a much more reasonable price, and one that we don't mind recommending for Windows users (who actually get a kill-switch and DNS leak protection).
The two-year sub is a very cheap VPN subscription – costing just $2.33 per month. This subscription plan also increases the number of simultaneous connections possible from 3 to 5 – which adds to the value of the plan.
However, it is worth noting that many of its subscribers are now beginning to offer six, eight, and even unlimited connections with all of their plans – so Trust.Zone is lagging behind the industry as a whole.
Prospective customers are encouraged to take advantage of a 3-day/1 GB free trial, for which the provider requires no payment details. It is also possible to request a refund up to 10-days after purchase, but this also has a 1 GB data limit after which it does not permit refunds. So, be sure not to over-use the VPN if you intend on getting a refund.
For a small additional fee, dedicated static IP addresses are available in the UK, US, France, and Germany. It is also possible to purchase an additional 3 simultaneous connections should you need them.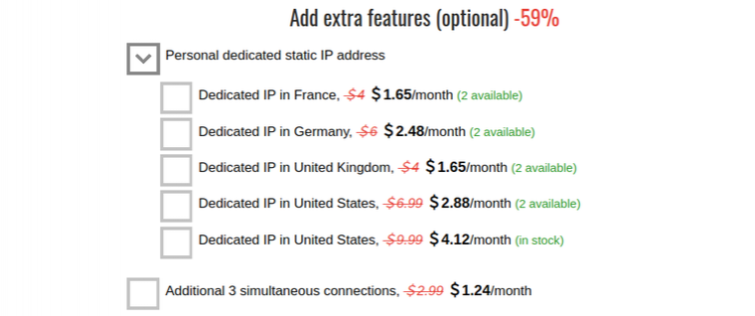 You can make payments via card, PayPal, or a variety of global payment processors. It is also possible to pay anonymously using the Bitcoin, Verge, or CloakCoin cryptocurrencies (Emercoin is also accepted, but is not so good for privacy purposes).
This is great, but please remember that no matter how anonymously you pay for a VPN service, it will still know your real IP address – because you must connect to its servers from your real IP address and this can be monitored in real-time, even if it doesn't store any connection logs.
Card purchases are processed by PayPro, while cryptocurrency purchases are paid direct to Trust.Zone wallets. Paying using Bitcoin (or any other accepted cryptocurrency) will get you a 10% discount.
Features
No logs
Custom apps for Windows, Android and iOS
Browser extensions for Chrome and FireFox
Kill-switch in Windows app
Up to 3 simultaneous connections (or 5 for 2-year accounts. Can purchase 3 more)
201 servers in 38 countries*
P2P torrenting permitted on all servers
Dedicated IPs in 4 countries (additional fees)
Unblocks US Netflix
The Trust.Zone website says that it offers 164 fast servers in 100 "zones" around the world. But we counted only around 96 servers in 38 countries listed inside the apps. Thus, we would tend to advise that this service is a bit low on server locations (and servers in general) when compared to the best VPNs available on the market.
Speeds and Performance
Speed test results
At ProPrivacy, we test VPN speeds using a scientific, server based speed test system. We test all of the world's leading VPNs three times a day using the OpenVPN UDP protocol for consistency. We test servers based in the UK, the USA, and South Africa for both averages and max (burst) speeds to give a precise indication of how VPNs compare against each other.
The image below shows the results for Trust.Zone during a three month period in the late summer of 2023. As you can see from the image, the VPN has average downloads of 60.6 Mbps. The max speeds are 420.3 Mbps which is again very reasonable.
These results mean that Trust.Zone is a decent service in terms of speeds, and it should have no trouble with streaming HD content on Netflix, for example.
In fact, the speeds we recorded put Trust.Zone right inline with some of the fastest VPNs on the market, which is great news indeed.
IP leaks
With DNS leak protection enabled in the Windows client we did not detect any IPv4, IPv6, WebRTC (IPv4 or IPv6) or DNS (IPv4 or IPv6) leaks.
The number of DNS servers used by the company was quite limited. And, DNS was often being resolved in a different country to where the IP address was located (mainly in the Netherlands or Canada).
This is not ideal and may cause page load times to increase depending on where you happen to be located. It could also potentially interfere with accessing particulraly stubborn online streaming services and the like.
Finally, we are happy to report that we discovered no leaks in the Android apps. Again, however, DNS requests were resolved with few server locations in random international locations.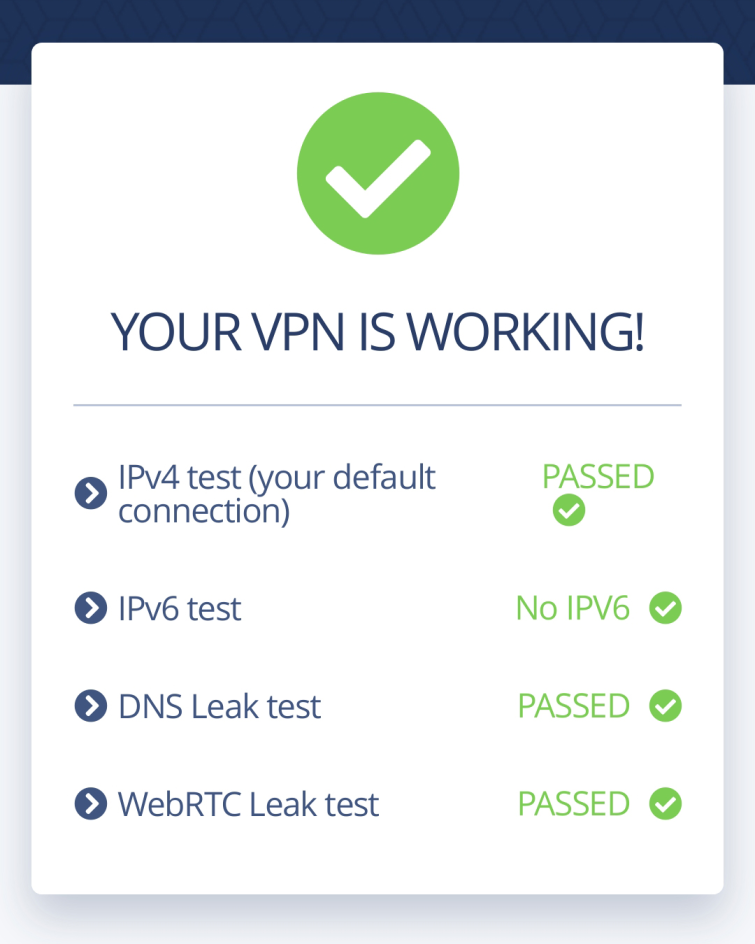 This is a non-issue from a privacy perspective, but, as mentioned, it might cause problems when trying to spoof your location to access foreign services.
Disabling DNS leak protection generally ensures that DNS queries are resolved at the correct VPN server location. However, when we did this we did detect some DNS leak, which largely rules the VPN out for privacy purposes unless you do have DNS leak protection enabled.
If you want to test the VPN for yourself, you can use our in-house leak testing tool to see how it is performing for you.
Privacy
Jurisdiction
Trust.Zone is based in the Seychelles, a tax haven that enforces no mandatory data retention laws or invasive domestic internet surveillance. It also has no official ties to the Five Eyes spying alliance. For this reason, it is an excellent place for a privacy service to be based.
It is also worth noting that Trust.Zone has a Warrant Canary on its website, so if it is served a warrant it should be easy to know that the VPN has been compromised.
Admittedly, we are not entirely convinced about how useful warrant canaries really are, but we know some find them reassuring. For this reason, it is good to see that Trust.Zone keeps its warrant canary up-to-date and signed with a PGP signature.
Privacy policy
All our VPN servers around the world ARE NOT storing any log files to keep your privacy safe. All the usage data is anonymous and not connected to your real, public IP address.
This quote appears to insinuate that some metadata is being collected, but is not tied to the users' IP addresses. This counts as "no logs" in our books, which is good news.
On the other hand, it would be nice to have more transparency over exactly what connection logs are being stored and for how long, and what purposes.
We are also pleased to note that we detected no third-party cookies or other trackers on the Trust.Zone website. Overall, this service appears to be good in terms of privacy, certainly good enough for 99% of people's needs.
Of course, it is also true that this privacy policy is extremely thin on the ground. Thus, depending on your personal threat model, you may prefer to stick to a service that clearly defines its no-logs policy in such a way that it is 100% trustworthy.
It is also worth noting, that many services nowadays have even had their apps, infrastructure, and policies professionally audited by an independent third-party security firm. Needless to say, those services can be trusted far in excess of Trust.Zone.
Technical security
The apps use OpenVPN, although setup instructions are also provided for L2TP/IPsec. The OpenVPN settings used are:
Data channel: an AES-256-CBC cipher with HMAC SHA512 hash authentication.

Control channel: an AES-256-GCM cipher with RSA-2048 TLS key encryption and SHA384 hash authentication. Perfect forward secrecy is provided by an ECDHE key exchange.
This is a very secure setup. For more information about what this all means, please see our Ultimate Guide to VPN Encryption
As already noted, we detected no IP leaks of any kind. Most of the servers Trust.Zone uses are bare metal, but it does also use some less secure VPS instances. Support was happy, however, to provide a list of which locations use VPS instances, should you wish to avoid them.
Does Trust.Zone unblock Netflix?
We successfully unblocked the US Netflix catalog with Trust.Zone, although BBC iPlayer blocked us. Thus, you may find this service to a be a bit of a mixed bag when it comes to unblocking streaming content. Generally speaking, we would recommend that this service is primarily aimed at gaining online privacy rather than unblocking numerous international services.
Customer support
The first lines of customer support are an FAQ (which is hit-and-miss in usefulness), plus a good selection of setup guides. If you need further assistance, a ticketed email system is in place.
When we tested this, we didn't receive an answer until the next day. But the response we received was excellent. Unlike many providers, it answered highly technical questions in the full detail requested. So top marks on that front.
Because of the costs involved (and the overall similarity to the cost of other premium VPNs that manage to do so) it would be nice to see live chat support available on its website. Unfortunately, this doesn't appear to be something that this provider intends to roll out anytime soon.
Ease of use
Custom VPN apps are available for Windows, Android, and iOS. However, decent OpenVPN and/or L2TP/IPsec manual guides available for macOS, iOS/iPadOS, Ubuntu, Mint, Manjaro, and a variety of routers. There are also some guides for sharing your desktop VPN connection with smart TV and a section of games consoles, etc.
Since there are excellent third-party OpenVPN apps available for macOS and iOS, we don't really find the lack of custom apps for these platforms much of an issue. With that said, most premium VPNs nowadays do have GUI clients for all popular platforms, so it is fair to say that this is an area where the VPN is lagging behind.
The Windows client
The Windows VPN app is quite simple, but it gets the job done. It uses the OpenVPN protocol and features a kill-switch and DNS leak protection. We will never understand why VPN services make DNS leak protection optional, but the important thing is that it's there.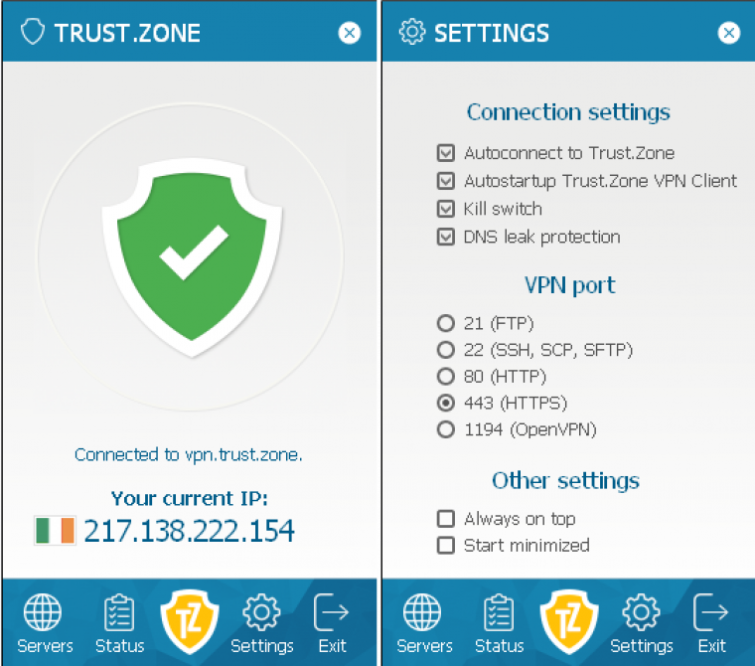 It is not clear from the settings, but the Windows app always operates in OpenVPN TCP mode. This is useful when using port 443 to emulate HTTPS traffic, but is unlikely to do performance much good.
The Android App
The Android VPN app looks very similar to its Windows cousin and also uses OpenVPN, with the ability to select which port to use.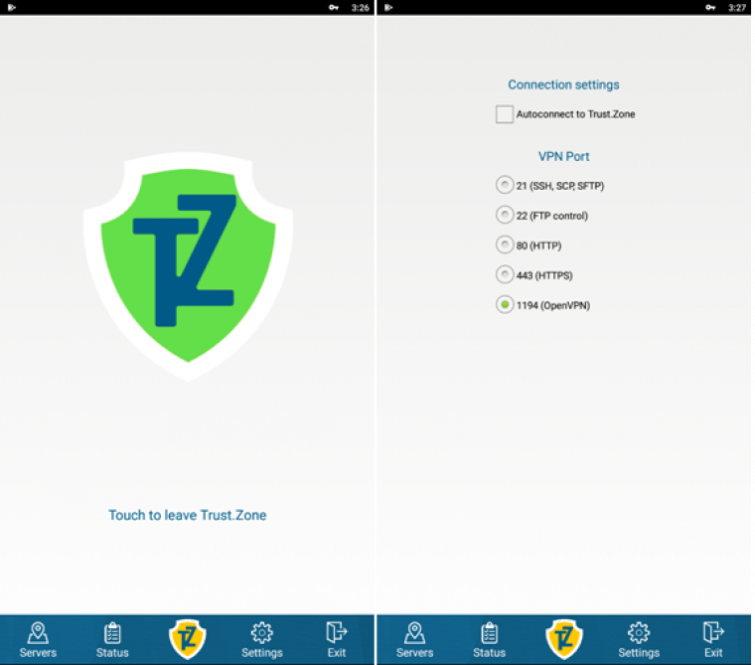 In contrast to the Windows app, the Android app always operates in UDP mode. This should cause improved performance, but makes running the VPN over port 443 rather pointless since HTTPS traffic uses TCP mode.
There is no kill-switch, although Android 7.0+ includes a built-in kill-switch that works with any VPN app, including this one.
iOS
Trust.Zone has now released an iOS VPN app, which means that this VPN can now be used on iPhones and iPads without needing to use a third party client. The app provides either L2TP/IPSec or IKEv2 connections, which is pretty standard for an iOS VPN app. However, the app has no other real privacy pr security features to speak of 0150 you will find no kill-switch here, for example.
In addition, we did notice that the VPN does drop out pretty regularly, which means that you will need to keep reconnecting. This rules out using this VPN for privacy purposes, because you will leak data to your ISP.
Final thoughts
Trust.Zone is a no-logs VPN service with great technical security and no IP or DNS leaks (as long as you keep the DNS leak protection engaged – and don't mind the fact that your DNS requests may end up being resolved in a different location to the server where you elected to connect). Overall, the level of security is strong, but the fact that the DNS leak protection could cause the VPN to function badly when unblocking regional services, is definitely a downside.
Its feature list is definitely on the basic side, but the important stuff, like a kill-switch and DNS leak protection is covered (as long as you are a Windows user). However, if you are a power user with a lot of devices and you want to be able to use a VPN on all of those devices independently, then you will need to subscribe for two years, and even then you will only be allowed 5 simultaneous connections (and you won't get a kill-switch on iOS or Android).
The fact that it unblocks US Netflix is a nice bonus, and the quality of its support team impressed us. However, you don't get live chat – which is pretty common nowadays. On a more positive note, it recently added an iOS app and browser extensions (for Chrome and Firefox) into the mix – which means Trust.Zone is now available for Windows, iOS, and Android (with manual setup available for macOS and Linux if you wish).
Some may miss the lack of dedicated apps for macOS and iOS, but in our view the third party alternatives (we recommend using OpenVPN rather than configuring L2TP/IPsec) are better than most dedicated apps we review, anyway. So we don't consider this a big problem.
On the other hand, if you are looking for a fully featured VPN with all the bells and whistles, and the ability to unblock a large number of international services, we would tend to recommend something else.
Finally, we would say that pricing is pretty reasonable, though you do get what you pay for – a service that is lacking in many areas when compared to many other premium services on the market.
0 User Reviews
Leave a Review
Thanks for your review!