Alternative Choices for You
Price
Gom VPN offers two premium plans, and at first glance you might be surprised at how cheap a subscription is. Bear in mind that you're paying for a browser extension, not a fully-fledged VPN, and it should all seem more reasonable. The inexpensive price tag gets you a simplified service without the bells and whistles (and, quite frankly, the security) of a more established VPN like ExpressVPN or Nord.
The cheaper of these options is the "Pro" plan. It'll set you back $4.99 if purchased monthly, though you can save a bit of dough by committing to a longer subscription. An annual plan costs $3.99 per month, and Gom VPN is kind enough to throw in an extra 2 months for free. Alternatively, if you feel like splurging, a one-off lifetime payment of $199 is another option.
"Gom Gold" is the VPN's premiere subscription tier, and this is where things get… interesting. Similar to the "Pro" plan, "Gom Gold" gives customers access to 1000 Mbit servers and an "always-on" function, as well as a private IP. It'll set you back $19.99 per month, though, which is incredibly pricey!
The VPN tries to sweeten the pot with a referral scheme. Simply put, the initial Gom VPN user would make $2 per month for every user they refer to the service, and an additional $2 per month if those referrals each refer users of their own, and so on for up to four levels of referrals. As you've no doubt already realized, there's a worrying amount of "referring" going on here.
The pricing page of Gom VPN's site cites that, upon reaching the fourth level of referrals, if 160,000 people have subsequently been referred to the service, the initial Gom VPN user could be make $320,000 per month. That's quite ambitious to say the least, seeing as you'd need to refer more people than live in the US town of Salinas, California.
If you're in any way tempted by this scheme, you might want to take a look at the diagram on the Gom VPN page and imagine what it'd look like if it hadn't been cut in half. Then, take a gander at this passage from the "Pyramid scheme" Wikipedia page:
"A pyramid scheme is a business model that recruits members via a promise of payments or services for enrolling others into the scheme, rather than supplying investments or sale of products. As recruiting multiplies, recruiting becomes quickly impossible, and most members are unable to profit."
We wouldn't be doing our due diligence if we didn't advise you to keep away from Gom Gold. If you're interested in supporting the VPN, stick with the Pro subscription, but be sure to finish reading our review before you do – it gets even weirder.
Looks like a pyramid to us...

No, seriously...
Money-back and refunds
According to a plain and perfunctory refunds page, Gom VPN will honor any refund request made within 7 days of purchase. After this time the VPN is "considered consumed", and you'll be unable to claim your money back.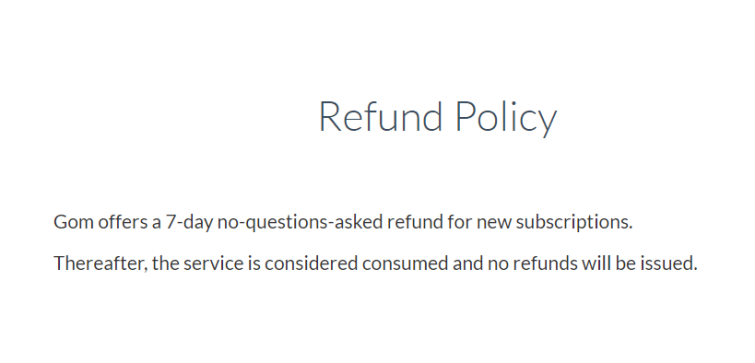 Payment methods supported
Currently, Gom VPN supports Paypal and credit or debit card payments. Bitcoin isn't accepted, which will disappoint anyone looking to purchase their subscription anonymously.
If you're wondering whether it's possible to avoid all the scary referral stuff and use Gom VPN for free – you can, kind of. Gom VPN offers a 7-day free trial for Google Chrome users, and the trial begins when you enable the extension after downloading it from the Chrome Web Store. By syncing Gom VPN with your Google account, you can right-click the VPN icon in the top-right of your screen and select "Options" to check out how much time is left on your free account.
Once that time runs out, you'll need to decide whether you want to upgrade to a paid subscription. If you need more time to mull it over, or would rather not pay for the service, you can win additional "free" time by referring friends to the service. In fact, if you manage to recruit five friends, Gom VPN will reward you with unlimited free usage.
Speed
Here at ProPrivacy, we like to take a scientific approach to our speed tests. We use a proprietary server-based system to measure provider speeds – and we do it three times a day! If you're interested in learning more about this system and how it works, check out our article on VPN Speed Testing Done Right.
We'd love to display Gom VPN's speed test results here, but the VPN is virtually unusable in its current state.
After enabling Gom VPN, you realize that what you've installed is actually more like a power off button for your internet, and not a functioning privacy or unblocking tool. Pages frequently time out and fail to load, even if they're not particularly resource heavy, and on the off-chance that a site manages to load, it's long after you've forgotten why you opened it in the first place.
Upgrading to Gom Pro does not solve this issue. Free and paid users will both experience sluggish load times and high latency, and endlessly loading pages.
That's as confusing as it is concerning. The "Pro" subscription takes your money in exchange for what should be an upgraded service, with 1000 Mbit servers supposedly at your beck and call. Unfortunately, it seems like Gom "Pro" customers are paying for a product without actually getting to use it.
If you're looking for a fast service check out our fastest VPN page for a list of the quickest services around in 2023.
Does Gom VPN unblock Netflix?
| | |
| --- | --- |
| Netflix | |
| iPlayer | |
| Amazon Prime | |
| Hulu | |
| Disney+ | |
We won't keep you in suspense. No, Gom VPN absolutely cannot unblock Netflix, despite its claims on the Chrome Web Store. However, considering how the VPN struggles to load Netflix, you'll likely never reach the point where you have to worry about whether it works with the site or not.
Gom VPN likewise cannot unblock BBC iPlayer or Hulu. This issue, at least, has been historically addressed by the Gom VPN support team – in 2015.
In an FAQ post titled "Why can't I watch videos on Hulu and BBC iPlayer", Gom VPN had this to say:
"Presently, our servers are solely located in the US, which allow all users to access exclusive content that is available only in the US. Websites that are restricted by countries outside the US, such as BBC iPlayer, remain inaccessible at the moment.

Nonetheless, we expect to make more content available as we expand our servers all over the world."
It should be noted that even the best, most reliable VPNs will occasionally struggle to access streaming services like Netflix, BBC iPlayer, and Prime Video. It's a cat-and-mouse game, with big sites getting better and better at blocking VPN IPs. However, the difference between these VPNs and Gom VPN is that they all present solutions. ExpressVPN, for example, offers a Smart DNS service, and providers like NordVPN and CyberGhost have expert teams on hand to troubleshoot issues quickly and easily. Gom VPN lacks all these things, and more.
Ultimately, if you're looking to check out what's new to US Netflix or binge BBC iPlayer, Gom VPN won't be able to help you.
Ease of use
Admittedly, Gom VPN lives up to its promise of quick and easy installation. There's no refuting that claim. You can visit the Gom VPN page or do a quick Google search, either way, you'll be taken to the Chrome Web Store. From there, it's simply a case of clicking install, waiting a moment, then toggling the VPN on by clicking the "flying woman" icon. Voila! Now every site you visit will fail to load as if by magic!
To its credit, Gom VPN does offer an impressive amount of compatibility for such a simple service. You can install Gom VPN on Windows and Mac devices, Chrome and Firefox browsers, as well as iOS and Android mobiles. Unfortunately, there's no Linux or router support to be heard of.
Check out the guides below for a list of the best services for your device:
Signing up
Whilst Gom VPN doesn't ask you for any personal details upon installation, it does run alongside your Google account if you're signed in – you don't have to sync the two, but the option is there.
You will need to sync a Google account or create a Gom VPN login to subscribe to Gom "Pro", but there's nothing stopping you from using a disposable email address.
During our test, we found that it's necessary to sync your Google account or create a Gom VPN login to view the time remaining on your free trial. So, anyone hoping to use the extension as a simple on/off button may be disappointed.
Customer service
| | |
| --- | --- |
| Money-back guarantee | |
| 24-hour support | |
| Live chat | |
| Free trial | |
| Free trial length | 7 |
Gom VPN falls flat in so many areas; the lack of solid encryption is an obvious and glaring one, as is its dramatic effect on webpage loading times, but the service's complete and utter lack of customer service would easily scoop the bronze medal.
Gom VPN lacks any sort of live chat, and if you click on the "Support" tab of the homepage, it takes you to a broken link – which is pretty symbolic of the service as a whole.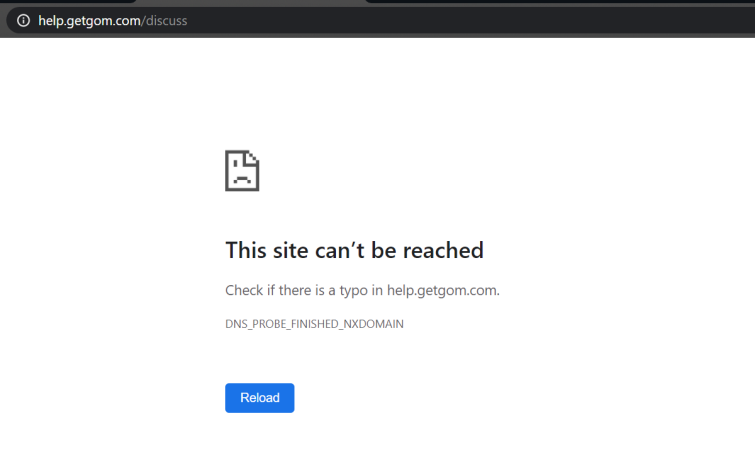 With a bit of determination and some Google searches, you can find Gom VPN support forums, though they largely look abandoned. These scant pages last saw updates in 2015, but they do hold some basic information that could be used to solve payment issues and advice on how to reset your account information.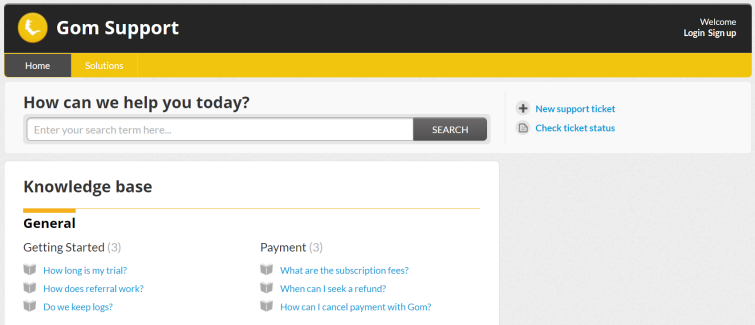 For anything else, you'll need to figure it out yourself – there's simply no easy way to contact the VPN provider. The forums give you the option to create a new support ticket, though there seems to be no guarantee that there's anybody looking at them in 2023. Reviews on the Chrome Web Store also suggest that the email address on the "Contact" page yields few responses, and certainly not timely ones.
This "Contact" page also prompts you to contact Gom VPN via Google+, which should give you some indication of how well maintained the hub is.
Privacy and security
| | |
| --- | --- |
| Kill-switch | |
| Obfuscation (stealth) | |
| Bare-metal servers? | |
| Self-hosted DNS | |
One of the few assertions on the Gom VPN homepage is that, by using the service, your browsing sessions are nicely encrypted with "HTTP2 SSL technology". Be aware that any encryption offered by Gom VPN will therefore only extend to your browser, and not your traffic as a whole.
No other security features are mentioned. There's no word on the availability of AES-256 encryption, no kill-switch, obfuscation measures, or DNS services. Additionally, Gom VPN seems uninterested in stating whether it prevents IPv6 or WebRTC leaks.
The service also fails to mention anything about the protocols it uses. This is an important distinction, as some protocols – like OpenVPN encryption – are well-trusted and work hard to keep your identifiable data secure, whereas others – like PPTP – are outdated and dangerous. For all we know, Gom VPN could be using the latter!
This lack of clarity when it comes to user security could be explained by the fact that Gom VPN was designed as more of an unblocking tool than a privacy measure. However, accessing restricted sites, streaming licensed content, or using banned social media sites is a dangerous game to play without reliably implemented security features. Fortunately, there are countless other VPNs that do have your privacy and safety in mind, and if you'd rather check those out, take a look at our guide!
Logging policy
Gom VPN does provide some information about its logging practices, and they're fairly standard:
"Gom VPN claims that the following information is not collected or logged:
Browsing history
Browsing content
Your browsing cookies
Your IP addresses"
The statement continues, citing that customer details can be retained if permission has been granted by the user. If you'd rather not hand over your name and address to Gom VPN, you can purportedly use the site "anonymously", so long as you're okay with missing out on some features.
"We may collect personal identification information from Users in a variety of ways, including, but not limited to, when Users visit our site, register on the site, place an order, and in connection with other activities, services, features or resources we make available on our Site. Users may be asked for, as appropriate, name, email address, mailing address, phone number, credit card information. Users may, however, visit our Site anonymously. We will collect personal identification information from Users only if they voluntarily submit such information to us."
Check out our no-logs VPN page for more information about the importance of using a VPN that doesn't log your data.
Features
In terms of features, Gom VPN has very few – and this was supposed to be the point. A prospective user would install Gom VPN as a quick and discreet means of bypassing oppressive internet restrictions. They'd be able to turn it on and off with a click, and have no bulky apps to download – which comes in handy if you're at the office or school. Sure, this lightweight VPN lacks the variety of features you'd find with ExpressVPN or Nord, but you'd have an inexpensive way of accessing geo-restricted content, regardless of where you were in the world.
Unfortunately, it simply doesn't work.
Unlike a more typical VPN, Gom VPN does not assign you a new IP address, and therefore does not "spoof" your location. You also cannot select a server to connect to – in fact, it's impossible to tell how many Gom VPN servers actually exist!
Gom VPN does make a vague allusion to its servers being located in the US in its support pages, but that's about it. You cannot customize your protocols or toggle a kill-switch, there are no priority servers for streaming, and split tunneling simply doesn't exist.
Again, this could be forgiven if Gom VPN worked at all – as a lightweight option for students, perhaps – but it doesn't!
Final thoughts
So, now that we've had a closer look at Gom VPN, let's review.
The service is an atypical VPN, being a Chrome extension that only affects your browser. And, once upon a time, it was intended to be a quick and easy tool to help people gain a US IP address in order to unblock US content from any location – before it broke, that is.
Things we liked
Gom VPN was true to its word in that it was easy to install
A surprising amount of compatibility with different platforms
A 7-day free trial is rather handy
Things we didn't like
It just doesn't work – sites fail to load and Netflix is completely inaccessible
Internet speeds are reduced to a crawl
Little to no encryption
No location spoofing abilities
No option to select a server or global location
No customer service in sight
Oh, and it might be a pyramid scheme
All in all, we'd have to encourage you to give Gom VPN a wide berth. There's very little to recommend the service, though we appreciate that it's in dire need of maintenance and a bit of TLC. If these changes are made, Gom VPN could carve out an interesting corner of the VPN market, offering a no-frills service to people in need of a discreet privacy tool. Unfortunately, Gom VPN has its work cut out; it'll need to ramp up its security, work on those awful loading times, and stay in touch with its customers.
Providers like Windscribe and ProtonVPN let you use the service for free, for however long you want to, with the option to upgrade at any point. No money changes hands, and yet you get ten times the amount of features offered by Gom VPN – servers that you can actually select, AES-256 encryption, and access to Netflix. These products are fully realized, whereas Gom VPN needs a lot more time in the oven.
0 User Reviews
Leave a Review
Thanks for your review!