It's not always easy to find a reliable VPN without paying, but these services do exist, as long as you know where to look. ProPrivacy.com's experts have put together this guide on the best free VPNs - and the worst
What are the best free VPNs?
If you want a quick answer, here's a preview of who made our best free VPN list:
Hide.me - offers 5 free servers and 2GB data cap per month
Windscribe - offers 10 free servers and 10GB data cap per month
ProtonVPN - offers 3 free servers and and no data cap
TunnelBear - offers 19 free servers and 500MB data cap per month
Hotspot Shield - offers 1 free US server and 500MB data cap per day
The Best Free VPNs: Detailed Comparison
Hide.Me is an awesome Malaysian VPN provider has an excellent free service. Although users are limited to just three server locations (Singapore, the Netherlands, and Canada), users get a whopping 2GB per month of free use at up to 80Mbps.

When reviewing hide.me, we found the lack of server locations means it isn't good for unblocking content from all over the world. If you need US or UK servers, please look elsewhere. On the plus side, this VPN has a strong privacy policy and provides robust encryption to keep your data secure.
Likes
Strong encryption
Servers in 3 countries
Zero logs
Superb privacy policy
Highly experienced customer care
Dislikes
Doesn't unblock Netflix US
Windscribe has always been one of our favorite free VPNs. Compared to some other free services, Windscribe gives more– 10GB data allowance per month! This is pretty amazing because Windscribe is actually trying to encourage people to buy its premium service.

What's more, this VPN has strong encryption and keeps zero logs – making it fantastic for privacy. With unlimited simultaneous connections permitted, this VPN is truly outstanding.
Likes
Strong encryption
Great privacy policy
Easy to use
Perfect for beginners
High transparency
Dislikes
Limited support options
Usage capped
ProtonVPN made it two-years on the bounce to claim the award of 'Best Free VPN' at our illustrious awards in Las Vegas on 7th January 2019. This superb service, provided by the developers of Proton Mail, is a secure VPN that lets people use the service on an unlimited basis and with decent speeds. This makes it perfect for privately surfing the web on a daily basis without delay - exactly why ProtonVPN offers this version of their product.

ProtonVPN is a superb VPN that many people may find useful for unblocking censored news.
Likes
Unlimited use for free
Good speeds
Excellent encryption for strong privacy
Lots of features
No logs
TunnelBear VPN is a free service that constantly impresses people. This VPN is super-secure and even opened up its software to a third-party analysis last year. The outcome? Security researchers found the VPN to be secure and reliable. It also keeps no logs.

Unfortunately, The service is restricted to just 500MB per month. Despite this, it is brilliant for locations with severe censorship and where privacy is essential. It is perfect for securely unblocking news.
Likes
Simple setup, incredibly user friendly
Excellent encryption
Can connect up to 5 devices
500MB of free data every month
Dislikes
No peer-to-peer (P2P)
Few advanced settings
Usage capped
Hotspot Shield is an awesome free VPN that has helped millions of people in their time of need. It was the most used VPN during the Turkey coup and the Arab Spring. Users get free access not only to the VPN but also a Chrome extension.

The free service permits connections to the US only, but the extension permits connections to 14 countries (but not the US). The result is that Hotspot Shield users can unblock content in 15 countries for free! What's more, Hotspot Shield's free plan lets people have 500MB of download use per day. That is a massive usage allowance considering it is free.
Likes
Free VPN with 500 Mb per day
Free Chrome Extension with ad blocker & cookie blocker
Easy to use
Fast speeds
Plenty of features
Dislikes
Privacy policy could be better
Why are these the best free VPNs?
There is a lot of negative press when it comes to free VPNs. Most comparison sites will urge you to stay well clear of them. We'll be the first to put our hands up and say this was our standard advice for a long time too. That's because there were (and still are) a lot of awful VPNs out there that take advantage of their users' data for their own gains. About 95% of the free VPNs available on the market are either useless or even dangerous.
But the truth is the market is changing and there are now a few providers that do offer genuinely excellent free products. They do come with certain caveats compared to their cousins, but as long as you are aware of the differences between the two offerings, a free VPN can be a hugely powerful and useful tool - both on mobile and desktop. The VPNs in the list above were selected by ProPrivacy.com's experts, who carefully reviewed every free VPN on the market. All of our VPN recommendations are transparent about how they handle user data. They also provide up-to-date encryption implementation that can be trusted to protect your privacy and hide your internet activity at all times.
During our research, we considered the following attributes:
Encryption availability and implementation
Privacy policy and data handling
Server locations and availability
VPN speeds and performance levels
Reputation and history
Relationships with third parties such as advertising and marketing firms
All the free VPNs that we selected for you offer a VPN plan that is completely free. None of them require you to hand over your credit card details to download and use their service.
Free VPNs Explained | TunnelBear, Hotspot Shield & More | ProPrivacy
How to get a paid VPN for free
If you want to experience a full-featured VPN for a short period of time with no limitations, ExpressVPN's service is ideal, as the company offers a money-back guarantee. Free VPNs can sometimes be restrictive (download limits and/or speed limits), but with ExpressVPN you can enjoy a full service for 30 days.
You will need to pay a subscription fee to use ExpressVPN's service, but doing so will give you full, unrestricted access to the company's servers, and ExpressVPN always honors its money-back guarantee (without fail). With ExpressVPN you will enjoy:
The ability to stream in HD and unblock Netflix
A choice of servers in 94 countries
Unlimited downloading via BitTorrent
The fastest VPN speeds and free unlimited VPN use
See our free VPN trial page for a list of premium services that you can try for free.
How a free VPN works
The free VPN app connects your device (such as a PC, Mac or smartphone) to a server run by the VPN provider. All data that travels between your device and the VPN server is encrypted to ensure that no-one else can see it. The VPN server acts as a gateway to the internet, and all your internet data is routed through it.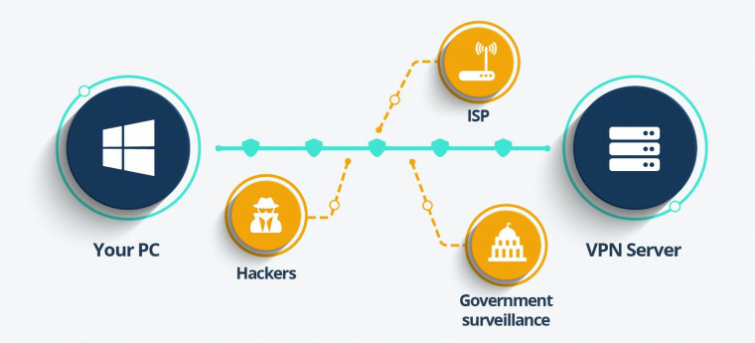 Free VPN servers
Some VPN providers advertise connections to free VPN servers. With some VPN providers, this is to differentiate between the number of servers available on the premium (paid) plans and the free plan. Some VPN providers that offer a free plan restrict access to free users to only a smaller selection of free servers. For all intents and purposes, however, a VPN with free servers is exactly the same as a "free VPN".
The benefits of free VPNs
A free VPN is a useful tool for people who need access to online information or websites that are blocked. When governments block websites - including social media platforms, or Voice Over IP (VoIP) messengers such as Skype - a VPN will help you to:
Access blocked news websites
Enhanced security when using public Wi-Fi
Most free VPNs offer multi-platform support including VPN apps for Android and iOS VPNs
Access websites from foreign countries (bypass geo-restrictions)
Access apps that are blocked on your local app stores (such as the Google Play store)
Watch YouTube videos, or other streaming videos that are blocked in your region
When you travel overseas for business or pleasure, a VPN will let you access websites from back home and allow you to:
Use online banking services that are restricted to your home country
Log into online services that are only available in your home country
Watch regionally restricted online TV channels while you are on vacation
A VPN provides online security at home and on public WiFi. No matter whether you are on vacation or using the internet in a local coffee shop, a VPN:
Protect your login and passwords
Stop cybercriminals stealing your credit card details
Connect to any WiFi, at any time, without worrying about 'evil twin' hotspots
Protect against KRACK vulnerability
Finally, a reliable free VPN will stop your ISP and the government, from keeping tabs on what you do online. It can also hide your IP address from online marketing firms and websites that attempt to track you.
Some of the worst free VPNs
If you use one of ProPrivacy.com's recommended free virtual private networks, you do not need to worry about privacy and online security. All of our recommendations offer the same level of data protection, encryption, features (such as a killswitch or DNS leak protection), and watertight privacy policies - on both paid and free plans.
This is not always true of every free VPN provider. We've scoured the policy terms of all the providers and listed some free VPNs you should avoid at all cost.
Provider
Why avoid?
Extra info
Hola
Can sell data to third parties* Shares emails with marketing partners. Sells traffic data to sister firm. Shared anonymized data to third parties.
Fraudulently steals & resells user bandwidth through sister company

Luminati

. DNS and WebRTC leaks detected.
Betternet
Can sell data to third parties.* Allows advertisers to cookie users' browsers. Displays targeted advertising. Parent firm can access all data.
Lets advertisers track and log user data. IP Leak in Chrome browser extension. Contains 14 tracking libraries in total (according to CSIRO report).
Hotspot Shield Free
Can sell data to third parties.* Redirects users to affiliate sites when browsing. Displays targeted advertising in-app and on websites.
Uses 5 different third-party tracking libraries. Shares data with third-party affiliates and partners. Shares all data with parent company.
Psiphon
Can sell data to third parties.* Allows ad partners to track users. Displays targeted advertising.
Shares data with their advertising partners. Shares data with third-party affiliates and partners. Shares all data with parent company.
HoxxVPN
Can sell data to third parties.* Isn't a VPN (it's a ShadowScos proxy service). DNS and WebRTC leaks. Tracks user activities and works with authorities.
Keeps logs and sells them to third-party partners. Shares data with third-party affiliates and partners.
SuperVPN
Willing to disclose information to authorities. Reports of it being infected with malware. Tracks user activities and works with authorities.
Extensive access to user's sensitive information. Stores session logs in the UK and US.
ArchieVPN
Reports of being heavily infested with malware.
Performs real-time analysis (claims this is for troubleshooting only).
Onavo Project
Can sell data to third parties.* Uses user info for advertising and marketing. Displays ads to users.
Belongs to Facebook. Shares and sells user data with third parties.
HatVPN
Has no available privacy policy. Reports of being heavily infested with malware. Invasive app permissions
Could be doing anything they want with user data. Developed and based in China.
VPN by Apalon
Invasive app permissions. Shares data with third parties for marketing purposes.
Displays ads.In-app purchases.
Private Pipe VPN
Shares data with affiliate partners. Displays targeted ads on websites.
Confusing privacy policy (claims no logs, but contradicts this claim).
Tuxler VPN
Can sell data to third parties*. Uses logs to target ads at users.
Shares user browsing data with advertising firms.
GO VPN
Can sell data to third parties*. Admits to using customer data to build out their database. Displays targeted ads through the platform.
Belongs to Chinese firm Talking Data. Willing to sell usage logs to third parties and partners. Extremely invasive app permissions.
Hexatech
Can sell data to third parties*. Allows advertisers to track and log user data. Advertisers can access user data whenever they want.
Created by Betternet (belongs to a marketing firm). Displays ads to users.
TouchVPN
Can sell data to third parties*. Adds Cookies, Pixel Tags and Web Beacons to user browsers.
Shares anonymous data with third parties.
Faceless.me
Doesn't work. The privacy policy is too ambiguous to be taken seriously.
Has no support if you have concerns or questions.
FinchVPN
Can sell data to third parties*. Reports of being heavily infested with malware.
N/A
Cross VPN
Reports of being heavily infested with malware.
N/A
VPN OneClick Free
Reports of being heavily infested with malware. Outdated PPTP encryption on Android.
Based in the UAE.
Flash Free VPN
Invasive app permissions.
Uses 11 third-party tracking libraries.
Fast Secure Payment VPN
Reports of being heavily infested with malware.
N/A
sFly Network Booster
Reports of being heavily infested with malware.
N/A
IP-Shield VPN
Contains third-party tracking software.
N/A
WiFi Protector VPN
Uses 5 tracking libraries.
N/A
TigerVPNs
Fraudulently steals and resells users bandwidth.
N/A
Private WiFi
Appears to have poor or no encryption.
N/A
*according to the privacy policy
Free VPN restrictions and limitations
If you pick one of our recommended free services, the VPN will be likely to be a more limited service than one of our premium (paid) VPN subscriptions. This is because many (not all) trusted free VPN plans are often there to tempt consumers into purchasing a subscription. Free VPN plans may do some (or all) of the following:
Cap the amount of data you are allowed to download via the VPN
Limit the bandwidth (connection speed) making your internet too slow to stream, etc
Only provide access to a few server locations (that many people use and become congested - causing more connection speed problems)
Limits what you are allowed to do with the VPN (blocks Netflix or disallows torrenting)
May not provide full customer support because you are a free user
Using a free VPN for streaming
People who want to unblock streaming services using a VPN require a service that provides high speeds. Streaming with a VPN also requires a VPN with a large network of servers that don't suffer from congestion. Free VPNs do not always support highly in-demand streaming sites such as BBC iPlayer, Netflix, Hulu, or Amazon Prime Video.
If streaming is your main desire, a free service might not always suffice. However, because these recommended VPNs cost nothing - it will do no harm to try them.
Using a free VPN for torrenting
A free VPN is not likely to be good for downloading via BitTorrent. This is because there's no such thing as a truly unlimited free VPN. Free VPN download limits and speed restrictions can make downloading via Peer-to-Peer time-consuming and difficult. If you want a VPN to torrent with ease, you will need a VPN with unlimited data and no speed restrictions. Why not check out our Torrenting VPN to see our recommendations.
Using a free VPN service to bypass censorship
Free VPNs have shown their worth time and time again when governments around the world block websites. During times of political upheaval, as well as during protests and riots, governments often block websites. In some countries, websites may be blocked on religious or moral grounds. A VPN can help people bypass these restrictions. Free VPNs have helped many people in acute times of need.
However, please remember that accessing government-restricted content could land you in trouble with the authorities. In the very worst cases, you could go to jail, or worse. For this reason, it is wise to consider your local environment.
If you are in a 'high risk' location such as China, UAE (Dubai), Saudi Arabia, Iran, or Pakistan - and plan to visit high-risk websites, great care should be taken to ensure you only use a secure VPN with strong encryption. The free VPNs in this guide should provide what you need to bypass censorship securely (please check each summary carefully), but if you have concerns feel free to contact us via the link at the end of this article.
If you are wondering whether a free VPN will unblock sites, such as Popcorn Time, The Pirate Bay, putlocker - or other websites blocked by ISPs - the answer is yes!
FAQs