Hulu is a popular streaming service available only in the US and Japan. With a hulu VPN you can access the streaming site from anywhere in the world, but, not all VPNs can bypass the hulu VPN block. We take a look at the 5 best VPNs for hulu and show you how to access it within minutes.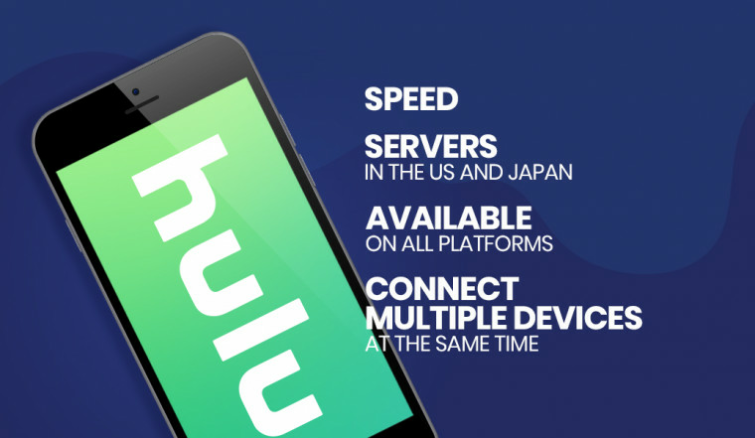 The VPNs that we recommend on this page all have servers and features to let you unblock hulu. Here are the most important features that our experts looked for when picking the 5 best VPNs for hulu:
Ability to unblock hulu Japan or hulu US: first and foremost a hulu VPN must be able to unblock hulu. All the services in our list consistently bypass hulu VPN blocks.
Connection speeds: A VPN for hulu must be fast enough to let you stream in HD without buffering.
Server locations: A reliable VPN for hulu needs to have servers in the US and Japan.
Strong privacy policy: Using a VPN to unblock geo-restricted content should always be done with privacy because of copyright restrictions. We only recommend VPNs for hulu that have trustworthy privacy policies.
Military grade encryption: VPN encryption scrambles your internet traffic to stop ISPs tracking what you do online. VPN encryption gives you complete digital privacy online.
24/7 customer support: Live chat customer support and 24/7 email support allows you to contact your VPN for advice and help when you need it.
Value for money: The VPNs for hulu chosen by our experts have all the features you need to stream hulu at a price that is fair and affordable.
What are the best VPNs for hulu?
Our experts have carefully selected the 5 best hulu VPN services. All of our recommendations provide full unrestricted access to VPN servers that work with hulu, additionally, they all have the following features.
Top 5 hulu VPN services
All the VPNs in this article have been carefully selected using the criteria above. However, they all differ slightly. The detailed comparisons below will help you choose the right hulu VPN for you.
How to get hulu outside of the US and Japan
If you want to stream Hulu outside of the US, follow these simple steps:
Select a hulu VPN from this guide and subscribe.
Download the VPN software and install on your device.
Select a server in the US (or Japan) and click "connect".
Navigate to the hulu website and subscribe or login if you already have an account.
Remember to connect to a server in the US or Japan whenever you want to stream hulu.
In order to pay for hulu US you will need a local payment method. You can either pay using a virtual online card or payment service - or with a hulu gift card. Walmart sells hulu gift cards on its website that are delivered via email and can be redeemed on its website immediately.
Does hulu block VPNs?
Yes, hulu does block VPNs.
Hulu is under pressure from copyright holders to stop people outside of the US from streaming its shows. This is why hulu go to great lengths to block VPN users from accessing the streaming platform.
Staying one step ahead of hulu's VPN blocks isn't easy, or cheap. That is why most VPN providers have given up trying to provide access to hulu. In fact, very few VPNs actually manage to successfully unblock hulu.
The good news is that the VPNs in this article all make it part of their core mission to keep unblocking hulu. This means you can trust these services to keep dong the job month after month, and year after year.
How does hulu block VPNs?
When a normal home IP address watches hulu, it is rare for more than one or two people to log in at the same time. When people from all over the world log onto a VPN server to watch hulu it becomes obvious that a VPN IP address is being used. This causes hulu to blacklist the VPN IP address, cutting off the VPN subscribers in the process.
Our recommended VPNs have all found ways to avoid this, preventing hulu from detecting a VPN is being used. This means subscribers can watch hulu whenever they like.
How to bypass hulu VPN blocks
Our recommended VPNs for hulu have all proven that they are able to keep providing access to hulu. These VPNs use a number of complex methods to beat the hulu VPN ban.
Here are some things to try if hulu isn't working for you on your chosen VPN
Try a different server
The VPN might only unblock hulu on specific servers, so try a few.
Ask the VPN's customer service team
If your VPN is supposed to work with hulu the easiest way to get it working is to ask the customer service team.
Clear your cookies
It is possible that hulu has placed cookies on your machine that are stopping you from gaining access. Clear the cookies in your browser by going to settings.
Disable geolocation settings in your browsers
Chrome and Firefox both let you disable geolocation settings. See our guide on disabling geo-location settings in your browser for more details.
Disable IPv6
IPv6 connections can result in IP and DNS leaks that will stop hulu from working. To disable IPv6 in Windows 10 follow these simple steps:
In control panel open Network and Sharing Center.
In the Network and Sharing Center, click the option Change Adapter Settings, on the left-hand side.
Right-click on the first Local Area Connection you see listed and go to Properties.
Under the General tab, uncheck the option Internet Protocol version 6 (IPv6).
Apply the changes by clicking OK.
Repeat steps 3-5 for any remaining network connections.
Reboot your computer for the changes to take effect.
How does a hulu VPN work?
A VPN lets you conceal your real location. This makes the websites you visit believe you are in a different place. With a VPN you can bypass geo-restrictions to access censored or country-specific content lie hulu. Pretending to be in the US or Japan means you can get a hulu subscription just as if you actually lived there.
All the hulu VPNs in this guide have fast servers for streaming videos in HD. Many VPNs are slow which is why they are not suitable for streaming hulu. In addition, our recommended VPNs provide encryption so that your ISP, the government - and copyright holders - are never able to figure out what you do online. This digital privacy permits you to enjoy your newly gained digital privacy without fear of repercussions.
Connection speed for streaming hulu
To stream hulu with a VPN you need the services to have servers in the US or Japan that can provide fast connection speeds. Slow servers would destroy your viewing experience by causing buffering problems. Our experts have carefully selected the fastest VPN services in our best VPNs for hulu list.
You will need the following speeds to stream hulu with a VPN:
| Connection speed | Average quality |
| --- | --- |
| 500 Kbps | Lowest streaming quality |
| 1.5 Mbps | Average quality (up to 480p) |
| 3 Mbps | SD quality (480p or better) |
| 5 Mbps | HD quality (720p or better) |
| 25 Mbps | Ultra HD quality (1080p or better) |
FAQs
Below you will find a list of Frequently Asked Questions on Hulu and VPNs.