Price
Like the majority of VPNs on the market, OVPN can be purchased in a number of different subscription plans. Each plan differs only because it provides subscribers with a discount for committing for a longer period of time. The features available to users remain the same, which saves confusion.
A single month subscription to OVPN will set you back $11, which is pretty average for a single month VPN subscription. Subscribing for six months reduces the cost considerably to just $6.99 per month and includes access to the multi-hop feature.
Finally, potential subscribers have the option to subscribe for a year which reduces the cost to the lowest price available: $59.88 per year (the equivalent of $4.99 per month). This cost seems a little high in our opinion considering what you get.
We feel it is a little disingenuous to claim that the multi-hop VPN feature is worth $60 per year. Competing VPNs (that have this feature) provide it with their subscriptions for free without making any such claims. Thus, this is clearly a marketing ploy that seems largely unnecessary.
The fact that OVPN provides a 10-day money-back guarantee means you can test it risk-free and get your money back if you want to. This is good, but it is also somewhat lacking when compared to the 30-day money-back guarantee you get with most of its competitors nowadays.
To pay for a subscription, the VPN provider accepts card payments using VISA, Mastercard, Discover, and JCB. PayPal is also accepted for those who prefer it, as is Swish.
Cryptocurrency payments can be made using Bitcoin, Ethereum, and Monero – which gives you the option to sign up anonymously. Plus, the VPN accepts cash through the post, which is another way to sign up without leaving a paper trail.
Unfortunately, no free trial is available with this VPN provider. So if you do want to test the service, you will have to pay for a subscription and then ask for your money back using the 10-day free trial.
Finally, customers who pay for a single month subscription can opt to bolt on the multi-hop feature as an extra for $5 per month. This seems rather extortionate, especially considering the issues the feature currently has (read the Windows app section to learn more).
Features
In general, OVPN competes well with other services available on the market. Below, we have included a list of all the features you can expect to get when you pay for a subscription.
Although having servers in just 18 countries leaves you with fewer options, it is worth mentioning that OVPN provides a decent amount of choices around the world, which should suit most people's needs.
It is also worth noting that OVPN's claims (that having bare-metal servers in fewer locations is better for privacy and security) are genuine. Thus, internet users who want powerful protection may find this VPN a good option (more on this in the privacy and security section).
This makes the VPN an excellent choice for torrenting, which is permitted throughout its network. In addition, the VPN allows port forwarding, which many torrenters will want for gaining better speeds and for being able to maintain an optimal seed/leech ratio.
Can OVPN unblock Netflix US?
Besides gaining online privacy, many consumers want a VPN for bypassing geo-restrictions. So, is OVPN capable of unblocking the larger Netflix US catalog?
We tested the service while connected to its New York and Los Angeles servers, and found that it worked with Netflix on either. This means that you can use OVPN for accessing the larger US Netflix catalog – no matter whether you are geographically closer to an East or West coast US server.
It is also worth noting that this VPN works with Hulu, Amazon Prive Video, Disney+. However, when we tested this VPN while connected to the UK server, we were unable to use BBC iPlayer and ITV Hub. Thus if UK services are of interest you will need to chop elsewhere.
The good news is that this VPN unblocks streams in Sweden, Norway, and Germany (such as TV4 Play and Cmore in Sweden). This will make it attractive to people who want access to services in these specific locations.
Speed and Performance
We test VPNs three times a day using a scientific, server-based speed test system. This allows us to get up-to-date information about how a VPN is performing – and how it compares to competing services on the market.
For consistency, we track all the world's leading VPNs using the OpenVPN UDP protocol. We test servers in the UK, the USA, and South Africa for both download averages and max (burst) speeds.
Due to the fact that we only just gained a permanent test account for OVPN, thus far, we have only got a few weeks' worth of data to go on. As more time elapses, we will update this article to ensure that we give you averages over a longer period of time. So watch this space.
For now, however, you can see the results of our OVPN speed tests below. We have placed it next to a number of market-leading VPN providers so that you can see how it compares.
As you can see, the VPN performs extremely well and is comparable to some of the best VPNs available on the market. This makes it an excellent service when it comes to streaming in HD, gaming, and doing other data-intensive online tasks.
IPv4, DNS, and WebRTC leak test results
Whether a VPN suffers from leaks will determine how useful that VPN is in terms of data privacy and security. If a VPN has DNS leaks, your ISP will be able to detect the websites you are visiting.
If a VPN has IP leaks, the websites you visit will still be able to detect where you are (and who your ISP is, which could allow you to be tracked down). This, it is vital that a VPN suffers from no critical leaks of this nature.
To start, we tested both the Windows and Mac VPN clients for leaks using an IPv4 connection. We test using a private browsing window to be 100% sure that cached data isn't causing a conflict. To perform these leak tests, we used our purposely-designed leak test tool. The good news is that we detected no leaks whatsoever.
Next, we tested using an IPv6 connection to see if that made a difference (IPv6 connection often suffer from WebRTC bugs not experienced over IPv4). again we discovered no leaks with the IPv6 setting enabled.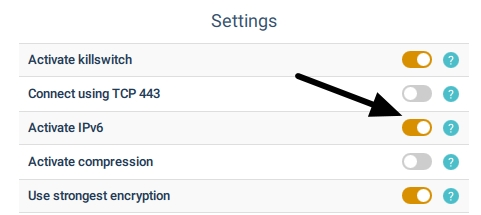 This makes the VPN completely safe to use on either an IPv4 or IPv6 connection, which is fairly rare even in 2023. Thus, this VPN can be considered excellent for data privacy and security purposes.
Privacy and Security
OVPN is based in Sweden, which is a country that has some mandatory data retention directives. The good news is that those directives apply to ISPs but not VPN services based in the country. As a result, OVPN is able to provide a watertight no-logs service.
It is also worth noting that OVPN has a smaller server network that comprises exclusively of bare metal servers. Those servers run in RAM only, which means that there is no physical memory for data to be stored on. This makes OVPN the safest type of no-logs VPNs available on the market for privacy purposes.
To be 100% sure, we analyzed its no-logs policy closely, to see if anything stood out. The good news is that the policy clearly states that there is no logging of anything that could be used to track an account holder:
no logging of traffic
no logging of timestamps
no logging of DNS requests
no logging of IP addresses
no logging of MAC addresses
no logging of individual user bandwidth volumes
This is as comprehensive as no-logs services ever get and means that you can completely trust this VPN for privacy purposes. Thus, we can state pretty confidently that this is a VPN that is ideally suited to people with an elevated threat model (journalists, protesters, human rights activists, lawyers, etc).
It is also worth noting that in addition to allowing payment via cryptocurrencies and cash through the post, this VPN also permits people to sign up without providing an email address if they want to. This is great news for those who want to sign up with added anonymity.
Technical security
OVPN is one of the few services that is 100% transparent and forthcoming with its encryption implementation standards. The details are published clearly on its website; something that we wish more VPN providers would do.
At the end of the day, how a VPN provider implements its OpenVPN encryption can make or break the reliability of the protocol. This is why it is vital not to sign-up to a service simply because it says it has OpenVPN (it could be out of date or implemented in a way that leaves you at risk).
So, how does OVPN implement its encryption and is it secure?
Protocol
UDP and TCP
Ports
1194, 1195 & 443
Data channel cipher
AES-256-GCM (OpenVPN 2.4+)
AES-256-CBC with HMAC-SHA1 (Openvpn 2.3 and older)
Control channel cipher
TLSv1.3:
TLS_AES_256_GCM_SHA384 TLS_CHACHA20_POLY1305_SHA256

TLSv1.2 and older:
TLS-ECDHE-ECDSA-WITH-AES-256-GCM-SHA384
TLS-DHE-RSA-WITH-AES-256-GCM-SHA384
TLS-ECDHE-ECDSA-WITH-CHACHA20-POLY1305-SHA256
TLS-ECDHE-RSA-WITH-CHACHA20-POLY1305-SHA256
Key exchange authentication
Diffie‑Hellman and Perfect Forward Secrecy (DHE) using a RSA key with a 4096-bit key size, with a re‑keying every 45th to 75th minute.
Extra auth key
RSA with a 2048 bit key size
Extra crypt key
RSA with a 2048 bit key size
As you can see, OVPN provides a lot of data about its encryption. firstly, it is worth noting that as long as you use the latest OVPN client or an up-to-date third-party OpenVPN client, then you will be using OpenVPN 2.4+, which will provide a highly secure connection thanks to the use of an AES-256-GCM cipher (which does not require any additional authentication because it is handled by AES-GCM)
So why does OVPN provide data for older OpenVPN standards? This is simply to provide information to any user who chooses to use an out-of-date third-party OpenVPN client, or an old router that still runs on OpenVPN 2.3 or older. Thus, as long as you use the latest OVPN client, you will be getting the strongest settings in the table above, which are extremely robust (and include strong DHE for forward secrecy).
As you can see, users on desktop machines are able to select between UDP and TCP. In addition, users can opt for TCP over port 443 – which serves as a rudimentary form of obfuscation, and is an option that we always like to see made available to users.
It is also worth noting that OVPN implements tls-crypt instead of tls-auth on its Singapore server. This means that users gain obfuscation by default on that server, which can be used to circumvent the Great Firewall of China, or firewalls in other countries such as Iran, etc. (Or to conceal VPN use in countries like Russia or UAE, where VPN use is frowned upon.)
One thing worth remembering is that the Android client connects using WireGuard (UDP) exclusively. Thus, if you do want to connect using OpenVPN on Android, you will need to use the third party OpenVPN Connect app.
We are also happy to report that OVPN always handles DNS requests itself. IT does not proxy requests to a third-party DNS resolver, which is our preference. Thus, overall we are extremely impressed with the technical security provided by this VPN, and you can be assured that your data is always secure when inside of the VPN tunnel.
Ease of Use
OVPN has custom apps for Windows, macOS, Linux, iOS, and Android. This makes it an easy VPN to use on all major platforms. It also permits up to four simultaneous connections, which means you can install it and use it on all of those platforms if you want to.
Subscribing to the service is extremely straightforward on its website. Once your payment has been made, you can log in to the member's area to download the version of the app that you require. You can also clearly see details about your subscription and how many days are left until it ends.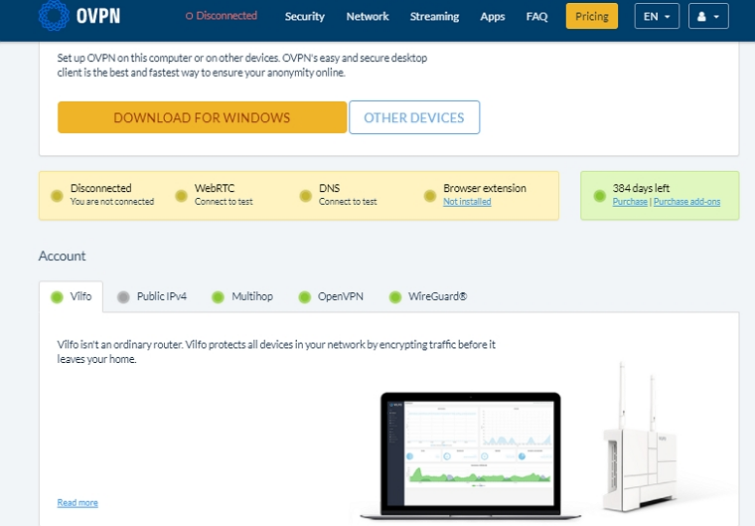 Windows App
The latest version of their VPN for Windows is Version1.10.4, which was released on November 25, 2023. It requires 75.8MB of free hard space to install it and is only compatible with Windows 7 or later.
The .exe file for the client is available in the member's area of its website. The setup wizard makes installation simple, all you need to do is agree to the license. Following that, it installs everything you need to start using the VPN right away.
Admittedly, the VPN interface is not particularly exciting to look at. Many VPN apps these days are easy on the eye, but OVPN sticks to being functional without bothering with those niceties.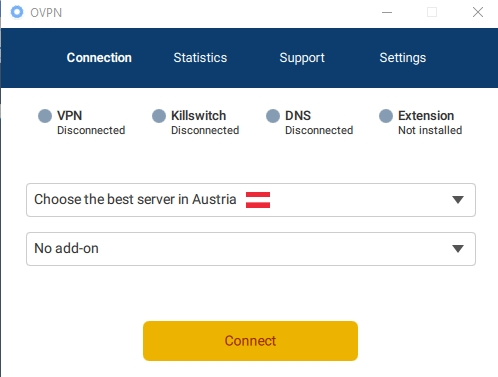 The nice thing is that all the available settings are on a single page. To access them, click on the settings tab and use the sliders. The Kill switch and IPv6 compatibility come turned on by default, which is good.
The only extra features you may want to toggle on are TCP over port 443 (for concealing VPN use as regular HTTPS traffic) and the auto-connect feature that ensures the VPN establishes a connection as soon as it is launched.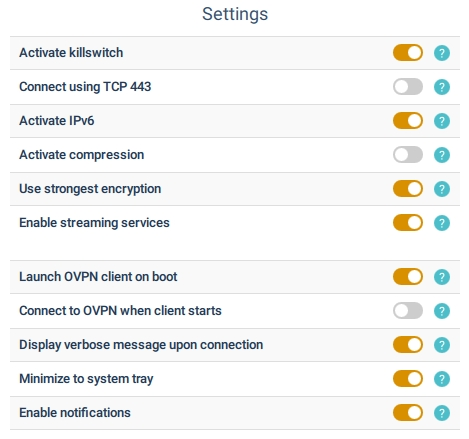 Each setting has a useful information feature that allows you to hover over the question mark symbol to find out exactly what it does, which is a nice addition for complete newbies.
For those who require support, it is possible to ask a question and create a support ticket from within the client, which is nice and removes the need to navigate over to its website if you don't want to.
Clicking on statistics allows you to see how much data has been sent and received via the VPN. Not a feature you see with the majority of VPNs, but something that may be of use to some power users.
We connected to various servers and found it to function without issues. Below you can see our active connection to one of its VPN servers in Sweden.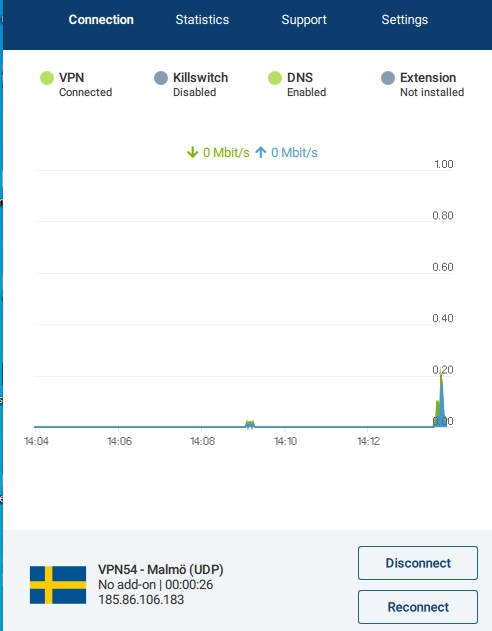 The app clearly indicates that DNS leak protection and the VPN is running at the top. And, it indicates that you are not using the kill switch and browser extension if you have yet to install or activate them.
Next, we tested the kill switch to ensure it cut our internet when the VPN connection failed. We found it to work without issues, and it is system-level which means that even if the VPN crashes, it will cut off your internet successfully to prevent data leaking to your ISP. This is the best kind of kill switch that is available, which is great news for its users.
As mentioned previously, we checked the client thoroughly for leaks using our in-house leak testing tool. I tested on an IPv4 connection and it clearly showed that I suffered no IP, DNS, or WebRTC leaks.
Overall, we found the client extremely easy to use, and it is nice to have the multi-hop feature available if you pay for it. Though, it is worth noting that you can't choose where you hop-to on the way to the final VPN server. Instead, you will just notice that it says multi-hop next to the disconnect button.

One big problem with the multi-hop feature is that it connects you to the location of your choice first and then a random multi-hop server second. This seems counterproductive because the user will normally prefer to jump through the multi-hop server on the way to the final destination of their choosing.
As a result, if you need an IP address in a specific location you will need to turn off the multi-hop feature or you will end up in an IP address in a completely different place to the one you selected in the client.
The firm says it is working on a fix to this issue, but until it does it really does make the multi-hop feature a bit iffy and probably not worth the extra $5 per month it costs on the single-month subscription
Mac App
We tested the macOS VPN app next. As with Windows, the installer is available on its website, and it installs without issues due to the easy installation wizard. All you must do is accept the license agreement and log in using your credentials. From there, you get access to an app that is identical to its Windows counterpart.
All the same settings are available on macOS, and the client comes preset correctly. As on Windows, TCP over 443 is available, and users can opt to weaken the encryption to AES-128-GCM if they prefer (will provide better speeds and is still considered secure).
We tested the VPN and found it to suffer no IP or DNS leaks, which is great. As is the case with the Windows app, the connection also registers in the member's area of the website. This allows you to double-check that the VPN is working correctly.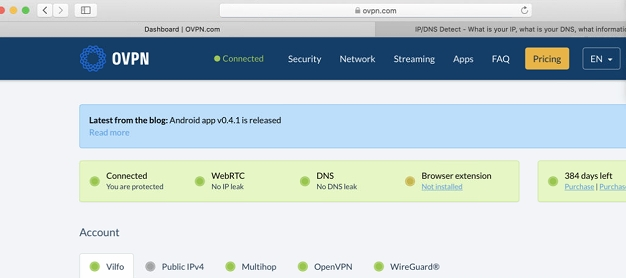 Other Platforms
Android
The Android VPN app is slightly streamlined compared to the desktop version. However, this means that you don't have to worry about any potentially confusing settings. The app provides WireGuard encryption only, so if you want to connect via OpenVPN, you will need to use the third party OpenVPN app for Android. On the plus side, it does have a kill switch and built-in DNS leak protection –which worked without issues during our tests. The custom Android app does not support multi-hop connections either, so if you want to use this feature on Android you will need to use the third-party OpenVPN connect app.
iOS
iOS users do not get access to a custom app yet. OVPN told us that an app is under development. However, for now, users must connect using either the third party using OpenVPN Connect app or the WireGuard app for iOS.
Guides are available on the provider's website for setting both of these options up. A lack of custom apps may make many iOS users decide to opt for a competing service – especially considering the relatively high cost of a subscription. However, it is worth noting that, in our experience, the third party apps work well and will provide a secure connection to OVPN's servers. Check out our iPhone VPN page for a list of services with custom iOS apps.
Linux
Linux users on Ubuntu and Debian distros get access to a full custom GUI client, which is pretty unusual. That client provides a kill switch and multi-hop features. this makes OVPN one of the best Linux VPNs on the market for users who want a GUI client like those available on macOS and Windows.
Customer support
For those who require support OVPN is a bit of a mixed bag. Certainly, when you manage to get through to one of its live chat agents those employees are extremely good. We found them to be knowledgeable, and they could answer a large range of in-depth questions.
There were times when we would had to wait an exceptionally long time for a support agent to arrive in the live-chat box. However, they did usually arrive within the twenty-minute period stated on its website. And, even if a live chat agent doesn't come while you are waiting, you will still get a response via email.
We also like the support feature built into the desktop clients, which easily allows you to ask questions from there if you prefer.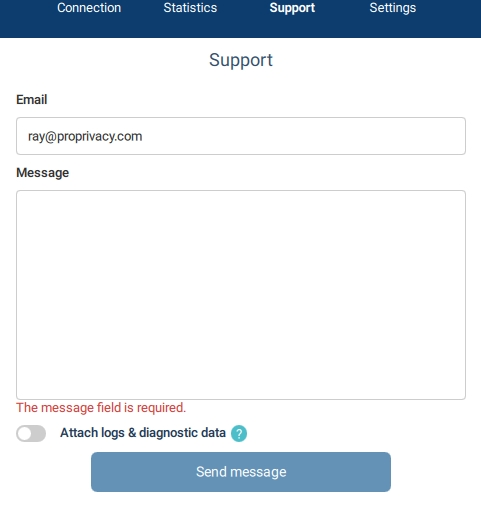 In addition, the website has a superb blog that includes information not just about the service itself, but also a variety of privacy-related topics. FAQs allow you to quickly seek information about the service and its features. And, the VPN does have guides for setting up and using the VPN on various platforms.
Overall we found the customer support to be good. However, it would be better if live chat agents were there immediately – as they are with other services in a similar price range. Despite this, the quality of the support you get is very good indeed.
Final Thoughts
Using OVPN is easy, and it does everything you would expect from a simple and well-constructed VPN. This makes it a reasonable option for beginners who want a simple service for a desktop or Android machine. The lack of OpenVPN in the custom Android app is a bit of a shame, and certainly, for the cost of a subscription, we would hope to get a custom app for iOS.
While this VPN does nothing particularly wrong, it is lacking some fairly common features such as split tunneling. This comes in handy for people using Smart TVs. The good news is that the VPN provider claims this is on its to-do list. Thus, it seems clear that this VPN is attempting to slowly improve its service.
For $4.99 per month, this VPN is not particularly expensive. However, in 2023 there are just too many services at around $3 per month that have better apps with more features (available for all platforms), faster live chat support, more servers, and the ability to unblock more services. And, this VPN only lets you use the VPN on 4 devices simultaneously – which is low considering that services such as Surfshark and IPVanish are now permitting unlimited connections.
That this VPN is no-logs and has an entirely bare metal server network that runs in RAM is excellent, and this may be enough to win some users over. Certainly, the privacy policy can be considered fantastic and Sweden is considered a decent location for a VPN to be based.
In addition, the server locations this VPN has should be enough to win over most users. And because this VPN has port forwarding, anybody seeking to torrent securely might want to give this VPN a try because it is a good service for users on a desktop.
0 User Reviews
Leave a Review
Thanks for your review!