Vilfo router - Overview
VPN routers are a superb way to protect all the devices in your home without having to install a VPN on each individual device. Most VPN services allow between 3 and 7 simultaneous connections and no more.
For families, and consumers with many devices, this is not always enough. What's more, using individual VPN clients means you constantly need to remember to connect to a VPN server manually and to check that the connection hasn't dropped out.
VPN routers like Vilfo are designed to take away this annoyance by letting you connect to the VPN at the router level. This is a fantastic advantage for anybody who wishes to connect a smart TV, a games console, or any other device to the internet via a VPN.
Pricing and Plans
Vilfo is a standalone product that can be bought via a one-off purchase. Once you own the Vilfo router, it is yours and you don't need to pay Vilfo for anything else. However, you will need to pay for a VPN subscription for this VPN router to do its job and connect you to a VPN server. How much you decide to pay for your VPN subscription is up to you and will entirely depend on what VPN provider you prefer and what features you need.
The Vilfo router costs $339 dollars which is a very reasonable price for a router of this kind, especially when you consider that it is possible to purchase many VPN routers with just 256 Mb of RAM at a similar price point.
Admittedly, there are cheaper VPN routers available on the market. However, those routers tend to be underwhelming for everyday use. With the Vilfo you get 2 GB DDR3 1600 MHz RAM and 8 GB of SSD storage space on board, which is much better hardware than you get on a similarly priced VPN router.
The wireless capability on the Vilfo (802.11ac) is not as powerful as what you get on truly top of the range routers. However, the Vilfo is directly comparable to routers like the popular Asus RT-AC3200, which is a popular VPN router in the same price range. It is worth noting that the 802.11ac is currently considered the accepted standard for wireless connectivity (some routers use 802.11n which is around three times slower than this). Overall, this is a fairly priced device that is perfectly well suited to medium-sized homes with around 10 to 15 connected devices.
Features
Features on the Vilfo VPN router can be best separated into two distinct categories; the hardware specs and the features available via the user interface and extensions:
Hardware Specs
Intel® Celeron® Processor 2955U
WiFi: MT7612E
WAN: 1 x 1000 Mbit/s
LAN: 3 x 1000 Mbit/s
2 GB DDR3 1600 MHz RAM
8 GB SSD
802.11ac (Max 867 Mbit/s)
8 dBi antennas (2T2R)
2.4Ghz or 5Ghz WiFi
USB port
HDMI port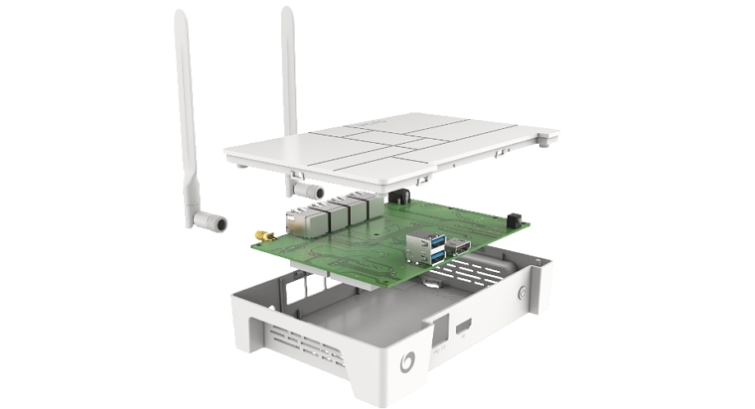 In terms of size, the Vilfo router is pretty small. Though admittedly it does have a pretty large power supply that you will need to conceal behind a piece of furniture to avoid the Vilfo looking like an eyesore. The specs listed above are all pretty good considering the price of the router, and with speeds of 125 Mbps on the WAN and ethernet ports, and good speeds on the wireless connection - you should have ample speeds for day-to-day use.
With that said, the dimensions of the device (height: 42mm, width:180mm, and depth:120mm) are not cumbersome - and because the device looks great, you will be able to put it where you want. Of course, it is worth remembering that putting it higher up in a central location of the house will allow it to provide better coverage.
The USB ports and HDMI port on the front of the router allow you to plug a screen and a mouse directly into the router, as a result of this you can use the router as a minicomputer (a bit like a Raspberry Pi).
User Interface Features
Excellent graphic user interface with lots of advanced functions
Kill switch
Bandwidth monitoring
Number of connected devices
Traffic monitoring
Latency monitoring (to ISP and to VPN server)
Monitor the number of hops to your VPN server
Organize devices into groups to connect them to different servers - or to connect devices like NAS storage, IP cameras, or other IoT devices to your VPN with a public IPv4 address that can be accessed remotely from anywhere.
Force VPN feature; never connect to particular websites without the VPN connection enabled
Bypass feature to access websites without the VPN when necessary
Extension for Chrome and Vivaldi (Firefox extension on the way)
It is also worth mentioning that the firm publishes a roadmap that explains what is coming in the future. This is a nice extra resource for users that allows them to have a quick check for forthcoming updates or features.
Currently, the firm is working on version v1.0.14. This is overdue by a few months but should roll out with some minor bug fixes, improvements to the internal testing procedures using Continuous Integration, and deliver some miscellaneous improvements that have not yet been specified. Not a great deal of information there, admittedly, but it is a good sign that it is being actively developed. It is also worth noting that Vilfo always releases a list of all improvements once the new version is published.
Setup
The first thing that is necessary when setting up your Vilfo router is to attach the antennas that come in the box. Following that, you must connect it to your modem and plug it in (the router provided by your ISP is both your router and your modem). Once the router is plugged in and is connected to your modem, you are ready to log on and set it up.
The Vilfo router comes with a pamphlet that explains this process split into 6 individual steps, and, as long as you have properly connected the router to your modem from the WAN port using the ethernet cable provided, you will be able to power on your Vilfo router and connect to it from your computer.
Once that connection has been established, simply enter the address provided by Vilfo into your browser (or the local subnet IP address that it is assigned to the Vilfo by default: 192.168.0.1) and you will gain access to the admin panel. From this point on, all you need to do is follow the walkthrough to set up your router and choose your VPN provider from the preset options.
Unfortunately for us, the Vilfo router was assigned to the same local IP address as our ISP's router. This caused a problem that would not let us connect to the Vilfo unless it was disconnected from our modem. Vilfo informed us that this was being caused by an IP conflict and that we should update Vilfo's IP address to 10.220.0.1
We did this, and it completely fixed the issue, which is great. From that point on, we were prompted to select which GHz band we wanted - we opted for 5 GHz to get the best speeds (the image below was taken before we selected 5 GHz from the drop-down menu). Click the down arrow next to encryption to opt for WPA2 and update the name of the Vilfo router in SSID if you prefer.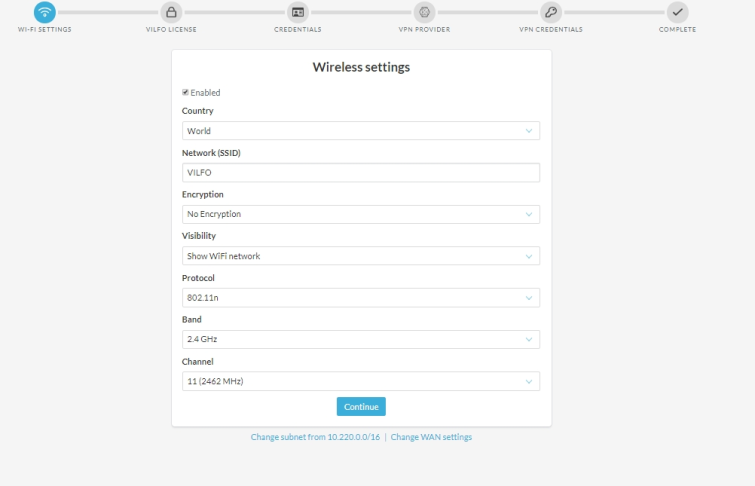 Next, we were prompted for our email address and the Vilfo License Key. With that done, the router decided to look online and download the latest firmware, which it did without issues. The firmware update will boot you off the connection, so if it seems like the update is stuck, that is probably because you need to reconnect to the router.

At this point in the review, it is worth mentioning that Vilfo does not come pre-setup to work with any single VPN provider. Instead, it includes an easy setup wizard that is designed to work with a huge number of VPNs. Vilfo can work with any VPN that provides OpenVPN, which is great news because that is our recommended VPN encryption protocol for security and privacy purposes.
After being asked to provide a username and admin password, you will be able to select a VPN from the growing list of 23 providers. That is a lot of choices, which means that you are not restricted to a single provider and can easily switch subscriptions and keep using your Vilfo router as time goes on.
The beauty of this integration is that all you need to do is select your particular VPN provider, and with a single click it will be ready to go. Following that, you will be able to login to your VPN account and get it working on whichever server you prefer. It is also worth noting that as long as your VPN provides OpenVPN config files, you will be able to get it set up and running manually.
If that sounds like too much of a headache, Vilfo states that you can contact your VPN provider to ask them to be added to Vilfo's built-in setup functionality. However, from a quick glance, we could see that all the most popular VPNs are already served - so most people are going to have no problems setting up the Vilfo.
We opted for adding PrivateVPN first, adding Express within the dashboard later on. This gave us the ability to switch between either provider at will, which is great.
Next, the router asks you to provide login credentials for your VPN provider before automatically connecting to a server. The router automatically connected us to a PrivateVPN server in Brussels - presumably because that was the fastest connection available at the time.
Agreeing to "continue" takes you to the Dashboard. Here you can access the VPN router's various features. Clicking on Devices lets you disconnect the automatic connection so that you can select a server in a region of your choice. We opted for Las Vegas and tested the connection on IPLeak.net to ensure it was all working well, which it was.
Test Your VPN for IP Leaks
Since reviewing this VPN service, we have created our own VPN leak testing tool. It is easy to use and 100% reliable.
It is also worth noting that users can update their wireless password on the Network tab in the admin panel anytime they wish.
Overall, we found the Vilfo setup process extremely easy. The only quibble we really have with it concerns the very first screen, where the user must set up the band and encryption. This could potentially be done incorrectly by someone in a rush to set up the router. We would prefer the setup process to force users to set a wireless password and WPA2 encryption - to ensure the WiFi network is secure from the get-go.
However, this is a small issue and there can be no doubt that the setup process is extremely easy, as long as you don't rush and miss this critical menu item.
Ease of Use
The walkthrough process and integration built into the Vilfo router really takes the pain of setting it up away, and because it is set up to work with a choice of VPN providers - you can get it set up extremely quickly.
One of the nicest things about this router is that it comes preset with strong WPA2 encryption. This means that you don't need to worry about setting it up securely and it will provide strong encryption with unique encryption keys for each wireless client that connects to it by default.
After following the installation steps, which features you decide to use are up to you, and if all you need is an active VPN connection - you may be happy just setting up a connection to your preferred server and leaving it at that.
However, this router does provide a lot of cool features that are available from within the admin panel and because accessing it from your computer is easy, it is great for checking who is connected to the router and how the VPN is performing in terms of speed.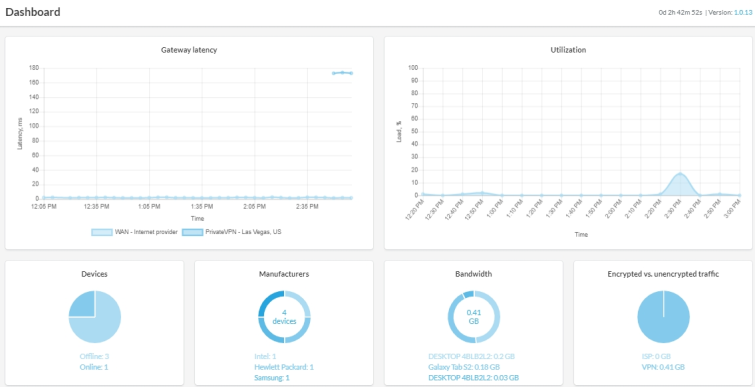 For consumers who do want to use some more advanced features, we have to say that we really like what is on offer with the Vilfo - and there can be no doubt that the User Interface (UI) makes it extremely easy to access all the available settings. In fact, the Vilfo is so easy to use that we consider it great for beginners looking to gain more control over their network - while also protecting all their devices with a VPN.
Clicking on Extensions allows you to follow a link to get the Chrome extension. We downloaded it from the Google Play Store to see exactly what it provides. Once it installs, you must approve the extension from within the dashboard.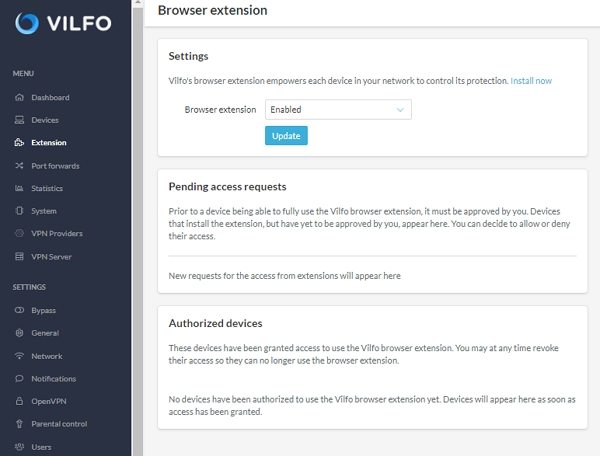 Once it is approved, you can use the extension to either force or bypass the use of the VPN. This lets you choose to bypass the VPN without having to disconnect from it within the Vilfo dashboard. This is actually quite useful, and it is worth noting that Vilfo does also have split tunneling - so that you can direct some traffic through the VPN while bypassing other traffic simultaneously.
Parental controls permit users to blacklist particular websites from the router, which is a nice addition that allows the VPN to be enabled for privacy reasons without providing access to unwanted content.
HDMI and USB access
To see what the internal Operating System was like, we decided to connect it to our monitor via the HDMI port on the front of the Vilfo. The router is set up to be a minicomputer running GNU/Linux distribution called LEDE. This is a command-line interface with no GUI. However, it should allow advanced users to do things like set it up as a VPN or Wireguard server, run pihole for DNS filtering and adblocking purposes, or install a GUI manually.
WiFi Performance
Vilfo uses a single MediaTek MT7612E WiFi module for providing wireless connections. This means it can provide WiFi access either via a 2.5 GHz or 5GHz band. However, it is worth noting that the Vilfo can only do either 2.5 GHz or 5 GHz individually, not simultaneously.
The chip supports IEEE 802.11ac draft standard, which provides speeds of up to 867 Mbps. In theory, the MT7612E provides feature-rich wireless connectivity with reliable throughput over moderately large distances.
First, we tested PrivateVPN on the Las Vegas server without using the Vilfo. This gives us base test results to compare the Vilfo against. We got download speeds of 21.81 Mbps and upload speeds of 28.10 Mbps.
Next, we connected to the Vilfo via Ethernet to test internet connection speeds when the router is running the VPN. This allows us to get an idea of how much the router itself is altering the internet connection due to the onboard processing power.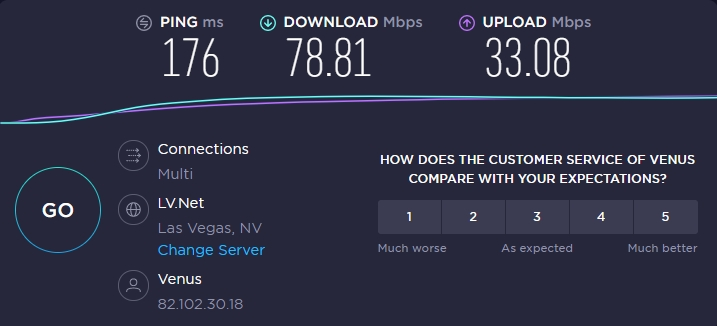 As you can see, we actually got much faster speeds with the VPN connected at the router rather than on our laptop. These surprising results invite skepticism, but we did double-check to see that both tests correctly ran using the same OpenVPN connection. Without a doubt, we must conclude that PrivateVPN runs faster for us on the Vilfo than directly on our computer.
After that, we tested our ISP's WiFi signal using the WiFi Speed Test app for Android. We tested it from around 10 meters away (normal household usage). We got local link speeds of 109.3 Mbps with Internet connection download speeds of 21.68Mbps and uploads of 26.64Mbps.
We then tested the Vilfo's local network WiFi performance using the WiFi Speed Test app for Android, with the phone placed next to the router. According to the app, we were getting link speeds of 223 Mbps. With download internet connection speeds of 45 Mbps and upload internet connection speeds of 20.18Mbps.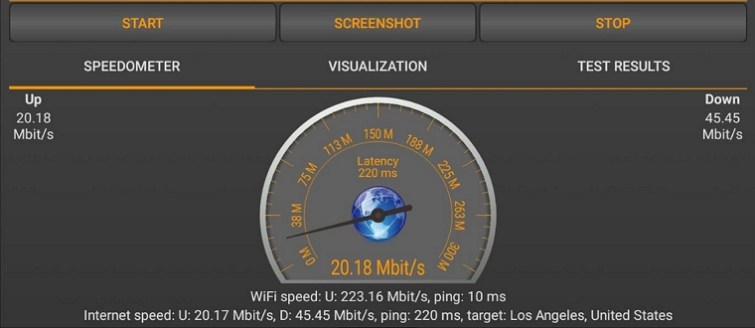 Next, we tested from about 10 meters away with a couple of walls in the way. According to the app, we were getting link speeds of 23.29 Mbps. With download internet connection speeds of 5.77 Mbit/s and upload internet connection speeds of 10.45Mbps.

As you can see, the Vilfo router performed reasonably well when we were close to it. However, under normal usage conditions, the Vilfo was considerably slower than the router provided by our ISP. This means that the onboard processing power supplied by the Vilfo is capable of handling the VPN connection, but that the MT7612E Wi-Fi module is having a negative effect on the speeds we encountered.
Admittedly, connection speeds would probably still be good for most tasks and anybody who wanted high speeds for streaming on playing online games could simply connect via Ethernet to get the most out of the unit.
Privacy
When it comes to privacy and security, how this router performs is largely going to boil down to which VPN provider you opt for. Some VPNs are much more secure than others, and for this reason, your Vilfo router can only provide you with whatever levels of privacy your provider comes with.
The good news is that Vilfo is built to work with some of the best VPNs in the world, meaning that you have no excuse for not getting a strong VPN that provides watertight security and privacy.
With that said, it is worth noting that the Vilfo router comes with a native kill switch. This is an excellent feature that is designed to block your internet connection at the system level if the VPN connection drops out. This is a highly useful feature that ensures you never accidentally leak unencrypted data to your ISP - making it perfect for Torrenting and other sensitive uses.
Customer Support
The Vilfo VPN router is designed to be set up and work with minimal fuss, which means that it will be easy to set up without the need for support for most people. However, for anybody who is a technophobe - the option is there to ask for support on the website.
The website is full of information and guides for getting the router setup. So, if you suffer a problem such as an IP clash with the modem/router provided by your ISP, you will be able to find information for fixing it without actually contacting support.
If you prefer to get support via live chat or email; the option is there to do so. However, it is worth mentioning that the live chat did not appear to be available very often, so you will probably end up communicating with Vilfo support representatives via email.
Despite this, we found the customer support agents to be extremely helpful and knowledgeable, and they were able to provide us with all the help we needed when we mystery shopped them.
Vilfo Router - Final Thoughts
Vilfo is a router that is leaps and bounds ahead of many VPN routers sold by VPN providers. Other VPN routers tend to be massively under-powered, leading to performance issues. With Vilfo, you get a powerful router that provides excellent value for money, customizability, the ability to install different firmware if you prefer, and the easiest setup process we have ever encountered.
Admittedly, the Vilfo router has some limitations. The Wireless capabilities are adequate for most people's needs - but they aren't mind-blowingly fast, even over moderate distances.
That said, it is hard to fault Vilfo as the performance is superb considering the cost of the router. The fact that Vilfo provided a faster VPN connection than we were able to achieve using the VPN on our computer was a nice surprise - and demonstrates that this router has ample power to run the VPN connection successfully.
We strongly recommend using the Vilfo via ethernet for those intending to use the device for HD streaming or online gaming, but no matter how you choose to use it, this VPN router boasts excellent value for money. Overall, it's great for beginners or anybody looking for an easy-to-setup VPN router that is ready to plug and play.
0 User Reviews
Leave a Review
Thanks for your review!