Are you finding it tough to pick between Surfshark and Hotspot Shield? Most Virtual Private Network (VPN) websites are packed full of complicated jargon, making it tough to decide between two services that may appear to be similar on the surface.
We've pitted Surfshark vs Hotspot Shield in an effort to find out which one is best for the average user, in this head-to-head comparison which looks at a range of key criteria. Read on to find out which VPN is best overall.
Surfshark vs Hotspot Shield – Which is best?
If you're looking for a quick answer, we'd opt for Surfshark as a better solution for the average user. We'll get into why in more detail below.
Both VPNs score highly in terms of encryption, servers, and privacy. Hotspot Shield even offers a limited free tier. This side-by-side comparison was closer than expected, but Surfshark does enough to be declared the superior service overall.
Pricing
At $12.95 USD per month, Surfshark is comparable to Hotspot Shield's Premium plan ($12.99). This places both services firmly on the upper end of the scale if you need a VPN for a shorter time period.
Surfshark and Hotspot Shield offer significant savings when looking at yearly subs. Hotspot Shield drops to $7.99 per month (38% off), while Surfshark is $3.99 (69%). Surfshark also has a two-year deal which is one of the best budget VPN plans on the market. At $2.49 per month, it works out to just $59.76. You'll have to pay for the entirety of the contract upfront, but it'll be tough to find a better price considering what's on offer.
Hotspot Shield also has a Premium Family plan ($12.99 per month), which allows for five member accounts, and five devices per member for a total of up to 25 simultaneous connections. However, it's worth mentioning that you'll be able to download and use the Surfshark app on an unlimited number of devices with a single account, offering further savings if you're willing to share your details.
Each service comes with a risk-free money-back guarantee, allowing the user to cancel their plan and get a full refund within an allotted time period. Surfshark offers the industry standard of 30 days, while the guarantee increases to 45 days for Hotspot Shield.
As for payment methods, Hotspot Shield allows for PayPal and credit/debit cards. Surfshark also works with Google Pay, Apple Pay, and various cryptocurrencies via CoinGate and CoinPayments. The latter is ideal for improved anonymity.
Surfshark is a clear winner here, offering great value for money with a selection of deals to choose from.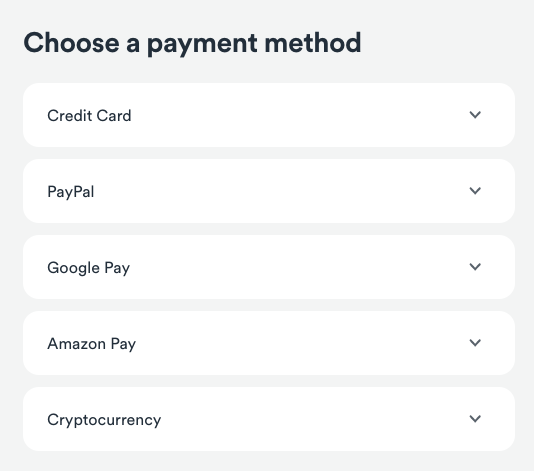 Winner: Surfshark
Which has better features
Features have the ability to make or break a VPN, and may offer improved privacy, functionality, and more. Let's go through the basics first.
| No Value | Surfshark | Hotspot Shield |
| --- | --- | --- |
| Simultaneous connections | 1000 | 5 |
| Total servers | 3200 | 1800 |
| Server locations | 100 | 115 |
| Split-tunneling | | |
Surfshark offers unlimited simultaneous connections, with a total of 3,200+ servers spread across 100 countries. Hotspot Shield has 1,800+ servers in 80+ countries, which is a decent spread, although it can't match up with Surfshark's larger network. Both providers also offer a number of interesting additional features that we'll discuss below.
You'll be able to block ads and malware automatically with Surfshark, and it offers obfuscation technology. (It makes your traffic look like a regular internet connection, so there's no sign that you're using a VPN.) Surfshark is a great pick for split tunneling, while Hotspot Shield also offers the feature, calling it 'Smart VPN'. (This is only available for premium Hotspot Shield users.)
Hotspot Shield comes with a free tier, although it's barebones in most respects. The free VPN will encrypt your connection, but you'll be limited to 500 MB of data per day. Of course, this will run out quickly, and you'll only have access to a couple of servers. You won't be able to choose your virtual location, while there are ads, and you can only use a single device.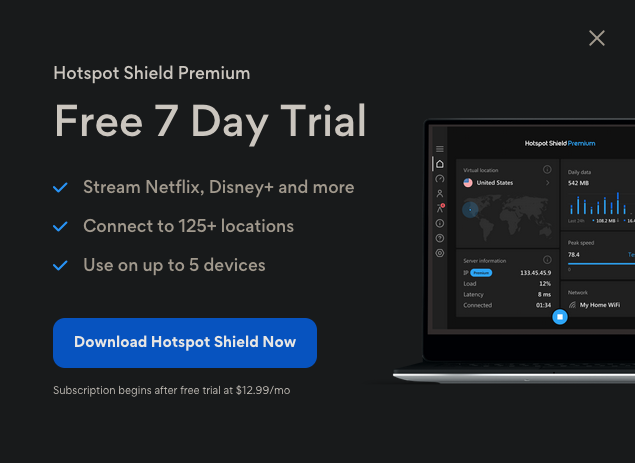 Winner: Surfshark
Routers supported
Router support will allow you to connect to your home network, ensuring that multiple devices will be protected at the same time. Even if a VPN offers unlimited connections, it's ideal for smart devices that don't have a traditional VPN app, such as TVs or games consoles.
| No Value | Surfshark | Hotspot Shield |
| --- | --- | --- |
| Router support | | |
| DD-WRT | | |
| Tomato | | |
| pfSense | | |
| OpenWRT | | |
| AsusWRT | | |
Surfshark offers support for Asus, DD-WRT, and Tomato routers, alongside other popular models and firmware. It's a strong showing, which is matched by Hotspot Shield in most respects.
Both services offer detailed tutorials and setup guides for getting started with a VPN router. You'll be able to purchase pre-flashed routers with Surfshark already installed to make the process easier, and the same goes for Hotspot Shield. Overall, it's too close to call between the providers.
Winner: It's a draw
What services do they unblock?
Most VPNs will be able to bypass the average geo-block, but how do Surfshark and Hotspot Shield fare against sites and services that aggressively defend against international users?
| No Value | Surfshark | Hotspot Shield |
| --- | --- | --- |
| Netflix | | |
| iPlayer | | |
| Amazon Prime | | |
| Hulu | | |
| Disney+ | | |
Streaming and unblocking is an area in which Surfshark excels, accessing almost every platform we threw at it during testing. Hotspot Shield also scores well in this regard, with the ability to watch services like Disney Plus with ease. The same can't be said for the free version of Hotspot Shield, but that's to be expected given the various limitations placed on the service.
What Netflix libraries
| No Value | Surfshark | Hotspot Shield |
| --- | --- | --- |
| USA | | |
| UK | | |
| Canada | | |
| Japan | | |
| France | | |
| Germany | | |
Once again, Surfshark would be our go-to if you're planning to access Netflix streams regularly. It has the ability to access more Netflix regions than Hotspot Shield so it's an easy win for the budget provider.
Winner: Surfshark
Torrenting
| No Value | Surfshark | Hotspot Shield |
| --- | --- | --- |
| Port selection | | |
| Port-forwarding | | |
| Kill-switch | | |
| Torrenting allowed? | | |
| Dedicated servers? | | |
For many users, torrents are a quick and simple way to share large files. In and of itself, torrenting isn't illegal, but it might be blocked by your ISP. A VPN is a good workaround, while it'll give the user the increased privacy and security needed to steer clear of any would-be trackers.
However, only some providers allow for the use of torrents with their service. Surfshark servers are compatible with P2P file sharing, as long as it's in a region where torrenting is allowed. Hotspot Shield works with Utorrent and BitTorrent, so it's a good result for each VPN.
Neither service offers port forwarding, so you'll have to look elsewhere if it's a feature you need for your torrenting provider.
Winner: It's a draw
Setup & usability
You'll find native apps for Windows, Mac, iOS, and Android, alongside addons for Chrome and Firefox.
Each provider can be found on the Amazon App Store, so there's no need to sideload the VPN to get it to work. That's great news, and each service is also compatible with additional operating systems.
For example, the VPNs both offer Linux support, although Surfshark has a dedicated installer, while Hotspot Shield users will have to follow manual setup instructions.
Both VPNs are user-friendly, with Surfshark's servers split into three categories. You can choose between 'Location', 'Static IP', and 'MultiHop' servers.
Hotspot Shield has a minimalist look in comparison, with an app that is exceptionally easy to navigate on mobile and desktop devices. Either VPN is capable in this regard, so we'd score this as a draw.
Winner: It's a draw
Mobile features
We've mentioned that Surfshark and Hotspot Shield both have native apps for iOS and Android, but which is best if you plan to use the VPN with mobile devices more often than not?
Both services offer great functionality via their native mobile apps. For example, Hotspot Shield is essentially the same on a smaller screen, with designs and settings that mimic the desktop version for all intents and purposes. There's a simple Quick Connect button, and a choice of servers to connect to.
In terms of notable features. SurfShark allows users to override their phone's GPS location, which is especially helpful if you're hoping to avoid being tracked. Once again, both providers are capable, but Surfshark slightly edges the competition.
Winner: Surfshark
Performance & speed
Connection speeds will dictate how you fare with a number of online tasks, including streaming, gaming, and torrenting. VPNs can slow your speeds to some extent, so a performant provider is ideal.
Surfshark is the nippier service of the duo, reaching faster maximum speeds during testing. It offers the performant WireGuard protocol (along with IKEv2 and OpenVPN).
Hotspot Shield has a stable connection because of its use of virtual servers, which are physically found elsewhere. (This allows the provider to offer coverage in countries like China and Russia.) It also makes good use of its proprietary encryption protocol (Hydra) for improved speeds. Either will be able to stream content in 4K, but Surfshark is faster overall.
Winner: Surfshark
Security
Strong security will ensure that your data doesn't fall into the hands of any snoopers. Aside from the basics, we'll go through the key features each provider offers below.
| No Value | Surfshark | Hotspot Shield |
| --- | --- | --- |
| Obfuscation (stealth) | | |
| IPv6 leak protection | | |
| WebRTC leak protection | | |
| PPTP | | |
| L2TP/IPSec | | |
| SSTP | | |
| IKEv2 | | |
| OpenVPN | | |
| WireGuard | | |
| Shadowsocks | | |
| Bare-metal servers? | | |
| Self-hosted DNS | | |
Despite a lack of many additional protocols, Hotspot Shield Premium does have its proprietary Catapult Hydra option to fall back on. (It's the same used by other Pango VPN services such as Betternet.) The lack of OpenVPN is a shame, but Hydra is performant from a security perspective.
Surfshark comes with WireGuard for increased speeds and security, and offers extra features including an IP rotator and MultiHop. The latter allows you to route your connection through more than one VPN server, and is sometimes known as Double VPN.
Both VPNs come with a kill-switch and offer leak protection. It's a close competition, but we'd give the advantage to Surfshark when it comes to providing security.
Winner: Surfshark
Privacy
| No Value | Surfshark | Hotspot Shield |
| --- | --- | --- |
| Jurisdiction | British Virgin Islands | USA |
| Independently audited? | | |
| User details required for sign up? | | |
| Anonymous payment options? | | |
Based in the British Virgin Islands, Surfshark has a clear advantage over Hotspot Shield, who are headquartered in the United States. The US is a founding member of the Five Eyes intelligence alliance, leading to jurisdictional issues as the government will have the right to request to see your online activities.
Logging policy
A logging policy gives you an idea of what a service does with your data. Of course, this is especially relevant in terms of user privacy.
Neither service logs any personally identifiable information, although Surfshark collects diagnostic data, while Hotspot Shield stores only aggregate data. (Thus, it shouldn't matter even if Hotspot Shield does operate from the US.)
Factoring in for the base of operations, and the contents of each logging policy, we'd opt for Surfshark as the best option for privacy. It also allows the user to pay anonymously with cryptocurrencies, so there's a clear winner once again.
Winner: Surfshark
Customer service
We've looked at the level of customer service each VPN offers. Whether you have a simple query, or it's something more detailed, it's always good to be able to get in contact with a provider quickly and easily.
| No Value | Surfshark | Hotspot Shield |
| --- | --- | --- |
| Free trial | 7-days (macOS and mobile apps) | Yes - 7 days |
| Money-back guarantee | | |
| 24-hour support | | |
| Live chat | | |
| Money-back guarantee length | 30 days | 45 days |
As you can see, you'll be able to get in contact with both providers 24/7 via live chat and email. That covers the most important bases, and ensures you'll never have to wait too long for a response.
Winner: It's a draw
Conclusion
It was a hard-fought contest, but there's an outright winner in this battle between two capable providers. We'd recommend Surfshark because of more affordable plans and its streaming capabilities, as well as improved speeds.
To its credit, Hotspot Shield Premium does match up to Surfshark in many respects, including customer support, usability, and device compatibility. It also offers a free tier, although it's too limited to be worth factoring into this comparison.
Outright Winner: Surfshark
If you are still considering other VPNs, then check out our other comparison pages to see how Surfshark fares against different providers.