Picking a VPN can be a headache, particularly if you don't really know what you are looking for. There are dozens of services on the market, and even when you whittle it down to a couple – deciding between them can be tricky. At ProPrivacy, we have devised a solution to this problem. Our VS Articles pit the world's leading VPNs against each other, so you can easily pick the best service for your needs.
Both Surfshark and ExpressVPN are world-class VPN providers, and they both have a lot going for them. In fact, we are confident that no matter which one you pick, you will get a superb VPN experience. Despite this, to help you discover which is better, we have
compared them across 11 important categories. Read on to find out who is the winner of this head-to-head battle.
Quick answer
If you are in a rush, you can find out which VPN is better below. After comparing all of their features and attributes, it is our belief that one of these VPNs is a better choice for most consumers.
With that said, this was an extremely close race, and ultimately there is an extremely small margin between these two outstanding services. As a result, some consumers may decide to subscribe to the loser – because it is genuinely exceptional considering the low cost of a subscription.
Despite this, it seems fair to say that anybody who can afford it will be getting the best possible VPN if they splash out on a subscription to ExpressVPN. ExpressVPN has more server locations and faster servers – that are perfect for HD streaming, video-conferencing, and gaming – and the ability to unblock Netflix regions.
Overall winner: ExpressVPN

ExpressVPN
Discount Coupon
Get 49%
off now
Comes with an additional 3 months

Surfshark
Discount Coupon
77% discount
Buy 12-months get 12-months free!
Use "topvpnoffer"
Pricing
When it comes to VPNs, it is important to remember that you usually get what you pay for. With that said, there are some overpriced services on the market that are lacking in important features – so it does go both ways. More often than not, however, cheaper VPN services will lack certain vital features.
Thus, picking a VPN solely on price can ultimately be a poor investment, and you will almost certainly end up ditching the service in favor of something that works as is meant.
The good news is that both Surfshark and ExpressVPN are market-leading services that provide all the features you need to gain privacy and security online. They are also both highly trusted and reliable services.
For this reason, we feel that these two VPNs can be directly compared on prices – without drawing attention to the difference in performance that might make those prices justified (that is what the rest of this article is for). So, which is cheaper?
| No Value | Surfshark | ExpressVPN |
| --- | --- | --- |
| Visa/MasterCard | | |
| Amex | | |
| Cryptocurrency | | |
| PayPal | | |
A single month subscription to ExpressVPN will set you back $12.99. The same subscription period with Surfshark will cost you $12.95. For a six-month contract, you will need to pay ExpressVPN the equivalent of $9.99 per month. With Surfshark, a six-month contract costs just $38.94, which is the equivalent of $6.49. That makes Surfshark considerably cheaper.
However, where the biggest price differential kicks in is on the annual subscriptions. A year with Express will cost you $6.67 per month. With Surfshark things become even cheaper, costing you just $4.83 per month. And, Surfshark has a 2-year plan that reduces the cost of the VPN to just $2.49 per month.
This length plan is not available with ExpressVPN. And, when you consider that a single year with Express costs $99.95 – whereas two years with Surfshark costs $59.76 – you can see that Surfshark is considerably cheaper, making it the best choice for anybody on a tight budget.
Finally, both providers accept debit and credit cards, American Express, PayPal, and Bitcoin payments – so both are easy to purchase, and can be paid for anonymously if the consumer prefers.
Winner: Surfshark
Features
Few VPNs are as complete as ExpressVPN when it comes to features. However, you may be surprised to hear that Surfshark holds its own – particularly considering the low cost of a subscription:
| No Value | Surfshark | ExpressVPN |
| --- | --- | --- |
| Simultaneous connections | 1000 | 5 |
| Total servers | 3200 | 3000 |
| Server locations | 100 | 160 |
| Split-tunneling | | |
ExpressVPN allows five devices to connect to its servers simultaneously using a single subscription. While this is a perfectly reasonable allowance – it does allow Surfshark to carve out a bit of a lead.
Surfshark is one of the few providers to allow an unlimited number of connections.
This makes Surfshark a superb option for people who own a lot of devices or larger families looking for VPN protection.
Where server locations are concerned, ExpressVPN provides much more choice. It has over 3000 servers in 94 countries around the world. This is ideal if you want to be able to spoof your geo-location to a wide variety of places, to unblock a wide choice of international services. With that said, Surfshark's servers in 63 locations still offer a lot of choice and will provide enough options for the average consumer.
Beyond that, both services come with split tunneling (called Whitelister in the Surfshark app), and both have a kill-switch and obfuscation. However, neither service offers port forwarding. In addition, both services provide SmartDNS for free with their VPN subscriptions, which can come in handy when unblocking certain international services.
Winner: It's a draw
Routers Supported
| No Value | Surfshark | ExpressVPN |
| --- | --- | --- |
| Router support | | |
| DD-WRT | | |
| Tomato | | |
| pfSense | | |
| OpenWRT | | |
| AsusWRT | | |
Installing a VPN on a router ensures that every device in your home is automatically routed via the VPN. This allows you to protect every device in your home in one go – and ensures that you need not install and connect to the VPN on each individual device in your home. This is great if you want the VPN to work automatically with smart TVs, games consoles, VR headsets, IoT devices, etc.
Both VPNs are compatible with a wide selection of router firmware types and manufacturer models, and can be considered extremely similar when it comes to router functionality.
Winner: It's a draw
Need a VPN router?
The good news is that both ExpressVPN and Surfshark can be purchased pre-flashed on a VPN-ready router. This ensures that those wanting to protect their entire home with a VPN can easily purchase a router that comes preset to work with either VPN out of the box. If this interests you, check out FlashRouters to get a VPN router without the hassle!
Unblocking
| No Value | Surfshark | ExpressVPN |
| --- | --- | --- |
| Netflix | | |
| iPlayer | | |
| Amazon Prime | | |
| Hulu | | |
| Disney+ | | |
Although the primary function of a VPN is to provide privacy, many VPNs subscribers also want to use their VPN to bypass local restrictions and access foreign services. Thus, how many services a VPN can unblock is a superb measuring stick for deciding whether a service is better.
The good news is that both ExpressVPN and Surfshark go to great lengths to ensure that they are good VPNs for streaming. Both services also unblock:
ITV Hub
Sling TV
AT&T TV
YouTube TV
What's more, they both provide a SmartDNS service as part of their plan, which means that if you do happen to stumble on a geo-restricted website or service that is proving hard to get, you will have plenty of options for unblocking that content.
Netflix libraries
| No Value | Surfshark | ExpressVPN |
| --- | --- | --- |
| USA | | |
| UK | | |
| Canada | | |
| Japan | | |
| France | | |
Because of licensing restrictions, Netflix cannot show all of its content in every regional catalog.
Unfortunately, Netflix exerts a lot of effort blocking IP addresses known to belong to VPNs. The good news is that both ExpressVPN and Surfshark make it part of their mission to unblock not just Netflix US (which has the largest catalog) but a wide selection of Netflix catalogs from around the world.
Surfshark provides access to 15 Netflix catalogs in total, which is extremely impressive compared to most other services. This includes access to Netflix US, UK, Japan, Canada, and Australia.
Unfortunately for Surfshark, despite being one of the best VPNs for Netflix in the world, ExpressVPN is still the best. It provides access to a whopping 24 different Netflix catalogs, which means you will be able to unblock loads of extra content.
Winner: ExpressVPN
Torrenting
| No Value | Surfshark | ExpressVPN |
| --- | --- | --- |
| Port selection | | |
| Port-forwarding | | |
| Kill-switch | | |
| Obfuscation (stealth) | | |
| Torrenting allowed? | | |
Torrenting can get you in trouble in most places around the world if you choose to download movies, TV shows, music, books, or software that is copyright protected. That is why so many people use a VPN for privacy when they download from the Pirate Bay and other well-known torrent sites. So, are these providers suitable for torrenting?
The first thing to note is that both of these providers allow torrenting. They also have servers located worldwide on which they permit P2P connections.
Surfshark does not label particular servers as being P2P-friendly. This is because it permits torrenting on all its servers. However, the service does admit that certain server locations are more recommended for P2P use than others. The good news is that this includes servers in a total of 22 countries – including the UK and the USA.
ExpressVPN also permits torrenting on all of its servers, and unlike Surfshark it does not specify that particular servers as being better suited for torrenting. Thus, you can presume that performance will be good for torrenting throughout its network.
Perhaps the only drawback with both these services is that neither provides port forwarding. This is a feature that some torrenters will want to get better download speeds (and for maintaining a better seed/leech ratio).
Finally, both these services are based in the British Virgin Islands. This is considered an excellent location for a privacy service that permits torrenting to be based, due to its lack of mandatory data retention directives.
Winner: It's a draw
Setup & Usability
| No Value | Surfshark | ExpressVPN |
| --- | --- | --- |
| Android | | |
| iOS | | |
| Windows | | |
| macOS | | |
| Linux | | |
Both ExpressVPN and Surfshark are services that have reliable custom apps available for Windows, macOS, Android and iOS. In addition, both have guides for manually setting up the VPN on Linux. Thus, if you are a Linux user accustomed to using CLI, you will have no problem setting up the VPN manually.
In addition to apps and guides for all important platforms, both services have an app for FireTV. And they also have guides for setting up the VPN on various games consoles, smart TVs, and Chromebook. In our opinion, this makes both of these services extremely similar in terms of usability.
Signing up to either of these services is extremely easy. Both apps download and install quickly, so they will not leave you hanging around. Both VPNs provide plenty of features and setting, including a kill-switch to prevent any leaks outside of the VPN tunnel should the VPN connection fail.
Both VPNs have advanced settings in their apps that allow users to turn on these important features when necessary. And both services allow users to flick between protocols – though neither allow users to switch ports manually.
Always-on obfuscation
Both services provide obfuscation by default when using OpenVPN. Thus, while you can't turn obfuscation on and off – it is provided by default for all OpenVPN connections.
This means that your VPN use is always cloaked when you use OpenVPN encryption – helping you get around even the toughest government firewalls and censorship!
One slight difference: ExpressVPN provides access to a custom encryption protocol called Lightway. This is designed to provide even faster speeds than OpenVPN. However, please bear in mind that Lightway is actually a custom implementation of open source WireGuard, which is available with Surfshark.
One notable difference between these two services is that Surfshark provides access to a Shadowsocks proxy. This feature is not available with ExpressVPN, so if a Shadowsocks proxy interests you subscribe to Surfshark. Finally, both providers give their users access to a SmartDNS feature that can be setup in the member's area of the website.
Overall, we find both services to be equally easy to use on all platforms. In addition, their apps have been designed to be both functional and easy on the eye. Thus, ultimately, we find it unfair to pick one over the other.
Winner: It's a draw
Mobile features
Both of these services have apps for Android and iOS. Those apps are available on the Google Play and Apple App stores, which makes them easy to access and download. The apps themselves are pretty similar, and offer much the same functionality as their desktop counterparts.
One difference is that ExpressVPN does not have a kill-switch on the iOS app. However, Android users still get a kill-switch. Surfshark, on the other hand, has a kill-switch on both Android and iOS – which is pretty cool.
The only feature missing from Surfshark's mobile apps when compared to its desktop version is the Whitelist feature (split tunneling), which is not available on iOS. This is also true of ExpressVPN, which only has split tunneling on Windows, macOS, and Android. Both providers have split tunneling on Android.
Winner: Surfshark
Performance & Speed
How quickly a VPN performs will dictate how good it is for HD streaming, torrenting, videoconferencing, and other data-intensive tasks. Many VPNs run on a slow network of servers that will reduce your internet connections speeds by over 50%. This makes those VPNs unsuitable for streaming on Netflix, for example.
The good news is that both ExpressVPN and Surfshark have a reputation for providing super-fast connection speeds. And, while all VPNs will slow down your internet slightly (because of the latency created by the encryption and needing to route your traffic via the VPN server) these two providers have fast Tier-1 server networks that will make the inevitable reduction negligible.
Still, you may be wondering which is fastest. At ProPrivacy, we test VPNs regularly using the OpenVPN UDP protocol for consistency. This allows us to get up-to-date information about each provider's download speed averages.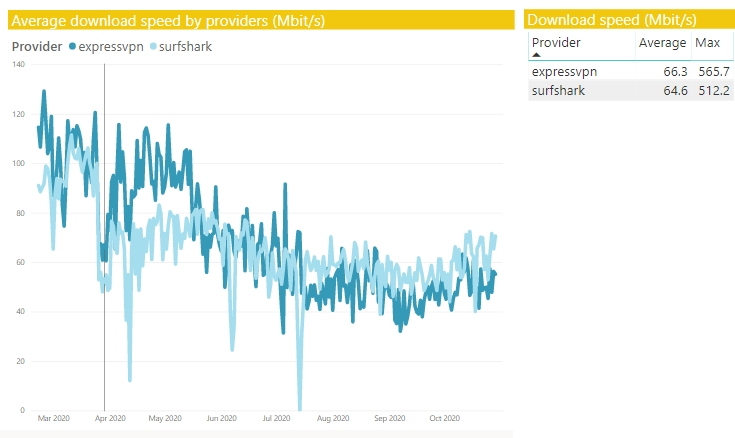 The image above shows the averages for an eight-month period in 2020. As you can see from those images, both services are evenly matched. There is almost nothing between them in terms of average download speeds, and only a small difference when it comes to max speeds. This makes either service a great option for data intensive tasks.
With that said, it is worth noting that ExpressVPN has now introduced its Lightway protocol. This is a super-secure custom implementation of Wireguard that provides both high levels of data privacy and incredible speeds. Express VPN claims that Lightway is consistently faster than OpenVPN UDP. Thus, it is a great option for people who want to stream in HD or play online games. With that in mind, we believe that Express probably just wins this tight race.
Winner: ExpressVPN
Security
How a VPN implements its encryption and advanced privacy features can make or break its service. This is because weak encryption or badly implemented data handling can destroy the privacy provided by the platform.
Thus, which security features are available – and how they are implemented – is one of the most important factors to consider when deciding on a VPN. So, how do these two providers compare?
| No Value | Surfshark | ExpressVPN |
| --- | --- | --- |
| IPv6 leak protection | | |
| WebRTC leak protection | | |
| PPTP | | |
| L2TP/IPSec | | |
| SSTP | | |
| IKEv2 | | |
| OpenVPN | | |
| AES-256 | | |
| RSA-2048 | | |
| RSA-4096 | | |
| WireGuard | | |
| Shadowsocks | | |
| Bare-metal servers? | | |
| Self-hosted DNS | | |
As you can see above, both these VPNs provide access to well-known VPN protocols. Surfshark provides OpenVPN (UDP and TCP), IKEv2, L2TP/IPsec, WireGuard, and Shadowsocks (a HTTPS proxy widely used in China to get around the Great Firewall).
ExpressVPN provides OpenVPN UDP and TCP, L2TP/IPsec, IKEv2, SSTP, PPTP, and a proprietary encryption protocol called Lightway; which is a custom implementation of open source WireGuard.
This makes both VPNs practically identical in terms of the number of encryption options available. At ProPrivacy, we recommend sticking to OpenVPN, which means that both these VPNs can provide a secure data tunnel between your device and the VPN server.
So, are there any notable differences, and how is OpenVPN implemented by each provider?
Close examination of ExpressVPN reveals that it uses an AES-256-CBC cipher with HMAC SHA-256 for data authentication and RSA-384 for the handshake. Perfect Forward Secrecy is provided using a DH-2048 Diffie-Hellman key exchange.
Surfshark implements OpenVPN using an AES-256-GCM cipher and RSA-2048 for the handshake. Perfect Forward Secrecy is implemented using ECDH-384 key exchange. This means that both providers are implementing OpenVPN highly securely.
Both VPNs self-host DNS requests, which is always the best way to handle these queries. In addition, both VPNs provide obfuscation by default when connecting using OpenVPN. However, neither provider has revealed how it implements that stealth feature (if that matters to you – you may want to shop elsewhere).
Surfshark uses bare metal servers throughout its network, whereas ExpressVPN implements some virtual server instances (that leverage SmartDNS to provide IP addresses in a few locations). That said, ExpressVPN does clearly label its virtual servers on its website to allow customers to avoid those servers if they wish.
Finally, both services provide DNS leak protection and neither was found to have any critical leaks. Admittedly, ExpressVPN is susceptible to WebRTC leaks on an IPv6 connection. However, this only occurs if you don't install the browser extensions, which completely solve the issue.
That said, Surfshark also claims that it cannot guarantee WebRTC leak protection unless you install its browser extensions. Thus, both services are equal in this department.
Winner: It's a draw
Privacy
| No Value | Surfshark | ExpressVPN |
| --- | --- | --- |
| Jurisdiction | British Virgin Islands | British Virgin Islands |
| Logs traffic | | |
| Logs connections | | |
| Logs timestamps | | |
| Logs bandwidth | | |
| Logs IP address | | |
| Logs aggregated or anonymized data | | |
| Website tracking? | Extensive, Google Analytics | N/A |
| Independently audited? | | |
| User details required for sign up? | | |
| Anonymous payment options? | | |
Where a VPN is based will greatly impact the level of privacy it is able to guarantee to its users. Some government's implement mandatory data retention directives that could force VPNs to keep connection and usage logs. Other countries enforce gag orders and warrants that could force a VPN to start logging – even if it claims not to.
The good news is that both ExpressVPN and Surfshark are based in the same place; the British Virgin Islands. That means both services are well out of reach of invasive governments like the US, the UK, and the EU. As a result, it seems unlikely that these VPNs will ever be approached by government authorities.
In addition, both of these services have strong no-logs VPN policies that guarantee they will never store any logs that could be used to uncover what their users did while connected to the VPN. As a result, even if these services were approached by the authorities, they would have nothing of use to hand over.
Perhaps the only thing that sets these services is apart is that ExpressVPN has had a full third-party audit of its infrastructure and privacy policy. That audit was carried out by the independent firm PricewaterhouseCoopers, and it verified Express' no-logs claims.
Finally, both VPNs accept Bitcoin payments – which allows consumers to subscribe with added privacy if they want to. In addition, it is possible to sign up for either service using a fake name and a burner email. Thus, it is possible to sign up without revealing who you are if you want to. Close, but Express wins.
Winner: ExpressVPN
Customer service
| No Value | Surfshark | ExpressVPN |
| --- | --- | --- |
| Free trial | 7-days (macOS and mobile apps) | No |
| Money-back guarantee | | |
| 24-hour support | | |
| Live chat | | |
| Money-back guarantee length | 30 days | 30 days |
Few VPNs compare to ExpressVPN when it comes to customer service. The renowned provider has been around for many years, and it has always been at the forefront of the industry in this area.
The 30-day money-back guarantee you get with most VPNs, for example, was actually pioneered by ExpressVPN. Nowadays, however, most VPNs copy this guarantee to the letter – as is the case with Surfshark VPN.
In fact, since it was launched in 2018, Surfshark has gone out of its way to replicate almost every attribute of ExpressVPN's customer service. Flattery if ever we saw it! Both services have 24/7 live chat support with superb agents that can answer questions about their service quickly. And plenty of guides are available for agents to forward users to.
For those who prefer to ask a question via email, this is also possible. And both services have a ticket system to ensure that you know your request is being processed. In addition, both VPNs have detailed blogs, FAQs, and guides that cover just about any issue you could have.
Overall, these two VPNs are exceptional when it comes to customer care, and each represents superb value for money by ensuring that users can always get help using their VPN either for privacy or unblocking content.
Winner: It's a draw
Conclusion
It is very rare for two VPNs to draw in as many categories as Surfshark and ExpressVPN. Ultimately, this side-by-side has revealed that there is very little to tell these two premium services apart. That is quite shocking, considering the low cost of a Surfshark subscription.
All things considered, some people might decide that Surfshark is better value for money. This would be a fair point, and we tend to agree that the added benefits provided by ExpressVPN don't proportionally equate to its higher price point.
With that said, ExpressVPN has clearly won in more categories. Thus, ExpressVPN must be considered the winner. Ultimately, if you don't mind paying a little more,
you will get the best VPN by subscribing to ExpressVPN
.
Outright winner: ExpressVPN