Picking a VPN can be stressful, particularly if you don't know exactly what to look out for. There are hundreds of consumer-facing VPNs on the market, and they often seem rather similar to the uninitiated. To make things worse, many providers use their websites (and adverts) to lie about how good they are – making it even harder to choose.
Even after you whittle it down to a few VPNs, picking between them can be tough. That is why we have devised a Surfshark vs Windscribe Article. Our comparison pages directly analyze services using 11 important categories, so that we can pinpoint exactly which service is better overall. Keep reading to find out whether Surfshark or Windscribe comes out on top in this head-to-head battle.
Quick Answer
We understand that some people are in a rush, that is why we have summarised our findings below. After carefully considering each category, our experts found that one of these VPNs offers a better service.
Not only is it cheaper, but it is more secure, better for your privacy, better at unblocking international services like Netflix, and better suited to beginners. It also has more servers to prevent congestion – and to provide faster speeds for streaming.
Plus, our winner has some of the best customer care we have ever encountered. It is also often recommended by internet users on both Reddit and Trustpilot because of its superb reliability.
Winner: Surfshark
Pricing
| No Value | Surfshark | Windscribe |
| --- | --- | --- |
| Visa/MasterCard | | |
| Amex | | |
| Cryptocurrency | | |
| PayPal | | |
Picking a VPN on price alone is usually considered a bad idea. Where VPNs are concerned you usually get what you pay for, which means that a cheap VPN can often leave you wanting more.
Cheap VPNs often have weak encryption, slow servers that suffer from congestion, few server locations to pick from, and critical leaks that cause the VPN to be no good for gaining online privacy.
That said, you do sometimes get over-priced services too. Those may be lacking important features – even when compared to cheaper services – which makes paying for them a§ total rip off.
With Surfshark and Windscribe specifically, both are legitimate services that can provide decent levels of privacy. As a result, consumers are generally safe to use either service.
A single month subscription with Surfshark will set you back $12.95. The same subscription with Windscribe costs just $9, which is considerably cheaper. This makes Windscribe a pretty good option for anybody who needs a VPN for a short period – for going on vacation, perhaps.
Committing for six months reduces the cost of a Surfshark subscription to just $38.94, which is the equivalent of $6.49. This subscription length is, unfortunately, unavailable with Windscribe.
A one year plan can be purchased from Windscribe for $49 per year. The same subscription with Surfshark costs $4.83 per month, which is only 80 cents more.
Where Surfshark really comes into its own, is with its two-year subscription plan – which blows Windscribe out the water due to its low price point of just $2.49 per month. This results in a cost of just under $30 per year – a price that Windscribe can't get close to.
All things considered, we recommend that you get Surfshark if you want a VPN long term. However, if you only need a VPN for a single month, then it may be worth opting for Windscribe.
Winner: Surfshark
Features
| No Value | Surfshark | Windscribe |
| --- | --- | --- |
| Simultaneous connections | 1000 | 1000 |
| Total servers | 3200 | 1000 |
| Server locations | 100 | 63 |
| Split-tunneling | | |
Both Surfshark and Windscribe have reliable custom apps that can be installed on Windows, macOS, Android, and iOS. What's more, both these services are unusual, in that they each permit subscribers to use the VPN on an unlimited number of devices. This makes either service fantastic for consumers who own a lot of devices, or families wanting privacy both at home and while on public WiFi.
Where server locations are concerned these VPNs are pretty similar. Surfshark has approximately 1700 in 63 locations, which is ideal for unblocking huge amounts of international content. Windscribe has around 1000 servers – also in 63 countries.
Surfshark provides split tunneling (called Whitelist in its apps) on Windows, macOS, and Android. However, it doesn't have split tunneling on iOS.
Windscribe, on the other hand, only provides split tunneling on Android (called split routing). This is good news for people with Android TVs, but a disappointment if you want split tunneling on a desktop or laptop computer.
Port forwarding is only available with Windscribe, and even then only as an optional add-on that requires a dedicated IP (at an extra cost).
Surfshark has neither dedicated IPs nor port forwarding, so if you do want this additional feature you will need to stick to Windscribe. However, it is worth noting that these are generally considered specialist VPN features. And because you need to pay more to access these features (with Windscribe), we don't find it necessary to penalize Surfshark. You may feel differently.
Both services provide obfuscation and DNS leak protection. In addition, both services provide DNS-based adblocking. However, Surfshark's version, CleanWeb, also blocks malicious domains, which is a nice plus.
Finally, Surfshark throws in a free SmartDNS feature that you don't get with Windscribe, and both services provide access to a SOCKS5 proxy (Shadowsocks with Surfshark).
Despite the port forwarding feature made available when you purchase a static IP with Windscribe, we think that most consumers will prefer the extra features you get with Surfshark.
Winner: Surfshark
Routers Supported
| No Value | Surfshark | Windscribe |
| --- | --- | --- |
| DD-WRT | | |
| Tomato | | |
| pfSense | | |
| OpenWRT | | |
| AsusWRT | | |
Connecting to a VPN at the router level will ensure that every device in your home is protected by the VPN tunnel. This ensures privacy for all of your internet-connected devices, without needing to install the VPN on each individual gadget (or needing to remember to connect each time). This is great for families who want to ensure that every device is being protected.
Using a VPN router also ensures that devices such as smart TVs, games consoles, VR headsets, and IoT devices are automatically routed through the VPN tunnel – which makes it much easier to spoof the location of those devices to watch more Netflix – or to conceal your IP address from the services you use.
No matter what your reason might be for wanting your entire internet connection to pass through the VPN, both Windscribe and Surfshark are valid options.
Looking to buy a VPN router?
If you want to buy a VPN router, but don't want the hassle of having to flash it with firmware yourself (and risk accidentally destroying it), you can buy pre-flashed routers from FlashRouters. They come set up out-of-the-box to work with a number of outstanding VPN providers. So if you don't have a VPN-ready router, save yourself some hassle and click the link below to check out their offers!
Check out FlashRouters
Alternatively, both providers have set up guides for installing the VPN on a wide choice of router firmware and manufacturer models. Thus, while both are compatible with VPN routers, Surfshark definitely provides more resources and guides for using their service with a greater number of router types.
Winner: Surfshark
Unblocking
| No Value | Surfshark | Windscribe |
| --- | --- | --- |
| Router support | | |
| Netflix | | |
| iPlayer | | |
| Amazon Prime | | |
| Hulu | | |
| Disney+ | | |
Data privacy and security is the primary benefit of a VPN, and is why the technology was originally developed. Despite this, many consumers are more interested in location spoofing – which results in the ability to unblock online content.
To those ends, how effective a VPN service is for unblocking content will have a major impact on whether consumers enjoy using that service. So, which is more versatile for unblocking streaming services?
As you can see in the table above, both Windscribe and Surfshark provide access to Netflix US. This is where the comparison ends. Unlike Windscribe, Surfshark can consistently provide access to services like BBC iPlayer, ITV Hub, Disney+, Amazon Prime, Hulu, and Sling TV.
What's more, Surfshark provides an additional SmartDNS service as part of its subscription plans, which means that if you do happen across a geo-restricted service that is a little stubborn, you will have more options for unblocking it.
Netflix libraries
| No Value | Surfshark | Windscribe |
| --- | --- | --- |
| Router support | | |
| Netflix | | |
| iPlayer | | |
| Amazon Prime | | |
| Hulu | | |
| Disney+ | | |
Netflix's catalogs vary the world over. This is because of licensing agreements and contracts between Netflix and content producers/copyright holders.
Surfshark is always a brilliant choice for people who want to stream more Netflix. The service works hard to provide access not only to Netflix USA, Canada, UK, and Japan – but to a total of 15 international catalogs. This makes it one of the best VPNs for unblocking Netflix in the world.
Windscribe has special servers set aside for streaming more Netflix, and those servers are clearly labeled as 'Windflix' servers. However, Windscribe only guarantees access to Netflix USA, UK, Canada, and Japan – which results in vastly fewer options.
Winner: Surfshark
Torrenting
| No Value | Surfshark | Windscribe |
| --- | --- | --- |
| Port selection | | |
| Port-forwarding | | |
| Torrenting allowed? | | |
Many countries block torrent sites, which means that accessing them could get you in trouble if you download copyrighted material. A VPN for torrenting also provides another key benefit. It prevents the peers you connect to from detecting your real IP address. This protects you against anyone who might try to hack you.
Unfortunately, not all VPNs are suitable for torrenting. Some disallow P2P connections on their servers, while others aren't suitable because of where they are based.
The first thing to note is that both services permit torrenting. Surfshark permits P2P connections throughout its network. However, it does recommend torrenting on specific servers. The good news is that those recommended servers are in 22 countries – including the UK and the USA. This gives subscribers plenty of choices, and the ability to connect to a server that is geographically closer to gain better speeds.
Windscribe also permits torrenting throughout most of its network. It only asks users to not connect P2P on its Japanese, Indian, and Windflix servers. However, Windscribe specifically asks users not to engage in illegal torrenting.
It is also worth noting that while Windscribe users can get port forwarding (a VPN feature that is desirable to torrenters), they can only do so if they get a dedicated IP, which is not the best option for security or privacy.
Surfshark, on the other hand, is based in the British Virgin Islands. This is a much better location than Canada in terms of privacy protections, but this service doesn't have port forwarding – so if you specifically need this feature we recommend that you shop elsewhere.
Winner: Surfshark
Setup & Usability
| No Value | Surfshark | Windscribe |
| --- | --- | --- |
| Android | | |
| iOS | | |
| Windows | | |
| macOS | | |
| Linux | | |
Both Windscribe and Surfshark are generally intuitive services that have easy-to-use apps for all popular platforms. This ensures that either service is suitable for beginners. The apps can be downloaded quickly either from their website (for Windows and macOS) or from popular apps stores (Google Play and Apple app stores) on mobile devices.
Windscribe also has a VPN for Linux - supporting Ubuntu. This is fairly rare. With Surfshark, users must install the VPN manually on Linux distros using the CLI, which is not difficult because it provides guides.
We found that both VPNs installed quickly, and we had no trouble launching and logging into either service. We also enjoyed using the members' area on both sites, which were great for both checking on the status of the account and getting information.
One noticeable difference relates to each VPNs adblock feature. With Surfshark, the feature runs in the background and requires no effort from the user. Windscribe's R.O.B.E.R.T feature, on the other hand, can be customized manually in the client – which is a benefit.
Windscribe also has more settings, which some subscribers may prefer. It allows users to select which port they want to connect with.
This includes selecting from the following ports:
21
22
53
80
143
443
587
1194
3306
8080
8443
54783
65142
As you can see that gives you a lot of options, which is an advantage for people on restrictive networks (or behind strict firewalls) that only permit the use of certain ports.
Winner: Windscribe
Mobile features
Both of these VPNs have custom Android VPN and iOS VPN apps. The apps can be downloaded easily from regular stores like Google Play and Apple VPN apps. They both offer much the same functionality as their desktop counterparts.
Both providers have a kill-switch on iOS and Android, so there is nothing to set them apart there.
The only feature missing from Surfshark's mobile apps when compared to its desktop version is the Whitelist feature (split tunneling), which is not available on iOS. The same is true of Windscribe, which like Surfshark only has split tunneling on Android.
Winner: It's a draw
Performance & Speed
A VPN's performance will influence how useful that VPN is, as well as what it is capable of doing. Most internet users, nowadays, want to use their VPN to play online games, download torrents, stream HD content, and engage in video conference calls on Skype, Zoom, Facetime, etc.
In order to do these data-intensive tasks, it is essential to subscribe to a VPN with fast VPN servers. Unfortunately, many VPNs cut corners to save costs. This results in those services reducing internet connection speeds. As a result, using those VPNs will cause a lot of lagging and buffering when streaming and doing other tasks.
The good news is that we test market-leading VPNs three times a day using a scientific, server-based speed test system. This allows us to give you up-to-date information about how the world's leading VPN providers are performing.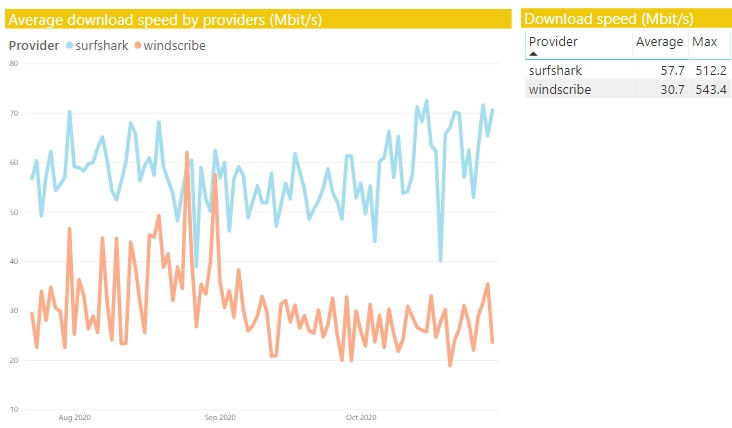 The image above provides maximum connection speeds and average download speeds with both services for a three-month period in 2020. As you can see, Surfshark performs considerably better, which makes it a far better option for people who want to stream HD videos or download large files.
Admittedly, Windscribe is not that slow, and we have seen plenty of services that are much slower. However, the fact remains that Surfshark is around twice as fast as Windscribe.
With average downloads of 57 Mbps, Surfshark competes with the very fastest VPNs on the market and is consistently one of the top 10 fastest VPNs in the world.
Winner: Surfshark
Security
How a VPN implements its encryption and advanced privacy features will affect the privacy and security levels it can provide for its users. Weak or badly implemented encryption will result in poor data security for the VPN tunnel. This could allow hackers, government agencies, or other unwanted intruders to access the data.
Unreliable VPN apps can also lead to problems if they result in critical leaks that allow your ISP to detect what you are doing online. Leaks can also result in the websites and services you use being able to detect your real IP address. So, how do these providers compare in terms of security?
| No Value | Surfshark | Windscribe |
| --- | --- | --- |
| Kill-switch | | |
| Obfuscation (stealth) | | |
| IPv6 leak protection | | |
| WebRTC leak protection | | |
| PPTP | | |
| L2TP/IPSec | | |
| SSTP | | |
| IKEv2 | | |
| OpenVPN | | |
| AES-256 | | |
| RSA-2048 | | |
| RSA-4096 | | |
| WireGuard | | |
| Shadowsocks | | |
| Bare-metal servers? | | |
| Self-hosted DNS | | |
The table above reveals that both these VPN providers give their users a choice of secure VPN protocols... But how do they implement OpenVPN (the most secure, and our recommended, protocol)?
Surfshark implements OpenVPN using an AES-256-GCM cipher and RSA-2048 for the handshake. Perfect Forward Secrecy is implemented using ECDH-384 key exchange. This is a highly secure implementation of the protocol.
Windscribe implements its OpenVPN encryption with an AES-256 cipher, SHA512 for authorization, and RSA-4069 for the handshake. It also implements Perfect Forward Secrecy using Diffie Hellman (DHE). As is the case with Surfshark, this is strong encryption that is secure against attacks.
Both VPNs run their networks exclusively on bare metal servers, which is generally considered more secure than virtual instances. In addition, both services provide obfuscation for their users. This allows users to conceal VPN use from their ISP – or to get around ISP firewalls blocking or throttling VPN traffic.
Regarding DNS requests, both providers handle DNS queries directly with their own servers, and neither service was found to suffer any leaks. Both services have DNS leak protection (IPv4 and IPv6) and Surfshark provides a browser extension designed to ensure that there are never WebRTC leaks (though we detected no leaks of this kind even when testing without the extension installed).
Winner: It's a draw
Privacy
| No Value | Surfshark | Windscribe |
| --- | --- | --- |
| Jurisdiction | British Virgin Islands | Canada |
| Logs traffic | | |
| Logs connections | | |
| Logs timestamps | | |
| Logs bandwidth | | |
| Logs IP address | | |
| Logs aggregated or anonymized data | | |
| Independently audited? | | |
| User details required for sign up? | | |
| Anonymous payment options? | | |
Where a VPN is based can directly affect the level of privacy it can guarantee to its users. This is because of the legislation that each jurisdiction enforces, and the potential warrants they could be served.
Unfortunately, Windscribe is based in Canada. This is a country that enforces mandatory data retention directives and is a member of the 5 EYES surveillance agreement. As a result, this is not considered a good place for a VPN to be based. Add to that the fact that Canada's intelligence agency, CSIS, was previously caught illegally accessing citizens' metadata and you can see why some people prefer to subscribe to VPN services based elsewhere.
The good news is that Windscribe is a no-logs VPN service. This ensures that even if it is served a warrant, it will have no records of what its users have done while connected to the VPN. It is also worth noting that there is zero evidence of Windscribe ever having betrayed its users' privacy, so it should provide adequate privacy for the vast majority of users (depending on your personal threat model).
Surfshark is also a no-logs service. However, it is based in the British Virgin Islands – a location that is much better for a privacy service to be based. BVI lacks a well-funded intelligence agency and has no mandatory data retention directives.
Finally, both VPN providers accept Bitcoin for those who want to pay with added anonymity. However, neither service has endured a full third party audit of its infrastructure and apps (though Surfshark has had an audit of its browser extensions, which is good).
Winner: Surfshark
Customer service
| No Value | Surfshark | Windscribe |
| --- | --- | --- |
| Free trial | 7-days (macOS and mobile apps) | Free basic account |
| Money-back guarantee | | |
| 24-hour support | | |
| Live chat | | |
| Money-back guarantee length | 30 days | 3 days |
Where customer service is concerned, there is no doubt that one of these VPNs is better. Windscribe has a live chat pop-up on its website, but it is manned by a chat bot. While this bot does sometimes throw out some useful responses, its service is incomparable to the real 24/7 live chat support you get with Surfshark.
Admittedly, Windscribe users can leave a query in the chat-box that will eventually be answered by a human via email. However, Surfshark also provides email support to users with a ticker system, which is to be expected from a premium VPN.
Where Windscribe can claim a victor is in its permanently free plan. Windscribe offers a limited free version of its VPN to prospective customers. That free plan permits users to consume 10 GB of data per month through the VPN, which is pretty generous. Free users can access servers in 10 countries. Surfshark doesn't have a free plan at all, so Windscribe definitely gets all the browny points.
The good news is that Surfshark has a 30-day money-back guarantee. So you can test the service risk-free if you want to. This is also true of Windscribe, who also allows users to try its full paid service risk-free for three days.
Overall, we found things that we like about both services. A permanent free plan with 10 GB of data is massively beneficial to people who can't afford a VPN. Or who require access to a VPN's unblocking capabilities in a crisis (such as when governments block social media sites during protests).
However, for paying customers, the availability of 24/7 live chat (with Surfshark) can be considered a huge benefit and is something that we would expect to see with all premium VPNs nowadays.
Winner: It's a draw
Conclusion
After analyzing these VPN services across 11 important categories, Surfshark has emerged victorious – winning 7 categories outright and drawing three others. Thus, we have concluded that Surfshark is the outright winner.
Ultimately, Windscribe could only come out on top in one category (Setup and Useability). Even then it was an extremely close call.
Overall, Surfshark was found to be better for privacy due to its base in the British Virgin Islands. It is also faster and can unblock more sought after services – including more Netflix catalogs. This makes it more appealing to the average consumer.
Admittedly, technical security is great with both services, and they both have excellent apps for all popular platforms. Where customer service is concerned, however, the lack of 24/7 live chat support with Windscribe proved a disappointment.
We have no doubt that many customers would be happy with either service, but Surfshark is definitely the better service for most people's needs!
Outright winner: Surfshark